Picking a gift for your 12 year old girl is fun, but can also be tricky. Girls aged 12 are often referred to as being "caught in the middle". This is because, at this age, girls are not quite teenagers yet, but at the same time they are moving on from being children. Some girls still enjoy playing with toys at this age, whereas others are becoming more interested in make-up and beauty.
Figuring out what a pre-teen really likes comes down to a combination of peer pressure, biological maturity and their environment, which is perhaps why some 12 year olds enjoy toys whereas others are no longer interested.
When asked what kind of gift they would love to have, a 12 yr old girl might give an answer with a crazy price range, or ask for money to buy her own gifts. Of course, she might also say "I don't know" as an answer and this makes things quite tricky.
If you're confused about the best gifts for 12 year old girls, then trust our 21 best gift ideas for girls to help you get the job done.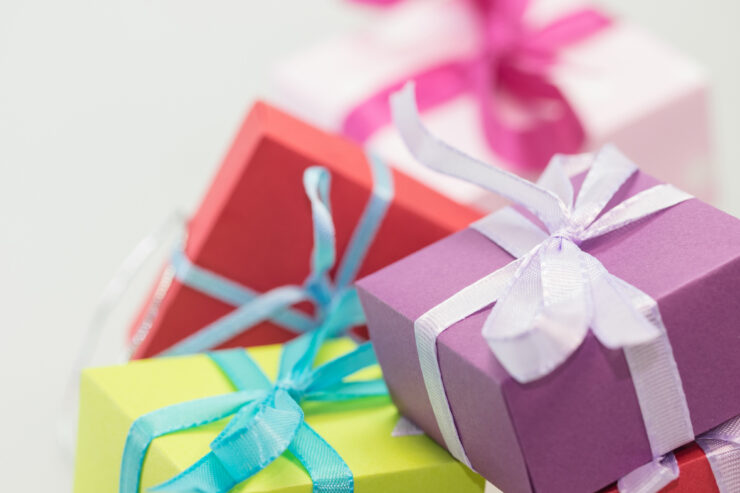 Best Gift Ideas for Girls
Listed below are some cool and amazing gifts that every girl aged 12 would welcome with arms wide open. You will find great ideas and inspiration here. No matter what your little princess is into today, rest assured that you will find something she will appreciate and which will make her smile. So check them out right away.
#1 Arts & Crafts Birthday Present For Teen Girl
This is one trusted gift that is perfect for keeping girls busy. Girls can easily create rings, necklaces and bracelets of several interesting and amazing colors. The pieces fit together easily, and can be changed into different designs as often as required. This isn't just for fun, as it also helps to promote concentration and dexterity as well as helping to improve on creative thinking skills.
This is the perfect gift idea to offer any 12 year old girl on her birthday, on holidays, sleepover parties and other special occasions. The complete package includes tutorials, a strong hook, latex free rubber bands and many more. Girls will love sharing this kit with their friends to create friendship bracelets and matching jewelry.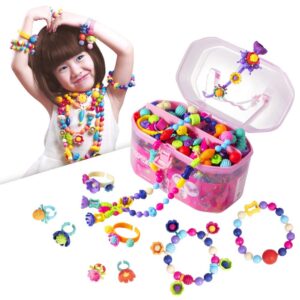 #2 ENSIANTH Adjustable Bracelet With Birthday Cake
The ENSIANTH adjustable bracelet with birthday cake is one of the best and most adorable gifts to offer for a 12th birthday. This bracelet is made using safe and high quality alloy and stainless steel material which is both durable and safe for sensitive skin.
This is one gift item a girl can rock for a long period of time, as it won't fade anytime soon. Even if she no longer wants to wear it, it is an excellent keepsake to remember her special day. One impressive feature of this gift bracelet with birthday cake is it comes neatly arranged in velvet pouch which makes it ready to be given out as a gift.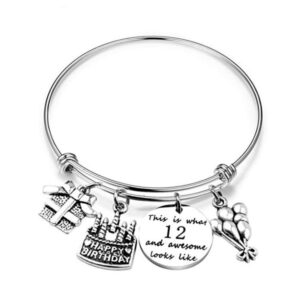 #3 Chalk Salon – Alex Spa
Growing girls tend to develop a sudden interest in looking good and that is what the Alex Spa Chalk Salon is designed for. It allows girls to decorate their hair exactly how they want it to be. This is such a wonderful product as it can be applied to any color of hair, as long as it is dry. Unlike most low quality hair products found on the market today, this is one that can be easily washed away using shampoo.
This is a fun gift idea for tweens on their birthday, especially if they will be having a sleepover party. It's perfect for friends to do each others hair with! The complete package includes 24 metallic beads, 5 easy to wash chalk pens, 24 hair elastics and a hair beading tool.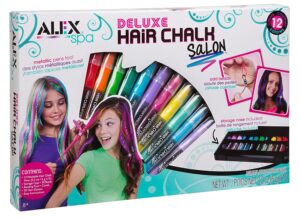 #4 One Size, 9 Colors, Cotton Knee High Socks
Made using high quality materials like spandex and cotton, these socks for girls are durable, breathable, stretchy and easy to wash. Not only are these socks super cute and fashionable, they also help to keep the legs warm when it's cold outside.
These socks have a nice length as they fit perfect over the knee and the calf, so they are much warmer than ankle socks. They come in nine different colors so girls will have several colors to select from each day. The colorful designs and patterns makes these socks the perfect gift item for girls on their birthday, Christmas or any other notable celebration.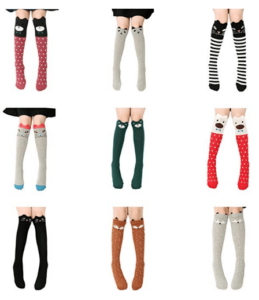 #5 Cat Kitty Ears Knitted Wool-Like Lady Girl Headgear
Durability is one of the key features of this well-designed and high-quality hat for girls. It is made using high quality cotton material which means it lasts well even with heavy usage. It is perfect for use in any cool weather, whether it's Autumn, Winter or Spring.
This headgear for girls is ideal for any hair type or facial shape. The trendy design means this is one hat girls won't mind wearing when it's cold. Not only is it soft and warm, it's also a cute fashion accessory for any young girl. This is a gift which will last for many years and is perfect to use every winter!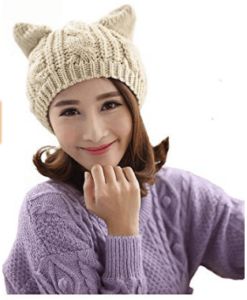 #6 Tonnier Band Students Watches – Resin Super Soft Watch
This watch boasts a unique design that is both stylish and practical. The white strap and colorful face ensure this watch looks great with both smart and casual looks. Unlike some cheap watches you might find on the market, this one is made using high quality rubber for the strap. This means it lasts for a long period and is safe and comfortable against the skin.
This watch is the perfect gift for 12 year old girls, as it is something they can continue to enjoy for many years to come. It's perfect for helping your tween to always be timely!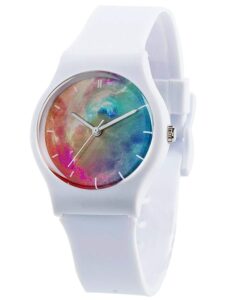 #7 50 Women Pioneers Who Changed The World
This is a book which will serve as a motivation for growing girls out there. It is aimed at celebrating the achievements of the most successful women in the world. Reading this book will provide an insight on the contributions of fifty women in important fields like mathematics, engineering and technology.
If your daughter is considering a career in the STEM industries, this book is a great choice. It is sure to inspire them to follow their dreams and will show them that they can go on to achieve great things. This is the perfect gift for girls who aspire to become doctors, mathematicians, engineers, physicists or biologists. Even if your daughter is not interested in a career in these areas, the book is fascinating reading nonetheless.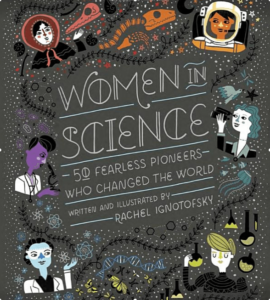 #8 Foodie Cookbooks for Kids
It is important to introduce your children to basic cooking skills from an early age. By the age of 12, girls should be capable of cooking a simple meal by themselves. This book is perfect for giving ideas and inspiration for fun and delicious recipes for kids to cook. It will help them develop basic cooking skills, allowing them to prepare tasty dishes for the whole family to enjoy.
Practice makes perfect is the right saying, especially when it comes to cooking chores. That's why this book is aimed at instilling confidence and improving their cooking skills. The book features different sections including cooking 101, over seventy healthy recipes and facts and tips on how to cook.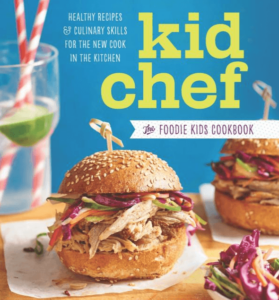 #9 Water Bottle Kit – Color Your Own Water Bottle Gift
This well designed and unique water bottle is perfect for keeping kids hydrated in style. Parents also have nothing to worry about, as it is made using high quality and BPA-free materials. Therefore, the bottle is totally safe to use and will last for a long while.
The water bottle comes with a design printed on it, ready to be colored in with the 5 colorful markers which are also included. The bottle design kit is perfect for girls to develop their imagination whilst having fun. They will love having their own one-of-a-kind bottle to use too.

#10 Nail Style by klutz – Book Kit Present 
This best-selling nail art book has recently been upgraded, and it now features 25 amazing designs which can be created with just few easy steps. The 60 page book comes with easy to follow instructions, making it perfect for girls aged 12 to do by themselves.
This well-made kit comes with over 200 stick-on stencils, a 2 sided color dotting tool, 6 bottles of nail polish and the instructional manual.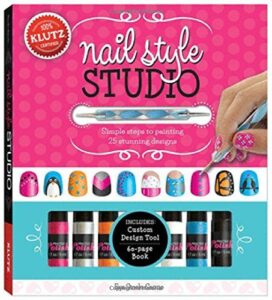 #11 Starry Night Lights Decoration For Kids
Made using high quality ABS and PVC materials, the Starry Night Light decoration light for kids is durable and built to last. The light it gives out is gentle on the eyes, meaning it won't prevent kids from falling asleep or cause any harm.
This light creates a relaxing and quiet environment anywhere it is placed. It's perfect for using at night-time to help kids fall asleep – ideal for those who have difficulty sleeping. It's also fun to use for some quiet relaxing time during the day. Simply draw the curtains and sit back and relax.
The night light is easy to use, as it can be powered by batteries as well as a USB cable. It can be programmed to run for a long time, and it has different color settings. It can also rotate or remain stationary.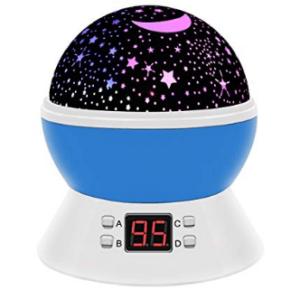 #12 12 Pack Temporary Hair Chalks 
This gift will get the attention of every girl out there as it features twelve bright colors which can be mixed or applied on their own. The colors are easiest to apply on light hair. They are made with non-toxic materials which won't cause any kind of irritation on the skin. However, it is best to wear disposable gloves when applying the colors to help prevent staining on the hands.
This hair chalk color set can be used as a gift item for girls on their birthday, Halloween celebration or even during party sleepovers. Girls will have so much fun finding colors to match their outfits or giving their friends new hair styles!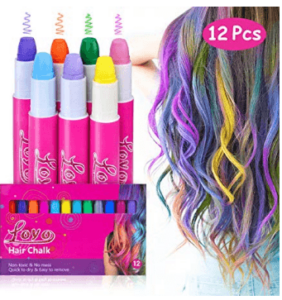 #13 Sleepover Party Mad Libs
This classic word game offers fun for everyone, and this Sleepover Party edition is perfect for girls to share with their friends. It's perfect for girls who are tired of always playing truth or dare or telling ghost stories. This game is something much more fun for girls to try out at their next sleepover!
The book features over 20 stories for girls to fill in the blanks. They will be sure to have hours of laughter and fun creating hilarious stories. This gift is perfect for any occasion – a birthday party or at Christmas, for all the family to enjoy together.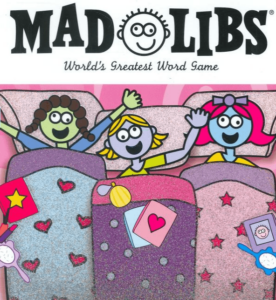 #14 Animal Tube Pack Girls Cotton Socks
Made using top quality cotton and spandex materials, these cute animal cotton socks are designed to last for a longer period of time. These socks are a great length as they fit over the knee and calf. So, these socks are not only fashionable but will also help keep girls warm during cold seasons.
The neutral colors ensure these socks look great with any outfit. The animal designs are cute and are sure to appeal to young girls. They can be used as a gift item for birthdays or any other special occasion.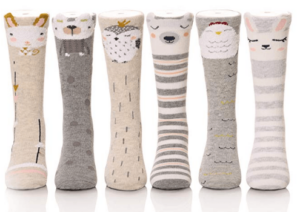 #15 Shock-proof and Compact Binoculars For Kids
Binoculars are a great gift for girls who love spending time outdoors. These ones are easy to focus, hold and adjust, which is why they are perfect for tweens. The soft rubber eyepiece offers protection and comfort when using the binoculars.
Durability is one of the main features of these well-designed binoculars as they feature a shock-proof design to prevent damage should they be dropped by accident. They also feature unique coated optics which guarantees a clear and crisp view.
This is highly recommended for bird watching, learning, traveling, hiking and more.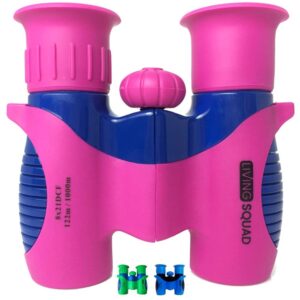 #16 Dog Ate My Mad Libs
If you have a girl who love dogs and has a great sense of humor, then this might just be the best present of the year! This 48 page book consists of over 20 original stories which were inspired by man's best friend.
Specially written for every dog lover out there, this book is great for keeping girls entertained for hours! They won't want to put this book down, and it's compact enough to take anywhere.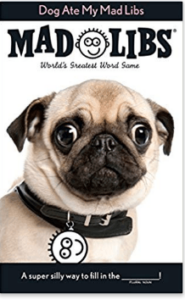 #17 Hair Ties Best Christmas Gifts For Girls – No Crease But Colorful
These hair ties are the perfect gift for any girl who loves wearing hair accessories. The ribbons stretch perfectly and won't cause any form of damage to the hair. They come in a huge variety of colors and styles, meaning there is something to match every outfit. The ribbons are also perfect for holding thick hair in place.
If you've ran out of ideas on what to get your girl for Christmas or her birthday, this is a perfect stocking stuffer. Not only are these ribbons used for holding the hair but they can be worn on the hand and used as bracelets.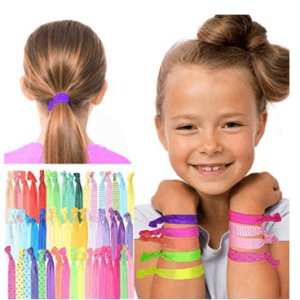 #18 Nodykka Girls Gifts Shoulder Bag
This shoulder bag has a cute cat shape which is sure to appeal to young girls who love cats! It is one that your charming princess can use to carry some of her essentials on any day and for any occasion. This cute-looking shoulder bag comes in three different colors – gray, pink and brown so you can choose the one which appeals the most.
It proves to be the best gift item for any 12 year old girl for her birthday, Christmas or even on any other special occasion. Not only is the bag adorable, it is also practical and is sure to prove useful.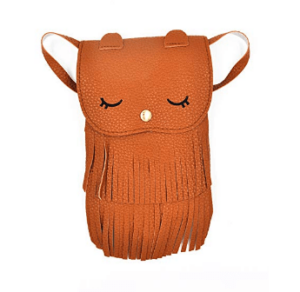 #19 Rotation Night Light 360 Degree For Kids
This night light is helpful when creating a relaxing atmosphere during the evening or overnight. This night light is made using quality PVC and ABS material which helps to promote long lasting use and safety. It's ideal for girls who struggle to fall asleep, as well as those who simply want to make their bedroom look more fun and interesting. It has many useful settings to customize the light given off.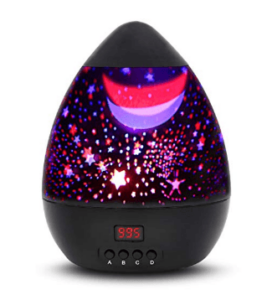 #20 Enchantments Music Jewellery Box
This gift is perfect for girly girls who love ballerinas and jewelry. It plays the Swan Lake tune with a ballerina figure who spins and dances as the music plays. The box is perfect for keeping jewelry organized and tidy, as well as storing other tiny and important treasures.
This is a cute looking and stylish enchantment box that comes with two side drawers and a wide bottom drawer. There are also compartments inside the box for holding rings or earrings.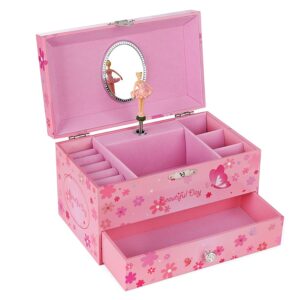 #21 125 Count Melissa & Doug Wooden Stylus Scratch Art Rainbow Notes
This scratch art kit is fun and also useful. Girls can make drawings and artworks, as well as creating reminders for themselves! Simply use the included wooden stick to scratch off the black surface, revealing colored designs underneath.
The Melissa & Doug Scratch Art Rainbow Mini notes is perfect for kids who love to draw and doodle. They will enjoy practicing their drawing skills – there are over 100 notes included so it will keep them busy for hours!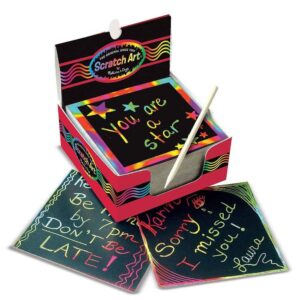 What To Get A 12 Year Old Girl For Birthday
12 year olds also considered to be pre-teens are quite difficult and challenging to shop for. At this age it is quite difficult to tell what 12 year olds are into and what they might desire to have for their birthday. Age 12 is often considered as that transitional stage where she gets to move from her childhood to her teen stage and this is the stage where nailing down a perfect and suitable gift for 12 year olds could be quite difficult.
Tweens are also considered as the hardest age group to shop for especially on their birthdays but listed below is a list of crafts, games and many other interesting gift ideas that she would love to have on her birthday.
EOS holiday lip balm
Good vibes coloring book
Lokai bracelet
Scratch art rainbow notes
Enchantmints jewelry box
Klutx nail style box
Arts and crafts birthday toys
Women pioneers who changed the world book
Things to get For Christmas
Twelve year old girls might just be interested in chilling with her best friends forever (BFF) or might have a thing for crafts, sports, games, ice cream, photography or books. At this stage it is difficult to tell what intrigues a girl, because this is the stage where she moves from her childhood to her teen stage.
Twelve year old girls are often no longer thrilled about toys but prefer gift items that would prepare them for their teen stage so gifts items like adventure and interesting books, makeup and slime kits, bath bombs, lip balms, headphones and so on would be greatly appreciated by them. Take a look at some great gift ideas listed below;
Monogram wooden jewelry box
TwinkleBright LED canvas light
Hang it up cosmetics bag
Lots of dots beach towel
Swimming with stripe beach towel
Alex spa chalk salon
Hair ties best Christmas gift
12 pack temporary hair chalk
Noddykka girls gifts shoulder bag
Handmade birthday chocolate brownie pops
Considerations When Choosing a Gift
Twelve year olds are really difficult to buy for – they are no longer young children but not quite teenagers yet. Finding the perfect gift which is neither too babyish nor too 'grown up' can be really difficult for parents. All girls are different, and mature at different rates. So, what one 12 year old might find too childish, another might still enjoy. Just be sure not to embarrass your tween by choosing gifts which are too babyish.
If your daughter collects something, this can be an easy way to find a great gift. Adding to a collection is always nice at birthdays and other special occasions – it could be a charm for a charm bracelet or a new ornament for a collection perhaps. You might also want to find out what her friends are interested in, as this can help you find some great ideas.
Young teens love fitting in with their friends and don't want to be left out, so buying your daughter something her friends all have is sure to make her thank you a lot.
Unique Gift Ideas for 12 Year Olds
We have included some great gift ideas here, but if you are looking for something to really stand out from the crowd you might have to think a little more carefully. You could choose something which has been personalized with your child's name, such as a mug or a hoodie for example.
If your daughter will be having a birthday party, it's a great idea to choose something she can use at the party. For example, a craft kit she can share with her friends can be a great basis of a party at home!
How to Pick a Gift for the Girl Who Has Everything
Many tweens have everything they could possibly want or need, which makes shopping for gifts somewhat difficult. However, there are a range of fun and unique gifts which are sure to delight and surprise them on their special day. You could choose a new tech toy which will help her learn important skills for the future. These kind of toys are also loads of fun and provide endless entertainment.
Art and craft kits are ideal for kids who have everything. They don't take up much space, and once they are finished your child will be left with something totally one of a kind and homemade! These gifts are also ideal as they help pass some time – perfect for a lazy weekend or during summer or Christmas break.
You could get your twelve year old a gift which will help them learn a new skill or hobby. For example, they might like to try rollerblading or even riding a hoverboard! These are great for outgoing girls who love to try new things. Whatever you choose, your child is sure to have a great time unwrapping their gifts and showing them off to friends and family on their special day.
Take a look at the following list: