Abracadabra! You now will see the best magic kits for kids in 2023. People have always been enthralled by magic tricks and illusions. Magicians were displaying their skills in front of the pharaohs of Egypt over 5,000 years ago. We still know the names of some of these performers, proving that becoming a successful magician can lead to lasting fame! Most kids, both great and small, love watching magic tricks. Seeing a magician at work naturally leads to the questions "How do they do that?" and "Can I do that too?" It's not surprising, then, that magic kits for kids are some of the best gifts both to give and receive. A kids' magic set is not only a fun gift, but also a very educational one.
Things to Consider when Choosing Kids Magic Kits
Choosing the right level of tricks for the age group is critical when it comes to purchasing a magic set for a child. For younger children, the contents should be simple, safe and child-sized. It's best if the props are colourful and easy to use too. Dressing up in top hat and cloak while wielding a magic wand adds to the fun for smaller kids. Instructions should be included, preferably in DVD format and presented by a professional magician who can explain the tricks in a simple and entertaining way.
Older children will take readily to more challenging tricks, and enjoy learning some of the classics made famous by greats such as Houdini. The basic magician's kit will probably include card tricks, cups and ball, dice and vanishing boxes. A good, well-made set of basics will last well and offer endless opportunities for variation and novelty, once the young magician has acquired the core skills.
Magic sets are available for 4 year old children upwards so it's worth taking a look at the suggested age range before purchasing one. You can find magic trick sets for 10 year olds and above too, if buying for older children. There also sets which encourage performance skills, while others are more science-based, encouraging academic learning.
Best Magic Kits for Kids
1. Learn and Climb Starter Magic Collection
The Starter Magic Collection from Learn and Climb provides the ideal beginner's magic set for 4 year old children upwards. Kids can try out classic illusions and fun effects using twelve of their own specially-designed versions of the stage magician's best-known props. These include cards, cups and balls, items that vanish and even a finger chopping illusion. Of course, there's an all-important magic wand, too, which has some tricks of its own to reveal.
There's both an instruction manual and a DVD presented by magician Scott Barhold, whose humorous approach quickly sets kids up for success. Youngsters soon learn how the basic magician's props open up an endless range of possibilities, exercising their own imaginations in the process. Most children love to start showing off their newfound skills as soon as possible, and the brightly colored and appealing contents of this box are designed to give them confidence right from the start.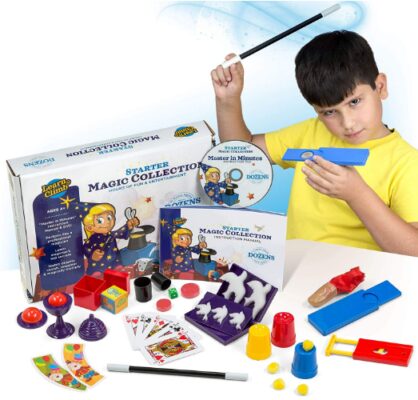 2. Playz Unlimited Mind Boggling Magic Tricks
When it comes to choosing a magic set for the 6 year old child, there's an excellent choice of magic sets that focus on the scientific and mathematical aspects of magic tricks. Illusionists have made use of optics, unusual materials and reflections for hundreds, even thousands of years. The Mind Boggling Magic Tricks Science Kit from Playz Unlimited uses basic science to create magical effects, including holograms, optical illusions and levitation. This set is suitable for children of 6 and over.
As well as providing magical fun, it's a useful supplement to the STEM (Science, Technology, Engineering, Mathematics) part of the school curriculum, encouraging an interest in science and technology. Youngsters will have plenty of fun both experimenting and showing the results of their experiments to friends and family.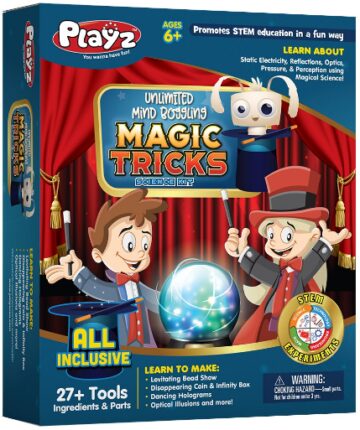 3. MasterMagic Kit
No fewer than 350 easy magic tricks for children is the claim of the MasterMagic Magic Kit. The set includes a big range of traditional props used by magicians, all designed for use by smaller hands, making it a suitable magic kit for 5 year old children up to teens. The box has a welcoming and classic look about it, encouraging children to engage as performers with friends and family. There's a magic guide included, and also several bonuses such as free Ebooks and access to a secret magic website.
In all, it's a very good introduction to some of the best-known illusions in the magician's repertoire, including coin and flower tricks, colour changing silks and an impressive zig-zag pencil trick. The set also includes a magic wand. It's a good value starter kit that encourages children to use their imagination to create their own illusions from the basic set of props.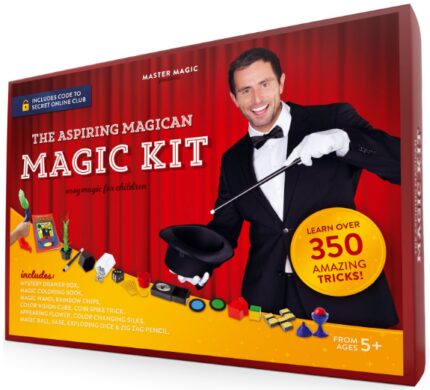 4. Learn and Climb Mega Magic Collection
The Mega Magic Tricks Set is the advanced version of the Learn and Climb Starter set, with improved versions of many basic tricks included. There's also a 2-level box which enables young magicians to take their stage presentation up a notch. Using this box, they can keep their props organised and hidden from the audience while they are preparing for their next trick.
The set claims that over 100 tricks and illusions can be created with the 36 basic magic props. The great aspect of this set is that it's suitable for kids aged from 4 upwards, so if you have a youngster who really enjoys magic from an early age, they can both start and develop their skills with this set. The accompanying manual and DVD (which is presented by master magician Leif David) are designed to make it easy for them and create the confidence to present their own shows.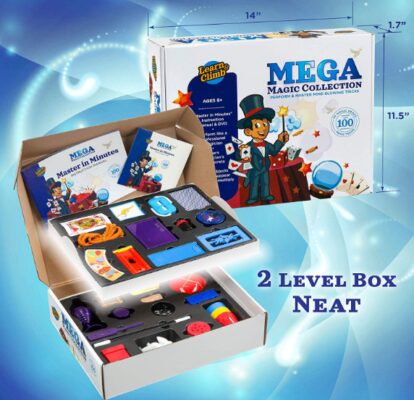 5. Ideal My First Magic Set
It's clear from the name that My First Magic Show is designed for youngsters who are keen to perform magic tricks in public right from the start. The tricks are easy to learn and cleverly use items such as crayons and small pieces of candy which young children feel at home using. This creates confidence around magic, making it more enjoyable to perform. The names of the tricks and illusions continue the theme, including "Vanishing Crayon", "Lollipop Mystery" and "Feel the Colour". 25 tricks can be created with the 31 props provided in the box. As a bonus, the young magician has access to online videos to improve their skills. Bright, appealing and accessible, this is a good magic set for 5 year old children and will get them off to a great start in performing magic in public.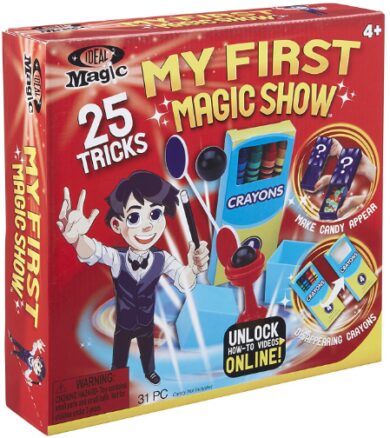 6. Jim Stott's My First Magic Kit
Jim Stott's My First Magic Kit is an ideal set for 5 year old children who love a challenge. Created by master magician Jim Stott, the set includes some unusual tricks that will impress an audience, including a colouring book in which colours magically appear, colour-changing handkerchiefs and some exploding dice! Full instructions are included and links to instructional videos are provided in the set.
The approach taken with this set is professional, encouraging youngsters to develop their stage presentation and story telling skills as well as learning magical techniques. The items are colourful, sturdy and appealing to youngsters, making this one of the best magic sets for 5 year olds.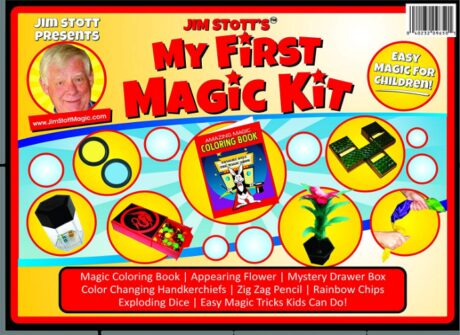 7. Melissa and Doug Wooden Magic Kit
Kids will never tire of using the beautifully made Melissa and Doug Wooden Magic Kit, even when they're all grown up! Ten classic tricks from the great days of illusion have been recreated in gorgeously coloured wood. Tricks include the classic disappearing ball, and magic coin box, plus an intriguing Egyptian prediction illusion.
The items are solidly made, enduring and safe, with shatter-proof mirrors. It's one of the best sets for 8 year olds, who will also be able to continue using these professional-looking props right into their teens. The set represents exceptional value for money, due to the quality of the contents and the clear instructions. The hinged box serves as both storage and as a performance space to add depth to illusions. Children who are prepared to practice their magic regularly will really love this set.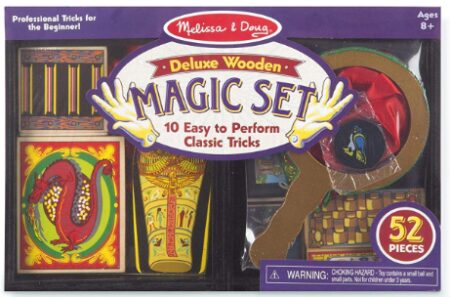 8. Ideal Magic Suitcase
The Spectacular Magic Suitcase from Ideal Magic packs a lot of magic into a single case. Its claimed that 100 tricks can be created using the props, which include many of the classics such a magic drawer, card decks and the ever-popular multiplying rabbits trick! The colourful set includes a top hat and wand, and the suitcase serves as a performance table as well as safe storage for the numerous magical items.
Access to instructive online videos is also provided with the kids magic set. The range of tricks that can be created makes this set a great choice of magic kit for 8 year old children. It's challenging enough to test them at 8 and 9 and has sufficient interest to last as they grow older and want to develop more advanced magic skills.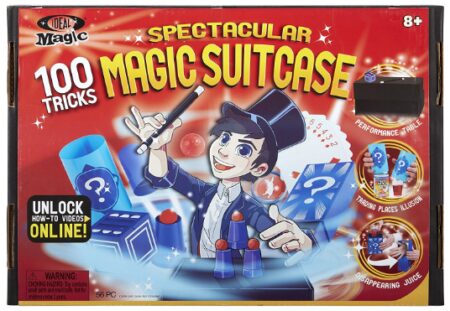 9. Melissa & Doug Magic in a Snap
The focus of the Melissa & Doug Magic in a Snap kit is on recreating classic stage and street magic effects easily and with impressive skill. There's something about making a $100 bill disappear and reappear that always grabs the audience's attention – even when the note is not quite what it seems! Coins, cups and ball are all part of the street magician's repertoire and these are included in this 12-piece set. While the pieces are appropriate for 4 year olds, it's likely that older children will enjoy this magic kit for kids. We feel it's one of the best magic sets for 6 year olds. The classic street style magic props encourage children to develop their patter and social skills as well as magic sleight of hand.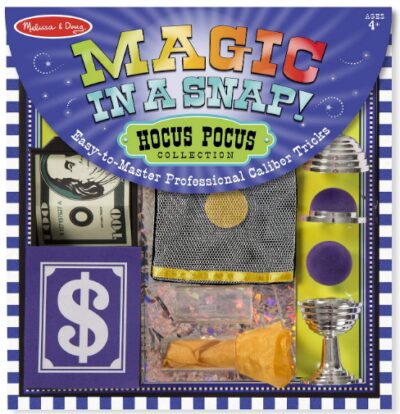 10. Brilliant Magician Role Play Set
Magical performance is as much about presentation and looking the part as it is about the tricks and illusions themselves. The BrilliantMagic Kids Magician Role Play Set creates the atmosphere of the golden age of stage illusion using the classic magician's costume of top hat, wand, cape and gloves. Once dressed in clothes that create a great visual effect, the child can perform with confidence and ease.
The cape is reversible, with black and red sides to add drama to the performance. It is available in two sizes, 35" and 47" in length. The magic wand is 12.8" and can be used while surprising the audience by drawing out the well-made glove puppet rabbit hidden in the hat. Also included are 5 brightly colored ribbons that can be used in many magical illusions. This is one of the best magic kits for 8 to 10 year olds.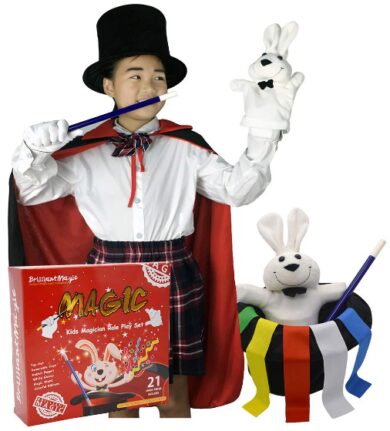 11. Magic Touches Ultimate Magic Kit
Another of the best magic kits for 10 year olds, the Magic Touches Over 200 Magic Trick Set contains versions of tricks and illusions based on those of the greatest performers such as Houdini. Using classic props like the Goshman sponge balls, the set teaches dexterity and performance skills. Over 200 different tricks can be presented using the contents, which also include a penetration frame, a length of chain for the Houdini escapology trick, special card deck, Classic Rice Bowls illusion and more.
The kit also includes an hour-long DVD which will teach the aspiring magician how to develop their presentation skills with confidence as well as hone their manual proficiency. This deck is a great choice for older newcomers to magic, as it's based on famous tricks which still have the power to impress an audience. This encourages the young magician to develop a repertoire and advance further in the craft.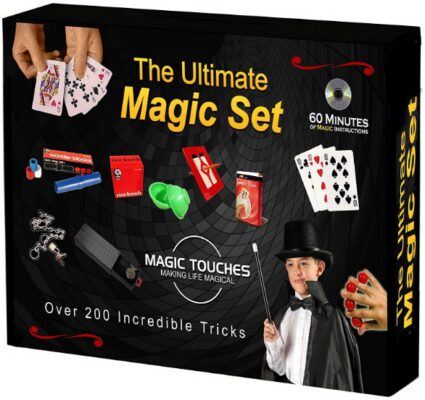 What are the Benefits of Learning Magic Tricks?

Learning magic tricks is fun and it also provides great educational opportunities. At a basic level, the learner is discovering how things work, whether that's a magic box for hiding and revealing objects, or a chain of metal links that can be broken and restored. Many magical effects involve science and math, too, so those are other skills that the student of magic can acquire in a very enjoyable way through developing illusions.
Magicians need manual dexterity to perform their effects and this takes dedication and practice to perfect. Above all, the young magician learns confidence and presentation skills. If it's something they enjoy, magic will teach them how to hold an audience enthralled as well as think quickly when things don't go entirely to plan. They'll also learn the art of improvising with everyday objects and how to use their imagination to develop great ideas. In summary, magic is a great developer of social skills.
At What Age Will my Child Enjoy a Magic Set?

Most magic kits for kids begin with sets designed for 4 year olds and above. Kids' magic sets are available for various age groups, including teenagers. Some of the sets can be age-specific, while others are aimed at beginners of all ages. Dressing-up, impressing friends and learning to perform are all skills that many youngsters enjoy, and presenting magic means this opportunity can be available from an early age. As with any other skill, the earlier they start the better, especially if it's something they enjoy.
What Kind of Tricks Will my Child Learn?

Many magicians start with small-scale, close-up tricks involving objects such as cards, dice, cups and balls, and ribbons. Using these everyday items, the young magician learns how to develop their own skills to create illusory effects. Some basic illusions include the "hide and reveal" type, in which an object disappears only to reappear in an unexpected location; and the "torn and restored" trick, during which something appears to be damaged but is found to be whole. Children also enjoy more obviously scientific "tricks" which can produce spectacular effects. While magic is partly about props, it's also about presentation and physical and mental well-being. Young magicians soon learn that they are their own best asset when it comes to magical performance.
Conclusion – Our Best Magic Kit for Kids

For quality that gives your child a great start in the craft of magic, we recommend Melissa and Doug's Wooden Magic Kit. It's sturdily made, beautifully presented and its looks will last from childhood to teens. The tricks recreate the style and drama of the golden age of stage magic, encouraging children to pick up and practice. It's good value for money, too, making this the best magic set for kids.