Are you looking for a complete guide on the best manual breast pumps on the market? You are on the right page!
Why Choose Manual?
Manual breast pumps can be a great choice for mothers who only intend to express milk every now and again.
If you're planning to express so you can go back to work either full time or part-time.
Or if your baby has trouble latching and you need to express milk regularly then we always recommend an electric breast pump.
Manual pumps, however, can be a great choice for mothers who only intend to pump once every couple of weeks when they're leaving their baby with someone else for a while.
Or even for mothers who just need to help boost their milk supply a little during those first few days of breastfeeding.
Manual breast pumps do take a lot more time and energy to operate than electric breast pumps. But they're also generally a lot smaller and easier to transport too.
Some manual breast pumps can be a little difficult to operate comfortably. Probably due to having to both hold the pump on the breast and operate the pumping action at the same time.
Others such as the Medela Harmony Manual Breast Pump, are a lot easier to operate due to their comfortable swivel handles.
A Quick Recommendation – Which One is the Best?
Medela, Harmony Manual Breast Pump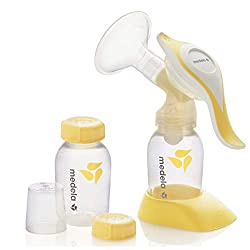 Looking for the best manual breast pump for travel?
Here is a tip for you:
The Medela Harmony Manual Breast Pump is the overall best manual breast pump.
If you've read reviews on the Medela Harmony manual breast pump you'll know the answer to this question already.
Unlike the Harmony's electric cousins it's actually quite modestly priced. It also stands out amongst the competition.
The first reason being the unique swivel handle that it employs. The handle makes it a lot easier to find a comfortable position when expressing.
It also allows you to switch between the simulation phase. Here, the let-down phase is easily achieved by mimicking a baby's slow rhythmic, suckling action and the expression phase.
This is a feature that a few electric pumps posses. But the Harmony is the only manual breast pump we know of that has this feature.
The Harmony manual breast pump, like all Medela pumps, is also made from high quality, long-lasting materials. All of which are safe for your baby.
Fortunately, they don't deteriorate with the rigorous cleaning and sterilizing that is required for all breast pumps.
It's these reasons that make the Medela breast pump the best manual breast pump available today.
Reviews of the Best Manual Breast Pumps 2023
1. Medela Harmony Manual Breast Pump – Editor's Choice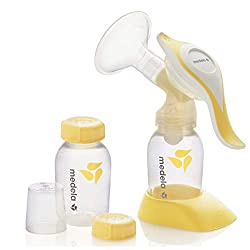 When it comes to breast pumps, Medela is synonymous with quality.
In the electric breast pump range, the Medela Pump in Style and the Medela Swing both receive rave reviews and great feedback from owners.
It is the Medela Harmony Breast Pump that's making waves in the manual category.
The Medela Harmony Manual Breast Pump has a very simple design. It utilizes a single breast flange that seals comfortably over the breast, a swivel pumping handle, a valve.
There is also a bottle to collect the milk and a stand.
How does it work?
Once all the parts are assembled, you place the breast shield over your nipple so it fits comfortably. After which you press down on the drops symbol on the top of the handle.
Doing so will begin the simulation phase which imitates the baby's suckling action. This will help achieve a natural milk flow.
Once a natural flow is achieved you then press down on the lower end of the handle to achieve the expression phase. This phase mimics your baby's slower, deeper suckling action.
You can adjust the speed of the handle strokes to alter the level of vacuum.
Who is it suitable for?
Generally, manual breast pumps are best suited to mothers who will spend a lot of time with their baby… and therefore only need to express milk occasionally.
This can be a time-consuming exercise. So, it's recommended to invest in an electric pump if you plan to pump regularly.
Electric breast pumps, particularly double electric breast pumps tend to be more expensive than manual pumps.
However, the amount of time saved is well worth the investment for any mother who intends to use it regularly.
Due to the small size and relatively quiet operation, the Medela Harmony Manual Breast Pump can also make a great companion to an electric breast pump.
This is helpful for mothers who want something that's a little more convenient to carry around than a larger pump and the accessories that go with it.
Is it easy to wash?
The Medela Harmony should be washed prior to first use and immediately after each session. Being a manual pump with only a few parts, the Medela Harmony is relatively easy to clean.
Once disassembled, all parts that come into contact with the breast milk should be either hand-washed in warm, soapy water. Or alternatively sterilized via steaming or microwave sterilization.
The parts that come into contact with the breast milk are also BPA free which means it's safe for baby.
What others are saying…
The Medela Harmony Breast Pump gets rave reviews with most owners singing the great suction, comfort and how easy it is to use and assemble.
There are a few negative comments too. Some complained of a loss of suction after a few months of use or not enough suction at all from the get-go.
However, for every 1 negative comment about the level of suction, there appear to be at least 5 good ones.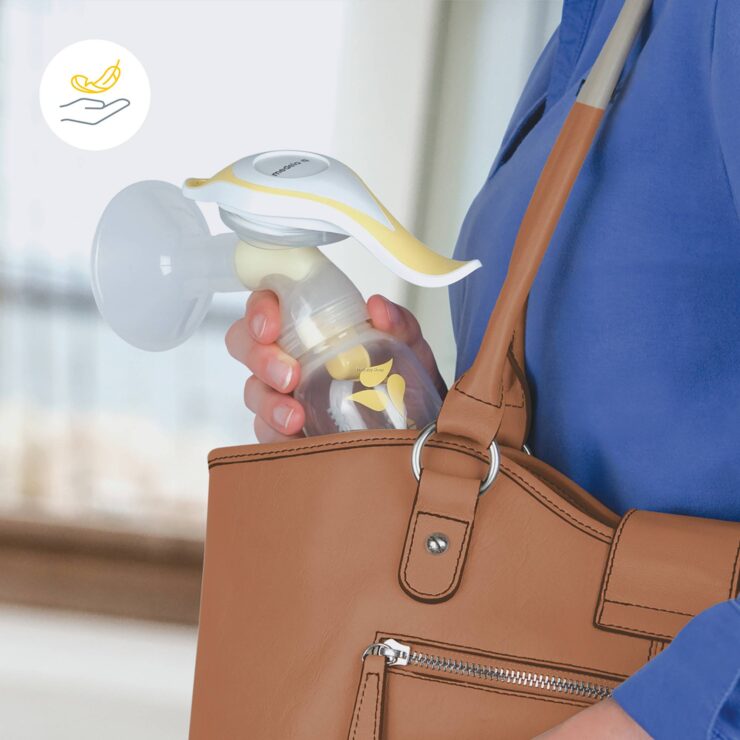 So it would seem most mothers who purchase the Medela Harmony don't have a problem.
Paraphrased from one reviewer:
"I actually take a liken to the Medela Harmony manual pump. Not because it is cheap, but because it's easy to operate. Being a manual pump, you'd think it should be harder to operate. I can use it on one hand while my daughter is in the other."
What we like about it…
The great swivel handle that allows both a simulation phase and expression phase is a welcome addition in a manual breast pump. It can help achieve let down much easier.
The other bonus is the convenience of the Harmony. It's easy to assemble and clean, and both quiet enough and small enough to make it great for pumping on the go.
What we don't like…
Honestly, there's not much to say in the way of negatives. The Medela Harmony is a great all-around pump.
If we had to single out anything it would have been nice to see transparent tubing used in the design as it's sometimes good to be able to see when the milk starts flowing through.
Other than that we're really hard-pressed to find anything bad to say about it.
The Verdict…
The Medela Harmony Manual Breast Pump is the Rolls Royce of manual breast pumps and unlike the electric pumps that Medela manufactures, it's competitively priced when compared to its counterparts.
It really is hard to find fault with this pump, which the great feedback from owners attests to. Highly recommended.
2. Philips Avent Breast SCF330/30 Manual Pump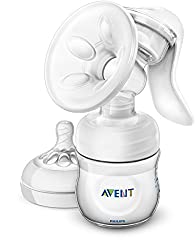 Breast milk expression may be one of the most difficult tasks to do.
This is true especially when you have other responsibilities apart from taking care of your newborn baby.
Think about things like going to work early, taking your other children to school or even preparing dinner for your husband.
Breast pumping ahead of time and saving it in the fridge has been known to be a convenient practice, as the milk will not spoil even after six months as long as it is frozen.
Manual vs. Automated Breast Pumps
Although there are several programmed and automated products in the market today which guarantee efficient processes and the best results, nothing beats the more natural way.
Philips Avent Breast SCF330/30 Manual Pump is an improved manual pump that can be easily depressed and continuously pumped.
Unlike other manual pumps that may damage breast tissues and even hurt your nipples, this product from Avent has soft and pliable flanges that will massage your breasts first to encourage let-down then increase suction for milk expression.
The truth is, there will always be hundreds of technological advancements in everything but nothing beats the natural way of doing things.
How to Use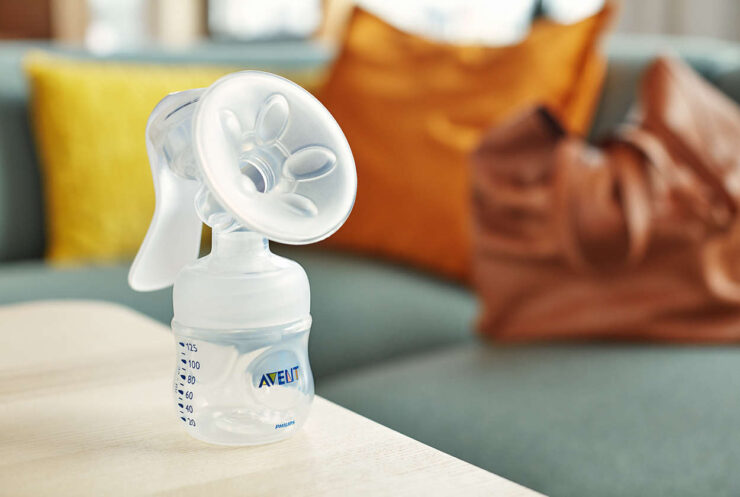 This breast pump is quite easy to assemble and use. Although there will be a manual included in the package once you buy it, here is an overview of the parts and where each one would go.
The Philips Avent Breast SCF330/30 Manual Pump usually has a travel cover where the rubber nipple is to keep it tight and a cap.
When you need to use this as a breast pump, then all you'll have to do is take the cap, travel cover, and the teat off and place the stand under the bottle.
Everything that goes on top of the mouth of the pump (now pumped milk reservoir) consists of the 'bottle adapter' which is tightened with the mouth by the 'locking ring'.
A small 'white valve' is placed on top of the bottle adapter and found under the 'pump body'. This pump body is connected to the 'funnel' where a 'silicone petal massager' is attached.
This soft flange is the one you put over your breast and fit your nipples into.
The 'silicone diaphragm, stem' and 'pump cover' are found on top of the pump body where the handle is attached to the side of it as well.
Practice makes perfect but as long as you have everything down pat, cleaning and re-assembly will not be as difficult as you think it.
Note: Milk can become a breeding ground for bad bacteria, and you don't want your baby getting sick.
Disadvantages
There are some disadvantages, as with any other products you would find on the market, such as the fact that the flanges may not have room for all nipple sizes especially the larger ones.
Also, the set may not be compatible with other bottles except for Avent.
What to Look for in a Manual Breast Pump?
When it comes to manual breast pumps there are two main factors to consider.
The Comfort of the Breast Pump
Using a manual breast pump can sometimes be a tricky and energy-sapping exercise. This is especially when you're first starting out. Therefore, you'll want to make sure that the breast shield is comfortable.
It should fit over your entire areola. Also, the tubing at the center of the shield should be large enough to fit your entire nipple.
This will ensure that the nipple doesn't chafe on the plastic tubing which can cause pain and discomfort.
The breast shield should also be made from flexible, comfortable plastic. It should have rounded edges that won't push and cut into your breasts.
When it comes to comfort the handle is another important thing to consider. A good manual breast pump will come with an ergonomic one.
Trying to find the right position can be tricky when the shield is attached to your breast and you're pumping at the same time.
Make sure that the handle isn't in a position that will cause discomfort during long expressing sessions.
If you can find a manual breast pump with a rotating or swiveling handle then you'll be much better off.
Level of Suction of the Breast Pump
The next important factor to consider in a manual breast pump is the level of suction it provides.
Since you're going to be putting a lot of effort into using a manual pump you want to be sure that you're getting something back for all that work.
If your pump isn't providing enough suction then you're going to have to work a lot harder for your milk.
If you're in a store, you can take the pump out of its packet or use a display model. In that case, test the suction by placing the shield over the palm of your hand. If it's big enough or over a flat surface, you can begin pumping, using the handle.
Placing it on your hand is the preferred method. But if you can't do that, then placing it on a flat surface should still give you a good idea of how much suction it provides.
Hopefully, these tips will be of some help when you're looking for the best manual breast pump to suit your needs.
Final Words
Choosing the best manual breast pump isn't difficult.
As long as you understand what you are looking for (which this guide should help you with) and have the budget to support the product that suits your preferences, you should be able to get the right one.
And don't be afraid to read more reviews and familiarizing yourself with the pump before purchasing.
There, you'll see what other moms are saying about it and that should help you make an informed buying decision.
I hope you've have been able to decide on one. If not, look through with a keen eye and a budget to see what you can gain.
Finally, our top recommended manual breast pump is the Medela Harmony Manual Breast Pump.
Here are some other interesting models that you might like: