Also known as nipple pumps, breast pumps enable mothers to feed their baby breastmilk rather than formula when breastfeeding is inconvenient or impossible.
If the mom has to spend time away from the baby, maybe at work for example, then breastfeeding is impossible.
Editor's Pick
Good Choice
Don't Miss
Also Consider
Medela Breast Pump | Pump in Style with MaxFlow | Electric Breast Pump, Closed System | Portable
Medela Symphony Breast Pump Hospital Grade Single or Double Electric Pumping Efficient and...
Ameda MYA Joy Plus Double Electric Rechargeable Breast Pump with Tote, Hospital Performance Breast...
Ameda 700P One-Hand Manual Breast Pump
Editor's Pick
Medela Breast Pump | Pump in Style with MaxFlow | Electric Breast Pump, Closed System | Portable
Good Choice
Medela Symphony Breast Pump Hospital Grade Single or Double Electric Pumping Efficient and...
Don't Miss
Ameda MYA Joy Plus Double Electric Rechargeable Breast Pump with Tote, Hospital Performance Breast...
Also Consider
Ameda 700P One-Hand Manual Breast Pump
Feeding baby formula is an option. However, many scientists (and moms!) agree that breast milk is best for babies.
Breast pumps from companies like Medela provide a solution to this problem. Breast milk can be pumped (or 'expressed') and stored at home in the refrigerator. They can also help when other problems arise.
If mom has sore nipples, breast pumps can be more comfortable than an eager baby's mouth!
Some babies don't grasp the idea of breastfeeding as readily as others. Here again, a breast pump can provide mothers milk for the baby.
Ask any breastfeeding mother about her experiences in expressing milk using pumps.
She will have quite interesting stories to tell! The trials and travails of mothers who breastfeed whilst pursuing a career!
And those who work in offices and factories have their own share of experiences. Some quite amusing, and others not so amusing.
---
What's the Best Breast Pump to Buy in 2022?
---
Our Editor's Choice – Medela In Style Breast Pump

Our Editor's Choice is the Medela Pump In Style Breast Pump!
The "Pump In Style Advanced Backpack" breast pump has everything that the mother of a nursing kid could yearn for, and more!
The Backpack version of the "Pump In Style" series has inherited the "Natural Expression" technology that has made the series popular.
This patented technology was built on a research paper written by Dr. Peter Hartmann, who made the ground-breaking discovery of the infant's nursing rhythm at the mother's breast.
The research brought to fore Nature's techniques of getting the infant to fill its stomach by a systematic pattern of suckle and release.
Initially, the child creates a suckle and release cycle that has a very high frequency. This stimulates the tissues near the areola to begin lactation.
The moment the milk begins to flow from the nipple into the child's buccal cavity, the child abruptly drops its frequency of suckling and releasing.
Want to learn more before buying? Still unconvinced? Here are more details for you:
---
The Role of Business, Media and Society…
---
The media and society, in general, has played a vital role in developing a positive image of mothers who breastfeed at home and use a breast pump at work.
The result is that mothers, especially first-time mothers, no longer feel shy using the breast pump at work.
Indeed, they already work it out in their mind at the onset of pregnancy itself. And the community around them expects it from them, too.
There are lots of advantages of raising children on mother's own milk, rather than industrial or formula milk.
This now has support on TV programs, newspapers, and in group meetings at the hospitals.
All done to ensure lactating mother abandons breastfeeding in favor of formula feed only in the rarest of circumstances.
Businesses, too, recognize the importance of allowing lactating mothers, some time off. And some privacy to express milk for their infants.
That absenteeism is lowered, workforce morale is boosted, and sometimes loyalty to the firm, too, is enhanced, is what hard-nosed managements seem to have learned very quickly.
The American Situation…
The United States is the single largest healthcare market in the world. It is no surprise that big-ticket corporates from other continents want to grab their share of the large pie.
America welcomes them with open arms…and lets the brutal and savage forces of the market have its unbridled run.
A highly competitive market for breast pumps has companies with the best products and services in this segment surging ahead.
Concurrent to the logical erosion of price for the end-users. The result? More value for the buck.
Lactating moms are pampered with myriad options. Hand pumps, electric pumps, battery pumps, pumps with LCDs that display various parameters, etc.
A mom can buy a 100% cotton blanket that stylishly sits over her shoulders and covers her body length.
Thus, allowing the baby to snuggles at her breast for its stomach fills in complete privacy. Or perhaps she might be operating a double pump beneath it.
Pillows shaped with just the right contours help her adjust the child in that "scientific" position, tongue-in-cheek, while the latter is busy nursing.
One wonders how one's forefathers (or is it foremothers?) managed without them! Is the infant 3 months old?
The smiling salesman swishes out a spill-proof, "magic" cup, for your bundle of joy to sip, grandly.
The child has begun teething? Sure, there's a magic version with a sturdier spout, too!
---
The Surging Breast Pump Manufacturers
---
Every year, about eighty million babies are birthed around the world. Out of this, four million are born in the United States alone.
Couple this with the attitude of a highly health-conscious society. One that is now fully convinced of the need for feeding the newborn baby with mother's milk.
Add the fact that the majority of women return to work post-partum.
And the quick arithmetic of the business of breast pumps and accessories shows the amount of business available to breast pump manufacturing, every year.
Research over the years, along with continuous hammering via television advertisements and soap-operas and newspapers, leaves parents with no doubt that the best first food for babies is breast milk.
Diseases such as ear infections, diarrhea, rashes, allergies, and even higher mortality rate, that confront bottle-fed babies, do not bother (much) the babies that are breastfed.
Why is that so?
Surprisingly, with all the strides that science and technology have made today, the exact chemical constitution of breast milk is still unknown.
Businesses that entered the segment of breast pump manufacturing earlier have the advantage of first-to-the-tape. And do benefit from easier brand recall.
However, the industry is always in a constant state of evolution. One that's driven by new technological innovations. Customers, as usual, demand less costly and more efficacious products and services.
This scenario leaves no room for complacency for anyone. And manufacturers have to be on their toes all the time. It's quite possible for an established market leader of today to become a "has-been" tomorrow.
Newer startups, with revolutionary and path-breaking technologies, manage to not only get funds from venture capitalists but also create niches for themselves.
The Sprouting of Pioneering Companies
The depth of the American market has attracted big-ticket corporates from other parts of the world. Avent, a U.K. company, launched its U.S. operations with its ISIS pumps.
Medela AG, a Swiss corporate and leader in the healthcare segment in most of Europe set up bases in the U.S. And have already made a name for themselves with a very complex range of products.
Every manufacturer seeks to reinforce relationships with distribution partners. And no stone is left unturned to ensure their flock of distributors/retailers are happy and satisfied with their profit arrangements.
As part of a holistic, pre-sales to after-sales strategy, full-time attention is given to fostering close tie-ups with lactation consultants.
And building and sustaining the network of lactation experts and specialists who come in direct contact with the ultimate consumer – the lactating mother.
Free or nominally charged seminars and workshops are organized by the manufacturers to train the consultants on the product operation. A close liaison with groups such as the La Leche League is always maintained.
The Regulations that Bind Production
Breast pump manufacturers are required by law to follow stringent regulations laid down by the Food and Drug Administration whenever a new product is launched in the market.
Manual pumps are let off leniently by the Federal Food, Drug and Cosmetic Act (FDCA). But all electronic variants come under the scanner.
Before launching a new pump, the manufacturer is required to submit a premarket notification to the Department.
Giving full details on the various parameters as laid down by the latter.
Only after the premarket notification is approved, that manufacturers can sell the product.
Violation of this precondition may lead to serious repercussions. One that any manufacturer worth their salt would do best to avoid.
Seizing of product inventory, court injunctions against further marketing of the product, and/or monetary penalties.
All of these actions pale before the enormous loss of face the company's brand name faces in the media and the market.
The Top-Rated Breast Pumps and their Accessories
Breastpumps are sold with a host of accessories.
Items such as collection bags, coolers, sterilizing equipment, bra pads, carry bags, pillows, special-purpose blankets, and what-have-you. Many of these are automatically get picked up when breastfeeding mothers walk in the store.
A huge ancillary industry has flourished, who earn their daily living through the outsourcing of the major players. This ancillary industry, incidentally, is not localized only to the United States. Instead, it is spread far and wide.
Workers in China, Hong Kong, Malaysia, and other Asian countries work eight to ten-hour shifts to give the mother that ultimate comfort in expressing her milk!
---
Review of the Best Breast Pumps in 2022
---
1. Medela Pump In Style Advanced Breast Pump with Backpack
It's smart management indeed, that responds and proactively maneuvers itself in a highly competitive market.
This is a result of the keen, statistical, observation by somebody in Medela's market research and design team.
Someone knows that today's breastfeeding mother is more out-going and has a sporty, fun-loving disposition, must have led to the launch of this trendy product.
The "Pump In Style Advanced Backpack" breast pump has everything that the mother of a nursing kid could yearn for, and more!
The Features
The Backpack version of the "Pump In Style" series has inherited the "Natural Expression" technology that has made the series popular.
This patented technology was built on a research paper written by Dr. Peter Hartmann, who made the ground-breaking discovery of the infant's nursing rhythm at the mother's breast.
The research brought to fore Nature's techniques of getting the infant to fill its stomach by a systematic pattern of suckle and release.
Initially, the child creates a suckle and release cycle that has a very high frequency. This stimulates the tissues near the areola to begin lactation.
The moment the milk begins to flow from the nipple into the child's buccal cavity, the child abruptly drops its frequency of suckling and releasing.
Scientists call the first cycle phase of stimulation as the "Let-Down" phase and the second cycle phase of regulating the flow of milk as the "Expression" phase.
These two phases have been brilliantly incorporated into the "Pump In Style" series, of which the "Backpack" is a proud member!
What We Like
When using the Medela Backpack, the mother gets the feeling as if it is the child that is suckling at her breast.
This leads her body to relax and causes the milk to flow more naturally. The equipment comes with a one-touch "let-down" button that emulates the "Let-Down" phase of the child's suckling.
When the first spurt of milk begins to flow from the nipple, the mother can switch to the slower, deeper suction cycle that draws more milk from the breasts into the collection bag.
The kit is enclosed very discreetly in a trendy and stylish black colored microfiber bag.
Any casual observer won't know there are items like a cooler carrier, motor unit, double pumping accessory kit, a manual breast pump, AC adapter, etc., in the bag itself!
Verdict
Mothers have reported relief from engorgements as a result of using the Backpack breast pump.
Engorgements can be quite painful. The breasts are so full of milk that the tissues become tight, and expressing becomes very difficult.
In such a situation, even the child is unable to latch on to the breast, as it instinctively detects the abnormality. It is the no-nonsense massaging action of the breast pump, that brings the breasts back to normalcy.
---
2. Medela Symphony Hospital Grade Breast Pump Review
Ever since the introduction of the revolutionary ground-breaking technology of Natural Expression, Medela has been coming out with newer versions of breast pumps that incorporate this technology.
The Medela Symphony Breast Pump is one such, in a long string of products.
"Natural Expression" is a two-phase program that mimics closely the infant's own naturally instinctive nursing rhythm.
Here, there is a rapid, high-frequency "Let-Down" phase which stimulates the breast tissues to let down.
This is followed by the second phase in which there is an abrupt drop in the frequency, along with a deeper and longer suction. The Symphony incorporates this technology.
The Features
The Symphony breast pump also brings with it a never before feature known as a Program Card.
This is a futuristic provision of Medela, where pumping programs can be stored.
The pump mechanism and the collection set have a hydrophobic membrane separating them.
The unique feature of this membrane is that it allows air to pass through, but does not let any liquid to pass through.
One drop of liquid touching the membrane makes it go totally impermeable, and the kit stops working!
The only solution at this stage is to let the membrane dry fully in the air, before attempting to reuse it.
This drastic control is necessitated in order to protect the electric circuitry inside the pump and the motor from coming in contact with any liquid.
Verdict
The sleek design of the Symphony also includes a brilliant LCD display that indicates various parameters in operation.
This includes the current pumping phase, the present vacuum level, the status of the batteries, etc.
Electronics wizardry was never so useful for the mother, as it is now in Symphony!
And weighing about 6.5 pounds without, and around eight pounds with a battery, its a handy piece for the breastfeeding mother to have around!
---
3. Medela Harmony Breast Pump Review
The Harmony breast pump, despite being manually operated, has proved to be quite popular amongst a large section of the breastfeeding mother community. And with reason.
Medela has incorporated its latest ground-breaking research results in this handy device, making the lives of mothers very easy.
It was Dr. Paul Hartmann who discovered the two-phase cycle that Nature follows when the child nurses at its mother's breast.
The child does not get any training from anybody on how to breastfeed. It has an instinctive rooting for the breast's nipple.
The Features
The most important thing is to put the nipple in the baby's mouth. The child then starts with a rapid cycle of suckle-release-relax, which the scientists call the "Let-Down" phase.
And whose objective is to stimulate the breast tissues to begin lactating.
The first drops of milk fall in the child's mouth; signaling that the flow of milk has started. Now the child abruptly shifts the cycle to a slower flow – the frequency of the suckle and release drops.
Now it concentrates on drawing more and more milk with longer suctions and slow releases.
The first version of the pump has the technology, "Natural Expression" in its mechanism.
It is the dual-pumping pattern that the pump brought to the mother. So there is no stress of motors and batteries to handle. And yet, she can get a pleasurable expressing experience.
All these features translate into a very breezy pumping experience.
Verdict
The breast shield goes over the nipple firmly, but not too firmly. So pumping can begin straight away. The level of vacuum is controlled by the compression and the speed of the handle stroke.
The pumping rhythm should be such that the hands do not tire quickly.
---
4. Ameda Purely Your Electric Breast Pump Review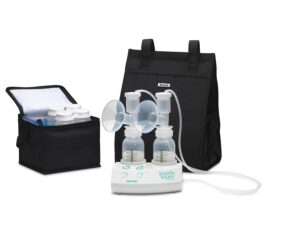 There are as many uniquely varied situations as there are breastfeeding mothers.
Some mothers balance their demands of a full-time profession with rearing their newborn infant. Others decide to stay at home and look after their children until.
This continues until they are able to wean the baby from breastfeeding.
Yet others find themselves in a hospital, trying to feed their child through bottles containing milk expressed using hospital-grade breast pumps, as the latter is either too weak to suckle.
Or the mother has some condition with her breasts, such as flat or inverted nipples or engorgement.
Every such mother that finds herself in such situations where direct breastfeeding is just not possible, has her own set of demands and expectations from a breast pump.
Ameda, a company in the market for fifty years now, and concentrating on mother-and-child health care issues, has recognized this aspect.
The Features
In their quest to keep responding to their customer – the mother's – demands, they have come out with a fully-automatic breast pump.
Unlike the more fancy models of its family, the Purely Yours Electric Breastpump is a no-frills pump.
It focuses firmly on the basic aspects of the work it has been designed to do, and that is the pumping of milk from the mother's breast.
The mother also has another option that she can make use of, and that is the double pumping facility.
She has the freedom to pump milk on one breast at a time or both the breasts simultaneously. Doing so speeds up the time taken in expression, and actually causes the body to produce more milk.
Verdict
The Purely Yours Electric Breastpump comes with an AC power adapter, and can also function with AA batteries (it requires six of them).
The company also sells a "Cool 'N Carry Tote" separately, which contains three cooling elements and six 4 oz bottles.
Thus, with this bare-bones equipment, a mother can get the best that the world has to offer in terms of breastmilk pumping. What more could she ask for?
---
5. Ameda One-hand Breast Pump Review
There is now a mind-boggling variety of breast pumps on the market.
Companies vie with each other to bring out the latest product. So, they make use of advanced technologies that their research and development labs can churn out.
This abundance of choice could be quite confusing for a mom, especially a first-time mom.
Why do mothers go in for breast pumps in the first place? After all, previous generations of mothers to have reared children, without making use of these fancy contraptions, haven't they?
The reason is not too hard to seek.
The Features
Today's mom is no longer confined to the four walls of her house after returning from the hospital where the child was delivered.
In a majority of cases, she has to get back to her work or pursue her career, and that too, in double-quick time.
While she is away, she has to ensure that her little bundle of joy receives the food that nature has bountifully made provision for – through her breasts.
So, the mother does the next best thing to being with the child all the time: she expresses milk in advance, stores it in a refrigerator.
Now, instruct the person taking care of the child to feed the baby on time. Now, in order to pump the milk efficiently, there is a need for a breast pump.
More often than not, the mother need not hanker after a fancy breast pump, with all the bells and whistles that go along with it.
All that she would like to have is a simple, manually operated device that performs the bare function of expressing milk at her own convenient pace.
This is where the Ameda One-Hand Breastpump enters the picture.
Verdict
You can operate the Ameda one-hand breast pump manually. So, the best part is that there are no electrical wires coming to your body, and there isn't any need for batteries to run the machine.
The mother can express one breast at a time, or perform the expression on both the breasts simultaneously.
---
6. Medela Pump In Style Advanced Breast Pump Starter Set
For first-time mothers, the new experience of having to feed her newborn infant at her breast can be too overwhelming sometimes.
Then again, there are situations where the baby is premature, or has some sickness, because of which it cannot be breastfed immediately.
But the doctors assure that it will do so in due course of time. A starter kit, that contains all the bare essentials for the mother to get going about her breastfeeding job, is an ideal must-have.
Medela's Breastpumping starter kit fills in this demand quite admirably.
The Features
Medela's design team kept a typical, perhaps stay-at-home, breastfeeding mother before their eyes when they worked out the components of the kit.
This category of the mother is always around her kid, available to nurse her infant on demand.
Plus, they also seem to have focussed on the mother who might be undergoing this experience for the first time. This is evident in the contents of the kit.
The most important component of the kit is the breast pump, which can be operated manually. There are two collection containers that have the capacity to hold up to 5 oz. of milk.
The kit also comes with six CSF Bags which are disposable, and again can be used for collection.
First-time mothers usually face the problem of sore nipples. To alleviate this condition, the kit has the Medela trade-marked PureLan 100 lanolin, which is quite effective.
Mothers can also make use of the disposable bra pads that are part of the kitty, too. Finally, a tiny treasure trove, containing tips and hints on breastfeeding, has been thoughtfully tucked in.
Verdict
The Kit's Breastpump is quite ideal for collecting breastmilk when the mother is going to be away from her child for a period of time longer than its next hunger pang.
It takes about half-an-hour to forty-five minutes for the mother to express milk from both her breasts using the manual pump.
You can store expressed milk in the container. And you can keep it in the freezer section of the refrigerator.
Some times, the milk remains unused for long periods of time, which should not be a cause for worry really since the freezer can preserve the milk for up to six months without any problem.
---
Final Words
---
At BusyMomontheGo.com we gather information from a number of different sources. This helps us provide you with the best breast pump reviews.
Whether you are looking for manual breast pumps, single or double electric breast pumps, you'll find it. And if you are more concerned about the accessories, we cover that too.
When we can't review the products in person we compile information from the manufacturers' websites.
Then we scour a variety of sources on the internet looking for real user reviews. We take information only from people who own and use the products.
Our reviews are 100 percent original and completely unbiased.
Our preferred vendor…
Amazon.com is the favored vendor. We recommend them for all products due to their excellent customer service and highly competitive pricing.
We are Amazon affiliates. This means if you purchase through one of our links we will receive a small commission from Amazon.
However, this doesn't mean you pay more for the product.
It's simply their way of rewarding us for recommending them to you. And that's how we can afford to keep this site free of ugly advertising banners.
Concluding remarks
Since Amazon is the only vendor we recommend, you can expect our reviews to be completely honest. If we believe a product is inferior we will say so. And happily recommend one of higher quality.
At iammommahearmeroar.net we'll only give you the best breast pump reviews.
Have any suggestions or feedback? Please leave a comment at the bottom of this best breast pump review article.
Finally, our recommended breast pump in 2019 is the Medela Pump In Style Breast Pump.
If these weren't enough, check out some other pumps from Amazon also:
Sale
NatureBond Silicone Breastfeeding Manual Breast Pump Milk Saver Suction | All-in-1 Pump Strap,...
★ Award Winning, Patented & Most Value For Money Silicone Breast Pump Breastmilk Saver Pack With Pump Strap And Silicone Pump Stopper: Silicone...
★ Extremely Soft And Comfortable. Unlike other silicone pumps that have pour spout, NatureBond has removed redundant pour spout that cause...
★ Easy to use, Lightweight and Portable - Hands-free and saves breastmilk on the other side during breastfeeding. Very Lightweight and Perfect for...
★ High Quality Silicone breast pump. Sterile Vacuum Sealed. BPA Free and 100% Food Grade Silicone. Lab tested and certified by Bureau Veritas which...
★ Must Have Essentials Pack that includes both Patented Pump Strap And Silicone Stopper. Complete with Dust Cover Lid, Velvet Pouch, Silicone Breast...
Sale
Electric Breast Pump Rechargeable Double Pumps Portable Powered Breast Pump Electric Breast...
【High Efficiency & Easy to Use】Turn on the electric breast pump and automatically start a gentle pacing mode to stimulate milk flow. It pumps more...
【USB Rechargeable Battery Powered Breast Pump】Travel-ready at short time, including a USB charger and built-in lithium battery with large capacity...
【3 Modes & 9 Levels】Automatic breast pumps have 3 modes(Massage, Suction, Bionic), also contains three tubes - Double & Single, give more choices...
【Easy to Clean and Compose & Safe】 Our double breast pumps' each component can be flexibly assembled and disassembled. Except for the electrical...
【Good Service】If you have any questions, we are always glad to help you. We will definitely solve it for you and make you satisfied. Many thanks.
IKARE Hospital Grade Double Electric Breast Pumps Free-Style, 6 Modes & 150 Levels & 3 Size Flanges,...
🎄【HOSPITAL GRADE SUCTIONS & 6 MODES 150 LEVELS】IKARE's design philosophy is : Breast pump must be safe, comfort, powerful suction and ease of...
🎄【EASE OF USE & HYGIENIC IS NO.1】The BP-16 Double Electric offers a touch HD display screen with a sensitive touch panel. This screen has all...
🎄【RECHARGEABLE & PORTABLE& ULTRA - QUIET 】 Built-in rechargeable battery for convenient pumping anywhere you are. BP-16 is lightweight and...
🎄【BEST BUDGET BREAST PUMP 】 Come with 21/24/27mm flange sizes. Removable cooler bag with a contoured ice pack, holds 2 breast milk bottles and...
🎄【IDEAL CHOICE FOR MOM 】We proudly stand behind our product and offer the most comprehensive warranty on every IKARE breast pump. Our goal is...