As we move into the colder months of the year, we are seeing a lot of winter themed gifts and items appear in shops and online. It is easy to see why – not only are we all thinking about our holiday shopping (best to get an early start!) but we are also considering items for decorations, birthdays, teachers, friends, and family members. In this bumper guide, we will introduce some of the best penguin gifts available on the market in 2023.
Penguins are some of the most popular characters to be featured on wintry items. They are cute, cuddly, and very sweet with their big black eyes! And what could be more winter themed than a penguin? Are you looking for gifts for penguin lovers?
Look no further than our article, which is full of ideas for all sorts of presents. No matter who you are buying for, whatever your budget, and whether it is a big or a small item you are looking for, we are confident that you will find it in our guide.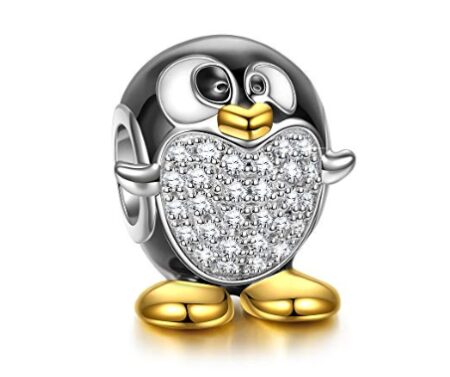 Considerations when Choosing Penguin Gifts
Before we introduce our bumper picks for the best penguin themed gifts available in 2023, let us first consider a few key factors. With so much choice available, it can be helpful to stop and think about these considerations before you head out to shop. This will also help to narrow down what is an incredible selection of items and ensure you choose the right one!
Age: are you buying for an adult, teen, child, toddler, or baby? We have included items suitable for all ages in our guide, but narrowing down the age category can help you to make your selection. If you are shopping for a baby or toddler, ensure that the item you choose is suitable and safe for their age. For adults and older kids, make sure you choose something that aligns with their interests or stick to a novelty gift for someone you do not know well!
Budget: you do not have to break the bank to find penguin items that are sure to please. Many of the items in our article are extremely affordable. However, it is a good idea to set a budget before you go shopping, to ensure you are comfortable with the amount you are spending. 
Occasion: are you buying for the holidays, a birthday or anniversary, Valentine's Day, or 'just because'? Thinking about the occasion you are marking with your gift is another useful way to narrow down the wide selection available. For the holidays, you may be looking for stocking stuffers or secret Santa gifts, and for an anniversary or Valentine's Day, a romantic themed present may be more appropriate.
Top Gift Ideas in 2023
1. Giant Plush Penguin Toy
Penguin gifts for kids cannot come much more suitable than this giant stuffed animal from Melissa and Doug! At two feet tall, this lifelike plush toy is bound to impress the little kid in your life with its impressive size and realistic features.
Melissa and Doug is known as the gold standard in childhood play and its toys and games are trusted by many parents across the world. This sweet penguin plush toy is made from superior materials to ensure durability no matter how many times it is cuddled. It is plush and soft but can be placed upright due to its filling. It is suitable for kids aged 3 and over.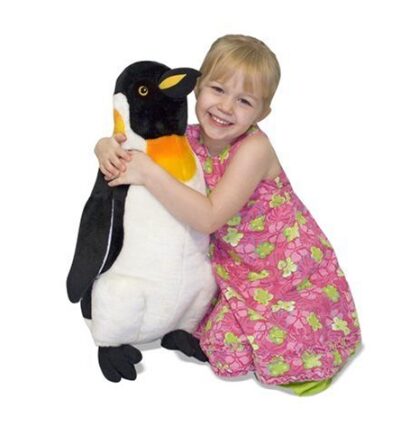 2. Girly Penguin Baby Towel
This adorable hooded towel from Hudson Baby would be the perfect choice if you are looking for cute penguin gifts. It would be a super sweet baby shower or holiday gift for a baby or toddler, and it is practical, too!
Designed to be soft and gentle on baby's delicate skin, it is made from 100% woven terry cotton and is suitable for every day use. Your little one is sure to love the sweet detailed animal face on the hood as they wrap up after bath time! This excellent value hooded towel measures a generous 33 by 33 inches.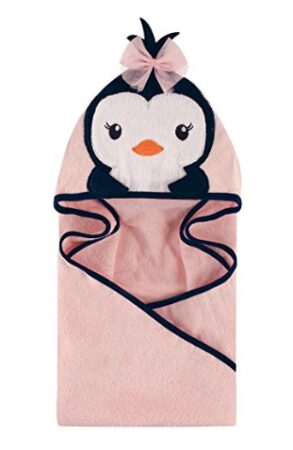 3. Penguin Polybag Collection
Did you know that there are eighteen different types of penguin? For the little one in your life who enjoys small world play, check out this set of penguin figurine toys from Wild Republic. These sweet and realistic toys would make a perfect penguin Christmas gift or stocking filler.
The set contains five lifelike emperor and rockhopper toys, each hand painted and made from phthalate free and lead free materials. Measuring approximately 7 inches tall, these figures can fit easily into a bag or pouch and are perfect for on the go play. This set is suitable for kids aged 3 years and up.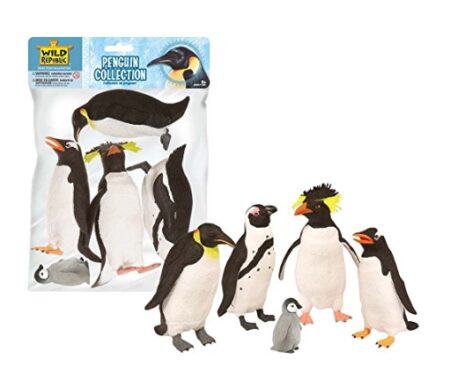 4. Animal Pattern Bags
There are all sorts of penguin things you can find to buy as gifts, including these useful reusable grocery bags from BeeGreen. They are practical and aesthetically pleasing and come in a set of six animal themed prints. Bright and colorful, each bag features a different animal, including penguins, dogs, turtles, hedgehogs, elephants, and cats.
They are extra large and can hold up to 50 pounds of groceries, meaning that they replace two to three regular grocery bags. Despite the impressive capacity, each bag can be folded down extremely small and tucked into a purse or rucksack until they are needed. Made from Rip Stop nylon, they are lightweight yet durable and waterproof.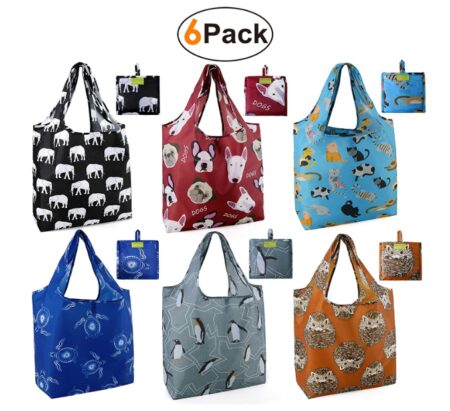 5. Penguin Bathtub Toy
What little kid does not enjoy playing and splashing in the bath? Make bath time even more fun with this sweet wind up swimming penguin toy from Munchkin, maker of popular toys for kids. This would be a perfect choice if you are looking for small penguin gifts for kids, as it would easily fit into a little gift package or a holiday stocking.
It is suitable for babies from nine months old and is sure to delight your little one as they watch it paddle across the water! Simply use the wind up mechanism and watch this little animal go.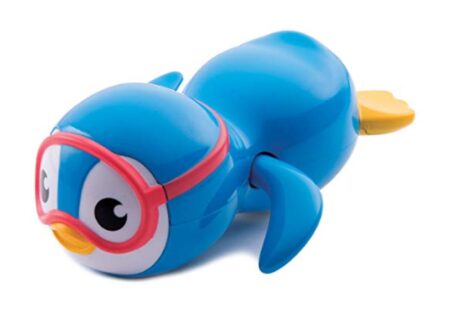 6. Penguin Themed Socks
Socks are a classic holiday gift when you are out of ideas. This year, brighten up your sock gift giving with these sweet penguin novelty slipper socks from Foot Traffic. Made from a custom blend of cotton, nylon, and spandex, these socks are designed to stay breathable, soft, and comfortable all day long.
They are designed to be worn when lounging at home as well as when out and about. The super non skid dots on the soles mean that wearers will not be slipping and sliding on hard floors. These sweet slipper socks would be a perfect gift for the penguin lover in your life.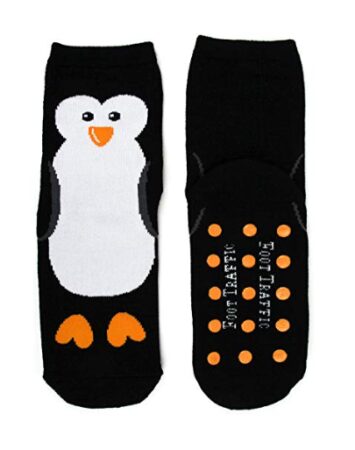 7. Realistic Penguin Stuffed Toy
This lifelike stuffed penguin has to be one of the penguin gift items available. If you are looking for a present for someone who is into everything penguin, you will definitely want to check out this stuffed Emperor Penguin with Baby toy from Aurora World, a worldwide leader in plush gifts.
The exquisite details of this adorable duo mean they are incredibly lifelike looking and are sure to delight penguin lovers. The adult penguin stands at 12 inches tall, so it is the perfect size for cuddling with. Its baby is securely attached at the feet, and it is filled with beans so it can be placed standing upright. This toy is suitable for children aged 3 years and older.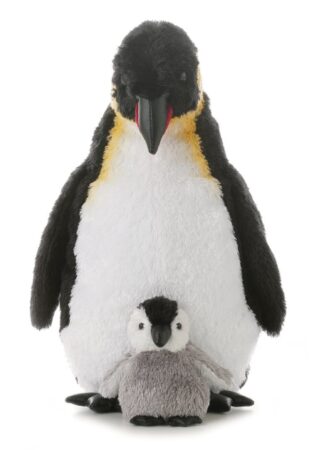 8. Soft Fleece Penguin Blanket
Looking for penguin themed gifts for older kids or adults? This cozy fleece throw blanket from JustHome would be a great addition to any duvet day. Made of soft fleece material, this cuddly blanket is 100% polyester and can be machine washed and tumble dried so it is extra easy to care for.
It features a brightly colored turquoise background peppered with adorable chubby penguin characters, complete with festive red scarves and accessories! Its jumbo size of 50 inches by 60 inches means it is perfect for snuggling under on cold winter days, as well as traveling, camping, and much more.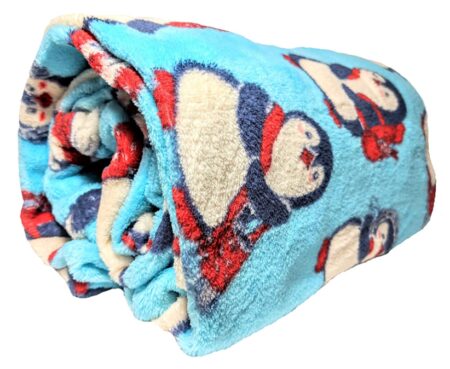 9. Cute Penguin Pillow
What could make a better gift this winter than a cuddly penguin pillow? This plush toy from Pillow Pets is designed to be a comforting companion that will keep you warm in the colder months. Its clever design means it functions as a stuffed animal during the day and unfolds into a snuggly pillow for night time.
This cuddly pal would be the perfect choice whether you are looking for penguin stuff for kids, teens, or adults. It measures 18 inches long and is made from high quality chenille that is machine washable for easy care. Suitable from 3 years and older, it is free of BPA and pthalates.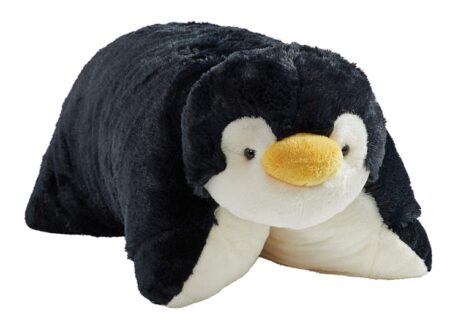 10. Unique Penguine
Matryoshka Dolls
If it is unique penguin gifts you are seeking, check out these intriguing nesting dolls from Play Visions. Featuring funny cartoon expressions, these birds are based on traditional matryoshka dolls. Each of the six dolls fits inside a larger one and your kids will be delighted as they discover more and more!
Ranging from 4.5 inches at the largest to 2 inches at the smallest, each of the bird dolls has individual details and features to differentiate it from its family members. Whether you are buying for a child or an adult, this set would make a wonderful decoration and object to explore.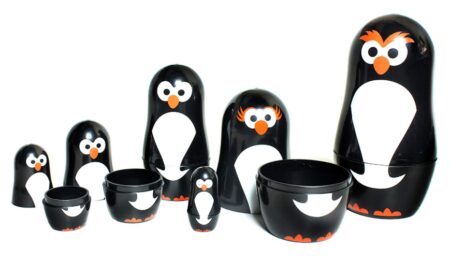 11. Glass Penguin Mug
For the more sophisticated penguin fan in your life, this glass drinks mug would make a classy and elegant gift while maintaining a nod to their interest. Made from high quality borosilicate glass, it is designed to be durable and withstand temperature differences from minus 4 to 302 Fahrenheit.
The handle makes it practical to drink hot beverages without fear of burning your hands. Delicate black and white penguins 'swim' around the outside of the mug and the inside features a smooth surface that makes the item easy to clean. With a capacity of 4 ounces, it is ideal for home, office, or cafe use.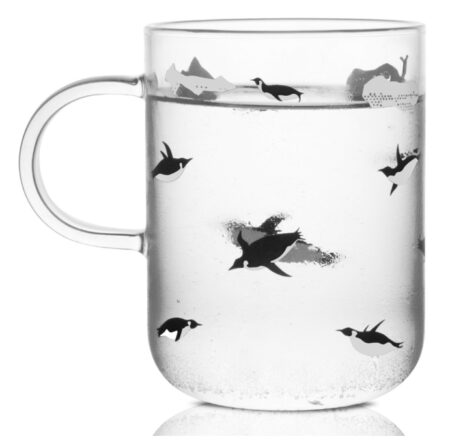 12. Sterling Silver Penguin Pendant
Another elegant choice is this beautiful necklace, ideal if you are looking for penguin gifts for her. This delicate pendant is shaped with an infinity symbol making up the penguin's head and body, with tiny accents for its beak, arms, and feet.
It is made from 14 karat gold over sterling silver, complemented by a fine line of conflict free diamonds. Hung on a delicate chain, this piece is ready to wear straight out of the box. It is sure to delight and impress any recipient and would make a wonderful gift for birthdays, holidays, anniversaries, or even for penguin Valentine's gifts!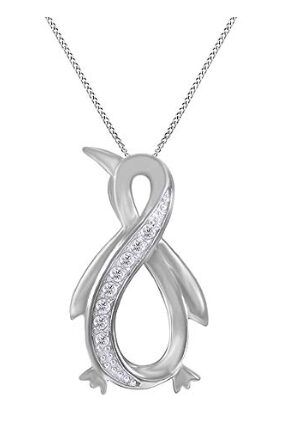 13. Penguin Water Bottle
Looking for penguin stuff for kids? Check out this sweet and useful water bottle from ChezMax. Using vacuum insulating technology, it can keep drinks warm or refreshingly cold for up to 12 hours. This penguin themed bottle would be super practical for taking to school, day camp, or to sports games.
It comes in four colors: black, red, blue, and grey, and features an adorable minimalist design with sweet penguin features. The stainless steel interior means that it is durable and easy to clean, and the exterior screw on lid ensures that no liquid will leak out into your kid's backpack.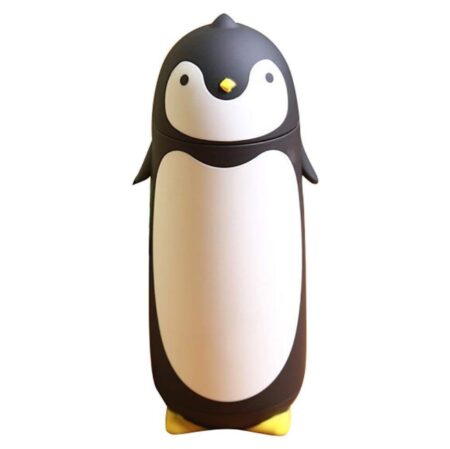 14. Cute Penguin Print Scarf
If it is ideas for penguin gifts for her you need, let us help you out! This infinity loop women's scarf from Lina and Lily would be a wonderful addition to any wardrobe. The scarf is formed from a large closed loop of fabric and it can be worn in many ways to complement any outfit.
Try a loop, double loop, pull through, and hood. Featuring a muted grey background and repeating black and white penguin print, this garment is lightweight and soft on the skin. The circumference of the loop is 70 inches and it is 35 inches wide, so it is large enough to be very versatile. Liven up any outfit with this elegant multiway infinity scarf.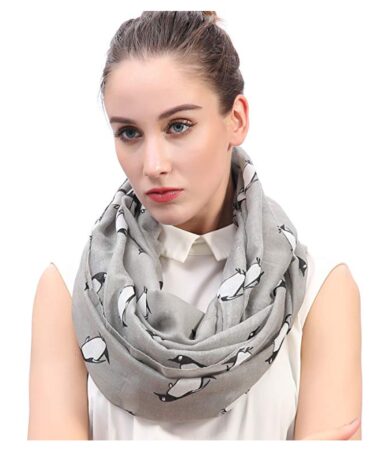 15. Penguin Silicone Bib
This silicone baby bib from Make My Day is a great example of the cute penguin gifts available on the market. This soft yet durable bib easily attaches around your baby's chest with its silicone buttons and has four fastening holes so it adjusts as your baby grows.
As you would expect from an item designed for babies, it is free from BPA, phthalates, lead, and latex so you can be confident that it is safe. The material means it is soft on baby's skin and at the same time, is stain resistant and easy to clean. It can even be put in the dishwasher.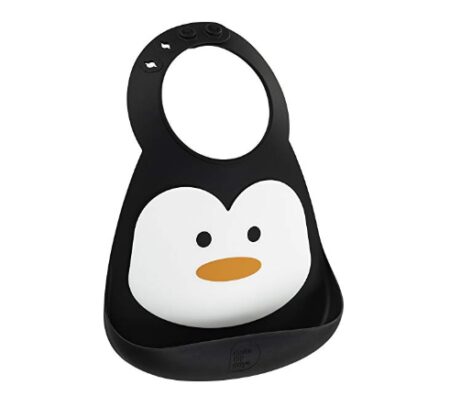 16. Flexible Penguin Ice Tray
Penguin novelties can make excellent gifts if you are unsure of what to buy. If you can make your recipient smile, then you know you have chosen the right item! This unique ice cube tray is excellent value and is bound to impress. Made of flexible yet durable silicone, it features four cute penguin molds.
You can fill the mold with water, fruit juice, tea, or even herbs to add a fun twist to your favorite drink. This ice tray is designed to create incredibly detailed shapes that will astonish your guests. The silicone material is long lasting and fade resistant, and it is designed so that the shapes will easily pop out.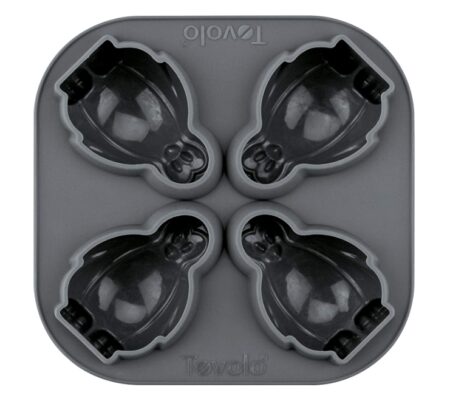 17. Colorful Penguin Stacker
This colorful stacking toy from Toy Chest NYC would make a wonderful penguin Christmas gift for an older baby or toddler. Watch your little one's delight as they sort and stack the five beautifully bright rings and pop the penguin head on the top.
Each piece is made from smooth, splinter free wood so you can let your baby play without worrying about harm. And of course, the toy features non toxic paint and is certified BPA free. The child friendly vivid colors and rocking motion of the base are designed to stimulate your little one's interest and promote healthy development as they play and learn.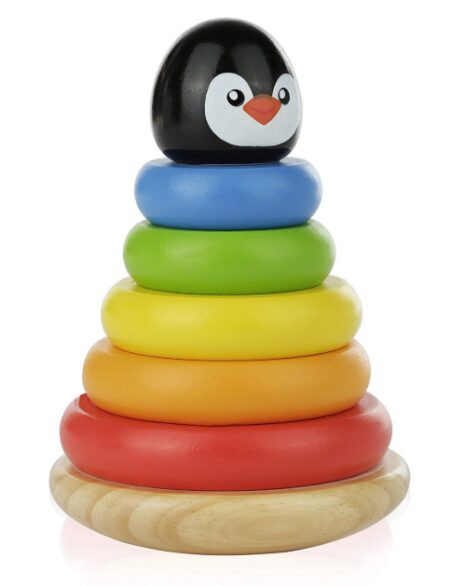 18. Penguin Plush Toy
For a sweet stocking filler, take a look at this mini penguin plush from EpicKids. At just 5 inches tall, it is the ideal size for a small gift or stocking stuffer this holiday season. Any kid who is into penguins stuff is sure to be delighted with this cute little friend!
Its small size means it is easy to take along on car rides, airplane trips, or simply to the park. Designed with child safety in mind, it does not feature any beads or buttons that could fall off and pose a choking or swallowing risk. It can even be hand washed in cool water for easy care.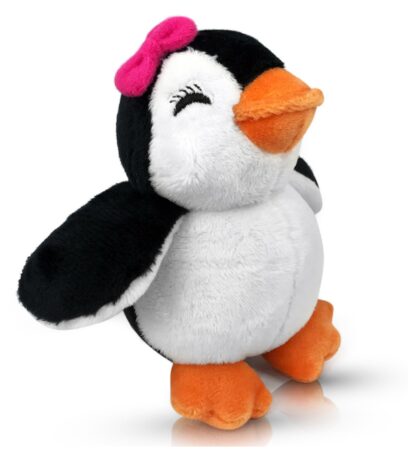 19. Set of 10 Penguin Figurines
There is no shortage of penguin gifts for kids on the market! For example, check out this set of 10 figurines from Safari Ltd. A great choice for any young explorer, the set contains miniatures of penguin breeds including Gentoo, Humboldt, Chinstrap, Rockhopper, Adelie, and Galapagos.
It also includes penguins swimming and sliding so kids can play with the birds 'in action', as well as a chick and an adult with baby. The set comes in a handy carrying and storage tube and includes an information sheet designed to teach curious kids about these intriguing flightless birds. This is a must have gift for any young animal lover.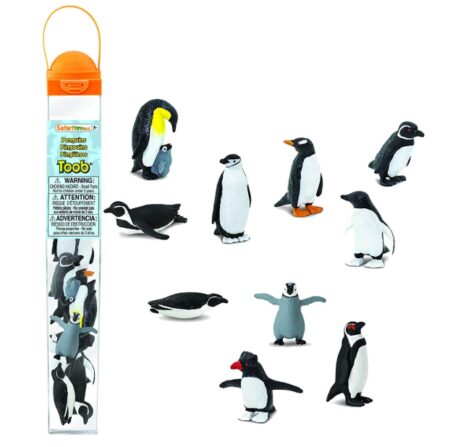 20. Elegant Penguin Bracelet
This delicate bracelet from Joma Jewellery is one of the most unique penguin gifts available right now. Made from silver plated brass, it is sure to delight even the most difficult to buy for relative or friend. It features a tiny penguin charm hung on an elasticated metal bead band.
Presented on a gift card with a sweet message, this is a present that the recipient will treasure for years to come. Whether you are shopping for a birthday, winter holiday, or Valentine's Day, this bracelet cannot fail to please. As it is part of the 'a little' collection, complementary items are also available to purchase.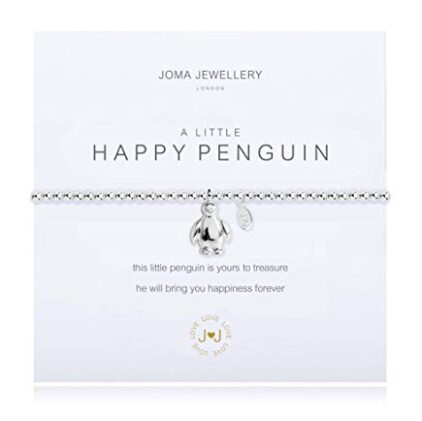 21. Penguin Plush Beanie
Winter is coming and in the Northern Hemisphere at least, that means cold weather is on its way! Never fear, for this cuddly penguin hat is sure to keep you warm in even the darkest depths of winter. It has to be one of the sweetest gifts for penguin lovers that we have found so we had to include it in our guide!
It features a clever design with elastic so it stretches to fit most sizes. It even has mittens attached so you can keep your hands warm in style. Snugly earflaps mean your ears will never be cold during the winter. This sweet garment can also be worn as a scarf.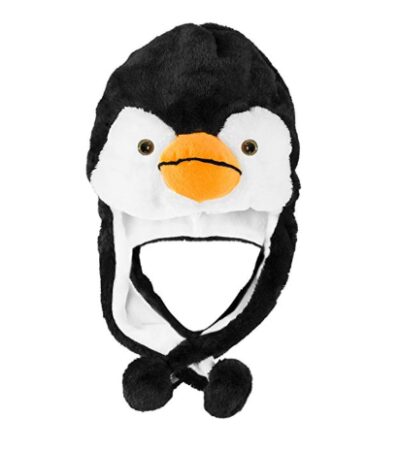 22. Fuzzy Penguin Winter Socks
If you are struggling to come up with penguin gift ideas, you cannot go wrong with these fuzzy slipper socks from NOVCO. With an adorable design featuring cute penguin faces on the toes, they are sure to delight any adult who loves to be cozy!
They are made from 100% polyester and are designed to be breathable, durable, and of course, soft and fuzzy. The fleece lining will keep even the coldest of feet warm on winter nights. The elasticity of the fabric means the socks will fit most women's sizes from standard shoe size 5-10. Perfect for a secret Santa gift or stocking stuffer!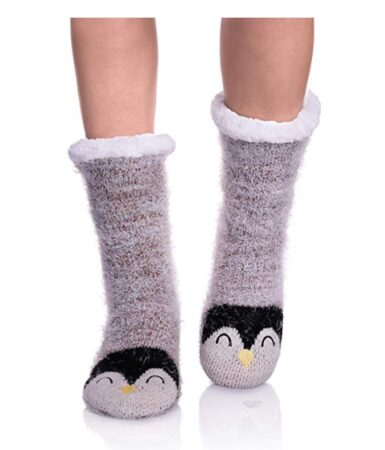 23. Penguin Fleece Sleepwear
Continuing with a fashion theme, our next pick for penguin gifts for adults is this pair of comfy fleece pajama pants from PajamaMania. Cut in a classic straight fit, these lounge and sleepwear pants are designed for maximum comfort. They are made from 100% polyester and the fabric is soft, breathable, and warm.
The pants feature two side pockets deep enough for a cellphone and one inch wide elastic at the waist for a snug fit. They have a fun winter themed pattern with cartoon penguins and white fir trees on a pale blue background. These pajama pants also feature delicate details like a satin drawstring and piped satin trim.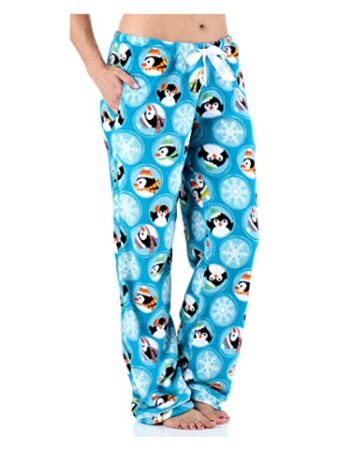 24. Baby's Footed Sleepwear
Kit your baby out in style this winter with this gorgeous organic sleep suit from Owlivia, perfect if you are seeking cute penguin gifts. Made from high quality 100% GOTS certified cotton, the fabric contains no harsh chemicals or pesticides. This means it is super soft and gentle on even the youngest baby's skin.
Featuring a minimalist design of black and white penguins on a white background, the pattern will engage baby's interest and of course, looks incredibly adorable! The sleepsuit has a zip closure from neck to toe so it is easy to change with minimal fuss. The footed style means your little one will be warm and cozy!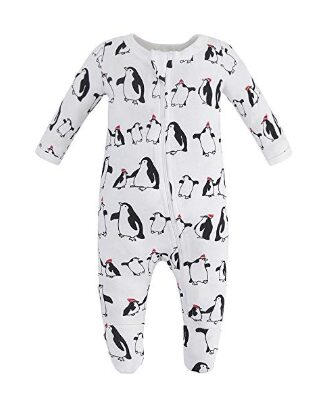 25. Emperor Penguin Pouch
Are you looking for ideas for unique penguin gifts? You absolutely must check out this cosmetic pouch by independent company Salvador Kitti. It features a double sided print of an original painting of three penguins by artist Amy Pugh.
In the painting, three Emperor penguins dance and sing on a beautiful dark green background. As well as being a gorgeous object in itself, this pouch is very functional and can be used for cosmetics, grooming tools, pens, and any other small items you need to keep organized. It features a zip top closure to keep your items safe and your purse organized.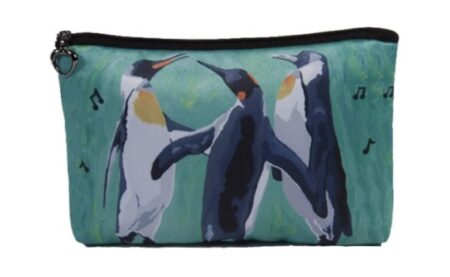 26. Pittsburgh Penguins Sweatpants
The hockey fan in your life is sure to love these comfy sweatpants, featuring the Pittsburgh Penguins logo! Let him show off his team spirit while lounging or working out with these pants, which are officially licensed NHL apparel. Made from 50% cotton and 50% polyester fleece fabric, these pants are designed for maximum comfort whether watching the game or hitting the gym.
The team name and logo are screenprinted on each leg. The sweatpants feature side pockets, open leg bottoms, and an adjustable drawstring in the waist band. They come in a range of five sizes, so you are sure to find a pair for the guy in your life!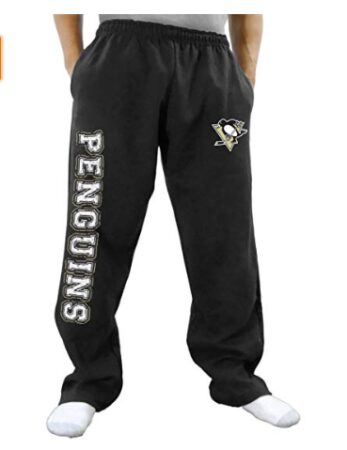 27. Mini-sized Penguin Toy
This adorable penguin chick stuffed animal from leading brand Aurora World would make a perfect small gift for any little kid. Even adults are sure to fall for its cute features and soft fluffy body! At just six inches tall, its mini size is perfect for placing on a desk or shelf or popping into a purse for an on the go toy.
The grey and white chick features a sweet yellow beak and yellow feet, with black bead eyes. This pompom like penguin is sure to make a wonderful companion for your little one.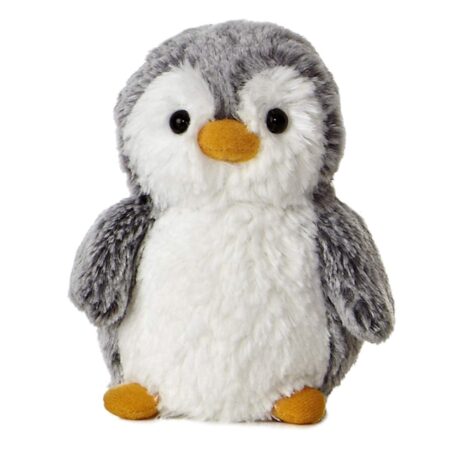 28. Opoly-style Penguin Board Game
Penguin-Opoly is the game that will get the whole family playing! If you are looking for an activity for family quality time and to get your kids away from screens, check out this engaging and hilarious game from Late for the Sky.
In the style of the traditional Monopoly game, players must move around the board and collect favorite penguins while charging (and paying) rent. Not only is this a fun family activity, but players will learn all about penguins as they play. Suitable for 2-6 players aged 8 years and up, this board game would make a fantastic gift.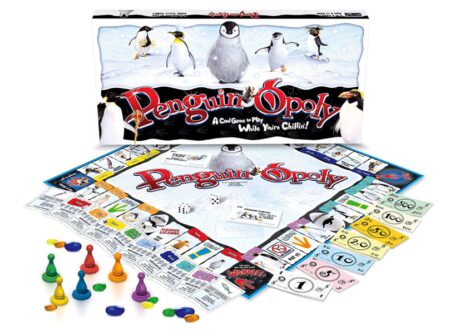 29. Penguin Charm
Add some sparkle to any occasion with this cute penguin charm from Ninaqueen. Made from shiny 925 sterling silver, the bead charm will make a wonderful addition to any compatible bracelet or necklace chain. This sweet round bird features a cartoon like expression and gold colored beak and feet.
Its tummy is filled with sparkly cubic zirconia, adding an elegant touch to the charm. With meticulous crafting, this charm will stand out when attached to her jewelry. This sweet penguin gift comes in a presentation box and would be a wonderful choice for penguin gifts for her.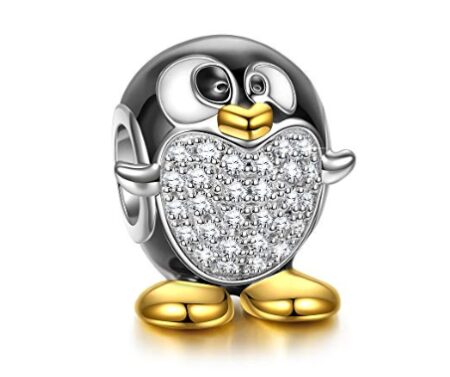 30. Penguin Beverage Shaker
For penguin themed gifts with a stylish design, check out this shaped cocktail shaker from Harold Import Co. The perfect addition to any drinks cabinet, it stands at nine inches tall and has a capacity of 18 ounces. It is made from 18/8 stainless steel and is incredibly easy to clean.
This sleek penguin is inspired by vintage art deco style from the 1920s and 1930s and is sure to impress guests at your next cocktail party! The shaker features a decorative beak and webbed feet and is fun as well as functional. Measure cocktail ingredients into the footed base, then pop the lid on and shake. When ready, lift off the headed lid and pour your drink!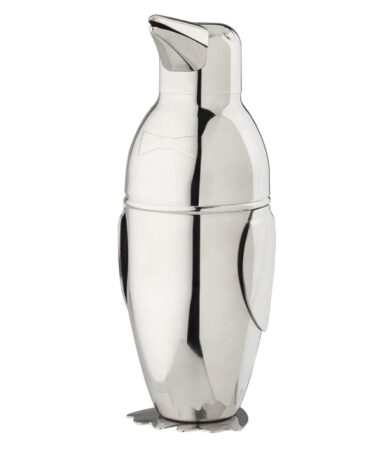 31. Couple Puzzle Keyring
This couples key chain set from TGBJE would make a sweet and romantic present for the special person in your life. It contains two separate key chains with charms shaped like puzzle pieces that fit together. Each charm is hand stamped with a message: 'I found my penguin' and 'You're my penguin'.
The key chains are designed for you to keep one and gift the other to your sweetheart. Each item also features a tiny adorable penguin charm. The set is made from stainless steel that keeps its shine and does not tarnish. It is presented in a velvet pouch, making it ideal for giving as a gift.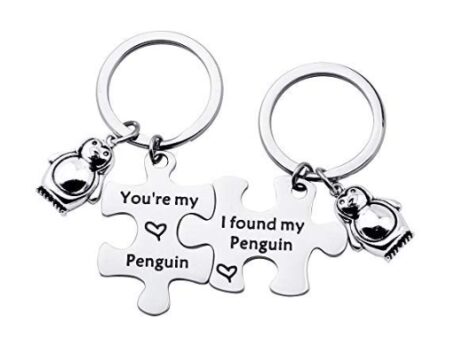 32. Vivid Penguin Lamp
Light up your room with this gorgeous penguin lamp from Geboor. Designed to be used as a night light or to brighten up a corner with soft lighting, it uses energy saving LEDs and is powered by a rechargeable USB cable. This stunning lamp would be right at home in a house full of penguin things and is made from acrylic material.
It features crystal transparency, soft light transmittance, and clear vision. Any kid or adult is sure to love this reassuring bird lamp, which can be placed on a bedside table, desk, corner table, or any other flat surface.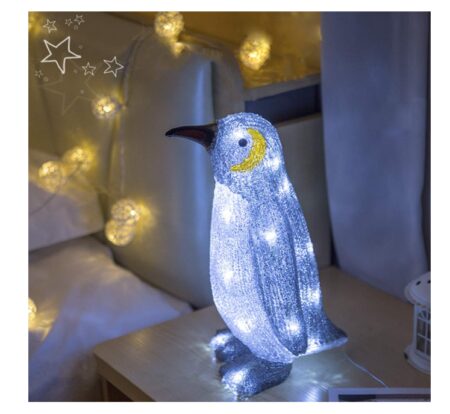 33. Hoodie Penguin Robe
Struggling to find penguin gifts for adults? Let us guide you towards this adorable penguin hooded robe from Just Love! Snugly and soft, it is absolutely perfect for cozy nights during the winter months. This cuddly robe has been designed using ultra cozy velour and Sherpa fleece lining in the hood, placket, and cuffs to ensure you are warm all winter long.
The robe itself is black with white lining and the hood features a sweet penguin face. With high quality materials and excellent stitching, you will not have to worry about damage or color running during washing. This robe would make a wonderful holiday gift for any animal lover!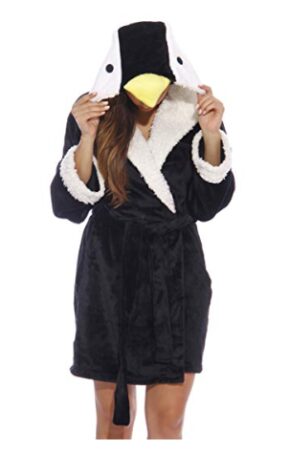 34. Penguin Tail Plush Blanket
This hilarious blanket from Catalonia would make a fantastic penguin Christmas gift for the little kid in your life! It is designed to be used like a sleeping bag, giving the impression that your kid is being swallowed by a penguin! The blanket can be used for snuggling on the couch, camping trips, overnight stays or keeping warm while traveling.
It is made from high quality 240gsm super micro baby plush polyester, meaning it is soft to the touch yet lightweight. The blanket measures 52 inches by 25 inches and is designed for use by toddlers and little kids.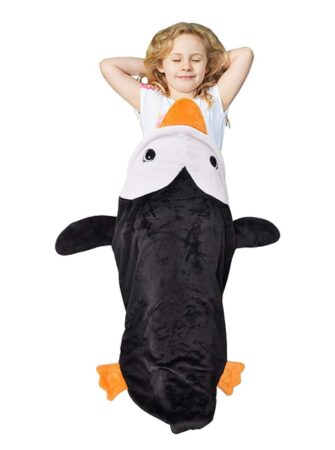 35. Penguin Art Book
Have you tried the latest craze for stress relief? Adult coloring is espoused by many to have multiple mental health benefits as well as being an enjoyable pastime. This penguin coloring book from Creative Coloring is designed especially for adults to enjoy, but can also be used by teens and kids.
It features 34 penguin designs, ranging from simple to more complex to suit all levels of coloring enthusiasts. Each 8.5 inch by 11 inch coloring page is printed on single side high quality paper, so they can be easily removed for displaying in your home. This would make a wonderful gift for any nature lover.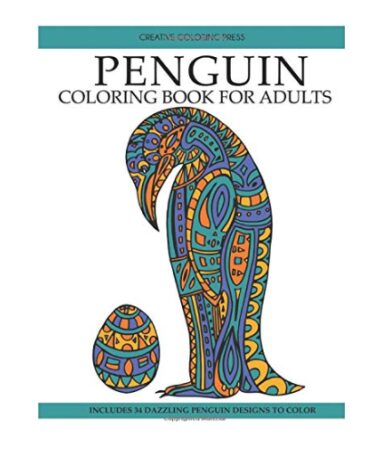 36. Animal Design Corkscrew
This animal corkscrew from TrueZoo would make a funky and practical gift for any penguin fan! It features durable construction so it is built to last, and a five turn non stick worm, so you can open your bottle of wine in no time.
Any adult wine lover knows that a corkscrew is an essential tool for the kitchen, but it does not have to be simply a boring practical item. The fun and modern penguin design of the TrueZoo corkscrew would look at home in any contemporary kitchen, with its black and white body and yellow accents.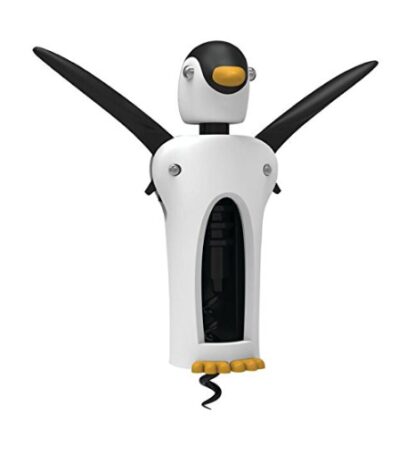 37. Funny Penguin Cup
If you are simply stuck for penguin lovers gift ideas, what about this funny novelty mug from Willcallyou? It would make a great gift for the office secret Santa, or even an adult stocking filler. With a capacity of 11 ounces, it is perfect for holding your favorite hot beverage and features an amusing message printed on the side.
The premium ink used for the words and cartoon penguin means that they will not fade over time. This mug is even safe to be placed in the dishwasher, so clean up could not be easier. If you are looking for a budget buy for any occasion, this mug would make a great choice.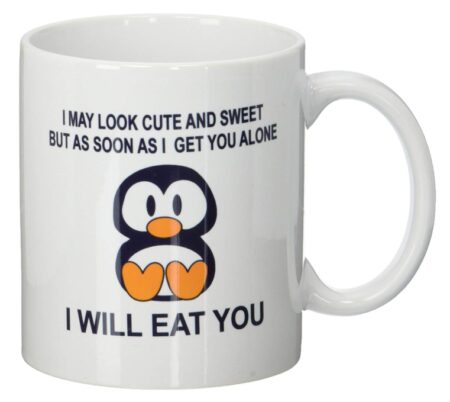 38. Penguin Print Pool Robe
Is your kid heading to a pool party or swim lessons? A fun cover up robe like this one from Arctic Paw is a must buy! It is designed to cover from your little one's head to mid leg, keeping them warm and dry when they are out of the pool.
With a high water absorbency, this cute robe will help dry your kid in no time, and they will look adorable wearing it! It features a light grey background and repeating cartoon penguin pattern. The robe is lightweight, super soft and fuzzy, and includes a belt tie to keep it secure.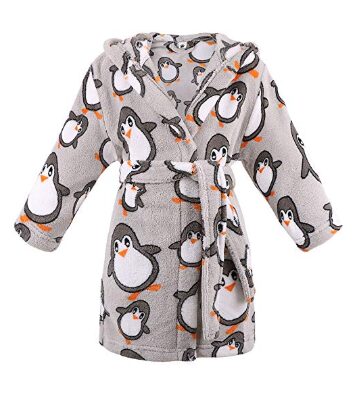 39. Birthstone Penguin Pendant Necklace
On our list of cool penguin gifts, we had to include this beautiful necklace from Neoglory Jewelry. Made from plated imitation platinum, the tiny penguin pendant is embellished with beautiful Swarovski crystals. Hung on an 18 inch chain, this beautiful penguin jewelry would make a wonderful Christmas or birthday gift for any teen or adult.
It is a delicate and elegant necklace that would complement almost any outfit. And since Neoglory is one of the world's largest producers of fine fashion jewelry, you can buy with confidence knowing you have chosen a quality item.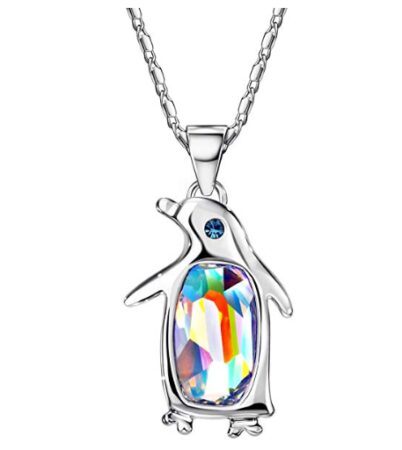 40. Penguin Problems Children's Book
What could be a better gift for children than a book? Whether sharing with a grown up or reading independently, books make wonderful presents for kids and can help encourage a lifelong love of reading. Penguin Problems is written by Jory John and illustrated by Lane Smith.
It is about a penguin who is getting real about what penguin life is all about. This little bird has many complaints, and he is ready and willing to share them with human readers! The weather is too cold, there is constant danger from predators, and it is too hard to find your mom among a flock of identical penguins! This fun picture book is bound to make little kids and adults laugh every time they read it.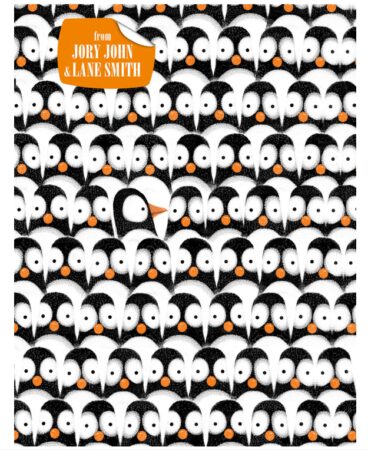 41. Penguin Cookie Molder
Know someone who loves holiday baking? This penguin cookie cutter would be the perfect choice for a gift! Excellent value, it is made from USA manufactured steel by Ann Clark Cookie Cutters. The tin plated steel material is heavy duty and it has been tested and certified as food safe.
The 5 inch mold is suitable for using with pancake batter, cookie dough, fondant, bread, and cheese. You could even include it in a penguin gift basket for the flightless bird fan in your life! Liven up anyone's holiday baking with this adorable and practical cookie cutter.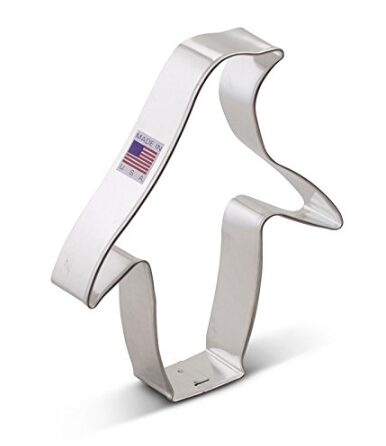 42. Mini Penguin Crossbody  Bag
This absolutely sweet cross body bag from Deekey is one of the best penguins gifts for kids available at the moment. Made from Oxford cloth, this sweet bag features a black strap and body with a cute white penguin face and adorable colorful details.
It is lightweight yet durable and the ideal bag for a toddler or little kid who likes to feel grown up! At 5.5 inches wide, it has enough room for all your little one's treasures and they are sure to love carrying it everywhere with them. The adjustable shoulder strap will grow with your kid and ensures a comfy fit for any age.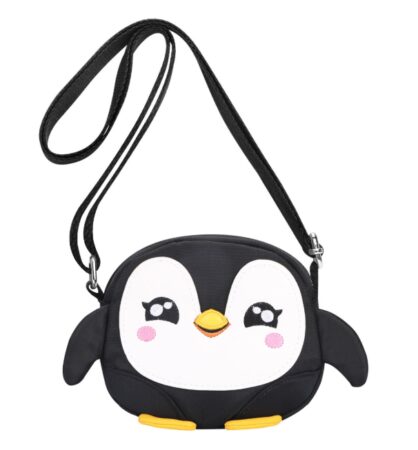 43. National Geographic's  All About Penguins Book
One of the most perfect penguin lovers gifts for kids has to be this book from National Geographic! Part of their 'Readers' series, it is designed for beginner readers and aims to build confidence in literacy. Whether your kid is reading independently or enjoys sharing books with adults, they are sure to love finding out all about penguins in this bright and interesting kids' book.
Introducing many of the species of this flightless bird, the book is full of odd and quirky facts guaranteed to get kids and adults smiling! The text is complemented by the fantastic photography that National Geographic is known for.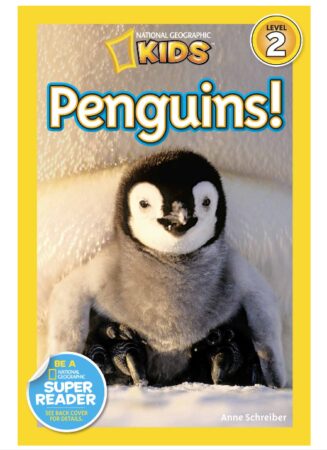 44. Penguin White Noise Machine
Does your little chick struggle to get to sleep? A white noise machine may be the answer, and this one from Bubzi Co would make an adorable addition to your home. With a promise to help babies and toddlers drift off to sleep in 30 minutes or less, it is easy to see why this little penguin white noise machine is so popular with parents!
The entrancing light projector automatically cycles through red, green, and blue stars while the penguin plays a choice of white noise, calming birdsong, or gentle lullabies. The plush exterior is even washable, making it the perfect gift for busy parents!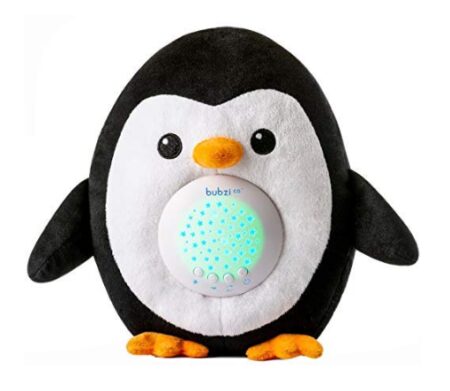 45. Pooper Toy by Hog Wild
Popper toys are incredibly popular with toddlers and young kids and they can provide endless fun and play opportunities! This Penguin Popper Toy from Hog Wild is bound to put a grin on your kid's face as they explore the fun cartoon like penguin face and learn to pop the balls out of its mouth.
By squeezing the penguin's body, kids can pop the foam balls up to 20 feet! They will be amazed as they send the balls flying across the room or yard. The set includes the penguin popper and six foam balls. This great value toy would make a perfect stocking stuffer this Christmas.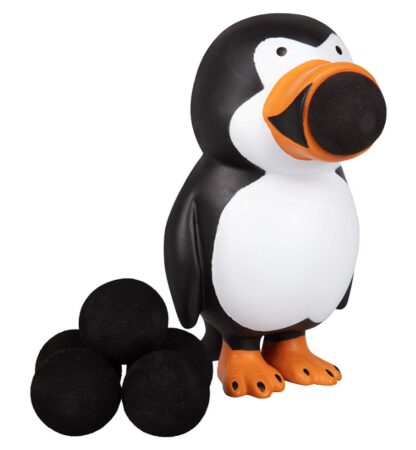 46. Adjustable Penguin Apron
This penguin apron would make a great gift for the chef in your life. Suitable to be worn by any gender, it has waist ties and a neck loop for an adjustable fit. One size fits most with this cute apron, which features a black background and an adorable cartoon penguin face with eyes and beak.
The apron is designed to be machine washed for easy care and the material used is durable and long lasting. It measures 52cm wide by 72cm long, so is definitely large enough to keep your clothes clean and dry while you cook!

47. Sterling Silver Penguin Earrings
These stunning penguin earrings will put a swing in someone's step this holiday season! Made from 925 sterling silver, the delicate earrings are free from nickel, cadmium, and lead, and are hypoallergenic. The mirrored heart design represents eternal true love and makes the set a perfect gift for your loved one at Christmas, on a birthday or anniversary, or for Valentine's Day.
With a stud backing, they are versatile and have an elegant appearance. The platinum polished penguins' bodies are embellished with sparkling eyes and wings. This set comes in a presentation box that is all ready for gifting.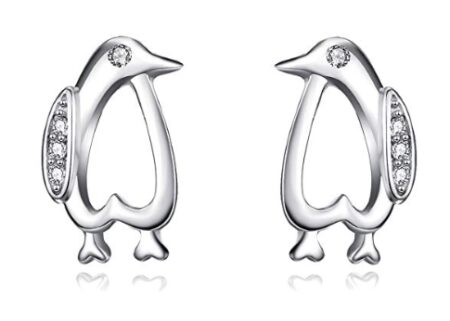 48. EcoFriendly Printed Tote Bags
As a society, we are becoming more and more aware of our environmental impact and many of us are actively seeking ways to reduce this. Reusable shopping bags are extremely popular as they are practical and help to reduce single use plastic.
This canvas zipper tote bag from EcoRight would make an excellent shopping bag or replacement for a purse. It is made from sturdy cotton and has a capacity of 7 ounces, meaning it is roomy enough for all your daily needs, whether books or groceries. It features a sweet penguin themed cartoon print and a zipper closure to keep your items safe.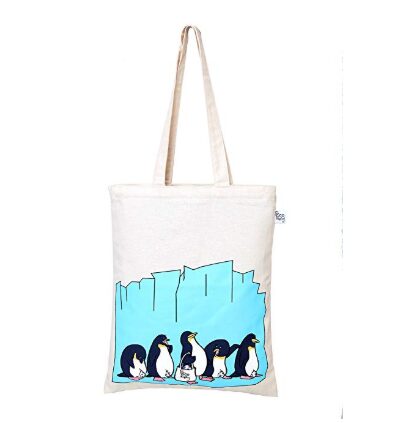 49. Cotton Penguin Socks
Who can argue that socks are an iconic holiday gift? Whether you gift them as stocking stuffers or wrap them for under the tree, everyone loves to receive new socks at this time of year. This set of five women's penguin themed socks is sure to put a smile on any penguin lover's face!
Made from 80% cotton, 15% nylon, and 5% spandex, they are designed to be breathable and comfortable all day long. The vibrant colors are designed to be seen and are sure to brighten up any outfit! Each sock features the same cute penguin print on a different brightly colored background.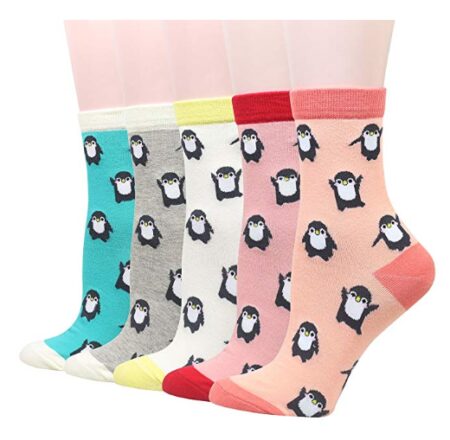 Best Overall Pick
With so much choice of penguin themed gifts, we know it can be difficult to make your final selection. That is why we have selected our best overall pick to give you more of a helping hand. We have chosen this item based on value, quality, and overall fun factor.
The item we have chosen is this playful penguin stuffed toy and pillow. Designed to be a comforting companion, this plush penguin converts into a pillow for night time or naps. It would make a fantastic gift for an adult, teen, or child and is perfect for using at home, for sleepovers, or while traveling. It can even be machine washed for easy care.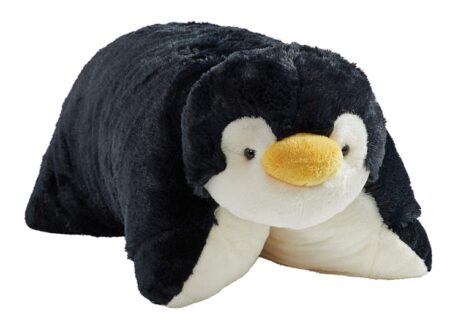 Best Product Buy
Are you on a tight budget? There is plenty of cool penguin stuff in this guide that will not break the bank yet will be an impactful gift. However, let us help you out by presenting our best budget buy. It is this Munchkin Wind Up Swimming Penguin Bath Toy, which really swims through the water. At under five dollars, it is excellent value yet packs a real punch at bath time.
Little ones are sure to be delighted as they watch this little bird flap his wings and move through the water! The toy is designed to aid in the development of audio and visual skills as well as hand and eye coordination. It is suitable for children aged 9 months and up.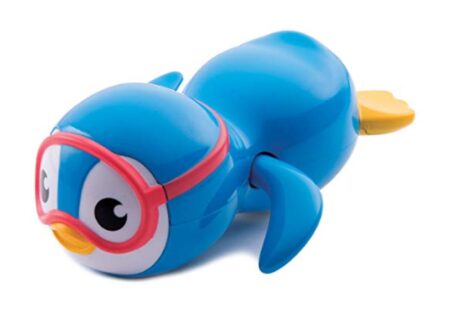 Take a look at some other great gift ideas: