Are you wanting to buy a mini pool table for kids to get them playing together and off of the computer?
Many parents complain about the amount of screen time their kids have and wonder how to get kids away from electronic devices. Playing pool table games as a family can be a healthy way to spend quality time together, especially if it gets everyone up and moving!
Pool, sometimes also known as billiards, is a well known tabletop ball game often found in bars and game halls, but now you can introduce the game into your family home with a mini table for kids to play pool with. Even if you do not have much space in your home, you can find a model to suit. And with our guide to the best pool game tables for kids, you are sure to find the right choice for your family.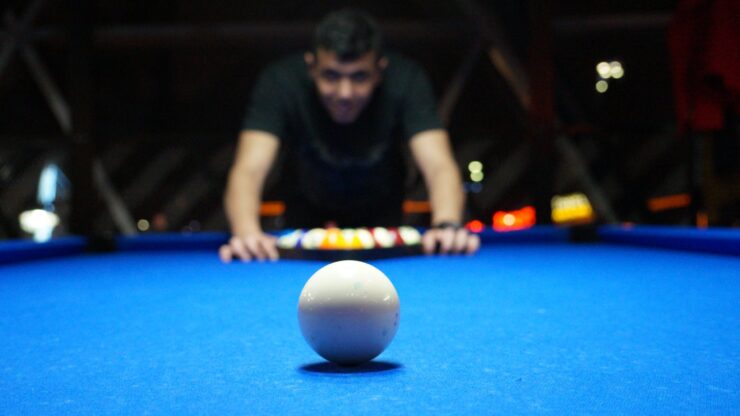 So if you are looking for an item that your kids will enjoy playing with, but feel overwhelmed with the choice available, read on! We will present some of the best items on the market, and plenty of tips to help you make this decision.
Top Tips for Choosing a Kids Pool Table
When looking for the best mini billiards table for your kids, you will want to consider your needs carefully to make the right decision. We would recommend considering the following things to help you decide on a purchase.
Size: there is a wide range of sizes available, so make sure you choose something that will fit in your home. There are different options for storage, for example folding tables or tabletop versions, so consider where you will put the table when it is not in use.
Age of children: you will of course want to select a table that your kids will enjoy playing with and the best way to do this is to make sure your purchase is age appropriate. Younger children may find a tabletop version easier to engage with, while older kids might prefer a folding table that looks like the real thing.
Quality: as with all purchases for your kids, you want to make sure the item you choose is high quality and safe for children and families. Check out the materials that the table is constructed from and ensure they are non toxic and kid friendly.
Price: a mini table for pool or billiards is typically not an expensive item, but prices can vary depending on the model you choose. There are options for all budgets so setting a budget level can help narrow down the choice.
Best Picks Reviewed in 2023
We will now present our top table picks for kids in 2023.
1. Costzon Billiard Table
A folding table could be a great choice if you are short on space in your home. This item from Costzon comes with everything your family needs to get started, including cues, a classic set of billiard balls, chalk powder, black plastic triangle rack, and a brush.
The foldable design means it can easily be stored away under a bed or in a closet when not in use. The table is made of high quality MDF, giving it a sturdy and durable structure. The green nylon cloth covering gives it a classic game parlor look and the black leather surround complements its style.
Because it is so easy to unfold and stand, kids will be able to set up games and start playing straight away, encouraging independence and teamwork. Invite friends or family to play, or even transport the table as it is so compact. The perfect choice for a space saver.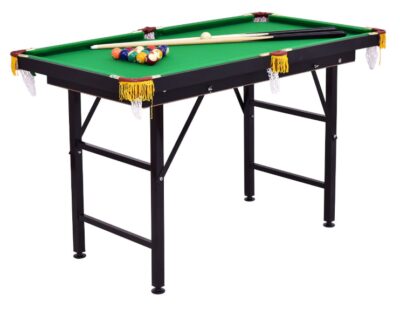 2. Desktop Pool Table
If you are looking for a tiny table for kids, check out this item by Alphabetdeal. It can be set up anywhere due to its small size and kids are sure to get a kick out of it! At a tiny 9.5 by 2.4 by 5.2 inches, it is ideal for kids' rooms, playrooms, or family rooms.
It is also a great item to take along on family trips, as kids can enjoy playing with the table in the car, on a train, or even on an airplane! This scaled down version is designed to look exactly like a regular sized games table. It features a green felt surface and bumpers, tiny black cues and triangle, and a black surround with green bumpers on the feet. The table is recommended for children aged 5 years and older.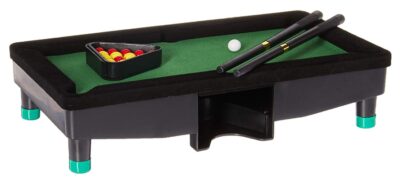 3. Funmall 55″ Folding Pool Table
The Funmall foldable pool set is a great space saving choice for your home. Ready to play straight from the box, you just need to attach the legs and the nets. The table comes with a brush, a triangle rack, two billiard chalks, two billiard cues, and 16 billiard balls.
It is constructed from high quality materials, so it is durable and sturdy. Perfect for parties, family games nights, or simply enjoying with friends, it can be set up and ready to play in minutes. As the height is just 2.75 inches when folded, it is small enough to be stored easily when not in use – simply slide it under a bed or tuck it in a closet. It would make an ideal gift for kids of any age.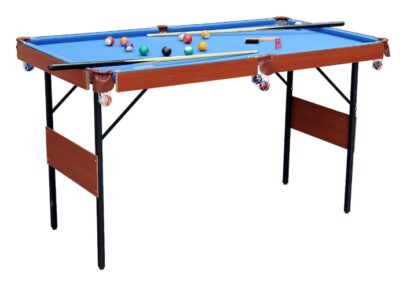 4. Tabletop Pool Set
This mini pool set from Rally and Roar is designed to sit on a tabletop or other flat surface. It is a great choice for kids of all ages, as it is so small in stature. Though it is compact in size, this table has the space for a one on one game of billiards and is designed to look just like the full size version.
It features a smooth grey surface and a durable frame constructed from deep brown wood. There are authentic rubber bumpers along the sides, offering a realistic bounce when playing. The set contains 16 weighted and balanced billiard balls, two 36 inch cues that are weighted for enhanced control during the game, a ball rack, chalk, and a 7.5 inch brush.
Place it on a tabletop for older kids or adults to play, or on a low coffee table for little kids to enjoy. It is sure to offer fun for the whole family!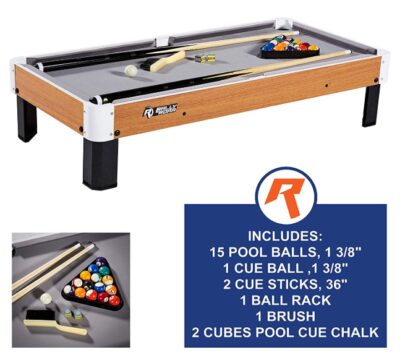 5. Virhuck Mini Billiard Table
If you are looking for a table top pool table, this one from Virhuck may be a perfect choice. Its mini size means it is ideal for parents looking to save space in their homes, who may be averse to buying a full size games table. It is entirely portable and designed to sit on a tabletop or other flat surface.
Everyone from little kids to adults can play on this tiny table, which measures just 20.5 by 12.1 by 4.1 inches. It comes with everything you need for assembly and game play, with two cues, a black triangle, brush, chalk, and a set of billiard balls.
Since the feet are removable, it is easy to store the table when it is not in use. When you are ready to play again, simply screw the feet into the tabletop.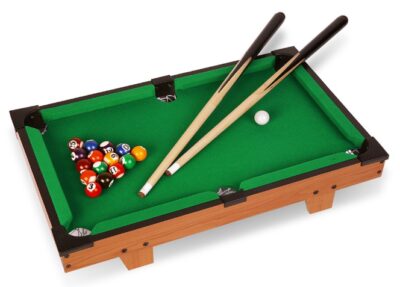 6. Mainstreet 20″ Miniature Billiard Game
This miniature table top set from Mainstreet Classics offers a fun way to play without needing to buy a full size table. Its small size makes it a great gift for kids, and it is compact enough to move around to wherever the family wants to play a game. When not in use, it can be stored on a tabletop as a talking point, or tucked in a closet.
The unique side ball return is similar to pub style billiards tables and makes it easy to retrieve the balls. The kit includes two pool cues, a set of billiards balls, triangle rack, table brush, and chalk. Kids of all ages will find it easy enough to play on this compact table and are sure to enjoy playing with family or friends.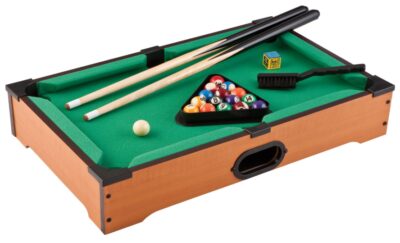 7. Portzon Premium Tabletop Billiards
This mini billiards table set from Portzon is a great choice for families with young children because it can be placed at varying heights. Just pop it on a table or other flat surface that little kids can reach and let them join in the fun! It is very easy to assemble – simply attach the legs using the screws and wrench provided.
This means it can also be easily disassembled if parents wish to store it out of sight. The table comes with all the accessories your family needs to get playing straight away, including two pool cues, 16 billiards balls, chalk, brush, and plastic ball rack.
The table is constructed from 12cm medium density fiberboard and topped with delicate green velvet. It has the classic look of a pool hall table while offering an easy set to fit into your family home.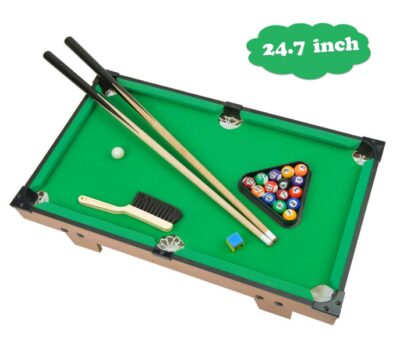 8. Best Choice Products 4-in-1 Game Table
If you're looking for a mini billiards table with a lot more to offer, take a look at this four in one games table from Best Choice! With a selection of four popular arcade games, this item is sure to entertain kids and adults for hours. The table transforms easily so players can select billiards, foosball, table hockey, or ping pong.
Test your reflexes and improve hand eye coordination all while having a ton of fun! This bumper set contains all the accessories you need to get playing the games straight away, like pool cues, pool balls, table tennis net, ping pong paddles, foosball soccer balls and players, and air hockey pucks and strikers. It even comes with a brush so you can dust off the table's surface, making sure nothing slows down your family's fun!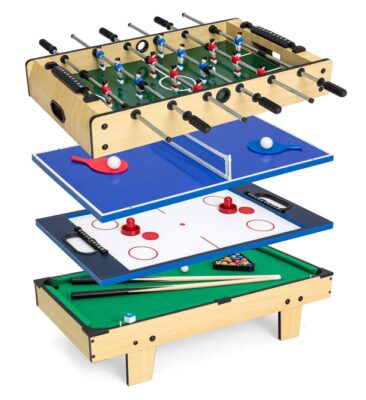 9. 54″ 4-in-1 Entertainment Table
Your kids will have hours of endless fun with this four in one combo entertainment table from MD Sports. One of our top picks for kid game tables, this set offers foosball (table football), slide hockey, billiards, and table tennis. Kids will be entertained by all the different games, which they can play with family or invite friends over to share the fun. It would be a fantastic addition to any games room or family room.
The table has a dark wood base designed to be sturdy and durable. When your family wants to play each game, simply change the top and set it up in minutes using the accessories provided. This set is sure to provide hours of fun for every family member, whether kids or adults! The table surface measures 54 inches long.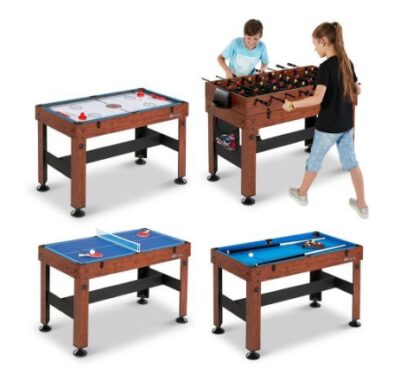 10. Go Anywhere Pick
Another great choice for kids and families is a portable table. This one from Westminster means you can take the fun of playing pool with you wherever you go! The wood grain finish construction is sturdy and durable and has an elegant style reminiscent of traditional tables.
It is designed to be set up on a table or other flat surface and can be played by little kids, teens, and adults. Because it has such a compact size, it is easy to store out of sight when not in use and is fully portable so you can transport it to friends' houses to share the fun. This table measures 21 inches by 12.75 inches by 4 inches and is ideal for homes where there is not much free space.
It could fit easily on any tabletop in your family room, play room, kids' room or even the kitchen, and simply tucked away when not needed.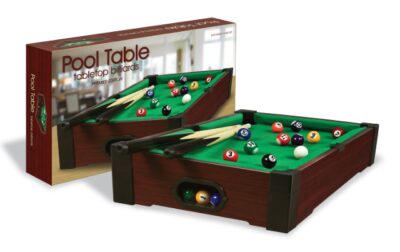 11. Mini Snooker Pool Set
This set from Little Treasures is a little table designed for children to learn to play the game. It is lightweight and fully portable, with six legs so it sits on a tabletop or flat surface. Just like a world champion pool set, it has a smooth green carpet covering and dark surround.
The set also contains cues, 14 colorful balls, a plastic triangle ball rack, and pocket holders. It is a perfect introduction to pool for children and it allows them to learn and enjoy the game in a way that is specifically designed to make it easy for them.
Parents are sure to love watching as their kids improve control of the cues and celebrate sinking the balls in the pockets! Great for improving hand eye coordination, the set encourages kids to be active and healthy while having fun.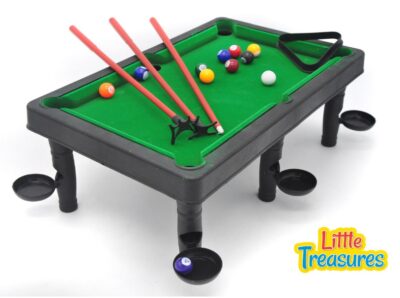 12. Mini Table Games Snooker Set
Looking for a small table that can tuck away easily? This mini snooker table set can be used by kids aged 3 years and older. It is made from durable wood in a light color with black accents. If you are short on space, this is a great choice because of its compact size, and it is easy to store away when not in use.
In terms of table accessories used in pool, the set contains a full complement of billiards balls, two cues, a triangle rack, and a brush to keep the dust from interfering with game play. The table measures approximately 35 inches by 20 inches by 28 inches.
Keep your kids entertained with no need for screens with this mini table, suitable for use on tables and other flat surfaces.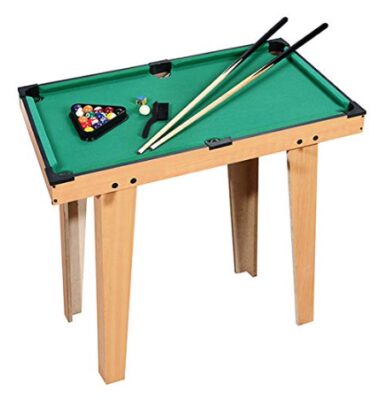 Best Overall Pick
Having presented a selection of 12, we will now present our pick for the best mini pool table for children. Our best buy is the Best Choice Products 4-in-1 Game Table because it offers so much opportunity for families to have fun together.
With four classic arcade style games to choose from, kids and adults alike will love playing slide hockey, pool, table football, and ping pong. The set makes it easy to change between games by simply changing table surfaces, meaning new games can be set up in minutes.
It is made from durable and sturdy MDF, so it will withstand even the most energetic players! Its compact size means that it can be placed on a small table or other flat surface and can be stored easily when finished.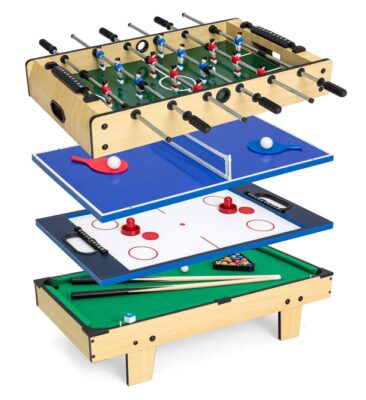 How Much Does a Mini Table Cost?
The cost of a small tables vary so you can usually find one to suit your own budget. Simple models start at around $40 and the cost rises depending on the features you are looking for. The smaller, compact tables are at the lower end of the price scale.
If you are looking for something that offers more features, such as more games in one table, or a larger size, this usually adds to the cost. Tabletop models can also be cheaper than tables with full or folding legs.
Where to Buy a Miniature Pool Table?
When you are looking for a table for sale, it can be overwhelming. We hope that our guide will help you to narrow down the choices, and as for where to buy, we also have some tips.
Of course, you can easily and quickly click straight through to Amazon to purchase any of the items in our guide, using the links on each listing.
You can also look to buy a table for playing mini pool in other areas, for example:
Toy shops

Games shops

Yard sales

Online marketplaces

Auction websites
How Big is a Small children's Table for Playing Pool?
Whatever the size of your space, you can find a kids table to suit in our guide. There are a range of table sizes available to purchase. If you have just a small area, you could select a miniature version from just 20 inches long. It is perfect for tucking onto a table and would make a great decoration for a talking point.
Though it is small in size, it provides the opportunity for so much fun for all the family!
The table dimensions differ from the tabletop models, which are smaller, to the standing tables, which are larger and designed for older kids or adults to play on. If you have young kids, you may want to look for a small table as the cues are typically smaller as well. That means that little children will not struggle to lift and position the cues.
How to Make a Toddler Pool Table?
Each table in our guide is easy and quick to assemble. Some are ready to play with straight out of the box, requiring no assembly or modifications. For example, the portable tables with or without legs can be put together very speedily, so kids will not have to wait long to enjoy a game!
Some tabletop models also have feet, either four or six, to stabilize the table. If this is the case they typically do not take much time to attach and can be removed for storage. With larger tables, they may take a little more time to assemble as will need to have the legs (folding or stable) attached.
If this is the case, leave a little more time to put it together, especially if you are giving it as a gift, so that kids are not disappointed by an unfinished table!
Once the table is assembled or set up in the correct way, it is very easy to begin a game of pool. Even young kids will enjoy getting involved! They will see how to shape the colored balls into a triangle using the black ball rack.
You can also show them how to apply the chalk powder to the ends of the cues, to make it easier to connect with the cue ball. Finally, they will learn how to carefully remove the ball rack so the colored balls retain the triangle shape, and begin to play by shooting the cue ball into the colored balls with the cue.
Here are some other interesting models: