Looking for gifts for soccer players kids? The end of season might be close and your trying to find something to gift the kids. Choosing a soccer gift is a great idea when it comes to treating a kid who simply loves the sport. But, other than a new ball, it can be difficult to find something suitable. So, that's why we have created this guide, which aims to help parents, friends, and family pick out the perfect soccer gift idea for a little boy or girl who is a huge fan of the game. There is a range of great gifts on offer, from nightlights to books about the game and even soccer card games. So, no matter how old the child or what kind of gift you are looking for, you are sure to find something here they will love.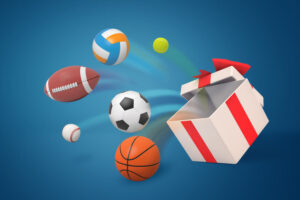 Considerations When Choosing Soccer Stuff
When it comes to picking out soccer gifts ideas, there are a few things to keep in mind in order to ensure you make the right choice. First of all, make sure the gift you choose is suitable for the age of the recipient. Many of the items we have chosen here will suit a wide age range, to make choosing something suitable, easier. Also think about the other things they enjoy, besides soccer. For example, if they enjoy playing board or card games, we have some of these on offer. If they enjoy books, then a soccer book is clearly a great choice.
There are various types of gifts in our gift guide section for those wanting more than just a soccer idea.
Top Sports Gifts for Kids Who Love Soccer
We will now move on to take a look at 20 of the best soccer toys and gifts for kids of all ages. You are sure to find something here they will love to receive on a special occasion.
1. Toysmith Pro Ball Set

Our first soccer gift for a boy or girl who loves to play the game is this set of three soft sports balls. As well as a soccer ball, the set also includes a basketball and a football, and they range in size from 5 inches to 6.5 inches. They are ideal for either indoor or outdoor use and are durable enough to withstand some rough play by children of all ages. The size of these balls makes them ideal for children aged 3 years and above and they are great for helping them develop some crucial skills. If you are looking for a soccer ball for girls and boys who are younger or just starting to play, this is a great choice.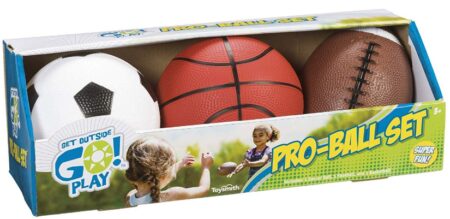 2. Unisex Soccer Shoes

Our next soccer item is another which is great for kids who love to play the sport. These unisex soccer cleats come in a range of colors and sizes from Toddlers to Big Kids, so there is sure to be something to suit your kid. They are made from synthetic materials with a durable rubber sole, and have a lining which is designed not to stretch. There are 12 different two-tone color options to choose from, so you can pick out your child's favorite.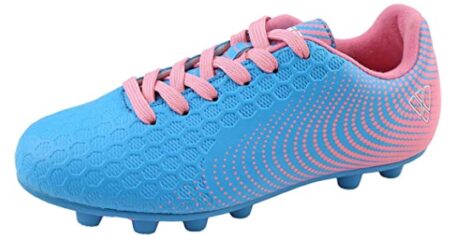 3. Talking Soccer Ball

Our next cool gift for a soccer kid is this hilarious talking ball. It is ideal for kids over the age of 2 years old, and is made from soft, plush material so it is perfect for indoor use. It can also be taken outside on a nice day, as it is machine washable in case it gets dirty. The ball can recognise different types of maneuver, including dribble, kick, pass, and more. It will respond appropriately to the different types of kick, with one of over 40 sound effects. It can say phrases such as 'monster kick' or 'goooooooal!', as well as playing songs and music. This is a great gift for helping your child stay active, as they are sure to be motivated when they hear the fun phrases.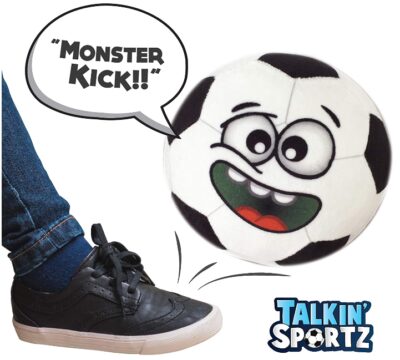 4. Everything Soccer by National Geographic Kids

The next soccer gift is one for kids who love to read, the Nat Geo Kids book all about soccer. It tells them everything they need to know about the sport, whether it's reading about some of the most famous players, learning more about the rules of the game or even looking at informative maps, diagrams and picture galleries, there is sure to be something in this book to interest them all. In fact, there are over 100 pictures in the book, so it's sure to hold your child's interest well. It's written at a level which is ideal for children in the 8 – 12 years old age range, and it has 64 pages.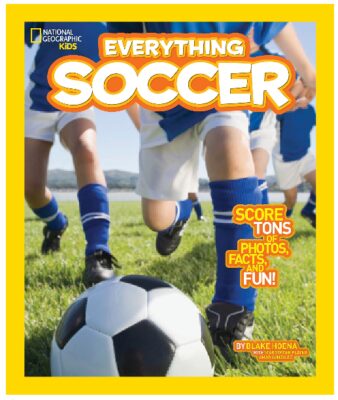 5. Fisher Price Super Sounds

Here is another cool toy for kids who love to play the sport, and this well help them really practice their aim. There are two different levels to play at, so the difficulty can be increased as your child gets better. The game is ideal for either one or two players, so it's perfect for kids to practice alone or to enjoy with a friend. The goalpost plays sounds every time a goal is scored, which is sure to motivate and encourage your child to keep trying. This game is ideal for kids aged 2 years old and above, and it is 2′ wide and 3.5′ tall, so it's not too difficult to score a goal. This is one of our favorite gifts, but if your not sure and looking for more ideas check out our boys gift ideas section.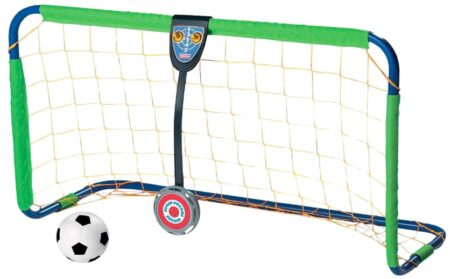 6. Foosball Table

A foosball table is something kids of all ages simply adore, so they are sure to be thrilled to receive one of their own! It is ideal for 2 – 4 players, so boys can play one-on-one or in teams of two. The tabletop design means this isn't too bulky compared to a full-sized foosball table, and it can easily be taken anywhere. However, there is still plenty of room for the players to play – it measures 40″ x 20″ x 9″. There are two foosballs included, and the players come pre-assembled for easier setup.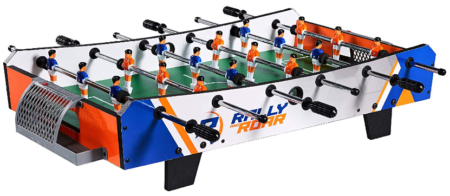 7. Soccer Guys

This unique toy is sure to keep soccer-loving kids entertained for hours! The set comes with 21 players, in two different colors to make two teams, a referee, a large ball, a field made of felt and two sets of goals. There is also a booklet which explains the basics of playing soccer, as well as a reusable plastic bucket to keep the pieces stored safely together when not in use. This is a great set for teaching boys the rules and players' positioning – it is educational as well as fun!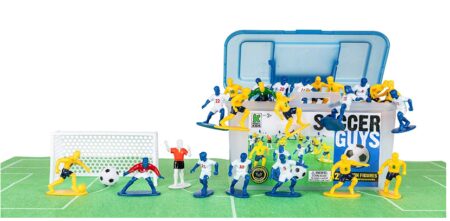 8. FC Barcelona Robe

FC Barcelona are one of the best and most popular soccer teams in the world, so if your boy or girl is a fan, they are sure to love this dressing gown. It is fleece and has a hood, pockets and a waist tie belt, and bears the official FC Barcelona crest woven onto the chest. It comes in sizes to fit from age 3 to 14 years old. The back is half-elasticated to ensure a snug and comfortable fit.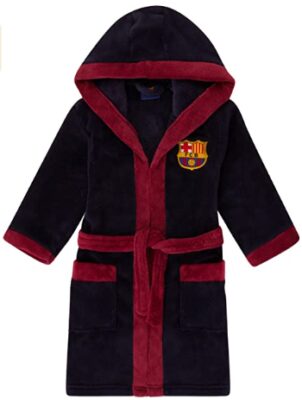 9. International Soccer Board Game

Here we have a good pick for kids who enjoy playing board games, as well as soccer. This fun and exciting game combines the two, and is said to be the most realistic of any soccer board game. It is one of the best sports toys and gift ideas for girls to use when they can't get outside and actually play. There are four different ways to play the game, one of which is suitable for four players, whilst the others are for two players. The game is ideal for children aged 7 and above.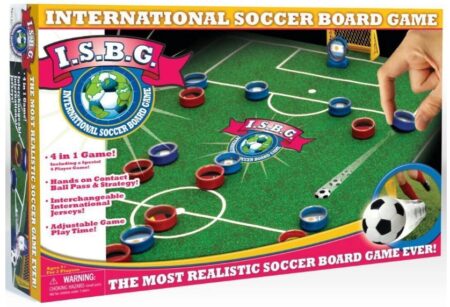 10. Hover Soccer Set

If your kid loves to play soccer everywhere and anywhere, this hover soccer game could be just what they need. It can easily be played indoors without damaging the walls or furniture, as the 'ball' is surrounded by a foam bumper. There are two goals included as well as the ball, so it's ideal for playing in teams. The ball has LED lights so it is even fun to play in the darkness!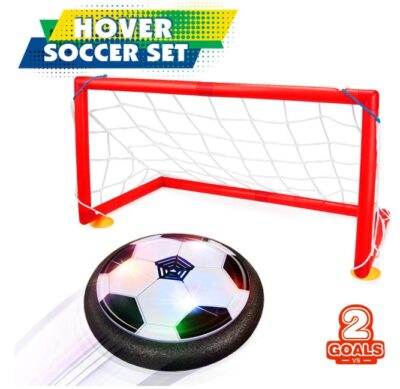 11. Soccer Equipment Backpack

This backpack is a must-have for any young soccer player to use when heading to practice. It is designed to carry everything they need – a full-size ball, water, clothes, shin guards, snacks, and there are pockets on the side for the shoes to stop them getting everything else dirty. There are various mesh and zippered pockets both inside and outside the backpack to keep everything well-ventilated and neatly organized. There are different color options to choose from, and there's also the option to add your child's name and number to the front of the bag for personalization.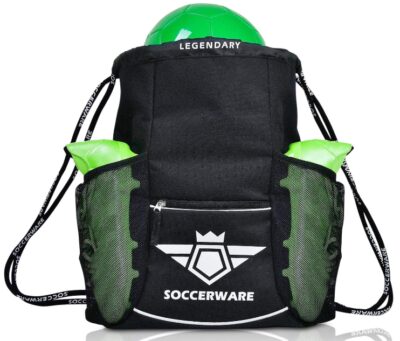 12. Soccer Ball Night Light

If your child is looking for something to brighten up their room a bit, how about this cool 3D LED nightlight? It is flat, but gives the illusion of three dimensions, so kids are sure to enjoy watching it when they are relaxing in their room. It has touch control which can be used to change the color to one of the seven options, or cycle through them all. The LED lights have a lifespan of 10,000 hours, so there's no need to worry about this breaking down soon after purchase! It is operated using a USB plug.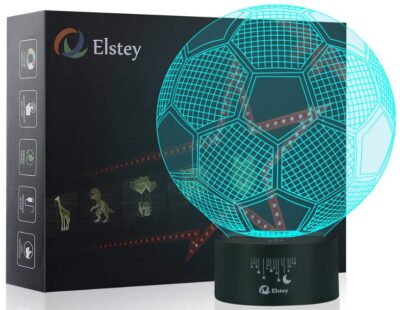 13. GlowCity Glow in the Dark Ball

If the nightlight above seems interesting to your kid, they might also enjoy this. This is a full-size ball which is fitted with very bright LEDs inside, so it glows bright when bounced or kicked. So, kids can even practice even in the dark! The batteries will last for 40 hours of playing time, and the ball can be seen at distances of several hundred yards! This soccer ball gift is much more fun than simply gifting a standard ball!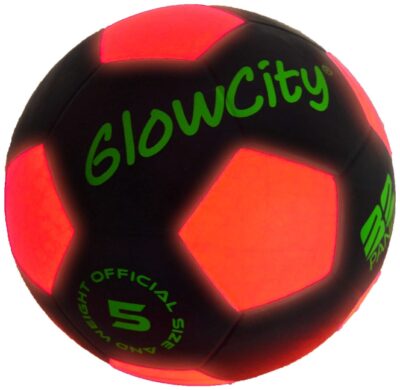 14. The Everything Kids' Soccer Book

Here we have another great book about soccer, which is suitable for boys and girls 7 years old to 12 years old. It has almost 150 pages filled with many great tips to help them improve their soccer skills. They will learn the basics as well as more advanced skills to help them on their way to becoming a pro! There are also games and puzzles to enjoy, to make reading this book great fun.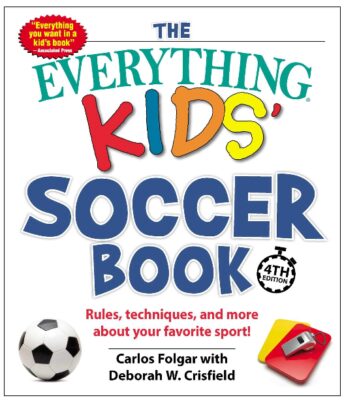 15. Soccer Water Bottle

This bottle is perfect for kids to keep hydrated during a game. It has a spill-proof lid and it's easy to open quickly. There is a carabiner clip to keep it close to hand, and it's possible to add ice as the neck is wide. The bottle folds for easy storage, holding 7oz in the smaller mode and 19oz when fully expanded.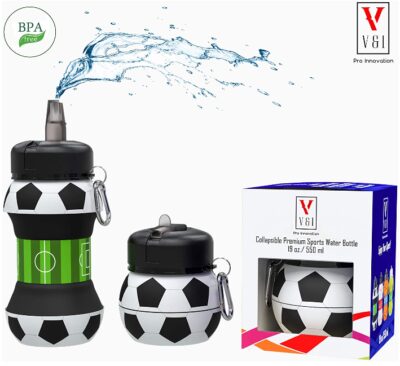 16. USA Toyz Soccer Bots 
This fun, interactive game is ideal for two players aged 6 years old and above. It comes with two goals, two balls, six cones, two robots and a field mat. The RC robots really kick the balls to score goals, and for an added challenge the bumpers can be spaced further apart or closer together. Kids will have hours of fun with this – it won't get boring in a hurry! The batteries last for 40 minutes on a single charge.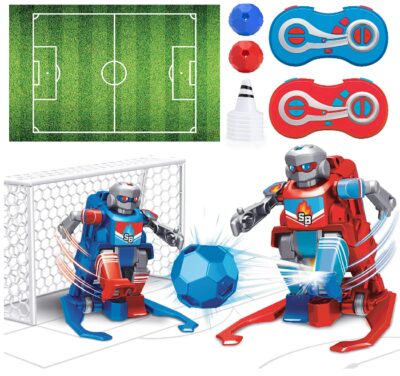 17. Magna Ball

This magnetic game is like foosball, but uses magnetic pieces for players to battle to score the most goals. The game is easy to set up and has score trackers built in on the sides to easily keep track. It's suitable for two players at a time, and all ages can enjoy this from kids to teens to adults. It can be set up anywhere as it isn't too large, so kids can use it all the time!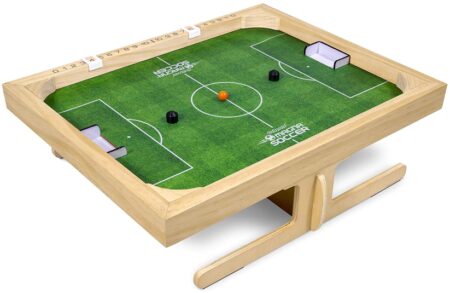 18. Personalized Soccer Bottle

Next on our list of soccer stuff for kids we have this cool personalized water bottle. It has a ball on the side and can be customized with any text of your choice, such as the child's name or their team name for example. It is made from aluminum and holds up to 20oz of liquid. There are two different lids, so kids can choose which they prefer to drink from, and also a carabiner to keep the bottle clipped on to a backpack. There are eight different colors to choose from, as well as different font styles.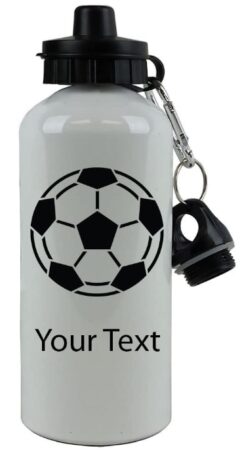 19. Dream Team Soccer Card Game

This strategy card game is fun for kids aged 8 and over, and will be enjoyed by the whole family. It requires 3 – 6 players, and comes with 60 colored cards. There are 21 medal piecesm and a full set of instructions which explains the rules. Kids have to collect sets with different players and fans, swapping with others to get what they need and empty their hand.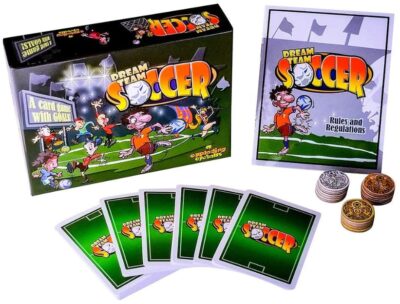 20. Alasida Finger Football

Last on our list of unique soccer gifts is this Finger Football game. It comes with two goals, two pairs of boots and one ball. The boots are placed on the fingertips and players must use them to kick the ball into their opponent's goal! This game can be set up and played anywhere and is sure to keep kids amused for hours! It's silly and fun, but is also great for improving their manual dexterity.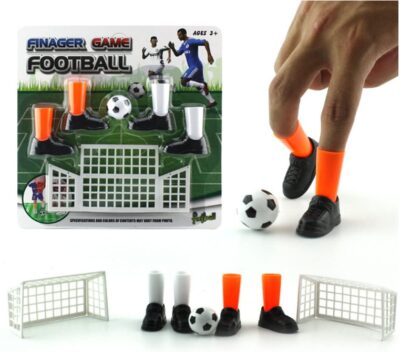 Best Buy Overall
After looking at some of the best soccer stuff for girls and boys, it's time to choose which is the best gift of all. the Super Sounds goal from Fisher Price is ideal because it allows kids to really practice their skills, particularly focusing on their aim. The fun sounds are sure to motivate them to keep playing, and it's ideal for practice alone or with a friend, so they can use it all the time. It will grow with your child as their skills improve, and you can make the target harder to hit.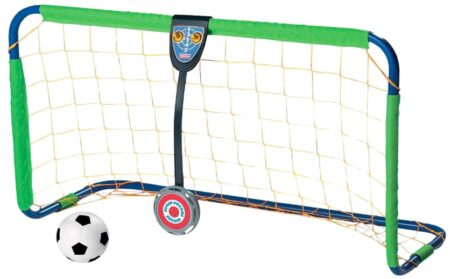 Best Budget Buy
If you are looking for cheaper soccer gift ideas for boys and girls, the personalized water bottle is a great idea. We love the range of color options available, and the bottle has a large capacity which is sure to keep your child well-hydrated during a match. The option to customize the bottle with the child's name or team name is a nice touch, and makes this a one-of-a-kind gift which is sure to stand out when a child opens it on a special occasion.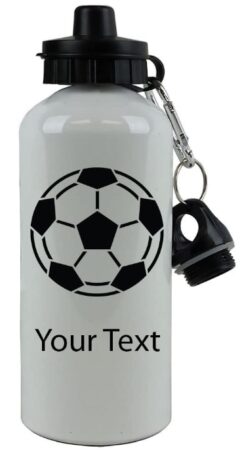 What is a Good Gift for a Soccer Player?
If your kid enjoys playing soccer as much as they enjoy watching it, you might be wondering what to gift them. Aside from a new ball, there are a few suitable options. The soccer boots at #2 on our list are an excellent choice, and they might also like the hover soccer game which will allow them to practice indoors when they can't get out to play with their friends.
Gift for 10 Year Old Boy Who Loves Soccer?
Most of the gifts we have featured above are ideal for kids aged 10. At this age, he is sure to love all the fun games we have reviewed, or perhaps the nightlight if he wants to give his bedroom a bit of a makeover. The foosball table is sure to be hugely popular with tween boys too, if you have enough space for it!