Tennis is a popular hobby for children of all ages, so if you are looking for the perfect gift for a tennis-loving youngster, you have come to the right place.
Here, we have picked out 20 amazing gift ideas for young tennis players – whether it is some equipment to help them in their next match or something for them to have in their room when they are unable to play.
Choosing the best tennis gifts for kids depends on many factors, which we will begin by taking a look at below. So, whether your child is new to tennis or is already playing at a high level, you are sure to find something here they would love to receive on the next special occasion.

Quick Preview
Considerations When Choosing Gifts
Finding a great gift for a child requires some careful thought, in order to choose something that is suitable. When it comes to tennis fans, here are a few things you might like to think about to help you choose a gift that they will really love.
Age
The age of the child is always going to be a big consideration when searching for an appropriate gift for them. Most gift ideas will have an age suggestion from the manufacturer, so use this along with your judgment to find something that is neither too babyish nor too advanced for their needs. We have a wide range of gift ideas for kids, ranging from 3 months old right up to 21 years of age.
Budget
It's a good idea to set a budget when gift shopping, especially if you have a lot of gifts to buy – for example, around Christmas time. In our guide below, you will find gifts to suit all budgets. Whether you are looking for a little stocking-stuffer or something 'big' to really spoil a young tennis player on a special occasion, you are sure to find something to suit your budget here.
Tennis Ability
If you are buying a gift for tennis players, it is important to think about their abilities. A child who is just starting out might not need some top-of-the-range equipment. It's also crucial to ensure any tennis equipment you buy is sized correctly for the child. If the equipment is not the correct size for the child, it will be frustrating and difficult to use and will not help them improve their skill.

Top Tennis Gifts for Kids in 2023
Let's now take a look at some of our top picks of the best tennis-themed gifts for children of all ages. There are amazing gifts to choose from, so there is sure to be something here to suit.
1. iPlay, iLearn Pitching Machine
Our first best tennis gift for children is this awesome pitching machine, which can be used both for tennis and baseball practice. The machine even comes with a tennis racket, a baseball bat, and six balls to practice with. A ball will automatically pitch every 5 – 7 seconds and there is a jam protection system to help prevent the machine from becoming blocked.
It is recommended to stand around 138 – 158 inches from the machine when batting, and it is suitable for kids aged three years and up. Younger children might need to stand a little closer, or perhaps only use one ball at a time, as 5 seconds is not much between balls.
The machine does use up D batteries fairly quickly and unfortunately doesn't plug into a power outlet. So, be sure to provide some batteries with this when giving it as a gift.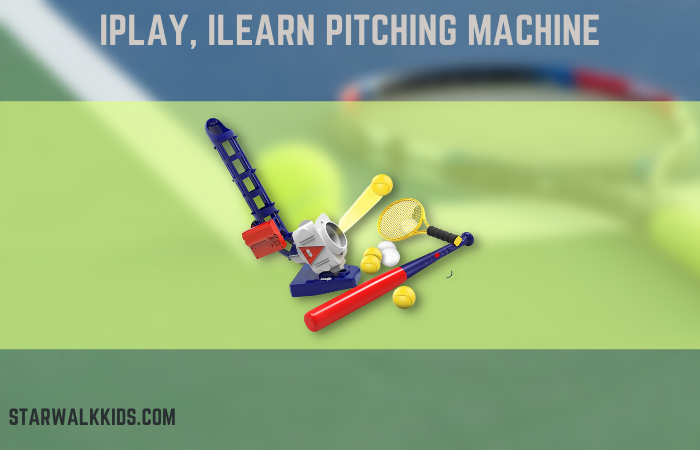 2. Weierfu Tennis Racket for Children
Young tennis players are sure to love this starter racket. It is made from aluminum so it is durable yet also lightweight for kids to handle with ease. In fact, it weighs just under 0.4 pounds. The head of the racket is large in relation to its overall size, therefore increasing the chances of the child successfully hitting the ball.
There are different sizes available to choose from, and it is easy to find one that will fit your child well. Simply measure the length from the child's wrist to their ankle, and this is the size the racket should be. There are two different colors to choose from – pink or yellow – so you can pick the one your child would like best, too.
The Weierfu comes in a protective cover bag so it can easily be taken to the park for a practice session, and will be protected from bumps and scratches when not in use.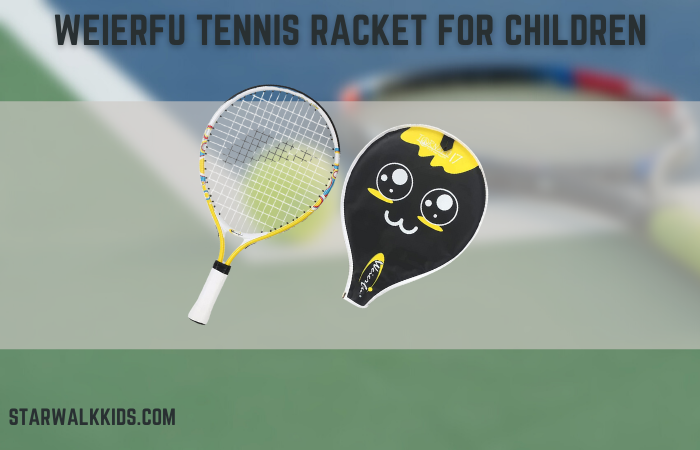 3. Aoneky Portable Tennis Net
If you've bought the racket above, the next thing you'll need for your child to start practicing their tennis skills is a net. This Aoneky mini portable tennis net is ideal – it is 33 inches high and comes in two lengths, either 10 or 18 feet. It is really easy to set up and take down and it even comes with a handy storage bag to keep all the parts together when not in use.
This also allows it to easily be transported, so you can have a game of tennis wherever you like!
The smaller net is ideal in size for children under the age of 10 years old. The longer net is also ideal for children in this age group, but the added length makes this net ideal for adults to play along with children.
The larger net is also suitable for games such as soccer and pickleball. Both nets can be set up on the driveway, in the street, in the backyard, or anywhere else you wish to play!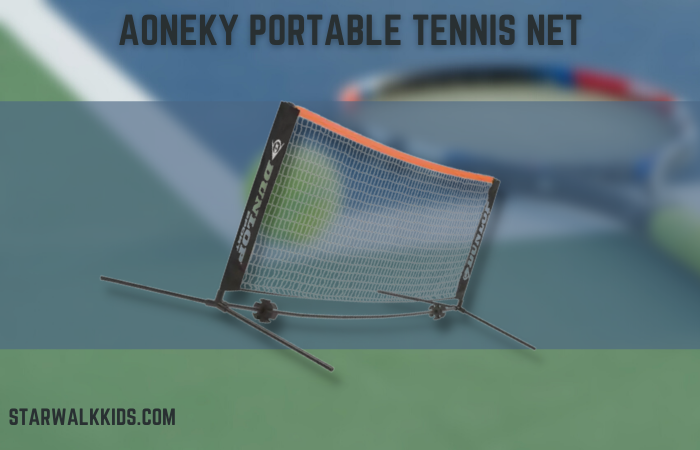 4. SKLZ Tennis Trainer
This fun device is great for children to practice their tennis skills when they are away from the court – it can easily be set up anywhere. There is a 15-feet cord, which stretches to 30 feet, and two practice balls are also included. The balls and the cord all fit into the base of the training device, and the base weighs 2.75 pounds. The dual-swivel connectors help ensure the cord doesn't get tangled when playing.
This device can be used to practice some important tennis skills without the need for a wall or a ball machine, so it is an easy and inexpensive way for children to practice. Youngsters can practice their hand-eye coordination, stamina and improve their speed – sure to help them in their next game! It is fun for children and teenagers aged 7 years and up.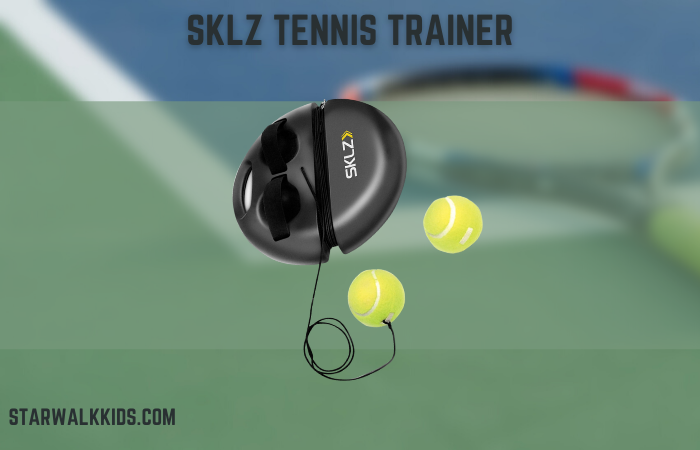 5. Tennis Charm Keychain
If you're looking for a small and inexpensive tennis gift, this charm keychain is a fantastic pick. There are three charms – a small one reading 'I love tennis', a small pair of tennis rackets and a large disc engraved with the text 'never underestimate a girl with a tennis racket'.
The keychain is made from stainless steel so it is durable and won't tarnish or discolor over time. It comes in a velvet cloth pouch so it is easy to give as a gift without any additional wrapping.
There are other options to choose from if the keychain isn't the perfect gift for your child. There is a charm bracelet featuring the same charms as the keychain or a pair of earrings with the two smaller charms. Or, for a big tennis fan, why not choose all three for a really special gift? There is also another style of keychain available with a heartbeat design with a tennis ball in it.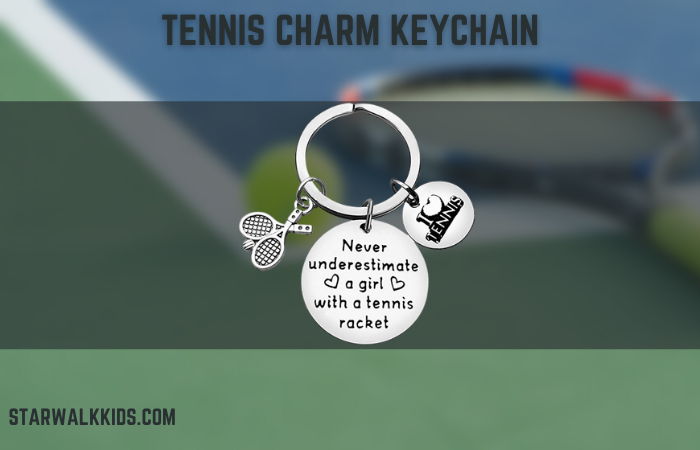 6. Klau Tennis Backpack
Next up we have a tennis bag which is great for taking all the equipment needed when playing tennis. The backpack has a capacity of 20 liters and has a front pocket, the main compartment, a mesh side pocket, and another side pocket with Velcro fastening.
The inner pocket is perfect for holding a racket, whilst a water bottle can be carried in the side mesh pocket. The other side pocket is perfect to hold a tennis ball, and the front pocket is great for other important items such as a cellphone, wallet, and towel.
The multiple pockets ensure it is easy to get what you need without having to empty out the whole bag. There are also different options for carrying the bag – one of the straps can be detached to make it a single-shoulder design.
There are five different color options to choose from – navy, purple, pink, blue, and orange. So, there is sure to be something to suit your child's preferences, and this bag is guaranteed to be used all the time!

7. Gamma Bucket of 48 Tennis Balls
All tennis players know the importance of having plenty of good-quality tennis balls to practice with, so this bucket of 48 balls is sure to be a welcome gift. These are pressureless tennis balls, meaning they won't lose pressure over time. So, they will always keep their bounce, meaning they can be used time and time again and still feel as good as the first time.
This style of ball is good for use on any court type, whether it is hard or soft. So, no matter where your child is practicing playing tennis, you can be sure these balls will be ideal. They are also durable enough to be used in a ball machine, so if this is how your child likes to practice, again these are perfect.
The bucket the balls are contained in is also sturdy and durable so it can be reused time and time again to store and carry the balls.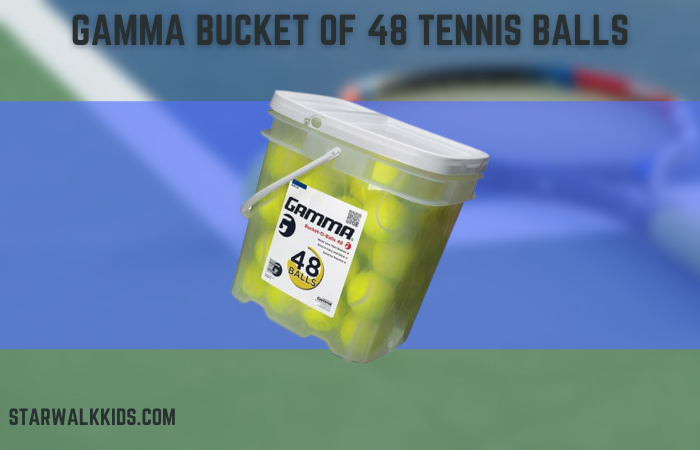 8. Party Favour Tennis Ball Keychains
If you are hosting a party for a tennis lover, you might want some little tennis gifts to fill the birthday party bags. In that case, these tennis ball mini keychains are perfect! There are 20 pieces in the pack, so it is ideal for a big party – there are plenty to go around. Each keychain is just under 4 inches long in total, including the chain. The balls are around 2 inches – a great size for putting on a backpack, pencil case, or jacket.
It is possible to take the keychain part off to leave a mini tennis ball to play with – great for younger children. There are other designs available for children who prefer other types of sport, including baseball, football, and soccer.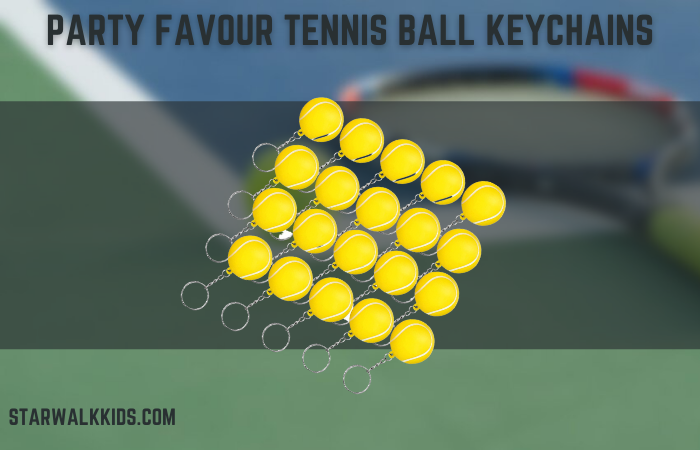 9. BOGI Cooling Towel
Our next gift idea is great for tennis players and is sure to make their next game more comfortable. The cooling towel is made from bamboo material and has a mesh design. Before use, the towel should be soaked, wrung out, then snapped between 3 – 5 times. It can then be wrapped around the neck or head, or simply used to wipe the face.
It stays cool for at least three hours after activating, so it will keep your child cool and comfortable during the whole game.
There are two sizes and many different colors to choose from. The smaller size measures 40 x 12 inches, and should be sufficient for most children. The larger, 47 x 14 inch size, is best suited to adults standing 5'7″ and over.
The size of the towel means it can also be draped around the shoulders like a scarf for maximum cooling. It also offers UV protection like UPF 50 sunscreen, so it is ideal for protecting children's delicate skin on a sunny day.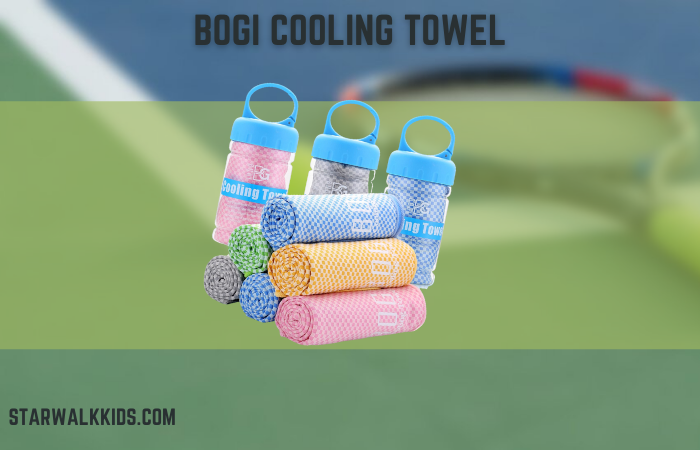 10. Lish Tennis Backpack
Next up, we have another awesome backpack that can be used for carrying one or two tennis rackets, as well as other tennis gear. The rackets have their own compartment in the backpack so they can be kept separately from the rest of the gear.
The shoulder straps on the backpack are padded so it is comfortable to carry no matter how much is inside. There is also a quick-grab handle on the side to pick the bag up in a hurry!
There are plenty of pockets and compartments to keep everything neatly organized inside the bag. The elasticated side pocket is perfect for a water bottle, and a small zippered pocket on the front is perfect for small items like money or keys.
Inside is a spacious section to hold everything else, like spare shoes, an extra tennis ball, or some snacks for after practice. The backpack is suitable for rackets up to 11.5 inches wide – plenty of space for a child's racket.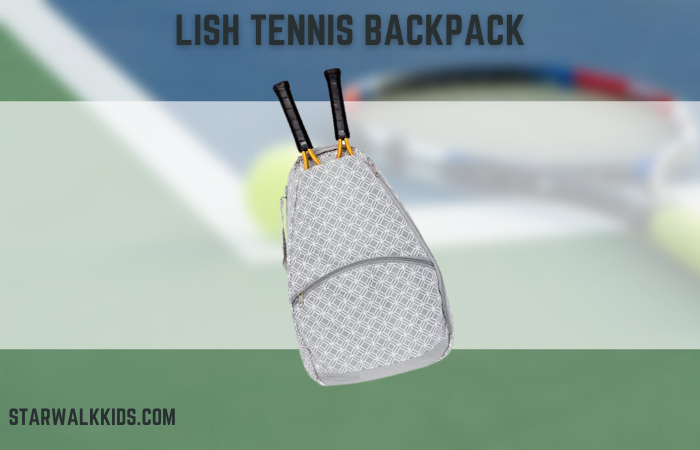 11. New Balance 696
Well-fitting, comfortable shoes are a must when it comes to playing tennis, so these New Balances are excellent. They come in many different sizes and colors so you can find the one which is just right for your child. They're made from synthetic material with a rubber sole and a cushioned, lightweight insole.
The Velcro design ensures the tennis shoes are easy for children to put on and take off, and can be fastened as snugly as they like to keep their feet in place when playing.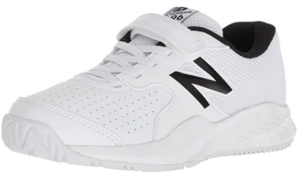 12. Tennis Themed Hair Elastics
Hair elastics are a great small gift idea for a girl, and these tennis-themed elastics are perfect to keep in her tennis bag. There are eight pieces included in the set in four different designs, with each measuring 5″ in circumference. They are stretchy and don't leave a crease in the hair when they are removed, unlike traditional hair ties. They are suitable for both thick and thin hair, so any girl is sure to love these.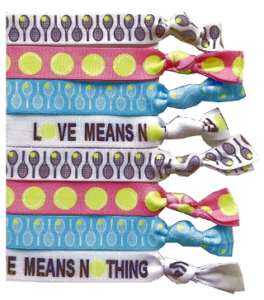 13. Asics Gel Resolution
Our next gift is another one that is sure to be useful when your child goes to play tennis – Asics Gel Resolution tennis shoes. There are different styles to choose from so you can find the one your child likes best. They're made from synthetic and mesh with gel cushioning inside, so they are lightweight, comfortable, and breathable.
The toe part has enhanced durability and the upper is designed to make the shoe fit very well and give maximum support.

14. Street Tennis Club Outfit Set
Our next tennis gift is another great pick for players – a set containing a tank top and a skirt with built-in shorts. It comes in sizes to fit ages 6 – 12 years old, and there are two color schemes available to choose from. The clothing is tight for support where needed, yet also breathable to maintain comfort when playing.
The set is made from a blend of cotton, polyester, and spandex, and can be machine washed and tumble dried.


15. Prince Tennis Socks
If you've decided to gift your child some of the tennis shoes we featured above, they might benefit from these Prince tennis socks to wear underneath. They are one of the most practical gifts tennis players are sure to love.
The socks come in different colors and are part of a multipack so they can be worn for training every day. The sole is cushioned for shock absorption and the fabric offers excellent compression. The moisture-wicking design ensures feet remain cool and dry at all times.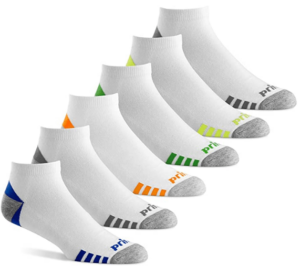 16. Lacoste Boys Tennis Shorts
Our final pick is one for the boys – a pair of Lacoste tennis shorts. They come in a choice of navy or white and sizes to fit ages 4 right up to 16 years old. The shorts also have a drawstring waistband, as well as elastic, to help ensure a perfect fit.
They are fully lined for comfort and bear the signature Lacoste logo. The lining of the shorts is made from polyester and cotton, whilst the shell is polyester. The Lacoste shorts are ideal for tennis fans as they are lightweight and breathable to ensure he is comfortable throughout the entire game.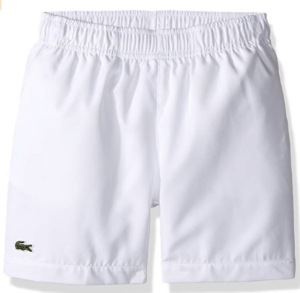 Best Buy
After looking at over 15 of the best tennis gifts, we have picked the one which stands out as the best overall. The Klau racket backpack is a great pick as it can be used to easily carry all of the necessary equipment to a practice session.
There are multiple pockets to store all of the belongings neatly organized inside the bag, so youngsters can quickly and easily access exactly what they are looking for whether it's a tennis ball or a drink.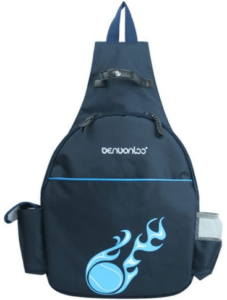 FAQs
If you still want to learn more about choosing the perfect tennis gifts, we have the answers to some of the most frequently asked questions below.
What is a Good Gift for a Tennis Player?
Any of the gifts above would be great for a child who loves to play tennis. Perhaps something that can be used during a match would be most suitable, but they are sure to enjoy any of the tennis-themed gifts we have featured here.
The pitching machine, featured at position one on our list, is a great way for children to practice when they don't have someone to play with and is sure to help them improve their returns. They are sure to love a great new racket or even a net to practice in their backyard.
What are Good Small Tennis Gifts?
If you are looking for a little gift or don't want to spend too much money on the birthday gift, there are a few great options to choose from. The hair ties at number 12 on our list would make a great stocking stuffer, or perhaps the cooling towel, found at number 9 above, might be useful to keep your child comfortable during tennis practice.
For a small novelty gift, the keychains are also a great pick.
What to Get A Child Who Loves Tennis?
Perhaps you are looking for a gift for a child who enjoys the sport but isn't a tennis player. In this case, if you really want to spoil them on their birthday, how about a ticket to the US Open, or perhaps a smaller game.
They will love to see their favorite players in action! Another great gift idea for tennis fans is a block of lessons so they can learn how to play the game properly and perhaps discover a new hobby.
Here are some other interesting choices: