You've likely heard of Kids Tinker toy construction sets, of which there are many out there for children, but are you clued up on just how much value these toys can provide a child?
While it may seem that such sets are simply encouraging a kid to use their imagination (though that's a good enough reason to buy one), there is an abundance of STEM skills to be learned, as well as other skill development too which you'll come to find out later.
If you want to support your child to be the best they can be through simply buying them a new toy, a Tinkertoy should be on your agenda…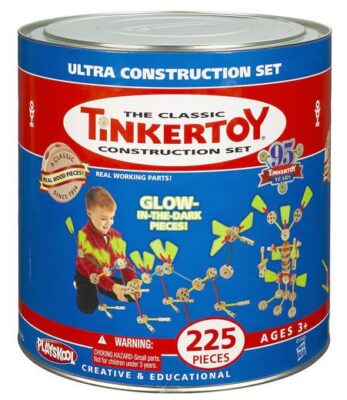 Best Tinker Toys for Kids Reviewed
Here is the list of the Best Tinker Toys and Construction Sets. Check it out!
1. Little Constructor's Building Set
Suitable for ages 3+ this Tinker Toy is an excellent introduction into construction oriented play. Featuring 84 colorful pieces, your child will be busy with constructing the creations from their imagination for hours on end.
This set comes with spools and rods that can be manipulated into both cornered and rounded shapes for variety and, all pieces can be mixed and matched for endless creative opportunities.
The Little Constructor's Building Set comes with 11 ideas for children who want some guidance for their creations and it also includes a fully comprehensive and detailed instructions sheet too.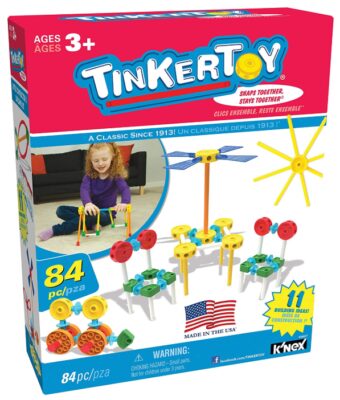 2. Building Straws 800 Piece Set
Have the colors in this set caught your eye too? This mega set featuring 800 pieces takes constructing to the next level. Create awesome constructions using the colorful straws included which fit together using special connectors that are exclusive to this toy only.
What's better is that the pieces are all contained within a sturdy box with a handle for ease of transport, so that tidying up after play is never a fuss!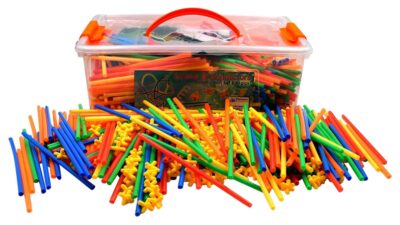 3. 101 Piece STEM Building Blocks
A great choice for kids aged 3 years and above, this kit encourages STEM learning through building blocks. With 101 pieces, it comes with a book of 42 ideas for your child to follow or, they can get creative with their own.
Boasting more pieces than other similar kits of its type, this plastic construction toy will help your child improve both their imagination and creativity through challenging them to build vehicles, animals, robots and more.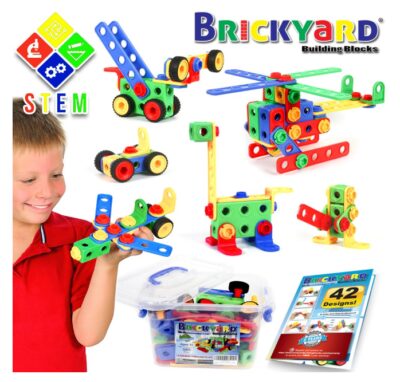 4. Tinkertoy Building Manual
This wooden Tinkertoy is a great addition to any child's toy box! Featuring 37 classic designs, your child will fine-tune their motor skills through building, playing and imagining up creations. A classic set that was first introduced way back in 1913, this set boasts spokes, spools, rods, and reels.
All parts of this kit are designed with a child in mind, making it easy to follow and, it even features an instruction manual on a CD for ease.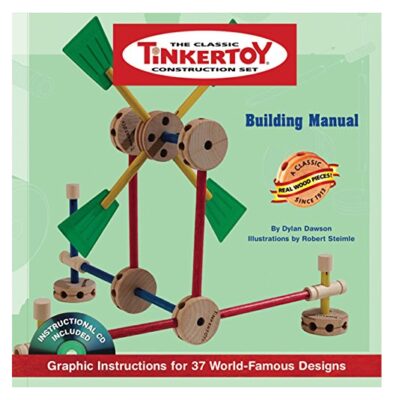 5. Tinkertoy Essentials Value Set
At a bargain price, you and your child will really get value for money with this Tinkertoy kit. With 65 varied plastic pieces including rods, flags, washers and more, your child can get busy building whatever their heart desires.
And, if a child is in need of some construction ideas, this tinker toy set comes with 7 model guidelines to help. Recommended for ages 3+, this colorful set is a great addition to the STEM toys your child may already have and is an icon itself has been around since 1913!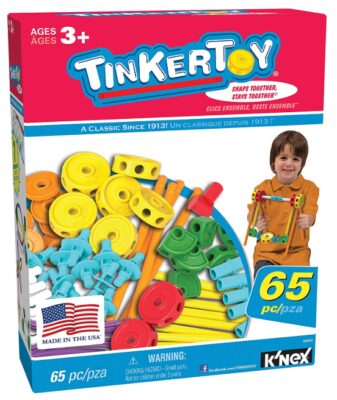 6. World's Smallest Tinker Toy
Apart from being utterly adorable, this tiny Tinkertoy that holds the title of the 'world's smallest Tinkertoy' is a great STEM activity for children ages 6 years and above. Including 66 rods, spokes, and wheels, this set will challenge your child to work on a smaller scale pushing their motor skills and imagination to the extreme. What tiny creations will your child make as they get to work?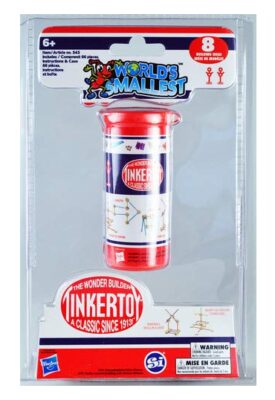 7. Tinkertoy Classic Construction Set
Did someone say glow in the dark? Almost every kid loves a glow in the dark toy and, this construction set combines learning with glowing fun! Mixing both classic wooden pieces with cool pieces, this classic construction set celebrates 95 years of Tinkertoy (now that's impressive).
Suitable for ages 3 years+ and containing a mega 225 pieces, there are plenty of glowing creations to be made that wow both in daylight and the dark!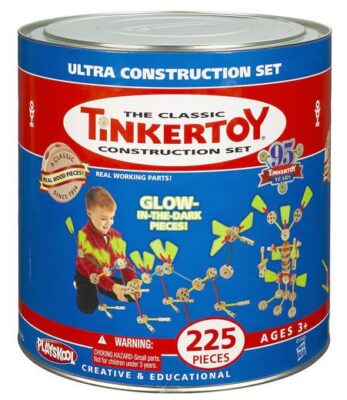 8. Tinkertoy Deluxe Building Kit
A deluxe building kit that takes the constructive play to the next level and beyond. Your child is bound to love bringing their creations to life with this set which contains 100 colorful wooden and plastic pieces for variety. Cleverly packed into a container, simply take the lid off and let your child get to play with limitless building ideas.
Even better, this kit comes with a detailed instruction manual and 15 ideas if your child needs some encouragement. Go with this construction toy if you want to help your child to develop their problem-solving skills in a new way and more.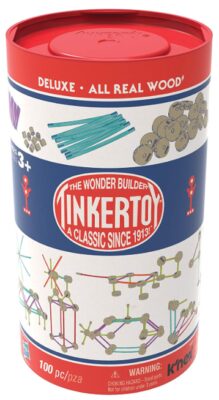 9. Tinkertoy 30 Model Super Set
Colorful, fun and educational, this Tinkertoy set is sure to bring a new lease of life to your child's creative play. Recommended for kids ages 3 years and above, this kit contains a generous 200 plastic pieces including everything your child will need to get building castles, windmills, animals and more.
This set is designed to boost your child's preschool skills and introduce them to STEAM concepts. Unpack the pieces to get building and easily tidy up afterward with everything being contained in a handy storage box for next time.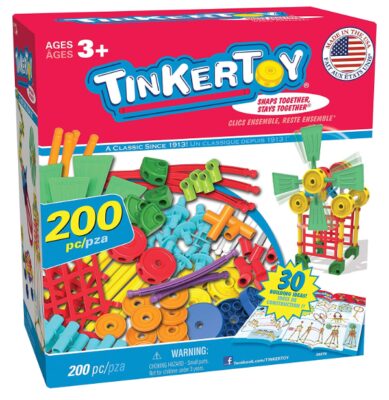 10. 100 Piece Value Set
Suitable for preschool children ages 3 years and above this value set doesn't break the bank and provides all the same fun (and learning) of the higher end sets.
With 100 assorted colorful pieces, your child will be provided with 13 building ideas to make flowers, cars and whatever else they imagine. With an easy-to-follow instruction guide and a box for easy storage, the 100 Piece Value Set is a great choice for introductory construction play.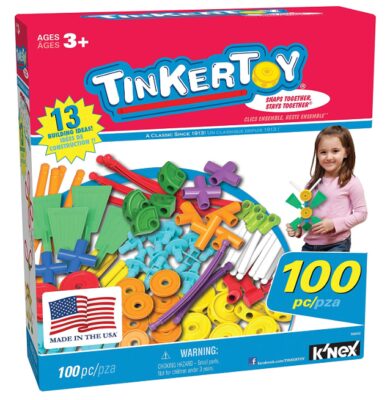 11. Schylling Makit Wooden Construction Toy
If you're looking for unique tinker toy ideas, this could be the set for you! With wooden pieces, this compact set will allow your child to build everything from a giraffe on a safari to a windmill due to its moving parts. This kit is suitable for children ages 3 years and above.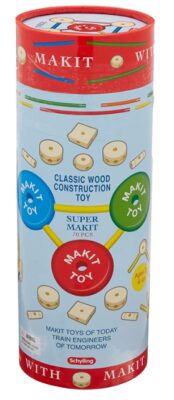 12. Melissa & Doug Wooden Building Set
This colorful and eye-catching set suitable for kids ages 4 years and beyond features 48 wooden pieces all contained with an organized box. Including nuts, bolts, and even a screwdriver, your child will get to construct their imaginations in the classic tinker way.
With fully comprehensive building plans, your kid can also follow a tutorial as they get busy making and learning. Especially designed to develop counting, sorting and fine motor skills, there are endless positive reasons to buy this kit!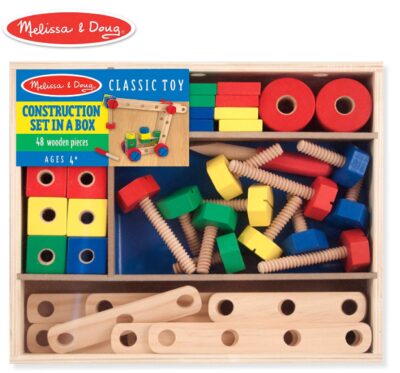 13. Classic Jumbo Tinkertoy Set
A classic Tinkertoy, this set comes in a handy tube and contains 102 pieces for creative play and development of STEM skills. Promote learning for your child as they get building their creations using spools, rods, connectors and more. This set comes in the classic wooden style, which has shaped the history of Tinkertoy sets since they were released over a century ago!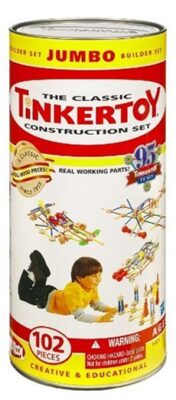 Top Tinker Toy Construction Set
A difficult choice to make, but our overall best Tinkertoy construction set has to be the Melissa & Doug Wooden Building Set. While not an official Tinkertoy set, it comes organized into a comparted box and has that classic toy feel we all love with its colorful wooden pieces.
At great value for money coming in at a mid-range price and containing 48 sturdy pieces, we're confident it would provide hours of endless fun, imagination and learning for children aged between 4 and 6 years old.
The company has achieved a "gold standard in childhood play" and has been designing toys for 50 years. Their toys aim to spark creativity and imagination and the company provides itself in producing toys that have a 100% happiness guarantee for both parents and children too!
What do you think of his set? Do you love it as much as we do?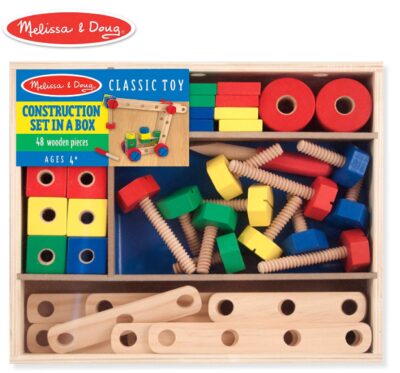 Considerations When Shopping for Tinker Toys
Tinker and construction toys belong to the STEM family and are a great choice for helping a child develop skills in science, technology, engineering, and math. It's highly encouraged to get a kid interacting with this family of toys from a young age as they support learning in the above subject areas.
Perhaps you're ready to buy your child a new STEM toy and you're thinking of the awesome options out there, or maybe you'd like to add to an existing collection, either way, you should consider the following things:
Age suitability
You'll find tinker toys out there suitable for all ages, from 6 months plus to the more complex programming type toys for teenagers. One of the key considerations when choosing to buy this type of toy is its age appropriateness.
Most toys that fall into the tinker and construction category do provide age guidelines, but this is heavily tied into skill also. Another point to think about is that your child may be ahead of the average skill level for their age range.
And, if you choose to work together with a child you can always help a child learn a great deal even if the kit may at first seem too advanced for them.
Skill level/complexity
As stated above age suitability and skill level come into play when deciding on any new STEM toy or set for a child. Though it's always encouraged to push your child kindly in terms of their abilities when it comes to learning new skills, don't overdo it!
Many of the toys out there have an age recommendation for a reason. Take your child's current skill level into consideration and don't come home with a new toy or set that is going to induce stress or leave your kid feeling deflated at their inability to grasp its material.
What type of tinker toy is best?
Tough question, right? With SO many cool options out there, it's difficult to decide which type of tinker or construction toy you want your child to interact with. From the official Tinker Toys to quirky construction sets, all aim to teach the same set of skills.
Therefore there is no real answer to this question, however, you should consider which toy is best based on your child's skill level, their preference perhaps in terms of color and aesthetics as well as giving the box a good read to understand what your child can gain from interacting with it!
Does it provide clear instructions?
Always ensure that the Tinkertoy or construction set you choose comes with clear instructions that don't leave any room for confusion. This may seem like common sense but there are many toys out there that don't always come with clear instructions and for parents, this can cause quite a headache.
A lot of Tinkertoys and construction sets come with building ideas too which are contained alongside instructions. We'd always advise opting for a set that provides some guidelines in terms of building, as the last situation you want to find yourself in, is one where you're scratching your head alongside your child both uncertain of how to get started.
Even if you simply begin following an idea that's provided and give things your own twist too, that's part of the fun, don't you agree?
What Can Kids Learn from These Toys?
As you've likely come to see, construction sets can teach a kid a great deal. In fact, more so than meets the eye. Construction toys belong to the STEM toy family and, are going to teach your child valuable and transferable skills from an early age if you choose to introduce them.
STEM learning encompasses any learning in the following subjects: science, technology, engineering, and math. In adulthood, there is a range of careers that fall under this umbrella. Toys that encourage construction have huge benefits in terms of cognitive development for kids. Let's take a look at what a child learns from them:
Improved fine motor skills. Through learning how to manipulate and maneuver objects to construct, kids will strengthen their existing motor skills and motor planning.
Thinking and reasoning. When a child builds a structure they use their critical thinking and reasoning skills to do so. If a construction 'doesn't work' or turns out in a different way to what they imagined, they are encouraged to revisit their ideas to see what went wrong and start over.
Spatial awareness enhancement. Construction toys help a child to gain a better understanding of space and their environment. Through developing visual-spatial skills a child can have a better understanding of spatial organization overall.
Focus and patience are improved. Through working carefully and at a slow pace, children can learn how to remain focused in other tasks. They are also far more likely to develop their attention skills too.
Encourages imagination. Children are imaginative and, interacting with construction and building sets such as Tinkertoys allows a kid to play out their fantasy. Through the use of imagination, a child will develop cognitive skills as well as academic language and will better be able to place themselves socially.
Building structures and objects generally go hand-in-hand with storytelling too which can help a child to develop their verbal skills and ability to tell stories.
Boost in confidence. Working towards an end goal is of importance to children and the proud moment that comes with creating a structure is highly valuable. Through completing a project, a kid will feel a confidence boost which will cement the idea that they should have a belief in themselves and their abilities.
Use of mind. In a society where everything is becoming increasingly geared towards the use of technology, construction sets encourage a child to use the power of their own brain. This ultimately develops a child's ability to think for themselves.
Problem-solving. Many adults struggle with problem-solving as do children. By introducing STEM play into a child's life you will help them to develop their problem-solving skills from a young age. Through constructing structures, kids are forced to make quick decisions and think about what will and won't work as they build. These skills are very valuable and will be used later in life throughout school and work.
Science and math development. Your child will actively be learning about how things operate as they interact with such toys and, will naturally use math concepts such as adding, subtracting and even geometry! This will give your child a head-start in the subject areas and could see them thrive naturally.
Cooperation. Structure building naturally lends itself to cooperation and your child can be encouraged to work as a team with another child with these type of toys. Learning to take turns and work together is of great value.
What Age are Tinker Toys For?
Tinkertoys are generally aimed for children aged between 3 years and 9 years old. As an introduction to STEM learning, they can be used as a stepping stone into the subject area before official education or, to provide ongoing support and development.
While all children of all ages can benefit from playing with construction toys, official Tinkertoys are suitable for children ages 3 years +.
It is highly advised NOT to ignore the age recommendations across the Tinkertoy range or any other similar construction sets as the pieces can be a choking hazard for younger children. Always check the box for the minimum age before you choose to buy a new toy for your child.
Can the Pieces of Each Set be Used Interchangeably?
Tinkertoys come in a range of varieties and sizes as you will have seen with our recommendations. If you're about to buy your first ever set, you may find that your child gains so much fun and learning that you'll be eager to dash back out and invest in another.
A kid's toy box can get messy and disorganized and, more often than not children like to mix up different parts of toys together in a Frankenstein style.
Not all Tinkertoy pieces are interchangeable though some are. The best way to find out this information is to check the boxes text to see what is provided via this and if you still can't lock down an answer, ask in-store or directly question the on-line provider.
A general rule of thumb to go by is that if a kit belongs to the 'classic' family, for example, you can mix and use pieces interchangeably.
Tinkertoy in 2023
Tinkertoy has been around for over a century and has led the way in construction-based toys in the U.S and still does to this day. There a wide range of sets to choose from, including the classic wooden pieced toys to the colorful, jazzy plastic toys. First released back in 1913, Tinkertoy's kits include wheels, spools, caps, pulleys and more for sensational STEM play.
As technology develops there is still a crucial need for hands-on play as it can benefit a child in ways that a computer never could. So, the next time you consider opening an app to teach your child something new, why not choose a Tinkertoy or construction set to help your child develop their imagination, problem-solving skills and more?