Encouraging your children to develop their problem-solving skills, creativity, logic and technical competence is a sign of great parenting, which is why STEM toys are great. One quick way of doing this is to buy your kids some of the best age appropriate educational toys. Young Coders are getting a lot of attention lately and its great. There is young coding clubs sprouting up here and there. And the education system is introducing more and more coding based projects and adopting platforms like code.org. But the best thing about this traction has to be all the new coding toys for kids.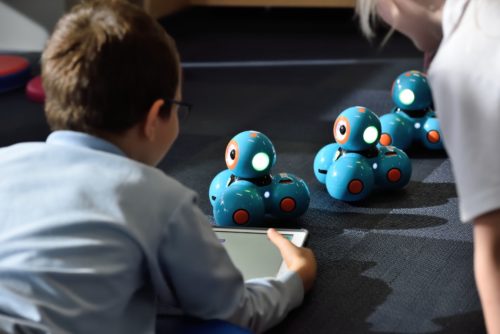 Top STEM Toys for Boys
1 .  Botley, The Coding Robot Kit
Botley the Coding robot is a fantastic toy to encourage children to understand basic coding concepts like if/then logic. The toy forces your children to develop their critical thinking skills while providing hours of fun.
If your looking for stem toys for 5 year old boys or older, this is a great choice. Your child will have to program Botley the Coding Robot to perform a number of steps in order to avoid obstacles and manoeuvre around.
This is one of the best stem toys for kids, as it will provide hours of fun as well as a great educational experience. Its a fantastic tool to introduce your children to coding.
Botley Comes With:
Remote Control – Making Botley a 100% screen free toy! No phone / tablet required. Kids watch too many screens these days.
77 Pieces
40 Coding Cards
Six boards
Eight sticks
12 cubes
Two cones
Two flags
Two balls
A goal
And a sheet of stickers.
Botley can be programmed using the remote which allows the user to transmit commands such as object detection, looping, clearing the last program.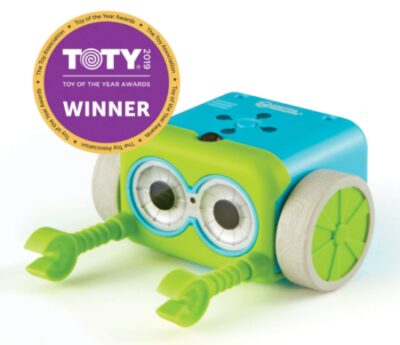 2. GeoSafari Jr. Talking Microscope
This lets your kids get up, close and personal with bugs, animals, plants and more. The talking Microscope features the voice of wildlife conservationist Bindi Irwin. There are two modes, fact mode and quiz mode.
A memorable moment in my childhood was mucking around with my microscope. I'd use it for hours on end pretending I was a scientist or something.
The unit is well constructed, so you do not have to worry about your children handling it. Its built with kids in mind.
This is a great educational toy that provides loads of information and entertainment.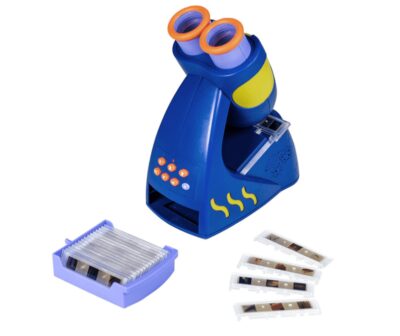 3.
 Magnetic Human Body Playset
The magnetic human body anatomy play set is a fantastic toy to introduce children to the basics of anatomy. Children will start learning where vital organs sit within the body and what there purpose is. It will also be a great tool in developing their hand-eye coordination and imagination.
Overall a great toy for stem toys for 7 year old boys and girls. This is a very cheap toy in comparison but provides equal amounts of fun and is educational too.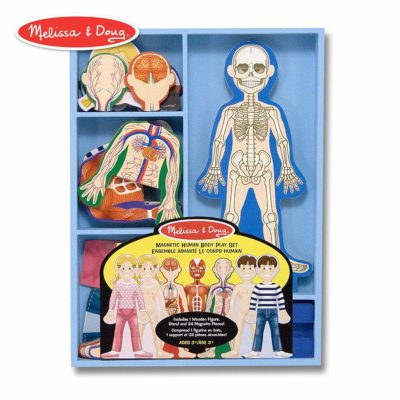 4. Magic Science for Wizards Set
Getting children interested in science is either very easy or incredibly difficult. Toys like this make introducing children to science significantly easier.
This set comes with 3 plastic tubes, a nice pair of goggles, magic crystals and plenty of chemicals to perform multiple experiments. All of this together will give your child the tools to conjure up some funky scientific experiments!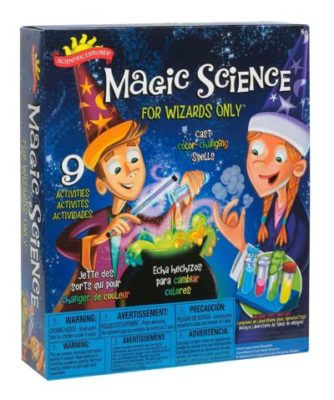 5.
Code-a-Pillar Toy
This great little caterpillar toy from Think & Learn is a fantastic tool to help children learn to think independently. The Code-A-Pillar toy will help children develop key skills like sequencing, reasoning, critical thinking, problem solving and more.
To be big thinkers through active and fun play. Because we know thats how pre schoolers learn best. The code a pillar is an adorable character that comes to life through lights, sounds and actions. He enhances little learners critical skills they need to develop/ Code a Pillar comes with eight individual sections and a motorised head.
Now in the early stage of learning your child will explore and discover the possibilities of putting these different sections together to create a code / sequence that will take him on his journey.
Each section represents a motion or a reaction. The arrow that bends to the left will move the caterpillar to the left. The Arrow that goes forward will move the caterpillar forward.
This is a fantastic product that your pre schooler will adore. You will need a bit of room to let the toy roam around though.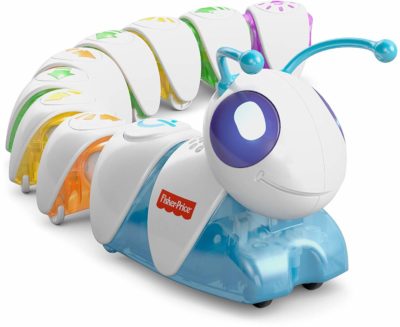 6. Mattel Bloxels Video Game
Your not just buying a toy here, you're buying hours of smiles on your children's face. Hours of educational training & development too.
If your child like playing video games, they will love making their own. This video game creation platform makes it very easy to build your very own video game.
Whatever scene you can imaginer can be built on the game board. It can then be digitised using the Bloxels builder app.
You first have to build the layout for the game. Then you can choose music, decorations, backgrounds and more.
Then you can play your game. Not just any game but YOUR game. Creating a sense of accomplishment.
Your child is now the story teller, programmer, project manager and more.
This is a FANTASTIC toy to break your child into the video game creation industry. Using a combination of physical and digital tools your child can let their imaginations run rapid.
There are hundreds of assets that can be utilised and Bloxels users keep uploading more.
Its one of the best stem toys for kids 6 and up.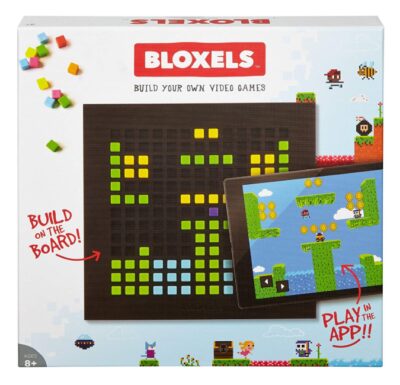 7. Anki Cozmo Toy Robot
Anki Cozmo Robot by Anki. He is a robot with a big brain and a huge personality. Its a tiny little robot thats almost like an animated robot thats come to life. It reminds me of Wall-E from the Pixar movie.
It fits a nice blend of looking robotic & gadget like to appeal to young boys but cute and adorable enough to appeal to young girls too. And to be honest dad will probably appreciate the tech behind this little guy too.
Cozmo communicates via an app that goes on your phone.
Cozmo has an integrated camera that helps him remember peoples faces.
A major selling point is the wide range of emotions Cozmo can pull. His face can blink, look unimpressed, glee with happiness, be angry & many more.
Cozmo comes with a bunch of games and will be sure to make you laugh and smile!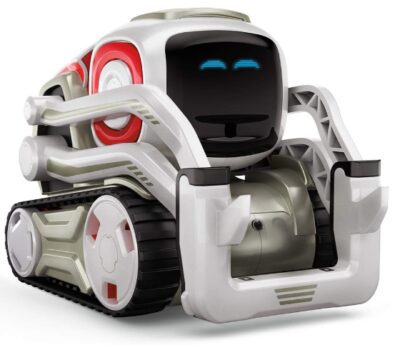 8. Clear Colors Magna Tiles Set
Magna-Tiles have been around since 1997. These magnetised tiles allow your children to build anything they can imagine.
Magna Tiles come in opaque and clear colour pieces. They are addicting, its an uphill battle to not buy more!
The blocks aren't too expensive and are made with great quality so they will literally last a lifetime.
The possibilities are endless too. Well, I mean, your only constraints are how many pieces you have and how much space you have to build. Villages, Airports, roads, skyscrapers, you name it.
An amazing toy for children aged 3 and up. Plus it helps develop their brain. It encourages creativity and dedication. It helps develop patience and resilience (when everything falls down & needs to be rebuilt). They will learn physics, geometry, maths, strategy and more.
Get your child some now!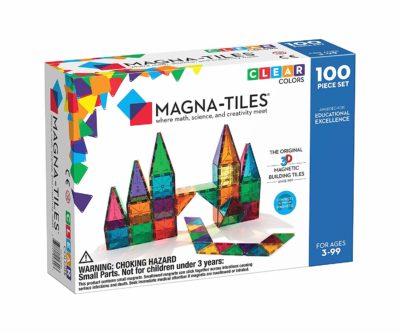 9.
Snap Circuits Jr. Electronics Kit
Perfect for the young engineer! This toy has more than 100 different electronic circuit projects. It has more than 30+ electronic parts too.
Its the perfect gift for children aged 8 and above. No soldering required,  no tools, nothing! This will aid in your childs STEM development.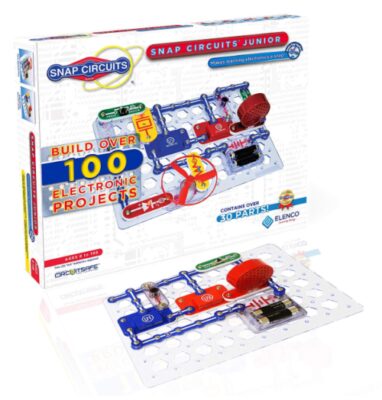 10. ThinkFun Gravity Maze Game
Think Fun is a fantastic brain and logic game by Families Worldwide. This game helps your child develop critical thinking skills. It comes with clear instructions that are easy to follow and learn. Thus letting you play almost immediately!
The stem focus with this item has to be engineering. There are over 60 expert challenges giving your child hours of fun. Your 10 year old will be obsessed with this game.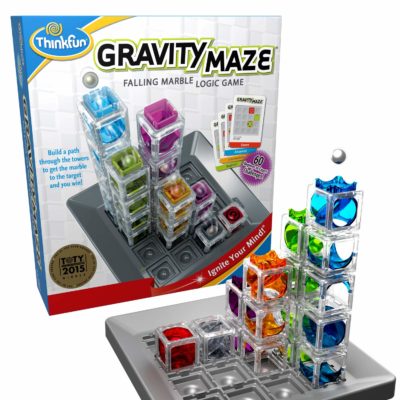 11. Klutz LEGO Chain Reactions Game Kit
The Klutz Lego Chain Reactions Science & Building Kit is the perfect gift for children Age 8 and above. There is small items that will be a choking hazard for young children.
This is a very well designed thought out kit. The items creators have clearly put a lot of effort into the design & execution of this product.
If your child loves Legos & you want them to get some additional educational value, get this.
You will need some additional legos to complete the book though.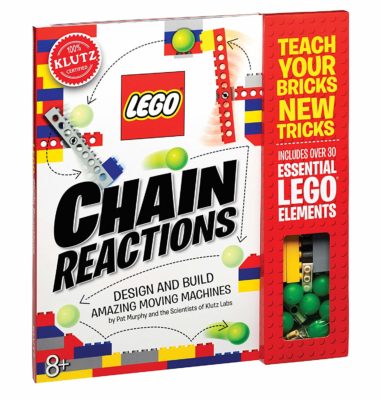 12. AmScope Kids Microscope
This is a fantastic beginners microscope. This is a great introduction to biology for children. Biology is the science of living things. Its always fun to play around with microscopes as a child. And this has everything you need to take a magnified look into the world of bacteria, microorganisms and cells.
Plus this is a fairly cheap microscope and with that in mind, don't expect crazy results. The focus can be a little hard but for beginners its great. Your child will be delighted. This product is more than good enough to introduce your child to biology.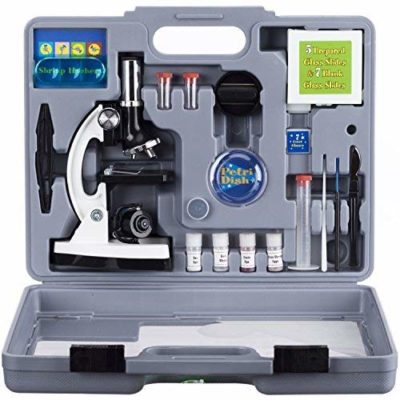 13.
Creativity For Kids Terrarium Kit
Terrariums are a great way to introduce children to gardening and plant life. A terrarium is like an aquarium, but instead of putting plants in it you put fish in instead. They can be quite nice decorations too. But your child will learn a lot in the process of making one.
With this kit in just 10 steps your child will of made a beautiful terrarium. Theres nothing too crazy with this set, its really just a jar, soil, and seeds. But it keeps it simple and removes a lot of the hard work making this great for younger children.
I.e holes in jar lid for ventilation.
It would be good to educate your children on the importance of this but doesn't take away the fun. Your child will get a sense of accomplishment upon completing their build.
Overall a great introductory kit to biology / botany.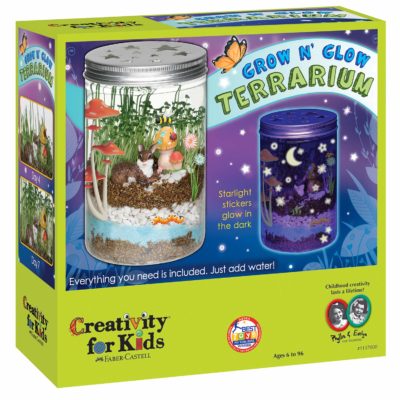 14. Design and Drill Toy
A perfect gift for younger children aged 3 to 7 that have shown a creative interest. Their faces will light up with glee as they produce imaginative designs. This set is fantastic for developing hand-eye coordination and building fine motor skills.
You will find them quietly producing their designs for hours as they concentrate on producing their master pieces.
Overall a fantastic toy that is both educational and fun.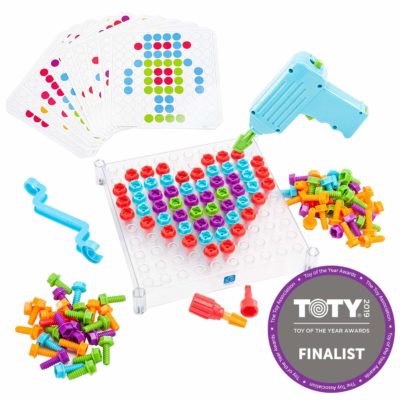 15. Crayola Chemistry Set
This set is marketed towards children aged 7 and up but children a little younger will appreciate and enjoy the toy just as much. This set is fantastic for getting your children invested into little experiments and allows them to explore this scientific world.
Create a volcano with modeling clay for example, and watch it erupt!.
Its a great kit for a day indoors!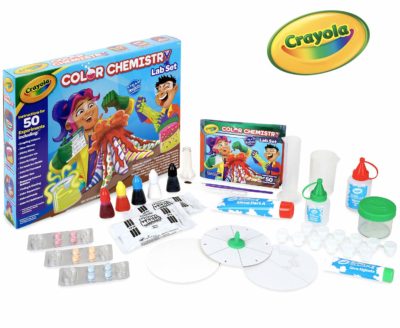 16. Sphero Robotic Ball
This robotic ball is controlled using an app and will provide hours of fun watching it roll around. The app comes with tonnes of games to keep your child entertained for hours.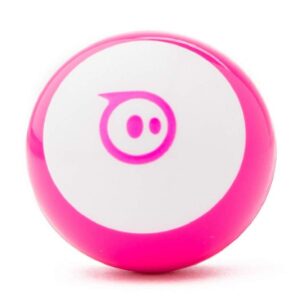 17.
National Geographic
Geodes
Your son / daughter will no doubt enjoy cracking open the geodes that come with this set. Its a fantastic set to introduce your children to geology. The sparkly appearance of the insides is a great reward and will hardly disappoint.
The rocks can make a big of a mess as the little pieces on the surface break when being striked. Though the kit does come with goggles to ensure your children's safety.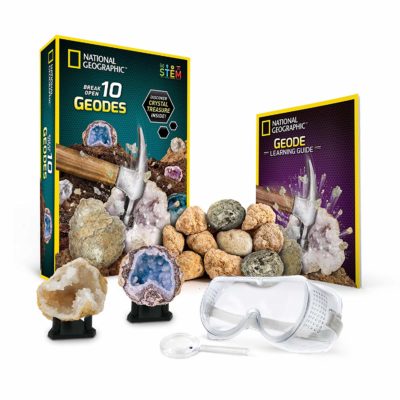 18. K'NEX Model Imagine Set
K'NEX is another classic building set. It has been around for years and has been providing children fun & education ever since its production.
This set comes with 863 parts and pieces. Enough to provide hours of fun while training those motor skills, problem solving skills and more. Perfect for children aged 8 and up.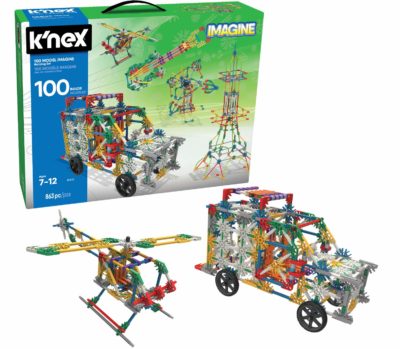 19. Osmo Genuis Starter Pack
Osmo is a great little kit, it allows you to turn your tablet into a full hands on learning tool! The genius starter kit comes with everything your child needs to have a hands-on learning experience.
Your child will improve their reading, vocabulary, maths, problem solving skills and become more creative by playing with Osmo.
There are a lot of educational games that combine physical play and tablets on the market but Osmo is a very well designed tool kit and comes highly recommended.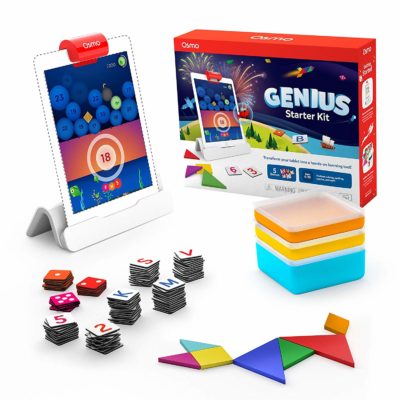 20.
Code & Go Mouse Robot Set
Colby the programmable robot is a robotic mouse that your child will control. They will help Colby navigate the maize by using basic programming an coding skills.
This is a fantastic introductory tool to basic programming where your child will improve their problem solving, critical thinking and much more in the process. Plus they'll have hours of fun.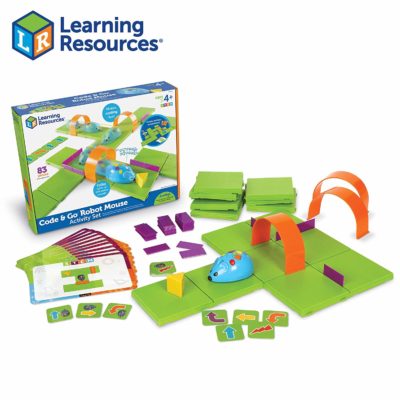 21. Nat Geo Gemstone Dig Set
Has your children shown an interest in picking up stones or collecting things in the garden? This National Geographic box is the perfect gift for children who want to become adventurers & find hidden treasurers.
They will chip away until they find something worth keeping. Upon finding a hidden treasure they'll need to dust away the stone.
It's a bit messy but its a good introduction to geology and your child will most certainly have fun.
Its an educational adventure perfect for children over the age of 3.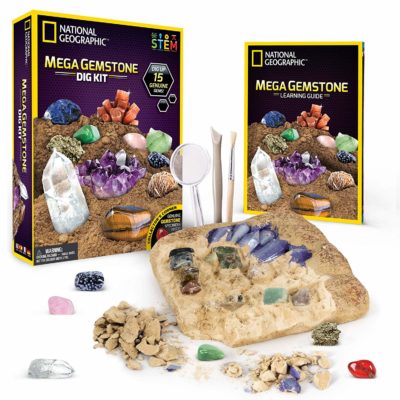 22.  Water Rocket Set
This water rocket set is great for kids who are enthusiastic about space or science fiction. It'll help give them an instinctual understanding of basic physics and propulsion whilst providing hours of entertainment. 
It utilises the power of water pressure to launch a bottle rocket up to 30 feet in the air! Challenge your kids imagination by asking them to decorate the rocket before the first launch.
Optimise the pressure properly, and you can reach heights of up to 90 feet (30 meters!)
Not only does it come with instructions, but it also comes with 2 different adapters for air pressure pumps & 2 fins to ensure it doesn't spin out mid-air.
It's made out of a recycled soda bottle, so not only is it eco-friendly, but it can be replaced cheaply and easily if it's ever damaged.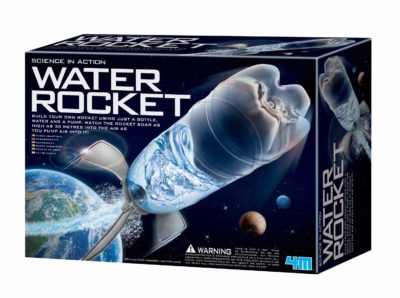 23.
Wonder Workshop Dash Robot
This amazing, stylish, futuristic robot is great for teaching kids about STEM! It arrives fully charged out of the box and ready to go. The underlying idea behind this robot is to teach children the basics of logical functions. Things such as events, conditions, sequences & loops can be entered with it's free app – it can also be given voice commands. 
It can run continuously for up to 5 hours and can survive on standby for up to 30 days!
It has building brick connectors, making it lego compatible, so you can build on dash to turn him into whatever kind of robot you desire!
Possible accessories include a projectile catapult, turning dash into your own little robot security guard, you can even get an attachable xylophone kit where dash can be programmed to play music!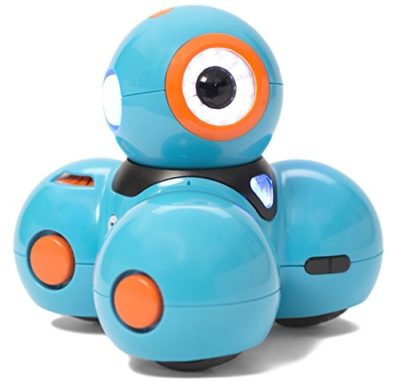 24.
Crime Catchers Spy Kit
This cool little science kit will teach your kids the basics of forensic science! With activities including fingerprint matching, decoding, & even powder and liquid analysis.
It comes with not one, but 2 exciting mysteries for your kid to get to work on. 
This is perfect for children with an interest in the police, detective work, spies or science!
Do you run a children's club such as Boy Scouts or Girl Scouts? Why not implement this as a method for winning a merit badge such as a detective badge?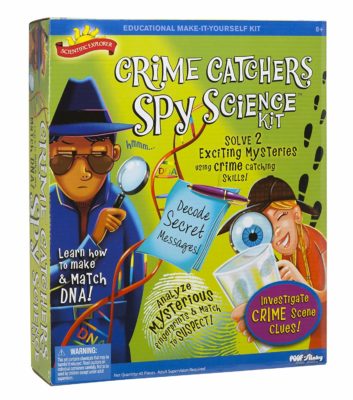 25.
Crystal Growing Kit
This crystal growing kit will teach your child the basics of both geology and chemistry. It comes packaged with 9 different experiments to grow different types of cool looking crystals. 
This fun way of teaching science is sure to inspire your kid for years to come, it's an added bonus if they already have an interest in geology or chemistry! 
It comes complete with all of the necessary equipment to carry out these experiments, so you don't need to go hunting for all sorts of random scientific equipment!
Not only are the experiments fun, but the end results are really cool too, which is sure to excite your kid as a reward for carrying out the experiments correctly. 
Does your young one have a show and tell coming up soon? This is a perfect project for it.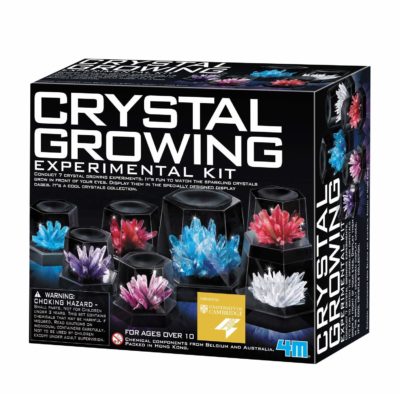 Best Overall Pick
Mattel Bloxels Video Game
This game is absolutely fantastic as it allows your childs imagination to run wild while providing tonnes of educational fun. Your child will have no clue that this game is actually refining many of their core skills.
Absolutely no part of it feels like you're being educated, in fact your child will probably get lost in hours of interactive fun!
With so much being offered by this game and there being so many benefits we had to include Mattel Bloxels as the best overall pick.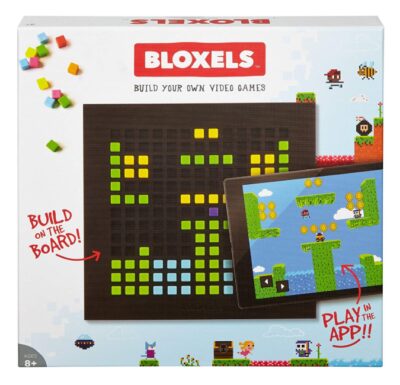 How to help your child hone their coding skills?
1 – Encourage Hands On Play
Children learn the basics of coding through hands on play and playing digital games. There are tonnes of toys out there now that provide heaps of fun but help children understand coding without even realising it. 
2 –  Send Them To A Coding Club
Toys out there now that provide heaps of fun but help children understand coding without even realising it. 
Best Digital Coding Games for Children 
As your child moves on from physical toys, the next step up has to be app focused coding games. We highly recommend mixing the two together initially as there is a LOT to be learned from physical toys.
There are tonnes of coding games available to children on Apple and Android devices. If you go to the app store you'll have plenty of variety. However here's a couple we recommend:
1 – Code Karts
Code Karts will introduce your child to the basic coding concepts by using logical puzzles that take the form of a race track. There are more than 70 levels that will not only provide hours of fun but they will help your child understand the fundamentals of code such as directions and logic. 
2 – CodeSpark Academy
CodeSpark Academy is an award winning app for children aged 4 to 10. It is played by more than 20 million kids worldwide and costs around $9.99 a month. 
This gets them access to games that help them understand the basic concepts. Once they've progressed through that they will move onto creating their own games in the game maker. Then they will move onto playing pet pals and understanding the basics of automation.
And will help them hone the following skills and traits:
Reading

Logic

Problem Solving

Creativity

Empathy

Pattern Recognition
More Related Articles and Tech Toy Reviews