Getting kids in the bath is a hard enough task as it is, which is why choosing different types of bath bombs for kids is a great idea! Enticing them to get scrubbed can be a real challenge for parents, but it needn't be! There are lots of ways to make bathtime that bit more fun and we're about to help you with a new bath bomb ideas.
Whether you're already familiar with the bathtime play scented bomb sets or not, they can save your efforts when it comes to bath time. No need for the fuss, your child will come to love bath time and see it as an opportunity for more fun than ever.
In a range of colors, scents, and designs, children's bath toys have become all the rage.
Why not consider getting your kid a bath bomb set, if you can relate to any of the above?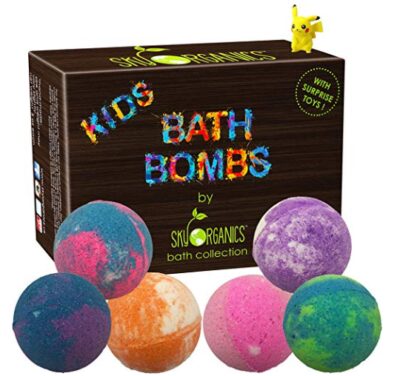 Top Tips When Choosing Kids Bath Bombs
There are lots of choices for kids will enjoy and with so much choice you might not know where to start when it comes to selecting an awesome bath bomb for a child. From allergies to a child's interests, there are a few things you should consider before choosing a bathtime gift that is going to add a whole new spin to the once boring 'chore'.
Let's take a look a the things you should consider:  
Kids can be prone to sensitive skin. Eczema is common among children as they tend to have extra sensitive skin and can be irritated by a whole range of ingredients that can cause the condition to flare up. Be sensitive of this and if you're selecting a product for a child who has eczema or has had any type of skin conditions in the past, consult the ingredients prior to buying.
Budget. Kids really don't care about how much you're going to spend on bathing products for them. We'd always recommend opting for a low-end budget where possible without compromising on the quality of ingredients of course!
Interests. There are so many cool themed bath products out there and bombs are excluded. You'll likely find one that is in line with a child's interests, whether that be animals or flowers, there are tons to choose from…
Favorite colors. The amazing thing about these products is that they alter the color of the water and make for a truly exciting experience. Take the kid's favorite color and base your set from that.
Scents. Some children are particularly sensitive to strong scents and won't cope well with overwhelming synthetic scents. If this is the case for the kid you're buying for, we recommend opting for a handmade bomb with natural smells. You can find lots of essential oil options for kids or, find mildly scented ones online or in stores.
Quantity. If you're buying a set of bombs to mark a milestone birthday or, want to truly impress you may want to consider opting for more variation. There are lots of larger sets containing up to 24 bathtime bombs out there!
Quality. Some parents might prefer organic bath bombs for kids, which is good for kids with sensitive skin and for saving the planet.
Best Choices for Kids
1. Hot Focus Fizzy Spa
This adorable set will provide your child with their very own spa day from the comfort of their own home! We love the cute animal themed packaging and the array of goodies included: a pink unicorn gel eye mask, a charcoal panda bear mud mask and not one, but two fizzy bath bombs for kids. If you feel like your little one could do with an at-home spa, this fantastic set is a perfect choice.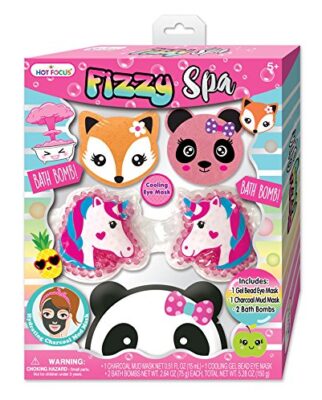 2. Kids Bath Bombs Collection
Wow! Kids bubble bath bombs we love! The funky color changing bombs for kids included in this cool set. All of the products here have been lovingly made using organic essential oils, coconut oil and give an immersive and layered design for plenty of fun. Including 6 in total, each bomb contains a surprise toy for too!
Your kid will have plenty of choices when it comes to their favorite scents, from bubblegum to cotton candy, there's a fantastic smell to them all. Tennis ball sized and packing a punch when it comes to scents, colors, and fizzy scented, this set is made using child-friendly Epsom salt making them suitable for children 3 years and above.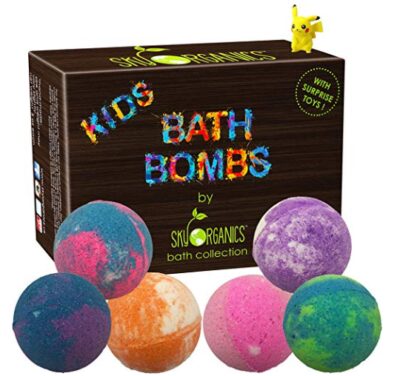 3. Organic & Natural Bubble Bath Bombs

Go all out and get this mega set comprising of 24 bombs! Made using natural oils including grape seed oil and using soft ingredients such as shea butter, these colorful bathtime balls are the perfect addition to any kid's bath routine. Giving a fantastic bubbling effect, kid's bubble bath bombs don't get much better than this. Perfect for those who suffer from dry skin conditions, this set is sure to bring bath time to the next level and create lots of entertainment all around.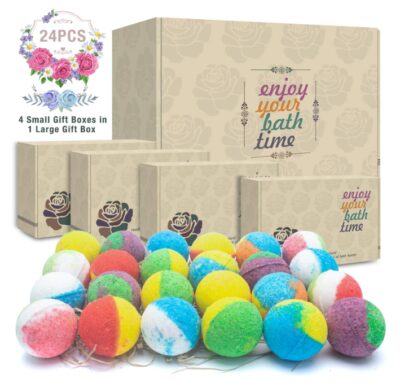 4. Excalla Bath Bombs with Toys
This super cute set is colorful and comes with an animal toy in the center of each bomb too! From unicorns to ducklings each kids bath bomb has its own character. Made with Epsom salt, sustainable palm oil, and cocoa butter, these bombs will have a softening and soothing effect on kid's skin. For rainbow colors, sweet animals and a fizzing time, this 12-piece set is a great choice.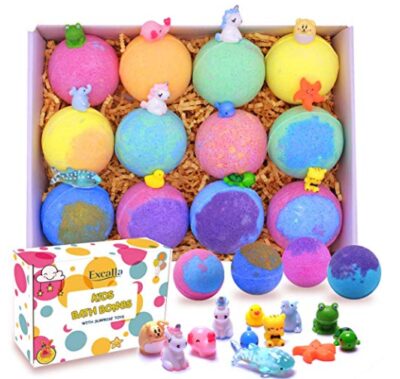 5. Sky Organics Toy Bath Bombs
Containing 12 large fizzy bath bombs for kids, this set is a perfect introduction to taking bathtime to the next level. Made using lovely ingredients such as organic coconut oil and multilayers of natural scents, your child will also have the opportunity to collect Pokemon toys which are contained in the center of each. Though these bombs are brightly colored, they'll never stain your bathtub and instead will leave no color transfer, even on skin. An amazing bath time treat for children ages 3 years and above!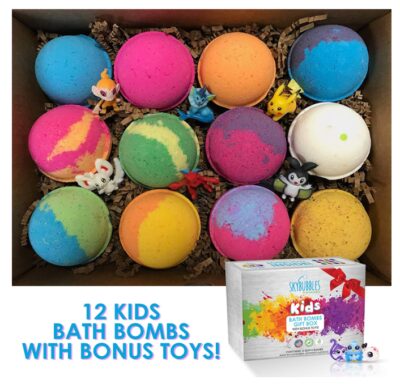 6. Nurture Me Organic – 40 Pieces
For a vibrant box of bath fun, this box is the right choice. In luminous colors, your child will be treated to 40 fabulous bombs. Organic bathing bomb gift sets don't get much better than this! Made using quality natural ingredients such as cocoa and shea butter as well as beautifully scented oils, these vibrant bath products won't create any mess and will give your child a new experience each time they fill the tub. Which color from the set has caught your eye?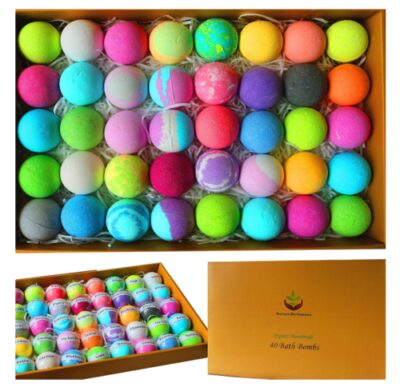 7. Sea Animal Bath Bombs
For sea creature lovers this set is a must-have. Packed into an illustrated box, each of these fun bombs comes with a toy inside, sea animal themed of course! Offering plenty of fizz and cute names such as Mermaid Fizz, this 6-piece set is sure to bring a smile to any kid's face. Suitable for children ages 3 years and above, each bomb turns the water into a beautiful shade of light color without staining.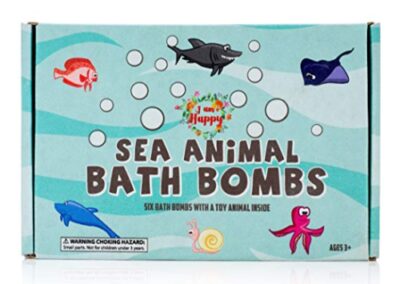 8. Organic Egg Shaped Bath Bomb
These egg-shaped bombs are perfect for themed Easter baths, but they'd also do the trick year-round too. Composed of natural ingredients and boasting delightful scents thanks to the essential oils used in each, this children's bath bomb set is full of foam, sensational color and fizz. We love the packaging of this gift set too and think it's a fantastic birthday present idea for either boys or girls.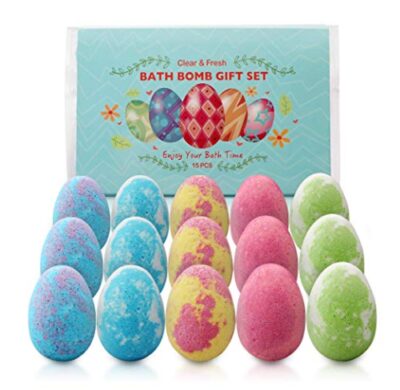 9. Farm Animal Bath Surprise Bombs
This adorable farm animal bath balls set for kids will bring bath time to life! Containing 6 bombs, this lively set brings plenty of fizz and fun with not only an animal theme but a farm animal toy in each. From ducks to horses, your kid can take full advantage of play time when in the tub with this brilliant set. Do you have a child in mind that'll love this?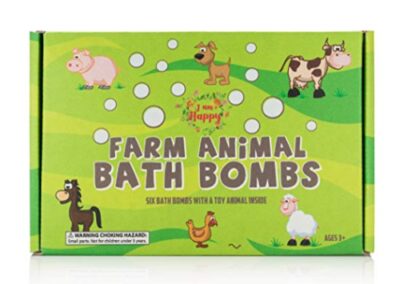 10. Unicorn Bath Bomb with Necklace
It doesn't get much more magical than this unique unicorn bath Play bomb that comes with its own necklace too. A perfect gift idea, this stunning purple, and pink fizzy bath ball come individually wrapped in a cute gift box and is made using only natural, vegan ingredients. If you're hosting a unicorn themed party, these bombs could make a great take-home gift idea or perhaps you just have a special child in mind who is worthy of a bathtime treat.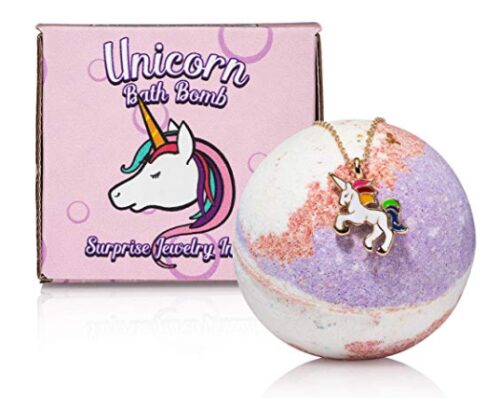 11. Shea Butter Bath Bombs with Toys
Guaranteed to take bath time to the next level, this space-themed set contains 6 bath bombs made with shea butter for a nourishing and softening effect on sensitive skin. Brightly colored and packed carefully into an eye-catching box, each ball contains a Pokemon toy too. If you're looking for a fizzing set, look no further, your child will have hours of fun when it comes to taking a bath with these incredible bath additions.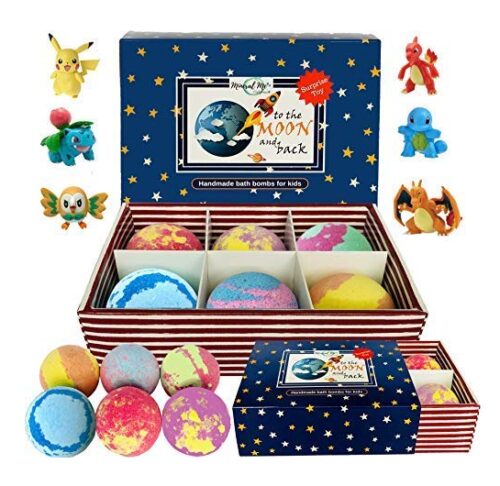 12. Birthday Surprise Bubble Bath Toy Bomb
Have a special birthday coming up soon and looking for a gift that'll surprise? This kids bubble bath bomb ticks all the boxes. Fun, cute and containing a special cupcake necklace, this sweetly scented bath ball fizzes and turns the water a lovely shade of pink for an extra special touch. What do you think of the animated necklace goodie that's included?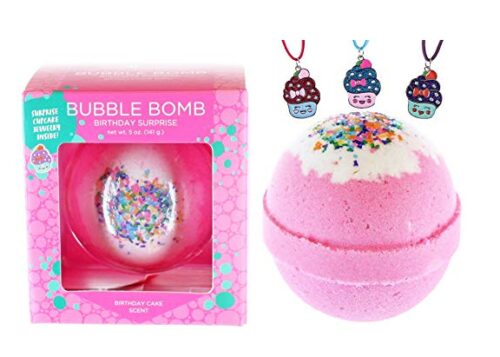 13. Unicorn Bathtime Bomb Gift Set
Do you know a unicorn obsessed kid who'd love this beautiful gift set? Packed into a pastel pink box, there are 8 uniquely hand-crafted bombs each made lovingly using natural oils such as peppermint, sweet orange and rose. Skin will be left smooth, soft and smelling great! What's more, is that none of the bath balls will leave any color transfer in the tub for a truly fuss-free bathing experience.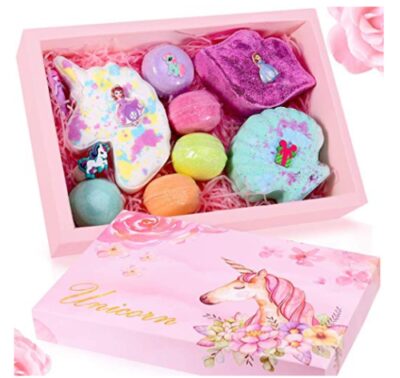 14. Pokemon Ball Bath Play Bombs
For true Pokemon fans, this bath ball set is a winner! Containing 3 brightly colored 'pokeballs' will moisturize skin thanks to their shea butter ingredient. Allow your child the time to relax and captivate their imagination with the endless story scenarios this themed fizzing set could bring to bath time. Each ball contains a pokemon of course that your child can collect.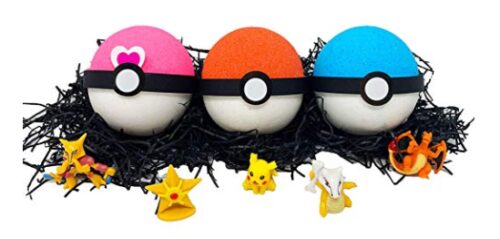 15. Organic Bath Bombs with Superhero Toys
Are you searching for an organic kids bomb sets that is super-hero themed? With 6 brightly colored bombs and suitable for children ages 3 years and above, this magical set will see your kid bring their imagination to life with superhero missions and more. Safe for sensitive skin, none of the bath balls in this set contain any ingredients that could irritate skin…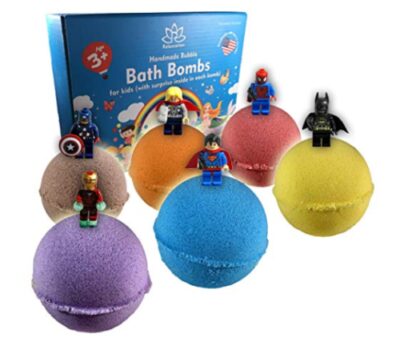 Overall Best Bath Bombs for Kids
It's a difficult choice when selecting a favorite from the list of fizztastic bombs above, but we think the overall best set for kids has to be the wonderful shea butter bath bombs with toys selection. With a cool space theme and containing cute toys too, we really think the manufacturer has hit the nail on the head when it comes to quality ingredients, theme and exciting factor!
When it comes to selecting that 'perfect' bath product for a child, the truth is there is no correct answer. You'll have to take into consideration everything we outlined above to help you make the right choice. Children aren't fussy by nature when it comes to products but as a parent, you may have a theme of type in mind. If you're simply looking for a set that contains lots of colors, is safe for skin and has an extra special touch with the toy element, then our top pick could be the right one for your child too.
How to Make Bath Bombs for Kids
Perhaps you'd rather make your own bath bomb for your child. The good news is there are tons of recipes out there that are easy to follow and can be used at home. Making your own bath ball comes with many perks. Let's look at some of them now:
You select the ingredients. 
You can make it a fun activity to do with your child. 
You can decide what you want. 
Bulk buy ingredients to make more in the future.
Making bath bombs with kids is a fun activity in itself. It'll get creative hands-on juices flowing and will make bath time that bit more special too. Your child can roll their sleeves up, get busy making and reap the rewards of fun bath time at the end of it all. Who said DIY bath bombs for kids have to be messy? We've included a simple recipe for you below.
Easy, safe and natural. This bath bomb recipe is sure to bring lots of joy! 
You'll need: 
A cup of baking soda.
1/4 cup of citric acid.
Essential oils of your choice.
Soap coloring (optional).
2 tbsp of water.
Some bomb molds.
Steps: 
Mix together the citric acid and baking soda which will make the dry base needed for your homemade bath ball.
Add essential oils to the dry mix now if you want to as well as the coloring.
Pour a small amount (1 tsp) of the water into your hand and massage into the mix.
Continue adding the water into the mix gradually in a massaging action until it is moldable in your hand.
Add the mix to the molds and leave to set for between 24-48 hours.
Enjoy bath time with your homemade bomb!
Learning how to make natural bath bombs for kids isn't tricky and with more practice, you can customize as much as you desire!
Are Bath Bombs Safe for Kids?
Generally speaking, bath bombs are definitely safe for kids. There are just two things you'll need to be mindful of when choosing to buy one of these bath products for your child or a child in mind.
Ingredients
As mentioned kids can have sensitive skin and this can make them prone to reactions when it comes to using bath balls. Give synthetic ingredients a miss and instead choose to buy bombs composed of shea and cocoa butter instead. They're far more likely to not cause any adverse skin conditions and will provide moisturizing properties too. Check out Lush bath bombs for kids, they have a great selection!
Toys
Lots of bathtime bombs contain toy figures as seen above. Such small toys pose a choking hazard for children who are under 3 years. Make sure you aren't putting your child in a potentially risky situation.
Never leave your young child unattended at bath time
You should absolutely be with your child at all times if they are bathing unless of course, they're a teenager. Young children require supervision for a number of reasons and you should be there when using new bath products.
Why are Bath Bombs so Popular With Kids? 
Bath time is often seen as a hassle rather than playtime through the eyes of a child. Bath balls bring fun to the once dreaded task for both parents and kids alike. There are so many different variations of bombs out there that can be used to bring a new lease of life and fun to bathing. Once perceived as only for adults, the bath products are now being designed specifically with children in mind.
These Bathing scented toys provide lots of fun and can be used for special occasions such as birthday, Christmas or just if a celebration is in order. From bombs for kids with dinosaurs to Pokeballs containing themed figurines, there is endless choice when it comes to selecting a combo that your kid will enjoy!
What are the Coolest kid bath Bombs?
Every kid aspires to own the coolest toys, gadgets, and gizmos. So, why not overlap this into bath time too? There is a whole world of cool bath bombs out there to be had. From outer space themes to farm animals, you're guaranteed to find a bath ball for every personality.
Themed Picks
Pokemon is all the rage for many children and there are many bomb sets that are aligned with this. Have your child imagine they're capturing their very own Pokemon or choose a selection that contains a cute figurine in the center. As seen from the list above there is plenty to choose from…
If Pokemon is a no-go there are hundreds of other themes too. We love the unicorn and magical themed bath products that are out there and think they're a perfect gift set idea for two sisters.
Colorful Ones
It doesn't matter if a product for the bath ticks all the boxes if there are no fun colors involved! Your child will want to see a magical colorful rainbow come to life during their experience and the good news is there are tons of bright bath balls out there. Blue, pink, gold and glitter. Keep your eyes open for the latest color combos and surprise your child with a beautiful bathing experience they'll never forget.
Cool scents
Bath product manufacturers are becoming more and more experimental when it comes to scents. Bath balls don't fall short in this area as they aim to please multiple senses from sight to smell! We always recommend choosing products that are scented using natural ingredients only to avoid any unwanted reactions when it comes to skin. Why not choose a cool scent such as marshmallow? And, see your child's new reaction when it next comes to bath time!
Toys
Kids are going to love any toy surprise, let's be honest. There are loads of cool bath products that bring a character element with them and bombs are no different. From our selection above you can see there are lots of toys included from dinosaurs to jewelry pieces. If you're looking for a set that'll give the wow-factor, potentially for a birthday or other special occasion opt for one that contains toys. Be wary that small toys such as the ones contained in many of the sets above should not be given to children under 3 years of age.
Quantity
Though there is a saying that goes 'less is more', we don't think this applies truthfully when it comes to buying gift sets for children. If you want to impress for a birthday party or Christmas, consider buying a larger set. Not only will it keep your kid entertained for many bathtimes but it'll also be seen as a grand gesture too. Kids have no idea when it comes to price tags, so although you may decide to get that larger box of bombs, remember that you don't have to spend a fortune!