Buying a bounce house for your child can be a mind-boggling experience. With so much choice on the market, it's difficult to know which product would best suit your child's needs. Here, we have chosen the top nine bounce houses, so you're sure to find the perfect one for your child. 
They range in price from a very reasonable modest budget right up to several hundred dollars. Some of the products are quite basic and are ideal for small areas or for younger children. Others have extra features such as slides, ball pits or can even be used with water for extra fun in the summertime.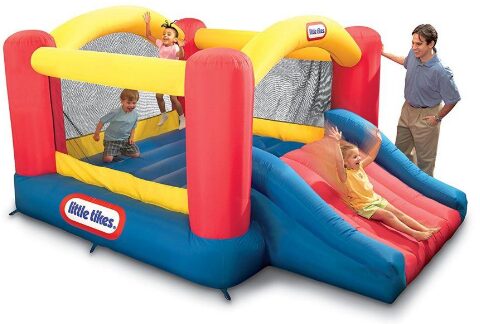 Considerations
Bounce houses can be expensive so choosing the right one for your child is important. You may wish to consider the age and ability of your child – choose one which is too small and your child won't get much use out of it. Choosing one which is too large can be equally problematic, as it could be dangerous for your child. 
It's also crucial to consider where you want to use the bounce house. Some are only suitable for use indoors, therefore it's important to check this before purchasing. The size of the area where you will use it is also important, as some of the products below take up a large amount of space. 
Think about how many children will be using the toy, as some of the smaller houses can only take up to three children at a time. If you have a large family or are likely to use the inflatable for parties, it's worth choosing one of the larger products to ensure everyone is safe whilst playing on it. 
Inflatable bouncers can be expensive, so it's also important to think about how much you would like to spend on the toy. It's advisable to purchase the most expensive one you can afford, as the pricier products tend to be of better quality and have more features to keep your child entertained for longer. 
Giant Obstacle Course by YARD 
With a capacity of up to six children at a time, this bouncer is perfect for those with large families or who plan on using the toy at parties. It has lots of fun features not found on other products such as a climbing wall and tunnels which allow kids to race one another to the finish.   
The blower is included, making the obstacle course easy to inflate. It also includes a repair kit in case of accidents. There is also a mesh netting to protect your child if they slip. Children are sure to get years of enjoyment from this product, thanks to the large size and durable construction.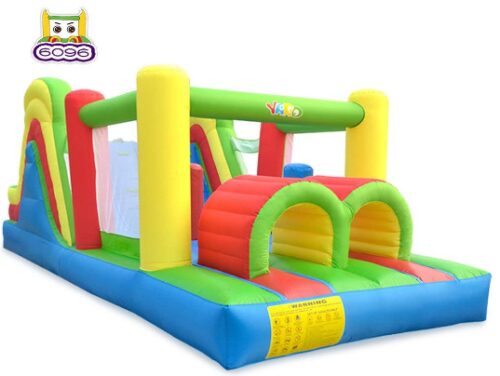 Sidekick Blast Zone Castle 
This castle-shaped bouncer has the added fun of a ball pit and basketball hoop built into the side. This means it's great for accommodating larger numbers of children, and makes taking turns easier. 
This bounce house is perfect for those who have never owned one before, thanks to the instruction DVD which shows how to set it up step-by-step. Set-up only takes a few minutes, and it takes up very little space when deflated. 
The SideKick Castle is perfect for families with kids of different ages, as the two separate areas ensure everyone can play safely. The double slide is a fun feature sure to be loved by kids of all ages. 

Jump and Splash by Bounceland 
The Jump and Splash bounce house is perfect for use outside when the weather is warm – the bottom area can be filled with water for extra fun! Kids of all ages will love using the tall slide to splash down into the pool. 
This bouncer is perfect for younger kids, as the bounce area is not too large, however it can hold kids up to 100lb in weight. There are handy safety features on the Jump and Splash to reassure parents – the pool doesn't fill too deep and there are sturdy safety nets.   
This fun inflatable slide includes a blower, ground stakes and a storage bag. It can inflate in minutes, meaning you can start enjoying it straight from the box without purchasing any extras.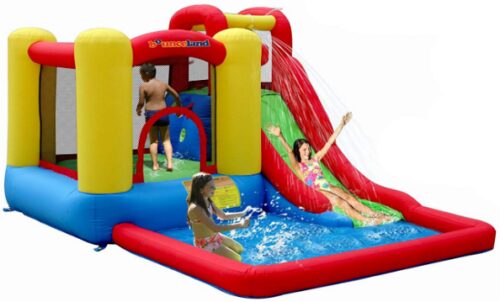 Princess Bounce House by Cloud 9 
This castle-shaped bounce house is perfect for any little girl who dreams of being a princess! It can hold up to four children at a time, and can also be filled with plastic balls for added fun! This bouncer can be used outdoors or indoors (although it is quite large), making it perfect for all occasions. Kids will love sliding down the slide when they're finished jumping.  
The Princess bouncer can inflate fully in around a minute, meaning you'll be having fun in no time. The full safety mesh allows kids to be supervised from all angles, so it's perfect for younger kids too. The castle is constructed from flame and puncture-resistant materials, so you can rest assured that your children will be safe inside.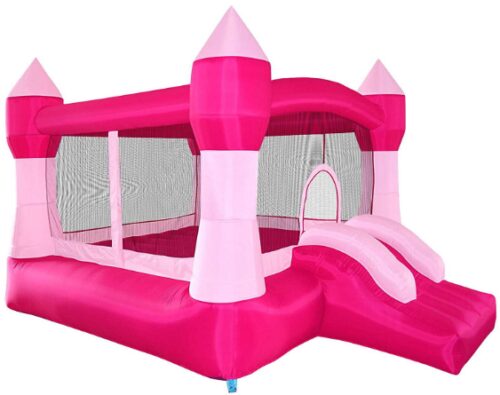 YARD Double Slide Bounce House  
 This fun bouncer comes with a dual slide making it perfect for a few kids to play on at once. It's large enough to safely hold up to four children, but it's also low enough in height to use indoors in most houses. 
YARD products have lots of safety features to put your mind as ease, such as durable materials and secure ground anchors. This bounce house is perfect for younger kids, as the seven-foot height makes it unsafe for taller children. 
The blower has to run constantly for the bouncer to remain inflated, therefore it can't be left set up for long periods of time when not in use. However, it is so quick and easy to set up that this likely won't be an issue.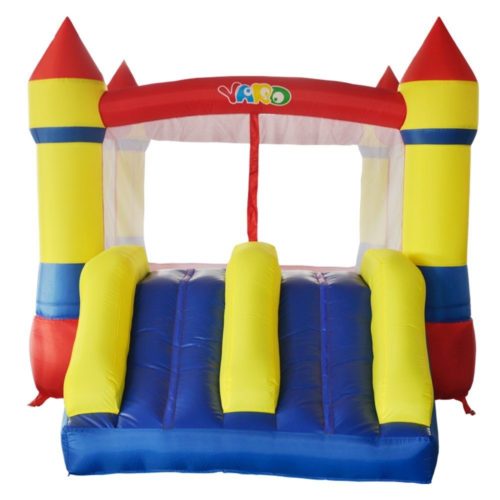 Little Tikes River Race Mountain 
 The Little Tikes Mountain inflatable slide is perfect for summer fun outdoors. The shape of this toy means it's perfect for parents to safely observe their children from all angles whilst they climb, slide and splash. As well as featuring a climbing wall and two slides, there is also a water bucket at the top which can soak the kids as they climb for extra excitement.  
This inflatable is perfect for up to four kids to play at once. Parents can be reassured as there is a safety net at the top of the slides. The toy needs to be left to dry thoroughly before storing, so it's important to ensure that there is plenty of space to hang it up. The River Race Mountain doesn't require too much water to keep it going, so it won't send your water bill sky-high either!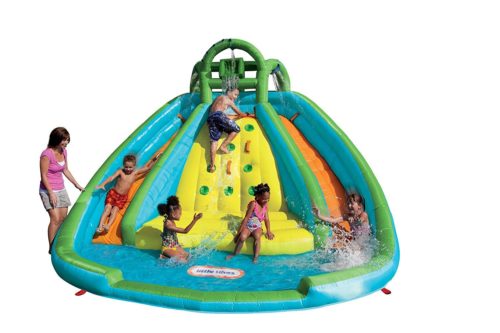 Intex Jump O Lene Castle Inflatable Bouncer
This compact bouncer is perfect for use indoors by younger children. Toddlers will love the fun castle shape, and the enclosed sides will allow them to play imaginative games inside.
The Jump-O-Lene is perfect for using indoors thanks to its smaller size. However, the size means it's only capable of holding two or three young children at a time. Although it is small, this bouncer house takes a relatively long time to inflate compared to some of the others here 
Despite being the cheapest product listed here, the Intex bouncer is made of high-quality materials which will last many years. The air blower is not included with this product, so it's important to check and purchase the correct one before being able to play.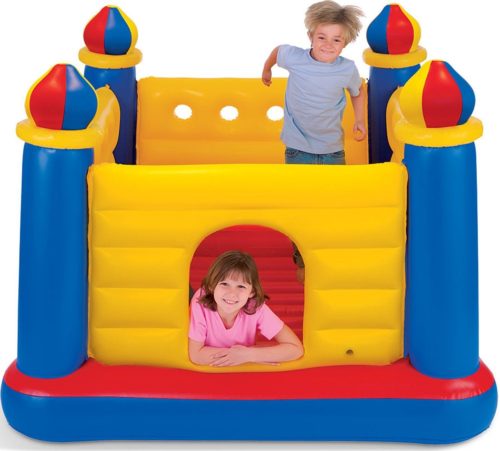 Pirate Bay Water Park bouncer
This is the ultimate outdoor inflatable toy for kids of all ages. It has so many impressive features that it's sure to keep your children entertained all summer long, year after year. The large size makes this toy perfect for using at birthday parties – it can hold five children at once plus many more in the splash pool. This inflatable bouncer is also perfect for using at large gatherings, meaning you can enjoy some peace whilst the kids play all day.   
The pool does not hold too much water, meaning it's safe to use for younger children too. The water cannons are a fun feature sure to delight kids of all ages in the summer heat. Despite its large size, the Pirate Bay water park inflates in a matter of minutes, and folds down to a compact size for easy storage.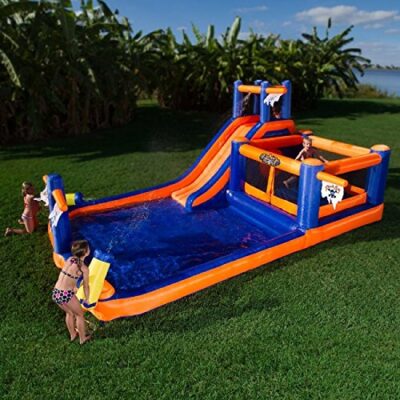 Jump & Slide from Little Tikes Bouncer house
This Little Tikes bounce house is a perfect first bouncer for younger children. The all-round safety mesh provides reassurance for parents, who can safely observe the action from all angles. Kids will love to bounce down the slide when they are finished playing!  
You can rest assured that this product is of high quality, made from strong, durable materials sure to last your kids several years. It's quick to set up and take down – just a few minutes and you'll be ready to go. It even includes everything you need to set it up and safely store it, such as a blower, anchors and a bag.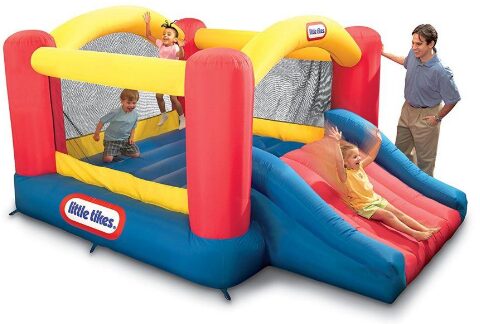 Best Overall Bounce house
For those with a large amount of space and a big budget, the Pirate Bay water park is the perfect choice. Although it is one of the more expensive products listed here, it provides great value for money. It is safe for younger children to use with supervision, and older kids will never get bored thanks to the range of features it has.  
The bouncer is parent-friendly too – it is so quick and easy to set up, and is compact to store. You won't regret this purchase and your children will think you are the coolest parents – as will their friends!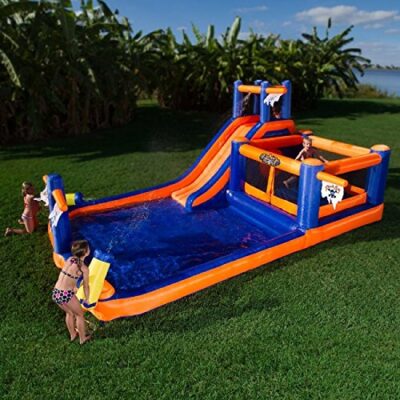 Best Budget Pick  
The Little Tikes Jump & Slide makes the ideal first bouncey house, and comes in at a reasonable price. Although it doesn't have all the fun features of some of the other bouncers here, it is perfect for younger children to burn off some energy.  
Despite its low price, this product is of fantastic quality and will last your child many years as long as it is well-looked after. They will love playing on it over and over again, and you can add small plastic balls inside the jumper or a water pool at the end of the slide to make it even more fun.