Wondering how to pick the best laser tag guns for kids that are safe? In this review of latest laser toy tag sets, we find the best picks for kids to use that are both safe and easy to use. We have compiled a mega list of toys in this review guide, so you have a huge variety and can discover some of the top picks on the market.
Kids of all ages love the thrill of buying your own set, which means you can enjoy a mission or two whenever the mood takes you. Playing laser quest or tag at commercial venues can get pricey but our guide has sets to suit all pockets meaning no one needs to miss out on the fun.
Bigger sets mean more players can take part. Look out for extendable sets so you can meet up with friends to play larger games. Sets where the blaster is also the target can be fun for impromptu gatherings when you just want to shoot someone.
Choosing dynasty laser tag set with vests is always a good idea and your kids will love it!
10 Best Laser Tag Toys & Guns for Kids
1. Kidzlane Indoor Laser Pick
This premium quality indoor laser tag toy comes with four blasters and doesn't require vests as each unit contains a receiver to detect shots. Lives remaining are displayed just above the trigger giving instant visual clues to your health. Guns can be switched between four different types of weapon – pistol, shotgun, machine gun and rocket launcher – each of which has different characteristics. A handy display on the side shows which team you've joined. Vibration and sound effects when shooting or being shot add to the excitement and let you know how you're getting on.
This durable set has a range of up to 130ft, yet uses kid safe low wattage infra-red signals powered by standard AA batteries. The chunky design is easy for kids big and small to handle making it ideal for parties, get-togethers or vacations.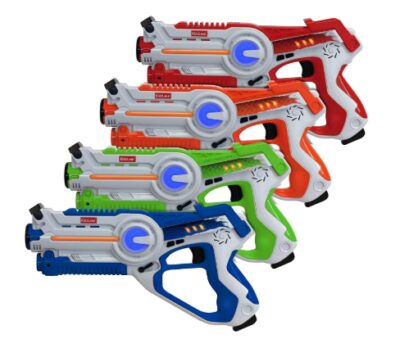 2. Nerf Phoenix LTX Tag Gun Set
Nerf is a brand well-known to kids and they make some of the best guns too. While you only get two guns in the set you can easily extend the game to multiplayer mode by purchasing extra sets. There's even a handicap system allowing beginners 25 lives and more experienced laser players only 10.
With authentic lights and sounds your battles can reach epic proportions and you'll never unexpectedly run out of ammo or lives thanks to the handy display either side of the barrel. Recoil vibration kicks in with every shot while hit vibration makes sure you know you're down. Reloading is fast and authentic with a "clip" that you release then push back in. If you like Nerf but dislike buying ammo you'll want to buy laser guns like these.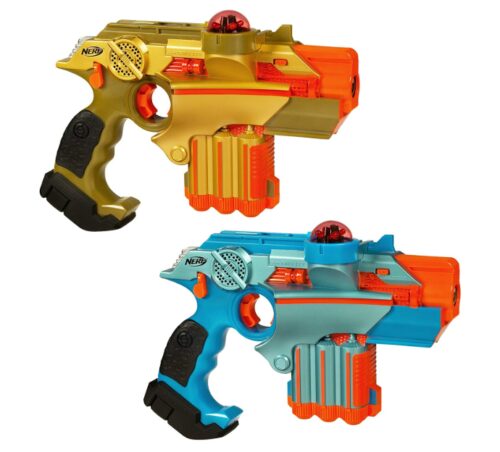 3. Power Tag Gun Infrared Set for 4 player Use
You want a big set if you're looking for an outdoor laser tag toy and this set comes with four guns and two Battle Blaster gloves, allowing a maximum of 6 players to take part. It's also extendible by purchasing extra sets allowing for up to four teams and unlimited numbers of players.
The set comes complete with vibrating vests, so you get instant feedback when you've been shot. The gauntlets act as both vest and gun which makes this popular with younger kids. Vibrations, colored lights and authentic sounds bring all the fun of the arcade to your party or play date. Four firing modes gives you varying amounts of damage, at the expense of accuracy and reload frequency, bringing an element of strategy into the game. One of the most comprehensive laser toys we've seen.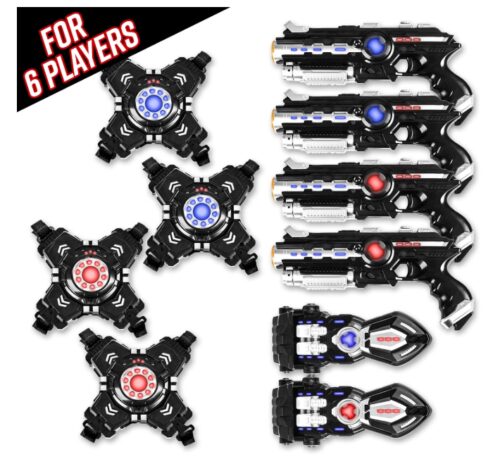 4. ArmoGear Vests and Gun
Look no further for a truly immersive home tag games. Both laser tag guns and vests can act as receivers making it harder to hide! Authentic vibrations, impressive sounds and enthralling light displays will keep you engrossed for hours.
These amazing laser gadgets have a wealth of features to improve gameplay. Each player can choose which type of gun they wield – pistol, machine gun, shotgun or rocket launcher – balancing power with reload frequency. To add further strategy players can opt to use Stealth Mode, granting 15 seconds with no lights. If you can't see your opponants use the Night Vision Flashlight to illuminate the playing field. Voice prompts make set up easy. Purchasing extra sets allow you to have a four-team multiplayer battle royale!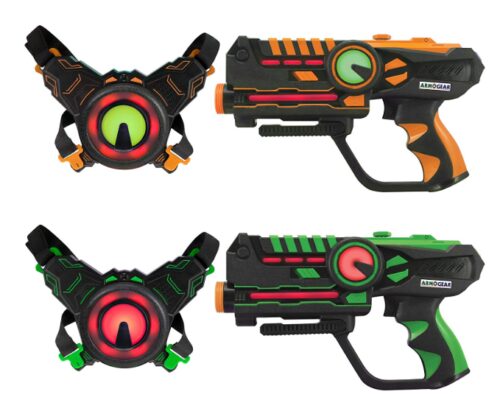 5. DYNASTY TOYS Laser Set and Robot Spider Pack
Laser tag with a huge crowd is great fun but it's not always possible to round up that many friends. Solo laser kits such as this one from Dynasty toys are the ideal answer. With one gun and one robotic spider you can how hours of fun honing your targeting skills. The gun is compatible with other Dynasty laser Toy tag sets allowing you to compete against others in four-team multiplayer games.
With simplified controls and enaging lights and sounds the laser striker is perfect for younger children. The cute robotic spiders crawl around the floor and flip when hit so you know when you've got it. Extra spiders can be added as your aim improves.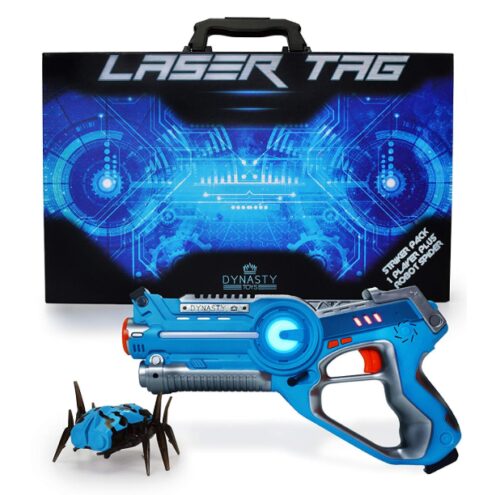 6. Capture the Flag Laser Game for Outdoor use
Capture the Flag is a tag game that has been keeping large groups of kids occupied for almost a hundred years. This pro laser tag gift set contains everything you need to bring an old-favourite into the 21st century.
The glow in the dark components allow you to set up territories, jail and provide each team member with a glowing colored bracelet. Each team hides their orb and defends their territory while trying to sneak into enemy land and take their orb.
The game has numerous variations including Ghosts in the Graveyard and Ninja to ensure that it never looses it's appeal. With the option of buying more bracelets the game can be extended to include even more players.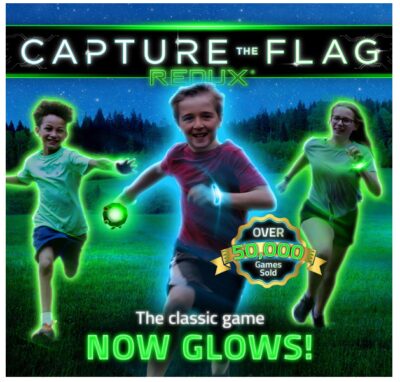 7. Liberty Imports 4 Player Battle Set
This children's realistic laser shooting tag game comes complete with sturdy carrying case so you can take the game on holiday, to the beach or to the park for more fun. No vests are needed as the gun is the target, allowing you the freedom to play wherever and whenever you want.
The 4 player tag set offers plenty of flashing lights and realistic sound effects to keep players interested. Choose from pistol, rifle, machine gun or rocket launcher modes. Different modes have different characteristics so you need to choose wisely. Players can divide into teams with a red, white, blue or green display indicating their allegiance. With mostly 5-star toy reviews on Amazon this is a great starter set or gift idea.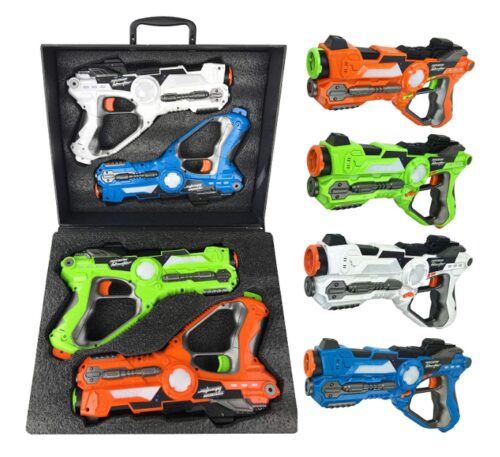 8. LaserX Blaster Toy
With the included gaming tower this set of laser tag equipment for kids doesn't need a whole party to make it fun. Each blaster comes with a target vest and the standard set allows for two players to tag each other up to 200ft apart. Lights and sounds give instant feedback to let you know when you've been hit.
The gaming tower makes this set much more versatile. Aim for the dome to score hits, but watch out as the gaming tower can shoot back! You can use it for simple target practice or as part of a capture the flag style game where each player tries to land the killing shot. For extra versatility the tower can be raised up on the integral folding legs.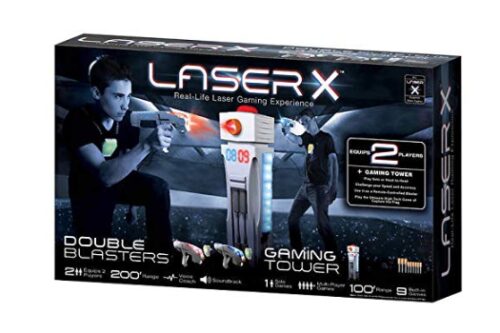 9. Electronic 2 player Game
With hand held gauntlets and thumb triggers this electronic laser set is a little bit different to normal. Find your hidden superhero with the Iron Man style blasters. Like all the best lazer tag games the aim is to hit your opponent. An LED display shows how many hits you've taken – and the state of your health. Flashing lights and enthralling sound effects allow for highly immersive game play. The child-safe infra-red beams have a long range making this game suitable for use indoors and out. The small size and ease of use (no vests required) make this ideal tag gear for home.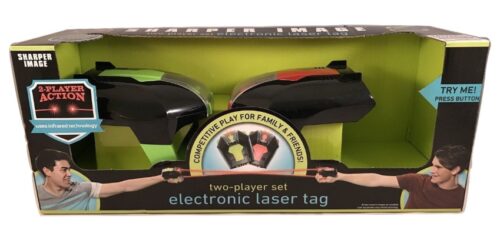 10. eKids Toy Laser Blasters 
Kids love laser gun products which allow them to act out being their favorite superhero. This easy to use set goes one further with Incredibles branding to let your little Dash take on their Buddy.
With 180° detection and no need for vests this best home laser tag system is incredibly easy to use. Each blaster has 3 shooting modes with varying ranges, reload times and damage dealt while the Secret Weapon button allows you to unleash terrible forces of destruction – but only once per game. Sound effects, along with lights and vibrations offer totally engrossing gameplay. The set allows for expansion by buying more units so everyone can join in.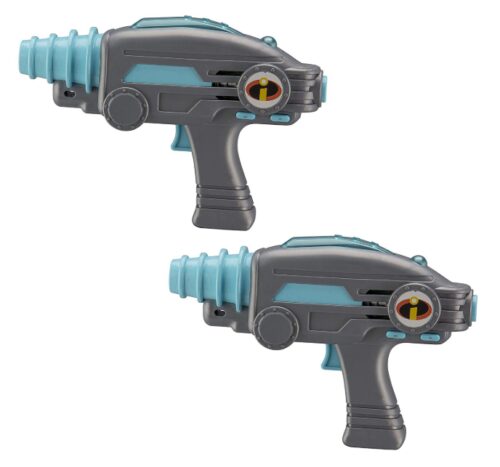 Things to Look for in a Laser Toy Set
Sound effects:
Having sound feedback is an essential part of  games but the quality of the sound effects on offer varys considerably. Some sets offer realistic shooting sound effects paired to the type of weapon chosen, whilst others have a simple beep or make a futuristic "pew-pew" noise. A few of the sets offer voice prompts to help set up the game. The ability to silence the gun in Stealth Mode – even for a few seconds – allows sneak attacks.
Features Settings:
Sets divide into two types – those with a target vest and those where the blaster is the target. Vests offer a more arcade-style form of play while gun targeting is better for casual games. Some sets have the option of using either type.
Reloading methods vary from shaking or twisting the unit to releasing a "clip" or a sliding magazine. Simpler reload methods make for faster gameplay.
Shooting Type:
Most sets offer basic blaster type guns with a standard trigger. Some sets have gloves or gauntlets that act as weapons and fire through use of a thumb-trigger.
Most sets allow you to choose different types of weapon. Typically the more shots you get before reloading the less damage is dealt per hit. Some games include secret weapons which deal very large amounts of damage but can only be used infrequently.
Ease of use for kids to play:
Gun target systems are generally the easiest for kids to use as it avoids wearing an extra piece of kit, but makes stealth attacking harder.
Many kits have long ranges of 100-200ft which is great for outdoor play but less important if you are looking for a laser fun game for home use. Some kits come with robots which allow solo play making them more suitable for indoor use.
Material:
All tag laser systems on the market are made from plastic with LED lights and usually run on 3 or 4 AA batteries. The best laser gun will be made from solid plastic to avoid damage during game play. Vests typically come with adjustable straps or elasticated straps. These can be worn like a halterneck top or like a backpack depending on the model.
Construction:
If you have a set with vest then your gun may be wired to the vest which can make getting suited up a little more difficult. Look for elastic or easy to adjust straps.
If you are buying a set for younger children then consider the weight and size of each unit. Heavier guns will be harder for smaller players to control and will be more tiring to carry.
Durability:
Units vary on build quality and how quickly they use batteries. If you pay a lot foe the equipment at home it's worth looking for low energy consumption (no one wants to go flat mid game!). Consider paying more for a set that will last longer.
Blast Number:
Most personal tag systems have a choice of shooting modes – more blasts per round is balanced by less damage dealt per hit.
Some laser shooting games for home offer a handicap system where experienced players can be given fewer lives which can even the field when adults and children are playing together.
FAQ 
What is laser tag and how does it work?
Just like in the arcade the home game gives each player a gun which fires a "laser". Each player has a certain number of lives or health points and loses a certain number per hit. Some versions require players to wear tag equipment to monitor hits whilst for others the gun acts as the target and hit counter.
Should children wear special gear for playing tag?
There is lots of running about so children need comfortable clothes and sturdy sneakers. If you are playing outdoors choose old clothes that can get muddy – or even go for camo patterns.
All the specialist kit for home games – gun, target vest, shooting gloves etc – will be included in the laser system that you buy.
Will laser shooting tag hurt my child?
The "lasers" used in shooting are in fact low power infra-red – just like the remote control for the TV uses. The biggest risk with a multiplayer laser kit is children crashing into other children but this risk is no greater than when they are playing any other type of running and chasing game.
Can the laser harm kids eyes?
Real lasers aren't used in play sets so even if your child looks directly at the beam they won't be hurt, just a little dazzled if playing in low light conditions.
The power of the laser kits for home is around 0.9mW which is considered perfectly safe.
Where should children play laser tag safely?
Due to the low power of the guns many users prefer indoor laser shooting games at home where light conditions can be kept low. Breakable objects should be moved to a safe location!
Epic laser games can take place outdoors with many sets offering 100-200ft ranges.
where can I buy laser tag equipment for home use?
Depending on the system you choose for multiplayer laser firing game you may have to buy several sets. Amazon and other major retailers have a good choice of home use equipment ranging from solo laser gun game tag sets for home use to kits with enough equipment for a whole party of kids to enjoy.
Where to find laser set for sale?
Unlike finding an arcade with a big laser arena room buying a cheap laser tag home set is much easier. They are widely available from many retailers but online, such as Amazon, and in most good toy departments at the mall. If you want to play with friends make sure your system is compatible with theirs.