So you're looking to buy a hydraulic rc excavator but are unsure which is the best for you? In this comprehensive RC digger reviews guide, we will look at our top twenty products open to all budgets!
A remote control excavator toy is an awesome toy and is great fun for outdoor and indoor use. With their incredibly realistic design, these RC toys allow your child to feel as though they're playing with the real thing! Theses RC vehicles may even interest your child in a career using the full-size equipment on a building site. With tank-like caterpillar tracks your hydraulic RC will be able to tackle tough terrain with excellent grip while working arm allows for ease when moving dirt, small rocks or sticks.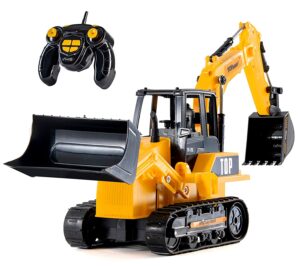 Things to Consider When Buying RC Excavator Toys
When purchasing an RC digger you must consider the age of the user. These toys can be difficult to use effectively for younger children, as a lot of careful input is required to move the arm exactly where you want it. RC excavators come in many different scales including much larger models. This means some of these off-road machines may be too heavy for younger users to carry or move around. You should also take into account the control scheme of the controller that comes with your purchase. Some controllers are easier to navigate and use than others which means for a more enjoyable experience. Younger children will enjoy a simple controller while older users may prefer a more complex option with added features.
When purchasing your mini excavator you should check the battery life and charge time of the vehicle. You want to make sure that this is at a reasonable ratio for you and provides the longest amount of playtime. Batteries in some models may push the price up but will usually provide more power to the tracks and arm allowing for the movement of heavier loads or more speed. Look out for added features as well, such as LED lighting, sound systems, and styled interiors, in order to bring your RC to life!
Another consideration when purchasing your realistic toy machine is the amount of setup that is required. Some users may prefer a simple ready to run option while others may want to get to grips with the inner workings of there toy or are looking for a project. You should also look out for added features that come with your wireless excavator, such as additional batteries, or interchangeable options for the end of the arm, instead of the standard shovel.
Best Remote Control Excavator Toys in 2023
Now that we've looked at what to consider when choosing between different remote control excavators, let's move on to review some of the best ones out there.
1. Top Race 23 Channel Excavator
This RC digger is able to carry a person sitting on top of the cab, due to the large scale and powerful rechargeable battery. Run time of up to 50 minutes gives plenty of use and is higher than other models on the market. Three interchangeable arm options insure that this toy digger is able to move all sorts of objects and terrain.
This metal rc excavator is highly detailed and is equipped with a realistic smoking exhaust and LED headlights to allow for use in the dark. Powerful digging ability mean this construction vehicle is able to dig deep into the ground and break the surface without a problem, while heavy-duty components ensure that this can be completed without damaging the inner workings of your RC. The carrying case that is included in this purchase means your product is kept out of harm's way and is easier to store and carry around.
Features:
Charge time: 2-3 hours
Playtime: 45-50 minutes
Huge 1/14 scale
Can carry weights of up to 180lbs (Person weighing 82kg)
Smoking exhaust pipe
LED headlights
Includes three interchangeable arm options
Carrying case included
Heavy-duty components
360-degree rotation
Powerful digging ability
Tools included
 Age Recommendation: Children aged 15 years old and up.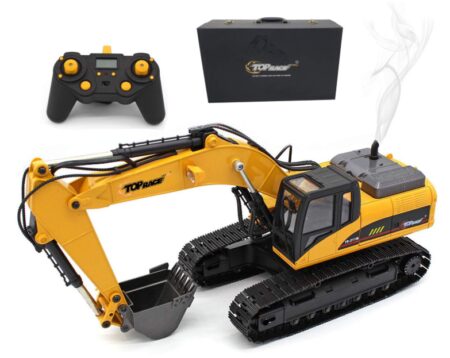 2. Weardear Four-Wheel Drive Crawler Excavator 
This toy digger does not use a rechargeable battery which means you wont have to wait on it charging at all and can dive straight into using it! Bright colour scheme and flashy side lighting mean this building site vehicle stands out and is exciting to look at. Simplistic function and easy to use controller mean this is a great choice fro beginner s and shouldnt be very difficult to control both indoor and out.
Lightweight design means this vehicle is easy to carry around while maintaing trustworhty durability for tough terrain. High quality components such as the caterpillar tracks give increased grip in soft terrain and prevent this construction laborer from sinking or becoming stuck.
Features:
No rechargeable battery
Runs on AA batteries
1/24 scale
360-degree rotation
Side lighting
Brightly coloured with sticker decals
Lightweight design
High quality caterpillar tracks
Easy to use
Simplistic funtion
Perfect for begginers
Recommended Age: Children aged 8 years old and up.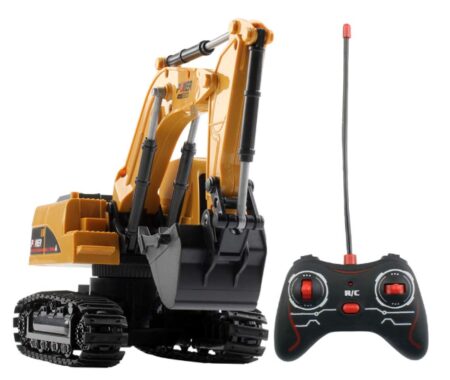 3. Top Race

15 Channel

 Excavator
Three working motors used to power this RC machines arm allows for amazing digging ability and ease when breaking the surface of tougher terrain such as gravel or thich mud. The steel shovel lets the user move large ammounts of terrain in one scoop while reducing the risk of breaks or cracks due to high quality material. Real rubber tracks give emmense grip and reduce the chance of rolling on steep terrain.
Everything that is required to run this RC laborer is included with purchase. This means there is so need to buy seperrate tools etc, allwoing for a quick and easy delivery experience. Working lights and realistic sound effects give this vehicle an authentic appearance. The design of this rc excavator is also extremely durable which is great for increasing the life expentancy of your product.
Features:
Charge time: 1.5 hours
Play time: 20 mins
1/14 scale
Real rubber tracks
Equipped with three motors
Steel shovel component
680 degree rotation
Can operate from far away
Higly deatailed
Durable design
Working lights and realistic sound effects
Everything included for use
 Age Recommendation: Children aged 4 and up.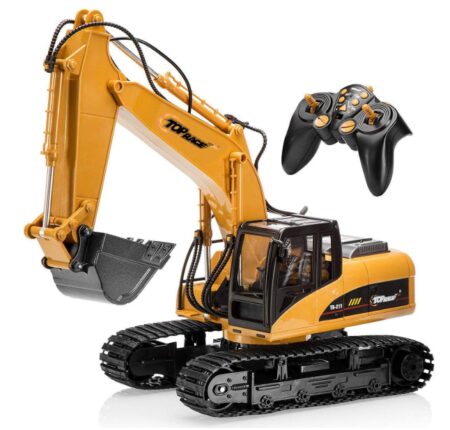 4.

GILI RC Excavator
This hydraulic remote control excavators rechargeable battery provides running times of up to 30 minutes, but can be doubled to an hour as two batteries are included in purchase. This vehicle is able ro navigate through all types of terrain and can be easily cleaned due to its caterpillar tracks, which can removed and reattached easily. This prevents the chance of sand or small rocks jamming the tracks. The tools that are required in order to do this are also included within purchase.
The 2.4GHz transmitter allows for use of multiple vehicles and fun for the whole family. Easy to use design also backs this statement up, as younger children will also be able to use this rc toy without problem. Powerful hydrualic arm makes breaking the surface of hardened terrain an easy situation and allows for a hastle free expereince.
Features:
Charge time: 3 hours
Run time: 30 minutes
1/26 scale
Comes with two rechargeable batteries
Detachable tracks for easy cleaning
Powerful hydrualic arm
350 degree rotation
2.4GHz transmitter for use of multiple vehicles
Screwdriver inckuded
Can tackle sand, gravel and much more
Easy to use design
Recommended Age: 36 months plus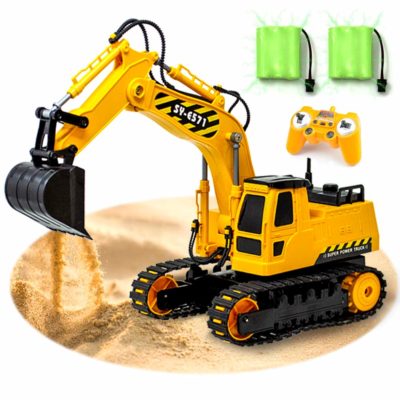 5. Mioshor RC Construction Excavator
This construction kids toy is designed with durability in mind. Important components such as the shovel and battery cover have been made out of high quality steel, preventing the risk of failure of componenets and giving them a long lasting life. The multiple LED lights and realistic sound effects that are equipped to this construction rc make it and eye catcher and keeps children entertained.
Improved ground clearance gives for added manouverability in tight situations and gives this rc the ability to push its self over small rocks with functional arm. Rubber tracks support grip on steep inclines while anti-interfeerance ability prevents other close by rc excavator users from taking control of your toy.
Features:
Charge time: 3-4 hours
Playtime: 15-30 minutes
1/26 scale
Improved ground clearance
Multiple LED lights
Realistic sounds
Ready to run
Long lasting components
Metal shovel and battery cover
Real rubber tracks
Anti-interferance radio ability
Recommended Age: Children aged 3 years and up.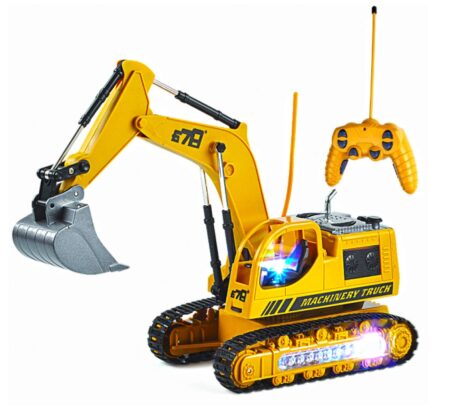 6. Double E 2.4GHz Excavator
This remote controlled hydraulic excavator is highly detailed and made up of flexible componenets. This means that parts of this vehicle are able to bend slightly under pressure and go back to how they where without snapping. The hydrualic arm equipped to this model has independant joints, which allow for precise movements of specific parts of the arm. This allows for careful digging or moving certain rocks from a group for example.
The 350 degree rotation limit means this toy construction vehicle can dig into terrain at every angle and should rarely become stuck. An optional "buy one get one free" sperate battery deal is also avaialble. If you decide to purchase this you will have three rechargeable batteries for your rc which is great for extending playtimes.
Features:
Charge time: 4-5 hours
Run time: 20-30 minutes
1/26 scale
Flexible components
Highly detailed
Optional buy one get one free battery
350 degree rotation
Independant arm joints
Durable plastic frame
Ideal choice for beginners
Capable of digging in sand, gravel and dirt
Recommended Age: Children aged 4 years old and up.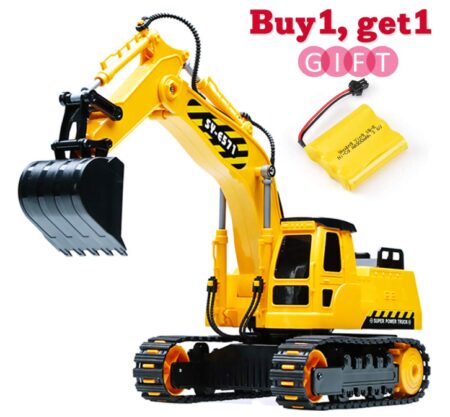 7. Double E 17 Channel Fully Functional Excavator
There are three interchangeable arm options that come with this rc excavator caterpillar. These are the standard shovel and additional grabber and breaker. The shovel allows for the digging of terrain, while the more specialised tools allow for breaking small rocks apart and grabbing sticks or stones. These added feautures make this another great budget buy!
This kids machine has a unique colour scheme compared to other models, as the cab is painted white rather than black or yellow. This gives the excavator a sleek and stylish look. Precise digging ability and steel made shovel give for awesome use even when digging through tough dirt or rocky terrain.
Features:
Charge time: 2 hours
Run time: 20-30 mins
1/16 scale
Three interchangeable arm options included
Can break apart small rocks
Able to grab small rocks or sticks
Precise digging ability
Durable steel shovel
Joints able to move sepeartely
680 degree rotation
Unique style and colour scheme
Recommended Age: Children aged 15 and up.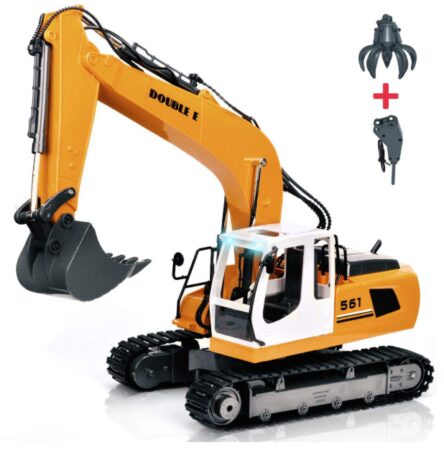 8. Homeju

Remote Control Excavator Toy
The design of this rc has been modified over time to improve performance. This can be seen as the caterpillar tracks have been widened and arm movements are more stable than before. This means that the Homeju is less likely to roll over and allows the user to move the arm in oder to make very small adjustments.
The lighting and detail of this remote controlled laborers interior makes it look very much like the real thing. This realistic look is also added too by a mettslic finsih that is applied to the diggers componenets to give it a hardened look. Sound system also brings this rc machine to life with engine sounds and other mechanical sound effects.
Features:
Charge time: Estimated 1-3 hours
Run time: 20 mins
Estimated 1/26 scale
Modified design for better perfromance
Durable battery for charging repeatedely
Realistic interior
Interior lighting
Sound system
Stable arm movement
Mettalic finish
Wide tracks to reduce chance of rolling
Steel shovel
Recommended Age: 3 months plus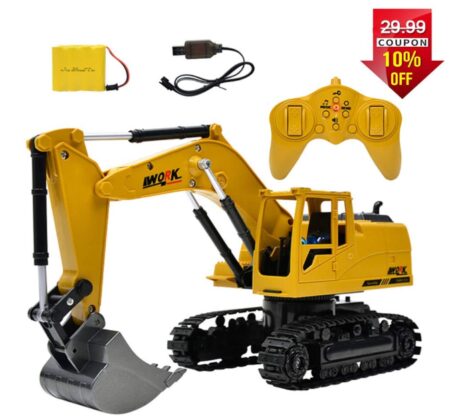 9. Top Race 4 Channel Mini Excavator
This is a very simplistic rc mini excavator that follows the aesthetics of an excavator more than the actual functionality, as the arm of this model can not be remotely controlled. A benefit of this kids rc toy is that it comes in a tiny 1/64 scale which means you can easily carry it in the palm of you hand. Because of this, the Top race 4 is defineltrly a one of a kind and is a less serious rc.
The control scheme for this rc childrens digger is very easy to use as it is only made up of a few basic buttons which in turn means this rc machine is very easy to get to grips with. This mini excavator also comes with its own plastic gift box, making it an great present.
Features:
Charge time: Estimated 1-3 hours
Run time: Estimated 20-30 mins
Tiny 1/64 scale
Very easy to carry and move around
Fits in the palm of your hand
Arm is not remote controlled
Simplistic design
Easy to control
Recommended Age: 3 months plus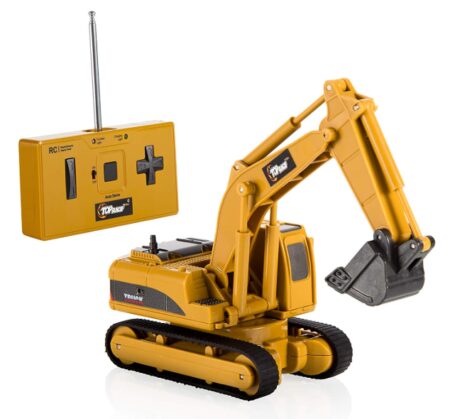 10.

Top Race 7 Channel RC Excavator
This remote control digger is an ideal option for indoor and outdoor use, making it a great way to spend the rainy days and other days out. The Top race 7 will be able to tackle even the toughest terrain, and is able to navigate through this easily with independant track steering. This indpentant system is amazing for getting out of tight and tricky places and allows for precise driving.
Realistic sound effects and flashy LED lighting give for an eye catching design. While 2.4GHz radio system allows for great multiplayer action. The ready to run setup of this excavator allows for less time setting up and more time playing, giving an overall easier experience.
Features:
Charge time: 35 mins
Run time: 20-25 mins
1/24 scale
Realistic sound effects
LED interior lighting
Perfect for indoor and outdoor use
Ready to run
2.4GHz radio allows for use of multiple vehicles
Able to move through mud
680 degree rotation
Idependant track steering
Recommended Age: Children aged 3 years old and up.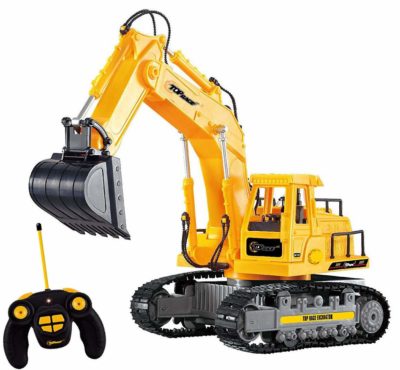 11. Inkach Construction Excavator
The Inkacks ability to move its arm in all directions make it much easier to dig terrain and move obstacles in awkward places. With its three powerful arm motors this rc digger is capable of moving large ammounts of dirt, sand and gravel and can carry terrain for long distances.
The design of this hydraulic excavator is based of the real thing. This means that LED lights and a fully functionng sound system are equipped to this digger toy. A styled interior and detailed cab completes this diggers look. High quality componenets such as the steel shovel give for awesome off roading ability and the capability to mainatain a high durability over time.
Features:
Charge time: 2 hours
Run time: 20-25 mins
1/14 scale
Styled interior
Working LED lights
Sound effects
Ability to use arm in all directions
Three seperate powerful motors
Can transport dirt sand or gravel easily
Heavy duty steel shovel
High quality componenets
Based on full size excavator design
Recommended Age: Children aged 12 years old and up.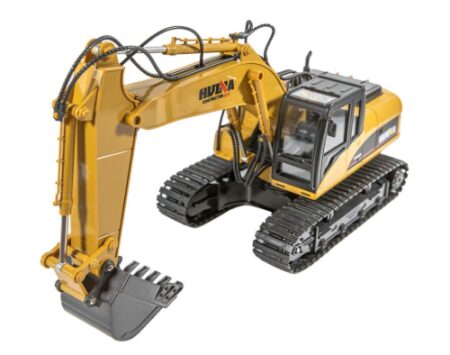 12. Hey Play Excavator
This digger off roader is a great addition to your childs toy collection, as this excavator is able to pick up, carry, and move other small toys. This can also be done insdide and out as the Hey Play comes with a tough design for driving on rocky terrain, and a precise tilting shovel for accurate digging. The uncommon colour choice of this model also makes it stand out from others and a unique item.
The high quality tracks of this model make it great for playing in sand or other terrain, while excavator sound effects make for a life like experience. The multi functional controller used with this remote controlled laborer gives it endless abilities, while staying easy to control.
Features:
Charge time: Estimated 1-3 hours
Run time: Estimated 20-30 mins
Scale 1/24
Multi function controller
680 degree rotation
Capable of moving other small toys
Great for outdoor and indoor use
Perferct for sand or other terrain
Excavtor sound effects
Precise tilting shovel
Uncommon colour choice
Tough design
Recommended Age: Children aged 3 years and up.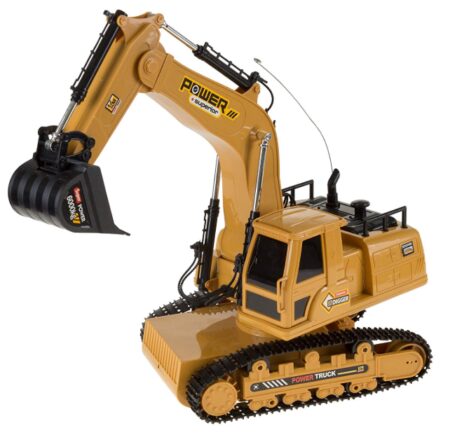 13.

Toysery Radio Control Engineering Excavator 
This toy construction vehicle is extremely detailed. Equipped with LED lights, advanced sound system and cab exhaust this off roader is an authetic, high tech model.  The large plastic shovel that comes with this model makes it great for picking up large quantities of dirt and allows for fast digging, gainning maximum playtime out of the rechargeable battery.
High qaulity tracks and eco freindly components provide awesome driveability, while impacting the enviroment in a positive way. The toughened arm of this rc make it possible for the Toysery to push its entire weight over rocks and sticks, and give ability to break the surface of tougher terrain such as frozen ground.
Features:
Charge time: Estimated 1-3 hours
Run time: Estimated 20-30 mins
Estimated 1/26 scale
Sound system including 4 different sounds
Able to push its own weight with hydrualic arm
Made of enviromentally freindly materials
High quality rubber tracks
LED lights
Perfect gift
Detailed cab including exhaust
Large shovel compared to size
High quality plastic shovel
360 degree rotation
Recommended Age: Children aged 3 and up.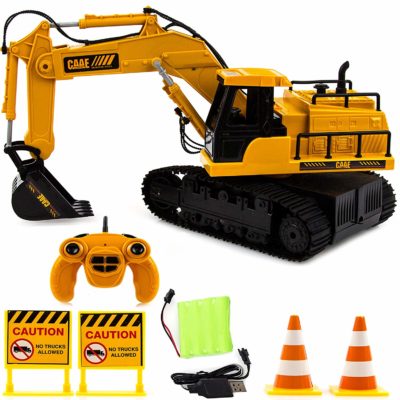 14.

Big-Daddy Full Functional Excavator
The bulldover blade equipped to this rc caterpillar excavator give it an advantage over other models as this rc can easily move dirt and clear paths without allot of input and skill. The durable frame and body shell of this rc effectively portects inner workings and electronics, while also reducing the risk off breaks and snaps.
The reliable components of this model give for perfect functionality for years to come and maintain use of the shovel to dig mud, pebbles, dirt and sand. The 11 functions controller make it easy for the user to use all LED lights and sound effects available and give for a tech filled excavator model.
Features:
Charge time: 30 mins
Run time: 15-20 mins
Estimated 1/26 scale
Realistic sound effects
LED lighting
680 degree rotation
Relaible components
Durable frame and body shell
Able to move mud, pebbles, dirt and sand
11 functions displayed on controller
Bulldozer blade equipped to front bumper
Recommended Age: 3 months plus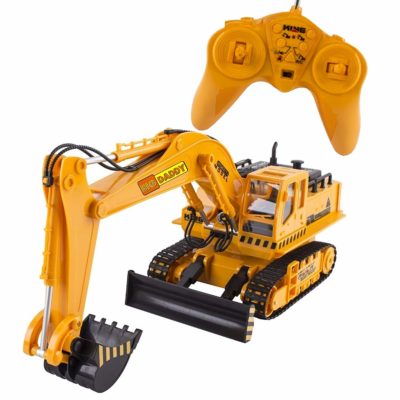 15.

TongLi 580 RC Excavator 
The Tongli 580 is an adavnced, highly engineered rc and is one of the biggest rc excavators on the market. With the ability to carry a person weighing up to 200lbs (90kg) this digger rc can be highlighted as a unique and very powerful toy. The smoking exhaust equipped to this large remote control excavator give it a real life look and lets the user imagine that this toy excavator is the real thing, backed up by LED lights and realistic sound effects. The fully metal frame and body also add to the mettalic finish and hardcore durability.
The fact that restriction on degree rotation is non existant on this model, means this rc can turn to any angle at any time. Interchangeable arm options included shovel, grabber and breaker give this constriction rc specialised functionalities.
Features:
Charge time: 3-4 hours
Run time: 45 mins
1/14 scale
Smoking exhaust
LED headlights
Realistic sound system
Can carry weights of up to 200lbs (Person weighing 90kg)
Fully metal frame and body
Extemely durable
Includes three interchangeable arm options
No restriction on cab rotation
Upgraded electronics
Recommended Age: Children aged 14 years old and up.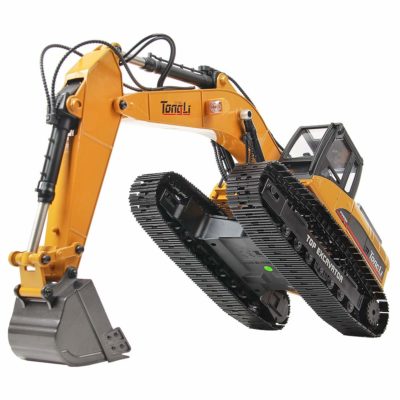 16. deAO RC Excavator Truck
This small scaled construction vehicle is packe with added details such as a white cab, exhaust and much more. The LED lights equipped to the machine give for excellent visibility, while the sound system give for realistic driving and prevents the user from losing there rc. The 360 degree rotation gives for an unrestricted driving feel and ability to navigate out of compact spaces.
The added bulldozer blade that comes with this kids digger make it great for clearing dirt and gravel out of the way, without having to function the arm. This makes the deAO a very easy to operate vehicle and gives it a specilaied function that other models dont have. Grippy caterpilar tracks give for total stability on steep terrain and make your off roading experience much more enjoyable.
Features:
Charge time: Estimated 1-3 hours
Run time: Estimated 20-30 mins
1/14 scale
High detail packed into small scale
Sound system
LED lights
360 degree rotation
Easy driveability
Can move up steep terrain without problem
Added bulldozer blade
Prepared for indoor and outdoor use
Recommended Age: Children aged 5 years old and up.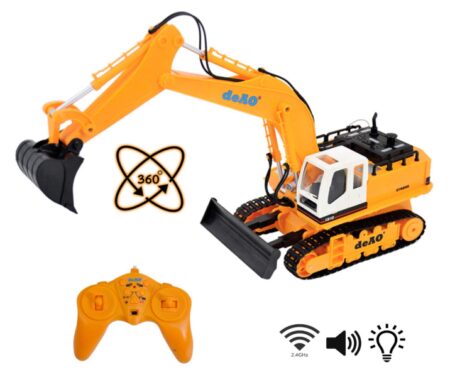 17.

Night Lions Tech RC Excavator 
The bright colour scheme and cartoon like design of this kids rc make it a great gift for younger children. Small scale makes the Night Lion extremely easy to transport, while simlpe functioning controller gives for an easy to use feel. The styled interior including seat and steering wheel provides for a very detailed interior look.
This toy laborer does not require a recharegable battery, but instead runs on AA batteries. This means run time is extended and charge times are not required. This gives for longer playtimes and also means replacement batteries can be purchased easier and at a much lower cost.
Features:
No rechargeable battery
Runs on AA batteries
Small scale
Ideal choice for young children
Brightly coloured
Cartoon like design
Very easy to use
Simple functionality
Interior including seat and steering wheel
Recommended Age: Children aged 7 years old and up.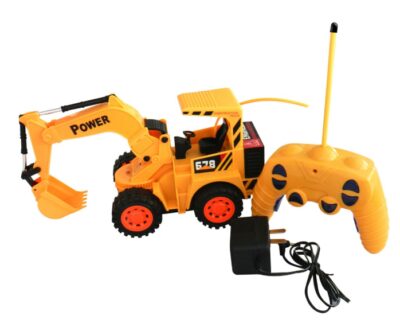 18. Toydaloo Excavator with SFX
This hydraulic excavator is a great addidtion to your construction rc collection. This model is able to interact with other rc toys such as a dump truck, as it can dig dirt or pebbles with its fully functioning arm and tilting shovel. Flashing lights show of the Toydaloo's bright colour choice, and sound effect system add to the realism of this toy.
The easy to use controller layout make using this caterpillar rc simple and its 360 degree rotation ability lets the user turn to all directions. The shape of this rc's caterpillar tracks and tread make it much easier to compete with mud, and are great for scaling small rocks.
Features:
Charge time: Estimated 1-3 hours
Run time: Estimated 20-30 mins
1/45 scale
Flashing lights
Sound effects included
Eye catching paint colour
Great addition to construction toy collection
Fully functioning arm and shovel
Easy to use controller layout
360 degree rotation
Recommended Age: Children aged 3 years old and up.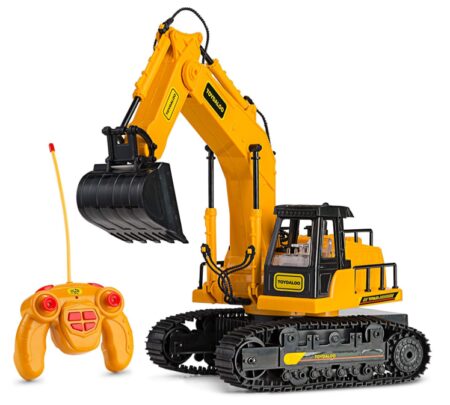 19. Fisca Remote Control Excavator Vehicle
The battery output of this vehicle is matched to its size, giving realsitic speeds and power to weight ratio. This life like performance of this digger is matched by its appearance, with flashing LED lights and simulation sound effects. The cab of this model gives a highly deatiled look and is great for showing of to your friends.
The Fisca's controller provides fast connection speeds, meaning you can jump straight into the action without stress. Real rubber tracks can provide the grip you need in even the toughest terrain, while bulldozer blade makes clearing your path easy. The 2.4GHz radio system is another great feature, as this supports the use of multiple rc vehicles.
Features:
Charge time: Estimated 1-3 hours
Run time: 15-20 mins
1/16 scale
Fast controller conection speed
2.4GHz radio system supports multiplayer
Added bulldozer balde for clearing path ahead
Detailed cab
Real rubber tracks
Realistic power output
LED flashing lights
Simulation sound effects
680 degree rotation
Recommended Age: Children aged 6 years old and up.

20.

Top Race 8 Channel Full Functional RC Excavator 
The rear loader of this top race remote control excavator make it a one of a kind on this list. It allows the user to load dirt, gravel and sand behind and in front at the same time, and is a great tool for the user. This loader is also larger than the arms shovel, giving this vehicle the ability to carry larger ammounts of terrain. Rubber tracks and ready to run setup mean this rc can provide top level grip and you wont have to waste time building your purchase.
The Top Race 8 comes with a common battery type, meaning that purchasing additional batteries for longer playtimes can be made easy. This off roader also promises to have no radio innterferance with other models, meaning you can play with freinds wothout confusion.
Features:
Charge time: 35 mins
Run time: 25 mins
1/24 scale
Equipped with additional rear loader
One of a kind design
Realistic lights and sounds
Perfect for sand or dirt
No radio innterferance with other models
Common battery type
Rubber tracks
Fully functioning arm
Ready to run
Easy to control design
Recommended Age: Children aged 15 years old and up.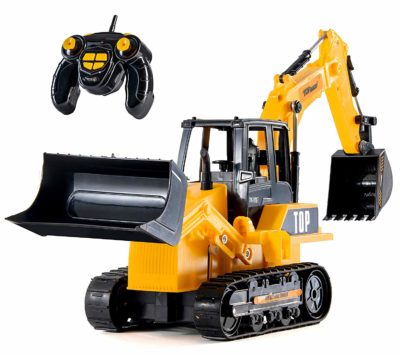 What is the Best Remote Control Excavator?
The TongLi 580 RC Excavator tops our list as the best rc excavator out there! This Hydrualic rc excavators best feature is that it can drive with a person sitting on top of it! This impressive skill highlights just how powerful this construction toy is. Paired with other cool feautures like smoking exhuast and realistic looks mean this model is an excellent choice.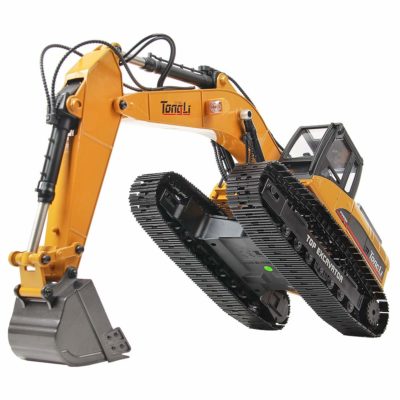 What is the Best Budget Buy?
The Top Race 15 Channel Excavator tops our list as the best budget buy! With its highly detailed design and durable components, the Top race 15 gives you great performace and looks for the money. Steel shovel adds to this rc caterpillars awesome digging ability powered by its 7.2v 400Mah rechargeable battery, which also gives amazing play time. This excatator is an ideal choice for those shopping on a budget.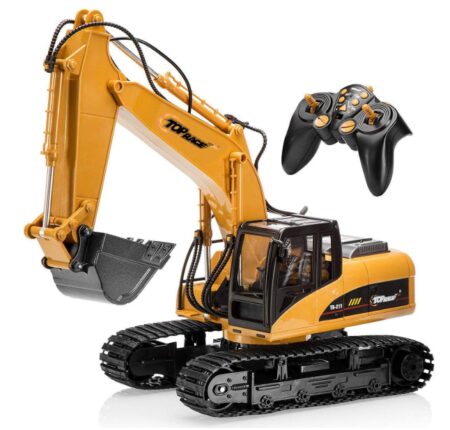 Where to Buy a Remote Control Excavator?
The easiest place to buy remote control excavators is Amazon. Amazon offers hundreds of options and makes it easy to find exactly what you want and for which price. The site also offers reviews from customers that have already purchased the product which gives you a more in depth review of the product from a buyers perspective. A 1 to 5 star rating system is also used by Amazon which again helps you to decide if the product you are buying is trustworthy.
How Much is a Remote Control Excavator?
Remote control excavators fluctuate in price. Some models can be bought for very affordable prices, while others can range much higher. Electric models vary in price for many reasons such as battery, level of detail and quality of components. If a rc construction vehicle is equipped with a more powerful battery the price goes up. This is the same case with the level of detail and quality of components. For example if a model has LED lights, sound system and styled interior then this will be more expensive than another model with one of these features or none. The same could be said if one model has rubber caterpillar tracks and another has plastic, as the rubber option provides more grip and is a more expensive material. Remote control caterpillar excavators can also come with gas engines, but theses models are generally more expensive.
Check Out These New Articles:
All Terrain Remote Control Cars