Are you looking for a toy to buy for your kid or maybe a friends child and you want to find something different? Well, Animal Planet toys are connected to the leading entertainment network that indulges viewers in the enthralling secrets of the animal kingdom. It has lots of platforms that deliver fun, factual, and immersive content for animal lovers of all ages particularly for families and kids. The network helps learners wrap their heads around some of nature's finest and most unique creatures. It explores the different animal species, their habitats, and how they coexist. It's quite diverse as it covers not only the wildlife but also the ocean environment.
Children can access all this educational content on wildlife through a press of a button on the TV remote. Animal Planet network also has additional stuff to maximize the children's experience. They have moving documentaries on the animal kingdom that offer a great introduction to animal science. The safari-style episodes immerse kids into the animal kingdom like never before. There are also epic and ingenious toys that are currently making headlines in the world of toys. The toys are inspired by some of the greatest shows in the Animal Planet network that kids adore.
Why Should You Buy Animal Planet Sets?
Besides the fact that they are totally awesome toys play an instrumental role in your children's lives. If your child is already showing interest in animal science by staying glued to shows, there's no better way to fuel this growing interest than to grab them one of the fancied animal toys and game sets. The toys are also a great way of rousing their imagination, creativity, and fine-motor skills. This happens during pretend play and imaginative play. Also worth mentioning is that the lastest toys are quite detailed. Therefore, they can help kids identify and learn animal forms and parts quickly.
Reason to Get Animal Planet Gifts for Toddlers and Kids
Animal planet plastic animals for toddlers and kids are a fantastic way for your children to learn about the man's friends roaming the wild and the oceans. They come in detailed and amazing designs, variations, shapes, and colours. Your child will be glued from day one once you get them what they love watching on the exciting animal planet network. That's a good thing because these toys will help boost their development by enhancing their imagination, creativity, and motor skills.
11 Best Animal Planet Toys for Kids
This stuff is fun, creative, and educative. That's something you probably already know and might be thinking of getting some for your kid(s) to help them cut their teeth into the world of animals. However, there are so many to choose from making it quite difficult on your part. Worry not as this post provides you with 11 awesome animal planet sets for toddlers and kids that are sought after today.
1. Big Foot Set
This exciting and adventurous toy set revolves around the concept of the mythical bigfoot. It allows children to creatively set up the pieces together to depict a wild and exciting hunting adventure for bigfoot. The accessories include a mean looking at the Bigfoot toy with mechanical arms, wielding a gruesome wooden club. There's also a bobcat and an action figure equipped with gadgets such as an ATV, a campfire with silvery pot, sonar, a computer, binoculars, a bigfoot footprint mold, and flashlight. This animal planet play set is so much fun and a great way to rouse the imagination and creativity of your kids.
2. Deep Sea Shark Play Set
This animal planet toy is set in the ocean environment and features two ferocious sharks. The first one, a huge white shark, can snap its jaw shut viciously when you pull its dorsal fins. The other is an equally aggressive tiger shark. An action figure of a scuba man together with his diving gear also comes with the package. His tools include a tank, rebreather, and a camera. There's also a cage that's a safety zone for the diver in case of a shark attack. This play set is a great way to send your child into a shark adventure in the deep sea. It's a fantastic cognitive booster thanks to the play pretend kind of experience that it delivers. It's a great option when looking for animal toys for 5-year-olds.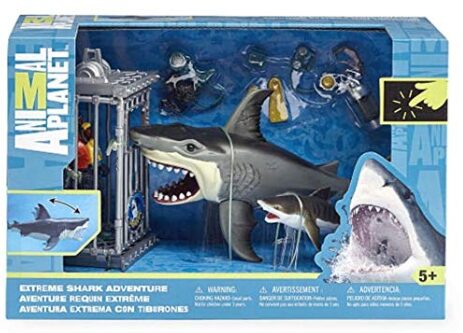 3. Animal Planet T-Rex
If dinosaurs weren't extinct, they'd probably look like this animal planet T-Rex. Made of a soft plastic material, this realistic dinosaur is a perfect gift for a child who loves dinosaurs. It portals them to the prehistoric times when these fantastic beasts crawled the earth. It also feeds their imagination through imaginary play. You can also employ it as a home décor to accent your child's dinosaur-themed room. The jungle green beast stands at 12.5 inches high and can fit right in any of your child's play set as an extra character. It's great for children of ages 3 years and older.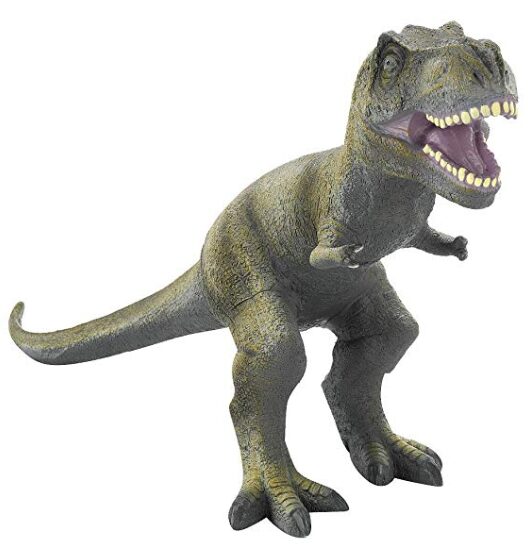 4. Wild Animal Transport Truck
This is yet another dinosaur inspired playset from the animal planet that sparks the imagination of your child big time. The full-size truck comes with a cage trailer which serves as a carriage for the oversized dark green T-Rex dinosaur in the set. The carriage can also serve as containment for this pre-historic predator where the child can tame it before it mauls everyone around. To kick the experience up a notch, there are epic sound effects that can be triggered by the buttons on the truck's cab. This set will fit right in with other animal toys for boys in your son's playpen.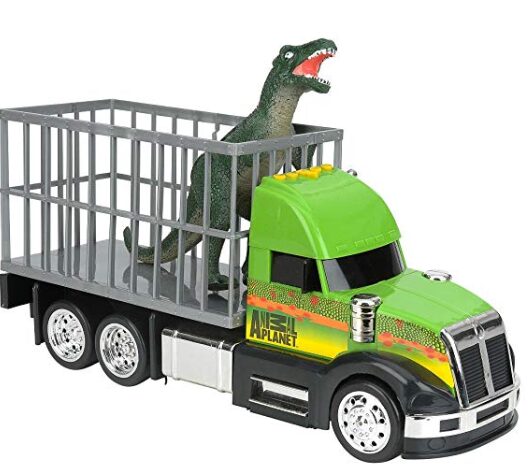 5. Animal Dinosaurs Toy Tub
It is no doubt that children have a liking for dinosaurs. That's why the animal dinosaurs toy tub from the animal planet is a must buy for your kid. It is packed with several different dinosaur pieces of various shapes, and sizes. The tub also contains a simulated landscape onto which the children can creatively arrange these pre-historic creatures. The landscape is quite realistic with features such as ponds, antique-looking rocks, palm trees, and ponds. This gives the kids a true picture of what the ancient times when dinosaurs existed might have looked like. Such little animal playsets engage the children's sensory system, something that helps in their cognitive growth in the long term.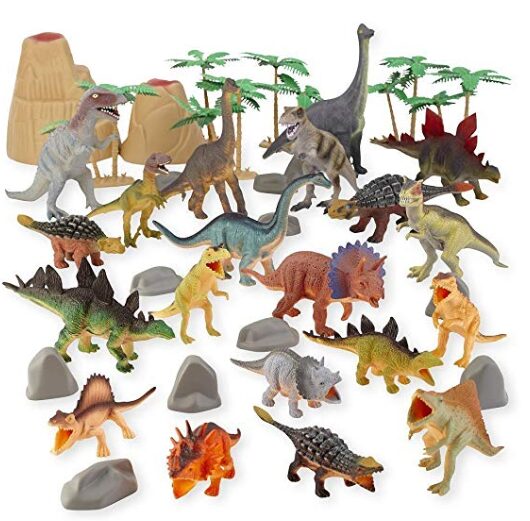 6. Deep Sea Set
This playset draws inspiration from the deep sea ecosystem. It features 6-piece deep sea collectibles that are a true depiction of unique fish species. Present in the package is a hammerhead shark, great white shark, sawtooth shark, goblin shark, angler fish, and giant squid. The characters are quite realistic to show young learners just how unique and strange the creatures in the deep waters are. Also, they are made of a tough kind of plastic that brings out the details conspicuously. Watch your kid's interests in the aquatic life grow by encouraging imaginative play through this exciting and immersive playset.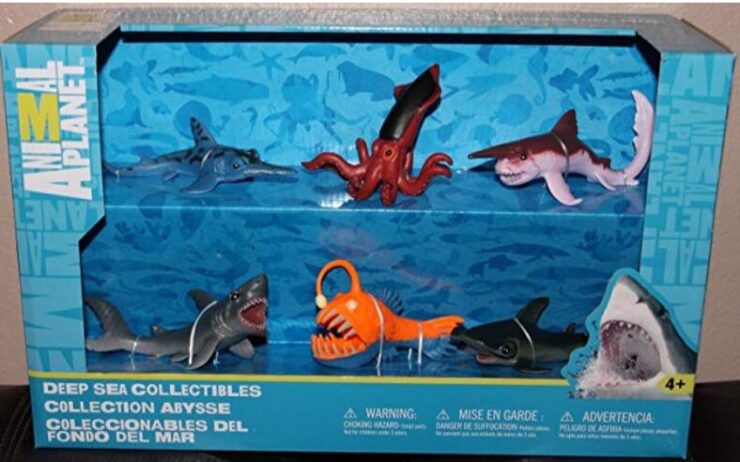 7. Dino Discovery Set
The dino discovery set takes your child way back to the ancient times with three realistic dinosaur figures from animal planet. They are huge and life-like, making great pieces for imaginative play. If your child shows some keen interest in dinosaurs and palaeontology, this might be the perfect gift for them. The set will introduce them to favourite fossils such as the triceratops, pterodactyl, and the infamous velociraptor. All that is contained in the set and theirs for the taking. So, purchase them and watch the science interest in your child grow steadily. It is suitable for children of ages 5 and over.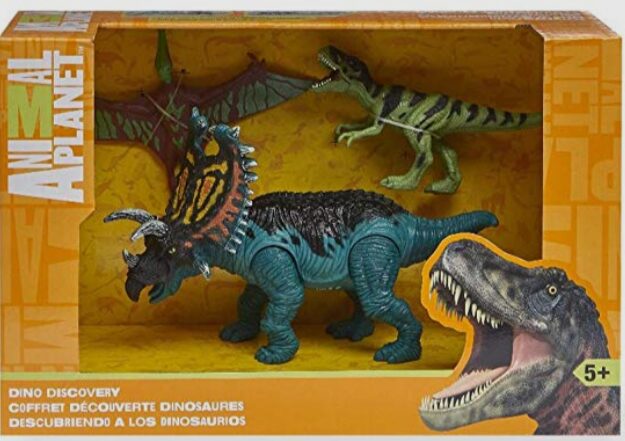 8. Dunkleosteus Deep Sea Exploration Playset
This animal planet playset gives kids a chance to venture into the deep sea for an adventure like no other. It delivers pleasant surprises in the form of mysterious creatures like the strange dunkleosteus. The intriguing deep sea predator is lifelike and comes with a scary jaw-chomping action. It is long, about 7.5 inches long, and equally ferocious. The play set also contains a diver action figure equipped with a deep-sea vehicle that has claws and weapons. Through imaginative play, children can help the diver hunt down the deadly predators with the arsenal in the set. In the end, they'll have experienced hours of creative play, which is great for developmental skills.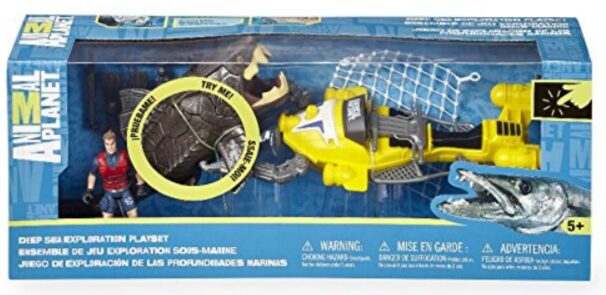 9. Grow Dinosaur Egg Playset
A good way to let your kid learn about the process of egg hatching is to get them these ingenious "grow dinosaur egg playset" from animal planet. The package comes with three dinosaur eggs of colours orange, green, and silver. The magical eggs hatch once you put them in water springing up the three famous dinosaurs- stegosaurus, Apatosaurus, and Spinosaurus. By taking part in the watering of the eggs, the children develop a sense of responsibility. Watching the eggs hatch piques the children's interest and curiosity. This helps hone their research skills. Children can take out the hatchlings to play or keep them in water and watch them grow to 5-10 times their original size. The additional fact cards available in the set can help better kid's knowledge and appreciation for animals.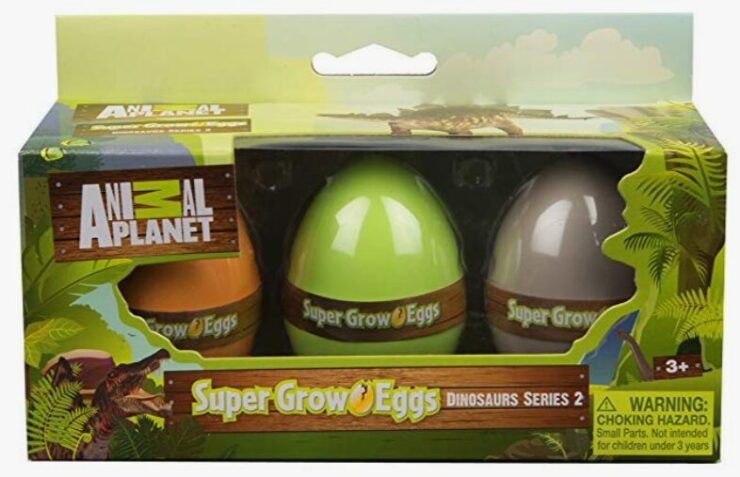 10. Big Tub of Dinosaurs Set (40 Piece Set)
The big tub of dinosaurs from the animal planet is packed with 40 different critters from the ancient world when dinosaurs still roamed the earth. Together with this big variety of dinosaurs comes a suitable landscape for them to roam as they once did before extinction. Features on the landscapes such as spooky-looking rocks, palm trees, and ponds bring the fantasy to life. They'll have lots of pretend pl
ay experience when arranging the different dinosaur types with their likely ecosystem. It's also important to mention that the set is quite portable and can be set up anywhere particularly in your animal-loving kid's room to create a dinosaur theme.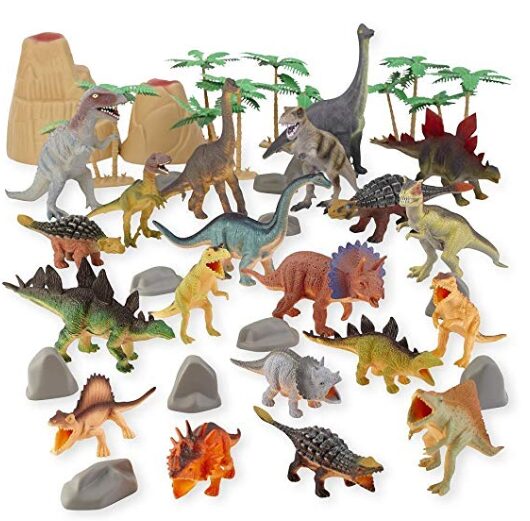 11. Killer Whale and Shark Playset 
This animal planet playset delivers an adventure in the 'blue planet' involving a giant white shark, tiger shark, whale, and barracuda. Ready to explore this perilous environment is an action figure in the form of a BBC deep sea diver. The diver is strapped with diving paraphernalia including a raft, paddles, water guns, and harness. The fiery sharks and whales attack by opening and snapping their toothy mouths shut when their dorsal fins are pulled. Children can join this diver in the adventure through some enthralling imaginative and pretend play as they hunt down these rulers of the sea. This helps in the development of the children's cognitive and sensory systems.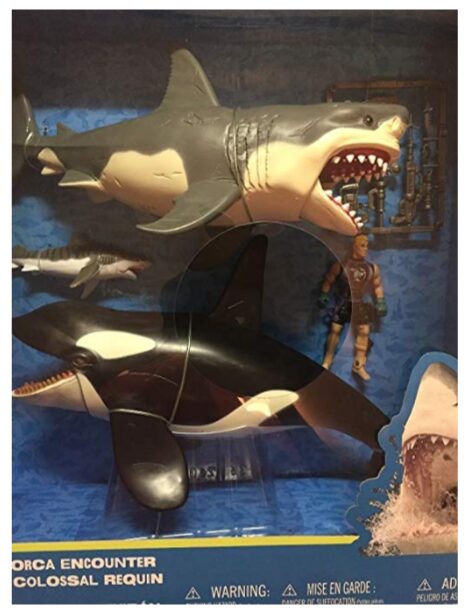 Best Overall Pick
The deep sea shark play set is a fantastic choice especially if your child is going through a shark phase. It promises an extreme shark adventure with gigantic fierce-looking sharks. The action figure also has lots of accessories that make the set quite practical. Its pricing isn't too steep considering the detailing of the animals and the sturdy material used. It is also an educative set with toys for kids who love animals especially the aquatic ones.
Best Budget Buy
For the best budget buy, the animal planets big tub of dinosaurs carries the day. Over 40 different dinosaur critters for less than others that are quite impressive. Your kids can use the different figures as characters in other sets as well as decorate their rooms without running out of toys. The set offers a fantastic way to acknowledge the children's love for pre-historic dinosaurs and their unique nature.
F & Q's
Q: Are animal planet toys educational?
A: Animal toy sets are innovative learning aids that introduce kids into the world of animals. They inspire the kids to think and let their imaginations run wild. The "animal planet animals of the world learning pad" for instance is a great toy for enabling the kids to know some of the animal species, where they are found, and the sounds they make. So yes, these toys are quite educational and each one has a unique skill set to offer.
Q: Do You Need Batteries?
A: Some animal planet sets need batteries as they are technology-oriented. There are the motorized ones as well as those that emit sounds to enhance the child's experience. Most will require triple A batteries. Others come with inbuilt rechargeable batteries with a USB port and cord for convenient charging. So it's all a matter of which toy you plan on purchasing for your child.
Q: Are these Toys for Toddlers and Kids of all ages?
A: These toy sets are designed for specific age groups. So it is upon the parent to check the manufacturers recommended age before purchasing the toy. Most of animal planet sets are rated age 3 and above. However, there are some like "Animal planet dinosaurs" and "pet pals" that transcend all ages owing to their baby-friendly design.
Q: Does playing with animal toys help children connect to the ocean and land creatures?
A: Animal toys help children understand the form of animals, where they live and how they exist. Animal planet even provides toys that provide the sounds made by each animal to help the children identify each animal uniquely. This allows them to understand and appreciate different animals thus connecting with them at a deeper level.