Are you looking for the different types of game of thrones gifts for a huge fan of the popular series? Here we have picked ten of the best gifts on offer, whether you're looking for some homeware, a board game or perhaps something else, we've got loads of great options here. These gifts are perfect for a fan who misses watching the show now that it's finished – they can still enjoy a fix when using their gifts every day!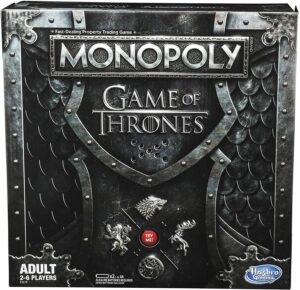 Considerations When Buying Game of Thrones Presents
There are a few things which should be kept in mind to ensure you find the perfect gift for the GoT fan in your life. First, the age of the recipient. Some of these gifts are aimed more towards adults, so might not be suitable for younger fans. Also think about what they are more likely to use. If the recipient is a teen or still living at home, they might not get as much use from homeware items as someone who has their own home already. On the other hand, if they never play board games, they might not be too impressed with a game of Monopoly.
Top Game of Thrones Toy & Gifts in 2023
Let's now look at ten awesome gifts for Games of Thrones lovers – there is sure to be something here they will love! In fact, it could be difficult to choose just one of these great gifts!
1. GoT Monopoly Game

First on our list of unique Game of Throne gifts is this special edition of the classic board game Monopoly. The game has similar rules as the original, but all the game pieces are based on the popular series instead. There are six game tokens based on the great houses and the money takes the form of silver and gold coins. Instead of houses and hotels, this edition of the game has holdfasts and castles. Finally, the game has a card holder which plays the theme song from the show – sure to delight fans every time they play it!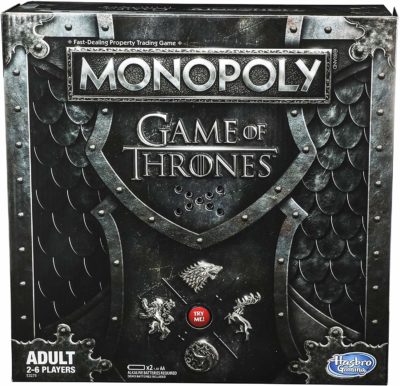 2. The Art of GoT

This stunning book is filled with artwork and illustrations from the popular series and it's perfect for any collector of GoT merchandise. There are over 400 pages which cover series 1 – 8 and you can also find exclusive behind the scenes information. The book is a great size, measuring around 10 x 13 inches, so it's ideal for browsing through any time. The pages are thick and glossy – this book is certainly made to last.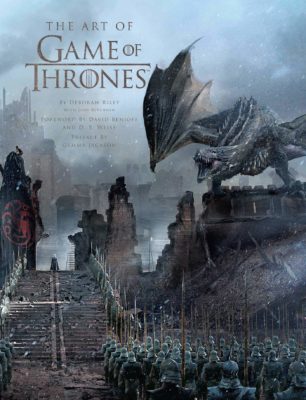 3. House Lannister Stein

This beer stein is perfect for any GoT fan who enjoys a pint or two! The ceramic stein holds 22 ounces and has loads of detail, including the pewter Baratheon House crown lid. The mug itself is hand painted, and is officially licensed by HBO. The stein is excellent for collectors and would look great alongside other pieces of merch, but it can also be used for drinking from. You can collect other designs to make a set, including Targaryen and Stark.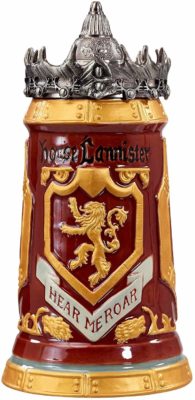 4. Adidas Ultraboost Running Shoes

You might not expect to find a pair of running shoes on a list of gifts for Game of Thrones fans, but here we have a pair from Adidas based on the hit TV series. There are four different designs to choose from, including Houses Stark and Targaryen or Night's Watch. The sneakers are extremely comfortable as well as stylish, and they are designed to fit the foot perfectly. These are great for hitting the gym or simply wearing during leisure time – they are comfortable enough to wear all day long!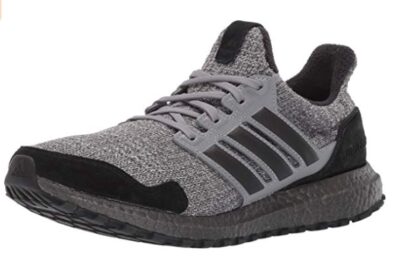 5. Iron Throne Replica

This highly detailed replica of the Iron Throne stands at 7 inches tall and will look great as a display piece on a desk or shelf. It's perfect for collectors! The throne replica is heavy and made from resin, although it also makes an excellent cake topper if the cake in question is sturdy enough! Collectors and fans will love the level of detail in this model, and it comes packaged in a gift box so it's great for giving as a special gift to a fan.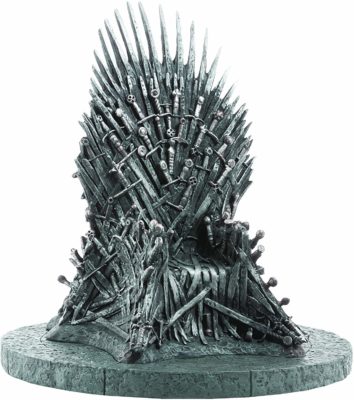 6. I Drink & I Know Things Glass

Here we have another cool drinking glass for GoT fans. This time it's a beer glass, which comes with a matching bottle opener. The glass reads 'I drink & I know things' and it holds 17 ounces of your favorite drinks. The mug is made from thick glass, is suitable for any cold drinks and is dishwasher safe for easy cleaning. It comes packed in a gift box for easy gifting. If the recipient of this gift prefers to drink wine or whisky, there are glasses available for this too, so you can tailor the gift to their preferences.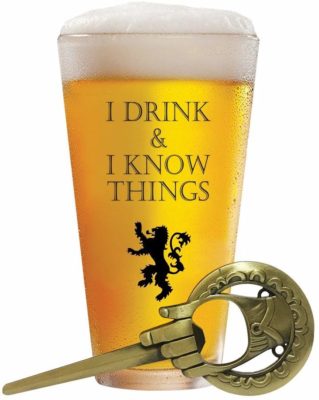 7. Dinner is Coming Cutting Board

If you're buying for someone who loves to cook, this laser engraved bamboo cutting board is an excellent gift idea. It reads 'Dinner is Coming' and features House Stark artwork. The board is durable, but it's recommended to use the front side for display and the rear side for cutting on to prolong the lifespan of the design. The cutting board measures 9 x 13 inches and is not too thick. It's excellent for serving food as well as chopping – it's ideal for presenting a cheeseboard.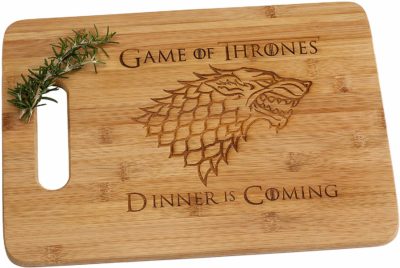 8. Wooden Music Box

If you're looking for cheap Game of Thrones musical gift ideas, then there is this music box, which is an excellent pick. It plays the theme song from the hit series when the handle is turned, and the box itself is made from high quality wood. The box is hand carved and has lovely detailed artwork on the sides, with the inscription 'Winter is Coming' on the inside. The speed of the music can be controlled by turning the handle either faster or slower. This is a gift which will appeal to all ages and makes a nice collector's item which doesn't require too much space either.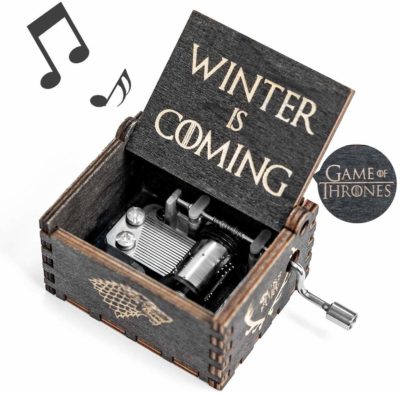 9. Drinks Coaster Set

When it comes to Game of Thrones themed gifts for the house, there are loads of cool options available. These drinks coasters are an ideal pick, as they are small, practical and great for those who love hosting dinner parties and entertaining for friends. The set comes with four coasters, each bearing a different house sigil. The coasters are made from faux stone with cork on the backing, and they have a diameter of four inches. They are ideal for either hot or cold drinks, and they come in a holder so they look tidy and stylish when not being used.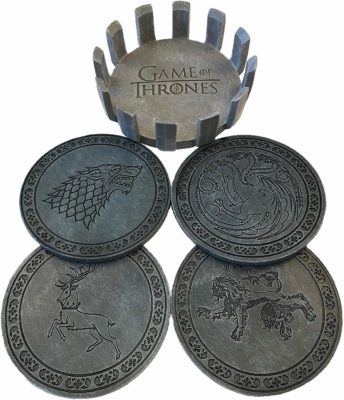 10. GoT Catan Board Game

Our final gift ideas for him and her is this special edition of the Catan board game. The strategy game is suitable for teens and adults aged 14 years and above, and is played by 3 or 4 players. A typical game lasts between 60 and 90 minutes, so it's perfect for filling out a games evening or simply for passing some time.
This is an excellent gift for those who love collecting and playing new board games, as well as fans of GoT. The game is more than just a rebranding of the original Catan, and the pieces are all excellent quality. The reverse side of the board can be used to play the original game, meaning this set can be used for two games in one!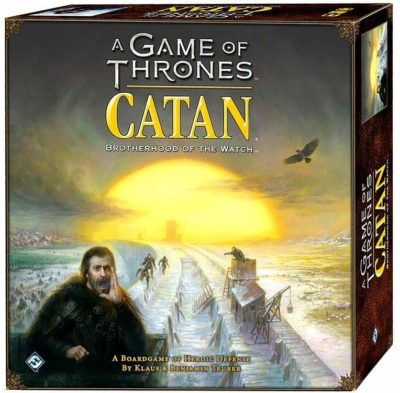 Best Buy Overall
After reviewing ten of the best gifts for Game of Thrones fans, it's time to pick the one which stands out as the best overall. That spot goes to the art book in this case. It's simply stunning and is sure to keep fans engaged for hours, even though the hit HBO series is now finished. There are hundreds of glossy pages filled with beautiful artwork, making this a great coffee table book. This is the perfect gift for big fans and they are sure to come back to look at it time and time again.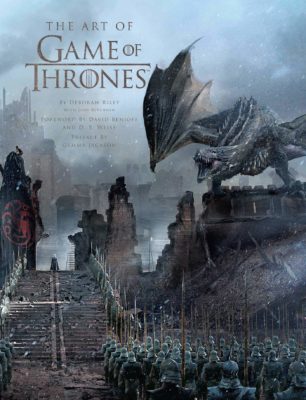 Best Budget Pick
If you are looking for lower costing Game of Thrones birthday gifts, we have to recommend the GoT Monopoly game. It's loads of fun to play and the artwork based on the series is sure to delight fans. The rules are similar to the original version but the pieces, money and houses and hotels have been changed to fit the theme. This is a great gift for collectors of different editions of Monopoly, as well as for those who are huge lovers of GoT, so it will likely appeal to a large audience.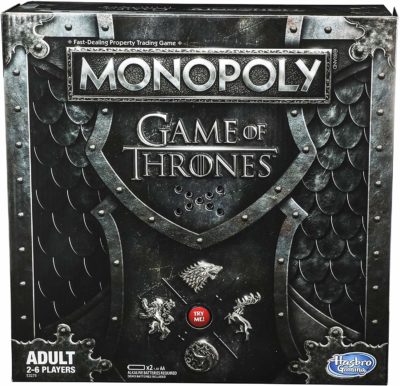 Best Gifts for Guys who Like Games of Thrones?
The gifts featured here are perfect for both men and women who love the series. It really depends on the recipient's tastes and interests. Perhaps if he likes to cook, the breadboard will be ideal, but if he prefers a game night with friends you can't go wrong with Monopoly or Catan.
Where to Find GoT Gifts?
All of the gifts featured in our guide here can be bought at Amazon for ease. It's possible to find other web stores which sell gifts based on GoT, but be sure the website is reputable and sells licensed merchandise as there are many knock-offs around.