A remote control shark toy is an excellent idea as a gift for any child, it's fun, exciting and gives loads of laughs. Imagine a flying shark coming towards you and the fun that your kids will have with this.
If there is something many little boys (and some girls) can agree on it is that a Shark is an amazing creature. Take a minute right now and think about a shark with their mouth full of 240 teeth and their supremely sensitive senses they can be considered the kings of the sea. Who wouldn't want a shark like this or a version of these incredible predators as a gift over the holidays?
In this article, we compare a few of the different types of RC toy sharks which are available helping you buy the right shark for your little one to terrorize your home with whilst they giggle madly like an adorable little James Bond villain with a master plan.
eSmart RC Mini Electrical Shark 
This underwater mini electrical shark has a lifelike body and realistic movement. It swims through the water with real fish like motion, using the dorsal fin to glide across the water.
At just 9.5 x 4 x 3.5cm it isn't very big but an advantage of its smaller size, it makes it perfect for swimming around the bath or, if you have one, in your aquarium to swim with the real fishes.
With 5 to 8 minutes of charging time of the housed 3.7V 70mAh battery, this shark will be able to travel up to 5 meters away without losing sensitivity with the controller. The controller itself is incredibly simple with 3 basic buttons, a forward arrow and a left and right arrow allowing for 360-degree motion, ensuring the shark will go where it is told.
The eSmart Mini Electrical Shark comes packaged in an attractive cylinder, designed to look like a can where it can be rehoused safely until the next time your child wants to enjoy an aquatic adventure.
This can be a very tempting shark to buy based on price and is an affordable birthday treat for your child to enjoy. There is even the added choice of blue and black or the more traditional black with white stripes.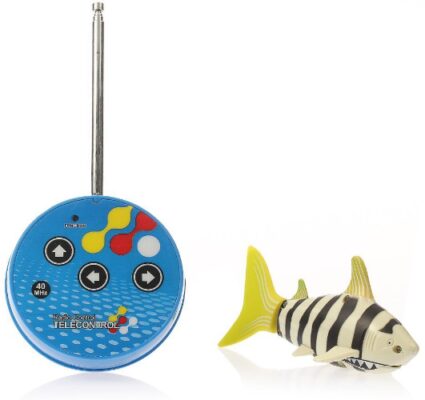 Air Swimmers RC Flying Shark
If you prefer your aquatic beasts to be airborne you can get the Air Swimmers Flying Shark.
This toy is a helium-filled Great White Shark balloon that can be maneuvered through the air via remote control. It "swims" effortlessly from room to room with a lifelike shark motion.
The shark looks realistic with graphics which can give a great shock factor to an unsuspecting family member who is coming around the corner and the easy steering and controls allow the shark to go in any direction. Children aged 5 years old and above love to use this toy shark and scare their friends with.
The body of the beast is a tough nylon material that should stay inflated for weeks so there is no difficulty setting up the shark to play and the shark can be used for up to 40 feet using an infrared connection. However, this shouldn't be used outside as there is a good chance it can float away. Consider yourself warned.
This is more expensive than the swimming remote control sharks but the higher price tag does ensure the tough experience and the added bonus of flight.
Some assembly is required for this but it can be particularly tricky for some. It does come with a detailed video available that shows every step to make putting the shark together a bit simpler.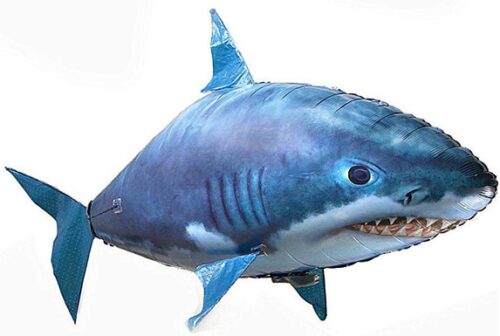 Remote Control Flying Shark
This RC Shark boasts realistic graphics with a choice of shark or clownfish, like Nemo, and the body is made of tough nylon, keeping the shark safe even with rougher play.
The controller has a range of up to 40 feet using an infrared connection and offers full 360-degree motion allowing the shark to go exactly where you want it to go whilst travels at a decent speed without speeding away from you.
This shark is 57″ long and 36″ high and once it is inflated it should stay inflated for up to 2 weeks. The shark is inflated using helium which can be easily and affordably be purchased from any party store. The shark can be refilled as many times as you need or want to.
Ensure that this product isn't used outside as it will float away never to be seen again. When using the shark indoors it will be able to fly right up to your ceiling without issue.
This product does require assembly but there are plenty of videos on YouTube to assist you. It can be put together simply in just under an hour.
This Shark toy is ever so slightly cheaper than the alternative flying shark with the added bonus of a choice of different fish if the shark is not your favorite sea creature.

KINUT Mini RC Toy Shark
The KINUT Mini RC toy shark is a traditional RC shark that can swim through water.
The mini shark swims freely through the water being controlled by the simple controller. With a forward arrow, left arrow and right arrow there is nothing overly complex for a child to control.
There is a battery built into the shark and is charged by a USB cable and the controller needs 4 AA's. It takes 20 minutes for the battery to be fully charged and can travel up to 15 feet lasting 15 minutes.
This shark comes in a variety of different colors including black and blue, blue and grey, white and red and black and white. A choice for any child! It is made of plastic and is particularly tough for lots of play.
At a very affordable price, this is the cheapest shark on the list and one of the only downfalls of this shark is that it can't dive underwater.
Despite that, this would make an excellent bath or swimming pool toy.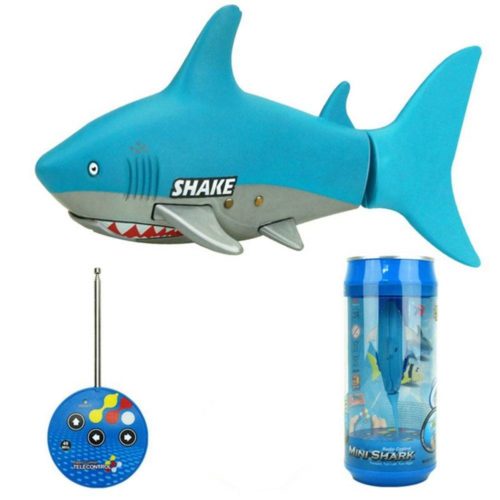 Best Overall Shark
The best Overall shark is the eSmart Shark. With the cheaper price and high star rating with consumers it really is much better for kids to play with.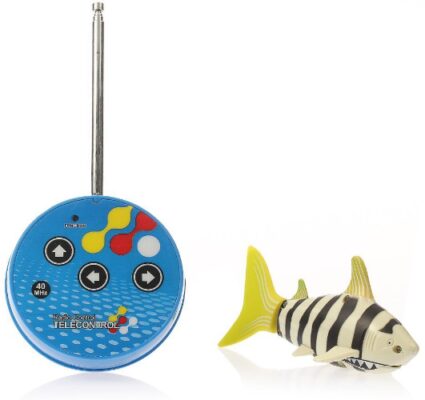 Best Budget Pick
If you are looking for an flying RC shark but don't want to break the bank the best choice is the Toy Shark. The cheap price and functionality mean that this is the best budget pick.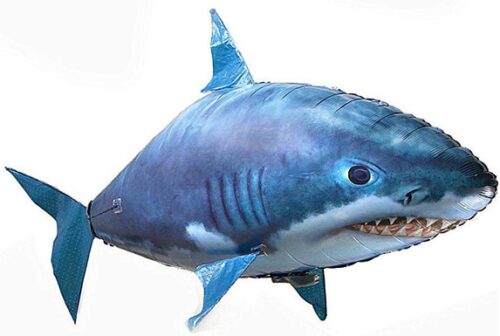 Considerations: when choosing a remote control Shark
When considering which RC underwater creature you want to get for your little one there are four main considerations: the price, how fast they can go, the range for the remote and how long the battery will last.
Price
Price is always an important aspect of any decision you make. If it's too cheap you may lose out on the quality and if it's a lot of money you may be getting quality but is it really worth all that money?
A moving toy shark can range in price from anything from $10 up to $50+.
There's are remotely controlled sharks for most budgets. Some of them swim like you would expect a shark to do and some of them fly through the air meaning the fun doesn't have to just stay in the water.
Movement
Depending on the shark you get they have a range of movements. The swimming sharks have a full range of 360-degree motion, backward and forwards. The flying sharks boast a range of a 360-degree motion and the added bonus of vertical motion.
The speed of the sharks aren't going to break any records but they move at a comfortable speed. You aren't going to get bored of watching a slow shark, trundling along but it's not going to disappear at a rapid pace so you end up losing it.
Range
Each shark comes with a different range of distance what they can get depending on how much the battery is charged.
These battery controlled sharks can range from 5ft to 40ft depending on which Shark you chose. The flying shark models tend to have a further field of range due to the nature of their flight. The swimming models are more limited as they are designed for a finite area such as a pool or a bath.
Battery life
Depending on the shark you want the battery life has an average of 15 to 30 minutes after a 10 minute charge time.
The type of battery the shark takes is dependant on the toy. There is no one size fits all, some may take the small button cell batteries whereas others will take double or triple A batteries for the remote and the shark its self.
Why Get a Remote Controlled Shark?
Whether you are 5, 15 or 25 years old the idea of a floating and moving shark is an incredibly enticing toy for any child. Being able to control your own beast of the sea and be its master gives you a sense of power.
Granted it's only a play shark toy but the imagination is there and kids will enjoy using this fun toy.
Imagination is what playing is all about and having an RC toy like this opens up a whole world of underwater or in air possibilities depending on the kind of shark you get. You can either have your shark swim around pretending to eat the imaginary fish or with the flying ones, you can chase your sibling around. What's not to enjoy?