Today we have another fun guest in the house. It's
Abby from My Yellow Sandbox
and she's got some great tips and styles to show you today. She blogs about a lot of things....from home decor to scrapbooking to her cute family. She has gorgeous Rapunzel hair and a lot of tricks up her sleeve. Let's welcome Abby.
Hey lovelies! It's Abby from
My Yellow Sandbox
! I have been so excited to share with you some of my hair styles, I felt like this day would never come! Who here loves hair week? I am totally in love with hair week! Hair is such an important accessory. I like to think of it as the gorgeous frame that makes the picture that much more stunning. If you don't love your hair I have some tricks that will help you learn to! Lets love our hair people!!
These are 9 of the 30 styles I've already shown over at
My Yellow Sandbox
!!
Before we get to today's hairstyle I want to share a few hair secrets! The rest of them will be in my ebook coming out soon!
Trick #1.
Do not wash your hair everyday
. Did ya hear me?! DON'T. WASH. YOUR. HAIR. EVERYDAY! What happens is the more you wash your hair, the more you strip your hair of those natural oils that make your hair soft and silky.
EW but then my hair is greasy Abby
.
I can't have greasy hair. That's just disgusting
. You have to train your hair. Go one extra day between washings! Let your hair get used to it and it will start producing less oil. It's the truth I tell you!
Trick #2.
Spend the money on products
. You can't hope to grow your hair out if it keeps breaking off because it's so dry. Been there. You should have seen my mop in college! It was BAD. I could not get it to stop breaking. It was so dry and damaged. I ended up chopping it all off and starting fresh. I got it trimmed every six weeks. I swear she'd cut off more than what grew! And I started using nice salon grade shampoos and conditioners. Once a week I would deep condition it over night. And I spent money on the
Hana Shine Shield
, which is what seriously saved my hair.
Just trust me. Pantene Pro V is not the same as Redkin, or Bed Head or any other product you can buy at a salon. You get what you pay for. And I really mean that!! I know it's really hard to spend money on such stupid things. If I'm gonna spend forty bucks I want a new outfit!! Shop the sales. There are always buy one get one free or 50% off sales going on. Don't ever pay full price. Ask your hair stylist if she can get you some product with her discount. All the stylists I've known have always been super nice about getting me product. Because if you want long, delicious hair.....
Visit me
here
to learn about all the products I use.
Trick #3.
Try not to straighten your hair everyday
. The heat is what KILLS your hair. If you are using lots of heat, make sure you're using some type of heat shield. My Hana Shine Shield has lasted me almost an entire year!
But Abby, how do you get around not straightening it or washing it every day?
This is my routine. I will wash my hair, straighten it and keep it down. The next day, so I don't have to straighten it again, I like to pull it half up. If it's still looking good the next day I might decide to curl it. So that the next day I can put it up in some pretty up-do. That's four days of only straightening and curling it once! That's the trick to saving your hair! I've really trained my hair not to get greasy though. You definitely have to work up to it! And yes, I still shower everyday. Ha ha!!
FINALLY!
The Braided Cross-Over Bun
. You will die when you see how easy this is!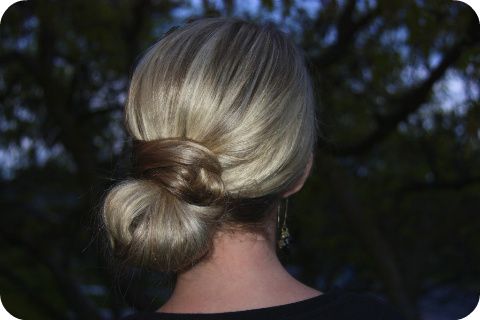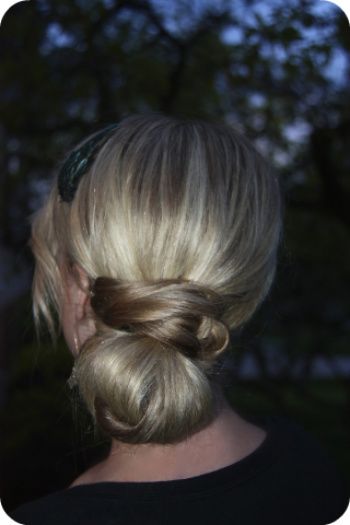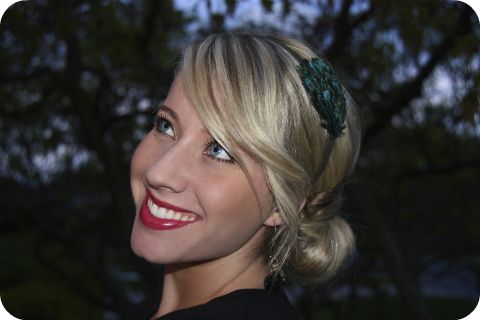 Here is a brand new video just for you!
These are three of my viewers favorites.
The
wedding bun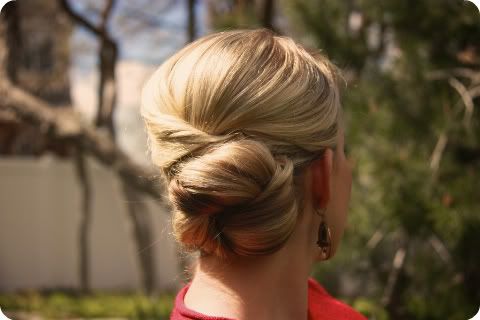 The
four piece braid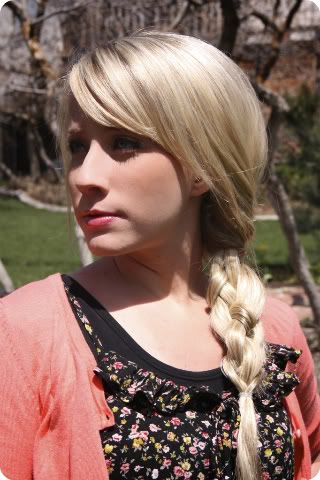 And the
Bohemian Twist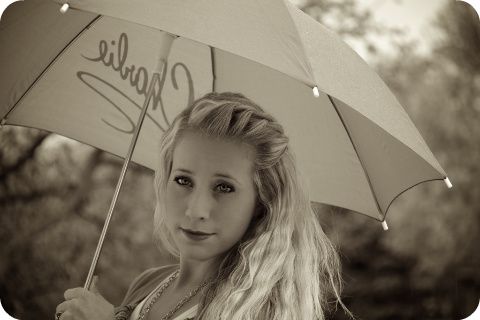 Thanks for hangin' out with me! Come on by and see some more of my hairstyles at
My Yellow Sandbox

Thanks for all the ideas and tips Abby! See you guys tomorrow for some short hair inspiration. Thanks for reading.