When it comes to young children picking art supplies can be a difficult task, especially for 1-year-olds. There are many items that are available and it can be flustering trying to choose the perfect something for your child. Below, we have reviewed a few of the top craft products which are fitting for kids aged around 12 months and older. You are sure to find something that your little artist will enjoy here. There are tons of amazing art projects for one year olds, which we will also take a look at here.
Considerations Choosing Crafts for Toddlers
There are a few things that you need to consider when picking out the best arts and crafts supplies for your little one, and here are a few you should think about.
Age-Appropriation – Making sure that the project isn't too advanced for your child is a big thing to consider, they've got to learn how to walk before they can run. There are some good crafting ideas for slightly older children over on whooopsadaisy.
Materials – Materials that they will be engaging and also do well in keeping your baby interested. These materials also need to be safe for your child relating to the age range of the craft project as well.
Ease Of Use – It is important that you choose something that is going to be easy for your child to use so that they don't become frustrated when they are trying to make their piece of art.
Top 20 Arts and Crafts for 1 Year Olds
1 Crayola Washable Fingerpaint Kit
This amazing toddler painting set provides hours of substantial fun, experimenting with colors beside each other, mixing colors creating new ones, and having all-around artistic fun. Simple and fun the Crayola washable fingerpaint kit keeps kids engaged for hours on end, and the fact that these paints are washable will keep parent's minds at ease making the clean up a breeze. Containing 10 sheets of glossy painting paper and 4 Crayola washable finger paints in red, blue, yellow, and green. The paints are easy to open safe non-toxic ideal for toddlers 12 months and up. Easy squeeze tubes make the paints effortless to use so even your child will be able to. do so. the finger painting paper is specifically designed to stop over-saturation, while also being big enough for your child to explore the wonders of color mixing, finding out which colors can create new ones. Amazing art activities for 1 year olds and above.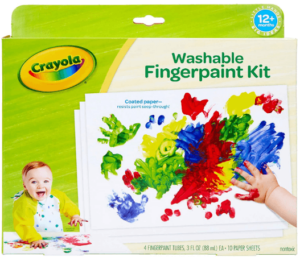 2 Crayola Washable Palm-Grasp Crayons
Toddler crayons from Crayola feature an ergonomically designed egg-shaped crayon which makes it super easy for toddlers to hold comfortably and scribble with. The contents of the set feature 6 Palm-Grip Crayons for babies in Red, Orange, Yellow, Green, Blue, and Purple. Parents won't have any worries with one of the best art supplies for 1 year olds as these washable crayons clean from skin, washable clothing and furniture with no problems at all. Long-lasting durability comes with these crayons as each egg shape contains the equivalent of 14 regular wax crayons. My First Crayola art supplies are made to give children at a young age, accessibility to everything creative, and helping them progress at their natural pace.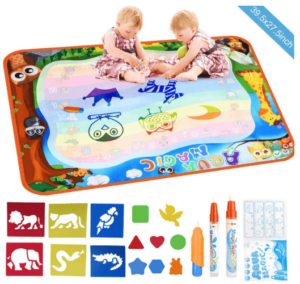 3 Aqua Magic Water Mat
Projects for one year olds can be sometimes hard to think of, in order to help them develop and be entertained at the same time. This toddler painting mat is extra large in size, non-toxic, and non-polluting. With an extra-large size of 39.5″ X 27.5″, the water doodle mat will give enough area so your child can paint on the floor or wall with friends, making it a social tool as well. Help your child's imagination go wild with this amazing water mat. The mat is multi-functional and can also be used as a games pad to help you interact and engage with your child's playtime. The Reusable Aqua Drawing Mat gives your little one the ability to design with a 7-color rainbow drawing area. Just open the box, place the mat down and the aqua magic mat can be colored straight away when painting. there is no need to waste ink or paper, fill the pen with clean water and begin to sketch and design on the drawing mat. If you think cleaning will be a problem, the marks will magically vanish after 5-10 minutes, depending on the heat and airflow. The only thing stopping your child is their imagination for endless fun and we don't think that will be a problem. It can satisfy the imagination and creativity of children's unlimited painting. Education and learning are essential in your child play at these developmental stages, and this magic mat provides loads. Around this drawing mat are different cartoon animal patterns and letters which will help kids practice hand-eye coordination and perception of color. Develop creativity and painting skills with the endless arts and crafts for one year olds. Storage is easier than ever as the mat folds away wrinkle-free being stored in handbags, boxes, or backpacks for easy travel. Ideal for inside or outside play, the magic aqua mat is an all-round kid favorite.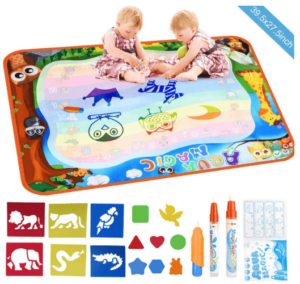 4 Crayola Art Smock
Playtime can be a messy affair when playing with art supplies for 1 year olds. My First Crayola art smock is a reusable coverall top that will ensure that your little artist is free to design and create without leaving and permanent stains behind. The smock includes elastic cuffs with sleeves and adjustable straps so it fits babies of all shapes and sizes. Designed for 12 months and above, providing years of use, and easy clean up when the creation stops for the day.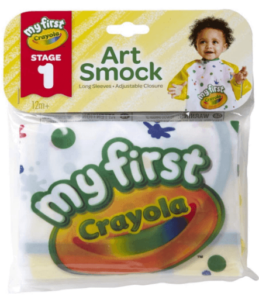 5 Einstein's Curiosity Table
bring out your child's naturally curious side with Baby Einstein's Curiosity Table. The two-sided art and science table will have your little one's attention for hours, with removable, spinning gears to color-discovery circuits and flashing lights. Turn light bulbs on by connecting gears, and experiment with mixing color by using the mess-free paint pots. Your child will relish examining all the gadgets on this double-sided table. introductions to English, Spanish and french makes this a must-have educational toy, playing more than 65 melodies. High-quality speakers are used in the table so that you and your baby will enjoy an amazing musical experience, with adjustable volume settings, or the option to turn off the sound completely, many different learning features are available. This activity table grows with your child and the middle art panel is removable to make more space for your baby's arts and crafts. Removable legs enable floor play and a surface for drawing art and a dry erase whiteboard enables fun for the whole family.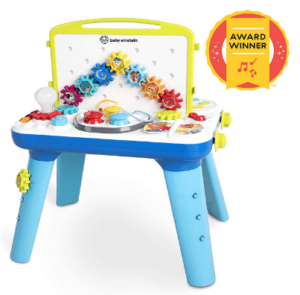 6 Crayola Doodle Board
Crayola Doodle Board is one of the best art supplies for 1 year olds, giving your toddler double the creative fun. On one side there is a sealed gel surface for a mess-free creative session and physical play. The reverse side has a reusable sketch area for producing scribbles with the Ultra Clean washable crayons that are included. Clean up is made easy with the Ultra Clean washable formula, simply wipe the surface clean and doodle over and over again. Also included in this wonderful set is the tripod grip crayons, which help promote the improvement of a proper writing grasp. This enables toddlers to create significant scribbles, shapes, and lines. All these items are included in the box making crafts to do with one year olds easier than ever before.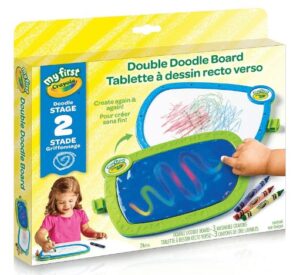 7 Crayola Metallic Markers
Wanting to add an extra sleek sheen to homemade cards crafts or art projects with your toddler? Rich, bright, and shiny, the Crayola Non-Toxic 8ct Metallic Markers could be the art product for you. Featuring metallic colors of Purple Steel, Copper Mine, Green Machine, Slick Silver, Gold Ingot, Pink Bling, Black Iron, Cobalt Blue. With these 8 dazzling colors to choose from, these markers from Crayola are excellent for adding decoration and evening up any project. Paired with your own choice of craft supplies, or Crayola's standard markers to help prepare for future art projects and assignments. Inspiration comes easier than ever when you have the correct tools to use, and these markers are the perfect way to spark your child's imagination. Designed for kids 3 and up, this product is for the older children of this review but is definitely a must-have buy.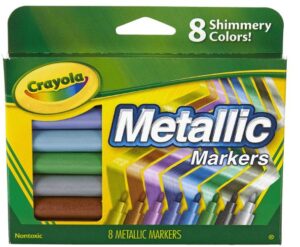 8 Toddler Footprint Maker
Celebrate your baby's precious childhood forever turning this creative project into a time capsule of development. Being able to keep their early footprints & handprints in scrapbooks, baby books, photo albums, postcards, or even just a sheet of paper that can be framed and mounted on the wall. The ReignDrop baby ink pad has multiple lively and vivid colors to let you create a wider range of detailed artistic impressions for a unique baby keepsake. In the range of colors you can choose from black, dark blue, sky blue, pink, green, red, purple, violet, brown, golden, and silver. Using non-toxic and acid-free ink your baby's sensitive skin will be completely safe. The safety of your baby is the top priority and concern. The ink can be wiped off your babies hands or feet with ease, leaving no stress or troubles with your child, but this doesn't affect the quality of each print, achieving top quality prints that won't fade at all. The baby footprint stamp pad is easy to use neither too wet, nor too dry a simply perfect way to achieve mess-free imprints which are smudge-proof when drying a great feature when involving unpredictable toddlers. The ink pad on this baby art toy has a raised wide surface making it handy to capture foot, finger hand, or toe prints with complete ease. The sleek design is compact that's easy to store and maneuver. If you're feeling adventurous the inks are suitable for pet prints, and even adult prints giving them multi-functionality. The baby footprint maker is a great way to track your little one's growth through the early years, making great gifts and keepsakes for the whole family.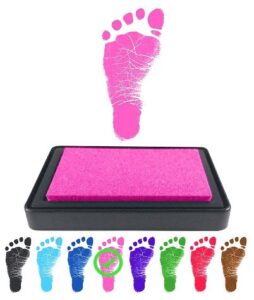 9 Melissa And Doug Jumbo Paint Brushes
Craft for 1 year olds is sometimes a struggle, finding age-appropriate activities for them to complete. The Melissa & Doug Jumbo Paint Brush Set makes that easy, featuring four paintbrushes with easy-grip handles and jumbo tips all stored in an easy-to-store pouch. The easy-grip handles offer superior brush control for your little ones. Quick and simple to clean, simply wash with warm water and soap, then place them back into the durable pouch that they come with. A great gift for your little ones, with an age range between 2 and 4 years old.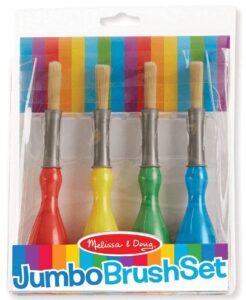 10 Melissa And Doug Soft Activity Baby Book
This skill-building bear will bring delight to your babies and toddlers when opening and closing the fastenings and taking a look into the pockets. With laces to tie, a strap to insert, panels to wrap, an extra-large button to fasten, a zipper to zip, and more your child will have hours of fun with this educational toy. The fold-open Dress-Up Bear will be the favorite choice at every playtime. From all this use you will be glad to know that this bear will withstand repeated cleanings in the washing machine as well as showing great durability.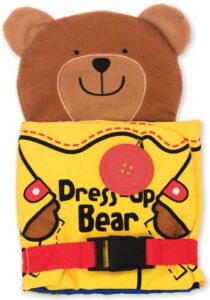 11 Melissa And Doug Wooden Animal Puzzle
Melissa and Doug Wooden Animal Puzzle is an extra thick farm-themed puzzle, using bright colors and inviting illustrations. The wooden puzzle pieces have jumbo wooden handles on them making it easy for young hands to grasp. Ideal for children aged 12 months and up, these wooden animal puzzles are painted in full color, with matching pictures that appear underneath each piece. This kind of play stimulates visual perception and hand-eye coordination skills, a key area in those growing years.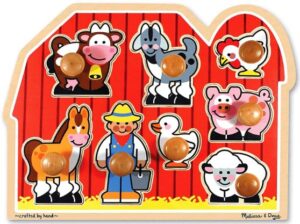 12 Honey Sticks Bees Wax Crayons
The natural honey sticks beeswax crayons are uniquely handmade using pure beeswax from New Zealand using food graded pigments to get the Color. Safe for children of all ages. The chubby shape makes it easy for little hands to hold, but difficult for these little hands to break, a strong durable crayon indeed. The smell is amazing as well. In 12 exciting colors, your little artist will be able to express themselves in any way they like. The beeswax used is sustainable and has a low impact on the environment, even more reason to choose this product. The Honey Sticks beeswax crayon company are so confident with their product they offer a 100% money-back guarantee, so there is no risk when choosing these amazing crayons.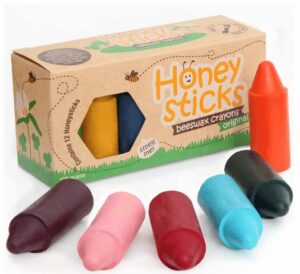 13 Toddler Coloring Book
Learning the basic shapes, numbers, and counting in a creative way, your toddler will have loads of fun using the toddler coloring book one of the few amazing art supplies for 1-year olds that should be in your home. This baby activity book is designed for children between 1 and 3 years and is a way of early learning in an effortless way of fun coloring-in. Containing shapes such as circles, squares, rectangles, triangles, diamonds and much more your child will grasp these basics in no time. Guided counting is used from 1 to 10, some good learning features from a simple coloring book. The pages have been cleverly printed on one side of the page, making color bleeding a thing of the past, keeping the limitless creativity. Each page is a massive size so the mess isn't a problem when it comes to packing away at the end of the day. More than just a coloring book, that will aid your child in learning shapes and numbers.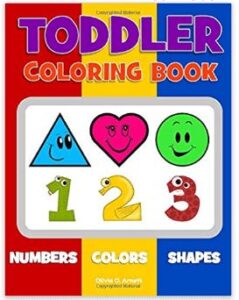 14 VTech Busy Learning Activity Cube
The Busy learning activity cube from VTech encourages exploration and discovery with this 5 sided kids learning toy Light-up buttons introduce all the learning tools to recognize animals, with sounds and shapes. With 14 interactive features, fine motor skills will be developed in no time at all, and this toy is great because it assists babies with sitting up to play, a key area in their development. Motion-activated sensors play fun sounds when the cube is moved around, encouraging crawling and your own child movement. With 25 melodies and songs that will keep your child's attention in playtime. Designed for kids between 3 and 8 months, this toy is an amazing encouraging gift for development in those key early moments.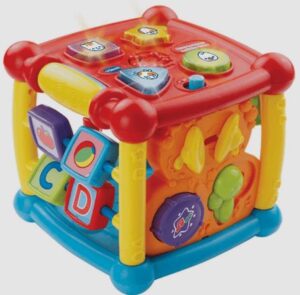 15 Sassy Wonder Wheel Activity Center
You will be able to capture you child's attention with the bright colors, spinning wheel, and cascading beads of the Sassy Wonder Wheel This amazing spinning wheel prompts your baby to reach, tug, and bat, developing hand-eye coordination. Enclosed within the transparent structure are colorful beads, aiding baby's to connect sound to sight, and the spinning central sections give a higher level of visual tracking and increase fine motor skills. Multiple texture points encourage tactile exploration, and with the suction cup that is on the bottom of the wheel, frustration-free play is easily achievable, being able to rest on chairs and worktops.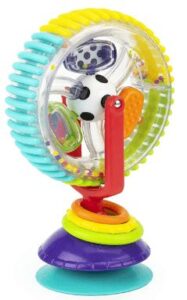 16 Alex Jr. My Busy Town
Alex Jr. My Busy Town has an array of different activities to keep your toddler entertained, each being a part of a wonderful journey of knowledge building through play. The strong durable toy has a strong wooden base which is bright and lively. This 5 sided activity cube is an award winner with multiple engaging sections such as peek a boo door, turning ABC word tiles, a racing roller, spin and match animals, and different curvy wire rides. recommended for children aged 1 and above.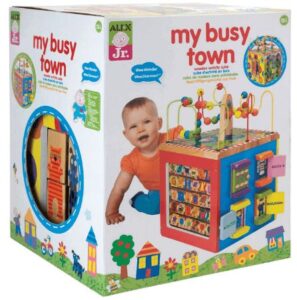 17 Teach My Baby Learning Kit
The Teach My Baby Learning Kit will help teach your baby its first words and numbers using one-piece puzzles and a matching message board. Explore the beginnings of numbers with finger puppets, board books, and storyboards that your baby will be captivated by. Show animal sounds and senses to your toddler with a board book, touch and feel cards, and a two-piece puzzle set. With this learning kit, you can also promote self-esteem and learn different parts of the face with amazing nesting blocks, mirrored cards, and a matching board book. With over 50 pieces and step by step learning guides, this amazing kit will promote healthy language and brain development in the early yours were your children are most impressionable.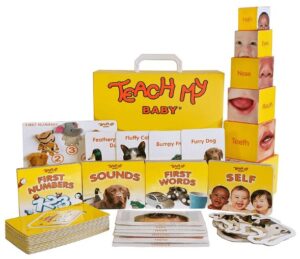 18 Little Tikes Activity Garden
The activity garden from Little Tykes is a multifunctional play center that helps infants develop precise motor skills. Safe and durable this enclosed environment will make your baby feel right at home. Transformations are easy as the play center opens up without tools into an open, two-sided center for play. The play panel can be altered to sit horizontally for sit down interactive play. A take-along activity panel has a bead tumbler, spinner mirror, spinning gears, clicking bugs, and a large button that when pressed plays various songs. The activity Garden also features an archway to crawl through, which helps key development in your baby's early years.  It also features a shape sorter mailbox, working miniature piano which rests on top of the open-close door and a movable, look through telescope. This garden has endless amounts of activities making it fun for 1 year olds, and a must-buy toy. AAA batteries are needed but are not included in the box.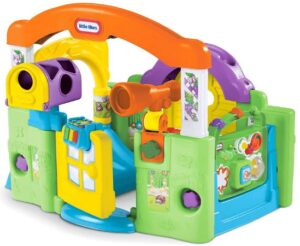 19 VTech Fix It Buddies Toolbox
This toddler toy helps your child learn to tap, saw, and twist with this amazing toolbox. Each tool has its own voice and personality that match up with the characteristics that the real hammer, saw, and screwdriver has. Encouraging songs are played from the toolbox and phrases can be heard every time a tool is removed or inserted back into the box, rewarding both play and cleaning up at the end of the play. Learning how to count is made easy as the hammer counts each nail tap, and object manipulation is learned from the amazing toolbox which identifies different colors and tool names. Cards with characters on them pop up as the tools are used for even more cause-and-effect educational fun. This toy is recommended for ages 12-36 months and requires 2 AA batteries which are not included.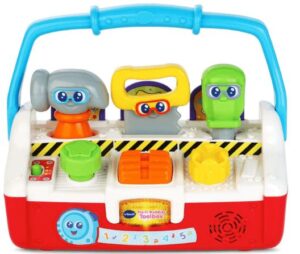 20 Alex Jr. Tots First Crayons
Alex Jr. has developed this amazing first set of crayons for tots. The rainbow-colored, easy-grip star-shaped crayons foster creativity, self-expression and communication. This amazing set contains 6 star-shaped crayons in blue, red, orange, yellow, purple, and green making projects for year olds easier than ever. recommended for kids 18 months and older, Alex Jr. Tots First Crayons will help your little artists create masterpieces right before your eyes.