Having a personalized kids towel is a sure way to make bathtime more fun. This clever towel purchase will help ensure your kids don't get their towel mixed up with anyone else's at the beach or at the pool. They come in loads of different designs, meaning there is something to appeal to everyone's tastes and personalities. There are also different sizes and materials, so there are customized beach towels for all ages, from babies to teenagers. Your child is sure to be delighted if you gift them with a towel with their very own name on it, and this is something which is sure to be treasured for many years to come and used regularly.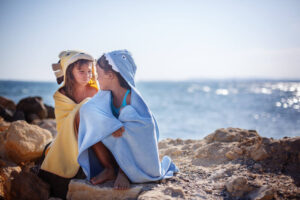 Considerations When Choosing a Personalized Towel
When it comes to picking out kids' personalized beach towels, there are a few factors to keep in mind in order to ensure you buy the one which is best for your child. First, check the size of the towel and ensure it is suitable for the age of the child you are buying for. Some of the smaller, hooded towels are small enough for babies to use, so they won't suit older kids as they will be too small. Others are bigger and are perfect for using at the beach or after a swim. Also check the materials used in making the towel to ensure they are durable, soft, and the colors won't run after repeated use and washing.
Top 10 Kids Customized Towels
We will now take a look at ten of the best of these towels for kids that are available to buy today. We've picked out many different styles so there is sure to be something here to appeal to everyone!
1. My Personal Memories Palm Tree Towel

First on our list of customized towels is this monogrammed one from My Personal Memories. We have it pictured below with a lovely pink palm tree design, but there are more than 10 different designs and color schemes to choose from, perfect for boys and girls of all ages. The name of your choice can be embroidered in a choice of six different fonts and 20 different colors, so you can really make this towel one-of-a-kind and tailored to your child's tastes. The towel measures 60 x 30 inches, so it is perfect for taking to the beach.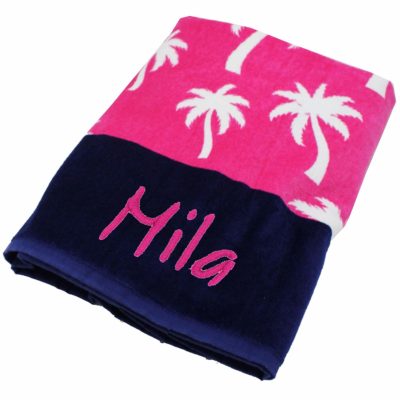 2. Lillian Vernon Under the Sea Towel

Next in our guide to the best personalized bath towels for children, we have this adorable under the sea scene towel. It is made from 100% cotton and measures 60 x 30 inches. The name can be up to 12 characters long and in either block or script-style writing. The towel is very thick so it feels great against the skin and will get your kid nice and dry in no time. The colors and bold and vibrant, sure to delight your child every time they use this lovely towel. This is a great pick for taking swimming or to the beach and is also sure to make bathtime more fun.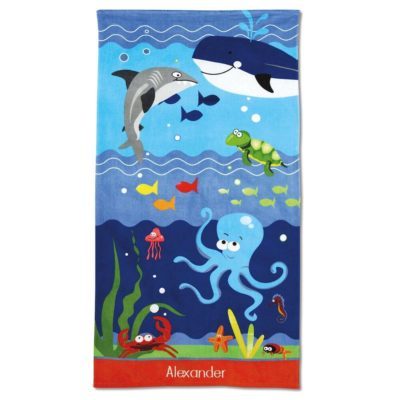 3. Construction Truck Towel

When it comes to personalized kids beach towels, it's always a good idea to choose one with a design which is fitting with their interests. That's why this digger towel is a great pick for little boys who love trucks and tractors! It's made from polycotton and comes in three different sizes – bath, beach or hand towel. You can personalize this one with any message or word of your choosing, it doesn't have to be just a name. The dyes used in creating the design and the customization won't fade over time, so you can be sure this towel will be treasured for years to come.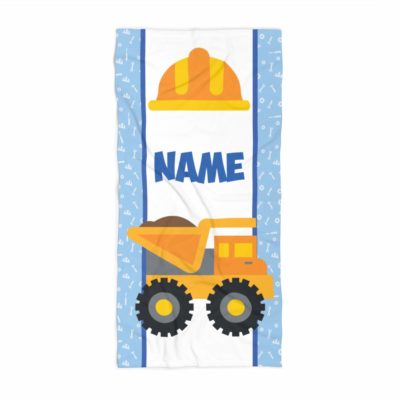 4. Personalized Unicorn Towel

Unicorns are hugely popular at the moment, so it's no surprise that you can even find them on personalized beach towels for little girls. Like the one above, it comes in a choice of beach, bath or hand towel sizes, the smallest measuring 16 x 28 inches, whilst the largest has dimensions of 35 x 70 inches. You can choose to add any personal message or name to this towel, to create something truly unique and personal for your child. The towel is made from a polycotton blend material, for maximum softness and absorbency. The design is made to be long-lasting and won't fade even after repeated use and washing. It makes the perfect gift for any little girl who simply can't get enough of unicorn stuff!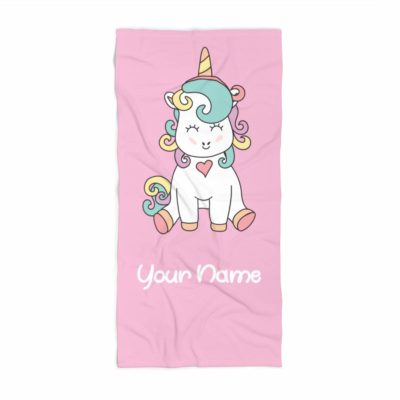 5. Personalized Dinosaur Towel

Many kids love dinosaurs, so it makes sense that you would want to choose a towel that matches up with their interests. They won't be able to resist this adorable towel, which is completely covered in different dinosaurs, trees, and bones. Near the bottom, there is space to add the name of your choice to this personalized towels for boys who love dinosaurs. Again, there are three different sizes of this towel available, with the same dimensions as the towel above. The reverse side of this towel is white, whilst the front comes exactly as pictured below, with the addition of your chosen name.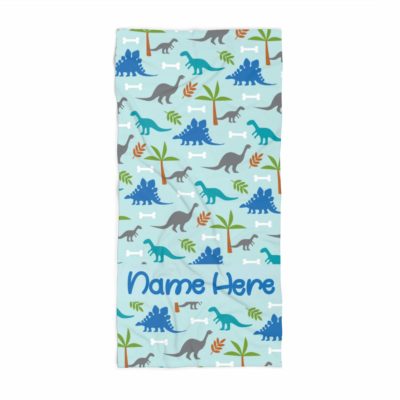 6. Monogrammed Baby Hooded Towel

Personalized hooded towels for younger kids don't come much cuter than this! It measures 32 x 32 inches and is perfect for babies to get wrapped up in after a bath. Getting the name embroidered on the towel is free with purchases, and can be done in a choice of six font styles and 20 different colors. The towel itself is white and there is a choice of either a blue or a pink edging, so it's perfect for either boys or girls. The material used to make this towel is 100% cotton which is ideal for babies' delicate skin. It can be monogrammed with any name of your choosing – it makes a great gift for when a baby is born.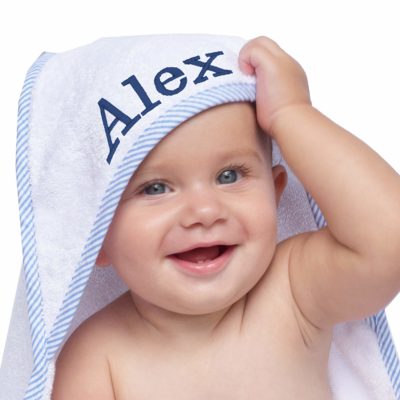 7. Large Alligator Towel

If you're still looking for the best kids bath towels personalized with their name, this adorable alligator one is certainly worth considering. It's made by Personalized Corner, like the unicorn, dinosaur and digger towels above, so the features are more or less the same. Again, there are three size options – 16 x 28 inches, 30 x 60 inches or 35 x 70 inches, the latter of which is perfect for trips to the beach. As well as the cute design pictured below on the front of the towel, the rear side of the towel is plain white. It's easy to wash and care for too, parents will be glad to know.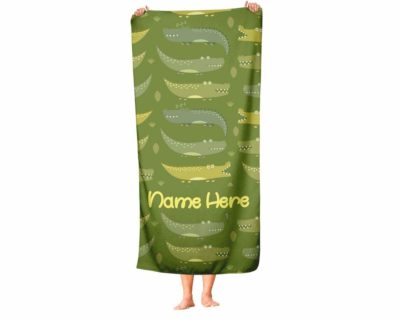 8. Kaufman Name Towel

If you are looking for plain kids beach towels personalized with just their name and no other designs, this one from Kaufman is an excellent choice. It comes in six different color options – dark blue, red, green, turquoise, coral and orange, and the name can be printed in either black or white with any color background. The towel is made from 100% cotton and measures a standard 30 x 60 inches. It's soft and comfortable to use and of course, is machine washable for ease of care. The towel also dries quickly after use so it's ready to use again quickly.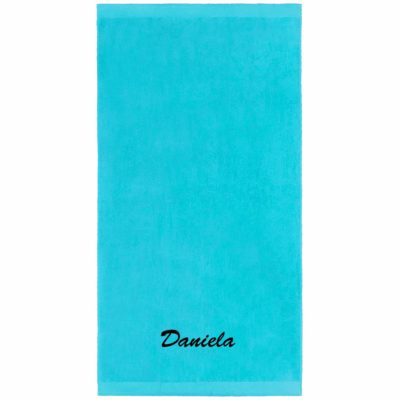 9. Bamboo Baby Hooded Towel
Our penultimate pick is another personalized hooded bath towels for kids up to the age of 3 years old. It's made from hypoallergenic bamboo material and measures 30 x 30 inches, perfect for swaddling up your baby after their bath. Or, you can choose the 35 x 35 inch towel which is suitable for kids up to 5 years old. The towel is more absorbent than cotton, so will get your baby or toddler dry in no time after their bath. There are loads of ways to customize this hooded towel to get it just the way you want it. The towel itself comes in pink, blue and white, and with or without teddy ears on the hood. You can also choose from seven different font styles to have the name embroidered on to the towel.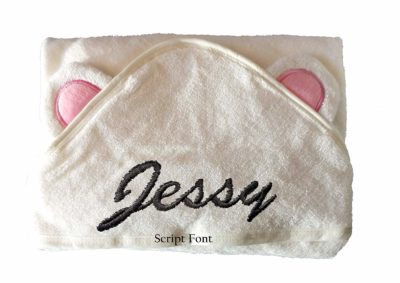 10. Lillian Vernon Butterfly Towel

Last on our list of the top personalized beach towels kids is this adorable butterfly one from top brand Lillian Vernon. It's made from 100% cotton and is a standard size of 30 x 60 inches. The pink butterfly design is sure to appeal to girls of all ages, and it can be made personal with a name of up to 12 characters long, so most names should fit. You can choose between a script or block writing style to further customize the bath towel to your child's liking. The towel has a plush feel but there are terry loops underneath to ensure the towel is highly-absorbant. The towel can be machine washed and tumble dried for maximum convenience after use.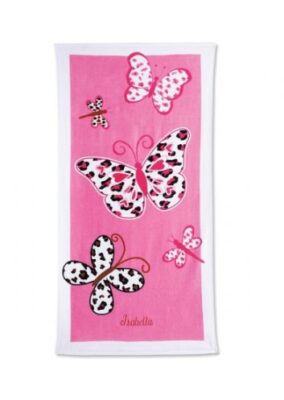 Best Overall Buy
After looking at ten of the best kids personalized bath towels, it is time to decide which one takes the spot as the overall best buy. The first towel on our list, from My Personal Memories, is the best for many reasons. We love the range of designs it comes in as well as the option to have the name embroidered in a choice of different colored threads. So, you can be sure this towel will be totally unique to your child. It's a good size and made from nice quality materials, and is sure to last for many years.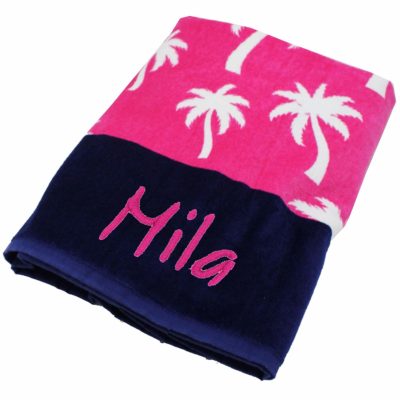 Best Budget Pick
If you are looking for slightly cheaper personalized bath towel kids but don't want to compromise on quality, there is another excellent choice. The plain-colored Kaufman towel is the best budget option for many reasons. It comes in a choice of bright and bold colors which are sure to appeal to all kids, and there are two different font styles to choose from. Any name up to 12 characters can be embroidered on this towel, so it is suitable for just about anyone. Kids are sure to love using their custom towel for many years to come.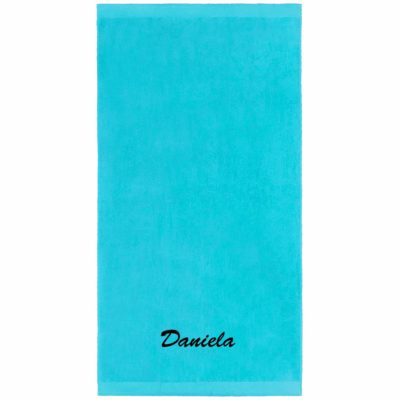 Where to Buy Customized Towels?
All of the towels we've picked out above are available for purchase from Amazon for maximum convenience. The personalization can also be done through Amazon, so there's no need to contact any other companies. It might also be possible to find such towels on websites specializing in customized gifts or to have an existing towel monogrammed or embroidered through a third party service.
How Much for Personalized Towels?
These personalized kids' bath towels vary in price depending on the size, design, and brand. In general, they tend to range from around $20 to $40.