Looking for some Arts and craft ideas for your toddler? Or maybe just some craft supplies? Whatever it is we have your covered here and have complied over 20 unique crafting kits. We have sifted through loads of options and compared so you can pick exactly the right one for your needs.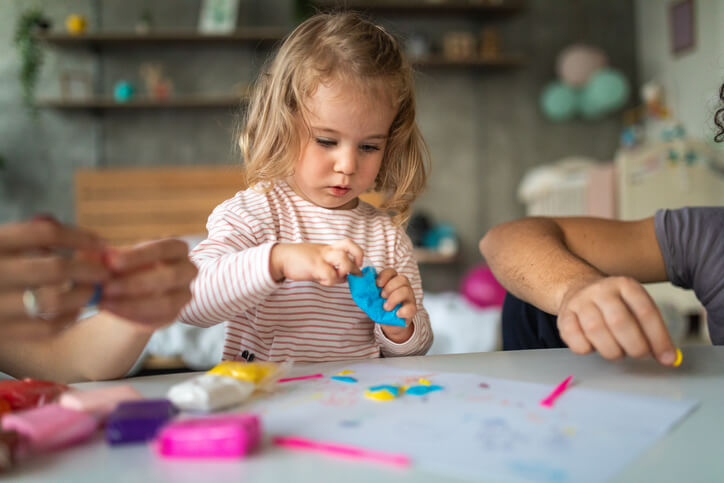 We all know these types of crafting activities and gifts are great for toddlers and can help them learn in a number of ways.Not only does participating in arts activities help children to develop their creative skills, but they are also crucial for imagination, hand-eye coordination, and social skills too. As more and more parents are recognizing the need to take children away from screens and encourage more hands-on playtime, there's no greater time to buy toddler art toys for your child. However, when choosing crafts for toddlers, there are an abundance of options to choose from. Randing traditional coloring in pencils all the way to sculpting with clay. If you're seeking inspiration for crafts for two year olds, we've got plenty of options below.
While there are clearly important safety precautions to consider, there are a few other things to keep in mind before buying art activities for toddlers. No matter your budget, there will be a suitable option below for your child to enjoy. Here are some considerations to kickstart the buying process:
Considerations When Choosing Crafts for Toddlers
Wondering what to prepare for when crafting with kids? Here are a few things to consider.
Age Recommendation – age is the most important factor to consider when buying a child any new toy. When choosing art toys and activities, you must carefully review the recommended age guidelines to ensure that it's suitable. Manufacturers will disclose the age the toy is suitable for, however, you should make sure to double-check. For younger toddlers check out there arts and crafts for 1 year olds.
Budget – crafts for 2 year olds fall under every budget type as with all toys there are cheaper and more expensive options. Set a clear budget from the outset to narrow down your search and see what you can choose from. There are many different options of arts for 2 year olds, so shop wisely and grab yourself a bargain where possible!
Difficulty – not every toddler learns at the same pace, therefore its essential to take into consideration learning levels. If you choose a toy that is too easy for the toddler and doesn't present a challenge, they may grow bored easily or only use it once or twice. Ensure that you ave a clear idea of what level of learning the child is at to prevent boredom or frustration with art activities for toddlers.
Activity – there are plenty of different art project for 2 years olds out there, some of which you may bever have thought about before. Instead of choosing the regular option, why not mix things up a little and go for something totally different? Your child will be sure to appreciate a new activity that they've never tried before and will definitely learn new skills, names, and ways of playing.
The Best Toddler Craft Ideas in 2023
We've selected the top art for 2 year olds toys to give you plenty of options when choosing from this category. When choosing this toy there are so many delightful toys, here is our roundup of the best arts and crafts for 2 year olds.
1. ALEX Toys Button Art 
First on our list is this awesome creative button art set that allows toddlers to get super creative in an inventive way. Kids simply match and snap to complete a lovely picture of a caterpillar that greets them with a smile. Great for hand-eye coordination, creative thinking, and motor skills there are so many benefits to come with this oy. The creative storage tray holds all of the pieces for easy tidying up. Included in this toddler art project are 46 colorful buttons, 10 different images, and a 2 piece storage tray. This toy is recommended for children ages 18 months and above and is excellent for any child who needs a helping hand with developmental skills.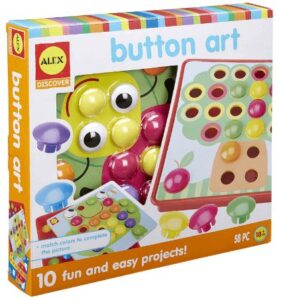 2. Skoolzy Lacing Beads
Who knew that beads could provide so much fun? These awesome non-toxic and BPA free beads are a great therapy creative activity for toddlers to enjoy. Made especially for toddler's hands to grasp, they can be threaded onto the lace to make pretty colorful patterns while aiding motor skills along the way. This toddler art toy is suitable for children aged 36 years and above, making it ideal for an older toddler. Develop dexterity, hand-eye skills, and motor skills with this fun toy that also allows children to learn about different colors at the same time. Outside of the creative element, children can also count in sequences as they thread the beads or use them as stacking toys too.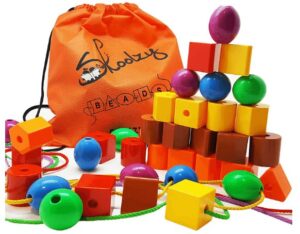 3. ALEX Scribble Pad
This is a great option for parents who are seeking a simple toddler craft ideas for 2 year olds activity to encourage creative expression. The doodle pad is designed especially for first scribbles and directly encourages creativity with its 50 sturdy pages and 69 stickers included. Recommended for children ages 2 years and above giving them free rein to explore their imagination through the means of drawing with colored pencils. The ring-bound pages are easy to turn and provide practicality as pages can be torn out and displayed on the wall too. Drawing is a fantastic option for summer crafts for toddlers and it's an economic choice too, available at a cheap price.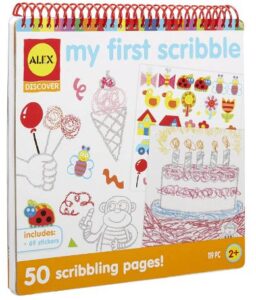 4. Toddler Egg Crayons
In a pack of 3, these lovely egg-shaped crayons are easy to grip for toddler's hands and will allow little ones to express their creative selves. The My First Crayola series provides children with their first art supplies which are non-toxic and completely safe to use ensuring total peace of mind for parents. Kids will be able to express and connect with color on paper whenever they feel like it. These lovely crayons will fit into the palm of a toddler's hand comfortably allow full fluid use when drawing. 

5. Tots Sticker Pictures
In this delightful set of sticker pictures, there are 146 different images included for plenty of variation. Kids will love expressing themselves using the stickers on the exciting backgrounds to create their very own pieces of artwork. When it comes to art for toddlers, simplicity is usually key and with this set, the activity is as simple as peel and stick. This kit helps to foster creativity and hand eye coordination at the same time, it comes with 6 different themed sticker boards and is suitable for children ages 18 months and above.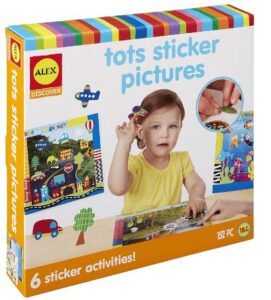 6. Jumbo Brush Set
Melissa & Doug is a well-known brand in the U.S and this arts project for preschoolers toy is another great example of the brand's ingenuity. The paintbrushes are designed especially for smaller hands with jumbo tips and easy to grip handles. Stored away easily into a pouch they can be transported easily offering plenty of practicality. Easy to clean and a great gift option for 2 to 4 year olds, this set is a perfect beginners option for any child interested in painting. Paired with paints, this is a great idea for any parent looking to introduce their child to a new art technique or enhance their creative skills.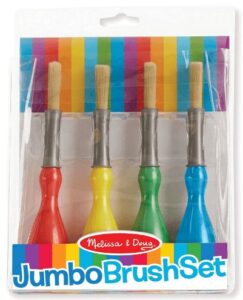 7. Crayola Double Doodle Board
Crayola is well-known for its range of fantastic creative crafts sets for children and the Double Doodle Board is amongst the top choices for toddlers. The double-sided doodle board comes with 3 washable Crayola crayons for complete mess-free fun. Featuring a gel surface on one side for doodling and a reuseable drawing pad on the other, this option is great as easy crafts for toddlers to encourage imaginative play. There are 3 washable triangular crayons included each of which encourages toddlers to practice their writing grip. This toy is a solid art for 2 year olds option and won't cost as much as some of the other picks we've included.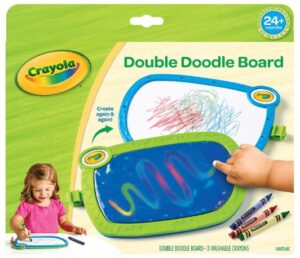 8. Color Wonder Set
This wonderful baby shark coloring set contains 18 different scenes to color in and comes with 5 color markers for plenty of creative fun for toddlers. A great indoor or outdoor activity and one of the best options for east crafts for toddlers, kids will simply need to choose a page to color in and will benefit from hours of engaging fun. The mess-free coloring book allows the color to only appear on the pages and won't stain skin, unlike other similar products. If you're seeking simple crafts for kids, this is a brilliant and cost-effective option that will provide your little one with hours and hours of coloring fun.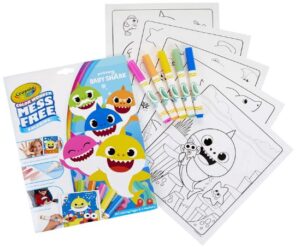 9. Magic Water Drawing Mat
Arts and crafts for kids come in many different forms, and if your child hasn't already experienced the fun of a water drawing mat, it's time to introduce them. Kids will enjoy the endless opportunities to express themselves and their imagination without the need to interact with ink or actual pigment, keeping parents stress free at the same time without any mess. The doodle mat is suitable for children ages 2 to 6 years old and is made from a soft eco-friendly polyester material making it comfortable to use. Without the need for paint or inks, children can get to work on their expressive creations by using the pen to draw. Around the border of this simple art projects mat are learning prompts including the alphabet, numbers, animals, and much more. Large enough for two children to use at a time, this mat comes with 27 pieces including stencils, markets, and shapes to get drawing with.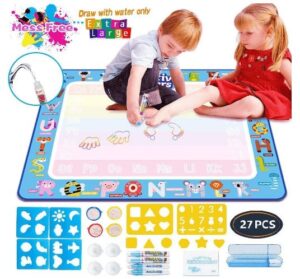 10. Sand Scribbler
For plenty of mess-free creativity, this sand scribbler by Crayola is sure to spark imagination with the use of sand over and over. The set comes with a rounded stylus that is designed specifically for smaller hands and comes with a magnetic tip for easy sand drawing. Helping young children to create drawings in the sand, the scribbler is a fantastic toddler art idea for any parent who is seeking inspiration. Children can enjoy all types of creative projects ranging from drawing realistic landscapes to drawing a fantasy dragon, there are so many options with this amazing set. For complete peace of mind, parents won't have to worry about mess either with this toy which can be easily packed away while helping children to develop their hand-eye coordination and creative skills. When it comes to arts and crafts for toddlers, this is one of the best options available that differs from the regular sets.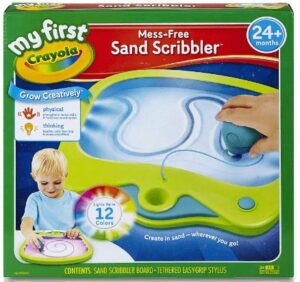 11. My First Stamping Kit
Stamping can bring about so much fun for children and is an excellent easy art for 2 year olds idea. This lovely My First Crayola stamping kit comes with 4 self-inking stamps each of various shapes, 8 triangular colored crayons, and 20 activity sheets. For easy instructions, an idea guide is included which provides endless inspiration for little one. This kit is intended to encourage your little one to explore their creative side through the use of shapes and colors. The tripod grip stampers are completely safe and comfortable to hold as they're designed especially for small hands with guides for fingers to learn the proper writing grip too. Mom and dad won't have to worry about cleaning up the mess, as this simple crafts set won't stain furniture, clothing, or your child's skin. Suitable for ages 24 months and upwards, the washable stamp set is fantastic, designed to encourage art for toddlers.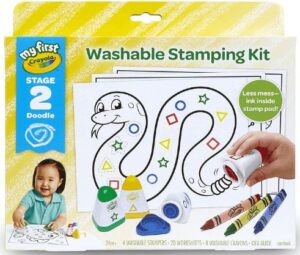 12. Colorful Hedgehog Game
For parents seeking an alternative to any sort of arts projects for toddlers that involves painting or drawing, this hedgehog game could be a suitable alternative. Helping toddlers to learn about colors and encouraging them to build fine motor skills, there is so much fun to be had! The colorful hedgehog features chunky peg-shaped pieces that fit into its back to create colorful quils. The skills learned to include color recognition, counting, sorting, and more, all while providing so much playtime fun. With easy to grasp pieces, they fit perfectly into the toddler's hands to eliminate any frustration. This is a lovely arts and craft for kids game that can be used over and over to learn.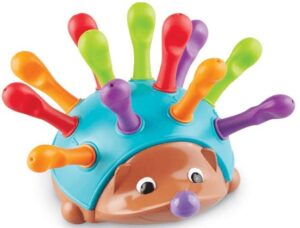 13. Washable Tripod Grip Crayons
These amazing crayons from Crayola will give your little ones everything they need to get a head start in sparking their creativity. There are 8 vibrant colors included in the set that are all easy to clean if things get a little messy at playtime. These developmental crayons are easy to grasp for little hands with the scientifically developed triangular design which will help guide fingers to a proper writing grip in later years.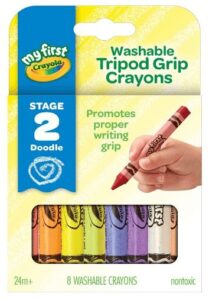 14. Mess-Free Magic Coloring
When it comes to toddler art projects, one concern many parents share is a mess. With this wonderful set of Color Wonder crayons, this worry is totally eliminated as the mess-free markers show color only on the specific paper included. These washable markers are great for little toddler art creations and will give your child free rein over their creative expression. The pad can be refilled and is completely non-toxic and suitable for children over the ages of 3 years.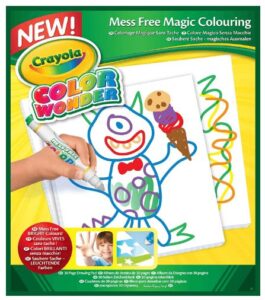 15. Classic Wooden Peg Puzzles
Melissa & Doug's classic wooden peg puzzles are an awesome game for little ones that promote creativity through color learning, The engaging peg puzzles include 2 different games: alphabet and number themed and fish mix and matching. Helping to develop hand-eye coordination, fine motor, and problem-solving skills, each of the wooden pizzles is guaranteed to bring plenty of fun to your child. Made of high-quality smooth wood, each of the puzzles offers different skill-building to ensure that children's creativity is sparked into action. This is a great alternative to the typical art for 2 years olds and is designed by one of the best brands for children's toys in the U.S.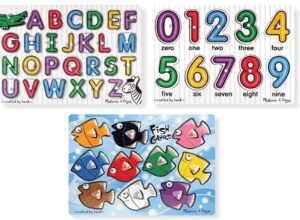 16. Toddler Art Supplies Set
For all the art activities for toddlers consider this wonderful art supplies kit which contains everything needed for any art projects for 2 year olds. Included in this set there is one toddler smock, 4 finger paints in various colors, 3 different crayons, and 20 pages of large painting sheets. Using Crayola ultra-clean technology, each of the art supplies is completely washable and won't stain fingers or clothing, a huge benefit for parents concerned about messy toddlers. This set will allow your child to learn about primary colors and the crayons take on an egg-shape making them easily graspable for little hands to hold. There are so many fun crafts for toddlers to be had with this kit from a simple painting of shapes to coloring in, this is great value for money option brought by a trusted brand.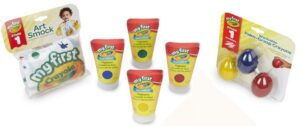 17. Frog Color Educational Toy
Another great educational game that promotes creativity, this frog toy is designed with 46 colorful buttons and 12 pictures that help children cultivate color recognition, foster imaginative skills, and promote artistic hand on ability. Designed specifically for toddlers and suitable for children ages 2-6 years of age, this toy allows children to build up friendly animal images and learn from them at the same time through the use of chunky pegs. The storage tray concluded makes this game easy to unpack and store away when not being used and means this toy can be easily taken on travels too. If you're seeking creative birthday crafts for kids, why not introduce this fun game as part of a party set up?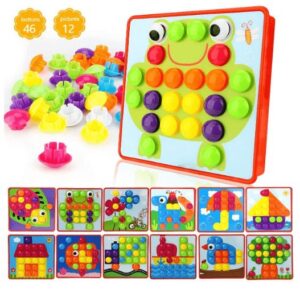 18. Animal Toy Stitching Kit
Little hands can learn to stitch with this adorable arts and craft for children set featuring 5 sweet animal friends. Included are all of the necessary bits of equipment needed such as a yarn thread, a plastic needle, die-cut felt, wiggle eyes and stuff to help make each mini keyring which can then be worn. When seeking crafts for 2 year olds toddler art sets you may be looking to move away from classic activities such as drawing and painting towards something a little more specialist, and this is a perfect opportunity to do so. Recommended for children ages 6 years and above, each animal measures 5 inches and allows your child to learn to sew easily.  

19. Vehicle Crafts Kit
Suitable for children above the age of 5 years, this set of 4 different vehicle building craft kits is a great activity to help build hand-eye coordination and develop practical crafting skills. Included is a sailboat, fighter plane, race car, and helicopter which all contain individual components without the need for hammering. Using glue, children will learn to stick the pieces together to form the final sculpture which can then be decorated using paint.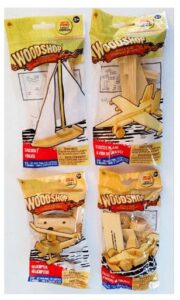 20. Fisher-Price Drillin' Action Tool Set
Our final choice in the category of art for 2 year olds sets may seem a little out of the ordinary, however, it still promotes plenty of creative sills and other vital skills such as motor development. This Fisher-Price drill toolset uses realistic drilling sounds which allow children to drill in forward or reverse by simply squeezing the handle to activate. WIth the 2 wood pieces, toddler art projects have never been more hands-on. The 3 interchangeable drill bits correspond to the 3 matching screws posing a challenge to children as they match each.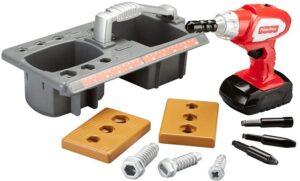 We hope that you've found the inspiration needed to choose art activities for toddlers with the exciting range of options above. However, if you're still in need of further help, we've selected the best and budget buy below.
Best Buy
The awesome Double Doodle Board by Crayola is our top buy amongst these easy craft ideas for kids. Innovatively designed, kids can doodle on both sides of the board using their fingers, and the crayons included, without creating a mess.  The board comes with 3 washable Crayola crayons and features a gel surface on one side for doodling and a reuseable drawing pad on the other.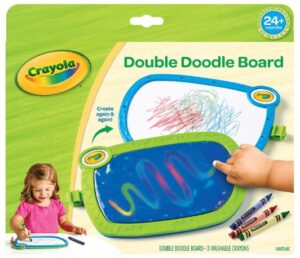 Best Budget Buy
If you're looking for easy crafts to do for children, these egg-shaped crayons by Crayola are recommended for children ages 12 months and above and are a fantastic introduction to primary colors. The red, blue, and yellow crayons allow simple crafts for toddlers and plenty of creative expression.

How to Make Easter Crafts for 2 Year Olds?
Making Easter crafts with toddlers can bring about so much fun, and there are lots of awesome ideas across the web. Some of our favourite include making garlands which can be done by folding paper and cutting out shapes, hand painting easter eggs which are plastic versions you can pick up from stores, and creating cards to send out to family and friends. If you're looking for more of an alternative easter craft, consider creating an easter oriented animal toy such as a baby rabbit or lamb for your little one using wool or other types of fabric such as felt. Another great but cheap option could be to buy a ready illustrated coloring book to use with pens or pencils. With some simple crafting materials including glue, paper, and scissors, your 2 year old will be able to create their very own funky bunny or easter flowers themed card. Always be sure to supervise your child whenever they are using craft materials to ensure full safety.