Over the past few years, step stools and helper towers for kids have become an increasingly popular buy for families. Parents are looking for kids' stools for a number of uses: helping in the kitchen, accessing the toilet and sink when potty training, and reaching the table or countertop. Little children love to be independent as they get older but since they often can't reach to help mom or dad, a step is a great addition to the home.
In this guide, we have collected and reviewed some of the step stools available to help you find the right one for your family. You'll also find information on the different types of stools, FAQs and tips for making your purchase. Firstly, we will look at some of the considerations when buying a children's stool.
Considerations When Choosing a Step Stool

Function: firstly, you will want to consider the intended function of the step stool. Are you looking for something your child can use in the kitchen? Or an aid for potty training? This will affect the type of stool you select.
Size: there are a few different types and sizes of kids' stool, from the kitchen helper safety tower style to the smaller plastic step stool often seen in the family bathroom. You will, of course, want to consider whereabouts in your home you plan to use the stool or tower, both in terms of which room and whether you plan to move it between spots. If your home is on the smaller side, it makes sense to go for a product that won't take up much space.
Weight: do you want your child to be able to move the stool, for example between the toilet and the sink? Or the opposite – do you want it to stay firmly in one place, like by a kitchen counter? From lightweight plastic steps to heavy wooden towers, there is a range of choices depending on what you need.
Price: finally, there is a wide range of choice available to suit all budgets. Consider how much you would like to spend on this household addition. Sometimes it is worth spending more to purchase a high-quality item that will really last well. And of course, when buying something for your child, you do not want to compromise good quality for a low price!
Best Kids Step Stools in 2023
1. Heyok 2 Step Stool 
This plastic stool has won the prestigious accolade of the Mom's Choice Award and as such, is branded with the trustworthy MCA Honoring Excellence Seal. With a focus on safety for your toddler, it features anti-slide pads to make sure it doesn't move when in use. It also has rounded edges so your little one won't hurt themselves on sharp corners! Despite its safety, it is made of lightweight and durable plastic, with a handle on each side so it's easy for kids to carry.
Designed for use in the bathroom, it has two steps at differing heights so it's perfect for toddlers learning to brush their teeth, use the toilet, or reach the sink. However, it can also be used to reach tables and even climb into bed. It even comes with a free picture e-book to show children how to use it, which makes it ideal for a gift!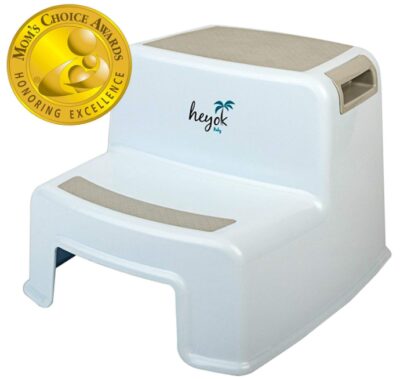 2. 2 Pack Kids Steps
If you need steps for different areas of your family home, consider this double pack. Each corner of the stool has a non-slip rubber insert, so it won't move at all while your child is using it. It also has rubber inserts on each of the two steps, to make sure your little one won't slip off. It even holds up to 220lbs, making it durable and not susceptible to damage. Because each item has two steps, it's great for growing kids and offers an additional 10.5" height where needed.
Its lightweight design makes it easy for little ones to carry wherever they need it. Of course, the material is non-toxic and also BPA free to make sure it is safe for even the littlest babies. There are no sharp edges so no risk of scratches or scrapes. The pack comes with a bonus of two faucet extenders, made from durable yet soft plastic.

3. Kids Best Friend
Simple in design, this white and blue stool is easy to use – and clean! At just over 5" tall, it is specifically designed for toddlers to reach the toilet during potty training. However, it is so lightweight that your child will find it easy to carry using the kid-friendly carrying handle. The brightly colored top is sure to appeal to little ones and is anti-slip thanks to the bumpy surface. The grips along the bottom edge also add to the safety aspect, as they stop the stool from sliding on hard floors when your child is using it.
With a maximum load of 70lbs, it is ideal for young toddlers and children who need a little help to reach the toilet or bathroom sink. Its sturdy design makes it a safe choice for children to use.

4. Folding Step Stool
If you are short on space in your family home, this folding step stool could be a great option. It is lightweight and can be stored away easily, yet is sturdy and durable. Opening in just one quick and easy motion, it is even strong enough for adults to use. When folded, it is extremely narrow and can be carried using the small handle. It has anti-slip pads on the feet of the stool so it stays in place during use. It is safety certified and passes ANSI II requirements.
The step height is approximately 9" tall. It has a textured surface with unique grip-dots, adding to the safety aspect for both children and adults. The stool can be used in many applications: the kitchen, bathroom, bedroom, and even outside. It comes in a selection of colors so you can even match your decor!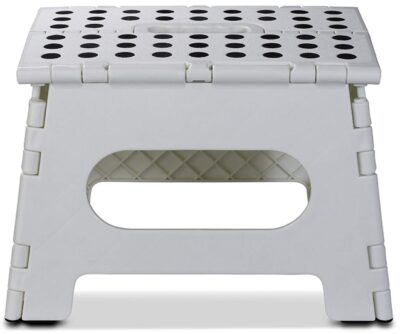 5. Pink Bathroom Stools
This brightly-colored set of two kids' stools is designed with optimal safety in mind. The slip-resistant feet will prevent skidding on hard surfaces, and with rubber inserts on each step, your child is unlikely to slip. Each stool has two steps, to provide a choice of height either 5.5" or 10.5" depending on what you need to reach. Despite the useful dual heights, the stools are fairly compact and can be stored easily in your home. You can even stack the two stools to store them.
The colorful bright pink and white combination is attractive and complemented by the stool's rounded shape. It's eco-friendly, as the material is non-toxic, BPA free and PVC free. Kids will find it easy to carry and move around as it is so lightweight and has rubber grip handle inserts on each side. Because the pack contains two stools, it is also a good choice for families with more than one child so they don't have to wait to use a stool.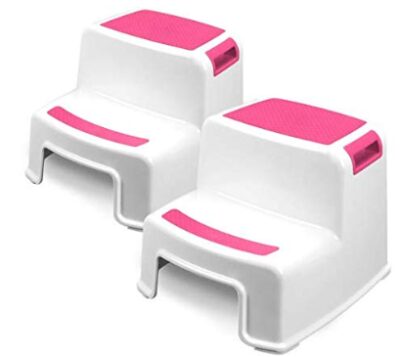 6. B. Spaces Wooden Steps
If you are looking for something with a retro look, the Peek-a-Boost is a great choice. It's a sturdy wooden stool with two steps and a stylish design. Though it is sturdy, it is lightweight enough for children to move from place to place and has handle holds on each side. It comes in mint green with natural wood steps that have a stylish textured pattern on to help with grip. The shape of the base means it won't tip over when in use.
The Peek-a-Boost coordinates with other home-ware items in the range and will fit in wherever you decide to place it in your home. It's designed for use by kids aged 3 and up and has a high weight limit of 154lbs. It is simple to assemble and comes with a hex wrench included. The stool is phthalate and BPA free and is finished in natural, water-based paint.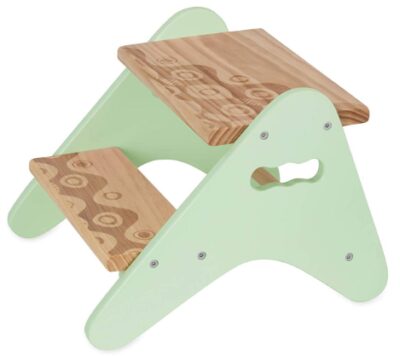 ,

7. SDADI Kids Step with Safety Rail
This kitchen helper tower is designed for your little one to help with food preparation and cooking. Suitable from around 18 months to 3 years, the kitchen tower elevates your child to the right height to reach the countertop and the railings keep them safe when in use. The stool base has an 'A' shape, which makes it sturdy and ensures there is no risk of the tower falling over. With children's safety in mind, it's constructed from solid wood and finished with a non-toxic, lead-free coating.
With this tower, kids can easily help out in the kitchen or simply watch while you cook. No more holding them while you try to make dinner with one hand! You can keep it in the kitchen and bring it out when you need to. The kitchen safety tower requires assembly when delivered.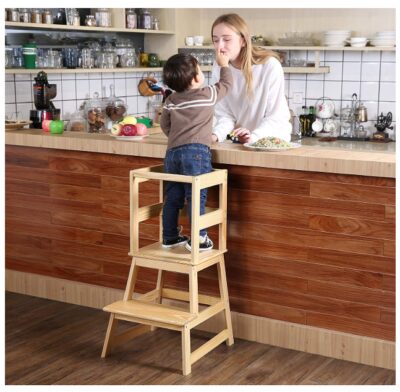 8. Babyloo Panda Step Stool
The sturdy Panda Step Stool has a high weight limit of 350lbs. It comes in bright white plastic with a rubber panda face design on the top step, which doubles as an anti-slip feature. Kids are sure to enjoy the panda face and be encouraged to use the step! Because it is designed to be easy to clean, it is ideal for use in the bathroom. Your toddler can easily reach the toilet or sink unit and can even move the step around. The non-slip rubber base and wide corners prevent accidents when in use.
Though it's super sturdy, it's light enough for your little one to carry it between rooms. The stool is approximately 20cm high and has two steps, offering different heights perfect for growing kids. The Panda Step Stool is available in a range of colors to complement your decor.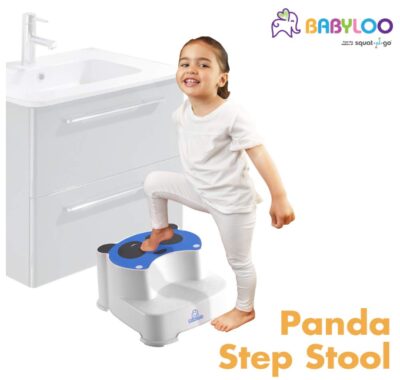 9. Songmics Owl Theme 2 Step Stool
If you have an animal-loving child, this owl design stool could be the ideal choice! Part of a range of matching kids' furniture, it has a pale pink base and white steps with cute cartoon owls painted on. Its child-friendly design means it will fit nicely into any kids' bedroom or a family bathroom. Made from solid wood, it is sturdy with a weight limit of 66lbs. It is designed for children aged 3 years and up, with a range of uses including reaching the toilet, brushing teeth, climbing into a big kids' bed, or getting a book from a high shelf.
As you would expect when purchasing a child's product, safety comes first. The paint used on the finish is odorless and lead-free, meaning it's non-toxic. The stool has rounded corners and built-in fittings to reduce the risk of accidental harm to your child. The anti-slip pads on the stool's feet reduce the risk of it slipping on the floor.
,

10. Bekvam Wooden Utility Step
The BEKVAM utility step has the classic Scandinavian design we've come to expect from IKEA. Though not designed specifically for children to use, this product is popular among parents and grandparents to use with their kids in the kitchen and playroom. The first step is approximately 9.5" in height and the second is approximately 19.5" tall. It is made from durable and natural solid wood with a beige finish. It can also be easily painted to fit in with your home decor and furniture.
It has a sleek and stylish design yet the function is not compromised. The stool is sturdy and strong enough for use by adults or children. It features a handhold in the top step so it's easy for adults to move around. You could place it at the table for art projects with your toddler, or at a kitchen counter so they can watch you cook.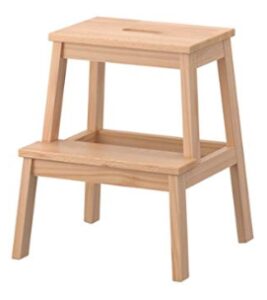 11. Simplay3 Toddler Tower
If you're looking for a helper tower that will accommodate your growing child, the Simplay3 Toddler Tower could be the one. It is completely enclosed, providing a safe environment for your child to help out in the kitchen or reach the sink. The tower platform has three different heights (12", 15" and 18") so it grows with your child and it's easy to adjust. Its double wall plastic construction is durable yet lightweight so the tower is easy to move around. It can even be compactly stored under your kitchen counter when not in use.
The Simplay3 Toddler Tower comes in a range of different colors and can be used by children up to 150lbs.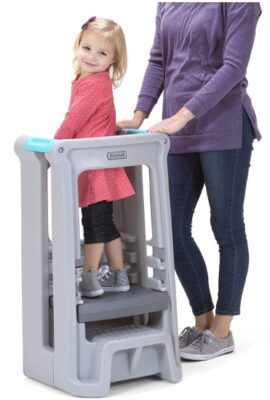 12. Growing Up Green Bamboo Step
The Growing Up Green wooden step stool is designed for eco-conscious families. It is made from pesticide-free sustainable bamboo, so it is environmentally friendly as well as a sturdy choice. It is lightweight, weighing just one pound, so it is easy for your little one to carry from room to room. It is comparatively small and with just the one step, it will slot easily away when you want to store it. However, it is strong and will bear weight up to 200lbs. It will not slide around on a smooth floor, as it has non-slip grip bulbs on each of the feet.
In a natural dark brown finish, it will fit in with most home styles. It can be used in the bathroom, kitchen, playroom, and wherever else your child needs a little height boost! The recommended age is from 3 years.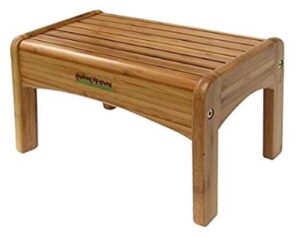 13. Squat N Go Folding Stool
If you're short on space in your home, the Squat-n-Go could be an excellent purchase. This unique stool is designed to be used by adults to alter the body position when using the toilet. It can also be used for children who need to get up to the toilet during potty training. Its ergonomic design means it fits all toilets, regardless of shape or size. It simply wraps around the toilet base when in use. Because of its small size, it can be stored behind the toilet, in a cabinet, or between bathroom fittings. Just fold it down and tuck it away!
It has a non-slip step surface and floor grip to stop it from sliding around on a bathroom floor. The Squat-n-Go comes in durable and easy-to-clean white or brightly-colored plastic, as well as solid and natural wood. It weighs just two pounds and is 7" tall.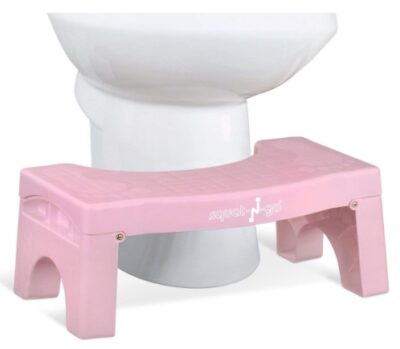 14. Froggy Themed Bathroom Stool
For a special gift or purchase for your home, this frog-themed wooden step is a lovely choice. It is hand carved and hand painted by skilled craftspeople and features a cute frog design complete with insect friends and lily pads. There is a small storage space in the top step, accessed via the lid. The stool is sturdy, made from solid wood, and built to last. It is finished with lead-free paints and is CPSIA compliant.
The stool supports weight up to 100lbs and your child can use it as a seat when they need a rest. With a height of approximately 12", your little one will be able to reach whatever they need to! The non-slip surface is easy to clean. This product is designed for us from age 3 and comes in a wide range of child-friendly designs including space, fire truck, and flowers. Matching children's furniture is also available.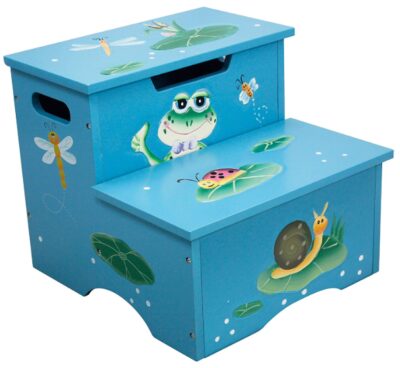 Overall Best Buy
Having reviewed such a wide range, we will now select the overall best choice for kids. The Fantasy Fields wooden stool really stands out due to its excellent craftsmanship and quality of finish. The designs are sure to appeal to children and since you can choose from such a wide range of themes, it will fit right in with your kids' room. Although it has such a beautiful finish, safety is of course not compromised. The paints used are lead-free and it is CPSIA compliant. The non-slip grips mean it can be used safely on hard and soft floors. It is built from durable wood and designed to last well thanks to its excellent quality. And the finishing touch is the small storage compartment in the top step – your little one will love to put their treasures in here!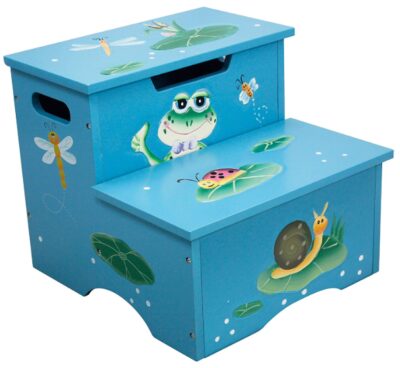 What are the Different Styles of Step for Kids?
You can see from our guide that there are many different types of stool for kids, so it's important to keep in mind which is right for your home. Step stools and helper towers are usually made in either plastic or natural wood. There are those which are purely functional while others come with fun designs. Some stools can fold up or collapse for storage and others are designed to be moved around. Some are adjustable in height or have two steps. The right choice for you will depend on your home, where you want to use it, and which color or design you prefer.
What Do Kids Need Steps For?

A step stool for kids can be a useful addition to the household for a number of reasons:
Kitchen: young kids and toddlers love to offer their help, especially with tasks they see adults doing! A stool elevates little ones to the height of the counter so they can join in while you cook.
Bathroom: even if your toddler isn't potty training, a stool is useful to help them reach the sink to brush their teeth or wash their hands.
Family room: a stool can help your kid to reach the table for art projects, playing games, and coloring.
Bedroom: if your child needs help getting into their big bed, or reaching toys or books from a shelf, a stool can be very useful.
Is a Toddler Step Necessary for Toilet Training?
A toddler step is not essential for toilet training, but it can certainly help. Most children are not tall enough to reach an adult-size toilet when they begin potty training, so they will need assistance getting on and off. Alternatively, parents could choose to just use potties, but they may then find the transition to using an adult toilet is more challenging. Purchasing a step for use in the bathroom can be a great way to encourage independence in your toddler. Then, not only can they use it when they are ready to use the adult toilet, but they can use it for brushing teeth and washing their hands. Many parents find that toddlers love to be independent, and getting ready for potty training by finding the right step stool can be a great way to help them do things for themselves.