When choosing the best baby monitor for preemies, there are a lot of things you need to pay attention to besides the condition of your baby.
While there are a lot of baby monitors that'll suit you, you may find it hard to choose one among them. Often, this is caused by not having enough experience. And sometimes, maybe due to budget or a specific need. In order to ensure you're choosing the right baby monitor for your baby, you need to be objective in your evaluation.
For this, you should make careful consideration of the following factors:
---
How to Choose the Best Baby Monitor?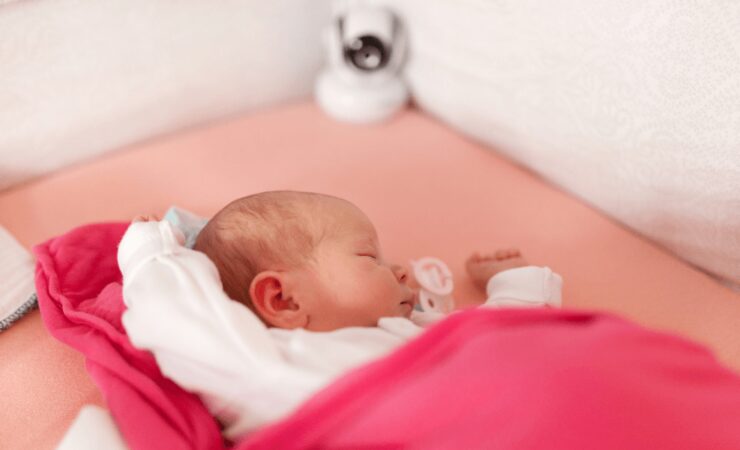 1. Consider both audio and video monitors
Choosing between an audio and video monitor is one of the things you'll need to look at very carefully.
Granted, you'll still have good options from both categories, even though your option is going to be much more inclined towards the audio monitors.
Aside, the one you finally decide on will also be dependent on your preferences. If you're fine with just hearing your baby enough to be alerted when needed, then the audio monitor is going to do more for you.
However, if you want to be able to see your baby's breathing, movements, and everything in between, you'll want to go with a video monitor.
Consequently, the later can be more expensive than the former because of the extensive features they come with.
2. Be open to different options
As you're looking for the best bang for your money, it goes to say that you should be open to some of the basic options out there, especially from the audio monitor category.
They are the cheapest. In this case, the top-of-the-range models with cameras and extensive features will generally be out of reach as per their price.
If you're looking for the best and the one that'll provide the most safety/security, a monitor with at least one dedicated camera will be best.
But since you're only willing to part a few dollars on the monitor, you should not bother with that category.
What you should be of more concern to you is the battery life and signal strength: two of the key features in the best baby monitor for preemies.
3. Consider the signal strength
The signal strength is important, no matter where you want to use the monitor.
Whether you'll be traveling with it or just it indoors exclusively, you need something that has a strong signal and is able to pick up the signal even in a long range.
Therefore, look for something that performs excellently regardless of where you install it; a long-range monitor, in this case, is a good option.
4. Don't forget battery life
Another important one is strong battery life.
As a busy mom, you don't have the luxury of always plugging the monitor to the wall and you may not even be able to install it close to a wall socket.
For this, choose something with good battery life, especially if you're buying a battery-powered monitor.
5. Consider the space
Lastly, you should consider where you intend to install the unit. If you're still reading, then you already know there are a lot of advantages to getting a baby monitor for your baby, even if you're living in a small apartment.
For example, if you have pets, you'll always want the door to your baby's room shut to prevent unrestricted access to the baby.
In that case, you need something that will let you know when your baby needs you, even with the door closed.
Moreover, when you are outdoors, like in your garden, you'll also want to be able to hear your baby's voice. With a good monitor, you'll be able to keep a tab on your baby in these scenarios.
And if your house is sound-proofed and you have a separate room for your baby, a good monitor can come in handy.
Finally:
Now that you understand some of the important things to consider when it comes to choosing the best budget monitors, here are some of the rundown of the top models in 2019:
---
Reviews & Ratings
---
1. Peteme Baby Monitor 1080P FHD Home WiFi Security Camera

One of the best baby bottles for preemies is the Peteme Baby Monitor Security Camera.
This model is not just affordable but is also more sophisticated than other monitors on this list. The unit boasts of a wide range viewing angle of 360 degrees.
This means you can place it in any area of the room and still be able to view everything happening in your baby's room, all in one location.
Remote controller
The model comes with a remote controller that allows you to zoom into horizontal and vertical angles, thus ensuring a panoramic view of the entire room.
If you're looking for an affordable baby monitor that provides absolute coverage without any blind spot, this is a good option for you.
1080P FHD resolution
Aside from the wide viewing angle, you'll also be able to enjoy 1080P FHD resolution, which means you can clearly see all the sharp corners in your baby's room.
In between the 6G lens, infrared LED lights and high crystal clear image quality, your baby will always be under your watchful eyes, even while you're out of the home.
Two-way audio
Another thing that distinguishes this unit from other inexpensive models is that it comes with two-way audio, a technology that allows you to talk back to your baby.
Your baby can hear your calming voice and be reassured he/she is not alone, even when you're not physically present.
It should be noted that this feature is one of the best things you can get on a baby monitor. This is as a result of being a busy momma.
You won't have the chance to be with your baby every single time. Sometimes, you're in the kitchen and your baby is crying. Or you're busy tidying your living room or even in the garden making the plants and your baby needs your attention.
In any of these cases, a single talk back at your baby might reassure them they're not alone.
Verdict
Finally, the multi-sharing feature built into the device allows multiple users to view the camera in real-time. Therefore, you and your partner can become the guardian watcher over your little one, further bringing your family together.
---
2. Victure Baby Monitor 2.4G Wireless Indoor Home Security Camera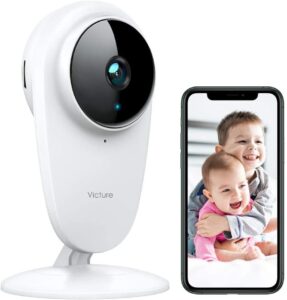 There are only a few budget monitors that have built-in motion detection. The Victure Baby Monitor Home Security Camera is one of them.
Not because the feature is bad but because it's bundled with other high-performance features on the more expensive models.
Therefore, you can not only monitor your baby's intricate movement but that of your pets too, if you have.
With each step your baby takes, you get notified on your phone through the IPC360 app, enabling you to keep a tab on your baby even when you're out.
Built-in microphone and speaker
Just like other items on the list, the Victure Baby Monitor Home Security Camera comes with a built-in microphone and speaker so you can enjoy two-way communication with your baby.
You can hear your baby's little voice and talk back to them whenever you want, right from your room. Fortunately, once it's set up, you don't have to worry about adding anything extra.
Your baby gets to hear your voice, even when you're afar, and you can speak back without feeling a tinge of remorse.
Automatic light vision
Another great feature on this monitor is the automatic light vision, which comes with infrared LED lights that put your baby in clear illumination.
The lights come on when it becomes dark, brightening up your baby's room so you can see them clearly, without interrupting their sleep.
Downside but not a deal-breaker
One of the downsides of this device is that it requires a wifi connection to function properly. Not only that, but it also requires that you use under 2.4G wifi as 5G and public wifi are not supported.
Some parents are worried that this might not be as secure as the non-wifi baby monitors. If you're concerned about this too, you can view our article on the best non-wifi baby monitors here.
Verdict
But with all other features, this is one of the best affordable baby monitors you can count on.
---
3. VTech BA72211PK Pink Audio Baby Monitor

The VTech BA72211PK Pink Audio Baby Monitor is another audio monitor that boasts of being incredibly cheap and high quality.
One of the nice features of the unit is that it's lightweight. This means that you can easily install it anywhere in the home.
It also comes with a built-in clip belt. You can even fasten it to yourself so you can watch over your baby as you move about with your daily routine.
Talk-back feature
Aside from the quality sound of the unit, it also comes with a talk-back feature on the parent unit. So, you can monitor your baby from anywhere.
Sometimes, your baby just wants to hear your voice, even when you're not immediately around in their room. This gives you the comfort of doing that from any room.
Night light
The monitor also features a nightlight on the baby unit. When the light dims in your baby's room, the inner powered LED lights come up automatically.
This ensures your baby's nursery is illuminated so your baby is not thrown in complete darkness.
Verdict
There are a lot more features on this monitor, but it's similar to those you've seen on the first two products above. Adding them here may be redundant.
What's more important is that this monitor is reliable, cheap, and suitable for your preemie baby.
---
4. VTech DM221-2 Audio Baby Monitor

This is another audio monitor from VTech, featuring the DECT 6.0 digital technology. This is designed to produce very clear sounds so you always hear your baby's voice anywhere you are.
Considering this is one of the cheapest units out there, this is a good thing. In addition, the technology ensures that all transmitted communication between you and your baby is secured.
All data are screened from eavesdropping by attackers, intruders, etc., so you're the only one hearing your baby's voice.
Longer range
According to the manufacturer, the range on the VTech DM221-2 Audio Baby Monitor is up to 1000ft, which is good enough for most large houses.
Going by this, you'll be able to hear your little one clearly.  Regardless of where you install the unit in your home, your baby will know you're close by.
Superb battery life
In addition to security, the manufacturer claimed battery life is up to 18hours. This means a single charge can last you a whole day or for days if you aren't using it regularly.
Control sound level
Another great thing about the VTech DM221-2 Audio Baby Monitor is that you can control the level of sound. Though this is a basic feature, it's still great to have.
Beyond that, you can put it in vibration and get gentle reverberation whenever your baby makes any sound.
Verdict
Being the last on this list doesn't mean this is the lowest quality monitor you can get for your baby. Aside from the fact that it's affordable, the performance is also good too. Which is why many parents recommend it.
---
Final Words
---
It's clear from here. You are not among those that want to spend hundreds of dollars on a baby monitor. Fortunately, you'll still find a suitable model even with a modest investment. And suit your needs also.
However, it's clear from the above that as you trim down your budget, the pool of options diminishes.
Therefore, you'll have to be very selective so you don't settle on a dud. Fortunately, this article has helped you understand what it means to buy on a budget. And you are now aware of the best models to consider.
Now, it's all left for you to choose the monitor that best suits your budget and preferences.
If these weren't enough, check out some other picks from Amazon also: