Do you know that colic is a serious problem that's more than just selecting the best baby bottles for colic?
Yes, that's true!
It's a serious problem that has eluded many moms for centuries. And many are still facing the same problem.
Therefore, you need to ensure you are doing everything in your power to stop it.
And fortunately for you, there is a good bottle for combating baby colic. And you don't have to search hundreds of hours for it.
---
So… What're the Best Bottles for Colic?
Comotomo Baby Bottle, Pink, 5 Ounce (2 Count)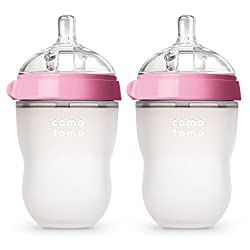 This specific baby bottle is the most popular for gassy and colicky babies!
One of the most popular brands out there when it comes to reliable baby bottles, Comotomo's nursing bottles are made of silicone and are in very high demand for coming really close to the experience of breastfeeding for babies.
Not only is it a safer product for the baby to use when they're nursing, but it's also easier for the parent or the caretaker to handle the product, be it washing or packing.
It's designed to help babies make a smooth switch from breast to bottle. The wide mound and the naturally shaped nipple help your baby latch on to the bottle while experiencing little disparity between the bottle and breast.
Finally, it's heat resistant. Whether you want to use it with boiling water, in a dishwasher, or bottle warmer, the bottle stays consistent and safe.
Summary
Unlike other baby bottles that come with only one anti-colic vent and do a poor job of eliminating air, this bottle has two vents going for it. It all comes down to pushing the air into the bottle and releasing only milk to keep your fussy baby good feeding time.
These vents help to ensure proper circulation of air so that only the milk gets into your baby's tummy, further driving down spit-up, burping, and gas.
---
How to Keep Colic at Bay and Keep Your Baby Calm
How to Remedy Baby Colic
Treating colic in an infant or baby is difficult because very little is known about what causes colic.
Many people believe that it has something to do with the baby's diet and intestinal fortitude.
Others believe that it can be related to too many stimuli that the baby is unprepared for and unable to fully process.
Still, others believe that the cause of colic is even less ascertainable, simply that some babies suffer from it and others don't.
More colic remedies than the theories on causes
There are even more remedies for colic than there are theories about its cause. Your baby will almost certainly respond differently to a given baby colic remedy than another baby.
It can be helpful to keep a colic journal and write down your baby's colic symptoms, how you tried to treat it, and whether the treatment worked or not.
When does baby reflux get better?
After a while, you may begin to notice certain patterns and adjust accordingly.
Because so many people believe that colic is related to what a baby eats and how it digests its diet, many of the remedies associated with food are related to food.
Colic usually disappears by the time a baby graduates to solid food, so much of the discussion revolves around breastfeeding and formula.
Foods to avoid
If you are breastfeeding your baby, try to avoid foods like beans, onions, cabbage, cauliflower, spicy foods, or other foods that cause gas.
Dairy products are also considered among the list of foods to eliminate.
However, you should consult a doctor before eliminating dairy from your diet because it is the main source of your calcium, an important nutrient for your baby.
If you are bottle-feeding
If you are feeding your baby with a bottle, whether it is a formula or pumped breast milk, make sure you are doing everything you can to ensure that your baby doesn't inhale air trapped in the bottle.
It should also be noted that some studies have found that babies fed with formula are more likely to be colicky.
Although the studies are far from conclusive and offer no hypothesis about why this might be true.
Making your baby comfortable is important
Making sure your baby is as comfortable as possible is also important. Every baby is different, so spend some time finding what calms them down.
Car rides, gently bouncing them as you walk, or giving your baby a warm bath are all possibilities that work for many children.
It's impossible to identify exactly what will help your baby with its colic, but the important thing is not to get frustrated.
If you keep searching for the right baby colic remedy, you'll stumble across it eventually.
Continue searching our site for more information on baby colic relief.
Another great option for reducing colic is selecting the right baby bottles. And that's what the rest of this article will help you achieve.
If you are ready to choose your bottle for colic, check out these recommendations.
---
Best Baby Bottles for Colic in 2023 [Reviews & Ratings]
---
1. Comotomo Natural Baby Bottle (5, 8 Ounces)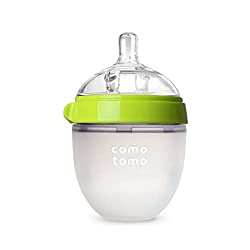 The design of this bottle is in a way that mimics breastfeeding. This is meant to reduce nipple confusion issues and bottle rejection.
The materials used to make the bottle are a hundred percent safe and can be used by a bay of any age.
This bottle has a wide neck which allows it to be opened and cleaned easily.
Naturally Shaped Nipple Plus Wide Mound
The bottle comes with a naturally shaped nipple and a wide mound. This design is actually one of the greatest features of this bottle.
The large mound allows the milk to flow naturally to the tip of the bottle while the flexing nipple allows easy passage to your baby's tummy.
This makes for an easy transition from breast to bottle. So, if you have a fussy baby and need a bottle to combat the finicky behavior, this bottle is a good option.
Dual-colic Vents
The Comotomo natural bottle also comes with dual-colic vents. Both of which provide a dual function as well. First, the vents propagate an even distribution of milk, so your baby gets the proper amount needed at the right flow.
This helps reduces the chances of spit. Second, they prevent the intake of air, which is the most common cause of gas and colic.
Thus, this will ensure a smooth and peaceful feeding time, anytime.
Easy to Clean
The bottle is also very easy to clean. Unlike other bottles with narrow necks, the Comotomo baby bottle boasts of a super-wide neck. This makes it easy to reach the nooks and crannies of the bottle so your job becomes easier.
Moreover, the bottle has a flexible body, made from silicone. This means you can push the bottom up with one hand and wash with the other hand.
The Good
Made using top quality materials
It is microwave, dishwasher, and sterilizer safe
Feels almost like a natural breast
Can be used by children of any age
The Bad
The bottle is relatively heavier than most similar bottles
---
2. Philips Avent Anti-Colic Baby Bottles

These bottles are available in different colors to keep the baby entertained. They have anti-colic properties and they have been clinically proven to be safe.
The bottles have different flow rates which can be easily adjusted. The materials used to make the bottles make them feel almost like the natural breast of the mother.
The popularity of the Philips brand aside, they really make good bottles. And this one too is not different.
Little Parts, Easy Assembly
The Philips Avent anti-colic bottle comes with only four (4) parts.
Therefore, the assembly and cleaning the bottle is easy and stress-free.  Aside from that, you'll also benefit from the clear markings on the bottle.
They provide accurate measurements when preparing food for your baby. As well as helping you to know how much your baby has taken.
Slow-flow Nipples
In addition, the bottle comes with slow-flow nipples, which is suitable for one month-plus baby.
The nipple has dual-hole, is super soft, and made from silicone, which makes it nicely suited for newborns.
The softness and dual hole on the nipple allow your baby to control the flow of the milk, even at a young age. At least, your baby should be able to feed without over-eating or the much-dreaded baby "spit up".
Anti-colic Nipples
And, just like others, the nipple is anti-colic. But one thing that distinguishes from others is that it promotes a good latch, so your baby doesn't get any interruption during feeding.
It's also of a ribbed texture, which promotes smooth and comfortable feeding.
The Good
Easy to assemble where there are only four parts
Can be cleaned easily even on a dishwasher
Designed to reduce discomfort and colic
The flows can be changed depending on the age of the baby
The Bad
The slowest flow is significantly faster for very young babies
---
3. Dr. Brown's Original Wide-Neck Bottle Newborn Feeding Set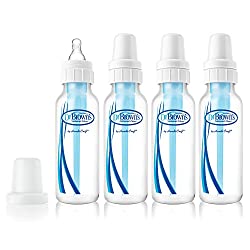 These bottles use positive pressure flow which allows vacuum-free feeding.
They have a vent system that plays the role of removing air from the milk consequently maintaining the essential vitamins such as A, E, and C.
These bottles are PVC, BPA, phthalate and lead-free. The bottles are made using materials that cannot affect the babies in any way.
This baby bottle is one of the best baby bottles for colic on the market.
Not because of the reputation of the brand but because of the unique design and features on the bottle.
Fits for Popular Breast Pumps
Even though it's quite unique, the bottle will fit most breast pumps on the market.
So, if you already have breast pumps from the likes of Medela, Avent, etc., you won't be needing extra bottle vessels to pump and store milk.
For a busy momma, anything that'll make pumping and storing milk quicker, without adding more toys, should be a lifesaver.
If you're a working mom or just busy while trying to breastfeed/bottle feed, this bottle should be part of your baby's collection.
Offers Paced Feeding
Want your baby to enjoy paced feeding? This bottle also offers a slow-flow nipple that allows that. Moreover, the design of the bottle is like no other as it comes with an internal vent system.
This works seamlessly with the silicone nipple, so your baby can control the flow of milk and feed at their own pace.
The Good
Have been clinically certified to be safe
Have a wide neck which makes cleaning easy
Do not have any harmful substances
Available in different sizes
The Bad
The bottles can leak if not assembled in the right manner
---
Final Words
Colic babies are not easy to deal with, but it can be done. Try to relax and do the best you can. Your baby will outgrow this problem and it won't last forever even if it feels like it.
You'll be able to enjoy the company of your baby the way you had always dreamed of it as he/she gets through this problem.
Selecting the best baby bottles for colic isn't that difficult if you know what you are looking for.
This includes checking the features of each bottle and how much benefit you can get from each one.
Finally, our recommended bottle for colic is the Comotomo Baby Bottle, Pink, 5 Ounce (2 Count).
Related reviews:
Best Slow Flow Bottles for Babies
Best Baby Bottles for Newborns Under $50
Take a look at these products from the same price range, that are available right now on Amazon: