Babies in headbands are just soo cute and adorable, that everyone can't help but smile on approach and it makes you and your child stand out. I remember as a child my favorite headband was white with a red rose and fitted around my forehead, holding my hair back, looking as if I was a munchkin wrapped like a Christmas present. All these memories have helped inspire this review on the best headbands currently out on the market for both style and price.
There are loads of variety in terms of style and function, some wrap around the center of the forehead, others need tied back and tucked under, baby turban headband,  bohemian might be one's preference or a functional scarf styled headband to another, but whatever your personal preference is you should definitely find one that you love both for yourself and your newborn baby.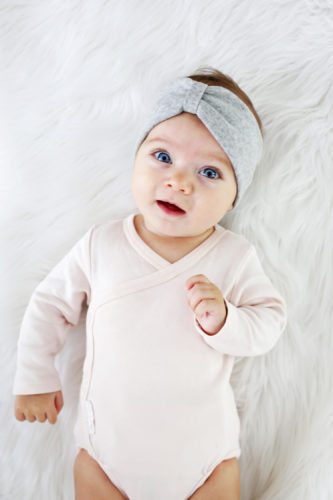 Shabby Chiffon Colorful Set
There are 18 headbands in this set and each one matches the colors of the rainbow, which will go with any outfit your little one is dressed in. Every occasion is sorted now with all these colorful headbands, whether a baptism or a funeral.
Some colorful headbands include; pink, orange, ruby red, navy blue and loads more, which brings color to face and a smile to match your adorable baby girl.
These stretchy headbands are great for adapting to the size of head and shape, so whatever type you can be assured that these will fit without being either too small or too big. I also like the boutique headband style, which reminds me or some type of french damozel and the designer Zelda Matilda has an eye for the stylish vogue makes. This would also make a great gift for those wanting something thoughtful as a present to give to a family friend or close friend to the family.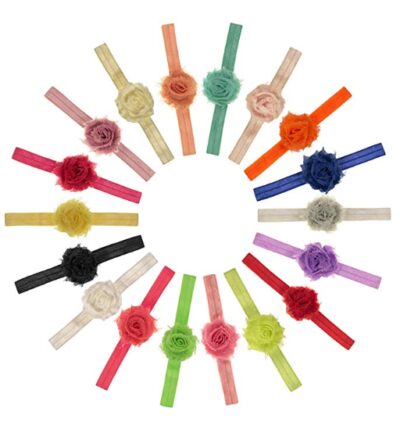 Qandsweet Hair Hoops Color Bands
The soft and tender headband is easy to slide on and make them look adorable to all who come into contact, they'll want to cuddle and say sweet things.
This helps with preventing scratches and blemishes accruing, which is a bonus at a time that they are so delicate and tender.
The ages range is from 0-6 and offers a long-term use, which is ideal for those wanting a great bargain. This pack contains 8 in total and has every color to match any outfit you decide they're wearing.
The soft material is 85 percent cotton and the rest is polyester so the quality is good, it'll provide a long-term service to your kid.
Some people don't like the fact they accommodate a large age range with size, some parents find their child is particularly small to fit comfortably, so take note if your child has a small head in general.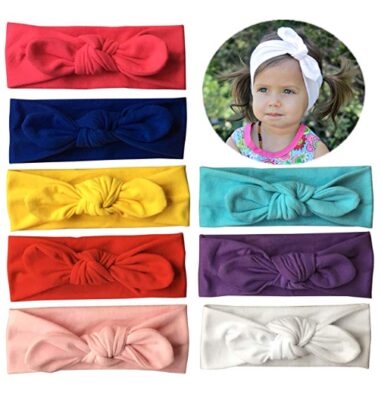 Qandsweet Forked Tail Bow Headbands
The bow has to be the cutest for some and I am one who agrees, it's adorable and always brings the best baby features out.
This is ideal for newborns, toddlers, all the way to mommy, which is completely new and an innovative way to bond mom and daughter together.
This pack comes with 30 unique types to wear and now that you can both share them this is great value for money for those wanting to get in on the fun as well. I think this is the perfect gift choice for those expectant moms because the multi-purpose use makes them extremely thoughtful.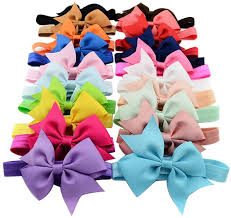 Lebo Baby Headband
This soft cotton headband is another adorable bow design with a big bow to make her look amazing to all passer-byes. The baby red headband appearance is stunning and stands out as a little bohemian princess.
This is designed for 3 months to 10 years of age, so time will make this worth getting.
I personally think these infant baby headbands would suit loads of different dresses and fit most days out and planned events, so when she is on display all will be envious and at the same time happy to see her looking so cute.
This is a soft headband and makes for wearing over the day easy, that's super important and most in this review have been soft in the material to ensure they are snug in comfort.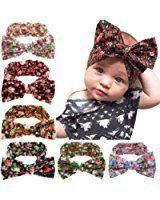 ROEWELL Baby Delight
These new designs are some of the latest to see at the mall and offer a unique individual look while all the time remaining adorable and cuteness wrapped up in one go.
Moms all over are shouting out "I want that" and for good reason! I think each one offers a day planned out or a dress that suits and even a memory of a distant time, it's nostalgia in a headband.
This newborn headwrap can be used for all babies, but the material is not as soft as the others and in comparison, it should be noted it might not suit all circumstances and individual babies needs.
Birthdays, weddings, Sunday church and a whole lot more can be included when buying this, it'll suit for any day's event. The versatility of this is self-explanatory and word is not enough to show my fondness for this headband, but I'm sure you get my point.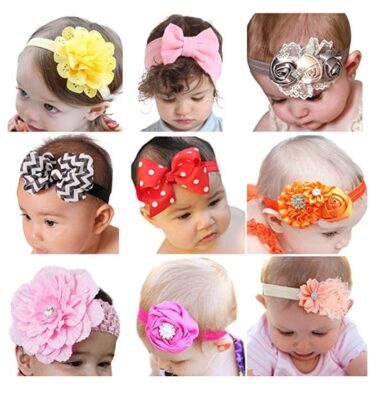 Best Overall Pick
The "Iversan Baby Girl's Headband" is the best out the bunch in my eyes, it's a cracking design, easy to slip on, soft to the skin and provides a level of cuteness that only certain bands can achieve. They all have something unique to offer, but in terms of functionality they are all great products, but the best overall comes down to "how adorable is it" and this is the best of the bunch in my opinion.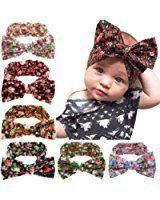 More Considerations to Help you Decide
Size
Simply check and make sure the ages is appropriate so you don't let anyone down, especially yourself. There are loads of size charts for babies and this can guide for those unsure of the right size for their little one. Finding the right size for the head protects for the material rubbing their delicate ears and causing irritation, so best to check the size before buying.
Design and Types
This again comes down to personality and personal preference, but still, don't overlook this and get the first you come across. My favorite are crochet patterns and ones with feathers, which I think are very beautiful. Some people like flower patterns and once that match the flower seasons, but one of the best types of headbands has to be the one with a bow. Some moms like their baby girls to look like princesses and with a crown headband they can look just like one. However, when parents make headbands with hair attached I often think they have gone too far on the creative enthusiasm, but hey ho, I am not judging, just not my thing. Did I forget to mention headbands with pigtails? This is cute on babies and I have seen some around the mall that make their baby look adorable. Other types are ones with pearls and remind me on the little mermaid, which is a Disney favorite of mine.
The multitude of infant hair accessories allows for you to combine the colors, styles and become a super-creative mom, which combines funky with functional. Some moms like to knit their own and I have a friend that is super-creative, she is always making something new, but if you are like me then online is the way forward. There are loads of unique designs on Pinterest and this is a great place to get inspired headbands.
Hard Headbands
This is as the name suggests and is hard to the touch and usually holds in place well. This can be seen by the horseshoe shape and is easy to use in most situations because of its ability to keep the hair out of the face, however not always appropriate if they are not able to hold themselves upright, so age appropriate application is recommended. There are loads of different types of colors, shapes, themes and varying materials to choose from so make sure you get the one you love.
This is as the name suggests and is hard to the touch and usually holds in place well. This can be seen by the horseshoe shape and is easy to use in most situations because of its ability to keep the hair out of the face, however not always appropriate if they are not able to hold themselves upright, so age appropriate application is recommended. There are loads of different types of colors, shapes, themes and varying materials to choose from so make sure you get the one you love.
Soft Headbands
The newborn baby headbands are usually made from elastic plastic and come as an alternative design than the hard. They can be usually used when laying down or in varying positions, so for babies and newborns it seems more appropriate. The easy soft fabric can slide over the head and hold the hair down and back, which some athletes, for example, use when playing sports and them want their hair out of their face. The soft headband is ideal for multiple uses and will keep you babies head snug and them looking beautiful. The infant headbands can come in silk, cotton, soft or firm, so whatever the purpose just get the right one for your little one.
Something to be aware of is: Types of newborn headbands size differ and can become loose and slip off the head making it uncomfortable and prone to sliding down, so make sure you get the right tight-fit for long term use.
Construction
Finding a well-made headband will prove a good long-term decision and will last the months of handling, dropping and general use. Some moms find they like to wash their headband once a month etc, but I found I never did. Some moms even make headbands out of tights and left over material that would have otherwise been thrown out. These kinds of DIY headbands sometimes cause irritation, due to the elastic catching the hair or becoming irritable. There are some headbands with interchangeable bows and this is great if you want to match with different clothing.
Usage
Make sure you know when and where you intend to be using the headband is crucial because sometimes it might not be fit for purpose. I have known many young babies to get sore heads from a headband that has been left on all day and this is a tragedy. These are for a short period throughout the day and not for hours at a time, little heads equal delicate, delicate need air to breathe because a clingy headband can be suffocating in the long run.
There is always a good time to wear a baby headband like, at weddings, christenings, parties, birthdays and even a baptism are appropriate. I think they can be used for any occasion and this is why I am a big advocate for them being worn. Some newborn babies are cute but have strange looking heads and a headband to cover them for photo shoots helps them look nicer for the photography shoot.
There are loads of fantastic choices and below I have put together a few of my favorite and compared which is ideal for a certain mom-type to match their bundle of cuteness. There a range of colors, shapes and each features something small and unique to make your little one look adorable.