A christening or baptism ceremony is a special occasion for every little boy so to celebrate this special event you will want get a memorable gift that will be the perfect keepsake and remind them of this great event for years to come. If you are unsure which gift to buy then there are many great christening gifts that you can choose from, so you are certain to find the perfect item.
For anyone who is looking for the best gift for a young boy's christening then this article will take you through the top choices and enable you pick the ideal gift that every boy will love.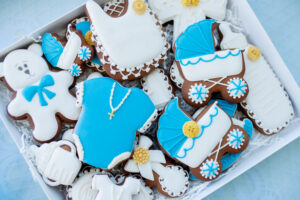 Considerations When Choosing Gifts for a Christening

When choosing the perfect gifts for boys christening ceremonies there are a number considerations to take into account. If you are buying a gift for a baby then you should make sure that the gift is appropriate for the baby's age. The minimum age is often advised on the gifts packaging.
When picking a gift you also need to decide if there is a particular type of gift that you would like to buy as there are a great selection of gifts available with a religious theme such as; a first bible, ornament cross or christening certificate holder giving you plenty of choice. Other popular gifts that are given at christenings include; plush toys, personalized items or even clothing, so there are plenty of options when looking for that perfect gift.
Top Christening Gifts for Boys
Let's now take a look at some of the best gifts for a baby boy's christening. With 10 to choose from, you are sure to find something here which is simply perfect.
1. First Bible and Pewter Baptism Guardian Angel Cross
When looking for the best christening gifts for boys you should consider this great Baby's First Bible Set with cross that makes the perfect keepsake gift that kids can cherish for years. The 4 inch pewter cross comes in a lovely presentation box that is perfect to use to display the cross with the cross itself showing fabulous detail that will make it a special gift for every young boy.
Parents will love the reading that is inscribed on the cross, along with the guardian angel pictures above the inscription and the pictures of the boys toys on the bottom of the cross. Also included in this special set is a beautiful 96 page kids bible that is an ideal first bible that will introduce kids to the popular bible stories. Each story accompanied by bright and colorful pictures that will attract the attention of every kid. This is a thoughtful christening gift idea that is perfect for every boy.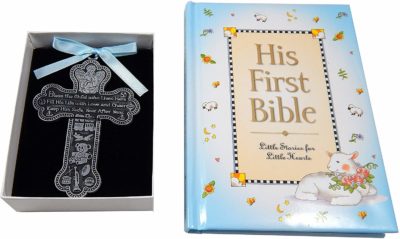 2. Ebba Baby Talk Noah's Ark Playset
For the best of the unusual christening gift for boys you should look at this cute Noah's Ark Playset, as this cuddly plush toy set is based on the Noah's Ark bible story so has an appealing religious theme that is perfect for a christening day. The set comes with a plush Ark carrier and 4 animal characters that are all safe for baby to interact with. Each plush animal makes a noise so is appealing to young kids and they will love the trumpet of the Elephant, the roar of the Lion, the rattle of the Giraffe and the squeak of the Zebra.
This christening toy set is the perfect size for young boys as the carrier is 8 inches tall and the animal toys range between 2 to 4 inches. For added excitement each plush toy is removable from the carrier for more fun play, making this a much loved gift idea.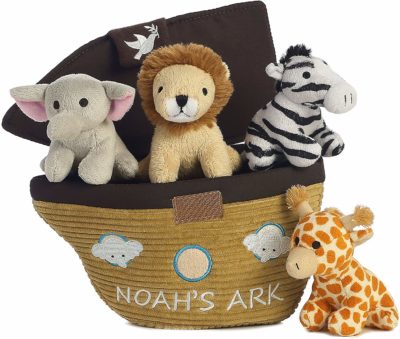 3. Godchild White Muslin Swaddle Blanket
When you have been chosen to be a Godparent for a special baby boy you want to find the perfect christening gifts for young boys from Godparents, to mark the special occasion. So if you are looking for a gift that can be kept and treasured but also has a practical use if desired then this Muslin Swaddle Blanket for Godchild by Ocean Drop is the perfect choice.
This large muslin is 47 inches square so is great for using as a blanket for baby or even as a privacy cloth, though there are many other purposes that this great muslin cloth could also be used for. The soft cotton muslin has a lovely message to your Godchild printed on it, making it a special gift for every Godparent to give during the christening.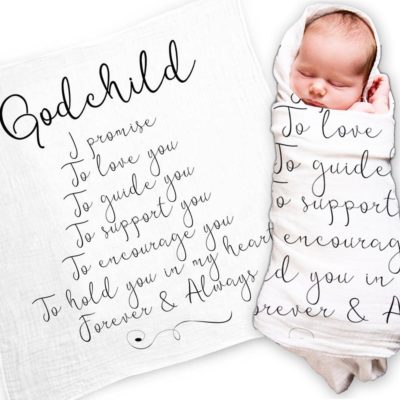 4. Poetry Gifts Baptism Double Photo Frame
If you are searching for the ideal baptism gift for a Godson then this Poetry Gifts Double Photo Frame is the perfect option. This lovely baptism frame comes with the words of a beautiful poem on one side of the frame and there is space for a 6 by 4 inch photo on the other side. The poem is the perfect accompaniment for that special photo memory, making this a well-loved gift idea that will be cherished by both parents and kids.
The brushed silver frame with glass front and black velour backing creates a fabulous finish, making this a lovely frame that is ideal for displaying for all to see. This thoughtful photo frame is the perfect gift for every Godparent to give to their Godchild on their baptism day.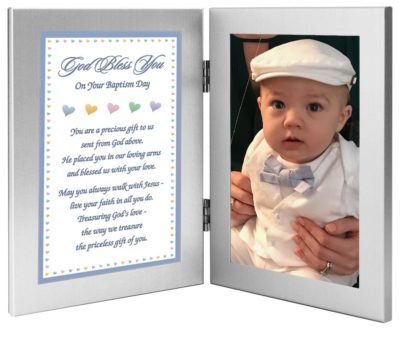 5. Precious Moments Jesus Loves Me Snow Globe
There are many different baptism gifts for boys for you to choose from but this Precious Moments Snow Globe makes an extra special gift that will be loved by parents, while also being appealing to kids. This beautiful snow globe has an appealing blue checked pattern with a 'Jesus loves me' message making it the perfect item for a display as well as having an important baptism theme.
Standing at 5.5 inches tall the snow globe is the perfect size for every household display where it will catch the eye of every visitor. This great snow globe shows a little boy with his lamb, while also playing the song Jesus loves me, creating a special finish to the ornament. This is a lovely baptism present for every little boy that will create many memories.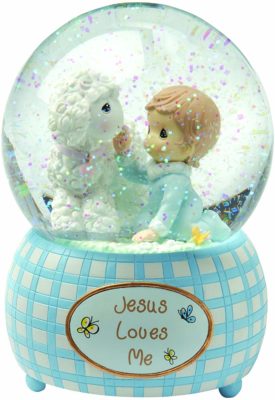 6. Baptized Footprint Frame
All christening gifts for boys from grandparents are extra special so it is important to get a gift that will hold many cherished memories such as this Framed Baptized Footprint. The set comes with a beautiful frame and everything needed for parents to capture a treasured footprint from their baby son.
The embossed paper design creates a high quality stunning feature that is perfect for displaying your babies footprint and the great frame makes an ideal table display, as it is 5 by 7 inches so it creates the perfect feature that can be shared with guests. Parents will also love the silver wooden frame that completes this wonderful set. This is a fabulous footprint set that will capture a memorable day for ever.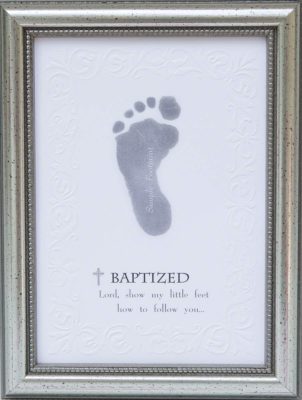 7. Personalized Baby Baptism Wood Block
This Personalized Baby Baptism Wood Block is the perfect baby boy baptism gift that babies will love and will also provide long lasting memories from the special day. The lovely wooden block is made from solid maple wood which gives it a high quality finish. For that extra personalized touch the block can be laser engraved with a name, date, place and a personal message which makes this the perfect gift that everyone will adore.
You can even pick a letter to go on top of the block to make the gift a fabulous addition to a little boy's nursery. There are 3 different sizes of block to choose from including 2, 2.5 and 3 inches so you can get the size you prefer to make a unique gift for a baptism.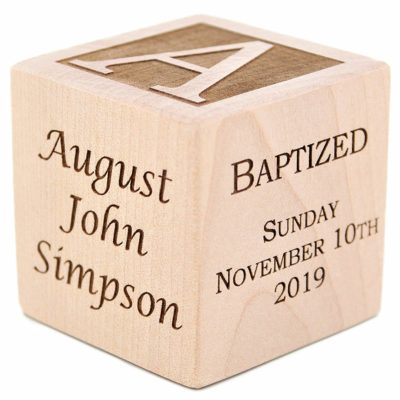 8. HAPIU Boy's Baptism Outfit
If you are looking for special baby christening gift for boys then the best choice is this lovely HAPIU Baby  Baptism Outfit that will make every baby look the part for their special occasion. The lovely white cotton long sleeved longall comes with beautiful detailing with gold embroidered cuffs and a gold cross on the chest so it is perfect for christenings and dedication ceremonies.
Along with looking great the longall is also comfortable and soft for baby to wear. This great outfit set also comes with a cotton baptism hat and lovely cotton socks, so the set comes with everything you could possibly need for your baby's christening. The hat and the socks also have a gold embroidered cross on them making them the perfect match to the longall. This smart baptism outfit is perfect for christening and baby dedications so is a special gift for every young boy.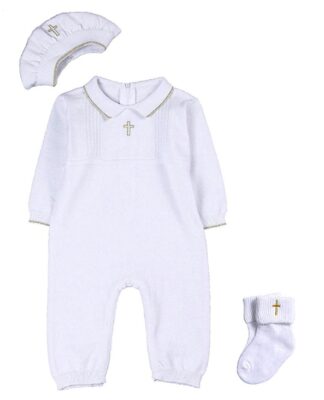 9. Dicksons Baby Blessings First Rosary
One of the most thoughtful baby dedication gifts that you can buy for a special little boy are these Dicksons Blue Baby Blessings First Rosary Beads. The gorgeous blue rosary beads comes with a lovely embossed crucifix cross and also features sapphire crystal beads for a special finish. The beads are made from silver plated metal so is ideal for your baby's sensitive skin, making them a great first rosary bead set.
For that extra special touch there is also a lovely poem included on the card and the beads come in a luxurious padded presentation case making this the perfect gift for a baby on their dedication day. These Rosary beads are a stunning dedication gift that will hold many special memories.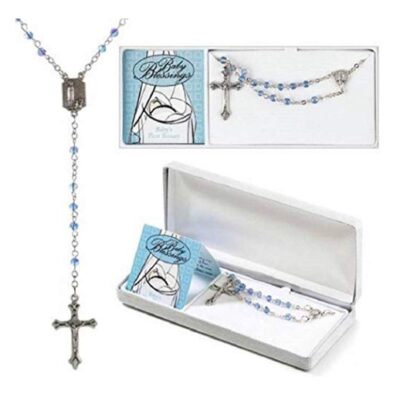 10. Baby's First Bible Set
This Baby's First Bible Boxed Set is one of the most wonderful baptism gifts for any young boy that can be kept as a keepsake but will also give great enjoyment. The box set comes with a lovely collection of 4 popular bible stories that will give every baby a great introduction to religion. Kids will love reading about The Story of Moses, The Story of Jesus, Noah's Ark and Adam and Eve, with each book having simple and easy to understand language.
For young kids there are brightly colored pictures for them to follow and even sparkly foil on the pages to attract their attention. These fabulous bible stories make the perfect baptism or dedication gift for every young baby.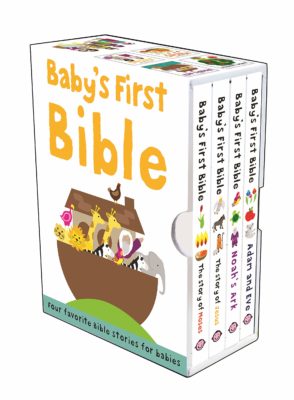 Best Overall Buy
Our best budget buy is this lovely First Bible Set with Pewter Baptism Guardian Angel Cross. This beautiful set makes the perfect keepsake gift that is perfect for all displays. The pewter cross is the ideal size for every display at 4 inches tall and everyone will love the fine detail that the cross comes with, including the cute inscription, which really makes this gift special.
The 96 page kids bible, that also comes with this lovely set, is perfect for introducing young kids to popular bible stories in a language that is simple for them to follow and which also includes appealing illustrations. This is the perfect christening gift idea for all young kids.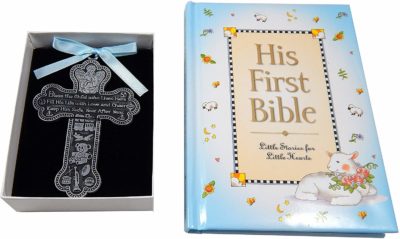 Best Budget Buy
This Personalized Baby Baptism Wood Block is our best budget buy as it makes a great kids toy or can be displayed if you prefer. For an added special touch the block can be personalized on each side to read a name, date, place and personal message to create the perfect memories from such a special occasion.
This lovely wooden block is made solid maple wood for a high quality finish and even comes in a variety of sizes so that you can pick one that you prefer. This is a fantastic gift idea that makes a great keepsake for families to treasure.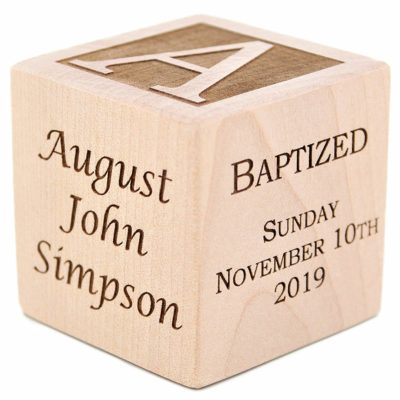 Where to Buy These Gifts?
There can be limited places where you can buy high quality gifts for a christening or baptism from when looking in stores for items and sometimes you may find that the range of gifts available are limited. If you are looking for a place with more variety then online shopping will be a great choice. Amazon is a very popular website for gift shopping, so you are sure to find the perfect item for any upcoming christenings here. In fact, all of our gifts can be purchased there for maximum convenience.
What are Traditional Gifts for a Christening?
Traditionally, gifts with a religious theme are given to kids who are being christened. Often these items also make great keepsakes that provide kids with memories from their special day. A popular choice for a religious gift has been to give a bible that will help educate kids as they start on their religious journey but there are many other wonderful gifts available to give at a christening or baptism that still has a traditional feel and will be loved by all kids.