Are you looking for a beyblade arena for sale or wondering where to buy beyblade arena? In this review of the latest sets you can be sure to find different types of Beylade toy Arena for kids.
First of all, just to make sure we are all up to speed, we need to answer the question; what exactly are beyblade and arenas? Some parents will be extremely familiar with this trendy, anime-inspired phenomenon, and others will be woefully uninitiated. Either way, this list will not only help you choose the best sort of Beyblade game arena to buy for your child, but also which ones suit your budget, age, and play requirements.
Beyblades are cool toy that was created in the world of Japanese Anime cartoons, and they are basically a more advanced, modern version of a spinning top, but these ones are designed with interchangeable parts. When the Beys are launched into the plastic play arenas, then they spin, collide, crash and bash and eventually, the last top still spinning is the winner. It allows the opportunity for children to re-enact the games they enjoyed in the anime series, while at the same time encouraging them to enjoy social, interactive play while happily takes them away from digital screens.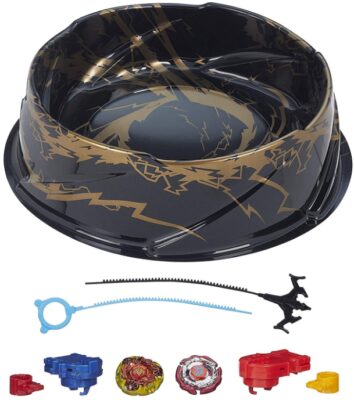 Considerations when buying Beyblade Arenas
Safety: When there is an element of 'battle' in any toy set up, it is important to make sure that the game is played with safety in mind. Thankfully, the arenas are designed to contain the Beys and even if they do spill or shoot out, they aren't likely to cause much damage. A good bit of advice would be to not lean in too close to the arena while the Beys are spinning around.
Material: As fans of Beyblade will know, mostly the arenas are made from plastic, and this means that they are strong, durable and able to be kept clean and will also last a long time when they are well cared for. It's important to check that any arena you buy is made from toxin free plastic, but you can rest assured, because the majority of them usually are. 
Price: There is a wide range of price variance with beyblade battle arena, so there is something to suit all pockets and budgets. You can pick them up for as little as $10 and the prices can range all the way up to $80 for the really extravagant and accessorised ones. You'll have a good idea as to what you can afford and also what is worth buying, because you might be purchasing the arena for a child who is a passionate fan of Beyblades, or you might just be getting one for a child who is only being introduced to the game. 
Age: Most beyblade burst arena items are recommended for age 8 and upwards, and this is probably advised due to the hand-eye coordination required to be able to successfully launch the beys into the arena to spin. It is possible that a slightly younger child with good coordination could use them, perhaps around age 6, but any younger children would struggle to interact with the small toys that require dexterous handling. 
Function: What are they for, exactly? You might be one of those people who has literally never heard of Beys or Beyblades before, as they are definitely a niche craze amongst children, so you'd be forgiven for asking just what exactly are they for? Well, the Beys (tiny little spinning top style toys) are launched into the arena to 'battle' against each other and there are a range of rules and a points scoring system that provide a structure to the battles. The arenas provide a smooth, plastic area for the 'battle' to take place and to give a safe focus for the game.
Gender: Although they are probably more popular with boys because they have arisen from the general anime/manga world, they are also a great toy for girls too. Any child of any gender can easily enjoy the competition, fun and excitement that these arenas provide and they're a great option for those rainy days when you've done too many crafts to count and when you want to avoid the children ending up using electronics. Think of them as harking back to more old fashioned fun, such as marbles, spinning tops and so forth – except with a much more stylish, modern edge. 
Best Beyblade Arena in 2023
1. Metal Fury Hyperblades Hyper Strike Battle Set
This one is a mega, monstrous Beyblade area, with all the bells and whistles, and is made by the Beyblade brand itself. It can be set up in four separate configurations and with either a defence or an attack strategy in mind, depending on the manner in which you want to approach the game. It boasts lots of great features, such as a spin track, a performance tip section that can be adjusted easily to either a rubber flat arrangement or a sharp flat set up.
There is an amazing L-Drago Destructor Fusion Wheel, which can be set up in two ways so that your Beyblades can take it after hit and still survive throughout the game. It also has a Final Survive Spin Track Tip part which moves easily from Spike to Hole Flat, so that your Beyblade can have longer survival in the track. It also comes with two hyper blade tops, one Ripcord Launcher (right spinning) and one left spinning one also. It even offers two collector cards if your child is keen to start or add to a growing collection.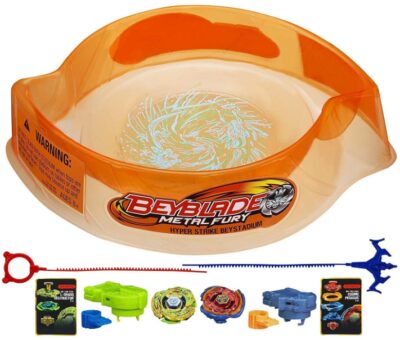 2. Beyblade Burst Beystadium
This arena is designed in a striking color and is quite streamlined and cool, a perfect beyblade gift or toy for any fan of beyblade games. This one is particularly to be used with the Burst Tops range of beyblade  toys arena set so if you or your child have a particular collection of Burst Tops that you would like to do battles with, then this stadium is the perfect choice just for that. What makes this arena even more clever and interactive is that it adds another dimension of game play, because if you simply scan the code on the arena, then it opens up a wealth of access to the Beyblade app that can be downloaded on any smart phone or tablet device.
This means that if you have a fan of the franchise, they won't just enjoy plyaing with the real arena, pitching battles against their friends tops, but they can enjoy a separate aspect by using the digital Beystadium that they can enjoy online. This arena is a good choice if you want Beyblade action with a twist (especially for those children who love playing on tablets or phones) then you can mix it up and have both at your fingertips.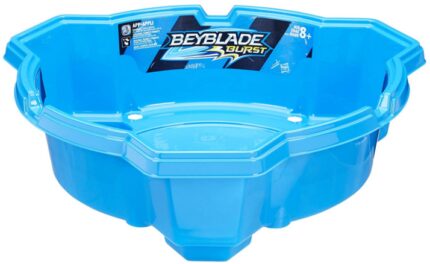 3. TAKARA TOMY Beyblade B-09 Burst
This is a rather streamlined and futuristic design for a Beystadium, and would definitely appeal to older children and teenagers, rather than younger ones. It offers the usual Bey arena features, such as the launching device that uses a cleverly designed ripcord that helps the top spin as fast and as quickly as possible, in order for it to attack as many other tops as it can, destroying its enemies quickly and cleanly. This Beyblade arena is a cool, clean design that would certainly be popular with older children and will be a design that they will all enjoy.
Players will be able to enjoy launching their tops in to the slick, plastic arena where they can battle until the death, hoping that their top will be the last one standing. This particular stadium can be used with any style or design of tops that you wish, so there can be hours of fun and games enjoyed. You could even invite friends around for a Beyblade Battle Party, so that everyone can join in and have battle after battle, waiting to see at the end who the final victor is. This arena is made by the Takara Tomy Company, rather than Beyblade themselves, but they have been making these arenas for a long time, and this version would definitely be an enjoyable toy.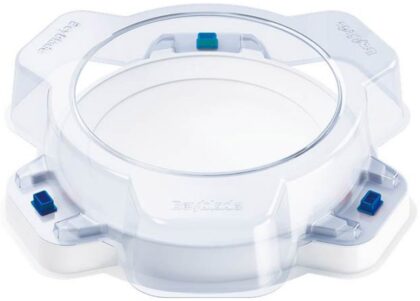 4. Beyblade Chaos Core
This is a good budget version of the red Beyblade arena, and is useful for all sorts of games and battles. It has the typical octagon style stadium and is compatible with all sorts of Burst Top styles, so the possibilities for game play and challenges are endless. This particular arena is also one that is designed with the Beyblade Burst App in mind, so it can be connected through the scan code on the stadium in order to explore a whole world of Beyblade fun in the digital version!
This arena allows for hours of fun of tops meeting in the arena to challenge each other – the rules are simple, if your top 'bursts' and falls apart, then your opponent earns two points. There are other rules and ideas behind each battle challenge, but basically the first player to get to three points becomes the winner of the battle. There are loads of other accessories that Beyblade make that can be used with this fun arena, such as Forge Discs, Burst Tops and Energy Layers, so there is so much choice and fun to be had.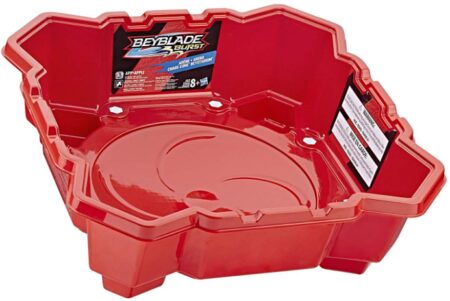 5. Beyblade Super Vortex Arena
The design of this game set is certainly edgier and a bit more exciting for teenagers and older children, as it's camouflage style design really makes it modern and cutting edge. There is lots on offer with this arena, so you're investing your money not just in the arena itself (which will provide hours of fun) but also in the various accessories and other features that enhance it and make it really interesting to play with. So what does it offer? It comes with Ray Striker and Gravity Destroyer Tops so that your child can have hours of battle fun with their friends and family.
This would make a great starter set because it offers everything you need to get started with playing straight away, as soon as you take it out of the box. The Ray Striker Top boasts a D125 Spin track piece and defense ridge and also has a performance tip part that has a coating spike, so the base is extremely strong and durable and will be able to endure many hits and attacks without falling apart or stopping. Because it can spin in both directions, it has a real flexibility and is able to adapt to all kinds of attack – a real secret weapon in the world of Beyblade. This set also comes complete with two separate ripcord launchers so there is no arguing over who launches first, everyone has an equal footing and can pitch battle against each other for hours on end.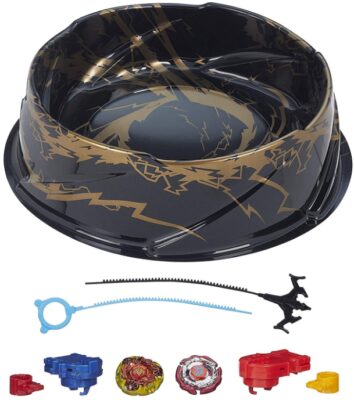 6. Beyblade Samurai Cyclone Set
As toy arenas go, this one has real character and excitement about it. The Samurai Cyclone Set certainly lives up to its name with impact, as it's bright, eyecatching color offers hours of exciting Beyblade action for anyone who gets involved. This set also offers everything that is needed to enjoy an instant battle as soon as you unpack the box. It's based specifically on the Shogun Steel anime cartoon episodes, and so comes with two Shogun Steel tops (five pieces each) and they are made with Synchrome Design which means there is even more metal, crashing fun and excitement to be had with them.
This arena has penalty boxes, the unique Beyblade arena shape to encourage amazing, bashing battles, and allows for all sorts of matches and victories to take place. What makes these tops extra interesting is that you can disconnect, connect and customize them using their component parts, so the uniqueness and design possibilities are endless. It also offers two ripcord launchers as well as the Cyclone arena, which is exclusive and unique in its design. The tops that come with the set are called the Samurai Ifrit and the Ninja Salamander tops, and once they are launched, well, excitement and chaotic battle fun will abound!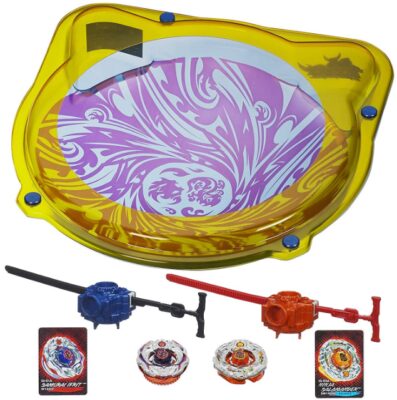 7. Beyblade Evolution Star Storm Battle Set
The Star Storm Set is an exclusive, uniquely designed arena, that offers amazing global competition, because it is based on Season Two of the anime cartoons, when we see Valt beginning to develop and hone his talents and abilities as he progresses to become a recognized Beyblade master. The Burst Tops used in this Beyblade Set are inspired by those in the cartoon series, and children will really enjoy being able to recreate the battles from the show in their very own arena.
What is amazing about the Beyblade is that you can change around the components, and connect different parts together to make a massive array of different designs and styles, so game play never gets repetitive or boring. You can name these new creations if you wish, also! No matter how many times your tops 'burst' in battle, you can just reconfigure them and start again and just like Valt, you will be on your journey towards Beyblade Mastery. This set comes complete with a SwitchStrike, two right spin tops, two left/right spin launchers, the arena itself and a set of helpful instructions.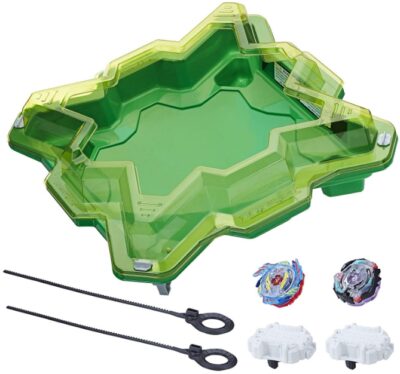 8. Burst Avatar Attack Battle Set
Made with Burst Tops specifically in mind, The Avatar Attack set is awesome!  As usual, it works along the same battle rules as all other stadium, if a piece 'bursts' then two points are awarded to the other player and the first player to achieve a total of three overall points, will be the winner of the game. The components in this particular set are able to be interchanged and are compatible with most of the other Beyblade Burst in the Beyblade range, however the Rip Fire Tops are not compatible with them.
This entire set comes complete with lots of fantastic Beyblade accessories to make the battle play even more fun and exciting for those die-hard Beyblade fans. It offers two Energy Layers, two Performance Tips, Forge Discs, the Beystadium and two launchers as well as two other accessories for the arena and the instruction manual. Basically everything you need to get started. What is fun about a Beystadium set like this is that not only does it offer the fun of the arena, but with the interchangeable parts for the Tops, you can have endless fun changing, collecting or customising your tops.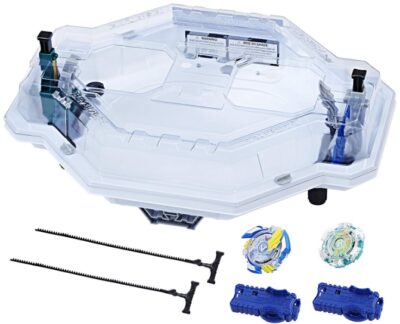 9. Burst Turbo Slingshock Rail Rush Battle Set
This Turbo Slingshock Rail Rush Set has it all. Anything and everything you need in order to have an epic battle with your Tops is ready at your fingertips when you open this amazing set. You can really enjoy the head-to-head nature of these battles because this arena has a dual rail design that allows you to adapt and change your attack approach by using the different areas of the stadium – allowing for real challenge, adaptability and excitement.
This amazing set offers the arena for exciting battles, as well as two launchers that spin your tops both left and right, allowing for more usability and fun throughout the game and it also has a Wonder Valtryek V4 and a Z Achilles A4 top (a varied choice of both attack and balance type tops), so there is so much on offer with this set and it would make a great gift or birthday treat for any Beyblade fanatic. The special feature of this Beystadium, however is the Slingshock strategy aspect – that you can use the rail riding feature to change and up your game again and again, destroying your opponents and encouraging more exciting game play.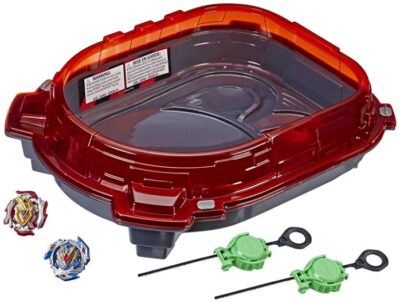 Best Beyblade Overall Pick
Beyblade Evolution Star Storm Battle Set
It was was number seven on our list of arenas for boys – The Burst Evolution Star Storm Battle Set was an obvious choice for Best Overall Pick. We simply had to choose this one because it had such a distinctive, exclusive design that really stood out in an exciting, eye-catching manner. We also liked this one because it deliberately connects to the character Valt's journey in Season 2 of the cartoon, and this would be a really fun selling point for children to really enjoy, especially if they are fans of the show.
There is nothing like the fun in childhood of being able to actually pretend to be your heroes, to re-enact their adventures and to feel like you are exploring alongside them. We felt that this Battle Set allows children to do just that, while enjoying the fun and joy of collecting and customizing their own Tops again and again. The inclusion of the SwitchStrike Top, the two spin tops that spin right and the two left/right spin launchers offered even more in the way of accessories and added extras included in the price, so this was a great choice as our Best Overall Pick.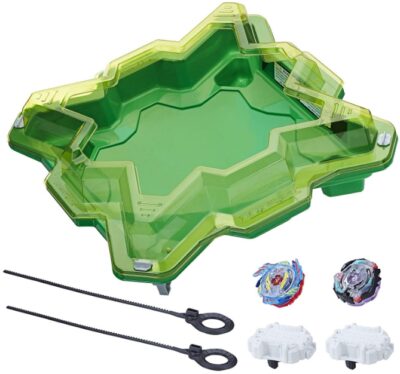 Best Budget Buy
Some Beyblade arenas can stretch the wallet a little, so depending on your budget constraints, it can be useful to shop around for an arena that is affordable but offers something in the way of fun and battles, and this Burst Chaos Core arena is a great choice for those on a budget. It has all the great features of any other Beystadium, but without too much cost associated with it. We also liked the fact that this arena had a clever scan code on the side that allows players to engage with the digital version of the battle arena, for added fun and extended game play.
This arena is durable and resilient, and will allow your child to share and enjoy lots of battle challenges and fun with friends and family as they explore the world of Beyblades and start to collect and customize their various tops and launchers. Even though they don't come as part of the arena, you can still use Forge Discs, Burst Tops and Energy Layers with it, so if you're spreading the cost you can buy these items later and build the collection slowly – it is all compatible with this Beystadium.