No one really knows why, but sometimes shopping for gifts for 21 year old guys can be challenging. Some have very big passions and niche interests, so gift ideas for young men can come to the giver quite easily, but those ideas can run out pretty quickly. On the other hand, some young men are almost impossible to buy for, and we can really end up scratching our heads for good gift ideas.
Whatever gift you need for your 21 year old man, then this helpful list of 21st birthday gifts can shed some light on some amazing ideas for you. Whether you are his Mother, sister, girlfriend or friend, you can take a look at this helpful list to find out which good ideas might be just perfect for your young man.
Things to Consider when Buying Gifts

Budget
When it comes to a milestone birthday, everyone wants to make an impression with a memorable and thoughtful gift. However, we all also have a range of budgets to account for. It is certainly possible to buy a good gift even if your budget is tight. Alternatively, you might want to make a splash and really invest in a higher end one, it is totally up to you. The bottom line is, nowadays there is so much choice of gifts that there is something to suit every pocket.
Hobbies and Interests
It's often very easy to buy a gift for someone that we actually would prefer to receive ourselves and we often miss the mark for the person we are buying for. For a Christmas gift, you might automatically think of something you think they need, like socks or a calendar, and in many cases these are useful and thoughtful gifts. But its also important to remember that if they are mad about golf, computers or football, then a gift in one of those categories would also be well received.
Style of Gift
You might not realise it, but you can give a range of different styles of gift. You can opt for a sentimental one,  that brings a tear to their eye and conjures up memories of family or childhood – these are always touching and thoughtful. Another idea for a 21st might be something to mark the occasion, with '21' written on it, a trophy, showpiece or token. Other popular gifts are more comedic in nature, and can be rather cheeky, and make the receiver laugh and share some lighthearted fun.
20 Gift Ideas in 2023
1. Pizza Socks Box 
Let's face it, socks aren't always exciting but if you are going to give them as a gift, then this might be a good way to go. These are particularly inventive and quirky, and if you happen to be buying this for a pizza lover or pizza chef, then it will have added humor. You might even want to include a voucher for a pizza restaurant as an added touch. This is funny yet practical, and shows that you've put a bit of thought into the process. They are made using 80% cotton and have an OEKO-TEX certification for high quality. You can even get a selection of 'flavors' including favorites like Pepperoni, Italian and Hawaiian. They come in US 9.5 – 13 sizes.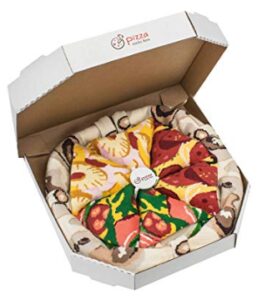 2. Donald Trump 21st Mug
Definitely a fun choice for the politics enthusiast in your house, this is a really humorous gift If they are a tea or coffee lover then not only is this Donald Trump 21st Mug a useful gift, it is also genuinely funny. It holds 11oz and is ceramic; as well as being microwave and dishwasher safe. It has a quirky, well designed Trump cartoon motif and quite eye-catching quotation which is sure to be a talking point. Definitely a great option for a budget friendly, memorable birthday token.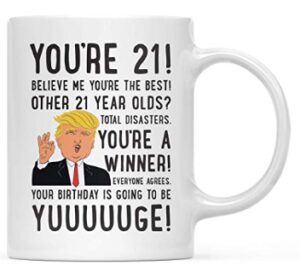 3. Drink A Palooza Game 
If you're thinking about giving a gift that your son or brother can share with their friends then this game is definitely one to consider. It combines all the drinking games together that they might enjoy with their college friends (drinking responsibly, of course!) It helpfully comes with ping pong balls for beer pong, a spin the bottle, a deck of playing cards, mini beer bottles and dice. It's an entire pack all ready to use for hours on end with your housemates, friends or even family! Up to 12 players can enjoy this game and it can liven up and break the ice at any 21st birthday party, Christmas party or even just a big family event, anyone can join in, you don't necessarily have to use alcohol to have fun with this.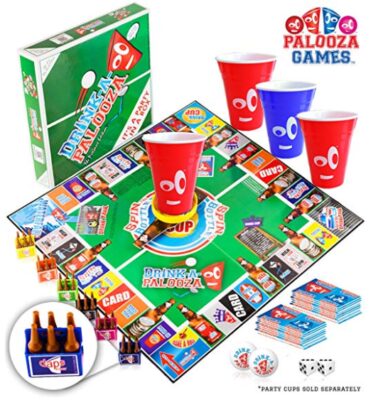 4. That's What She Said Party Game 
A party game with a bit of a difference, this one is definitely just for grown ups. If you're searching for a board game or party game for a 21st and you want to offer something unusual, then this fun board game is rather outrageous and will certainly get people talking and enjoying the party. It comes with over 450 prompt cards and four or more people can enjoy the fun and since it allows you to play with suggestiveness and innuendo, then the options for giggles and hilarity are endless. This might be one of the best gifts, because it allows them to have fun with a difference.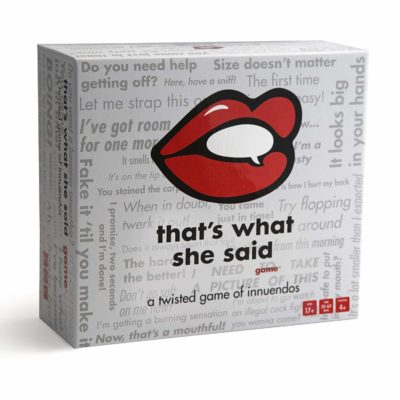 5. Hasbro Catchphrase Uncensored
Obviously catering to the younger generation, and therefore a very appropriate gift for someone aged 21, this gaming unit actually offers quite a lot for a party or event. It has many categories and over 5000 questions to guess,  and the added excitement of the timer and buzzer feature make it extra competitive. This gift is fun because it allows your friends to team up and work and guess together to come out on top and challenge each other with some friendly rivalry! Bear in mind, this is also 'uncensored' so there are some quite grown up, adult themes. These are fun Christmas gifts for 21 year old male that can be enjoyed by the whole family.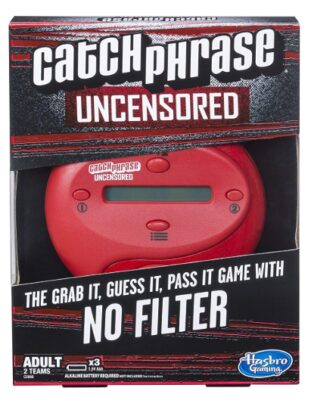 6. Atech Multifunction Tool Pen 
This gift is perfect for someone who is mad about gadgets. It's basically a Swiss Army knife for modern day men. It has several features, including a bottle opener, a stylus, ballpoint pen (really old school!) as well as a mini flat-head screwdriver, a 2.5mm Phillips brand screwdriver,a ruler and even a phone stand! So not only are you getting them something very useful, it is also a handy size for their pocket or briefcase. Perfect really for any birthday boy who needs something practical. It comes with a guarantee and its a bit of an out of the ordinary gift, one that is sure to impress. It's made of aluminium and comes in a stylish black color.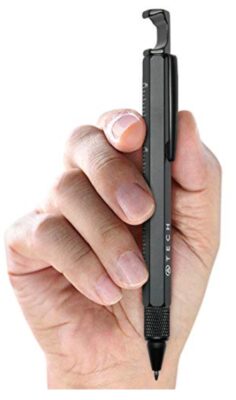 7. Laptop Backpack With Charging Port 
An extremely useful gift, this handy stylish backpack isn't just a laptop case. It's a more modern variant, with a handy built in charging port, so that no matter where you are, you have access to a charger. There is also a headset feature to allow you to easily enjoy music and audio on the move. The seller offers a lifetime warranty also, which is very reassuring when you are buying it as a gift. Another clever feature is the password lock and metal zippers so that it is very secure and will keep your paperwork and devices safe and sound. The shoulder straps seem well made and durable, and offer padding to avoid any painful chafing during a commute or walk to work or college. It also has a handy section for a water bottle and a cell phone.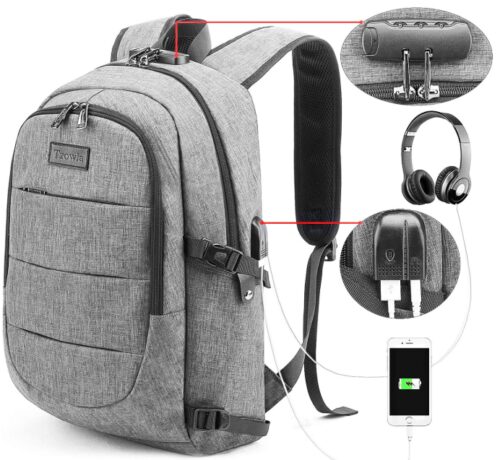 8. Mini Projector
Remember when you used to watch a movie in class during high school, and you wished you had one of those 'cool' projectors to watch your favorite movies at home? Well it's finally something you can buy as a gift for your brother, son or friend. As 21st presents go, it's pretty impressive. You can display video, television series, share slideshows of photos and even watch the big game with friends. For a college dorm room or bedroom at home its really a great gift. You can display video between 32 inches up to 176 inches with great clarity and can project from as close as 4.9ft up to 16.4ft. It has a handy cooling system and a noise cutting fan so it has lots going for it. It comes with a 3 year warranty as well as helpful technical support. What more does he need?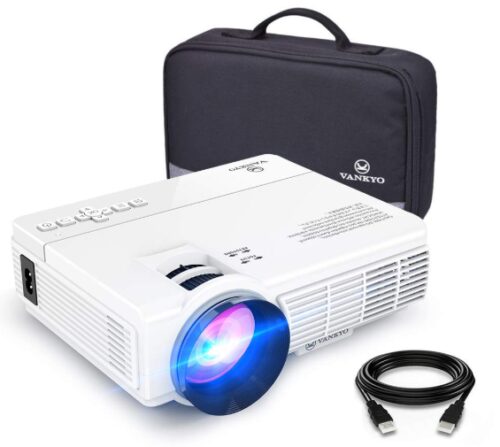 9. Household Tool Set
If your son, friend or brother has a keen interest in DIY, this gift is a great find. It has all the basic tool kit essentials that are required for basic jobs in and around the house and garden. Perhaps the birthday boy wants to learn how to fix and mend, assemble furniture or make home improvements, then this compact case has everything they might want. It's quite streamlined and not bulky, with handy shaped compartments to help you store the tools and keep track of them safely. It has 15 separate pieces including a 7oz hammer, a 6 inch adjustable wrench, 6.25 inch pliers, a multi-bit screwdriver set and a selection of Phillips, flat head and hex bits. This gift is not only useful, but it really is a gift for life.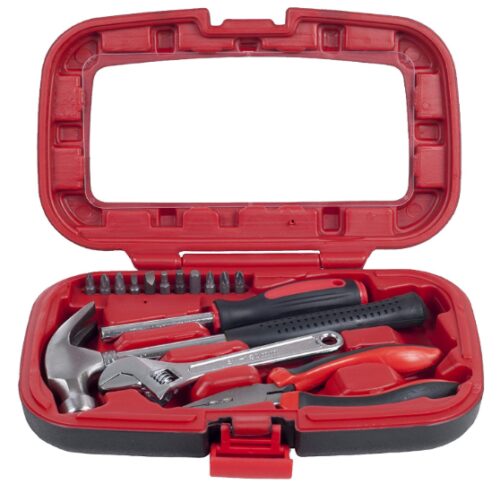 10. Waterproof Bluetooth Speaker
For your music lover, this is the best gift you could think of. It boasts high quality sound with rich bass vibes, perfect for someone who appreciates a good tune. It has 10 hours promised battery life and the battery is rechargeable also. You can use it in all types of situations, inside your home during a party or event, or even in your shower or bath! The waterproof quality certainly allows for wider use and a safer aspect overall. It is suggested by the makers not to submerge the speaker for a long time as it isn't designed for that specifically, but enjoying a singalong in the shower with this little speaker will definitely be a fun thing to do. It also helpfully has a micro SD card and an 18 month warranty. A really quality birthday gift.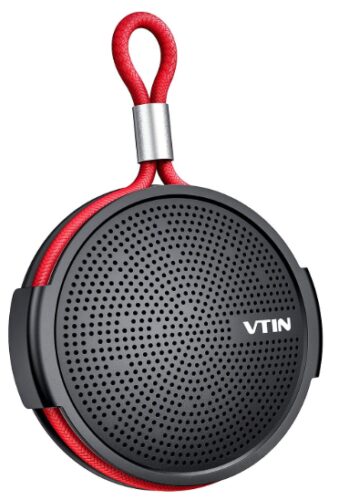 11. The Manual to Manhood
Written by Johnathan Catherman, an expert in Youth Mentoring and Support, this helpful little book might seem like a gag gift, but actually has some downright helpful content for the young man in your life. 21 is lauded as the age when you finally 'grow up' and are expected to know how to cope with real life situations and circumstances. Believe it or not, your birthday boy might laugh at the idea of this book , but it actually has helpful chapters on various topic such as managing finances, how to cook the perfect steak, and even how to tie a tie properly! It's basically a manual for life full of sensible ideas to avoid embarrassment and learn how to manage your own future. Maybe a good gift for an older relative to buy the younger generation.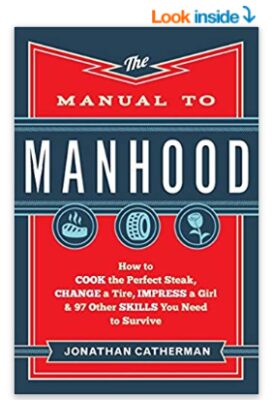 12. Men's Leather Bracelet

Some men absolutely love jewellery and some accessories can be really stylish and flattering on a man, so why not consider buying an item like this bead leather bracelet as a gift? It is made of genuine leather and is in a braided rope style with a stainless steel magnetic clasp. It fits between 6 and 6.5 inches wrist size and comes complete with a fashionable velvet gift bag so you won't even need to worry about having to gift wrap it. It's a slightly more special gift, because the recipient can wear it to remember the person who gave it to them, and it will still be fashionable to wear as they age. Great for Christmas, Father's Day and other occasions too.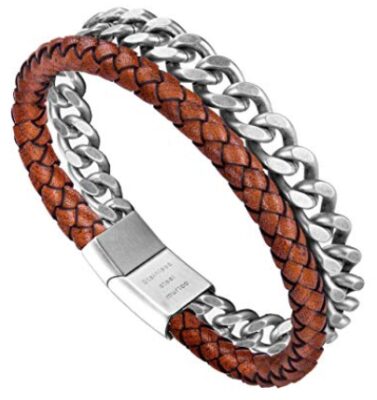 13. 21st Birthday Whisky Glass

Whiskey is always in style, and if you are looking for a gift that is a nice keepsake but also suits a man who appreciates fine whiskey, then this Birthday Whisky Glass might be the right idea. It has a nice personalized aspect, in that you can have the year of their birth engraved and they can enjoy the memory of receiving your gift every time they enjoy their favorite drink. It can be used for any type of liquor and measures 11oz. It has an old-time feel, and would be perfect to use in the bar area of your home, or especially if your man has the standard 'man cave' that they all enjoy these days! You don't even have to buy one, they can come in sets of even numbers up to 12 so that they can be shared and enjoyed at a party.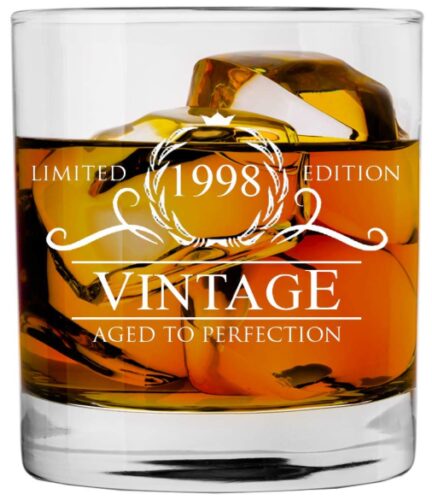 14. 21 Birthday Shirt

Another beer-lovers gift, and suitable for a 21st is this stylish printed t-shirt. It is available in a very wide range of colors and is made of 100% pre-shrunk cotton. It has a quirky design and is a lot of fun. It's sure to raise some laughs, especially if the birthday boy wears it on his big day. It is printed and designed in the USA and the makers recommend it is machine washed cold and tumbled on a low heat for best maintenance. A good gift if your budget is tight but you want your special friend to enjoy your gift again and again.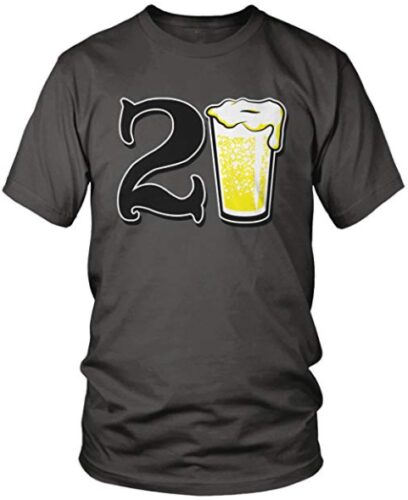 15. 21st Birthday Beer Mug

Another big one for the beer lovers (let's face it, that's most men, right?) this handy beer mug is laser etched with a personalized date that is specially made for your friend's birthday. If they enjoy a cold beer now and then, they will always thank you for this thoughtful gift, and because the glassware is etched, it won't fade or wear away with time and repeated washing. It has a 16oz capacity so most 12oz bottles can be decanted and enjoyed easily. Made in the USA, you can even order a set of matching glasses for a football team, bowling team or just for your closest friends to enjoy a beer on a hot summer's day!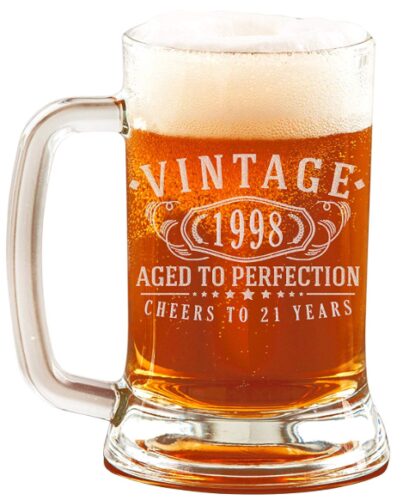 16. Born in 1998 Poster

This gift is quite special because it offers a more unusual choice of personalized memorabilia. Depending on the year they were born, your brother, friend or son can enjoy a 'Born In' poster specific to the year they were born. It is packed full of interesting details, facts and information from the year they were born, such as historical events, famous songs and other random, fun facts. It comes in an 8 x 10 inch print, although the frame is not included. Guests at the party will enjoy reading it and the lucky recipient will also enjoy reminiscing and learning about things from back when they were born. It also comes with a 30 day full refund guarantee.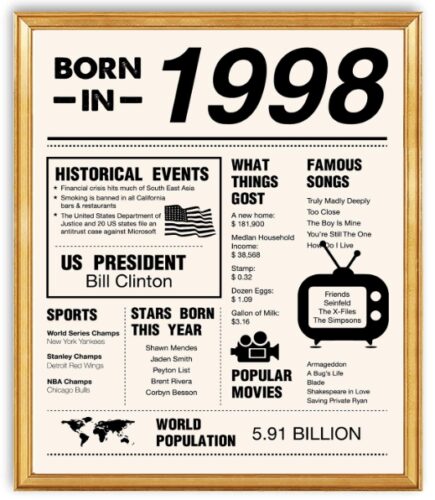 Our Top Pick

It had to be number 7, the laptop backpack with charging port and other handy features makes this a cool gift for 21 year old guys. We're pretty sure that this well made and useful item would be really appreciated by the lucky man who receives it for their milestone birthday. The headset feature that allows the user to play any music they like and the clever password lock are real selling points, and make it way more than a typical laptop case or backpack – it's like getting several gifts for the price of one. The color and style are also appropriate for a young man, and because of this it will get many years use and they will always be grateful for having this practical yet fashionable gift for their 21st birthday.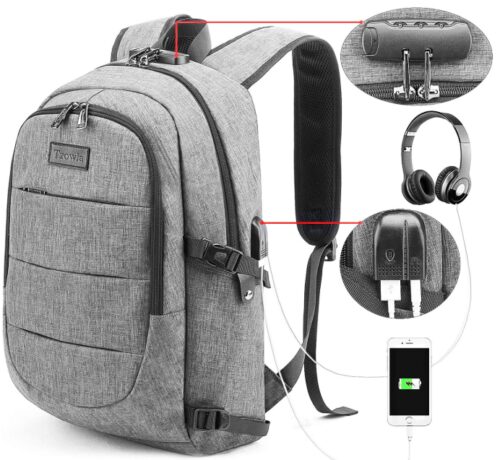 Take a look at the following video for more info:
Tips for Gift Shopping for birthday gifts for 21 year old male

Stick to your budget: It's very easy to get carried away with spending for a special occasion. Whether you're buying several smaller gifts, or one large gift, set a budget and stick to it or things can easily get out of hand. No matter what gift you give, you can be sure that your loved one will appreciate the thought and kindness that went into it, so try not to stress if you can't spend a fortune!
Buy something that THEY want: Pay attention to the hobbies and interests of the recipient. Make sure you are buying something that they truly want or need, not something that you think they want, or that you would prefer to have for yourself! It's easy to fall into this trap so try and put yourself in their position and ask yourself if they had the money, what would they treat themselves to?
Add a special touch: Even if your gift is something small, inexpensive or handmade, try to include some thoughtful touches, such as making a treasure hunt which leads to the gift, leaving clues around the house for them to follow. Or maybe you can wrap it up specially, in wrapping paper based on their favorite movie or band – people notice these thoughtful extras.
What to Get the 21 Year Old Who Has Everything 
You have two choices. Get them something they want or something they need. Have a good think about everything they have already got in their life, they might literally have everything – so try to get back to basics. They might have amazing camera equipment and all the fancy accessories, but do they have a photography magazine subscription? Do they have a vintage camera or a famous photography book? These might be welcome gifts that supplement their collection but ones that they would really appreciate. Or, if you think something they need is more appropriate for their 21st birthday, then maybe there is something useful you could gift, like vouchers for something practical like massage sessions or car insurance for a year – there are more choices than you think.
Types of Birthday Gifts 21 Year Old Sons Love

So what do 21 year old men really love to receive as a gift? They are a mixed group of people with a wide variety of tastes and hobbies, but you could go down several routes. You could gift them an electronic device or gadget, you could get them something useful for the home like tools or equipment or you could even get them clothing or accessories for them to enjoy. Experiences are also well received, like racing car vouchers or a day at the races or Superbowl. Whatever gift you give, the birthday boy is sure to be a very happy one.