A 21st birthday is a monumental milestone for anyone and, rightfully so the celebrations should reflect the occasion. From deciding on a venue for the big birthday bash to choosing a decorative cake for the day, there are many things to organize. Most stressful of all can be deciding on that special gift that marks 21 years of age.
From keepsake jewelry to gifts that are practical, there's a whole host of options and they needn't break the budget. Here, we look at some gifts that are certain to be loved by a girl turning 21, but first let's look at what you need to consider before you start thinking about 21st birthday gift ideas.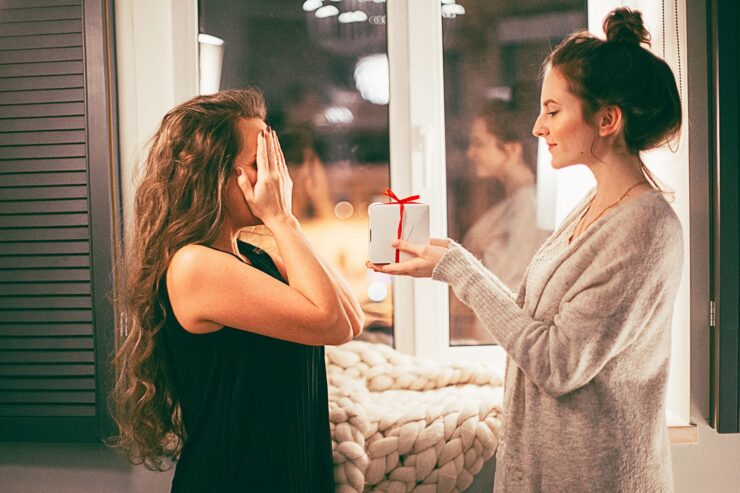 Considerations When Choosing Gifts for 21 Year Old Girls

Whether you're a family member or a friend, deciding on gifts for 21 year old girls isn't always easy. We as gift buyers want to get it right and taking the time to think carefully about the person we're buying for as part of it.
We often ask ourselves lots of questions such as what's their favorite color? Are they sentimental? Would I like to receive this as a gift? And, more often than not questions like this can cause a lot of unwanted stress and hesitancy. Who said 21st birthday gift buying has to be stressful though? In fact, we've put together some handy tips to help you find the best gifts idea for a woman that is 21 years old.
Firstly and most importantly, what does your budget look like? There's no need to entertain the idea of splashing the cash if your bank balance won't allow it. While gifts with a higher price tag may seem initially appealing, more often than not you can find a similar product at a fraction of the cost. Be wise if you're on a budget and use websites such as Amazon to scout out the gifts for 21st birthday.
Your relationship with them. The gift you'll buy as a friend is largely different from 21st birthday gift ideas for a daughter. While the relationship as a friend may still be as equally important, you may not be expected to blow the budget on a fancy gift. More often than not the sentiment of just being there on the special day is enough. If you're a romantic partner of the person however, you may want to consider going the extra mile and selecting something that reflects your bond.
What do they need? So many gifts often go unappreciated and not always due to a lack of appreciation but rather the object's practicality. Though sentimental gifts hold a purpose of their own, sometimes practical gifts are a better option. We've all been in that situation where we've received a new object for our home that we actually needed and have been equally (if not more so) grateful if we have received a fancy piece of jewelry.
Likes and dislikes. If you know the person well this should be an easy consideration: you'll know whether they like pink or hate it. Use your common sense here and choose a gift you know that is a safe bet. Perhaps you know they really like silver over gold and there you have it, your answer for the perfect jewelry piece. This point may seem like common sense but it is important to put yourself in the shoes of the person you're buying the gift for after all.
The message. Think about what you want your gift to convey in terms of a message. A 21st birthday is a perfect opportunity to send across that special message in the form of a well thought out gift. Novelty gifts are popular on this occasion for a reason and there's a lot of choice: from glasses to key chains, there's something for everyone.
21 is the age that a teenager transitions into adulthood, therefore avoid any gifts that could be considered childish and think more along the lines of what the age brings to the person: the freedom to drink alcohol is just an example. Generally the more monumental the birthday, the larger the novelty aspect of a gift can be. Keep this in mind when thinking of your options for a 21-year-old girl.
Top Ideas in 2023
1. 21st Birthday Bracelet with Beads
Jewelry is a popular choice for a birthday gift and this pretty bracelet comes at an affordable price. Featuring 21 14k gold dipped beads, it's the perfect sentimental gift to make her day that extra bit special. Both elegant and practical, the bracelet's beads are threaded onto an adjustable cord making it a one size fits all, adjusting up to 8" in length.
For those with allergies, this bracelet is an excellent choice as it's nickel-free and will not cause any unwanted reactions. Finally, this design features a sliding toggle for easy and reliable closure for extra comfort and ease.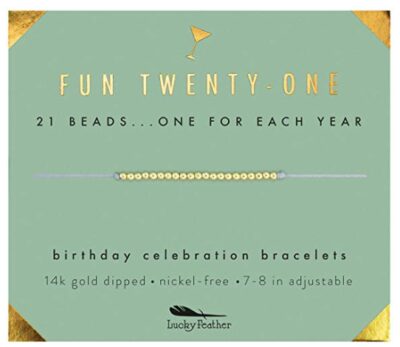 2. Wine Glass for 21 Year Old
21 marks the year that you're legally able to drink in the U.S and brings with it many new and exciting celebrations. Novelty gifts often take the form of decorative pieces such as glasses and what's better than a gift that is also practical? This 21st wine glass features a beautiful hand-painted design, perfect for a girl. One side of the glass features a traditional "Happy 21st Birthday" message with the opposite side featuring a "Let's Party!" message.
Gift it to the birthday girl who can use it to drink a whole variety of drinks from such as wine, cocktails and more on the big day! Holding up to 15 ounces of liquid, the glass is carefully packaged into a signature gift box too taking away the need to gift wrap.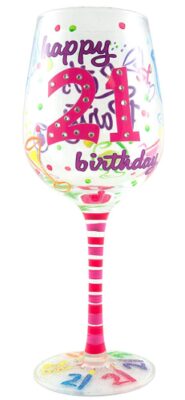 3. Stainless Steel Tumbler 'Finally 21'
Another great novelty gift option, this 'Finally 21' stainless steel tumbler is guaranteed to bring a smile to the birthday girl's face. At a budget price, it can be used to hold wine as well as other drinks and features a handy straw for practicality. A beautiful shade of blue, the tumbler is lightweight and composed of durable 304 18/8 food-grade double wall vacuum insulated stainless steel which is sure to keep drinks at a consistently cool temperature.
Outside of its novelty appeal, the tumbler's durability makes it perfect for camping and other outdoor adventures too. Reusable and versatile, it's conveniently good for the environment making it particularly appealing to those who are focused on reducing their own carbon footprint. Finally, this gift comes ready to hand over as it's packed perfectly into a matching gift box, what more could you want?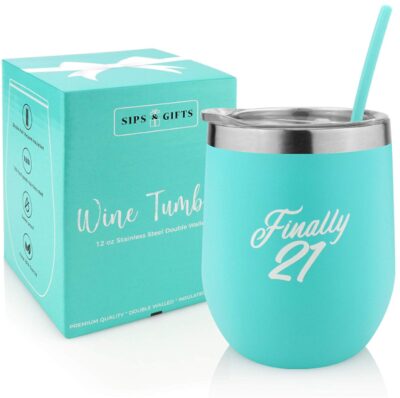 4. 21st Birthday Necklace
Nothing marks a milestone birthday more than a stunning necklace and this sterling silver number is sure to stand out. Packed beautifully into a box featuring a special 21st birthday message, its design is both elegant and modern. With two looped 925 sterling silver circles and a sparkly champagne crystal in the center, the necklace draws attention to its owner, making it perfect for that special day.
The necklace comes with a 5-year manufacturer guarantee, guaranteeing longevity as a handcrafted piece. If you're looking for a gift that'll be treasured for a lifetime to commemorate a 21st birthday, this gift is a great choice and will elevate any party girl's outfit.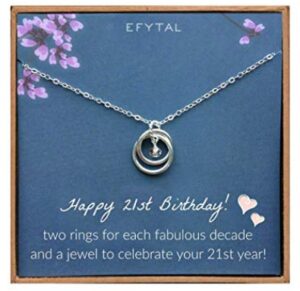 5. Birthday Key chain
Why not help the birthday girl remember her big day with a keepsake stainless steel key chain? This key chain features a heartwarming 21st message and will be practically useful too. Suitable for car keys, house keys or even just as an accessory, the key chain is made from metal that is both lead and nickel free.
This cute little accessory is timelessly stylish and stands out from the typical gift key chains out there due to its simple and non-tacky design.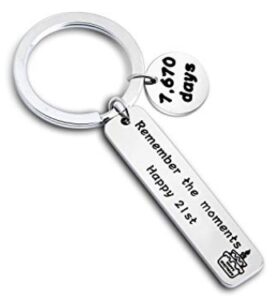 6. I am 21 Notebook
For all those stationary fans out there, a notebook could be the ideal 21st birthday gift. This novelty notebook is cool, pretty and features a irresistible rainbow unicorn graphic with the message 'I am 21 and magical'. 100 pages in length with half lined and half blank pages, this is the perfect addition to any 21 year old girl's collection and can be bought at a budget cost.
Why not gift this and suggest leaving it out at the party to be filled with birthday messages from friends and family for that extra personal touch?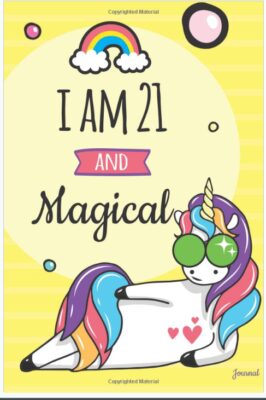 ,

7. Born in 1998 Glass
A girl can never have too many glasses for celebratory 21st drinks…Why not choose a new favorite glass with this simple yet stylish design? A classic novelty gift featuring a wear-resistant frosted glass print that reads '1998 Happy 21st' is visible on both sides for full effect. Fill it with a favorite cocktail or wine, this glass is one that is sure to be used outside of its packaging.
Composed of sturdy bar-grade glass, it's a cut above when it comes to the usual novelty glass quality, is dishwasher safe and you won't have to spend a fortune either.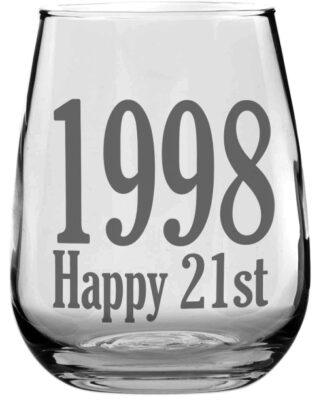 8. Bath Bombs Gift Set
If novelty isn't your thing and you know that the 21st birthday girl enjoys a good pamper, this could be the best gift choice out there, after all there's nothing better than a long soak in the tub after a big party. This fabulous gift set features 12 wonderfully colored and varied bath bombs each with their own unique scent and therapeutic properties.
Handmade in California using top-quality ingredients, the bath bombs in this set offer plenty of fizz and fun! Perfectly packaged into an adorable gift box, consider this gift option if you want to pleasantly surprise the birthday girl with a unique gift that nobody else will have thought about.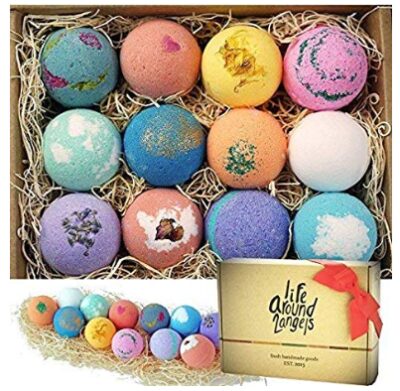 9. Infuser Water Bottle
For a health conscientious girl, an infuser water bottle is a great option. Pack it with fruit, herbs such as mint or simply use it for plain water, there are a whole variety of ways to make use of such a practical gift. Easy-to-use and constructed of high-quality, durable food grade plastic, this bottle is a fantastic eco-friendly gift choice that allows its owner to infuse their usual drink with.
This could be a perfect option for girls who don't drink alcohol too as an alternative to the novelty style glasses out there. It's lightweight and can be transported easily making it great for the gym or just general adventures.
,

10. Neck Massage Pillow
Who doesn't love a good massage? This neck massage pillow gives you the luxury of a massage from the comfort of your own home. 21st birthday gift ideas don't have to be flashy, in fact, often a gift such as this one is appreciated equally as much. Every 21 year old birthday girl is sure to be delighted with a gift that can ease away the tension and strain after a long day. With powerful 3D rotating massage nodes, the pillow is easy to use.
Simply switch it on and it'll get to work undoing knots via a deep shiatsu massage and, with a gentle heating effect it takes the experience that one step further. Ergonomically designed, this pillow guarantees 100% customer satisfaction and is of the highest quality. Go on, treat her to a lifetime of free neck massages!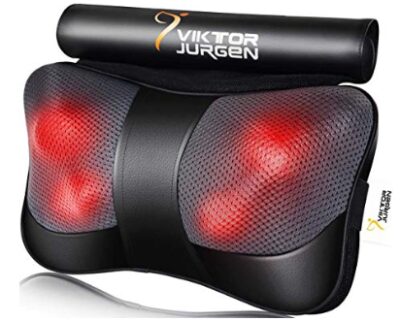 11. Wish Stone Pendant Necklace
If you're looking for a 21st birthday gift that has the wow factor, this is it. A beautifully designed elegant wish stone pendant necklace that is the final addition to any occasion outfit. With an eye-catching Swarovski Crystal centerpiece available in a range of colors, you'll be able to personalize the gift according to the birthday girl's preference.
The pendant itself is looped with stunning gold plated features that have smaller crystals set within them. An elegant gift for an equally elegant birthday girl, choose this gift if you're looking for a signature jewelry piece that is both affordable and of high-quality.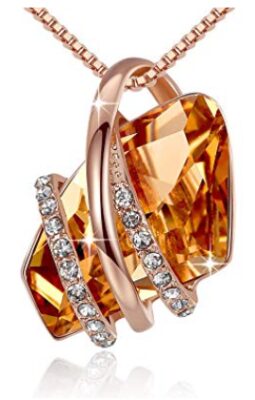 12. Owl Pots with Succulents
If your birthday girl is a fan of cute gifts, these mini ceramic planter pots are sure to put a smile on her face. Available in a range of beautiful glazed designs, these pots are both functional and the perfect addition to a bedroom or living space.
Available in 6 designs, why not mix and match the perfect owl trio or start a collection by selecting one to make a collection idea. Either way, these owl themed succulent pots are a hoot!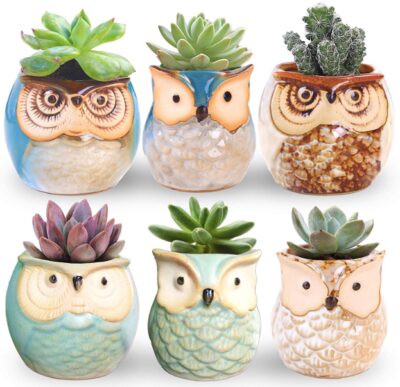 13. Fitness Tracker Watch
Fitness tracker watches are hot on the market and have been for a while now, for good reason too! With a growing number of health-conscious millennials, this fitness tracker watch could be the right gift for a 21 year old women who enjoys hitting the gym, running or walking. For the active type, this watch gives full control of tracking everyday activities and even has a built-in pedometer.
Available in a range of fashionable colors, the watch also tracks heart rate, sleeping patterns and more. As an extra feature outside of its activity tracking, the watch also cleverly informs the wearer of incoming calls and messages via a vibration alert. The fitness tracker watch comes with its own USB charger and is fully packaged, perfect for slipping into a trendy gift bag on the big day.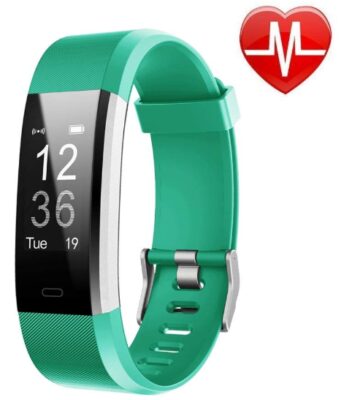 14. WeWood Watch
Are you looking for a timeless gift to commemorate the birthday girl's big 21st? This uniquely designed watch ticks all the boxes and more! Beautifully crafted from classic lightly colored wood and with an elegant floral styled design, this gift is sure to please when it comes to both appearance and practicality.
The birthday girl will stand out from the crowd with this unique watch which is sure to go noticed amongst friends. Watches make fantastic gifts for 21 year old girls on christmas and birthdays, this one should be at the top of your options with its reasonable price tag too, 21st birthday gift ideas for her don't get much better than this!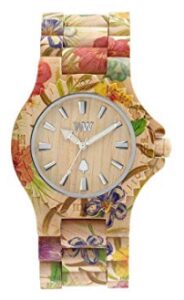 15. Phone Camera Lens Kit
We all know that 21-year-olds love their phones, taking that perfect selfie as well as snapping other photos while out and about for social media…This professional phone camera lens kit could be the gift you've been searching for if the birthday girl you're buying for is a photography fanatic.
Compatible with both smartphones and iPhones, the kit comes with various premium coated lenses that offer cool effects for spectacular birthday photos, Instagram posts, travel cataloging and more. Detachable and portable, this kit comes with a fisheye lens for that cool angle as well as a macro lens to name just a couple.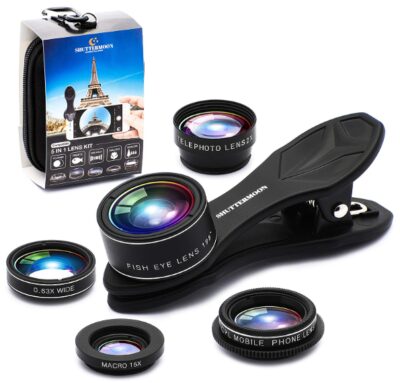 16. Hands free Kit and Car Charger
For the girls who are a fan of having the latest gadgets and gizmos, this hands free kit is a fantastic choice for tech fans. Offering comfort when driving, owners of this Bluetooth hands free kit can answer incoming calls conveniently and safely when on the road.
The gadget works by taking calls and transferring them through to the radio speaker and is compatible with smartphone, iPhones and even iPads too. Powered by the cigarette port, this bit of fancy kit is surprisingly easy to use and is the perfect addition for a girl who loves accessorizing her car.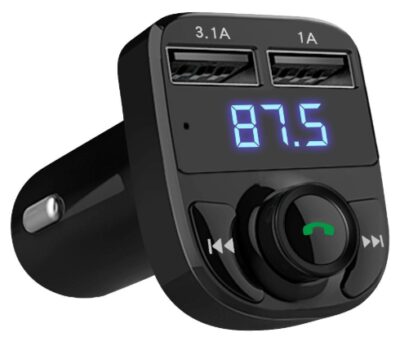 Overall Best Buy
Hopefully, after reading our selection of the gift ideas for women and the best gifts for girls celebrating their 21st milestone birthday in 2023, you'll be able to make the right gift choice with confidence. From tech gadgets to relaxing bath bombs there is a whole range of options out there that you can choose from but as you see the choice needn't be confusing.
Wave goodbye to the stress and think through the considerations outlined at the top of this article to choose the right 21 year old gifts for girls. With your budget in mind, you'll be surprised at just how much of a fantastic gift you'll be able to buy!
Some Final Tips Buying Gifts for Girls Aged 21
Don't forget the gift wrap! You've taken the time to carefully consider the gift you'll be giving to the birthday girl, therefore don't slack on the gift wrapping. Even on a budget there are many ways you can jazz up the typical gift wrap making it that extra bit special. Why not have a go at crafting your own flowers to decorate the gift wrap you'll be using? Or, try a hand-drawn design on Kraft paper? Think outside the box as a little extra effort goes a long way…
Remove any price tags. Yes this may seem like common sense, but more often than not people forget to remove the price tags from gifts they're giving. This can be especially frustrating if you've spent a small amount of money, so think ahead and look out for any stickers and labeling that best be removed.
Co-buying. On a tight budget? If so, you may want to consider joint buying a gift for the special girl who's turning 21. It's very common for friends to chip in a fixed amount of money and spread the cost of a gift. This is generally considered as a thoughtful thing to do for both the gift recipient and those involved in the gift buying as you can work together to select the perfect gift.
Get a gift receipt where possible! Though you will have taken the time to carefully consider the gift you'll be giving the birthday girl, it's always a good idea to request a gift receipt just in case. This will give the recipient the option to return the gift for something else that they prefer, though finger's crossed this won't be needed!
Buy ahead of the day. Another one for the common sense bank, but don't leave gift buying until the last minute. This is especially true for online retailers where the delivery process of the gift takes time. Always by rule of thumb, buy a gift a week in advance of when you're due to give it. This will give you the opportunity to change your mind if needed and will minimize stress by guaranteeing its arrival before the party day or occasion.
If you're buying online, check the item when it arrives. If you're buying from an online retailer, the gift you select will be in transit for its journey to you. When a gift arrives, especially for a big occasion such as a 21st birthday, you should check for damage. This is important as if you need to return or exchange the item you can do this ahead of the day and reduce any potential opportunity for embarrassment if the birthday girl receives a damaged gift.
Here are some other interesting options: