If you're here because you're looking for the best family board games of all time, we have a wide selection in our guide below. From funny games that'll have every family laughing on the floor to tactical, strategy games, we have something here for all types of family entertainment nights.
More often than not it can be quite difficult to find fun family games that are suitable for every member. With families comes an age range extending from siblings to grandparents. We've been mindful of the different suitability when it comes to the top family games with boards and we have tried to include something for everyone here.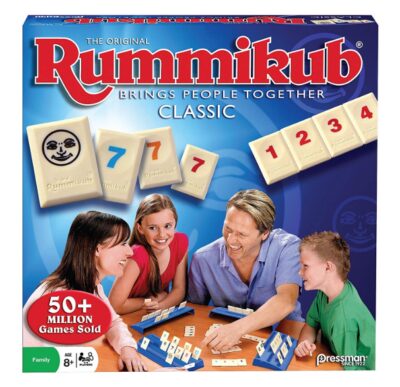 Considerations When Choosing Family Games
Before we dive in, however, here are a few considerations to keep in mind prior to buying the perfect family board game:
Budget 
It would be an easy life if we could wipe out the idea of ever considering budgets for the things that we buy. However, even when it comes to choosing a suitable family board game you'll want to consider the budget. There is a lot of variation when it comes to pricing in the board game world, so set a clear budget before you go out searching for the perfect game to entertain everyone in the family!
Personalities
Families are made up of multiple members with very different personalities at times. Therefore, it's probably wise to keep this in mind and consider everyone's personality when choosing a suitable board game. This is especially true if you're hoping to find a 'funny' board game. What one person perceives as funny another may not so be mindful of this when making the selection. Also, some family members may really enjoy a good strategy game while others don't, choose a game that sits in the middle-ground if this is the case…
Ages
Age is an important factor to take into consideration. While we've tried to include lots of options in our list below for families made up of different aged members, you may find it worth buying more than one board game. If you have older children as well as younger children, age can become quite a problematic factor as what is deemed suitable for teenagers is certainly not suitable for a child of 6 years old. Be mindful of the type of game that you buy and what you could be exposing your child to – this is particularly true for the funny games that are often designed to shock!
Game time
Game time varies across games. When involving family members, you should keep this in mind. Older family members such as grandparents probably won't want to be caught in a strategy game that spans hours and equally so, neither will younger children. Therefore, if you're looking for a game that is suitable for all members of the family you're going to want to reach the middle ground here…
18 Top Family Board Games
We've put together a list of the top games for families out there and are sure you'll find something here for your next family event. Whether you enjoy playing for hours or, are looking for a quick game that'll keep the younger ones engaged, it's time to dig in and show you the ideas that we've come up with!
1.  Kittens and Explosions Board Game
This Kittens and Explosions games is truly one-of-a-kind. Perfect for those who love cats this one of the best family games out there that is suitable for 2-5 players at a time. A card game for people who are into kittens and explosions and laser beams and sometimes goats, this game will take every family member on a fun adventured as they enjoy the thrill of exploding kittens. Great for beginners or experts, there's lots of fun to be had with this unique piece of entertainment that has proven to be one of the best games in 2023. Don't worry! The box won't meow…

2. What do you MEME? Family Game
This game has been especially designed for ages 17+ due to the dark humour included across the game. Family members compete to create the funniest memes by using one of the dealt caption cards to caption a photo card in each round. The winner of each round is decided by a rotating judge and will become the meme Queen or King by the end! Inside the box you'll find 435 card, an easel and bonus rules, shrink-wrapped in a custom box. If you're looking for fun games for the entire family, it doesn't get much more entertaining than this awesome meme game!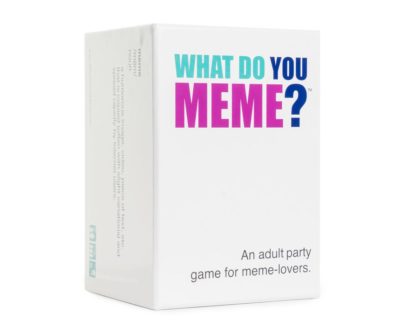 3. Jenga Blocks Game
Jenga is one of many classic family games that can be enjoyed by both children and adults alike. Simply stack the blocks and pull one out, taking turns. The first to crash the tower loses! The box includes 54 Jenga hardwood blocks and a handy stacking sleeve with instructions. This simple yet addictive game is timeless and is the perfect ending to a family dinner. Helping to improve skill and strategy, Jenga is perfect for helping smaller childrne to improve their hand-eye coordination and spatial awareness too.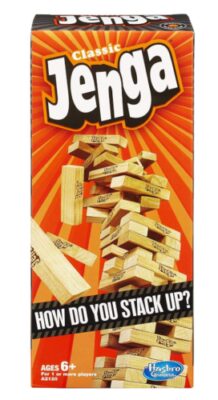 4. What Ya' Mouth  Party Game
Watch Ya Mouth is an award winning family card game that should definitely be added to your board games for family night collection. Suitable 8 year old kids and from 3 to 10 players, each is required to wear a mouth guard and speak out phrases while their teammates must take a guess at what they're saying. Each of the 143 phrases are family friendly meaning that young children can involved with this entertaining game too!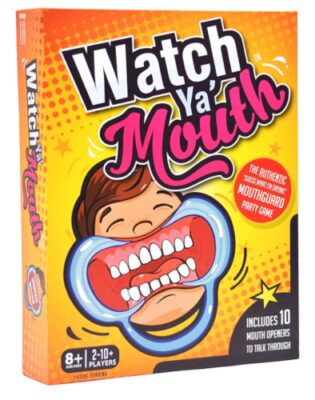 5.  Classic UNO Game
Uno is a nation-wide classic game loved by all types of families. If you're looking for top games for a family, look no further than Uno. The classic card game of matching colors and numbers is great for younger children aged 7 years and will help to flex those brain skills! Players take turns matching one of their cards with the color or number card shown on the top of the deck for a chance of winning. The first to get rid of all their cards scores the most points, with whomever reaches 500 winning!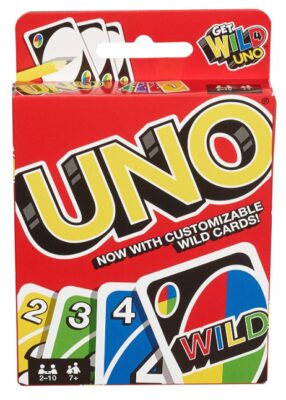 6. Sequence Card Game
Card games are great fun and this Sequence card game is one of the newest games for families. Each player takes turns playing a card from their hand and placing a chip on a corresponding space on the game board – when you have five in a row, it's a Sequence! Great for improving STEM skills, this game can be enjoyed by multiple players and is an exciting game of strategy that can be played over and over!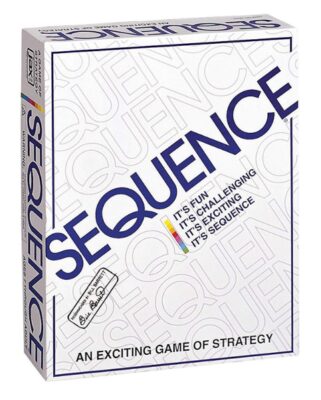 7. Codenames Word Game
This number one party game is all about top secret words or codes. Suitable for 2-8 players, it's a great activity to bring out at any get together and is suitable for children ages 14 years and up. With a 15 minute playing game it offers lots of thrilling suspension whilst also encouraging players to use their thinking skills to uncover the secrets of the words. For those that want challenging family games, this could be just what you've been searching for!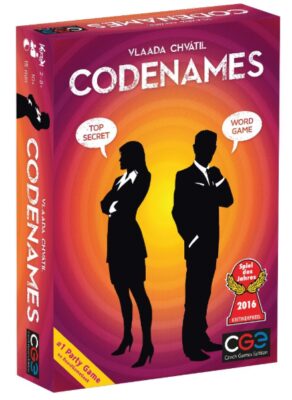 8.
Rummikub Tile Game
Wondering what Rummikub is exactly? It's a brightly colored, numbers game especially designed for families to enjoy! Heping to improve math skills, players ages 8 and above can enjoy playing this game with siblings and parents too. In the box you'll find 106 easy-to-read tiles, four playing racks, and instructions to get started! Classic games really don't get much better than this! Help your children to learn outside of the classroom with this awesome game…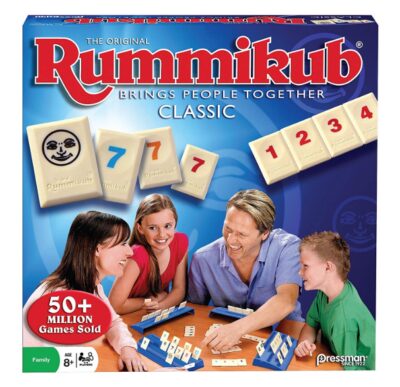 9. Blokus by Mattel Games
Mattel is one of the most popular toy manufacturers in the world and this awesome Blokus game is ideal for all family members who are looking for entertainment ideas. The strategy games challenges players to flex their strategy skills and logic too. Players take turns placing their 21 pieces on the board: each piece must touch another of the same color, but only at the corners – a real challenge indeed! To claim territory players use the blocks fitting as many of the pieces on the board as possible while strategically blocking opponents at the same time. When no more pieces can be placed down, the player with the lowest number wins! Blokus is one of the most fun games to play with family and is sure to get everyone thinking.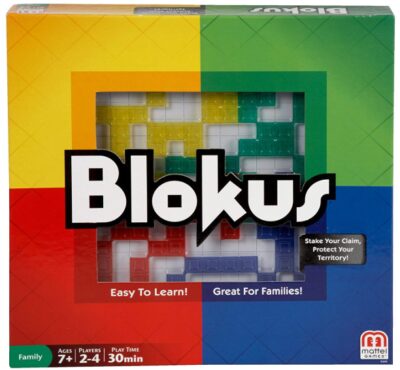 10.  5 Second Rule Party Card Game
5 Second Rule is a fun party game that can be enjoyed by all of the family. Simply pick a card, read the seemingly easy topic and start the timer! With only 5 seconds to name 3 things that fit the topic players will naturally get tongue-tied and end up saying outloud ridiculously funny answers. There is sure to be lots of laughter with this awesome game. Including 576 questions on 288 cards, a 5-second twisted marble timer and simple rules, the game is suitable for 3 or more players and children ages 10 years and above. Games for the whole family really don't get much funnier than this choice!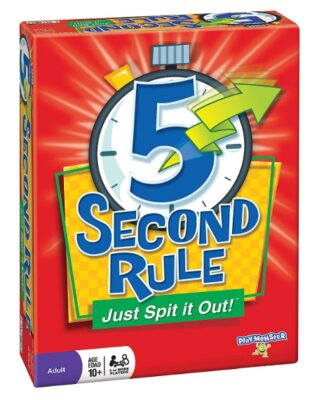 11. Catan Trading Game
Catan is a strategic game that involves trading, building and hsitory. The game takes us back in time to early human civilization and is suitable for 3-4 players with an hour of play time. There are tons of replay values to enjoy and a graphics book too. Suitable for older children and adults this game will get everybody thinking and contemplating on how best to grow their own settlements. Included in the box is everything you'll need to enjoy this educational game inclusive of cards and a board…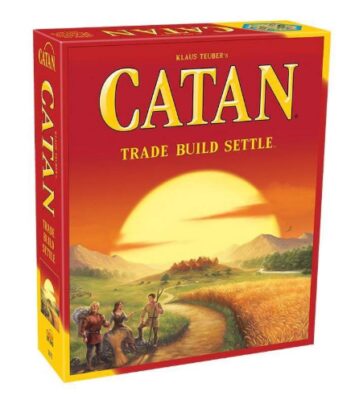 12. Hedbanz Guessing Game
Looking for a light-hearted game that can be enjoyed by all family members no matter their age? This Hedbanz game is guaranteed to cause plenty of laughing, is fast paced and easy to understand. The fun family guessing game prompts players with the question of "What am I?". Through asking yes or no questions to figure out the cartoon on the player's head, the first player to guess is the winner. The categories are simple enough for younger children to understand and help to improve reasoning skills. As one of the most popular games right now, Hedbanz is sure to quick become a favorite!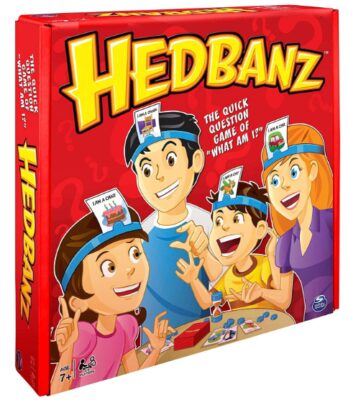 13.
Spontuneous Song Game
Everyone loves singing, right? No matter whether we're good or bad, it's one of the most entertaining things to do with family and friends. This awesome party gaem is suitable for all ages and covers all types of musical tastes. To play, a prompt word is given and players race to blurt out any song containing that word. No singing skills are necessary, however, improvisation is encouraged. Great for players ages 8 years and above this game is sure to become one of many fun games for families enjoyed regularly after a dinner or for a birthday party enterainment.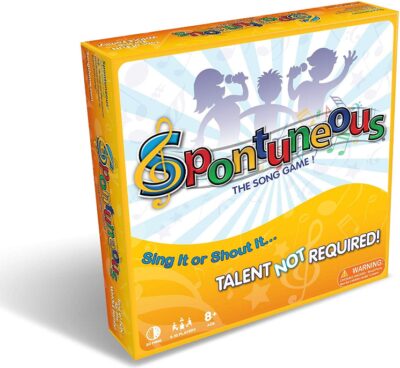 14. 
Cover Your Assets Set-Collecting Game
Cover Your Assets is one of the best board games out there for strategy lovers, it's especially good if you'd like to get grandparents involved! The first player to reach 1M in assets wins the game and the game is designed as simple to play making it easy to follow. Suitable for multiple players, the cards contain great graphic illustrations with values placed on them. Strategy takes the forefront of this game as players will have to make decisions as to which cards they want to own.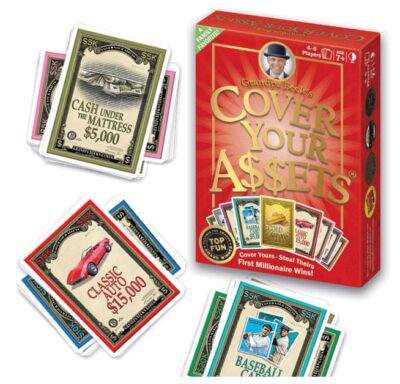 15. 
Labyrinth Adventure Game
Labyrinth is exactly as you might imagine – a popular family game that is suitable for both kids and adults. The aim of the game is to find the shortest route through the labyrinth in order to win. Great for 2-4 players ages 7 and up, there are lots of treasures to collect in the labryinth too. Inside the box you'll find only quality components including a playing board, 34 maze cards, 24 Treasure cards and 4 playing pieces. The game can be played for 20-30 minutes, making it great for children who are prone to losing interest quickly.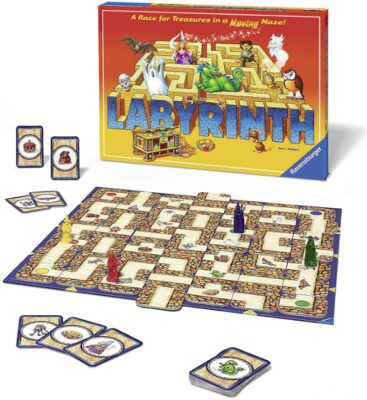 16. Scrabble
Scrabble is an all-time classic when it comes to games for families. The word oriented game is suitable for multiple players and involves players creating words to score points on the board in order to win. A challenging yet fun activity that is sure to help expand vocabulary, Scrabble is all about flexing those word abilities! The player to score the highest is crowned the winner!

17. Monopoly Cheaters Edition
In this awesome edition of the popular game, players can follow, bend or break the rules to win! In fact, cheating is very much so encouraged so long as you don't get caught of course. In the box you'll find a plastic handcuff unit that "chains" cheating players to the jail space. The cheating cards included prompt players into cheating and if completed without detection taht player twull then be rewarded. Expect lots of laughing as players are encouraged to bend the rules as part of gameplay. The player with the most money at the end of the game wins. This game is perfect for all family members as its suitable for young children ages 8 years and above too. 

18. Taco Vs Burrito Game
Mmmm, this game will most certainly help to work up an appetite! Suitable for 2-4 players ages 7 years and up, this popular cardgame is focused on fun strategy! The action cards shift the game into unpredictable territory and gameplay only lasts for a short period of time, making it great for those with a shorter attention span. Easy to learn and entertaining to play every time, kids will love this awesome Taco Vs Burrito card game. 

Now that we've revealed our top games to you, it's time to move onto further considerations and our best picks inclusive of a budget buy and top overall buy. We hope that our list has helped to inpsire you and gave a better idea of what game you should go for!
Best Pick Overall
Our top pick is the awesome What Do You Meme family board game. Although it's only suitable for children ages 17 years and above, it's one of the most relevant and entertaining gaemms out there, right now! Players compete with their family to create the funniest memes through applying caption cards to the photo cards in each round. A judge takes charge to call the scores on the funniest memes created and players cna take turns judging and creating!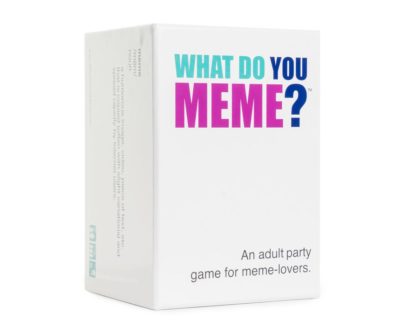 Best Budget Buy
Our best budge buy has to be this classic Jenga game which is one of the most popular games out there! Simple to follow and great for strengthening logical skills, players take turn to remove blocks without knocking down the towers. Including 54 Jenga hardwood blocks and a stacking sleeve with instructions, this game uses skills, strategy and luck!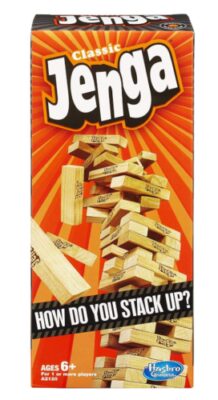 What are the Most Popular Family Board Games?
Wondering what the most popular games out there are? In our list above, we've ncluded some of them including the classic card game Uno and the tactical game of Jenga that everybody loves. Other popualr games inlcude Monopoly which focuses in on strategy. This game is brilliant for family members of all ages however, with it's longer playing time than average, sometimes younger children can grow restless – be warned!
Games for family night come in lots of variations, so you may want to consider the types of personality amongst your family and decide from there what type of game will be most suitable. If you're playign with older family members such as grandparents, go for a game that can be easily understood – classic games are great for this and likely to bring about lots of pleasant memories too!
Family Board Games for Kids Who Can't Read?
Kids don't neccesarily need to know how to read in order to enjoy a thrilling board game. In our list above we've included the popular board game – Blokus. This game simply encourages players to match up colors on a board to claim territory. As long as an adult is present o explain instructions 9/10 times, children who can't read can still join in.
Our budget buy, Jenga, is another great example of an entertaining game that can be enjoyed by children who struggle to read. It will encourage skill developments in other areas too, which help to build up confidence. If your child isn't a confident reader and you'd like to help them improve their skills outside of the classroom, why not consider a word oriented game?
Perhaps a game such as Scrabble could encourage your child to practice their reading skills. The important thing to remember is never to rush a child and allow them to go at their own pace. However, games certainly open up an opportunity to strengthen this skill rather than limit the activities availble to your child.
What Family Board Games are the Most Fun?
Board-games that cause lots of roaring laughter of course! While this is true for the most part, lots of families find strategy and tactical games very fun. There is no right or wrong answer to this question, instead it all comes down to personal preference.
If you're looking for games that are designed to be funny, we've included a few in our list above including Hedbanz, What Do You Meme? and Watch Ya' Mouth. All of these games are designed to cause plenty of laughter!
Child Friendly Board Games
We've tried to includee a wide variety of family board games in our list so that the entire family can join in on the fun. With that said, there are some games that contain humor that may not be deemed suitable for younger children. If you want to go for an option that is safe for children of all ages, our top pick when it comes to a budget buy – Jenga, is a great choice!
Most games will come with clear age recommendations on the packaging, so it's always wise to check this in advance of buying to avoid any unwanted surprises from occurring during family games night.
More Games for Children of Specific Ages:
3 year olds