Shopping for the perfect gift for a little girl aged 8 can be difficult. They might be changing their interests quickly – sometimes you can't keep up with what's 'cool' or not. This guide has a wide range of different types of gifts, so there's sure to be something the little princess in your life will adore. We also have some helpful tips to assist you when looking for the perfect present for a young girl.
Best Gift Ideas in 2023
Below you will find a huge range of toys and gifts for girls, ranging from spa gift sets, jewelry boxes and even girls scooters. There is definitely something here to suit most girls turning 8 or around this age.
1. Day at The Spa Deluxe Gift Set
This gift idea is ideal for girls who love to get an occasional pamper. They can get a pedicure in the pedicure pool, plus get their nails done and then use the nail dryer afterwards. This is a fun activity for girls who might have a best friend over and want to play "a day at the spa".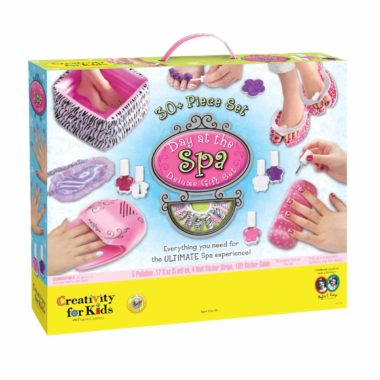 2. Pink VTech Kidizoom Duo Camera
The VTech Kidizoom is a great first digital camera for children. There is a front and a rear lens, meaning it can be used to take pictures of anything, including selfies! The camera has lots of child-friendly features including an automatic shut-off after 3 minutes of inactivity. The camera also has parental controls which can limit the time spent playing the built-in games, or to disable them altogether.
The children's digital camera has fun overlays which can be used to make the photos taken more fun and interesting. The camera can also take an external memory card, to increase the storage capacity to up to 32GB. The camera takes good quality photos, and has a 4x zoom. There's also a feature where the camera will take multiple shots and automatically save the best one.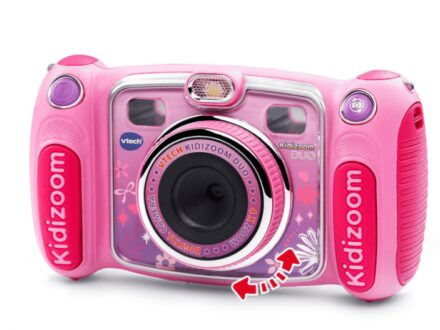 ,

3. Mermaid Tail Blanket – Pink
This mermaid tail blanket is perfect for all little girls who dream of being a mermaid! It comes in two sizes, the larger of which can also be used by adults, so it's sure to last a little girl many years. The blanket comes in a choice of 8 different colors, meaning you can choose something to match your little girl's bedroom.
The blanket can be machine washed at low temperatures and also tumble dried, meaning parents will able to clean it easily. The back of the blanket can be opened out, meaning it can be used to cover the lap when watching TV for example. If used as a full body blanket, the larger size can cover up to the shoulders of most adults, making it the ideal alternative to a sleeping bag in warmer weather.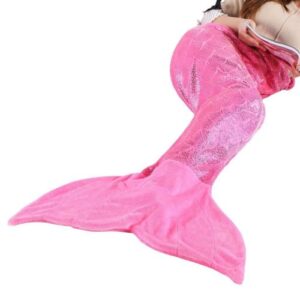 4. Hyundly Cat Face Backpack
This cute backpack is great for girls to take their things to school. It comes in two colors, either pink or black, and is also waterproof. The backpack has mesh pockets on either side, perfect for holding a water bottle. The main compartment of the bag is large enough to carry a school folder, and there is a large pocket on the front for other items.
The bag would make a great gift for girls age 8. It is just the right size to carry everything they'll need for school at this age. The cat backpack is also very durable and strong, making it ideal for everyday use. It is comfortable to wear and carry, with padded shoulder straps to help prevent problems caused by carrying a heavy bag every day.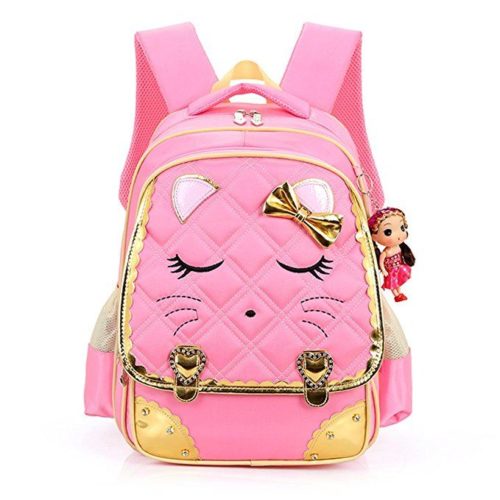 5. Body & Nail Sparkle Studio
This kit is the ideal present for 8 year olds. It can be used to create sparkly false tattoos, and the pieces can also be used on the nails or to decorate headbands or anything else you can think of. There is a magnifying tool included on the workstation, which is useful when working on small designs.
The body art kit is ideal for children because the tattoos dry quickly and don't require the use of any glue. The box includes handy storage drawers, to keep all pieces and accessories safely stored.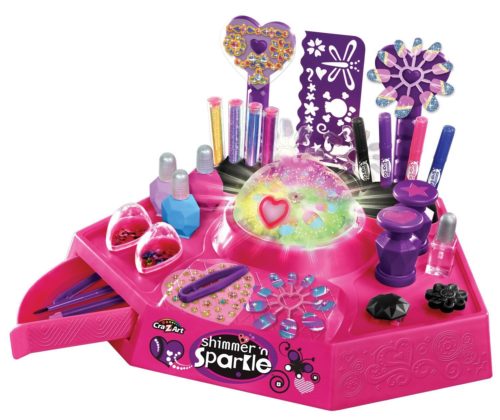 6. Emolly Kids Unicorn Pajama – Pink
This cute unicorn onesie is a great gift for girls age 8. It comes in a choice of 5 different colors and is available in different sizes. The onesie is easy to put on and take off, as it features buttons down the front. It also has side pockets to keep everything a little girl needs handy.
The onesie is made from breathable material, ideal for when your little girl doesn't want to take it off! It's great for wearing around the house, or for using as a fancy dress costume for a birthday or Halloween party. Parents will love how easy the fabric is to wash and dry, too.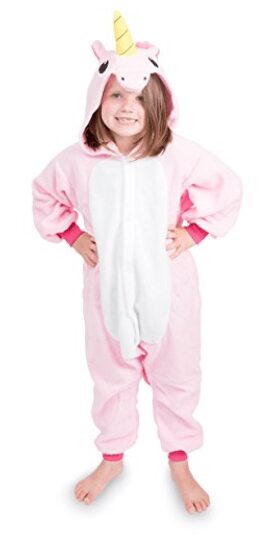 ,

7. Kids Halloween Pumpkin Costume
This costume is a unique gift idea for an 8 year old girl. It's perfect for wearing to go trick or treating at Halloween, and can easily be worn over other clothes on a cold evening. The costume consists of 2 pieces – the dress and the hat. The costume is made from soft, comfortable material, meaning kids won't be desperate to take it off at the end of the night.
The Halloween costume comes in 3 sizes to suit children of all shapes and sizes, and it also comes in other styles if preferred. The dress is easy to put on and take off, as it has an elasticated waistband and Velcro fastenings.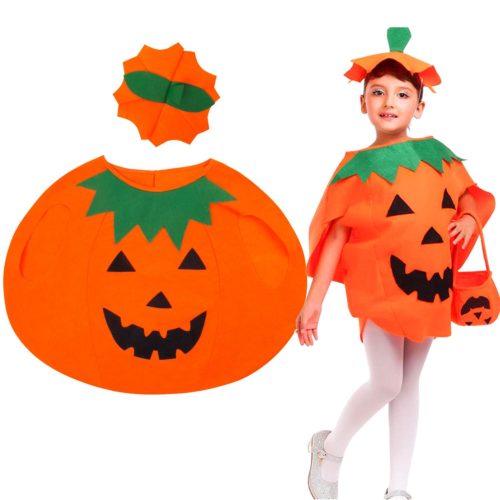 8. VCOM Kids Headphones – Pink
Headphones are one of the best gifts for an 8 year old girl. These cute pink ones are a perfect choice for little princesses who love listening to music on their device. The headphones have a generous 1.5m cable, and a 3.5mm plug making it compatible with most gadgets such as iPods, tablets, smartphones and laptops.
The children's headphones are adjustable, so can be used for many years as your child grows. The sound is great quality compared to the price of the headphones, so kids are sure to be delighted with them. They are also limited to 85dB in order to protect children's hearing.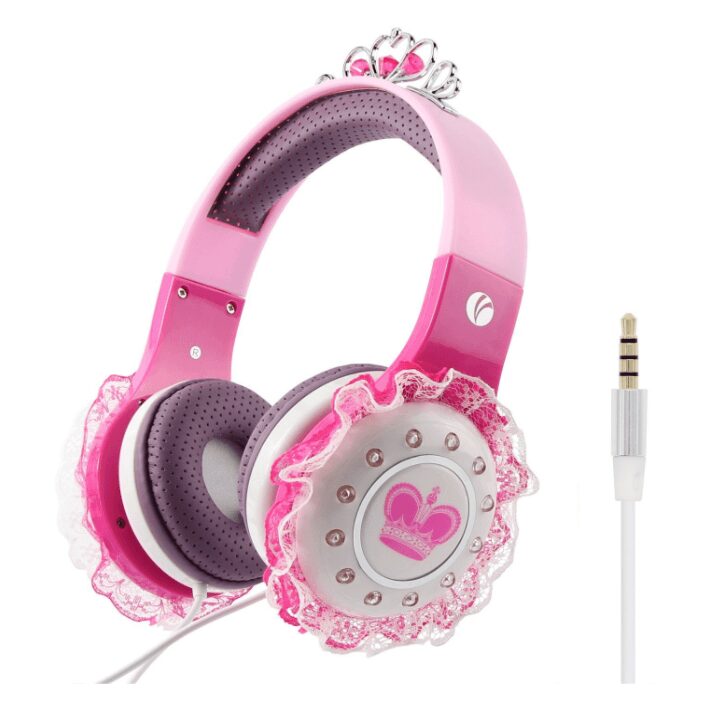 9. My Fairy Garden

This is a great toy for girls who are interesting in learning to grow their own plants. It includes everything needed to grow a magical fairy garden, which can be used as a great toy too. The seeds will start to grow within a few days, and there should be flowers within 6-10 weeks, making it ideal for children who might become impatient!
The My Fairy Garden kit includes a fairy figure and a cord which can be used to make her 'fly'! The garden also features a bridge over a real trickling water stream, which really adds charm. There are tools included to help look after the garden, too.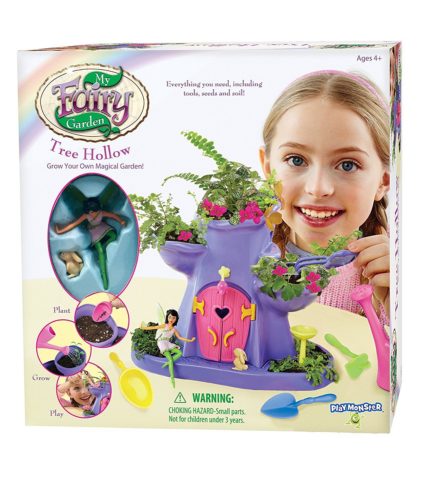 10. Razor Berry Lux Kick Scooter
This Razor scooter is the perfect Christmas gift for 8 year old girls. It has large wheels, making it perfect for taller kids. The scooter comes in a choice of colors – either pink, blue or red. It has loads of great features including a kickstand and a rear fender brake.
The pink Razor scooter is easy to fold and can be carried too. It can be used by adults, as it can carry up to 220 lbs. The handlebars on the scooter are adjustable in height, meaning it will provide years of usage.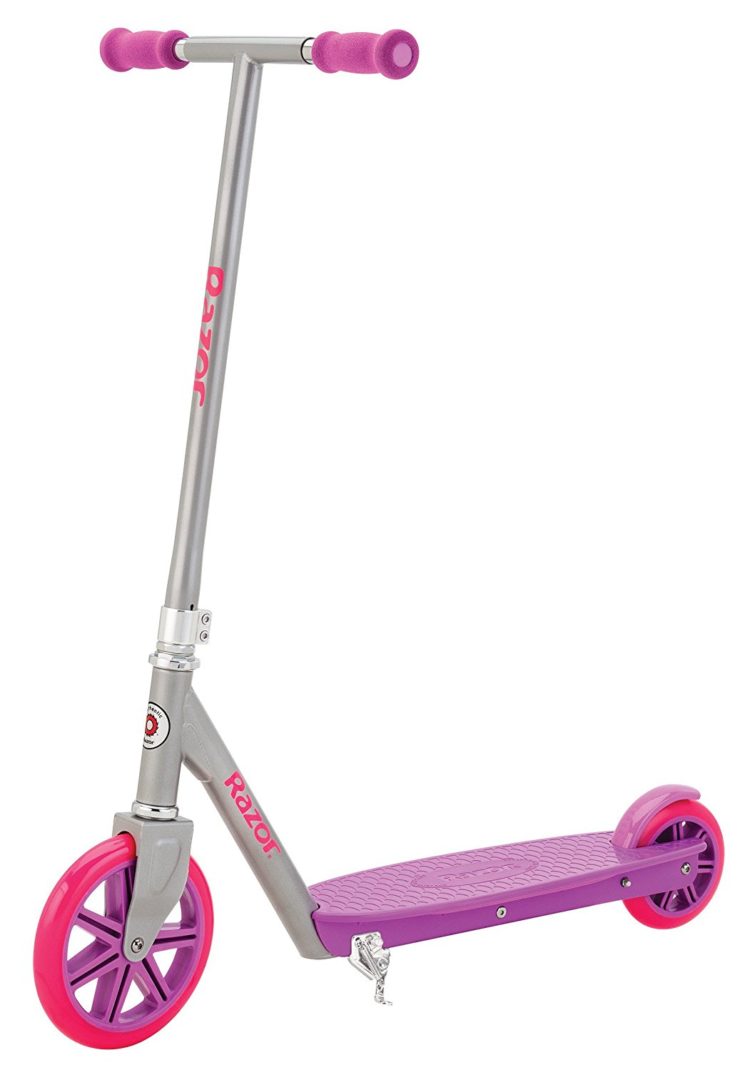 11. Felice Children's Beads Set
This giant bead set is a great gift for 8 year olds who love making their own jewelry. It includes over 20 different shapes and sizes of beads, which are all neatly stored in a plastic compartmentalized case. The kit contains over 500 pieces, and also includes line to thread the beads on, hair clips and bows.
The bead set comes in a choice of 6 different styles, meaning there's something to suit everyone's tastes. The beads can be used for anything your child can imagine, such as necklaces and bracelets, and they are great for sharing with friends.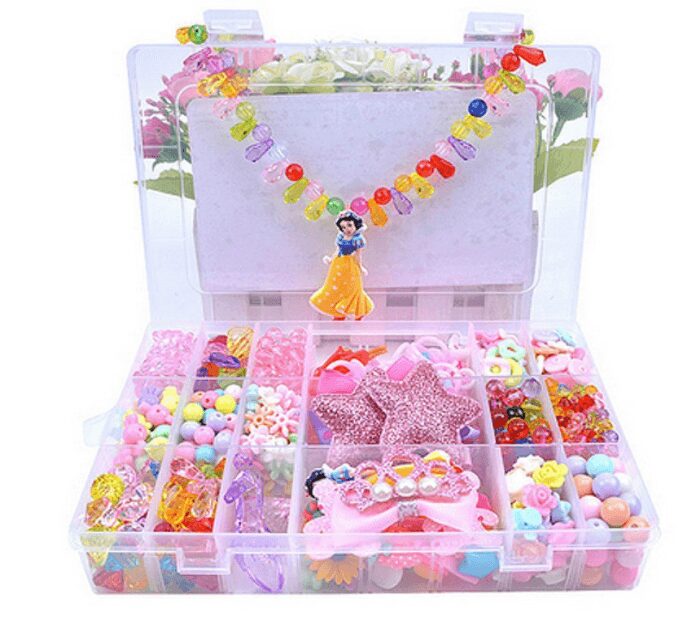 12. AMAV Flip 'N Glow Table Top Easel
This drawing set is a great toy for 8 year old girls. The 4 sided easel can be used as a glow pad, tracing board, white board, chalk board, magnetic board and many more. The easel features a compartment to store markers and chalks, preventing them from getting lost and making it easy for transporting.
The easel will provide children with hours of creative fun. It makes cleaning up easy, as everything can simply be erased and packed up inside. The board can even be used to create 3D drawings. It can also be used to teach kids about spelling by using magnetic letters on the magnet board.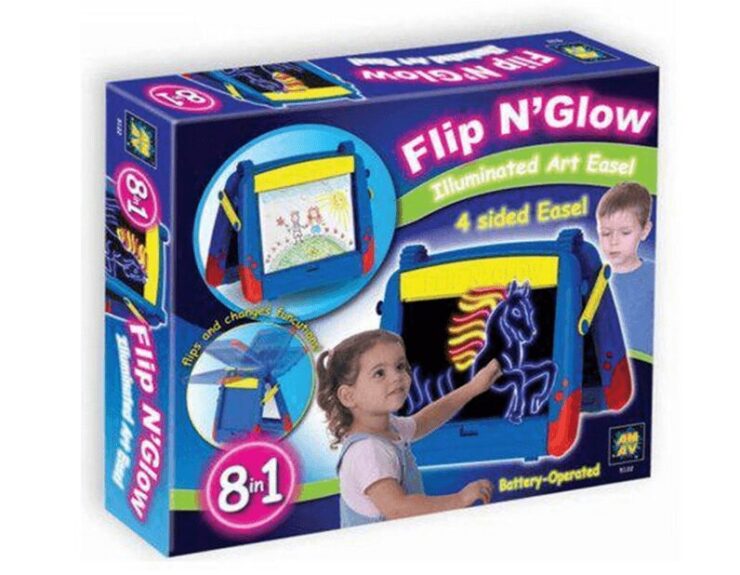 13. Disney Frozen Anna and Elsa Watch
This Disney watch is the ideal gift for any girl who loves Frozen. It's great for children as it is splash resistant, and the hands are labeled to show which is the hour and which is the minute. The watch also comes with a Time Teacher clock to help parents teach their children how to tell time, if they don't know already.
The children's watch features the number of minutes around the face, to help children tell how much time has passed. The adjustable, comfortable nylon strap can fit kids of all different sizes. Little girls are sure to love wearing this cute Frozen watch!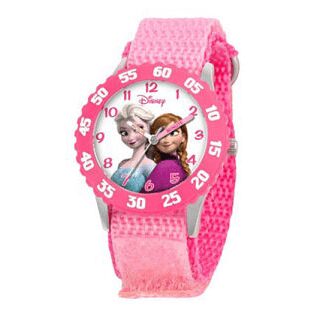 14. Knitted Hat & Scarf Set

This cute hat would make a nice gift for 8 year old girls. It comes in a choice of 3 different colors – either black, gray or brown. The durable hat is handmade, so you can be sure it is very good quality. It's made from a soft and stretchy material, which is comfortable to wear and won't cause itching.
The set consists of 2 separate pieces, meaning they can be worn individually if necessary. Kids will love wearing this set when it's cold outside, and it makes for a cute photo shoot too!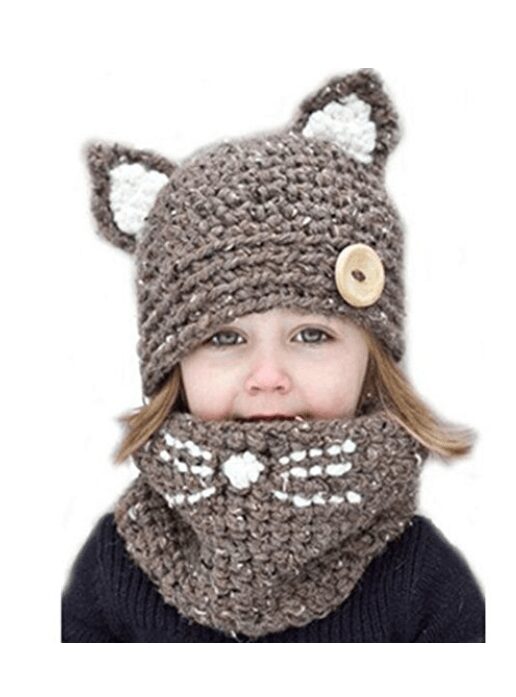 15. Mele & Co Pink Musical Jewelry Box
This cute musical jewelry box is a great gift for girls who have a lot of little trinkets. It comes in a range of styles, but each features a cute figure inside who spins as music plays when the key on the back of the box is wound up. There are different compartments to keep items safe, including a ring roll at the top.
The children's jewelry box also features a mirror inside, to help little princesses when they're getting ready! The box is sturdy and well-made, and it would look great on a shelf or dresser in any young girl's bedroom.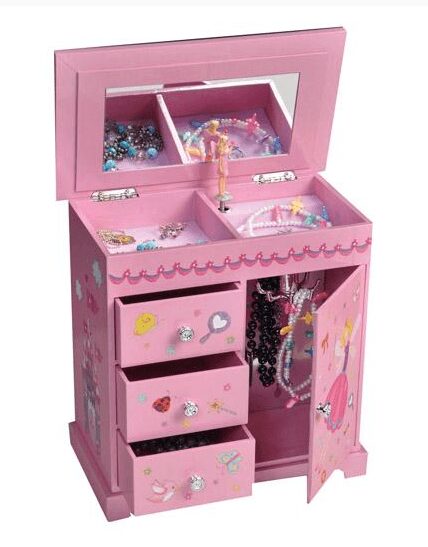 16. Glitter Tattoo Set by Custom Body Art
This is a great present for 8 year olds who love dressing up and looking great! It comes with 16 colors which can be used on the skin to create beautiful temporary tattoos. The kit includes different sizes of brush, and lots of stencils to help create perfect designs. There is also a safe skin glue, to which the glitter is applied to allow them to stick.
The temporary tattoos should last for up to a week, even after getting wet. They can easily be removed using rubbing alcohol if you wish to take them off sooner, however. There is enough glitter and glue to create many tattoos, and the stencils can be reused. There are designs for both boys and girls, making them ideal for parties, too.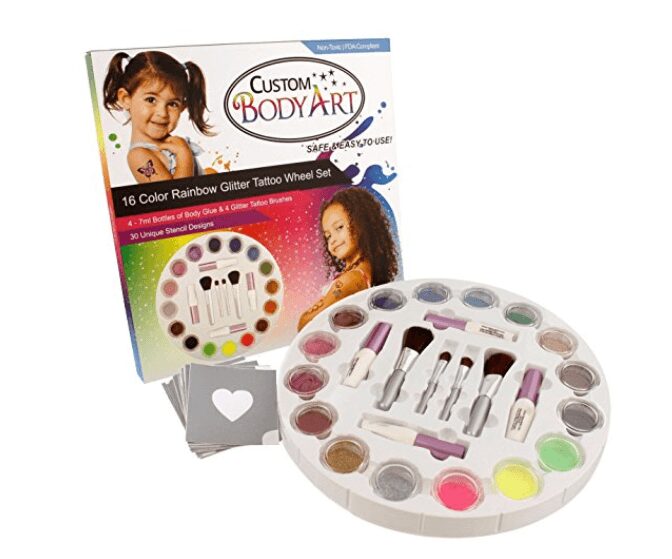 17. Pink Electric Guitar by Best Choice Product
This is a great electric guitar for young girls. It comes with an amp and a microphone, so your child can have the full rockstar experience! The guitar has 6 strings, just like a real one, and also has demo buttons which can be used to play 6 different songs. The guitar and amp both have lights which flash when the guitar is played, which is sure to be a hit with little girls!
The toy electric guitar comes with a microphone and stand, which can be adjusted in height to suit your child. There is also an MP3 cord included, so kids can plug their device into the speaker and play or sing along to their favorite songs.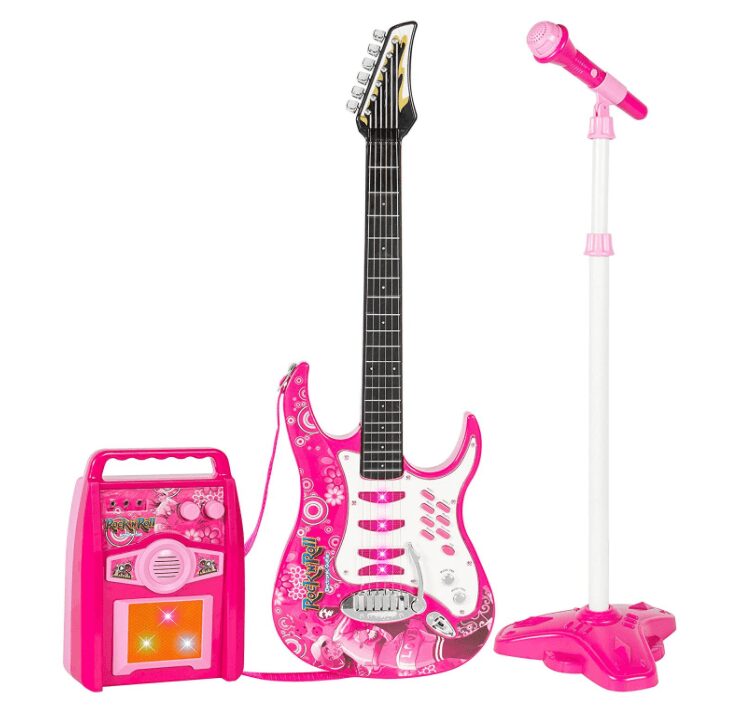 18. Girls Animal Bean Bag That Also can Be used for Storage
This storage bean bag is useful for children who have lots of stuffed animals. The large 38″ size means it can be used to hold up to 100 animals potentially. The bean bag comes in a choice of several colors, meaning there's sure to be something to match your child's bedroom color scheme.
The stuffed animal bean bag chair comes with a lifetime warranty, so you have nothing to lose if you decide to buy one. Parents will love how easy it is to clean, too – it can be washed in the machine. The bean bag is 100% cotton and has the double zipper mechanism making it super easy to get into. There is also a carry handle meaning it can easily be transported moved around.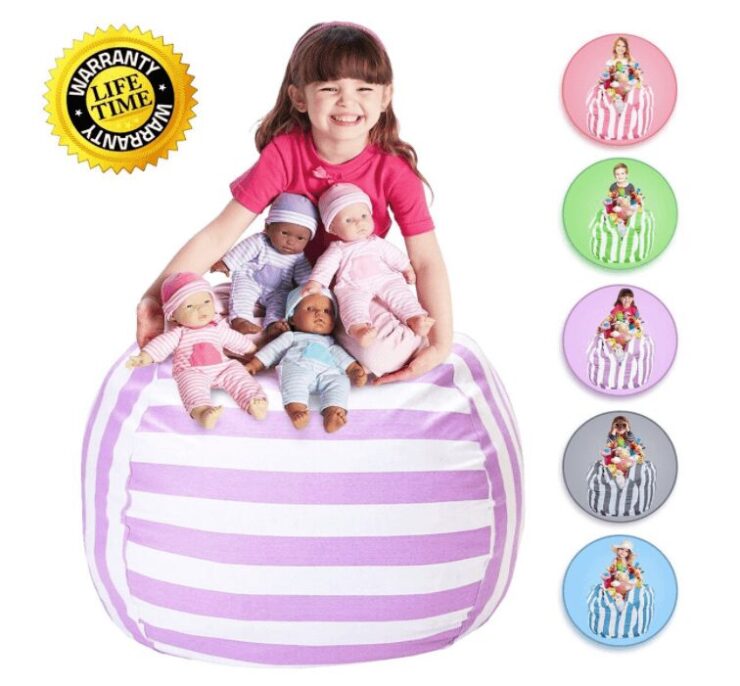 19. Flashing LED Light Gloves
These flashing LED gloves are a great, unique gift for 8 year olds. They come in two different sizes and a range of colors, meaning there's sure to be something to suit everyone. The gloves light up with red, green and blue lights, and there are 6 different patterns of light, such as flashing, solid or wave.
The LED gloves come in a nice box, making them easy to wrap and give as a gift. They also include a spare set of batteries, as well as those which are already installed. This means they can be worn for a while before you'll need to buy a replacement set.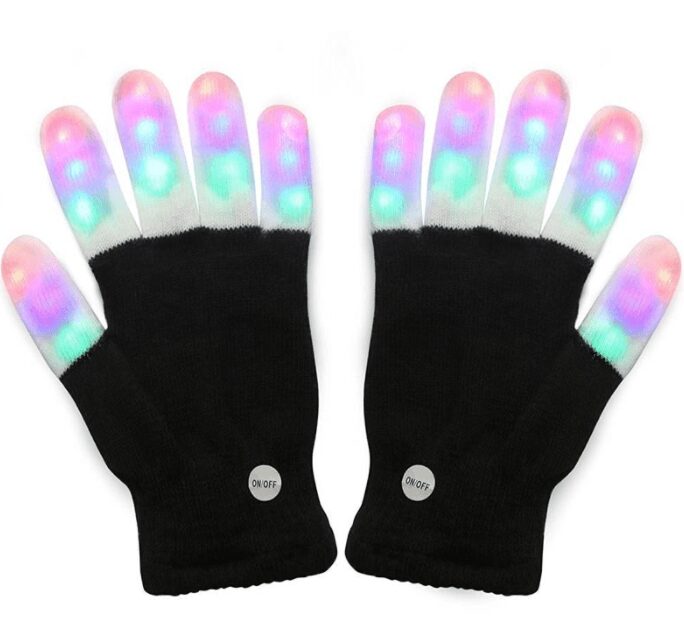 20. Spirograph Deluxe Set

A Spirograph is a great craft gift for children who are looking for something a little bit different and challenging. This kit comes with 45 pieces, meaning it can be used to create a huge range of different patterns and designs. There is also a handy storage box included, which makes this a perfect gift, and means the parts won't get lost or misplaced in between uses.
The Spirograph kit comes with reusable putty which can be used to hold the stencils and template pieces in place, making drawing a bit easier. Parents will love reliving their childhood and play with a Spirograph again – the kids might not get a look in!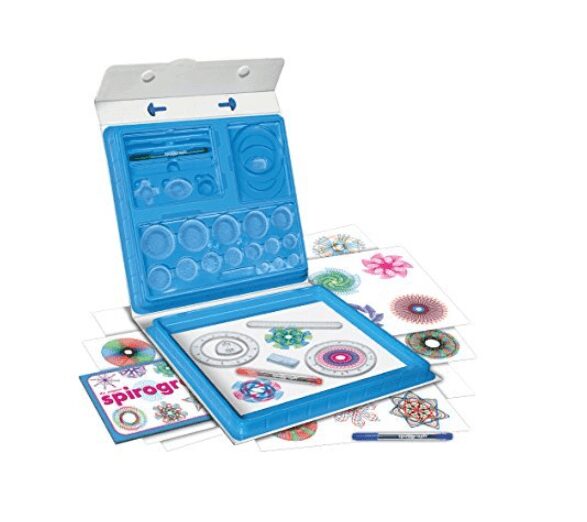 21. Bentology Lunch Bag and Box Set
This is a great lunch bag for girls to take food to school, or for picnics. It comes with 5 different sized containers and an ice pack to keep chilled foods from spoiling. There is also one large box to keep all the small containers together. Each box has colored lids, which are spill proof, meaning they are ideal for yogurt or other liquids too.
The kids lunch bag features a front pocket, a side pocket which opens up and can be used to keep a water bottle handy, and a carry handle on top. There is also a mesh pocket inside, which is designed to perfectly fit the included ice pack. Kids will love taking their lunch to school with this cute, practical lunch bag.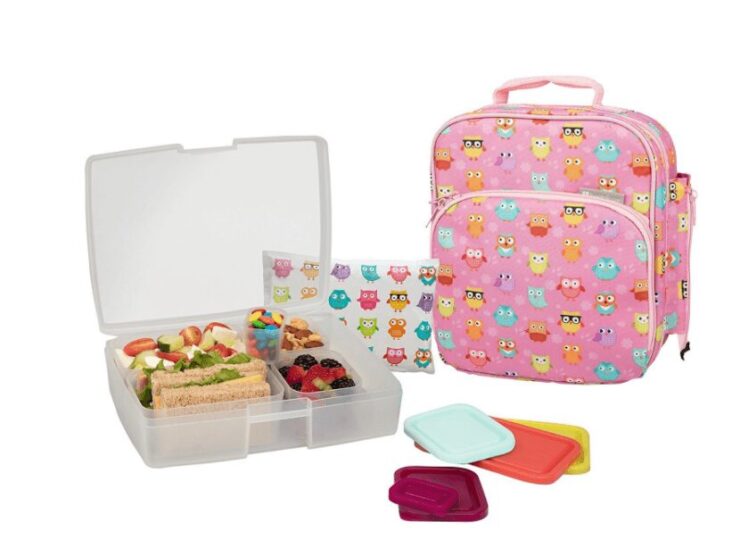 22. Princess Castle Tent with Lights String
This play tent is the ideal gift for any little princess! It comes with hanging lights in the shape of stars to make it even more magical to sit and play in. The tent features easy to follow instructions, taking the headache out of putting it up. It comes in a handy storage bag which holds all the pieces if you wish to take it down again.
The tent is large enough for a few children to play together, at 53″ in diameter and 54″ tall. Girls will love playing and hanging out with friends in this tent, and it's perfect for using at sleepovers! The floor of the tent is made from thin material, but if you wish to make it more comfortable there's a matching round, pink rug available separately, which fits perfectly underneath.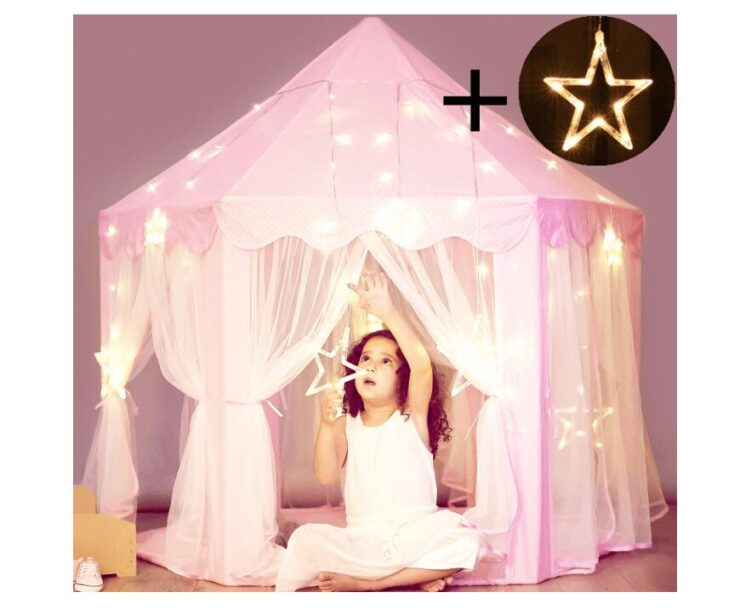 23. Joyin Toy Gigantic Piano Dancing Mat
This huge piano mat is great for children of all ages. It has loads of features to keep kids entertained for hours – there are 24 keys, 8 different musical instrument sounds and 4 different modes, including record and demo. The mat is over 70″ long, meaning two kids can play well together. It's great fun for play-dates and parties!
The piano mat is made from durable vinyl which is sure to last for years. It is portable and lightweight too, making it perfect for taking to a friend's house. Parents will love the adjustable volume control. It takes AA batteries, so it's a good idea to stock up or get some rechargeable ones as it's likely the kids will want to play on this piano for hours!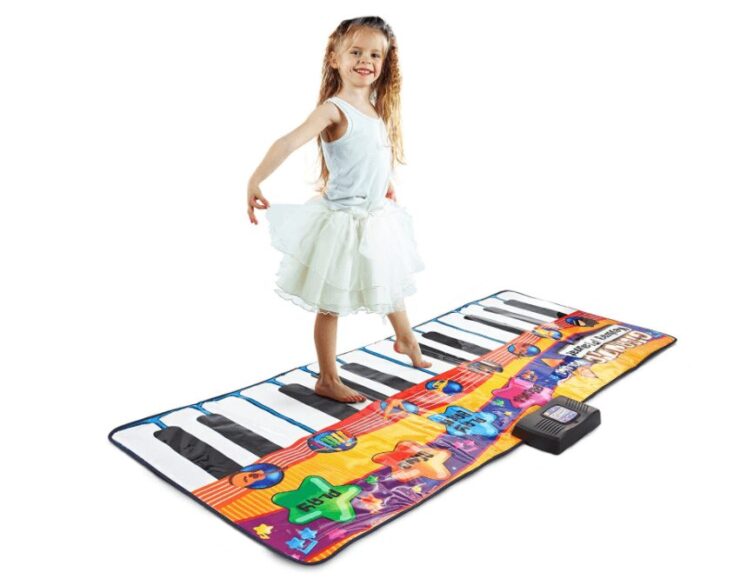 24. RC Flying Ball
This remote control flying ball is a fun toy for 8 year old girls. It is easy to fly, as it simply hovers above the user's hand, and stops when it crashes into any objects. There are no complicated controls to learn, and the ball has a balance bar to ensure it remains stable.
The RC toy takes only 20 minutes to fully charge, and this gives around 8 minutes flying time. The toy comes with a USB charging cable, meaning it can be charged using a laptop or a USB plug. The flying ball has flashing LED lights, which kids are sure to love. It looks especially great at night or in a dark room!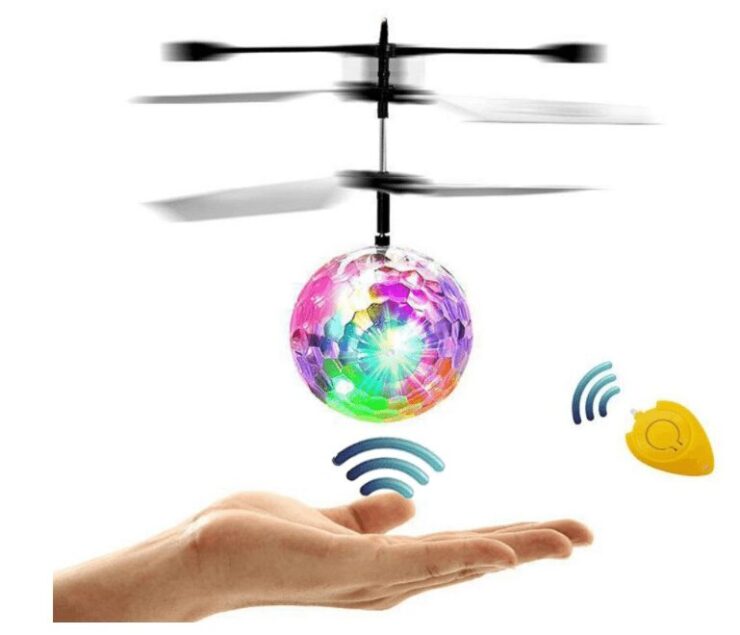 25. UOKOO Children's Walkie Talkies – Pink
These kids walkie talkies are a great gift for girls aged 8. They are great for playing imaginative games, or for taking hiking or on a camping trip. The radios have a light on top which can be switched on or off using a button. They also have volume control buttons and an easy to use push-to-talk button on the side.
The walkie talkie toys take 3 AAA batteries each, so it's a good idea to invest in rechargeable batteries, as the kids will probably want to play with them all the time! Walkie talkies are great for parents to communicate with children at busy events such as carnivals and fairs. These ones are easy to use, so are a great choice for those who have never used two way radios before.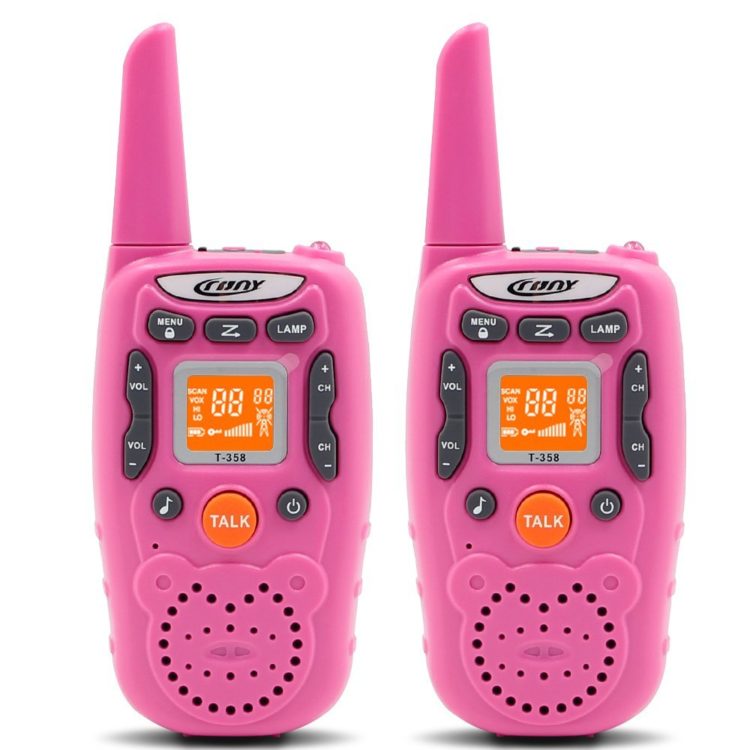 26. Flybar Pogo Stick- Pink
This durable, pink pogo stick is a great present for 8 year old girls. It is very bouncy and has a heavy duty spring which will last for years. The pogo stick comes with a spare parts warranty, giving peace of mind for parents.
A pogo stick is a great toy to gets kids active and playing outside, away from their gadgets and screens. They're sure to have years of fun bouncing with this toy!


27. Wireless Karaoke Microphone
This wireless microphone is a fun gift for 8 year olds. It can be used to change the sound of the voice with four different options, including an old man! The microphone also has recording capabilities, so kids can record and play back their songs. It features FM as well as Bluetooth connectivity, making it compatible with many devices.
The wireless microphone can be connected to a smartphone, allowing kids to sing along to their favorite songs. It can also be used with headphones for quieter singing practice. The microphone also accepts TF cards, so songs can be stored and the microphone can then be used without a smartphone.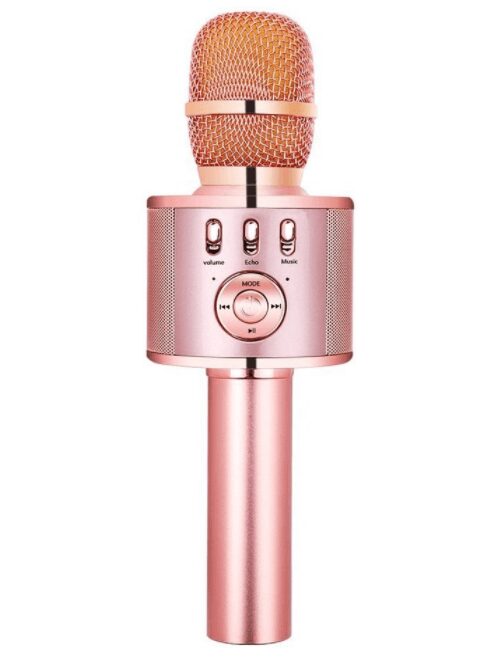 28. Osmo Numbers Game
Osmo is a gaming system designed for iPad and iPhone, which encourages children to interact with the game, as it has physical elements, rather than sitting passively glued to a screen. The games are educational, with this one helping math skills whilst still being a lot of fun to play!
The Osmo numbers game makes math fun. It features fish and bubble animations to keep kids interested. Each problem has many solutions, giving kids more confidence and helping them learn they can solve things in different ways.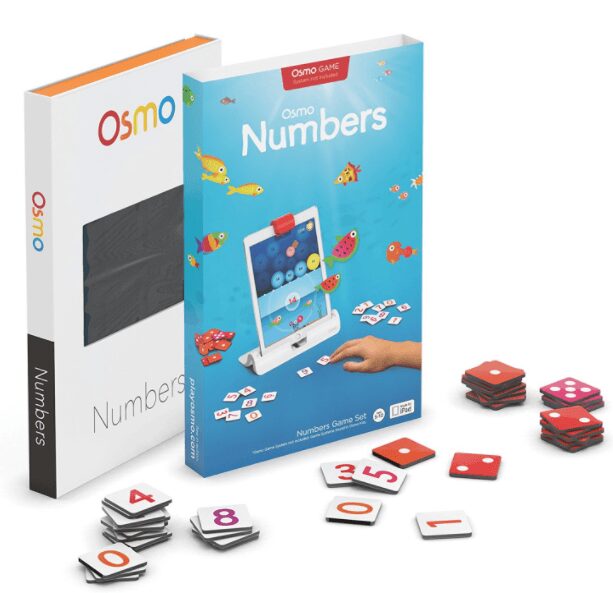 29. KidKraft

Dollhouse with Furniture
This dollhouse is great for older children who are looking for a beautiful collectible. It requires some assembly so makes a great project for adults and children to enjoy together. The dollhouse has real working lights too, so requires a few batteries. Most of the materials needed to make the dollhouse are included, however, glue is required as it is not included.
The DIY dollhouse is a great project to encourage children to learn physical skills, as well as patience! It comes with easy to follow step-by-step instructions and the parts and numbered and labeled to help find what goes where. This house is a lovely gift for children who might be getting a bit mature to play with kids dollhouses and are looking for something a bit more grown up.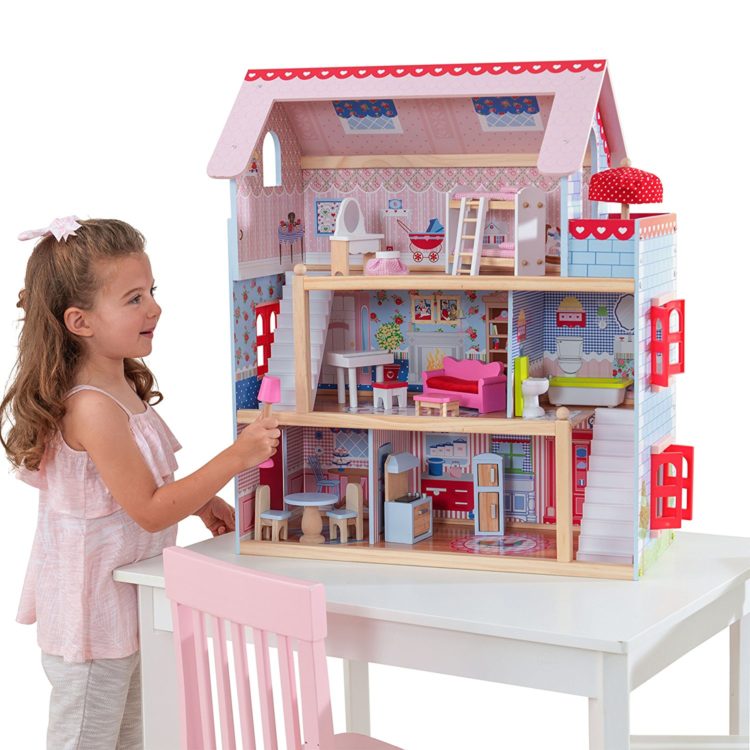 30. Linsay Kids Smart Watch Games
This kids smartwatch is a great toy for 8 year old girls. It has loads of features to keep kids amused for hours. There are 11 different modes altogether, including stopwatch, camera, voice recorder, games and many more. It comes in a choice of either pink or blue, and has a comfortable strap which can fit a range of sizes.
The toy smartwatch has a rechargeable battery, which is great for parents as kids will be wanting to wear and use it all the time! The watch is great for encouraging children to be more independent, as they can set their alarm to wake themselves up in the morning, and it can also be used to show the time.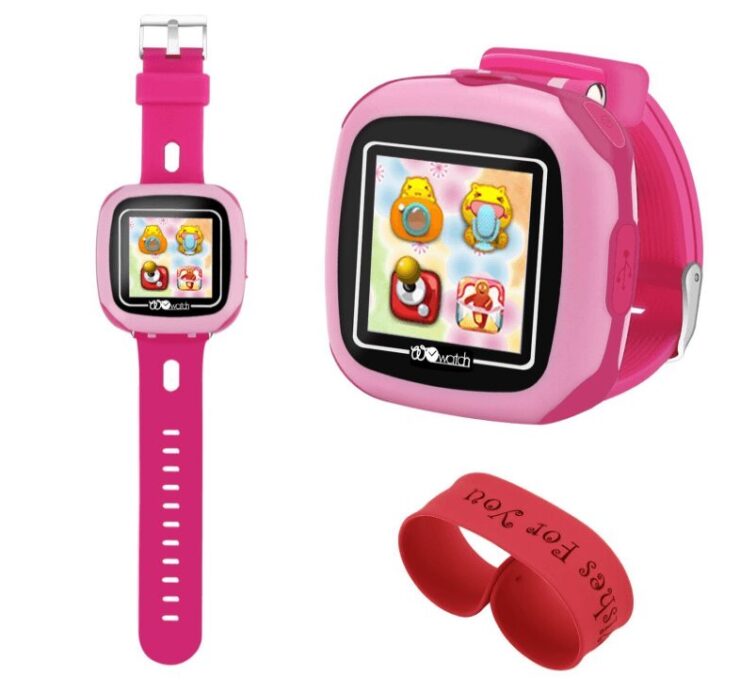 31. PixieCrush Pretend Makeup Set
This toy makeup set is a great gift for girls age 8 who want to be just like mom! It includes everything a little girl needs to give herself and her friends a makeover, including nail polish, foundation, eyeshadow and makeup brushes. Everything comes neatly stored in a pink polka dot bag, making it easy to transport, and preventing any items from getting lost.
The toy make up is made from foam and other materials, meaning it is totally mess-free. It's for roleplaying only, as it doesn't transfer to the skin. This also means it is safe, and won't cause any allergic reactions in children. The kit is great for girls who are interested in makeup, but still too young to wear any real products. Parents won't have to struggle to clean lipstick off the mirrors with this great gift either!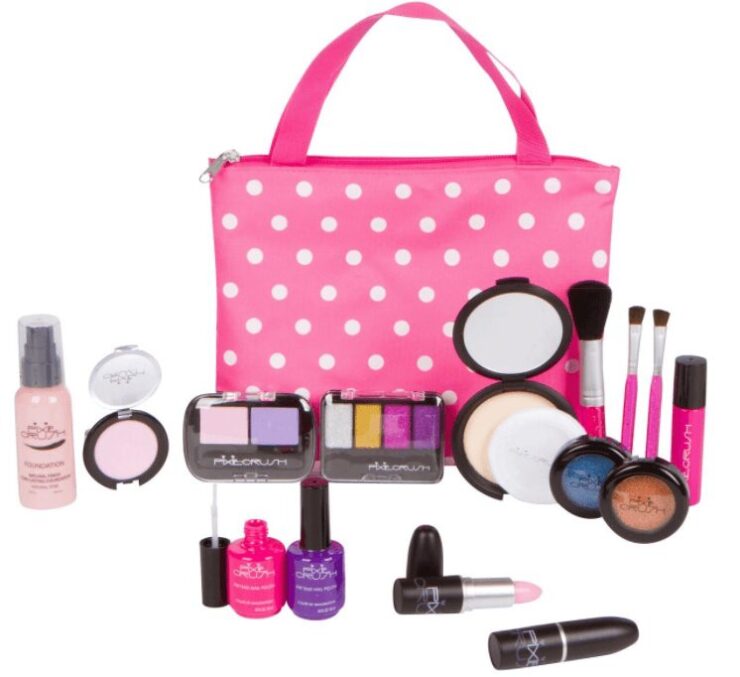 ,

32. Mermaid Tail Swimsuit

This mermaid tail for swimming is great for little girls who love swimming and want to be a real mermaid – this is as close to the real thing as you can get! The suit comes in all different colors, and in sizes to fit from 4-12 years old. The bottom of the mermaid fin is open, meaning kids can walk around in it. The set also includes a monofin to help make swimming easier.
The mermaid swimsuit is made from quality material and can be used in the pool. The swimsuit is easy to care for and can be machine washed. It will continue looking great after being washed too – the color holds up well. The fabric is comfortable to wear – girls are sure to love it!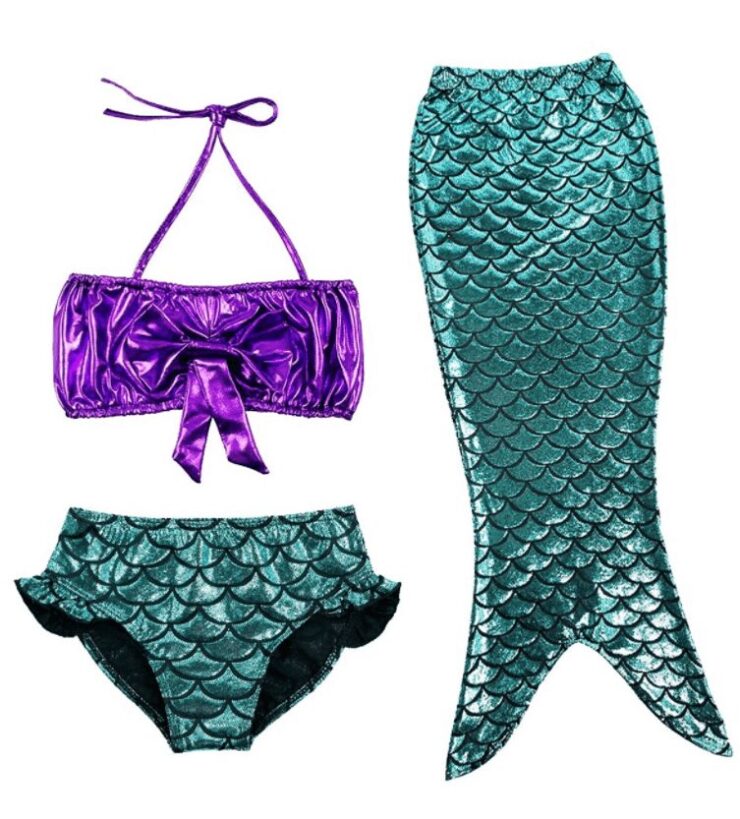 33. Relay Kid Safe Phone with SOS Button
If your 8-year-old loves to play outside, Relay allows you to get in touch with her keep track of where she is with GPS tracking while she's off adventuring. Relay is like a walkie talkie the works with cell towers, so it has nation wide range. Parents can talk to kids using an app on their smartphone while kids carry Relay devices (or wear them with stylish accessories!)
Relay is perfect for kids who play imaginatively – in addition to keeping them safe, it has fun features like custom chat groups for siblings and friends, music, and more!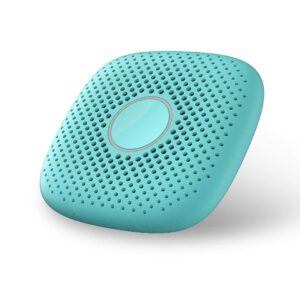 34. Everjoys Soprano Ukulele, Pink
This beginners ukulele is great for children who are looking for a first instrument to learn. It comes in a choice of colors, and also includes accessories such as a tuner, a pick and a carrying bag. There is also a song book included with the ukulele, meaning kids can start learning how to play straight away.
The children's ukulele is 21 inches long, which is the smallest of the ukulele sizes. It is made from high quality materials and is sure to give years of entertainment. The strings of the ukulele are nylon, which are easy to play in stay in tune well.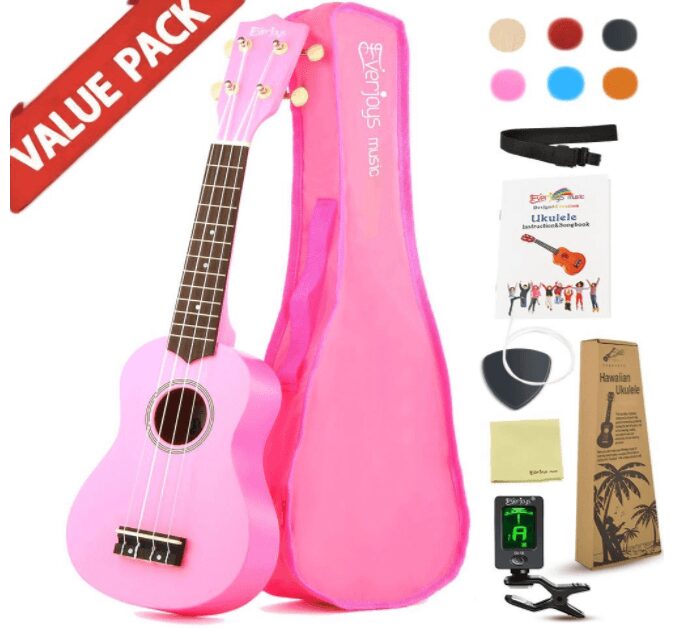 35. Play Platoon Spider Web Tree Swing
This huge web swing can hold up to 600 pounds in weight, and has space for 4 children to sit on at the same time. The swing is 40″ in diameter, and comes fully assembled and ready to hang. The swing includes carabiners, but requires a hanging kit to be purchased separately. You'll also need to make sure you have a strong tree or a swing set frame to hang it from.
The tree swing features thick, durable ropes which will last for years. The swing comes with a warranty of 2 years if registered online, to give more peace of mind. A swing like this is a great way to get kids playing outside away from their gadgets. They're sure to have years of fun with it!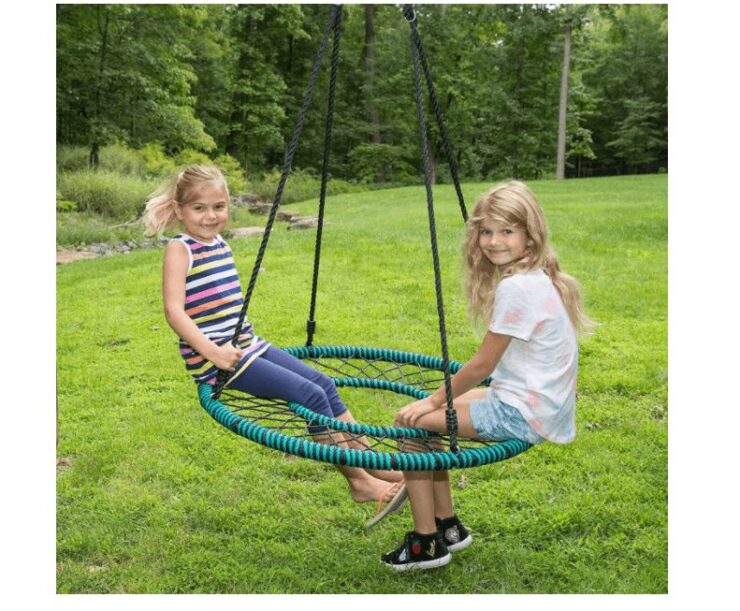 36. Floor Bloom Flower Floor Pillow
This floor pillow would make a great addition to any young girl's bedroom. It comes in a choice of four different colors, meaning there's something to match any color scheme. The pillow measures around 31″ in diameter, so there's plenty space for children to spready out and relax.
The floor pillow is a great, unique gift for girls aged 8. Parents will love how easy it is to clean, as the whole thing is machine washable, and is also easy to surface clean. Having a floor cushion like this means kids won't be dragging your favorite sofa cushions to the floor anymore, either!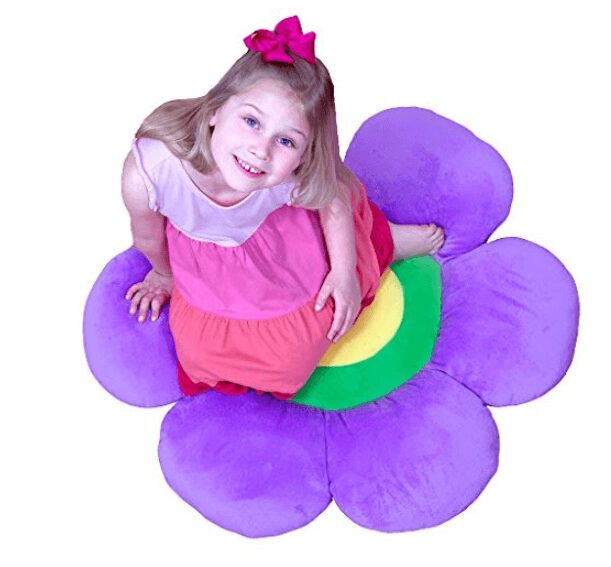 ,

37. Mattel Disney Princess MagiClip Set
This set of Disney dolls is a nice gift for 8 year old girls who love Disney Princesses! The set includes 6 favorite princess figures, meaning kids don't have to choose just one favorite. The dolls are easy to dress, with 'MagiClip' dresses included. The plastic dresses are simply squeezed at the bottom, causing the shoulders to loosen and they can easily be changed around.
Girls will have so much fun with these Disney Princess figures, and once they no longer want to play with them, they will look great on display on a shelf. The figures and their costumes are made from great quality materials which will not get broken easily.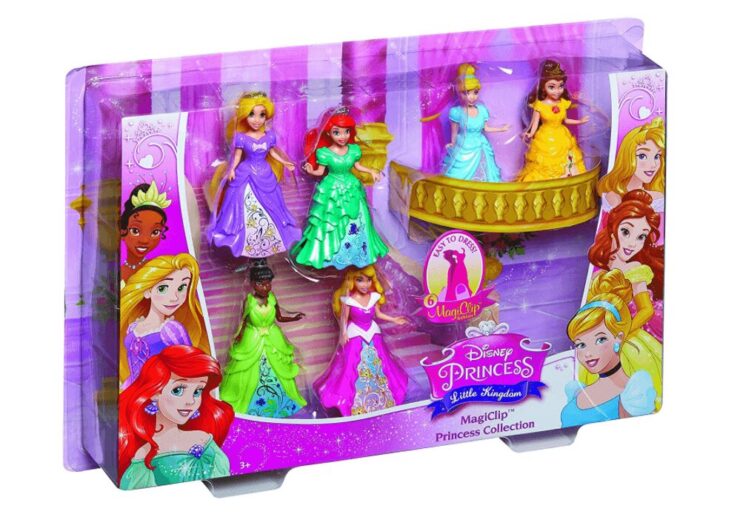 Considerations When Buying a Present for a Girl
There are a few things worth thinking about when shopping looking for the best present for 8 year old girl. Make sure that any girls gifts are age-appropriate and not too babyish nor too mature for the little lady. Also think about her hobbies and interests, to ensure she will love the gift you choose. Try to find something which will last her for several months or years, rather than quickly becoming outgrown or forgotten about.
Top Gift ideas for 8 year old daughter?
Finding top gifts for 8 yr old girls is not easy and with so many to choose from it can be challenging. There are more products on Amazon to compare and if after reading this review of toys I suggest checking out more on Amazon. Most girls aged 8 love stuff all about Disney characters and dolls, so its worth checking out their huge selection of toys.
What to buy an 8 Yr old Girl for Christmas
Christmas gifts for 8 year girls can be hard to pick. Most girls this age will still be so excited about Santa visiting. Your little girl will probably have written a huge list of things she would love, so shopping for perfect gifts for her shouldn't be too difficult. Many parents worry about not buying everything on their daughter's Christmas wish list, however, she will probably have forgotten many of the things she's asked for anyway, and is sure to be delighted with just a few of her most wished for toys and gifts. It's worth bearing in mind that many of the latest toys and games might be very popular around Christmas, so might be sold out in some stores. It's a good idea to start Christmas shopping early for boys and girls.
What to get an 8 year old girl on their Birthday? 
There are so many different types of gifts which will be loved by children this age. Toys, craft sets, kids beauty sets and board games are all likely to be popular. Many girls this age also like outdoor toys, such as bikes, and educational toys such as coding games are also a great idea.
Check out also: