Looking for the best bottle warmer for glass bottles? You're on the right page. While there are hundreds of bottle warmers out there, you have a very limited option to choose from. And most will not be worth your time.
This is not because they are inherently bad, but because they may not be suitable for warming glass bottles.
You might even search for hours and not get a model that's suitable for you.
Fortunately, you don't have to worry about all of that. Because I've done all the research for you. In this resulting guide, you'll learn some of the benefits of using bottle warmers and the top-rated/high selling models you can buy now.
Before going to the recommendation, here are some of the benefits of bottle warmers:
---
What Are Some of the Benefits of Baby Bottle Warmers?
---
If you are bottle-feeding your baby, with breastmilk or formula, one of the first products you'll need is a baby warmer. Not because it'll make your baby's food sweet or healthier.
Instead, it'll help your baby take his/her food every single time.
Just like adults, babies like their food warm and nice.  Give them that, and they'll take it most of the time, except when trying to be fussy.
1. Heat baby bottles
From the above, the best benefit of using a warmer is that it helps you warm up your baby bottle. Remember, feeding your baby is already difficult, let alone heating it up.
This is where breastfeeding moms have it easy. They don't have to rush to the kitchen to prepare the food in the middle of the night.
And if it's breastmilk, add the waiting time for the kettle to boil or even waiting at the microwave while sleep nags at you from different angles.
That's the experience of most moms. But life doesn't always have to be difficult. With a good bottle warmer, you can do everything in your room, and within a few minutes too.
2. Stress-relief
If you've ever been woken very early in the morning with a baby crying at the top of their lungs and longing for food, you'll know how difficult parenting can be.
And if you have to run downstairs to put the formula in the bottle while your husband is snoring under the duvet, you know the importance of living stress-free.
Now, here are the best warmers for glass bottles:
---
Best Bottle Warmer for Glass Bottles in 2023 (Reviews & Ratings)
1. Dr. Brown's Deluxe Baby Bottle Warmer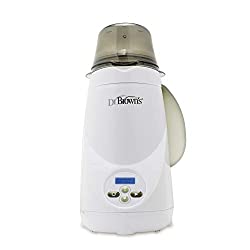 One thing that distinguishes Dr. Brown's deluxe bottle warmer from others is that it's able to warm bottles without under- or over-heating them.
Moreover, it also provides even heating. And to make it even easier, it comes with a digital display so you can monitor the process all through.
There are a couple more distinctive features that come with this warmer. Here they are:
Automatic Memory
This allows you to set a preferred heating time which the warmer remembers the next time you want to use it. This is a great option for not only warming up breastmilk/formula quickly but also in a measurable way.
So, if you are only feeding your baby breastmilk or formula, you can use the same setting every time you want to warm the bottle. You save time this way.
Automatic Shutoff
Aside from the automatic memory, the warmer will also shut off automatically after 8 minutes. This provides safety and convenient usage for busy moms.
Sometimes, you forget to turn off the bottle warmer. In that case, being able to turn off by itself is a good thing. If there is baby food in the unit, it prevents overheating. And if there is nothing, it can help prevent avoidable electricity hazards.
Adjustable Baby Bottle Basket
In addition to shutting off automatically, Dr. Brown's deluxe bottle warmer comes with an adjustable bottle basket. You can use it to hold your baby food jars and bottles.
And since it's adjustable, you can fit in food jars and baby bottles of various sizes without any problem. While it might not be the most suitable for a travel junky, a work-at-home mother should find it useful.
---
2. Philips Avent Fast Baby Bottle Warmer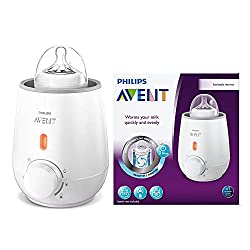 Philips Avent is a reputable brand in the baby industry. And it has dozens of high-quality baby products to its name over the years. One of these is the Philips Avent Fast baby bottle warmer.
If you're looking for something portable and compact, look no further than this warmer. It comes in a convenient and easy-to-use design and can heat a single bottle of formula/milk quickly and easily.
With this warmer, you can forget about those nasty hotspots in baby foods after heating. Not only is it available at a reasonable price, but it's also free from BPA, so your baby's food is always healthy and free from harmful chemicals.
Easy to use
One of the plus points of the Philips Avent Fast bottle warmer is that it's easy to use. Because of the quick technology built into it, the warmer allows you to heat pumped breastmilk and formula in as little as 3 minutes or less.
And because it's compact and streamlined, you can easily move it around from room to room. You can leave it upstairs too if that's where your baby's room is. The flexibility is what has continued to make it one of the best out there.
Reliable performance
In addition to ease of us, the Philips Avent warmer is not going to overheat your bottle, compared to a microwave. The beauty of a good warmer is that it doesn't break down the milk's composition which is important for a healthy baby.
It's important to follow the instructions properly, though. This is what will help warm the bottle to the temperature necessary for smooth and comfortable feeding.
No guess involved
Unlike using a microwave, you don't have to guess how long you have to warm the bottle. There are spelled out settings and timings that'll help you warm baby food properly every time.
---
Final Words
Whether you're bottle-feeding or breastfeeding, choosing a good warmer is going to make it a smooth and hitch-free process. Thanks to the quality brands and models on the market, preparing your baby's food is a lot easier.
Many of these items come in a complete package including feeding bottles, teats, and cups. All of these are very handy when you need a quick and easy means of warming your baby's food.
No more waiting for the kettle to boil while your baby is raging and calling for their early morning treat. With the introduction of bottle warmers, satisfying your baby's taste buds just got easier.
Here are some other interesting models that you might like: