Toddlers love to explore outdoors no matter what the weather is doing. In wet rainy conditions they love splashing in puddles and playing in mud. This is great for your kids development but means that they will often come back in wet and dirty, resulting in you having to spend hours cleaning and drying their shoes. This means that you should consider getting your toddler a pair of waterproof rain boots that they can wear to play outdoors in all weather conditions.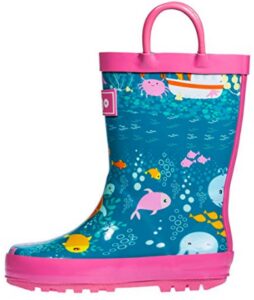 Boots that are suitable for use in the rain are essential for any kids that love being outside as they will keep feet warm and dry, as well as often being easy to clean, even after the muddiest of adventures. With many appealing graphics on these great boots, there will be a pair that every kid will love, so these boots will quickly become your toddlers most worn footwear.
When buying boots for your toddler you should consider what size you require as this may mean that you need to get their feet measured. These toddler waterproof boots often come in a range of sizes that are suitable for small kids, so you will have plenty of choice. To narrow down your search you should also decide on what colors and graphics your toddler will find appealing, as there is a large variety of different boot designs for you to choose from. This will ensure that your toddler will be happy to wear these boots.
The range of toddler waterproof boots is large and this can make it difficult for you to choose a pair of boots that are high quality and durable. This guide will take you through the top rain and wet weather boots for toddlers to help you find the ideal pair for your adventurous toddler.
Top Toddlers Rain Boots
1. Crocs Kids Boot Shoe
In wet weather these Crocs Unisex Child Handle Boots are the perfect boots for young kids that will keep their feet dry. There are a number of different bright colors for kids to pick from making these boots appealing to both boys and girls. With a design suitable for toddlers these synthetic toddler boots have over sized handles to help young kids put the boots on quick and easily, perfect for kids who do not like sitting still. The rubber sole makes these boots ideal for wet weather, so they are fantastic for splashing in puddles while keeping feet dry. They are available in a range of kids sizes, so there is sure to be a pair of boots that will fit your toddler.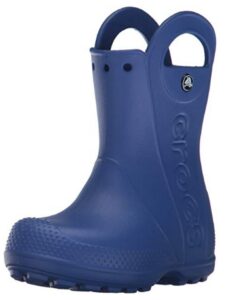 2. OAKI Boots
For a top quality pair of waterproof boots look no further than these great OAKI Toddler Boots. Your kids will love the appealing colors and graphics that this footwear is available in and they will also enjoy being able to put these lightweight boots on themselves by using the handy handles. These boots are made from durable natural rubber, so you can be sure that they will last for a long time and with a zero-drop heel design with a non-slip tread your toddler will find these boots comfortable and secure to walk in. No matter how muddy these boots get they are easy to clean with only water, perfect for busy families. The inner lining is made from 100% cotton, keeping all little feet cosy and warm even in the coldest weathers. A truly great waterproof boot that both parents and kids will love.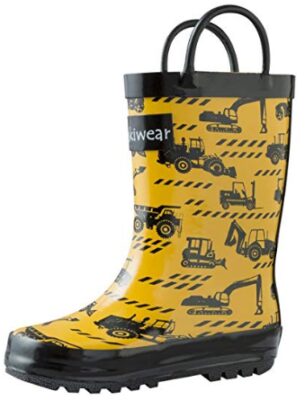 3. Kamik Stomp Rain Boot
These Kamik Stomp Boots are a top performing kids boot for all wet and extreme weather and are ideal for toddlers who enjoy playing outside in the rain. These lightweight waterproof boots have a TREK outsole to ensure that the boots are sturdy for the wearer and a EVA footbed and moisture wicking liner to ensure maximum comfort. They are made from a synthetic rubber making them durable and great for playing in mud and puddles. With the Kamik logo on the side these attractive boots come in a variety of different colors, so are appealing to young kids. There are a wide variety of young kids sizes to pick from so you are sure to find a perfect fit for your toddler.  As the best rain boots for toddlers these boots have comparable features to many adult rubber boots.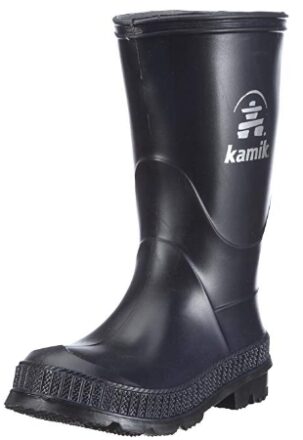 4. Western Chief Boot
If you are looking for some waterproof boots for a dinosaur fan that great looking but also suitable for use in the rain then these Western Chief Light Up Waterproof Boots are a top choice. They have appealing dinosaur graphics on the outside so kids will love the look of these boots. With handles on the top of the boots they are easy for toddlers to put on, so kids will love the independence that these waterproof boots provide. They are made from rubber and have a lightly treaded outsole to give the grip toddlers will need for enjoying the rain. Kids will be comfortable when wearing these boots as they have a moisture absorbing liner that can be removed as needed. The highlight of these fantastic boots are the light up outsole that flashes every time the wearer strikes their heel, a great feature that all toddlers will enjoy.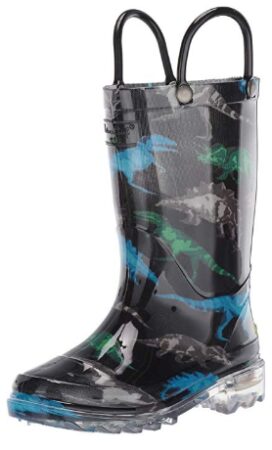 5. Kids Batman Boots
These Western Chief Comics Character Boots are the best toddler rain boots for all Batman fans. These black boots are have an attractive Batman graphic on the front and the yellow Batman logo on both the outsole and on the removable cape, so kids will instantly recognize the character. Alongside looking good, these boots are also practical and comfortable with their EVA removable insole and polycotton lining. The outsole is slip resistant making them safe for toddlers to wear in all conditions and they are easy to put on with their handy boot handles. Parents will love these easy to clean boots that will also make kids stand out from the crowd.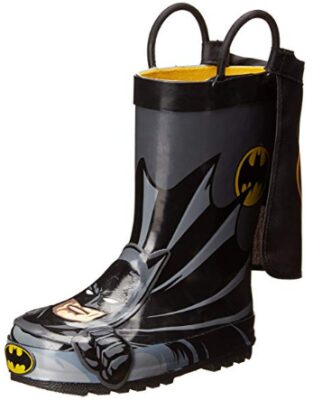 6. LONECONE Boot with Handles for Kids
For a fun waterproof boot these Lonecone Boots will not disappoint. The design of these waterproof boots are appealing to young kids, while the practical features will be enjoyed by parents. With a cute bright dinosaur pattern these blue boots will be loved by boys, though there are many other attractive designs for other kids. Made from natural rubber with no nasty chemicals you can be assured that this footwear is safe for kids and the useful handles make it easy for kids to put on. A durable pair of boots that will keep young feet dry while playing in puddles and mud. They have also been tested to withstand over 100 hours of play without suffering from any damage making these an impressive pair of boots.

7. Outee Boots
These Outee Boots are a great option for all young girls and boys. They come in a number of attractive designs including, a purple and white polka dot pattern, so there is an option for every taste. These are close to the top rain boots for toddlers as they are completely waterproof and have a safe non slip tread making them perfect for use in wet weather. As they are made from 100% natural rubber, parents can be reassured that these boots are good quality and safe for kids. These boots have been designed with comfort in mind as they have a cosy cotton lining and removal liner, for easy cleaning. Both kids and parents will love these long lasting boots.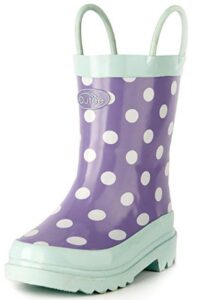 8. Hibigo Boots for Little kids with Dinosaur Patterns
All kids love playing in puddles so these Hibigo Childrens Natural Rubber Boots are the perfect choice for all toddlers. They have a number of lovely designs that toddlers will enjoy, including a fantastic dinosaur pattern that will be popular with young boys. These natural rubber boots are high quality and have been made to last so will not easily crack or break, perfect for toddler play and with deep grooves on the outsole you can be sure that this footwear has plenty of grip, making them sturdy for unsteady toddlers. These flexible rubber boots are comfortable for kids, with a soft cotton lining and cosy EVA insole, enabling toddlers to wear these boot for hours at a time.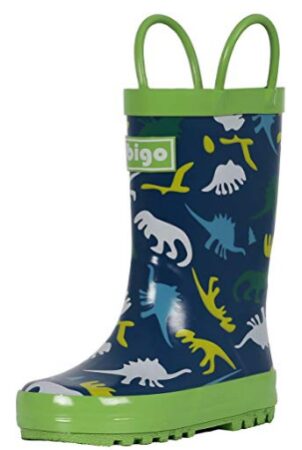 9. Outee Toddler Rain Boot for Girls
If you are looking for a waterproof boot with a difference then these Outee Girls Glitter Light Up Boots are the perfect choice. With a well known design similar to kids jelly shoes these sparkly boots will certainly get all kids noticed. Young girls will love the appealing pastel color options, each with plenty of glitter throughout and the light up outsole is a fun additional extra that will ensure that your kid is seen in the dark. For easy cleaning the insole is removable and sole has a non slip tread allowing the boots to be used in all weathers. These are the perfect lightweight rain boots for toddlers that look great but are also practical for use in wet weather.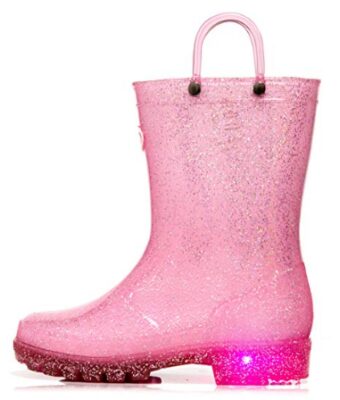 10. OAKI Boot
These Oaki Waterproof Rubber Boots are a fantastic option for toddlers, so are the perfect choice when looking to choose some wet weather boots. They are a high quality boot, as they are made from natural rubber and they have many appealing functions that will ensure all parents love them. This footwear has a great range of designs suitable for both girls and boys that will withstand toddler play and kids will be comfortable when wearing these boots as they have a warm cotton lining and the zero drop heel design makes them easier for toddlers to walk in. The handy handles make these boots easy for little hands to put on and are also great for using to carry or store the boots. Kids will love playing outdoors in wet weather while wearing these exciting boots.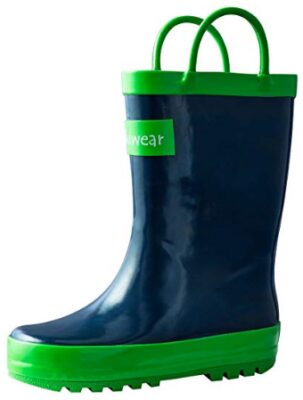 11. Toddler Fireman Boots
Another great pair of wet weather boots by Western Chief, these Limited Edition Printed Boots will be enjoyed by all toddlers. With a bright yellow and black color, these F.D.U.S.A. Firechief designed boots will make every kid the envy of their friends. They are made from natural rubber and have a lightly treaded outsole so are rain boots toddlers can easily walk in, even in wet weather. For comfort the cotton lining will wick away any moisture making sure that your toddlers feet stay warm and dry. A fantastic pair of boots that are easy for kids to put on and comfortable for them to wear, so they will quickly become your toddlers favorite footwear.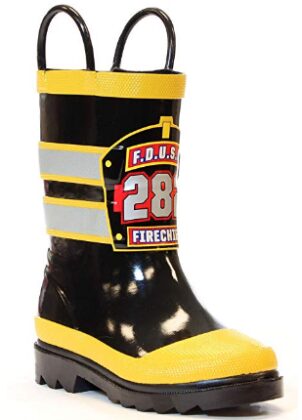 12. Spotted Boots by Western Chief
The perfect boots for young girls, these Western Chief Waterproof Printed Boots are appealing and have great practical features. Girls will love the Ladybug pattern of these cute bright red boots with black spots all over and the ladybugs eyes on the front give them a realistic finish. These waterproof boots are perfect for use in cold and wet weather, as they have a sturdy tread to prevent any slips or slides and have a moisture wicking lining to keep feet dry. For easy cleaning they also have an insole that can be removed if needed. These boots come in a great range of toddler sizes so you are sure to find a good fit for all kids. These are one of the best boots for toddlers and are great value for money.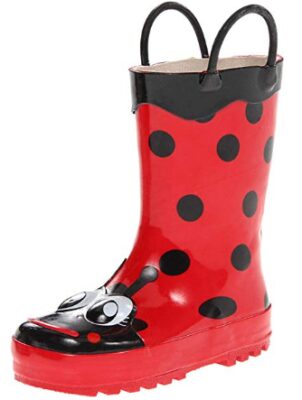 13. Pink Hunter Boots
These Hunter Kids Classic Boots make the ideal first pair of waterproof boots for toddlers. There are a range of great colors to choose from including the popular bright pink color that all girls love. The plain simple color of these boots make them appealing to both kids and parents and with the well known Hunter branding on the front of the boots they will make kids the star of the playground. As a high quality pair of boots you can be sure that they will last and be comfortable for kids to wear and they have a top level waterproof orthopedic footbed. These toddler boots are a mini version of the popular adult boots, so your kids will love have matching footwear to their parents.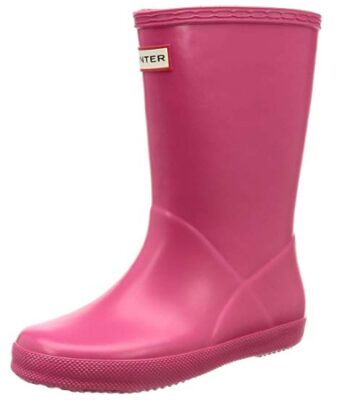 14. Toddler Nickelodeon Boots
If you are looking for toddler rain boots boy and kid friendly then these Nickelodeon Boys Character Boots are the perfect option with their exciting cartoon design. The graphics are based on characters from the popular cartoon series Teenage Mutant Ninja Turtles, so kids will love having Raphael, Leonardo and Michelangelo on the side of their boots. They are practical rubber boots for all weathers and are completely waterproof, so are great for playing in puddles. Toddlers will enjoy getting these boots muddy but parents do not need to worry as they are easy to clean with a quick rinse, perfect for busy families. These comfortable boots will be the top choice for all young boys.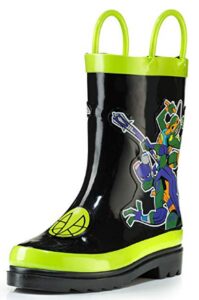 15. Girls Unicorn Boots
These Western Chief Waterproof Boots are the perfect boots for all young girls who love rainy day adventures. The unicorn pattern on these appealing purple boots are popular with toddlers and they will particularly love the rainbow color of the mane and tail, which adds extra excitement. The boots are made from rubber so are completely waterproof and the PVC sole has the additional exciting feature of flashing lights. These light are attractive to toddlers but are also a safety feature for parents, ensuring their kids are seen in the dark. The great handles help kids put on the boots but also provide a useful storage tool. These fantastic looking boots are practical and stylish so will be loved by both kids and parents.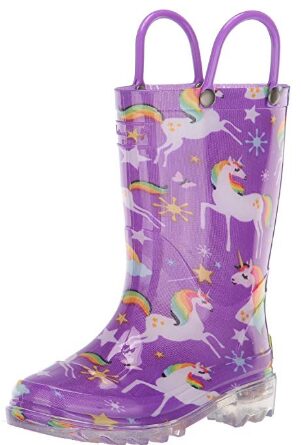 16. Hatley Boots
These lovely Hatley Printed Rain Boots are perfect for every young princess. They will ensure that feet are kept dry even in the rain, so are ideal for kids who like to make a splash. Girls will love the navy blue color of these boots with their stylish pink trim and white hearts and they will quickly become all kids favorite footwear. These boots are practical for all weathers and have a sturdy tread to ensure that kids do not slip. The loop pull on the back the boots ensure they are easy to put on so are perfect for toddlers, making them a great quality pair of boots that are essential for all outings in wet weather.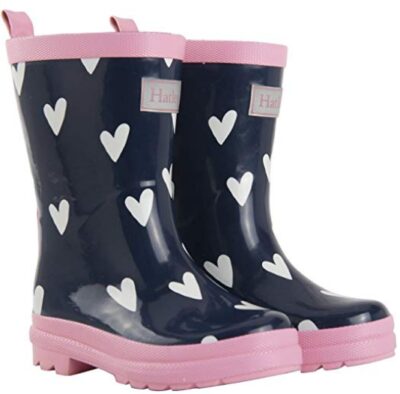 17. Hibigo Boots
These Hibigo Children's Natural Rubber Boots are perfect for every kid who loves playing out in the rain. The attractive ocean graphics with cute sea creatures is completed with the pink trim and sole of these boots. Along with their appealing look these boots are BPA free, so contain no nasty chemicals that your kids could be exposed too. They are 100% waterproof and the tread on the sole is ideal for giving a sturdy grip during wet weather conditions. Keep your kids feet comfortable with the high quality cotton lining and EVA insole that this fantastic footwear offers. The insole is also great for preventing odors, even after the boots have been worn all day. An easy to clean boot that will be popular with all young girls.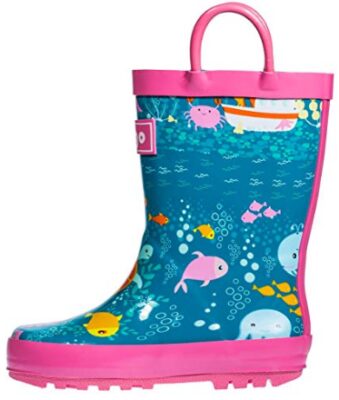 18. Hatley Boys Boots
If your kid loves adventures then these fantastic Hatley Printed Boots are the ideal footwear for all weather conditions. They are completely waterproof so will keep feet dry, even when splashing through mud and puddles and the loop on the back of each boot is perfect for helping toddlers pull these boots on. Toddlers will love the independence from being able to put on their boots by themselves. There are a wide range of toddler sizes and with a true to size fit these lovely boots will fit all young kids so they will quickly become your kids favorite footwear. The cute tractor graphics on these great navy and red boots will be popular with all young boys so they are a top choice for outdoor outings.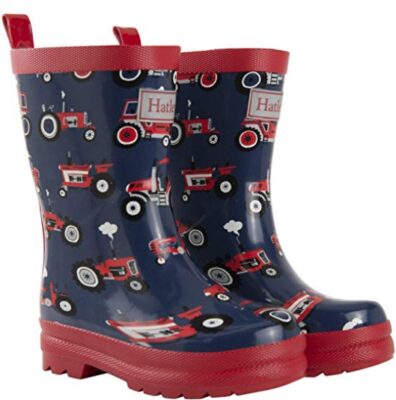 19. Kids Neoprene Rain Boots
For the best quality toddler footwear then look no further than these excellent Kid's Neoprene Boots by OAKI. They have been designed to be appealing to young kids while also having great features that parents will love. Both girls and boys will enjoy the colorful friendly dinosaur graphics and the light blue color making them the chosen footwear of many young kids. They are easy to keep clean with a quick spray down so there is no wasting time with complicated cleaning instructions. With a temperature rating 0 and a good tread, these boots are great for rain, snow and mud, while ensuring that your kids feet stay cosy and warm with the insulated foot and ankle protection. These are the perfect boots for all weather conditions.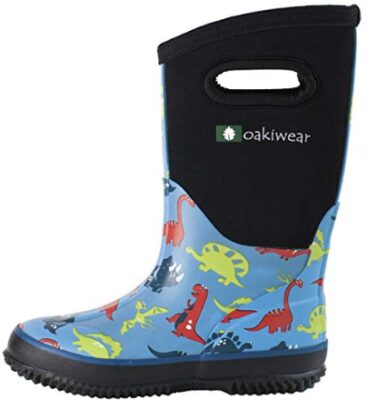 20. JAN & JUL Boots
These Toddler Natural Rubber Boots by Jan and Jul are a bright colorful option for wet weather footwear that are perfect for adventurous toddlers that enjoy playing in mud. They are made from natural rubber so parents can be assured that these boots are free from any nasty chemicals. With a sturdy sole these boots will give grip on every surface, so they will prevent kids from slipping. These boots have been designed for toddlers as they have useful handles, so young kids can put on their own boots without any help from adults. With a soft cotton liner these boots are comfortable so kids can wear them all day long. A great all round toddler boot that is high quality and designed to last.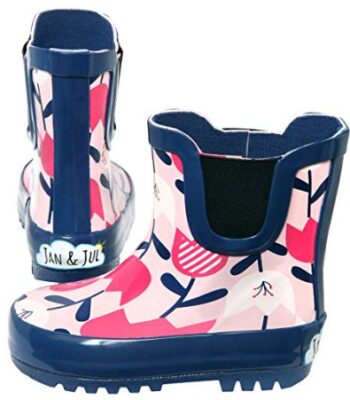 Best Overall Pick
Our best overall pick is the great Kid's Neoprene Boots by OAKI as they have super features that keep kids feet warm and dry in all extreme weather conditions. This means that if you have kids who enjoy playing out in the rain or snow then these are the boots for you. This durable footwear has an appropriate tread that will provide grip in bad weather and the fun bright graphics on these boots make them appealing to young kids. Definitely footwear that will get the approval of both kids and their parents.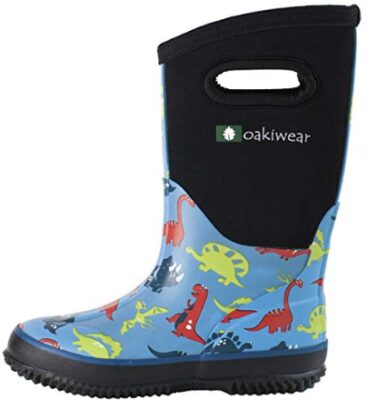 Best Product Buy
These Western Chief Light Up Waterproof Boots are our best product buy as they are great value for money. They are both waterproof, so are great for exploring outdoors on rainy days and comfortable for kids to wear. The handles on the top of both boots ensure that they are easy for toddlers to put on and take off, so toddlers can get their first taste of independence. The highlight of these boots are the light up soles which flash when kids are walking, a fun feature kids will love as well as ensuring that kids are seen in the dark.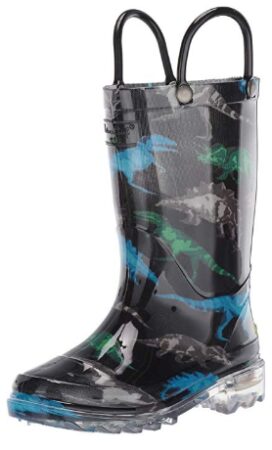 Other related Articles