Looking for the best breast pump to induce lactation? You are on the right page!
The best thing that you can do for your newborn baby is to feed him or her breast milk, as often as they are hungry, for 6 months to a year or more if you can.
The benefits of breast milk are found to be amazing.
And so far not reproducible artificially in formula feed…no matter how much you buy.
Giving your baby breast milk for the first two years of its life is important for its growth, health and development and immunity to diseases and sickness.
Breast pumps are every new mother's miracle device that makes breastfeeding easier and convenient.
The right breast pump can be a trusted and handy tool. It makes sure your baby gets breast milk often and as much as is required.
And allow other family members, like dads and grandparents to feed your baby if you wish by using bottles.
As much as the variety of breast pumps available, most mothers often found it confusing.
For that, this guide provides information and product details for some of the most popular brands of breast pumps for inducing lactation.
It is now easier to review product features, compare price details and finally be able to choose confidently the breast pump satisfying the needs of you as a new or experienced mom.
It is a good idea for mothers to start browsing and obtaining information about the different brands of breast pumps before the baby is born.
Having said that, here are our recommendations.
---
Best Breast Pump to Induce Lactation in 2023
---
1. Medela Pump in Style Advanced with On the Go Tote

You've been breastfeeding your baby since she was born.
But you need to return to work soon, and you know that your baby needs your breastmilk for as long as possible.
You also know you need to depend on your new breast pump frequently and for as long as possible.
And, since your job is demanding, you need a pump that's reliable and efficient.
Medela pumps have a breast pump solution with you in mind, called the Medela Pump in Style. Since you're an on-the-go working mom, you also need convenience and portability.
The Pump In Style Advanced Breast Pump is an electric breast pump that was designed based on research and proven in hospitals.
Each "PIS" Breast pump has 2-Phase Expression Technology which produces more milk in a less amount of time when it's operating at Maximum Comfort Vacuum.
It was designed to replicate a baby's natural suckling.
The two phases consist of the Stimulation phase, which has a slight but quick suckling action that begins the flow of milk (also called let-down).
And the Expression phase, when a slower vacuum is created to efficiently, but gently, express more milk faster.
And you can adjust the speed and vacuum so that the breast pump feels most like your baby. You can use the breast pump as a single or double pump.
It used to be that you could only get this kind of technology in a hospital-grade pump, but it's now available in this breast pump that's used for personal purposes.
Other Advantages of the Breast Pump
The Pump In Style Advanced Breastpump has many other advantages.
A Battery Pak is included so that you're able to pump anywhere. All you need are eight AA batteries.
And you can be assured that all the pump's parts that come into contact with your breastmilk are free from both BPA and DEHP.
Other items included in the pump are:
A cooler carrier
4 collection containers (each with lids)
Two 24mm PersonalFit breast shields
A Breastfeeding Information Guide (aren't you surprised at how much there is to learn about breastfeeding?),
Two valves
Four membranes and a cooling element (see Medela.com for important information on breastmilk storage under the "Pumping" section).
Feature Highlights
The Medela Advanced Pump is a dual electric breast pump that has been loved by mothers all over ever since it was introduced.
It comes with a tote bag which makes it easy for moms to carry the pump wherever they go and that too in style.
In the tote bag, you will get the breast pump which has a two-phase expression technology, an integrated motor unit, and a single touch letdown button.
Also, it includes a portable battery pack, contoured ice pack, breast milk bottles along with lids, and a removable cooler bag.
Pros
It has a fast pumping speed
Is easy to use
Is portable and non-toxic
Offers great milk expression
Cons
It is not very cheap, but considering the work it does, it is worth it.
---
2. Ameda Purely Yours Breast Pump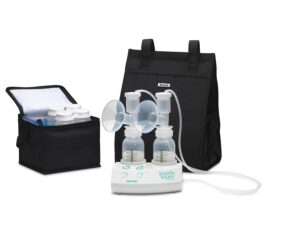 We all like options. And the Ameda purely yours breast pump will give you lots of them. And simplicity.
As a new mom, you have enough to do, so you need items to operate simply and easily.
The Purely Yours Breast Pump with Backpack is for the mom who has to return to work or is always on the go, with the added convenience of lightweight portability.
Fortunately, this breast pump only weighs one pound!
This pump is driven by pistons for durable reliability and hospital-grade technology. Plus, it has all the user-friendly features that moms need.
You can adjust both the cycle and suction, whichever is most comfortable for you. Since it's a double electric breast pump, it's quick, easy and efficient.
It simply allows you to do everything you need to do and still save time. The breast pump's unique design doesn't allow milk to get into the tubing, which is another great time saver.
What's Included
Also included with the breast pump backpack design is the Ameda HygieniKit Milk Collection System. Which is, of course, free of BPA.
It has a patented design that uses a silicone diaphragm so that breastmilk won't enter the tubing. Not having to clean the tubing is another great time saver.
The HygieniKit is preassembled as well as sterile, so you're good to go. And, after cleaning, is easy to reassemble.
Bonus – it fits all of the Ameda electric breast pumps.
Also included with the backpack is the Cool 'N Carry Tote. This tote includes three cooling elements, a Milk Storage Guide magnet to remind you of the precautions that will keep your breastmilk safe and sanitary, and six 4-ounce bottles with lids, so you can store your breastmilk in whatever size your baby eats at one sitting.
And other features
Your breast pump operates in three different ways. With an electrical adapter, a 12-volt car adapter (each is included in the backpack) and it can also run on AA batteries!
Some of the great accessories that are included are two cotton breast pads. And a Manual Breast Pump handle assembly, which can convert one the breast pumps in case of emergency.
Last, but certainly not least, is the backpack itself. Not only is it lightweight, but it's made of long-lasting microfibers.
---
3. Philips Avent Double Electric Comfort Breast Pump

From using a manual breast pump to single or double electric ones, every mother needs to determine early on what their needs will be and which product can fulfill them.
Manual breast pumps are best for mothers who need to pump only infrequently when they are away for a single feeding or work part-time and to have controlled the expression of milk.
There is a wide range of different pumps available in this category.
Electric breast pumps, on the other hand, are advisable for mothers who need to breastfeed frequently or daily who will be away from their baby most of the day.
Almost all brands offer breast pumps in both the categories of manual and electric pumps. And the Philips Avent Breast Pump falls in between these two.
Knowing what you want and what will make breastfeeding a truly wonderful experience for the child and the mother can greatly ease the breast pump search for mothers.
Features of the Philips Avent Breast Pump
The Philips Avent breast pump saves you time by allowing you to pump from both the breasts at the same time and that too just by the touch of a single button.
It comes with a three-flow setting that does the work for you while you just relax.
Unlike many other pumps that require you to lean forward when pumping, the Philips pumps let you sit upright and pumps milk while you relax.
The design is uncomplicated and has 3 expression pump settings and you can select the one that works best for you.
Pros
It is lightweight and gentle
Allows you to sit comfortably when using it
It is a closed system.
Cons
It does make noise
Offers low suction pressure
---
Final Words
---
By now, you should have gotten a model that suits your needs. Remember you don't have to choose the most expensive one.
As long as you know a pump will satisfy you and your baby's needs, then you should go for it.
In addition, BMONTG provides information and gives details of products offered for breast pumping along with their accessories.
You can browse through product details on all the major breast pump brands, compare their popularity, review their most desirable features and determine their worth through the price details.
All the aspects of choosing the right breast pump for yourself and your baby are right here in one place.
We hope that with this information, you'll find the best breast pump for inducing lactation…
Finally, our recommended breast pump to induce lactation is the Medela Pump in Style Advanced with On the Go Tote.
Take a look at these breast pumps from Amazon also: