There are so many great coloring books for kids out there, so how do you know which is the best to choose? Here, we have picked 10 of the best and reviewed them for your convenience, so finding something your child will love is easy! Coloring in is great for kids and – it's a cheap, entertaining activity to pass the time, it's good for their creativity and it can help them relax and unwind. These books are also ideal for keeping your child entertained when traveling on a long journey. Kids will love to use these books at any time, and we have chosen a range of themes to ensure there is something to suit all tastes.

Considerations When Buying Kids Coloring Books
There are a few factors to consider which can help guide your search, so you find the book which is perfect for your child.
Theme – Every book has a different theme, so you can choose one which appeals most to your child. There are some geared more towards boys whilst others will be preferred by girls. Some of the most popular themes include Harry Potter and unicorns, whilst you can also find Christmas coloring book for kids which make a great stocking stuffer at Christmas.
Age – These books have varying levels of difficulty, so are suitable for different age groups. Some have large, simple pictures which are ideal for very young children to scribble on. Others have very intricate and detailed designs which are better for older kids, up to tween and even teen ages. The type of book you should choose depends on the child's age and how much experience they have with coloring and drawing.
Number of Pages – Some books are small with just a couple of coloring pages for kids. Others are bumper books which will last them for ages! If you are buying a book to keep them entertained on vacations, a bigger book is best.
Worth Considering – Sometimes its more suitable to buy kids arts and crafts than simply getting coloring books although there is a lot of cross-over and both are great kids activities.
10 Best Coloring Books for Kids Reviewed
Now we know what factors to look for when choosing good coloring pages for girls and boys, let's take a look at our top 10 books for sale.
1. Owls Coloring Book
This book from Creative Haven comes in both paperback and spiral bound formats. There are over 30 images to color, each with intricate patterns and decorated backgrounds, giving a full page coloring picture. The pages are perforated so they can easily be removed from the book for hanging on the wall or giving to a friend if desired. They're also only printed on one side, so kids don't need to choose between their two favorite images to display. This is a great book for those with a lot of experience of coloring, perfect for teens and tweens. Besides, who doesn't love owls?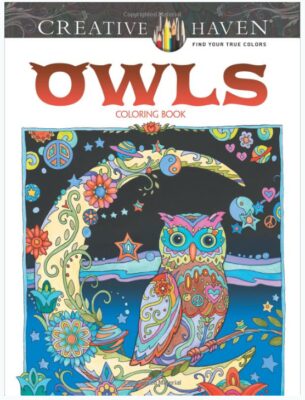 2. Enchanted Forest Book
Here we have another intricate book for more experienced colorists, this time it's about taking a quest through an enchanted forest! As kids work through the pages of the book, they have to keep a look out for the hidden symbols which can be found throughout. There are loads of pages to color, even inside the cover and on the front page. The pages are thick enough to prevent the colors from bleeding through if markers are used. Kids will love the stunning designs in this book, and there are more Johanna Basford books to collect once they have completed this one.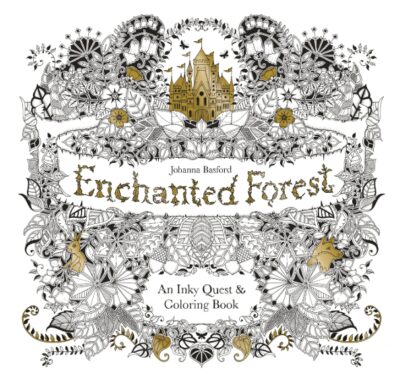 3.  Relaxing Art Book
This paisley pattern coloring book is ideal for beginners, as the patterns are less small and detailed than those of the previous books. The pages are easy to remove from the book and are only printed on one side. They also have inspirational quotes on the back, making them excellent for sharing with friends. A variety of media can be used, including gel pens and markers, as the paper is thick enough to prevent bleeding through. There are 30 pages to enjoy, so kids will be busy for hours. There is also a guide included to help kids learn basic techniques to make their pictures look even better. Some of the techniques shown include blending and shading as well as introducing color theory.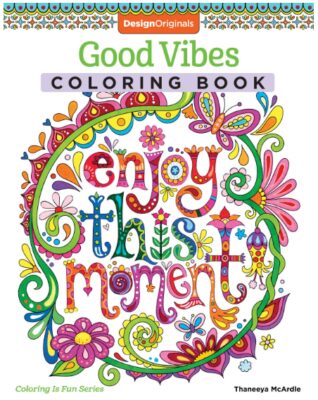 4. Scholastic

Harry Potter Coloring Book
These Harry Potter coloring pages are excellent for any fan of the series. The book is filled with pictures of Hogwarts, the Forbidden Forest, the Sorting Ceremony and of course all the mythical creatures. The book comes with 16 pages of ready-colored art to help give some ideas and inspiration. There are loads of pages to color – around 80 – so this book gives excellent value for money. There are a mix of small and detailed patterns and larger pictures, so there is something for everyone. The gold embellishments give this book a premium feel and ensure it makes an excellent gift item for a Harry Potter fan.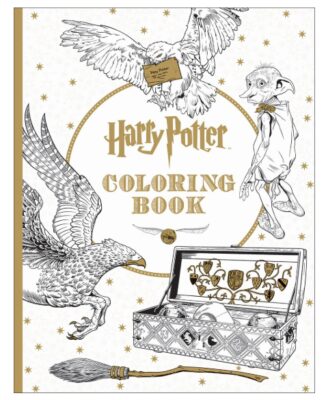 5. Alphabet

 Book
If you're looking for a cheap coloring book for kids, how about this ABC book? It is great for kids to learn their letters and have fun coloring at the same time. Every letter of the alphabet is featured, along with a picture of something which starts with that letter. It also says, for example 'A is for Apple' under each picture so kids can practice reading too. This is a small book which is ideal for amusing kids when out and about – it's easy to take in your backpack. However, for this reason it can be slightly difficult for younger kids to use, so it's best for age 3 or 4 and above.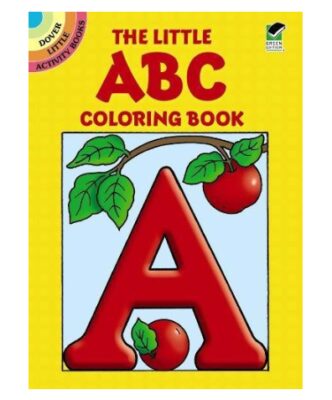 6.

Country Scenes Book
Here we have another nice book from Creative Haven, with over 30 full page illustrations for kids to color. The book shows a variety of countryside scenes such as bridges, wildlife, barns and lakes. The finished pictures can be displayed on the wall, as they are printed on one side only. Various types of media can be used on the pages and designs, whether it's watercolor pencils or marker pens your child prefers to use. Kids will love the relaxing and peaceful designs, and the book is best for those aged 8 years and above.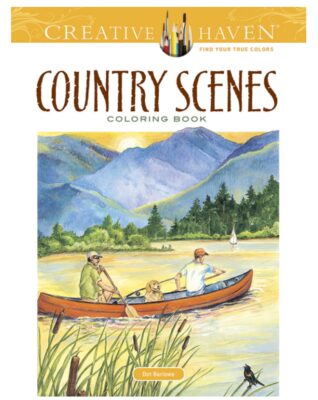 7. Children's Artwork Book
This beginners book contains a whopping 200 simple coloring pictures, sure to keep kids busy for hours. The drawings have thick black outlines so it's easy for kids to learn to stay in the lines, and the shapes are mostly simple without too much detail and patterns. Kids will love the pictures in this book – easily recognizable images such as animals, vehicles and toys. The book is suitable for both boys and girls, as there are pictures of butterflies, trucks and everything in between! It's ideal for those aged 3 and above and is sure to keep them entertained for hours!

8. Happy Unicorn Book
If you are looking for cool coloring pages, unicorns are always a good choice! Recommended for kids aged between 4 – 8, this book has 50 single-sided pages so it's sure to keep them busy for a long time. There are unicorn color pages and other fun images such as rainbows, castles and stars – simply magical! The book is A4 sized. Some of the images are detailed whereas others are more simple, so it's suitable for beginners and those with more experience alike. The pages are slightly thin, but as they are printed on one side only there's no need to worry about the ink transferring through to the other side.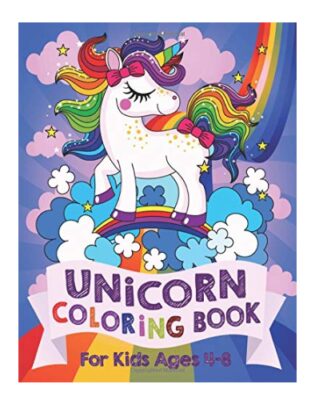 9. Unicorn Workbook
These unicorn coloring pages also come with other fun activities such as mazes, to challenge and entertain kids between the ages of 4 – 8 years old. The book is printed on one side only, so there's no need to worry about ink bleeding through to the following image and spoiling it. There are almost 70 pages in the book, so that's over 30 pages and activities for kids to work through. The unicorn theme is very popular at the moment, so you can be sure this book will be well-received. It makes a great gift item for a birthday party or a stocking stuffer.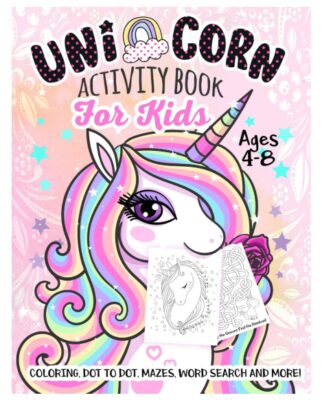 10. Go Girl Doodle Book
There's a lot of choice out there when it comes to girl coloring pages, but this one is sure to appeal to them. There are 30 designs aimed at tween-aged girls. The paper is perforated for removing the finished art, and it's also extra thick. So, girls can use any media they like, whether it's gel pens or watercolor pencils. There are also teaching pages with examples included, so girls can learn more techniques to improve their skills. Every page is printed with an inspirational message, so girls will always be in a positive mood when working on these pictures. The book shows 20 color palettes which work well together, so girls can practice using them to make a really great looking masterpiece!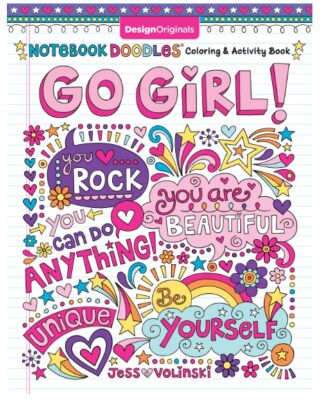 Best Overall Pick
Now we've looked at some of the best coloring books for kids, it's time to choose our very favorite. The Harry Potter book stands out because of it's unique theme – just about everyone loves HP! We also love the large number of pictures in this book, as well as the golden embellishments which make this book look and feel expensive. The included 'lessons' and colored artwork are a nice touch which can help beginner colorists progress to the next level. An all-round excellent pick!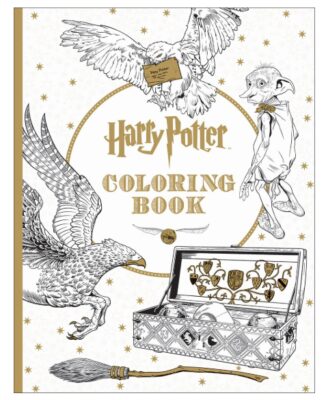 Best Budget Buy
For those looking for something cheap and cheerful, we recommend the ABC book. It is educational and fun, and we love the compact size – perfect for travel. Younger kids will love the simple drawings which are easily recognizable. It can be used for them to read through and practice their letters even when all the coloring in is finished.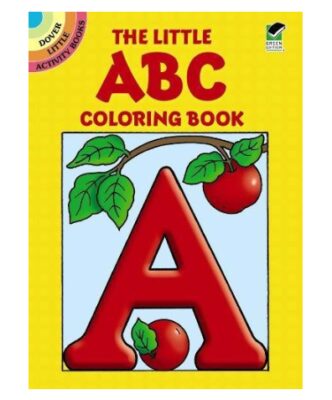 What Can Kids Learn From Coloring In These Books?
Coloring is a great way for kids to develop and practice many important skills. They can practice their hand eye coordination as well as develop the skills necessary to start writing, or improve their writing if they can already write. Also, kids can learn to focus and concentrate on the task at hand, which is very important for school as they get older. Kids can also express their creative side with coloring, and can learn art skills such as shading and matching and blending colors. Finally, coloring can be a relaxing activity which can help kids de-stress after a busy day.
Where To Buy a Cool Coloring Book for Kids?
All the books reviewed here can be found on Amazon at a competitive price and with quick home delivery. You can also find books at a toy store or even in many supermarkets.
How Many Pages are in a Kids Coloring Book?
These books each have a different number of pages, around 30 seems to be a fairly typical number however. Some of the books have many more pages, such as the Harry Potter books with around 80. Some of the books have very detailed patterns which will keep kids busy for hours even if there are not so many pages.