Looking for brilliant budget gifts and toys for children under $5? You're in for a treat! There are so many awesome cheap gift ideas out there and while you may not have the time to search for them all, we've got you covered.
For just 5 dollars you can find all sorts of toys for boys and girls including plush teddies, books, arts & crafts, and much more. Before you set out to choose the perfect toy for the child you're buying for we've put together some handy considerations to help make the process as easy as possible.
Considerations When Choosing Gifts
Personality – We always recommend thinking about the personality of the child that you're buying a new toy for. Even gifts under $5 require a little bit of thinking about, get to know the child by asking his or her interests if they're not already known. There is so much to learn about a child's personality that should help you to refine down the suitable options.
Age – Age is certainly an important factor simply because some toys are not suitable for children that are younger. Always check the age guidelines before going ahead and selecting a gift for your little boy or girl.
Purpose – Are you looking for one-time use toys only or more long-term options? Have a think about how long a toy will last. Just because you're only spending 5 dollars, this needn't mean you can't choose a gift that offers great value for money.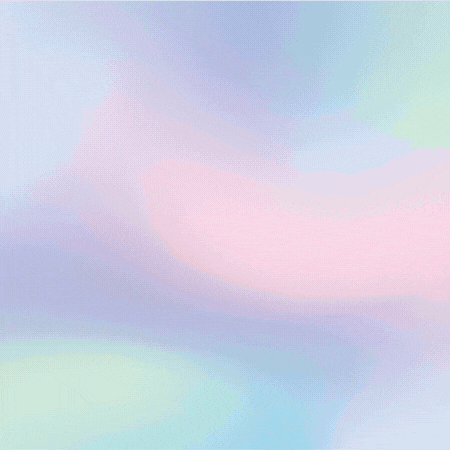 Top Cheap Gifts Ideas
After covering what best to think about when buying $5 gifts, we have a cool selection of options below for you. We're confident you'll find the perfect toy idea for any child, no matter their personality.
1. Scratch Art Vehicles

This awesome five dollars gift is full of creative fun! Kids can get busy scratching away the coating to reveal cool vehicle pictures.
There are 12 scenes including cars, trains, and trucks, and included in the stylus and scratcher making it a cool bargain. An under 5 gift with lots of skill-building and arty activity.
2. Mermaid Tote Shopper
How about this mermaid tote as an awesome five and under gift? Hand washable, pretty, and fun, this lovely bag is perfect for carrying around toys, shopping, and much more. We love this gift which is made from recycled plastic to promote environmentally friendly living. This is a great alternative gift at a bargain price that is sure to bring a smile to your little mermaid fan's face. Check here how to make your own tote bag.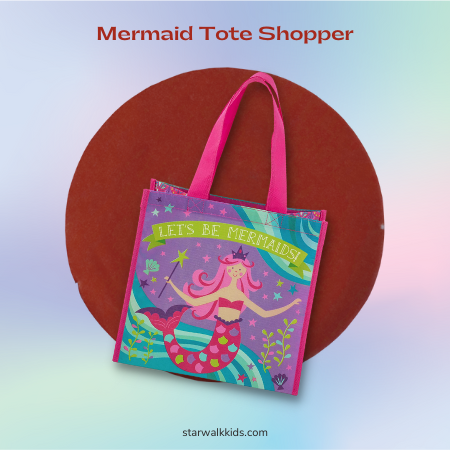 3. Bookmark Making Kit
Get creative with this bookmark-making kit – one of the most unique gifts under $5 we've come across. Included are 12 different projects and all the supplies needed such as ribbon, sticks, and easy-to-follow instructions too. Your kid will love reading with this awesome toy!

4. Train Painting Kit
A fantastic toy in the category of cheap gifts under $5, this wooden train craft set is going to provide hours of fun. Children can assemble and then decorate their toys using their favorite colors. Sturdy and robust, the train doesn't require any tools and comes with paint, glue, and train decals. Painting can be such a great activity for developing hand-eye coordination and patience too!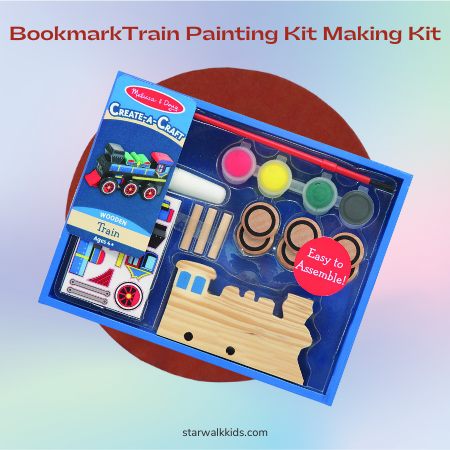 5. Jenga Game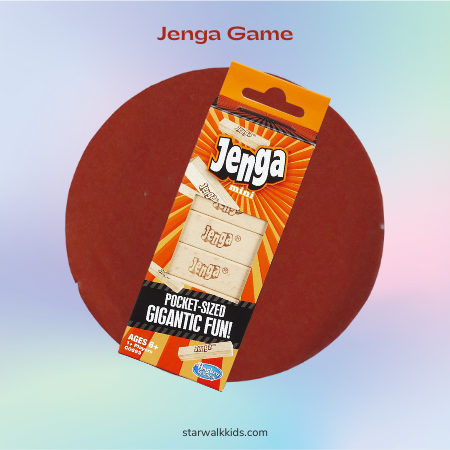 Jenga is a family favorite and is also one of the best cheap gifts for kids under $5 too. This mini version allows for pocket-sized fun and will bring about concentration, laughs, and plenty of tumbling. Included are 18 mini-blocks and a handy box to keep them inside. Whoever knocks over the tower first loses!
6. On The Farm Animal Toys
Farm animals are so much fun and children can interact with them using this lovely sticker playset which is on the five dollars list. There are 52 reusable stickers included that can be put into the activity book and played with again and again. This is a great skill builder gift encouraging hand-eye coordination and more.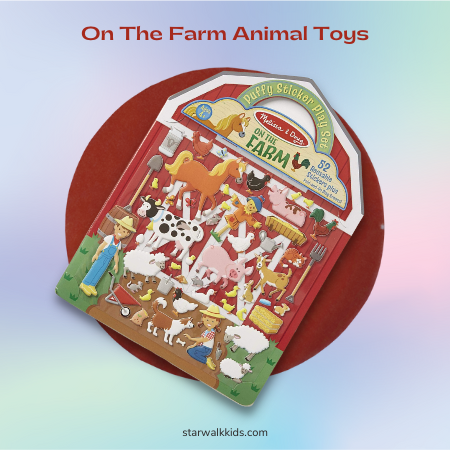 7. Water Wow Craft Pens
Magic pens that work just with water! This pack of pens and alphabet reveal pad is a lovely amazon under $5 presents for boys and girls. The pad features reusable pages to help little ones learn their letters in a fun and creative way. In no time, the child playing with this toy will be able to work their way through the alphabet confidently!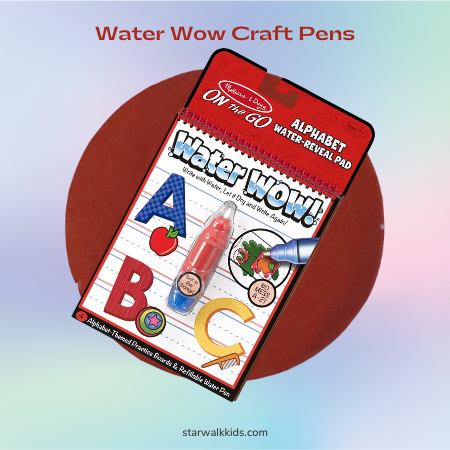 8. Decoder Game
How about a challenge? As one of our $5 gift ideas, this awesome decoding game is going to allow kids to use their brainpower. Included are 6 different monster styles, some cute and others not so much. The pack contains 30 cards with stickers and is a great value for money option! Is your child a future detective? Let them unleasht heir skills with this awesome choice.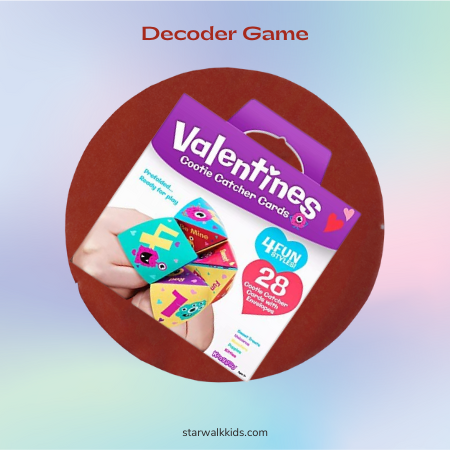 9. Toy Story Coloring In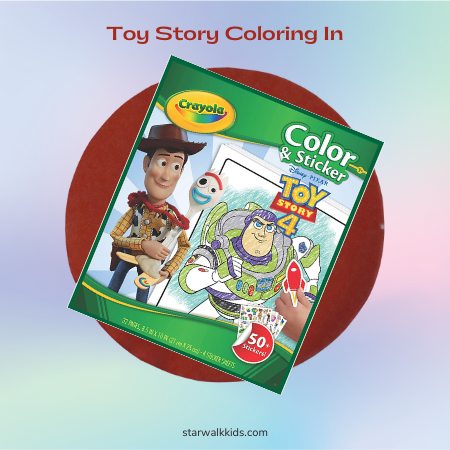 Toy Story is a firm favorite amongst many children and with these five and under gift, they'll be able to color in all of the characters. Included are 32 sheers and 4 sticker sheets allowing plenty of creativity and fun.
The 50 included stickers will allow little ones to express themselves and decorate all day long. Bring your child's favorite movie to the next level with this awesome color pad!
10. Toy Vehicles
Toy vehicles are one of the most popular toys for little boys and girls, this super cool set comes with 4 different modes of transport for ultimate fun. As one of our favorite 5 dollar gifts, your child is going to love the rotating police car, helicopter, truck, and digger. Colored brightly yellow, these toys are great for both indoors and outside too.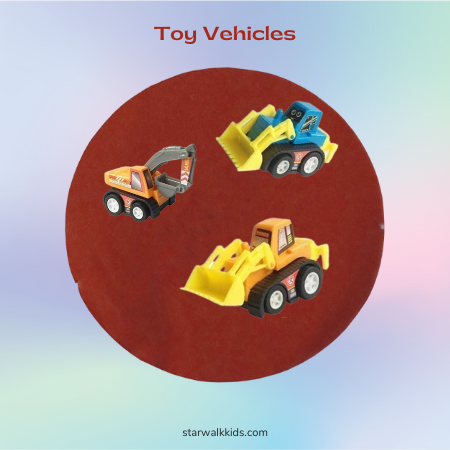 11. Awesome Sticker Pack
Stickers are so much fun – there's no denying that! Why not treat your child to this super fun sticker pack which includes so many designs. There is something for every type of personality in this set from characters to flowers, both boys and little girls will enjoy this under 5 dollars gift. Stickers can be put on bags, bedroom walls, and on laptops – the customization options are endless.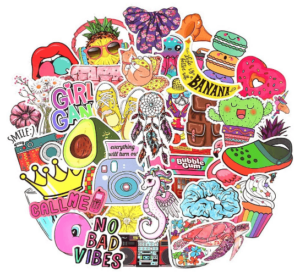 12. Coloring In Pad
There are 288 pages to color in here with this fabulous pad and each comes with its unique design too. From llamas to cosmic cats, this toy is sure to unleash plenty of imagination and creativity. Kids will love the skills they learn along the way too as they improve their coloring with this 5 dollar gifts idea. Coloring in is such a fun activity for children of all ages, and this five dollars gift proves so!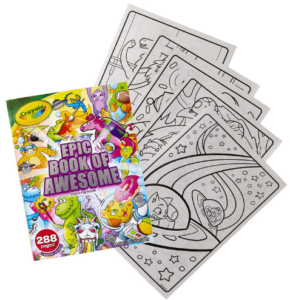 13. Easter Paper Bags
If you're seeking a fun gift bag look no further than these lovely, bright Easter paper bags. Each comes with its design and is sure to delight your little one as they reveal their new gift. Made using high-quality materials, these are great value for money as $5 and below. Why not pack your budget gift into these lovely gift bags for the perfect finishing touch?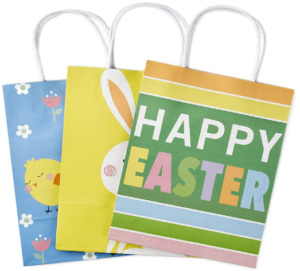 14. Firefighter Toy
Forrest Fuego is here to save the day! This cool Rescue Heroes team character toy has made it into our gifts under $5 list and is ready to extinguish fires! Measuring just over 6 inches, this toy is a great addition to any collection and will provide hours of imaginative play. Toy figures offer plenty of skills to children including imagination development, social skills when with friends, and much more.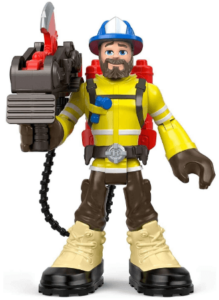 15. Harry Potter Glasses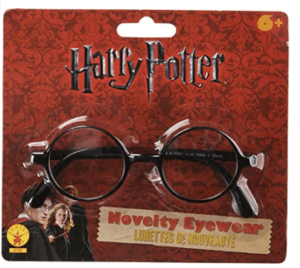 Is your child a huge Harry Potter fan? With this quirky toy, they can dress up as their favorite character and cast spells on their family and friends!
A perfect way to complete any wizard costume, the clear lenses are plenty of fun and a fantastic gift under 5 dollars. Inspire your little wizard with this fun novelty eyewear.
16. Crayola Fairytale Book
Crayola is a well-recognized brand amongst children and is loved for its fun entertainment with color. With this under 5.00 gift, your child will get to color in 96 pages and use the accompanying sticker book. too. For hours of fun embellishing the pages with decor, this gift is a perfect bargain that is sure to be enjoyed over and over.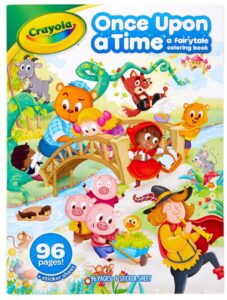 17. Scented Silly Putty
If you're seeking novelty gifts under $5, how about these fun putty eggs that come as a complete set of 6? The possibilities are far stretching with the fun toy, which is a great gift for birthday parties and as a stocking filler. Each putty piece is scented with a fruity fragrance too including apple, grape, and watermelon.
This et of eggs can be easily stored back into the box they came in too for minimal fuss or concern over cleaning.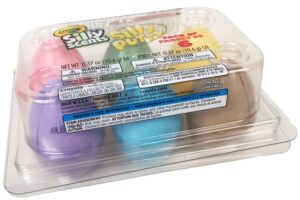 18. Comfy Joggers
These cotton grey joggers are great as secret Santa gifts under 5 dollars. If you're choosing a gift for a child who loves lounging and playing video games, help them to do it comfortably with this fantastic idea. The neutral grey color makes them a wardrobe staple as they'll match all types of colored tees and sweaters.


19. Gliders Planes
Glide through the air with these awesome gliding classic planes. A fantastic birthday party activity and suitable even for younger children ages 3 years and above too! They are bright colors and lightweight meaning there's no complex fuss when building and flying them in the sky. Featuring a propeller, nose pieces, and more, your child is guaranteed to enjoy this under 5 dollar gift.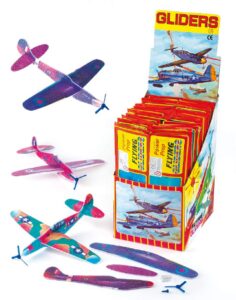 20. Zoo Transporter Truck Toy
Your child is going to have heaps of funt transporting zoo animals in this awesome tiger truck which includes 2 animal toys. Offering great value for money, this choice is one of the best cheap gifts that we've come across. Your little one will enjoy the interaction with their favorite animals in toy form and driving the huge truck around. What fun can your little girl or boy have with this awesome budget gift idea?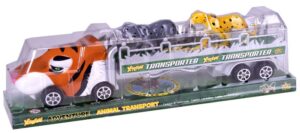 21. Lol Activity Book
Including 25 temporary tattoos that wash off with ease, this Lol activity books are perfect gifts for any little girl. The friendly characters are found across 48 pages and provide lots of scenes for a little artist to color in. The tear and share pages can be displayed on bedroom walls once completed too, making this gift extra versatile.
This lovely 5 dollars gift is guaranteed to delight!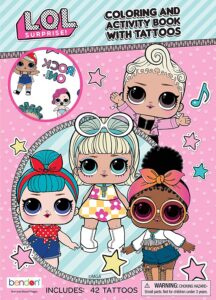 22. Wood Intelligence Game
For parents that are looking for cheap gift ideas for friends, this awesome wooden building blocks game is great for adults and children alike. Made of high-quality wood, the blocks are stacked to make a variety of graphics. The game aims to get them on the board with no gaps for a complete picture. Are you up for the challenge?

23. Secret Decoding Game
Decoding mysteries s much for and even better as one of the dollar gifts. Including 24 pages of seeking and fun color activities, children will love the challenge of this book which includes a magic pen store in its cover. The surprise pictures are revealed as you color for an astonishing effect guaranteed to provide entertainment.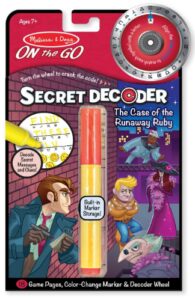 24. Magnetic Personality  Game
Wooly Willy is a fun and silly game designed to entertain both children and adults. This is a great five below gift card option and allows entertaining faces to be drawn using the magic wand that's included in the pack. We love this awesome, original idea that comes at a budget price making it a great stocking filler.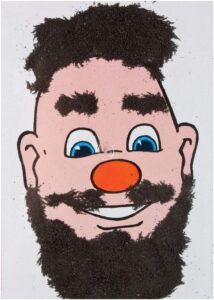 25. Galaxy Squoosh-os
Sqoosh-oos are super fun and this set of D.I.Y stress balls comes with enough putty to make 3 individual designs. The water crystals included allows children to explore and expand their crystals by simply adding water. With this set are easy-to-follow instructions that make creating as easy as possible. Kids will appreciate the quirky entertainment of this 5 dollar and below gift.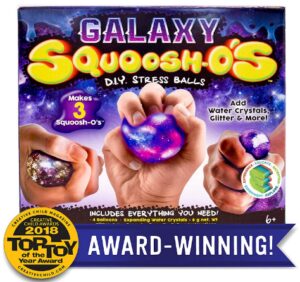 26. Crazy Eights Card Game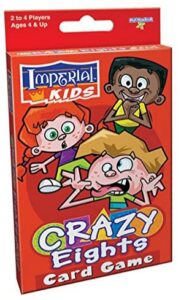 Crazy eights card game is suitable for 2-4 players and comes with all the cards needed to have and competitive time with friends or family. The aim of the game centers around silliness making it a fantastic party activity. The five dollars gift is fantastic value for money and can be used over and over again.
27. Temporary Tattoos
How about some temporary tattoos for a bit of fun? There are over 100 in this pack making it great for explorative fun. The kid-friendly themes are suitable for children of all ages and made using safe ingredients to guarantee no irritation. Included are easy-to-apply sheets that can be removed with soap and water. This is one of our favorite toys under $5!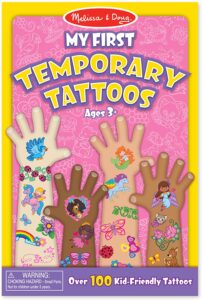 28. Mr. Potato Head
Everybody loves Mr. Potato Head from Toy Story, but did you know that you can gift one to your child for $5 and below? These character heads include one Minifigure from the movie, giving your child a lovely surprise! Included in this set are the potato cat, pancake head, potato bear, and many other options.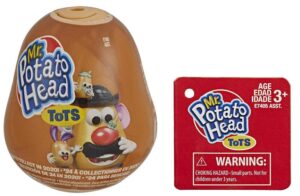 29. Animals Coloring Pad
A great value for money option, this jumbo coloring pad includes extra-large images to color in on jumbo paper. There are over 50 animal artworks to enjoy for the creative child in your life. The pages will tear out cleanly too so that they can be displayed on the walls of your home when completed.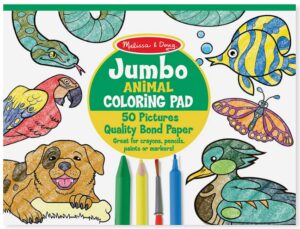 30. Water Dino Game
Is your child a dinosaur fan? Treat the,m to this awesome handheld game for tons of entertainment at under 5 dollars. This game is a great option is you're seeking a more long-term toy and it helps with hand-eye coordination too. Suitable for children ages 3 years and up there's so much surprising fun to be had!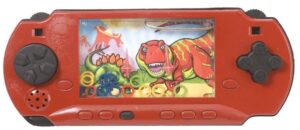 31. Pizza Socks
Yum! These pizza socks look so delicious and they're very comfortable too. If your little girl or boy enjoys pizza, why not treat them to these novelty socks as a stocking filler. They're also a great option for coworkers as a secret Santa gift or a thank you gift for men. At $5, we challenge you to find a reason not to buy them!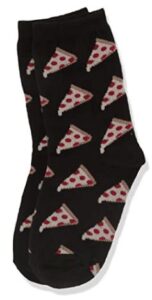 32. Secret Decoder Slippery Flippers
Decode the slippery flipper case with this awesome game which allows your child to become a super detective. There is so much fun and entertainment to be had with the magic pen and fun coloring and seek pens included. This is a perfect option for if you're seeking a way to entertain your child as they travel thanks to its portability too.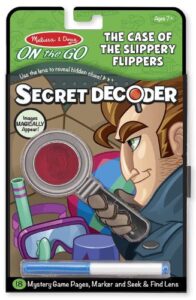 33. War Card Game
A classic for kids, the war card game is an awesome 5 dollars game of war is suitable for children ages 4 years and up and is a great party activity at a bargain price. This game includes lots of laughter and challenges, so be prepared! The oversized cards are easy to handle and easy to read so that the help of adults isn't required.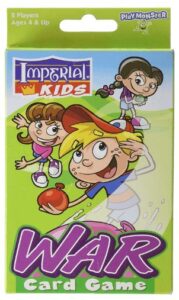 34. Stringy Majiggy Game
This 65-inch stingy toy is a bit bizarre but plenty of fun! Each of the bright strings comes in different sizes and colors to make up the completed toy that is a great stress buster. Children can choose to carry out tricks and illusions with this nifty gift idea under $5.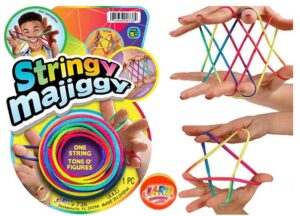 35. Playdoh Truck
Kids can rock out with this mini bulldozer which is going to be inspiring for young construction wannabees. The playdoh allows children to build 4 different boulders that can be squished and carried in the back of the truck. This fun toy is worth it as one of the best 5 dollar gifts offering plenty of creative fun while allowing your child to develop their imaginative and hand-eye coordination skills at the same time.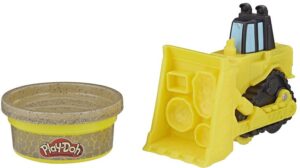 36. Marvelous Masks
Your child will get to decorate and make 4 marvelous masks with this awesome crafty set to wear at their birthday party or for a fancy dress occasion. The masks are made of sturdy cards and come with self-stick ends as well as lots of decorative accessories including gem stickers, shapes, and sticky tabs. This is a unique creative activity for any child to enjoy and will improve their motor skills at the same time.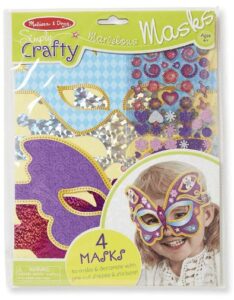 37. Train Set
How about this awesome choo-choo train set? The train measures just under 3.5 inches and can be decorated with your child's preference using the paints and stickers for extra customization. This is one of the best $5 gift ideas that we've come across and it makes a great stocking filler for any little girl or boy.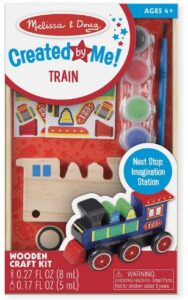 38. Guess Who
You've surely heard of the classic Guess Who game, and this pocket version is a great option for any child that enjoys a competitive challenge. Taking a twist on the original, this card game is fast-paced making it a great party entertainment task. children will love the array of different characters that come with the game and have fun guessing which is their opponents!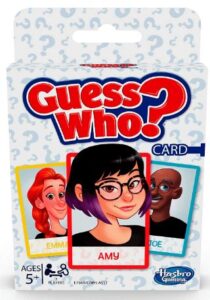 39. Unicorn Coloring Book
Is your little boy or girl a big fan of magical unicorns? This unicorn-themed coloring book includes plenty of pages to enjoy and is suitable for children ages 4 years to 8 years. It comes as a great 5 dollar gift and can be used as a party game prize or a stocking filler – the choice is yours! Coloring books are great for developing vital skills such as hand-eye coordination and patience too.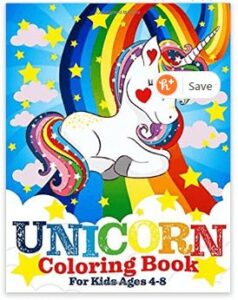 40. Water Wow Bible Stories
If you are looking for a bargain gift that centers on religion, this lovely bible Water Wow stories book comes with lots of fun activities for children to enjoy. The water pen included reveals fantastic illustrated scenes as children can learn and get creative at the same time. There are 4 reusable pages to enjoy and each is made to be unique!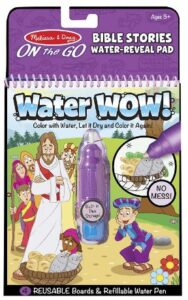 41. Spy Games Set – (Perfect toy under $5)
This super fun spy games set is a firm favorite in the category of 5 dollars toys. With a wipe-off activity pad, children can get creative and unleash their detective abilities as they uncover the story. featuring 10 doubled-sided pages and 16 different games, there is so much fun to have. Included in this pack are dry wipe pens and erasers too for the minimal mess!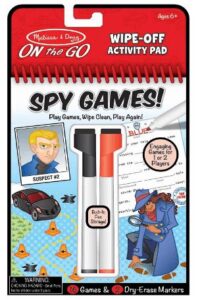 42. Silly Putty Game
Putty can be so much fun and it makes a great party entertainment idea too. The individual eggs can be tumbled, thrown, and passed to friends and each comes with its lovely scent too. These toys are fantastic budget options and can be used to help promote skills such as catching for hand-eye coordination. Five dollars needn't be a boring budget and this game proves exactly so!

43.
The Little Prince Custom Pins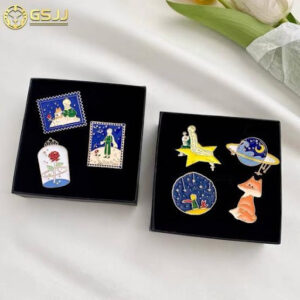 Many children have watched the classic Little Prince anime. The Little Prince custom lapel pins are made with precision craftsmanship and carefully crafted. Children will be super happy with this exquisite gift.
Check out these toys and gifts from the same price range available on Amazon: