With fairy tales like little red riding hood being a staple of our kids upbringings, wolf costumes are always going to be very popular at Halloween or on other occasion when your kids get to dress up.  Here are some of the best picks we've found.
Kids Furry Wolf Costume
If your little one wants to dress up as the big bad wolf, then why not get them this awesome jumpsuit.  They'll really look the part in this great Halloween costume, which comes complete with a Velcro hood and tail.
We love these cool jumpsuits for our kids, because not only do they look amazing, but it is easy for our young ones to slip them on over their ordinary clothes, and they can easily take them off if they start overheating at a Halloween party.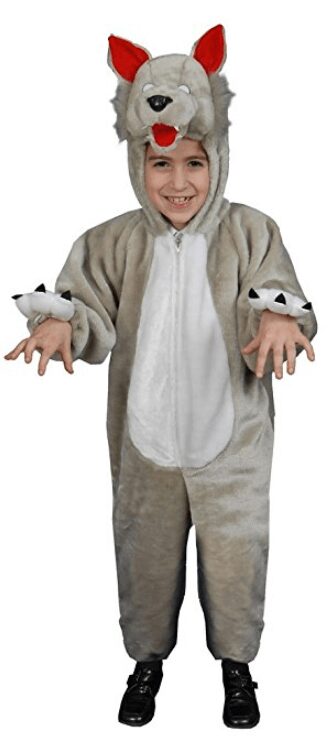 Wolf Costume for Girls
Your little princess will definitely be the most stylish wolf at the costume party with this cool wolf outfit for girls. This cool set comes with a dress, hood and leg warmers, and it can easily go on top of clothes underneath, so you can make sure that she stays nice and warm on Halloween night.
This kids costume also has Velcro fasteners at the back, so it can be adjusted depending on how big your child is.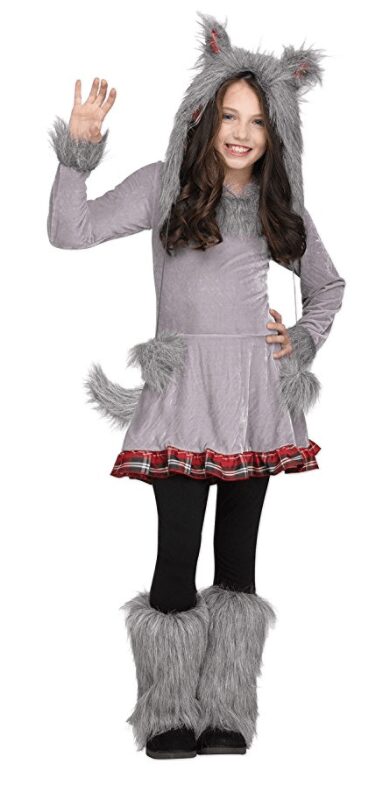 Big Boy's Wolf Costume for kids
Your child will be one of the coolest kids in their trick or treat gang in this cool wold costume.  This come comes with a jumpsuit, gloves, hood and shoe covers, then it really will transform them into a fairy tale bad guy.
This would work really well with a bunch of other fairy tale costumes for the siblings or friends.  Why not grab some pig costumes too so they can cosplay the three little pigs?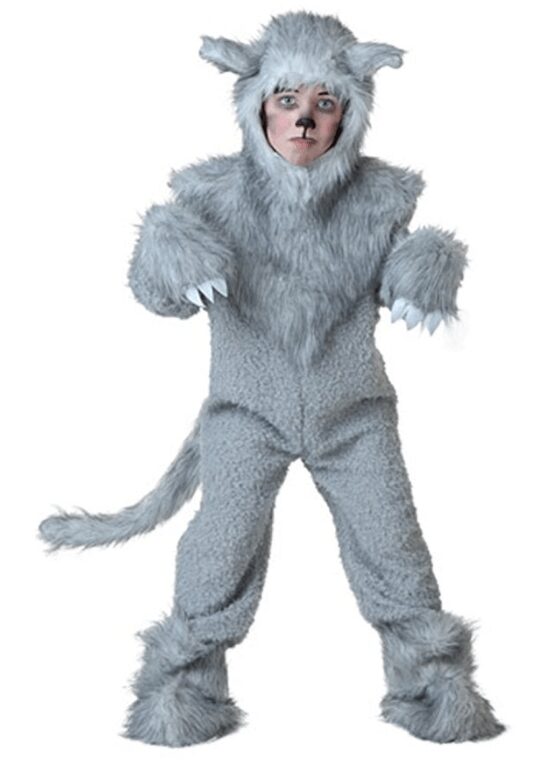 Toddler Wolf Costume
We've seen some really great toddler Halloween costumes recently, but I can't think of any that are cuter than this sweet wolf dress up kit.  Your little one will really be the star of any Halloween event in this fuzzy little jumpsuit, and it will also keep them warm and cozy.
Ass all parents with toddlers know, this is an age when accidents can easily happen, and thankfully this jumpsuit is prepared for that with a back zipper so it can easily come on and off in case of incidents.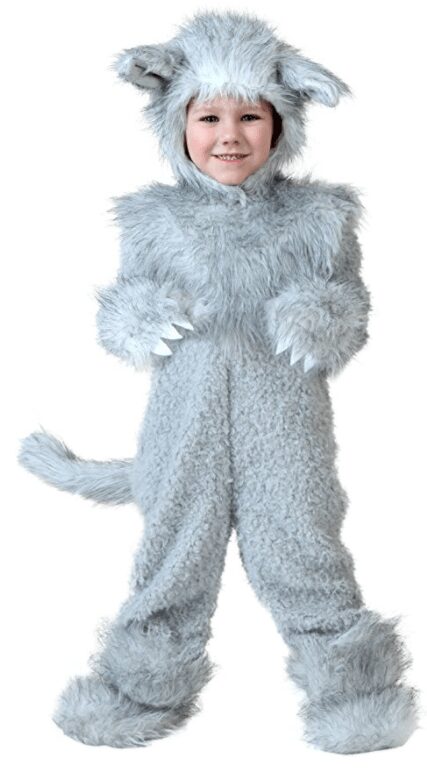 Wolf Costume for Boys
Not every wolf has to be a big bad scary one, and in this awesome wolf outfit, your child will look like a cuddly critter from a Disney movie.
This is fully polyester, so it will be warm and durable.  We recommend this kids costume as its front zipper makes it really easy for them to take on and off, visits to the bathroom will be no problem thanks to this.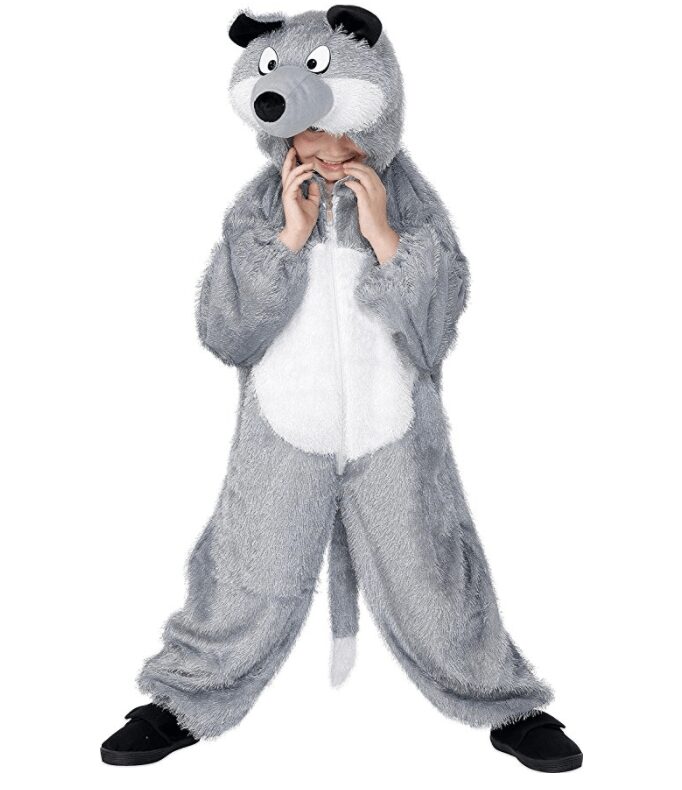 Baby Wolf Costume
It's not fair that children and teenagers get to have all the fun on Halloween.  Don't let your youngest one miss out on the joys of dressing up with this ultra cute wolf suit for babies.  They will be absolutely adorable in this.
This baby costume comes with a body piece, hood, and shoe covers, so it will be good for all kinds of weather as they can wear clothes underneath it if things get a little cold. This is available in sizes for kids from 6 months to 3 years old.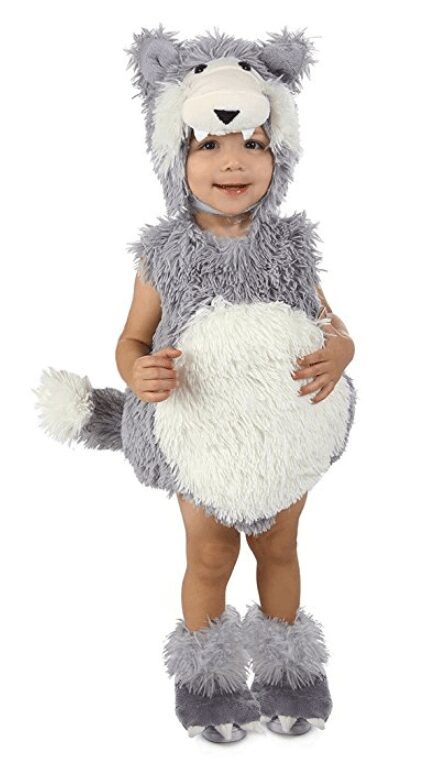 Kids Werewolf Costume
No list of wolf costumes would be complete without a creepy werewolf in there. Your son or daughter will look like they jumped right out of a classic horror movie with this amazing outfit. This is made up of two parts, a terrifying mask, and a top that has the fur and claws.
This will be a perfect kids Halloween costume for little monsters who like scaring their family and friends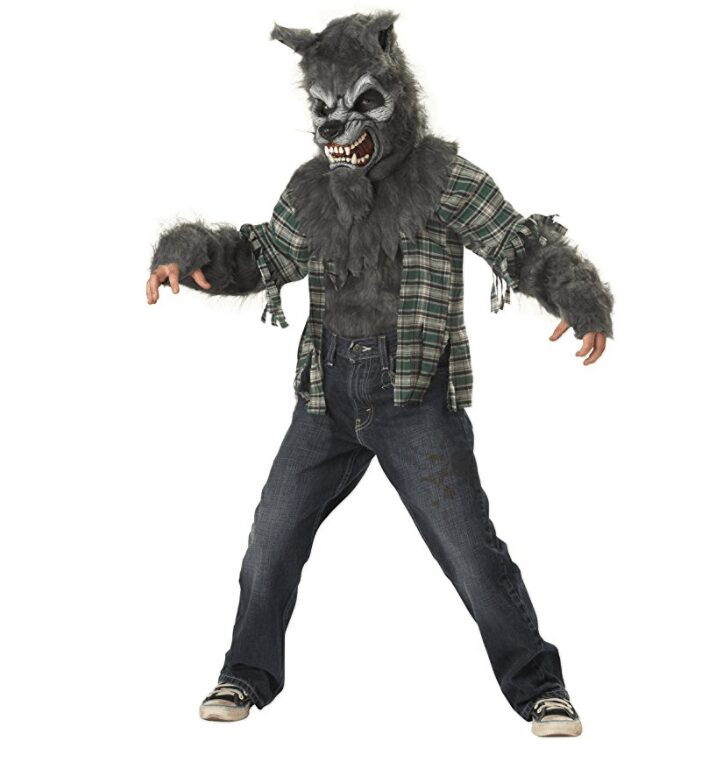 Wolf Masks and Accessories 
Big Bad Wolf Hat
We know, that there are some really talented parents out their who can actually make their own costumes for their kids, and if you're one of these talented people that have already made your won wolf outfit, why not top it off with this cool bad wolf hat?
This hat is really top quality, made of a combination of cotton and polyester, and it is very durable, so it will last your little rascal a long time.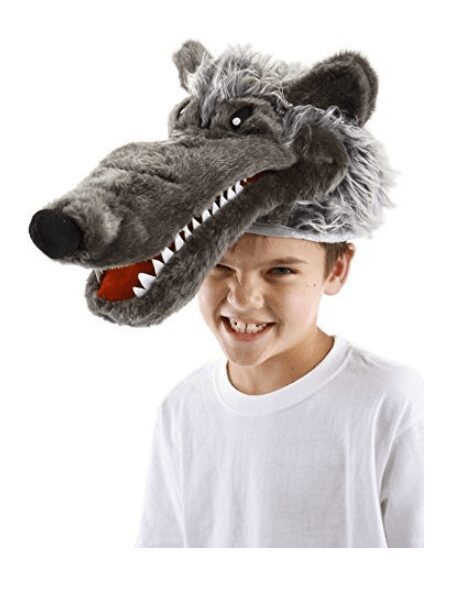 Wolf Gloves
If you're looking to accessorize with your child's wolf costume, these cool furry gloves will make a nice welcome addition to spice up their Halloween outfit.
These fingerless gloves are lightweight and breathable, so your kid's hands won't be hot and sweaty when they wear them, and they'll want to wear them all year round.  These will be cool as an addition to a wolf suit or even for a custom costume that you are making.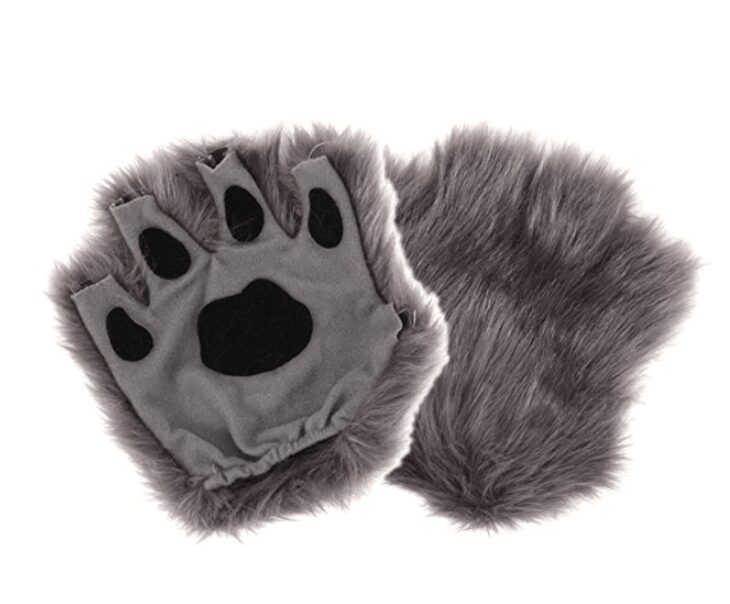 Halloween Wolf Mask
Does your child want the scariest wolf Halloween costume so they can jump out and frighten all his friends?  This awesome wolf mask might be just what he or she is looking for.
As you can see, this is a really creepy mask, and it has lots of fine detail worked into the design, so it will be great for a little monster.  Also, it leaves the mouth and lower face uncovered, so your child will be able to breathe just fine when they are wearing it.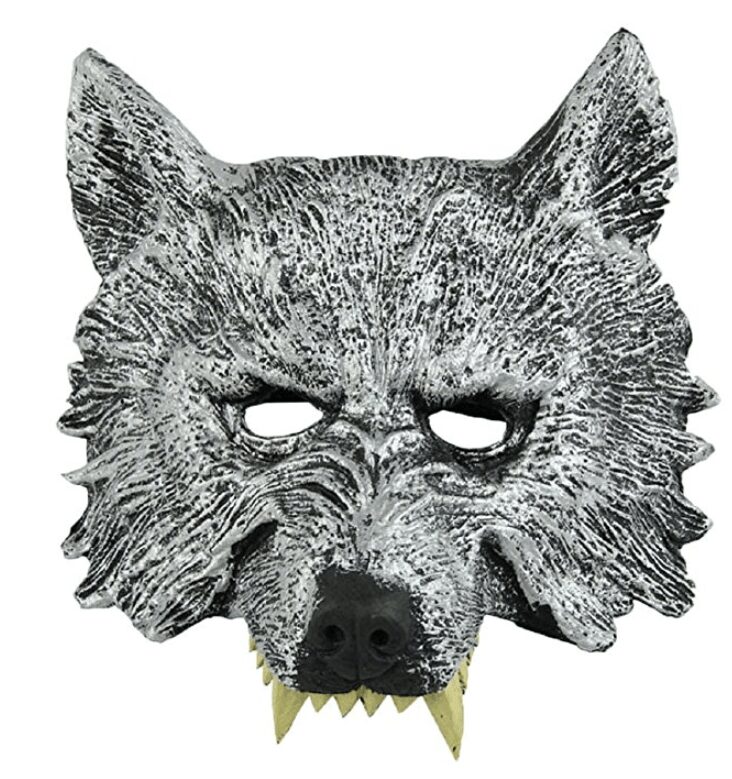 Wolf Animal Hat
Whether its part of a cool werewolf costume for your children or just an awesome plush hat that they can enjoy all year round, this cut and fuzzy wolf hat will be a great present for your little party animal.
This 100% polyester animal hat is warm and cozy, making it perfect for keeping their little heads warm when they are out trick or treating on a cold Halloween night.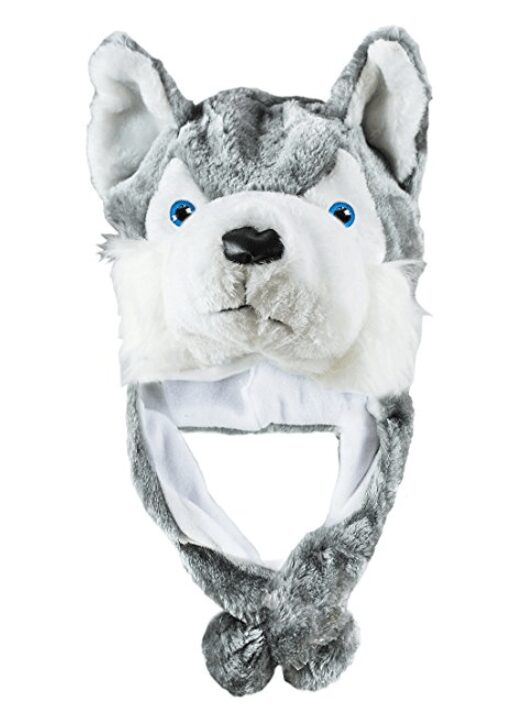 Wolf Ears and Tail
Sometimes even the smallest accessories can make a great kids Halloween costume, and this ultra cute set of wolf ears and a tail will be just perfect for that.  All they need is a grey top and pants to make this a full wolf suit.
Best of all, your child can easily just slip these on over the clothes they are wearing, so they can easily stay warm on cold Halloween nights.