The Littlest Pet Shop is a wildly popular and iconic line of toys that have engaged the imagination of millions of children around the world. If you want to let your child explore these fun plastic creatures and enjoy collecting the hundreds of available pets as well as the many different accessories and play areas, you will find this article provides a good starting point.
We have included a description of the most popular LPS products available out there, as well as a clarifying which options may suit you best. Read through the following sections to get an overview of all the fun factor and educational value available from this popular franchise.
Considerations When Choosing a LPS Toy

If you're just getting started exploring the LPS line of toys, you may want to reach out for your child and watch a few Littlest Pet Shop videos together. This will allow you to see which of the available products pique the interest of your kids, which will help you make the right choices when you're looking to buy some new toys to offer as a gift.
There is a huge variety of tiny pets to collect as well as a vast selection of display cases and pet playgrounds available! Even if you're familiar with the old Littlest Pet Shop classics, you should catch up on the latest offerings, since there are many exciting novelties that have been recently introduced.
Best Littlest Pet Playsets Reviewed in 2023
1. Pet Party Spectacular
Are you looking to offer your child a nice starter pack that provides a nice glimpse of the wonderful world of tiny cute plastic pets? This collector pack could be a solid option, since it features a total of 15 pets – all of which are neatly arranged in a nice display box. Additionally to a diverse assortment of plastic pet figurines, this set also includes several minuscule accessories and bits to customize the figures.
This fun and colorful pet party spectacular collector pack toy is suitable for all children over four years old, and its release is meant to celebrate the special "Pet Fest" event which is now capturing the imagination of kids all over the world.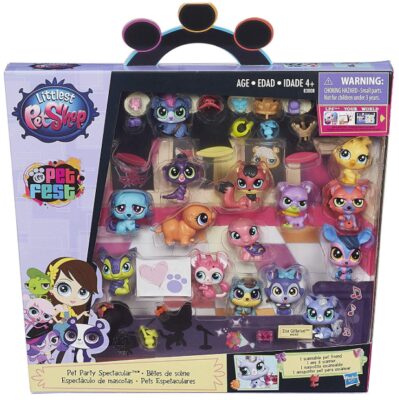 2. Special Edition Mega Pack Toy
Here's another fun edition that caters both to seasoned collectors as well as newcomers to the LPS collectibles in the world. This set is comprised of a single glitter pet that's visibly displayed in the outside of the box along with a themed accessory and two costumes, plus a total of six surprise tins. This is a nice combination since it allows your child to experience the excitement of opening each tin to discover a new pet is inside, along with its unique accessories.
All things considered, this box includes a total of 7 pets, 7 themed accessories, 15 costume pieces, 6 surprises and lots of fun that is suitable for all kids aged four and over – no matter if they are already seasoned collectors or just looking to try this line of toys.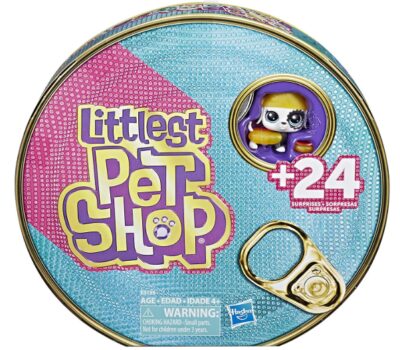 ,

3. Stackable Storage Container with 30 Compartments
When your kids already have a nice and diverse plastic pet collection, this item will be really useful for them as well as making your life simpler – by reducing clutter around the house and promoting an organized and tidy playtime. This is a transparent storage container with handle and thirty adjustable compartments of just the right size to accommodate a tiny plastic pet. It features a nice snap and lock design that allows to spread out the three levels for easy access during play times. If you're looking for a way to help your child keep their toys organized and portable, this product is a great choice.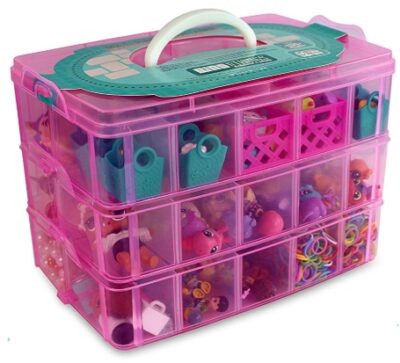 4. Blind Bag Pets
This product is a perfect choice to surprise your child occasionally with a fun gift that adds new elements to their tiny pet collection; it includes a total of four Series 1 blind bags, each containing a teensie-scale pet along with a flat base that combines with a little plastic dome to create an habitat for the plastic pat, plus a ring base that allows your child to actually wear their favorite pets on the finger. Series 1 has a total of 24 different pets and habitats, so this is a nice way to keep building on the collection with many surprises along the way.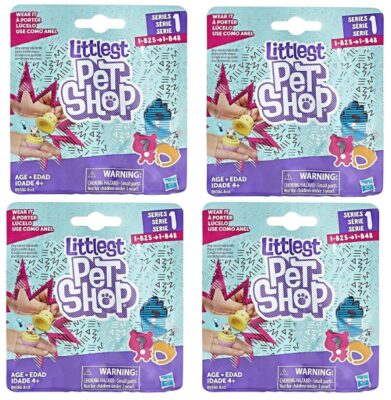 ,

5. Sparkle Spectacular Rainbow Friends
Here's a little something that will excite even seasoned collectors of these popular plastic figurines. This is a special rainbow collection that is striking for its glitter finish and striking pet designs, including mini-scale versions of popular characters like Apricotta Ambergleam, Sunset Glimmerbug, Lofty Sunglow, Saffron Flutterdust, Splashina Lemonglow, Salty Shimmerton, Seafoam Dazzleshell, Brillia Beryl, Indiglow Apely, Cerulean Sparkle, Collie Dazzlepink, and Viola Twinkledust. There's a total of 12 littlest pets in this collection, in a particularly small size that make for perfect cupcake decorations.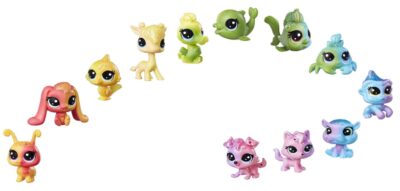 6. Cozy Camper
Are you looking for a fun accessory that will allow the young ones to exercise their imagination while expanding the usefulness of their littlest pet collection? Then look no further than this "Cozy Camper" play-set, which includes two different vehicles, eleven accessories and two sample pets (1 of classic scale and another of teensie-scale). This colorful play-set is a perfect gift for children who already have several toys in this popular line of products, and it makes for stimulating storytelling-based playtime that will engage the creativity of your children while keeping them entertained.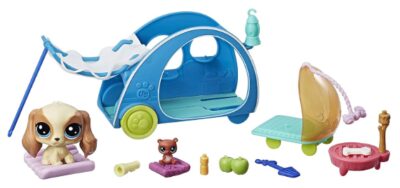 7. Cat Hideaway
If your family loves cats and your kids love the smallest plastic pets in existence, this package bridges the gap between both worlds. Featuring a colorful and entertaining play-set with multiple levels and lots of hiding spots for the included plastic cat (of classic scale), this cat hideaway is one of the most popular add-on products available from this popular brand. It is suitable for all different pet scales, including classic, mini and teensie, and includes the cutest tiny hanging toys, along with lots of surprising and colorful platforms that provide much material for the children to experiment and play with.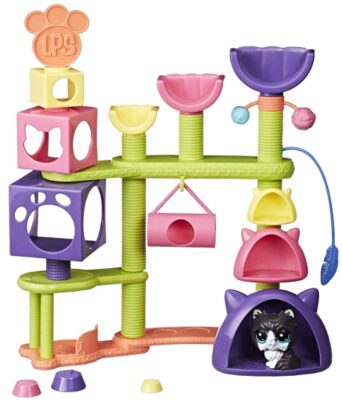 8. Pet Ultimate Apartments
When you want one of the best and most intricate play-sets available, which also happens to double as a colorful shelf for your child's tiny plastic pet collection – the PetUltimate Apartments will resonate with you. This play-set is shaped like a miniscule apartment complex, with enough storage for up to 30 pets of all available scales. It also includes 2 sample pets (one in classic scale and another teensie-scale pet) to get a new collection started or add to the existing collection. With its integrated handle, this set is perfect for on-the-go entertainment as well as to keep the entire collection organized and clutter free after playtime is over.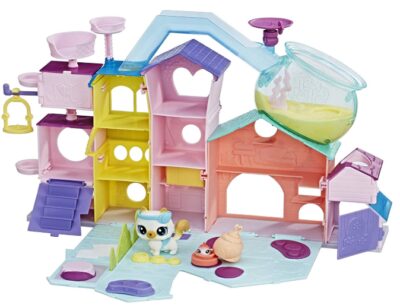 9. Littlest Pet Shop Cruise Ship
Here's another creative looking play-set that doubles as a shelf container for all your kid's littlest pets and accessories. This product is shaped like a cruise ship that opens up to maximize the available play space, and closes for convenient transport and maneuverability (including a handle for easy handling). It includes a total of eight new accessories along with a sticker sheet, and 3 sample pets (one classic, one mini scale, and one teensie-scale). This play-set is not pre-assembled, as to encourage your children to exercise their dexterity and create a personal connection with their new toy cruise ship.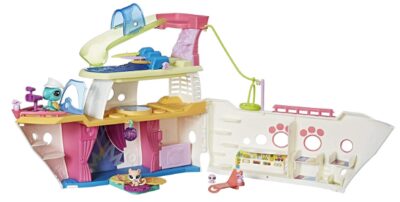 10. Sweet Delights Sweet Shoppe Playset
This is an entertaining and engaging playground and tiny pet storage that is shaped like a toy sweet shop. It includes a functional gumball-style machine meant for storing and dispensing all available pets, along with a cute and exclusive buttercream Sunday pet. It includes one classic size pet, five teensie-scale friends and provides a fun interactive approach to store all available pets in a quick and convenient way. It's a perfect choice for kids who already have a nice collection of tiny pets and want to expand on the available possibilities for creative playtime. This is one of the most practical play sets available that puts a nice twist on the storage and displaying of your kid's collection.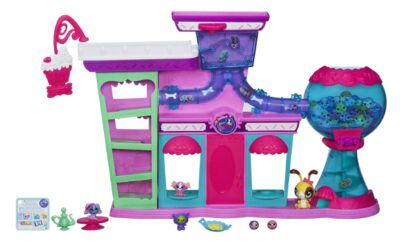 11. Pet Jet Playset
It's hard not to be surprised with the creativeness and wow factor of the available play-sets that build up on the entertainment value of tiny pets. This product is probably one of the most diverse and creative available from the official line. Shaped like a plastic jet, it can be assembled in different ways and features an incredible assortment of over forty accessories and seventy minuscule deco bits. It also includes four sample pets and makes for a perfect birthday gift. This set is not pre-assembled, and even though no tools are required for assembly, its complexity might require the assistance of an adult to put together… unless of course, if you want to stimulate your child's puzzle-assembly skills.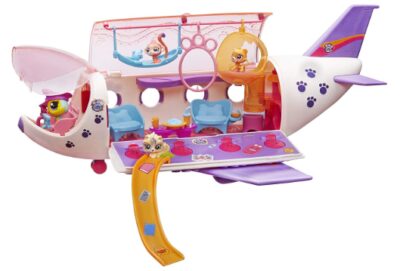 12. Pet Accessory Playset
Even though this play-set is relatively simple compared to some of the available alternatives, it includes a fair amount of colorful accessories as well as huge entertainment potential. It's big enough to hold a total of thirty pets, meaning it will double as a colorful display case for the child's collection of tiny plastic pets. The play-set is delivered unassembled, but is very easy to put together. This product includes one classic scale pet, along with two pet friends, nine accessories, a sticker sheet, and a cute emoji bubble. It makes for a really nice display case as well as an engaging playground,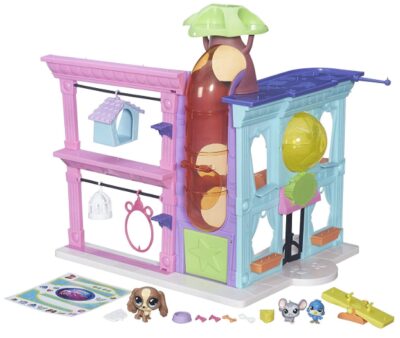 13. Vet Clinic Playset
Every pet needs a little health check every now and then, and littlest pets are no different! With this entertaining play-set, your kids will be able to play veterinarian with their pet collection. The Vet Clinic Play-set includes a pet along with a pet friend, as well as ten accessories, six deco bits pieces, a sticker sheet and a fun emoji bubble that will add a touch of emotion to the pets playtime. This set is very educational in nature, since it encourages the child to take good care of their toy pets, which will reflect in their attitude to real pets.


14. Pet Skate Park Set
When your child plastic pets show interest in skateboarding, this playful skate park could prove to be the best available add-on set. It actually includes a couple tiny functional skateboards that attach to available pets and makes for exciting maneuvers along the tiny ramps. The skate park playground includes two sample pets (one classic, one teensie-scale), along with a total of 17 accessories, 7 deco bit pieces and the usual sticker sheet and emoji bubble. Its modular nature allows for multiple skate park designs that will keep the entertainment value flowing for a good time.

Overall Best Buy
Deciding which the overall best buy from this list is depends on a number of factors – most notably whether your child is new to this line of products. There is a reason why people call Littlest Pet Shop a world of our own: it features a surprising array of accessories, containers and display cases, along with a huge selection of collectible plastic toys. If you're just looking to introduce your child to the LPS experience, you may want to choose a few blind bags to get the party started. As they get caught up in this world, you will want to help them expand on their collection, and after a while, you'll want to buy a Littlest Pet Shop house, like the one below, to keep the entire collection organized. If you know which are your child's favorite Littlest Pet Shop characters, this can help influence your decision.

Are These Toys for Boys or Girls?
While these toys are typically marketed for girls, there is no reason why a boy should be kept from playing with them if he is so inclined. These toys are great collectibles and will help stimulate your child to be interested in pets and take good care of their animal friends. LPS toys are suitable for both boys and girls of ages four and over, and they are both engaging and educative.
What is the Best Way to Store Pet Figures?
If you're looking for a way to keep your child's pet characters organized and your house clutter-free, you have several playgrounds and display cases available to choose from. You have many case designs available – some of which are meant just for storage, others meant to be used as play-grounds, and yet other that have a double functionality. From a cruise ship to a jet, there are so many options to choose from.
What are the Benefits of Playing with These Toys?
LPS is a collection that will stimulate your child's intellect and emotions. By collecting the available toys, all of which have different names and interchangeable accessories, kids exercise their memorization skills. By creating their own Littlest Pet Shop games, they will develop their imagination and dexterity; in the eyes of a child, a Littlest Pet Shop dog is not just a piece of plastic, it's an actual creature they can relate with and connect emotionally.