Welcome to our first day of CHRISTmas. I was asked to guest blog at
I Heart Naptime
today, so you'll find my full explanation of the
craft
there, but I hope you'll stay here to read my explanation.
I was really excited to start decorating for Christmas with my little side kick, Rex. I wanted to make sure the decor would be related to the true meaning of Christmas. Today I'm sharing what we did to our front door. The scripture is from Matthew 2. It reads...
1 Now when Jesus was aborn in Bethlehem of Judaea in the days of Herod the king, behold, there came wise men from the east to Jerusalem,
2 Saying, Where is he that is born King of the Jews? for we have seen his star in the east, and are come to worship him.

I love the symbol of the star - a shining sign to all the believers of His coming.

Some of the upcoming crafts in the CHRISTmas series will involve kids more, but I wanted to do something involving decorating as well.
As I mentioned you can head over to
I Heart Naptime
for the full explanation of the crafting. (No, I didn't make the actual red wreath, but I couldn't part with it when I saw it at Target the other day.)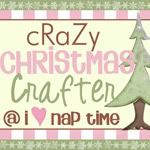 Thanks for dropping by!