You might picture recreational areas like swimming pools, lakes, and oceans when you think of places where kids are around water.
Nevertheless, have you given any thought to the water-accessible areas in your home for children? Do you often take them swimming, or is this something that you wish to introduce? It is normal that you're scared or even lost, as you might not know what's the best & safest choice for your kid. Well, you can keep your children safe around water at home by adhering to these guidelines, whether they are in bathtubs, backyard pools, or buckets. See how by reading the list!
Teaching Water Safety to Children: Top 5 Tips for Parents and Instructors
1. Teach your kid to swim
Starting at age 4, kids can enroll in official swimming lessons.
A portion of the curriculum focuses on water safety techniques.
Younger children and babies can participate in swimming programs, but these programs place more of a focus on boosting a child's self-esteem and encouraging them to enjoy the water than on teaching them how to swim. The truth is that kids love to swim, although they might seem a bit lost or confused at first. If you are looking for some high-quality swimming lessons for kids, visit this site. They do beginner courses, advanced courses & private or group swimming lessons for both parents and kids. One of the best swimming schools in Singapore, you can't go wrong with them! Check them out and see for yourself. Both you and your little one can have the time of your life!
2. Follow some basic rules
The most crucial water safety rule still applies to adults: never leave your child unattended near any body of water for any length of time. This applies to your at-home pools or when you're on a vacation.
Despite this, you should teach your children about water safety.
Here are some guidelines for your children's water safet:
The pool deck and bathroom floor are both slick.
It is imperative to walk slowly and safely.
Don't push or pull others when walking nearby water
If your child cannot swim or is a novice swimmer, he or she should always wear a life jacket or puddle jumpers in the pool. This is something that they will also teach at the swimming school.
Pool noodles and arm floats are not recognized as safety aids and can give a false sense of security.
Near natural bodies of water such as rivers, lakes, and the ocean, it is prudent to wear a life jacket. Be patient with them and explain things how they are without rushing the process. It is for their own safety, after all.
3. Supervise, always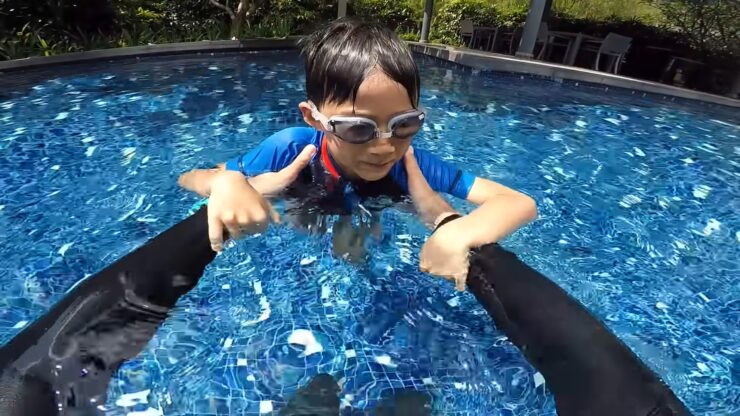 The best safety measure you can do is to always watch over your child whenever they are near water. If you are a paranoid parent or someone who has an issue with control, keep your eye out for them. Active supervision is the practice of always keeping a close check on children while they are near, in, or on water. This is also super important if your child is hyperactive.
It takes more than just sometimes glancing in the general direction of a youngster to keep an eye on them.
Don't assume that if children are in trouble, they will scream and splash for help. Not all kids panic when these things happen.
In as little as twenty seconds, a youngster can drown. Don't let them swim on their own. If you can't teach them how to do it, rather leave it to professionals.
4. Know what to bring
Find pools that provide more than simply swimming lessons when you're on the hunt for swimming coaches.
Kickboards, diving sets, and water noodles are just some of the swimming aids that may be purchased. Your child should also have fun, and should be amazed by all the activities that are going on around them!
Also, don't forget to use a washable, elasticized swim diaper for your child.
This will keep the pool cleaner for longer and make everyone feel more at ease while the kids splash around.
Since personal cleanliness is so important, it's best to take extra measures like having your child take a shower when the session is over.
5. Just in case; you can learn first aid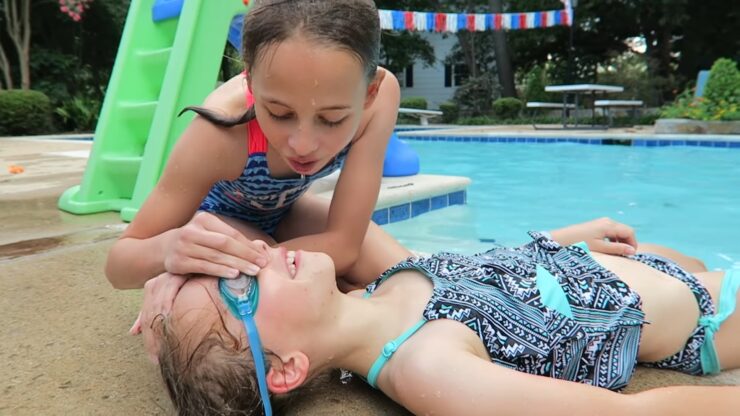 Time Magazine advises parents to learn water rescue and CPR.
It's crucial to know how to handle a water emergency if you own a pool or plan to take your kids swimming without lifeguards. In the worst-case scenario, it is good to be prepared.
The most crucial lesson is to never jump into the water to save someone else. Children should find an adult or lifeguard if they spot someone suffering in the water. The hand gesture for asking for help in water and recognizing someone in difficulty is one arm straight up.
Your youngster should learn to swim, search for risks, never swim alone, and aid others. It is up and important for the right school to learn the finest water safety practices.
What else to know
PS: It's important for parents to understand that teaching their infants or toddlers to swim is a strictly recreational activity. No reason to apply pressure.
This is not the Olympic training camp, so lower your expectations accordingly.
The goal is to lessen the fear of water and boost self-assurance.
If your kids aren't pulling their weight, don't get frustrated or angry with them.
It's possible that swimming will become their favorite sport.
So, are you ready to book those swimming lessons? Do you want the best of the best for your child? If you are a fan of safety classes, pools & water – this article is for you! Why not finally feel at ease and at peace when on a vacation, knowing that your child is capable of taking care of themself? Apply our tips & tricks and before you know it – they will be swimming!