Looking to find baking gifts for kids who love to bake? Then you are in the right place! It's never too early to get your child interested in helping out around the house, and cooking and baking is one of the best and most fun places to start. They can learn so many useful life skills by helping in the kitchen, and not to mention kids will love spending some quality time with mom or dad. Learning to cook is a vital skill for both boys and girls, so starting young is sure to get them interested and help get them into good habits for life.
So, with that in mind, it's a great idea to choose baking gifts for kids who like baking to help them enjoy their new hobby even more. With fun, age-appropriate tools and books, they are sure to have a blast. That's why we have chosen out 15 of the best gifts for bakers here, whether they are completely new to it or already have a keen interest. We know cooking and baking sets for kids are an essential for those parents wanting to teach their children how to cook!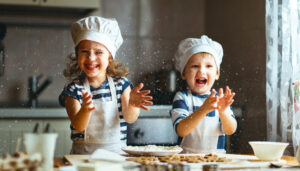 Considerations choosing Kids Baking Gifts
There are a few things which should be brought into consideration when shopping for these types of gifts, to ensure you choose something they will really love. First, think about the child's age and their experience level in the kitchen. Some of these gifts are ideal for younger children who haven't baked before, whilst others are better for those who are already quite interested in baking and will help them further advance their skills.
Also, think if you want to choose something like kids baking tools that can be used when making tasty treats, or perhaps just a book with ideas if they already have some equipment to use. It might also help to think about the types of things the child might like to bake. We have kids cake decorating kit sets as well as other sets which are better for making cookies, so it's important to consider their interests too.
Top 15 Kids Baking Kit Ideas
We will now take a look at 15 of the best kids baking sets and gift ideas, perfect for the little baker in your life!
1. Curious Chef Cupcake Kit

First of our best gifts for bakers, we have this cute cupcake making and decorating kit from Curious Chef. It comes with 16 pieces in total – a muffin tin, six silicone cupcake liners, a silicone spoon, a spatula and a piping gun with six different shaped tips. As a bonus, the kit also comes with a shopping list for kids to note down what they need to make their cakes, as well as some stickers. The silicone pieces are heat-resistant up to 450F, and this kit is ideal for children aged 4 years and over.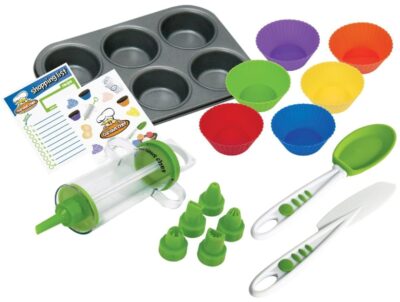 2. Handstand Kitchen Intro to Baking

Next on our list of gift ideas for bakers, we have this lovely 17-piece set from Handstand Kitchen. This one is recommended for kids over the age of 6 years and is ideal for baking all kinds of goodies. It comes with a silicone loaf pan, a spatula, a pastry brush, a whisk, a rolling pin, six silicone cupcake liners, and five recipe cards. Children will love to have a full set of their own tools which are sized just right for them to use! Despite the smaller size, the pieces are all sturdy enough to withstand regular use in the kitchen. The recipe cards include chocolate chip cookies and vanilla cupcakes – simple recipes kids will love to bake, and to eat!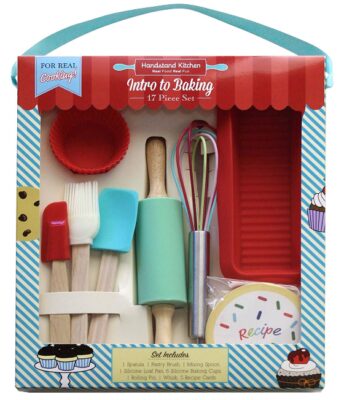 3. Learning Resources Bake It!

Here we have a set which is perfect for younger children, as young as 18 months old. It's perfect for role-playing at baking some cookies and cupcakes, and comes with all the tools they will need! If your child isn't yet able to help in the kitchen, or wants to bake when you don't have time to help them do it, this is a great set to choose. It's ideal for improving their imagination as well as growing their vocabulary as they talk about what they are doing and making. The set comes with four cookies and cupcakes, a mixing bowl, a measuring jug, a tray and various utensils.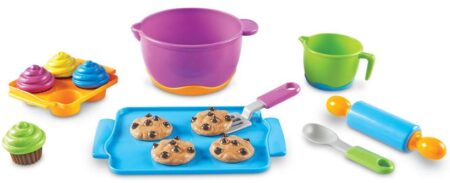 4. Boxiki Kitchen Kids Baking Kits

Next on our list of the best baker gift ideas, we have this set from Boxiki Kids. It comes with 24 pieces, including 10 differently shaped cookie cutters, a cupcake pan with six holes, six silicon liners, measuring spoons and a measuring jug, a whisk and a spatula. In other words, everything your kid needs to get started with baking cookies and cupcakes! The pieces are perfectly-sized for children, and they can be used for play as well as for real use in the kitchen.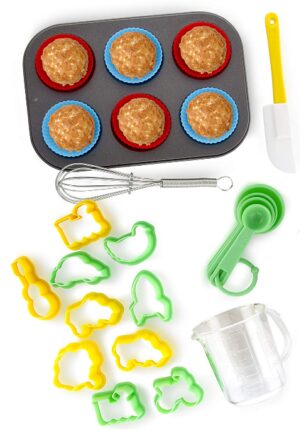 5. Babycakes Cake Pop Maker

Cake pops are a very popular treat amongst children, but did you know they can easily be made at home with a machine such as this? It has space inside to make nine cake pops at a time. It's easy to use as the lid latches closed and there are anti-slip rubber feet on the bottom, as well as a convenient cable tidy. The plates inside are non-stick, so they just need a light spray of oil before the batter is poured in. They only take a few minutes to bake, then you will have a batch of perfectly round cake pops, which are easy to remove from the machine. It can be used for making both sweet and savory recipes – the possibilities are endless.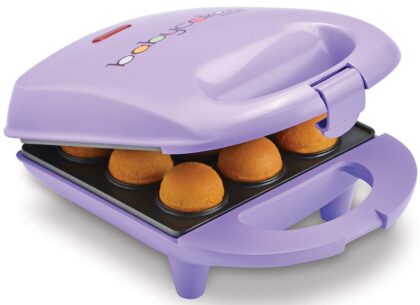 6. Cake Decorating Supplies

Here we have one of the best baking gift ideas for older kids who have a passion for decorating cakes and cookies. This complete set has a whopping 276 pieces including springform cake pans, every kind of piping nozzle they could ever need, silicone piping bags, scrapers and various types of utensil. The cake pans are oven safe to 445F, and they are non-stick so the cakes can easily be released. This set is great for all types of cake decorating, and regardless of your child's ability level they are sure to find the right kinds of tools for their needs.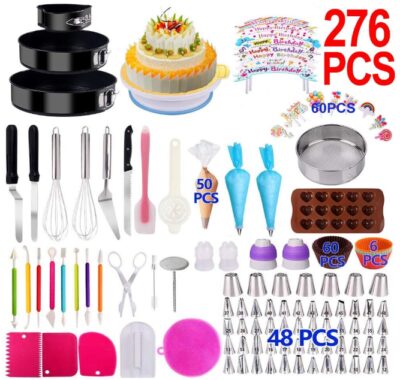 7. Odelia Child's Apron & Chef Hat

If you are looking for great gifts for kids who love to bake, this apron and chef hat set is a great choice, espeically if they already have some equipment to use in the kitchen. It comes in all sizes to fit ages 1 – 13 years old, and there are eight different colors to choose from. There are options such as red, green, blue, white, and more. The pieces are made from polycotton which is highly durable and easy to wash and care for. The apron has a waist tie so it can easily be adjusted for a perfect fit.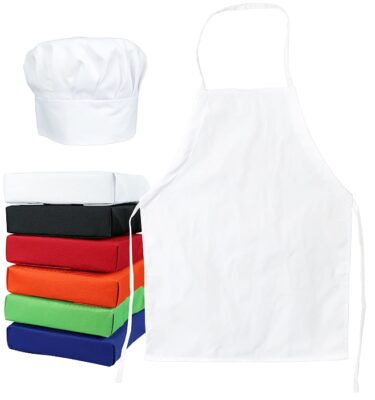 8. BakArto Complete Cake Decorating Kit

Looking for gift ideas for a baker who loves decorating cakes? Then this six piece set could be just what you need. It comes with a turntable which will make icing cakes much easier. There are also three different scrapers for creating different effects on the cakes, and there are also two spatulas, one straight and one angled. They are made from stainless steel so they are rust-resistant and highly durable. The tools are easy to hold and use, perfect for all ability levels.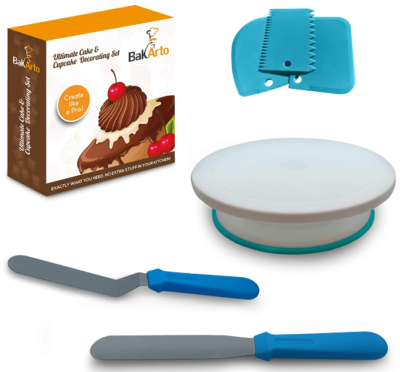 9. CiaoKids Kids Baking Tools

This comprehensive set comes with everything a child aged 5 years and over needs to start learning how to bake, as well as improving their skills. It comes with 35 pieces including an apron and hat, oven mitt, measuring spoons, cookie cutters, utensils and some easy kids baking recipes ideas. The apron has an adjustable neck strap to fit most sizes, as well as a pocket for keeping their utensils handy. The recipes are all things your kid will love to make, as well as eat! For example, vanilla cupcakes, cookies, and muffins. Kids will love using these colorful tools to help out in the kitchen!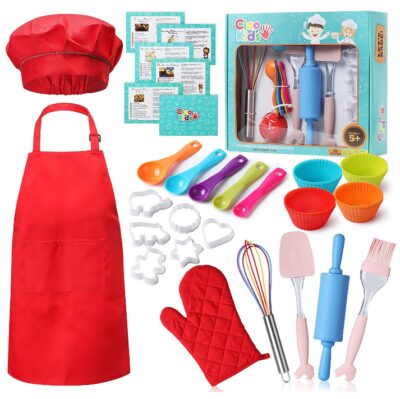 10. Baking Class Book

This kids baking book is ideal for children around 8 years old to 12 age range, and it contains 50 recipes each with step-by-step photos to make them easy to follow. Kids will learn loads of valuable skills such as kneading dough, baking pies, decorating cookies, and much more. They will also be able to practice their ability to follow instructions and working accurately. There are both sweet and savory recipes in this book – kids will love to try them all out and find their favorites! The book also comes with bake sell signs and labels for gifting the finished goodies, so kids will be able to share them out for others to enjoy.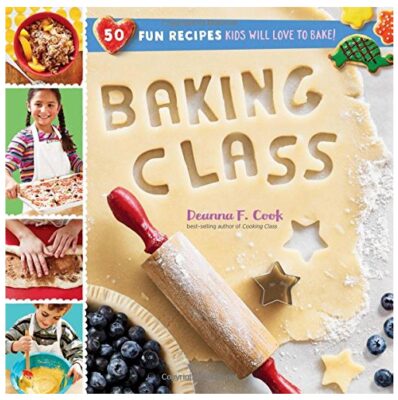 11. Elitao Play Food

Here we have another great pick for kids who love to play pretend. This 15 piece set features yummy goodies such as ice creams, cakes, donuts, and a tray to carry them on. There is also a knife for cutting them into sections, an activity which is ideal for promoting the development of hand-eye coordination. The play food is ideal for children around the age of 3 – 6 years old.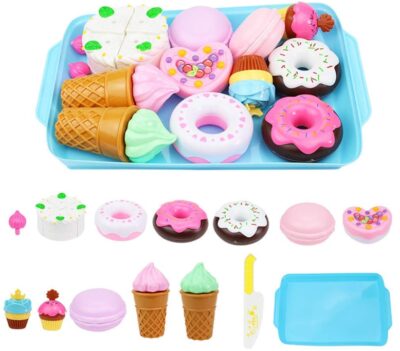 12. Make Your Own Dog Treats

Here we have something a little different – the perfect gift for kids who love their dog! It comes with everything you need to make your very own treats for your dog to enjoy! It comes with a rolling pin, three cutters, including bone-shaped ones, three recipe ideas and bags and tags for storing and labelling the treats. The healthy recipes ensure your dog is eating natural ingredients to keep it in top condition, such as oatmeal, banana, sweet potato and peanut butter. Dogs will love eating these healthy homemade treats, and kids will have a blast making them too.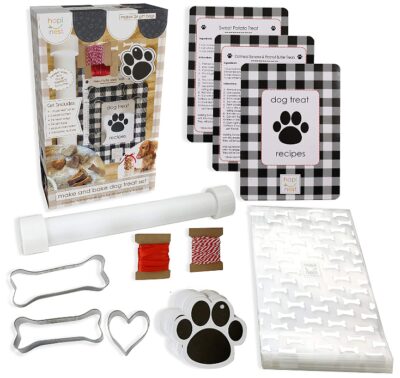 13. Rainbows & Unicorns Baking Set

Here we have the perfect kids real baking set who love all things unicorn! The 15 piece set includes a unicorn-shaped cupcake pan, unicorn cookie cutters, a spatuala with a rainbow unicorn on it, and a piping set. There are also recipe ideas for kids to start using their new tools. The set is perfect for children aged 6 years and up, and the size is ideal so they can also be used by adults if a little help is needed. Any child who loves unicorns is sure to be thrilled with this set.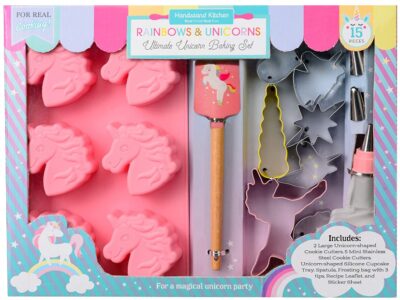 14. Tovla Jr Cooking Gift Set

Our next gift for kid bakers is another gift set which contains loads of useful tools for cooking and baking in the kitchen. This set is ideal for both boths and girls thanks to the unisex color scheme, and the apron is designed to fit and suit both equally well. There are recipe cards included which will inspire them to get cooking, as well as tools such as a cutting board, knifes, measuring cups and spoons, a whisk, tongs, and much more. This set is great for cooking and baking alike, both sweet and savory dishes.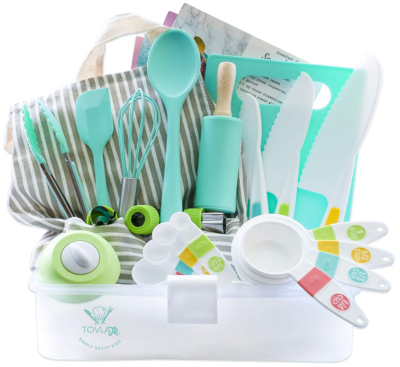 15. Baketivity DIY Baking Box

If you are looking for something other than kids baking utensils, this box which contains all the ingredients to bake a batch of cupcakes could be a nice alternative. It is ideal for children in the 6 – 12 age group, and is equally perfect for both boys and girls. The set comes with all the dry ingredients pre-measured for maximum convenience, as well as two fun and educational activities to work on whilst the cakes are baking. Kids are sure to love decorating their cakes with the included rainbow sprinkles and chocolate chips!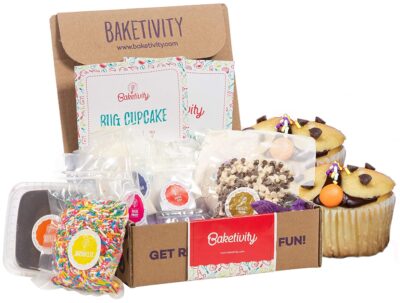 Our Best Gift
After looking at 15 of the coolest gifts for young bakers, it is time to pick which is the best of all. In this case, the one which stands out the most is the Ciaokids baking gift set. It is suitable for most ages, and for both boys and girls. It comes with loads of fun tools to get kids involved in the baking process. They will love working their way through the included recipe cards. The chef hat and apron are a nice added touch, and will really make your child feel like a pro!