Wondering what baby carrier is best? We have compared different types of wraps and carriers for infants. We have found some of the safest and best value on the market. If you go far enough back in the history books, you'll find that women from all cultures and walks of life used to swaddle and strap their babies to themselves, in order to carry them around more easily.
In modern times, we seem to have come full circle, and while we still of course value and use strollers and other baby transport, we are back to baby wearing with full bells and whistles, as today's parents are keen to reconnect and keep baby close as they do their daily activities.
Carriers such as tula baby carrier and chico carrier, are also really popular with active parents, who are always on the go and want to keep baby with them and get around quickly and easily. The best newborn carriers for infants are listed here and will help you understand what one is best for your family.
What to Consider When Choosing Carriers or Wraps

What are the different types of baby carrier?
There are sling carriers, wrap style baby slings, harness-style carriers and more simplified hip versions that allow you to balance baby on your hip with a little support, rather than a full scale carrier. You will probably have a particular preference for a certain design or style, depending on you and your baby's needs. You might be shorter, taller or plus size, or perhaps nursing or pregnant, or you might be a dad looking to find the right carrier. There is a style out there for every need so this helpful list will make sure to keep you looking in the right direction.
Do I need a carrier?
If you prefer to have your hands free when you move about the house or when you are going shopping, then a carrier is a great idea for you. Maybe you have other small children and you want to be able to keep baby close while you tend to them or do housework, or perhaps you're a dad who works from home and it suits you better to have baby strapped to you, rather than having to go and check on them constantly.
Or perhaps you're a outdoorsy family and love to go walking and hiking, and like to be able to go where a stroller cannot. If any of these considerations apply to you, then a carrier is something you should definitely consider. Don't forget, if it is well cared for, you can reuse it again and again for future children.
Best Baby Carrier for Moms in 2023
1. Evenflo Carrier

If you're interested in learning more about baby wearing and want to find a product that works for you, then the Evenflo Carrier offers lots in the way of comfort and support. More so than some other brands it has lots of padding in crucial areas to make sure that there is no discomfort for baby or for the adult. The back straps are very easily adjusted and they are filled with extra padding, as is the head rest, so you have no worries or concerns about baby being in a tough or harsh environment.
Because the straps are padded then there is little chafing or rubbing to worry about. There are strong and secure buckle features, including side entry ones which helpfully make a 'click' to reassure you that you have correctly buckled baby in safely. Another added bonus to this carrier is that the fabric is fully machine washable and very easy to keep clean.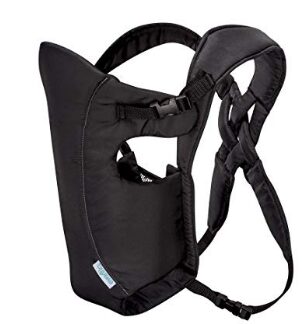 2. Infantino Flip Carrier

This baby wrap is great because it carries a child in four different settings. It also can support a child's weight up to 32lbs so it can be used for a long time from birth upwards, meaning you will get lots of wear and use out of it. Because it can be adapted to four different configurations it firstly has a narrow adjustment for tiny new born babies and then changes to a more wide seat for babies when they are a little older.
You can change it to outward facing as they grow further and you can also back carry them when they are growing into toddler age. There is a brilliant cover that comes with this carrier that protects both the carrier and you from any messes that baby might make and it is fully machine washable which it music to any parents' ears. Other features include a fully adjustable seat and secure straps and waist belt so you can tailor it to fit you perfectly.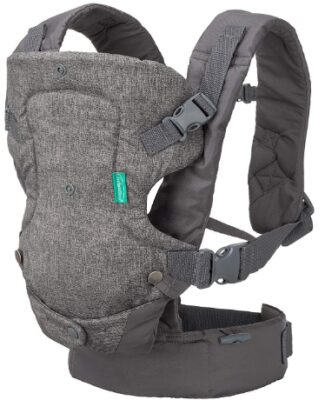 3. BABYBJORN Carrier Mini
BabyBjorn are synonymous with good quality and if you are wondering what is the best baby carrier then this brand is probably worth looking at. It boasts many helpful features that make it a great quality carrier. It can be used as early as newborn, so you can leave the hospital if you wish with your little one nestled close to you, safe and sound. It boasts ergonomic support throughout your baby's early years, as well as a fully adjustable seat support and head support also.
The fabrics are soft yet strong and will flex and move with your baby, while at the same time being durable and reliable as regards safety. The fabrics are also washable which is a real bonus. This carrier can be easily taken off and put on with little fuss as its design is simplified and there are two ways to front carry your baby with this carrier. It can be used up to one year old.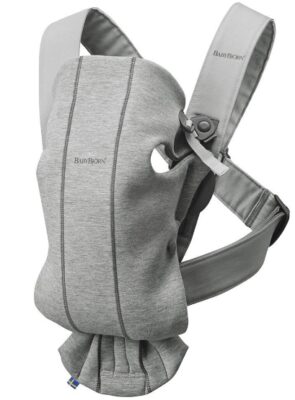 4. Clevr Canyonero Camping Baby Backpack

Available in three different and equally bright, cheerful colors, this hiking baby wrap is perfect as a carrier for men. It is designed with safety aspects at its core, with newly designed safety straps that keep your child very safe as you walk and hike wherever you please. The material it is primarily made from is polyester and therefore its is strong and completely waterproof so you don't have to worry about getting caught in the rain while in the great outdoors.
The frame is constructed from aluminum which is very strong and will endure for a long time, so you can use it with several of your children throughout the years. The straps are fully padded and there is a greatly helpful hip belt as well as special lumbar padding for the back region to ensure that the wearer is totally comfortable. There are also loads of pockets and handy areas to keep everything you need to hand for hiking and camping with a little one. This is a great baby backpack.

5. Clevr Country Backpack Carrier
This is a great baby wrap for summer use and comes with a fantastic one year warranty so if you have any issues or problems with the product you can speak to the manufacturer and have things fixed. The frame is made of lightweight aluminum which is very resilient and strong. The frame won't add too much weight to your burden when you are carrying baby because it only weighs 5.5 pounds.
It can carry a child up to 48 months old, so it really will last a long time and can be used with many generations of children. Another helpful feature is the fact that it has a range of pockets and handy areas to keep all your baby essentials diapers and wipes and it also boasts two specially designed pockets for water bottles.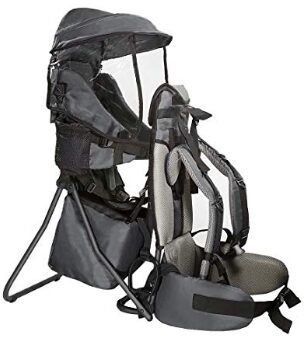 6. BABYBJÖRN One Air

A really important feature to consider when you are buying a carrier is getting a carrier for back support. This one is designed to be as comfortable as possible for the wearer and the child, and any child up to the age of 36 months can be carried within. The fabric that the carrier is made from is fully washable and is very soft and supple for the child to be carried comfortably.
You can carry your baby up to four different ways with this carrier, and all are designed to be ergonomic from newborn upwards. There is the option to carry facing inwards or outwards also. There are specially padded shoulder straps and a helpful belt around the waist for added support and comfort when you are carrying baby.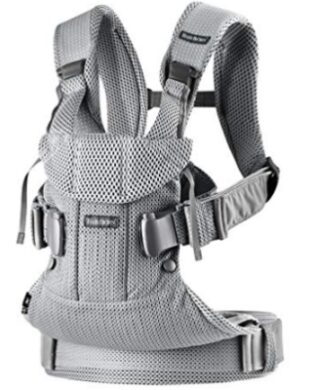 7. TushBaby Carrier

This is a fantastic carrier for petite mom if she is worried about strapping a larger carrier to her small frame. This one is really lightweight and very soft, sitting just above your hip so that baby can nestle easily on your side. It even weighs less than one pound, so it is definitely good for more petite women to wear. It can be used from newborn age right up to three years of age and is great for breastfeeding also.
You can carry on the side, front facing or rear facing. It really is a great carrier for nursing due to these great features. It claims to distribute the weight of the baby evenly around your frame so you won't strain or hurt yourself while you carry them. The seat is made of anti-slip material and is padded with memory foam so baby will always have a comfortable seat.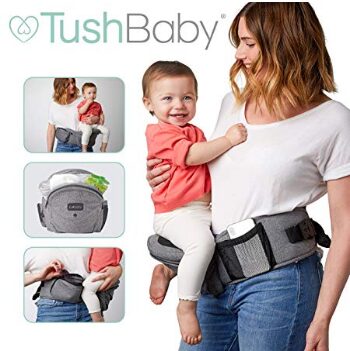 8. Windproof Breathable Carrier

Some parents are on the hunt for a baby wrap for preemie babies and this one is probably one worth considering. It carries as little as 7lbs and as heavy as 40, and is made of completely sustainable materials that are very comfortable. It uses 100& cotton fabric so it is kind to newborn skin and is also fresh and breathable. It has edges that are protected with a soft layer of fabric to avoid chafing or irritation. There is a helpful bucket seat that is adjustable and is useful as your baby grows. It's also a fantastic baby sling for newborns of any age, not just preemie babies.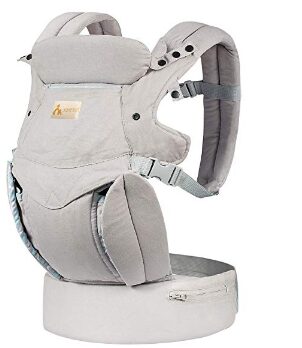 9. JumpOff Jo Wingman Front Pack Carrier

This design is only for front carrying so it is perfect as a baby carrier for dad. The baby can be placed forward facing or rear facing and it is a great carrier for hiking or going on lengthy walks in the outdoors. The materials used are designed to be comfortable for baby, such as an elastic cotton seat gusset which is protective and gentle.
There is padding where needed, such as on the back and front panels and the shoulder straps are helpfully crafted with a clever mesh fabric which is fully breathable. There are lots of helpful pockets for carrying anything baby related with you on your walk. There is also a really useful liner within the vest section which can be removed and used to change baby's diaper using a well equipped diaper bag.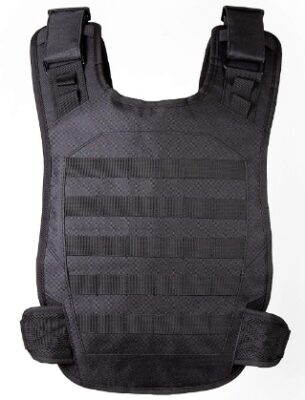 10. Soft Sling All Carry

This product is a great toddler carrier, because it is strong yet gentle. It has a 100% cotton lining, so the baby comes into contact with a gentle fabric against their skin. The outer layer is 100% polyester so it is durable and strong and will be able to be used repeatedly without much wear and tear. It has a 3D mesh design for the belt section, so it will allow your skin to breathe as you feel supported.
It can be used easily for breastfeeding too and is a great all-season carrier and is particularly cool in the warmer months. There are specialised widened straps for the shoulders so that as little possible pressure is put on the wearer and the baby's weight is evenly distributed around the structure. This carrier also comes with a 30 day refund and a brilliant 2 year warranty.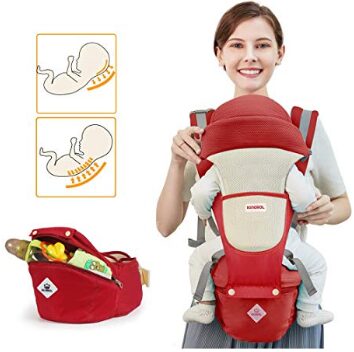 Best Overall Buy
Windproof Breathable Carrier
This baby sling carrier got our vote because of its breathable quality and softness. It seems to be a carrier with real comfort in mind, although it still has strength and structure. What was also a great selling point was the fact that it could be used to carry preemie babies right through to babies weighing 40lb, so we felt it had an excellent life span and longevity of use. Using 100% cotton was also a nice aspect so there was reassurance that baby would be touching soft, natural fibres that would be kind to the skin. We also really liked the structured bucket shaped seat that would provide support to baby as they are being carried.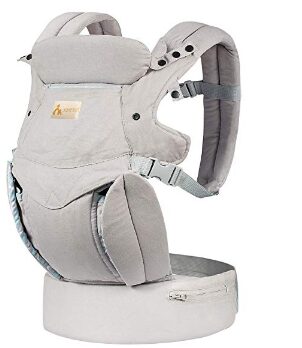 Best Budget Pick
Infantino Flip Carrier

Our budget buy pick of the baby wraps had to be the Infantino Flip Carrier, because it offered so many of the same helpful features as the other more expensive wraps, but with a better price tag. It can be adapted into four separate configurations, supports a wide range of weight (up to 32 pounds) and also changes to outward facing when you require it. We also really liked the fact that it the cover was made from wipe clean fabric that can easily be put in the washing machine if any messy situations happen! The adjustable seat and straps that boast full security meant that it was an obvious choice.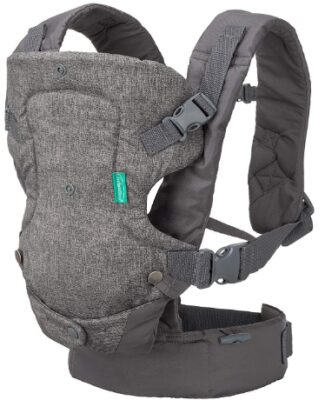 What is a Baby Carrier?
It's basically a piece of cloth or fabric that is fashioned into a sling wrap or holder of sorts that wraps around the parent's body and the baby is held within the supportive framework, close to the adults body, to keep them safe, warm and secure. There are a wide range of styles and designs of baby sling available, from simple cloth wraps with a simple buckle or hoop, to more sophisticated kinds with zips, velcro, belts and buckles and specially shaped holders and padded areas to protect from chafing.
How to Wear Ergo Carrier?
What's great about an Ergo Carrier is that it is transformable and you can adapt it for your own needs and preferences. It has four separate ways to be worn, and it is easily adjustable into these positions for when you need them. You can wear and Ergo in the front position, where baby is nestled on your chest/front area so you can see them at all times and this particular position has two settings, where baby can face towards you or away from you, so that it can see the world around it and learn about the world. The other two positions are the hip position, so baby is supported around at your side upon your hip, leaving your front area more free and the final position for an Ergo Carrier is the back carrying position, where baby is nestled behind you, looking forwards.
How to Make a Baby Wrap Carrier
Believe it or not, it is more easy than you think, and it will save you money especially if you can't quite afford a brand new carrier. First you have to source a good quality material, one that is suitable for baby wearing purposes, around 5 yards in length. Most recommended is a cotton or muslin that has an element of stretch, such as part elastane or part spandex. The obvious reason for this is that you want it to have some flexibility, both for you and for the comfort of your baby.
Next spread your material flat on a large surface (the floor is a good place) and cut the material in half, folded lengthwise. You will then have two identical lengths of material – this means you can make two wraps from one piece of cloth. It is a good idea to make a short hem and fold your edges over to sew up neatly, as this will make it look more finished and it will last longer.
How to Use Infantino Carrier?
It is important to remember to ensure that the clasps and buckles are all correctly closed and secured in the position that you wish to carry your baby in, either front, back or hip position. Once this step is completed, you can settle baby into the pouch at the front, being careful to hold them securely until all safety features have been completed. Put the baby's leg in through the section that is closed and settle them in the seat area. Remember to always keep a hand on baby to keep them close and secure.
Fasten the leg support buckle on the other side and the two head support buckles also. At this point you can adjust the straps where necessary to ensure maximum comfort for yourself and baby. After securing the leg button straps you can then lift the shoulder strap adjusters to make sure baby is sitting at the height that you are happy with.
How to Wrap a Baby Wrap?
Firstly find the middle of the wrap, there is usually a little label or tag to help you locate the centre point. This is especially helpful if you want a baby carrier for bad back issues. Then wrap it flat around your waist with the open ends behind you. Then, making an 'x' shape, cross the loose ends up behind either shoulder, behind your back.
Once you've passed the ends over each shoulder and towards your front, tuck them in underneath the front flat section of the wrap in another 'x' across each other. Wrap the ends around your wait horizontally once more then tie in a tight knot at the front, just under the flat section. Then settle baby into the front flat section, pulling it up over baby's body to fit snugly and safely, but not too tight.
How Much is a Baby Wrap?
You can source a baby wrap for as little as $40 or as much as $300, it totally depends on your budget and how much you are willing or able to spend on one. It all comes down to personal preference and it is important to remember that they are all safe and effective, and to purchase the carrier that is right for you and your baby's needs and to research thoroughly all the styles and designs that are available so that you are well informed about which carrier is right for your family.