Your first baby is always special so it is important to choose gifts for a new mom that reflect this special moment in her life. It's very common to have a baby shower, which means you can choose gifts that will be useful in later pregnancy as well as ones aimed at the new arrival. With parents leaving it until later in life to start a family many will prefer you to shun the baby clothes and diaper cakes in favor of more imaginative and unusual ideas. Here, we look at a selection of gifts including traditional options such as baby clothing to more unusual ideas. Whether you are looking for gifts for first time moms or something for the mom that has everything you're sure to find inspiration in here.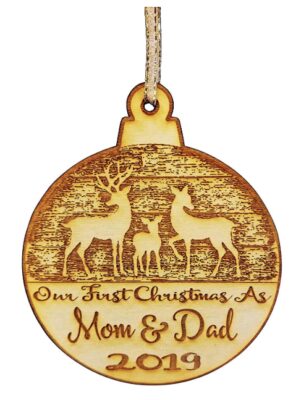 Considerations When Choosing a Gift for a New Mom

If you are looking for new mom gift ideas then there are few things you want to take into consideration before you start your search.
Budget – Setting your budget can be tricky as no one wants to be the one with the obviously cheap present, but there can easily be a big gap between what you would like to buy and what your purse tells you you can afford.
Recipient – Decide if you want to buy new mother gifts, or something for both parents or something for the baby as this will help you focus your search.
Do they have it? – Are you looking for gifts for a mom who has already had children or has a big family passing on used items? If so it might be a good idea to check what they already have. You can also check where the expectant parents have registered for a baby registry so you can see what they'd like to receive.
Best Gifts for New Moms in 2023
1. Reusable Bamboo Nursing Pads
Breastfeeding provides the best start for new babies but in those early days it can be a messy business with leaks, engorgement and tenderness to deal with. This set of 12 breast pads (6 white, 6 gray) has a three-layer system to soak up spills and comes complete with a set of two gel pads which can be warmed or cooled to provide relief. There's even a dedicated laundry bag to ensure the pads don't get lost in the depths of the washer. The organic bamboo is soft on delicate breast tissue and the size of the pack ensures there's always a spare set ready for action, ensuring this will be one of the best gifts for a new mom who wishes to breastfeed.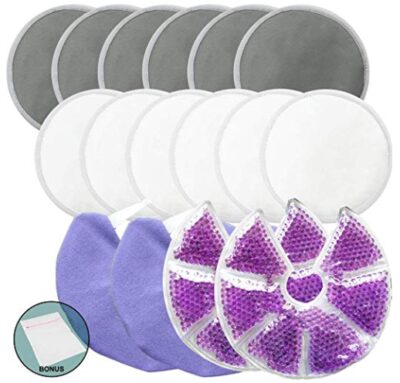 2. Majka Lactation Boosting Cookies
Did you know that breastfeeding burns around 300 calories a day? Producing all that milk requires energy but with a new baby to contend with it can be hard to eat enough leaving moms feeling tired, and potentially impacting on their supply. These gorgeous cookie bites are not only easy to eat on the go they're also full of galactagogues – ingredients such as fenugreek and oats that are known to support milk production. Not only that but they're vegan, soy free and gluten free to ensure that these amazing cookies are some of the sweetest presents for new moms.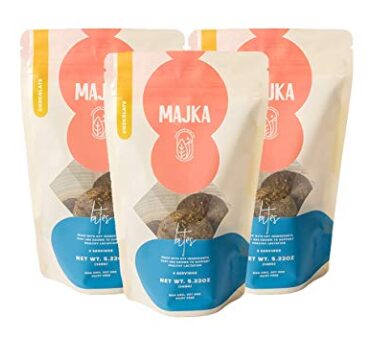 3. New Baby Essentials Kit
Why waste time and effort looking for the best new mom gifts when this amazing new baby essentials box contains everything new parents could possibly need? Stashed inside the environmentally friendly cardboard box is a selection of 100% cotton items in trendy, gender neutral yellow and gray.
The box contains two swaddle blankets, two dribble bibs, two wash cloths, a mini giraffe teether, a round rattle teether plus two gorgeous onesies with "I love Mommy" and "I love Daddy" on the front. The onesies are perfectly sized for newborns and come complete with crotch snaps and an envelope neck to make changing as fast and stress-free as possible. What a perfect present for new mom!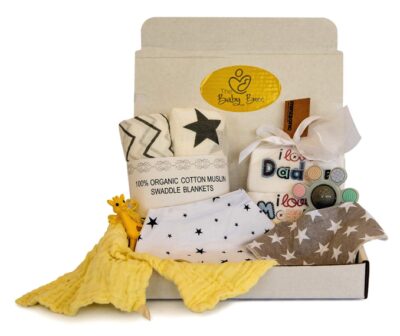 4. Baby Monthly Milestone Blanket
Babies grow so fast so help a new family remember how their bundle of joy has changed with this soft and fluffy milestone blanket.  The best gifts for new moms are those that keep on giving and this blanket is one of the more unusual new baby gifts for mom.  She simply lays out the blanket in a bright location, uses the included floral wreath and pink ribbon to note the day, week or month reached and takes a photo – or ten!
The blanket itself is made from 100% flannel fleece, finished with a silky smooth texture and printed with a gorgeous purple floral design. The unique calendar section and included markers ensures that the blanket is suitable for use from birth right up until 12 years of age, and being fully machine washable it will continue to keep its good looks for many years to come.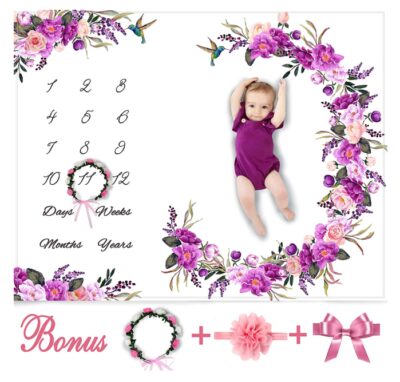 5. Ultimate Spa Basket
Many gifts for new moms focus on the baby and can leave mom feeling left out of the fun. Make sure your gift shows her how much you care with this spa basket stuffed full of special treats to make her feel cared for. With Bubble Bath, Argan Oil Shampoo and Conditioner, Body Wash, Hand Cream, Body Scrub, Body Lotion, 4 Bath Bombs, Bath Salts, Scented Soy Candles, and a Wooden Massage and Loofah Back Scrubber Belt the lucky recipient of this spa basket will have more than enough supplies to recreate a relaxing spa experience in the comfort of their own home.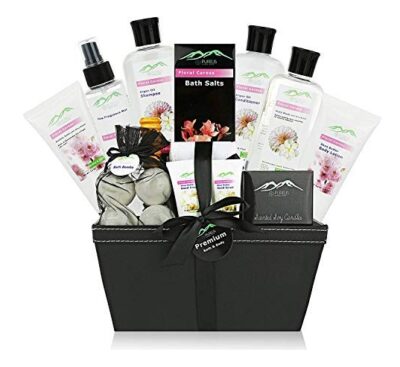 6. Fleece Memory Foam Slippers
Who says gifts for moms need to be sensible? Broken nights are a feature of parenthood and continue for much longer than anyone who doesn't have kids realizes. Make getting up in the night a little less onerous by gifting a pair of these cute shark slippers that are as practical as they are fun. With a fleece upper and memory foam lining her feet with be warm and toasty, even at 3am, while the specially designed non-slip sole ensures she won't fall while caring for her little one. Plus the slippers are fully washable on a cool wash to ensure they can cope with anything that might get thrown at them in night!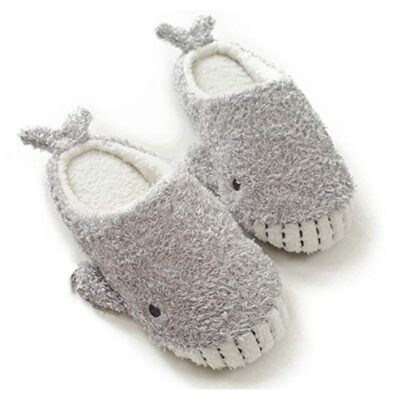 7. Cotton Bath Robe
The reality of motherhood, at least in the early days, is that getting fully dressed takes low priority over feeding and changing the baby. So a high quality bathrobe is a great present that is sure to be warmly received and is one of the more thoughtful gifts for new mom in hospital.
This 100% cotton robe is perfect for use in hospital as it is lightweight and longer length for modesty. With inner and outer ties it won't gape unexpectedly and offers two generously proportioned pockets to ensure that all those little essentials can be kept handy, plus it's fully machine washable for convenience and available in a wide choice of patterns, colors and sizes.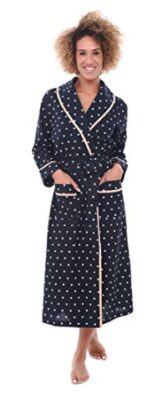 8. Pain Relief Heating Pad
Gifts for new mothers can be useful before the birth and this soft, fluffy, plush heat pad is ideal for dealing with cramps and aches in early labor to deal with the first contractions and gain a bit of chemical-free relief.
They never tell you about the after-pains until – well – afterwards! Warmth can be very soothing when they hit and the extra large size (12" x 24") is ideal for covering the whole lower back or abdominal area. The pad comes with a 9 foot long cord to ensure you can use it wherever you want to. Four heat settings can be selected from the LED controller and a two-hour shutoff prevents over-heating should a tired mom fall asleep under the soothing feel of the pad.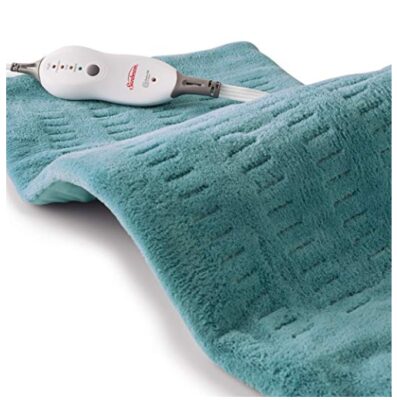 9. First Christmas as Mom and Dad Decoration
It's not just babies that are hitting milestones – the new parents will be too. If you are looking for smaller gifts for new moms and dads then this beautiful pendant will remind them of their first Christmas as a family.
Who can resist beautiful Christmas gifts for new moms like this ornament made from natural birchwood inscribed with a lovely Christmassy scene featuring a family of three deer – stag, doe and calf along with the wording "Our First Christmas As Mom & Dad 2023" this ornament measures 3.5" in diameter and comes with a gold ribbon to ensure it has pride of place on the tree for generations to come.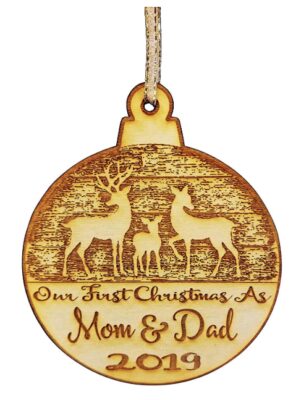 10. Floerns Pajama Set with Buttons
New moms suddenly find themselves much more concerned about their nightwear wardrobe than previously. Pajamas are comfortable to wear – even if she's sore from stitches – and finding the time to get dressed properly can be difficult in the first week or two. This pair of cute pajamas is sure to be one of the more thoughtful new mom gifts and the shorty style is perfect for warmer weather. The button-down front is also ideal for night time nursing.
Available in sizes from XS to XL this cute set is available in a wide selection of traditional plain colors, or the fun flamingos which is sure to bring a smile to her lips every time she puts them on.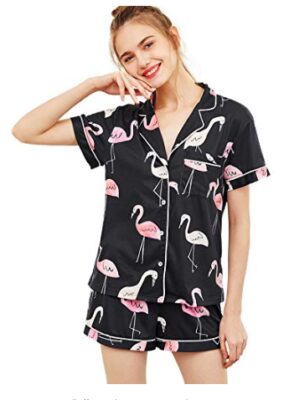 11. Mandala Coloring Book for Adults
Coloring is a great way to relieve stress and boredom. It's portable, and this mandala coloring book has a thick hardback cover to allow you to color anywhere – even without a table to rest on. As a gift for a new or expectant mom it's ideal as it can be picked up and put down quickly as well as filling what can seem like endless hours in hospital waiting for appointments or procedures.
The high quality paper is designed to avoid bleed-through even when marker pens are used and the 50 hand-drawn designs are printed on one side only. For convenience the book is spiral bound allowing the current design to remain uppermost at all times. An ideal boredom buster!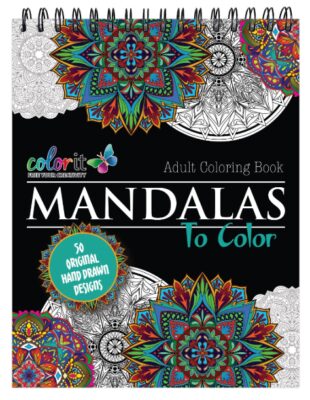 12. Nursing Shawl & Car Seat Cover
With all the equipment you need to carry around with a new baby it's great to come across multi-purpose items like this car seat and feeding cover as the best gift for new mom. With a pure white lining and striking print, this rayon and spandex cover is versatile and trendy.
Used over the car seat it provides a quiet zone to allow baby to nap in peace. Worn like a t-shirt it protects the mother and baby during feeding from wind, insects, distractions and unwanted attention. The cover can also be used on high chairs – to minimize cleaning at home and to provide a clean space for baby to eat in restaurants. Plus it folds down from 27.6" x 26" to a compact size ideal for storing in a diaper bag.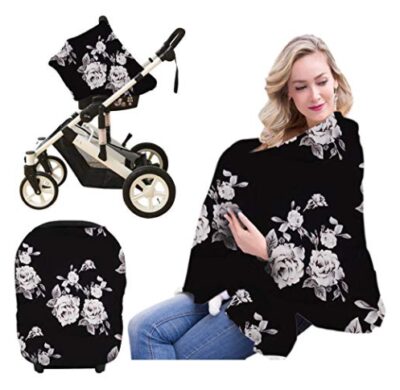 13. New Mom Tumbler
Getting the chance for a drink can be hard while your baby is in the "fourth trimester" and unwilling to be put down. Improve the odds with this stylish 12oz insulated "Mom est. 2023" mug that can hold water, juice or hot drinks such as tea and coffee. The small opening is sealed when not in use and minimizes the chance of spills should the cup be knocked over. It's sized to allow a straw to be used – perfect for those "not enough hands" moments and the clear lid lets you see instantly how much liquid is left. Now there's no reason for to be thirsty!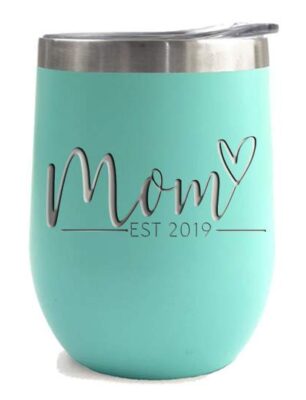 14. Baby Hand & Foot Print Photo Kit
It's impossible to remember just how small those cute little hands and feet were unless you make a permanent record of it. Professional imprints can be pricey, and it can be tricky to get to appointments on time when baby is still young, so why not gift one of these DIY sets instead?
Containing everything needed to create a lasting memento of how small their new bundle of joy is this is one of the best gifts for new moms and dads. The kit has air-drying clay, stamps for personalization, a mount for the plaque which has space for photos and comes in a sturdy gift box. All they need now is a baby!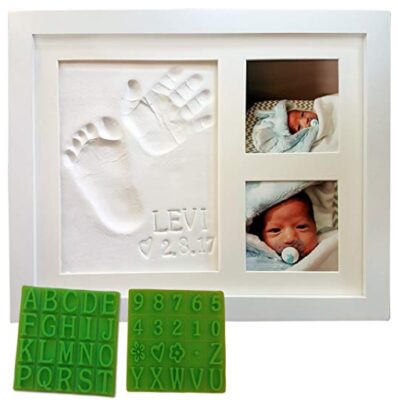 15. Back, Shoulder and Neck Massager
There's no chance that a new mom will have time to go for a massage but the strain of learning new skills, coupled with sleepless nights and hours spent rocking baby mean she's probably more in need of a massage now than at any time previously.
Give the gift of a home massage with this Shiatsu Back, Neck and Shoulder massager to let mom (and dad!) have a relaxing massage any time they have a spare few minutes. With three intensities, heat pad and choice of direction you can personalize the massage – and with the included adapter you can choose to use it in the car, when watching TV or feeding the baby – multi-tasking bliss!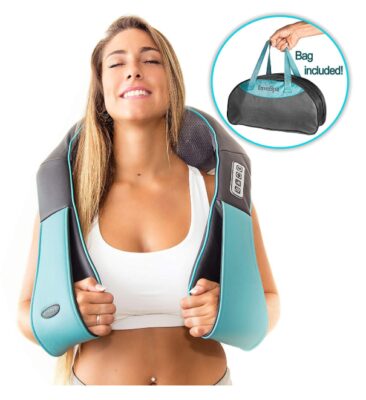 16. Moms One Line a Day Journal
Many new parents intend to keep journals and there's no doubt that those that do find a lot of enjoyment in reading back over the entries and uncovering forgotten memories. But in the whirl that is getting to know a whole new person and tending to their every need it can be a difficult task.
This innovative five-year diary has just enough space for a single line entry every day to make the task of keeping a journal much less daunting. Almost everyone can find the one or two minutes you need to keep track using this journal making it the ideal gift for a time-pressed new mom.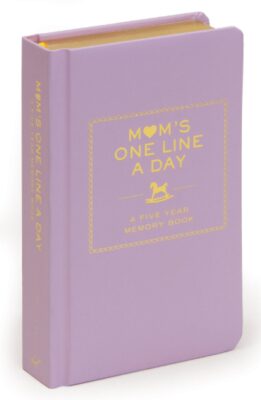 17. New Parents Coffee Mug Set
When the going gets tough the tough go and get a cup of coffee to keep themselves awake. This pair of "Mom" and "Dad" mugs makes an ideal present for sleep-deprived parents. The generous 11oz capacity holds plenty of caffeine while the mugs are labeled on both sides to ensure you always end up with the correct mug. Plus being microwave safe they can quickly reheat cold drinks and the empty mugs can be easily washed in the dishwasher.
The mugs come gift-packaged and are labeled with the current year enabling them to be a lasting memento of 2023 – the year they went from a happy couple to being a wonderful family.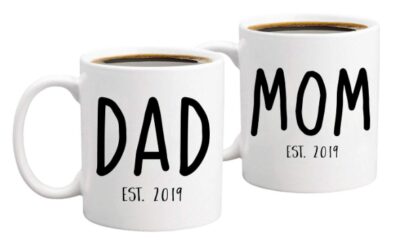 18. Baby Teething Necklace for Moms
Once babies find their hands, and their mouths, they will chew on pretty much anything they can get their hands on. This teething necklace allows mom to wear a trendy piece of statement jewelry, safe in the knowledge that it's made from food grade chewable silicone and won't pose a choking hazard. Each bead is carefully shaped to offer a good gum massage when chewed and is securely affixed to the cord so it can't come away. And to keep the necklace clean and hygienic the whole necklace is dishwasher safe and can be stored in the bag provided.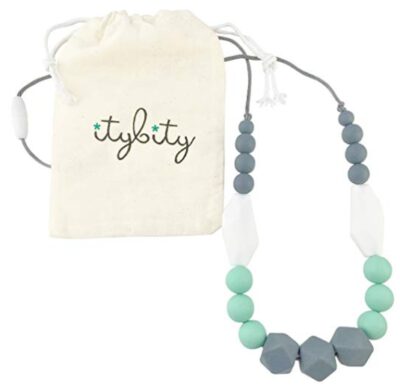 19. Mama Bee Belly Butter
Keep stretch marks at bay with this gorgeous belly butter from Burts Bees. Made from a range of skin safe oils known to keep the skin strong and supple, together with Shea butter and vitamin E to nourish the skin as it stretches, this belly butter will minimize the formation of stretch marks, ease itching and help the belly area return to normal after giving birth. The belly butter is multi-purpose and can be used to soothe sore breasts or on almost any other part of the body that needs a little extra pampering. This belly butter makes a wonderfully thoughtful gift, either on it's own or as part of a personalized pamper package.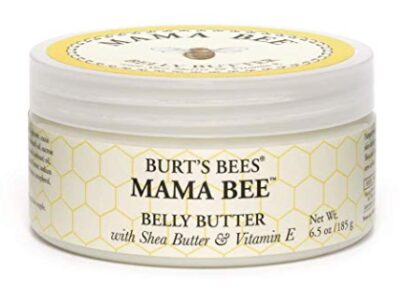 20. The Baby Owner's Manual
What do you do when you've got a baffling new piece of equipment? Read the manual…. Unfortunately for new moms, and dads, babies don't come with a manual – until now that is!
This slightly tongue-in-cheek look at baby care covers all aspects from birth onward. Laid out in a no nonsense, straightforward manner the book answers questions such as "When does my baby need servicing at the doctor's?" and "How do the auditory and visual sensors develop?" Rest assured however, that all advice given is up-to-date and medically accurate, as the book is written by celebrated pediatrician Dr. Louis Borgenicht and his son, Joe Borgenicht.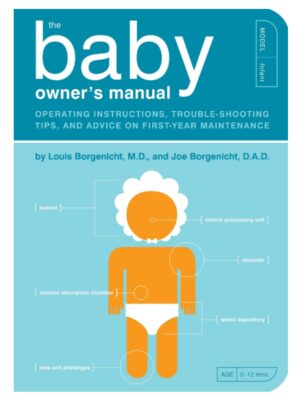 Best Overall Buy
New parenthood can be a messy time as parents learn to get to grips with diaper changes, winding and feeding their baby. Plus, there never seems to be enough time to do all the extra laundry this new person seems capable of producing. For this reason our best overall buy has to be the Baby Essentials Box as it contains a selection of useful items such as dribble bibs, washcloths and spare onesies, to help in the early days.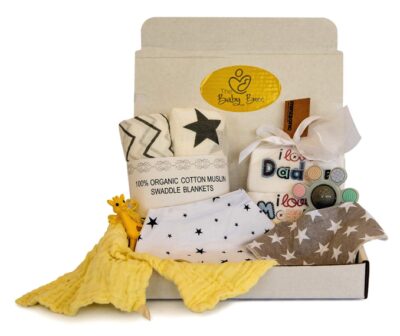 Best Budget Pick
If you don't have a big budget then it's important to make every cent count. Choosing a thoughtful gift will make it clear that you still care. Burts Bees Belly Butter is a high quality gift that won't break the bank but will leave her feeling pampered and special.
Other good gift ideas for new moms, which don't have to be expensive, include choosing a quality book to offer the new parents helpful advice throughout the early days. The simple to understand "Baby Owner's Manual" doesn't cost much but will be a gift that keeps giving month after month.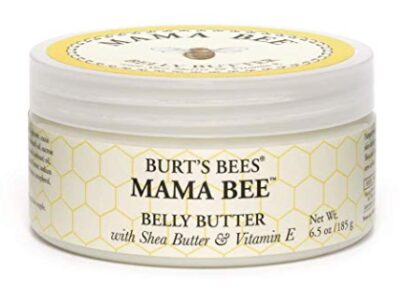 Gift for a Mom Who Has Everything
One of the hardest things to buy is the gift for mom who has everything. Perhaps this isn't her first baby so she has enough baby equipment, or perhaps she's just the sort of person who prefers to buy what she likes when she sees it.
Either way, thinking outside the box a little will let you find the ideal gift like this wine glass with "I've waited 9 months for this" to celebrate her first drink after giving birth. Other great ideas include the tumbler or the hand print memento set.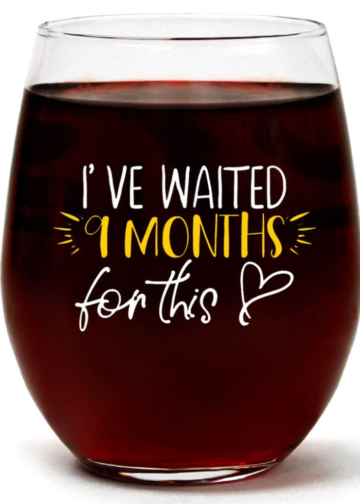 New Mom Gifts She Actually Needs
If you are lacking inspiration for what to get new parents then why not get them something that will be used again and again to make their life easier? The Instant Pot allows you to throw the ingredients in for a hot, nutritious meal when you have a few minutes, and to set the timer for when you want to eat. Offering 7 different functions the pot can be a pressure cooker, rice cooker, yogurt maker, slow cooker as well as warming through pre-cooked food and offers 70% faster cooking times than conventional appliances.
Other possibilities include baby equipment such as the nursing shawl and car seat cover or breastpad set. Bottle feeding moms might also appreciate a sterilizer and spare bottles to help them keep on top of the washing up.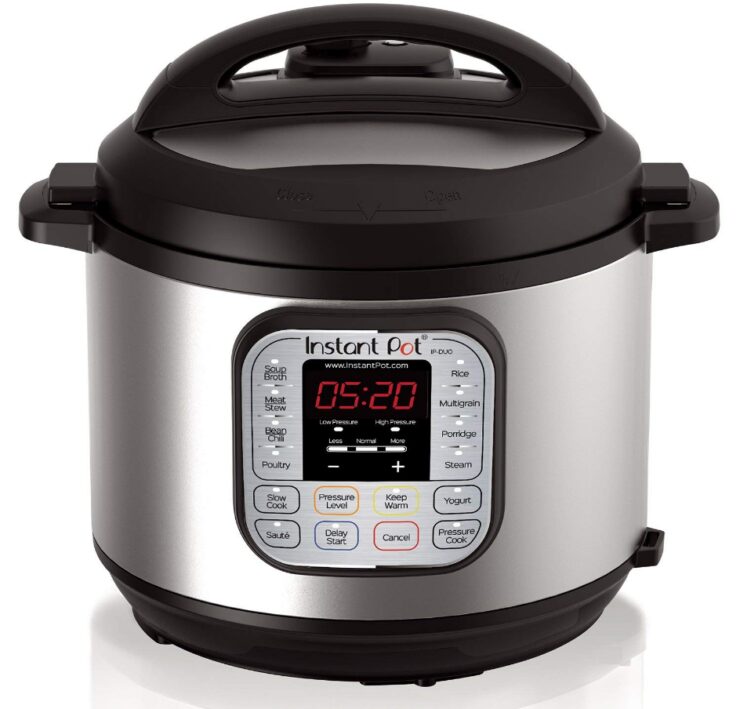 How to Make a New Mom Feel Loved?
If you're looking for a mothers day gifts for new mom to make her feel extra special then be sure to focus on her, and not on  the baby. The ultimate spa basket contains pretty much everything she needs to pamper herself and have a relaxing break from being a mom – so don't forget to offer babysitting as well!
Your budget might not run to a personal masseur, but it can probably stretch to a shiatsu neck and shoulder massager. One of the more unique gifts for new mom, a massager is a great idea to allow her to rub away the stress of being mom whenever she's feeling a bit tense.