Are you looking for a Barbie Dream House for your little one's Barbies to live in? With so many different options, it can be difficult to choose which is the best. Here, we will take a look at 20 different Barbie houses, so there is something to suit all budgets and tastes. Barbie doll houses makes playing with the dolls so much more fun for your child, and is sure to inspire their imagination to make up new games to enjoy with the dolls. Not only that, some of the houses are quite large so they can be enjoyed by two or more children at the same time, making them excellent for siblings to play with together, or for playdates. Let's first look at ways to choose between the different houses available.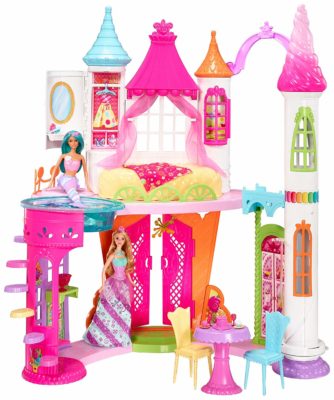 Considerations When Choosing a Barbie Dream House
There are a lot of different styles of Barbie house out there, so it's important to consider the following factors to ensure you choose the best!
Size – The size of the dolls will partly determine which house to choose – check the scale before buying to ensure your dolls don't end up looking like giants in a tiny house! Official Barbie products are generally designed to be the same size and scale and are therefore compatible with one another.
Budget – There are more basic options which don't cost too much, but some of the biggest and most deluxe houses can come in at around $200, so decide which type of house you are looking for and how much you're willing to spend. But, Barbie dolls tend to be enjoyed by children for many years, often into the tween years, so it's likely to be a worthwhile investment.
Features – Every house has its own features, so decide which are essential to have before choosing. You might want something which can be folded away for easy tidying when not in use. Or, you might be looking for a house with multiple levels for your kids to play on. Also check which accessories and furniture are included in case you need to buy any other pieces separately.
Top Barbie Doll House 2023
Now we know how to choose between the different options, let's move on to review 20 of the very best houses for Barbie and her friends to live in!
1. Barbie Doll Dream House
This is the classic Barbie house which every little girl dreams of owning! It's huge, standing at 3′ tall and 4′ wide, with an impressive 8 rooms to play in. So, this is a great house for kids to share with their friends or siblings – there's room for everyone to play together. The house has a functional elevator, a pool which can be filled with real water, a slide and a garage for Barbie's car.
There are fun light and sound effects which make the house even more fun to play with. For example, the stove plays sounds, the tea kettle whistles and the toilet even makes a flushing sound! The furniture is all included with the house and some can be used in different ways. For example, the couch turns into bunk beds so Barbie can have friends staying in her guest room!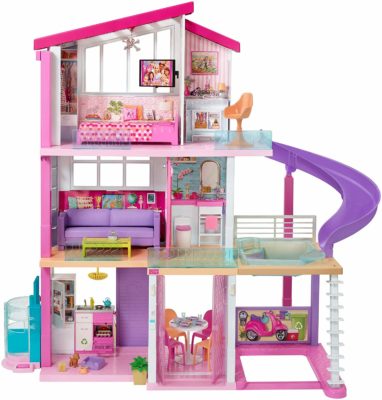 2. Barbie Glam Getaway House
This cute, compact house is perfect for playing on the go, as it folds up and has a carrying handle. Inside the house, you'll find a bedroom with en suite and a small kitchen area. The house measures an impressive 2.5′ wide when opened up, so there is still plenty of space to play. It comes with a good range of accessories and furniture, over 20 in fact. The house has a storage chest inside which can be used to keep some of the smaller accessory pieces tidy when not in use, and prevent them from getting lost when traveling. This house is perfect for kids over the age of 3.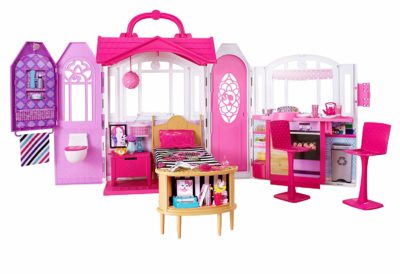 3. Dreamtopia Sweetville Barbie Castle
If your child is interested in the Dreamtopia range, this play castle is an excellent pick. It stands at three feet tall and comes fully furnished across two stories and with eight different play spaces. Kids will love the range of accessories inside the house, such as the blankets and curtains in the bedroom, where you'll also find Barbie dolls bed, or the pieces to have a dinner party. They'll also love adding water to the pool for the mermaids to take a dip! To reach the second level, the dolls can ride in the elevator which will swirl them up to the top!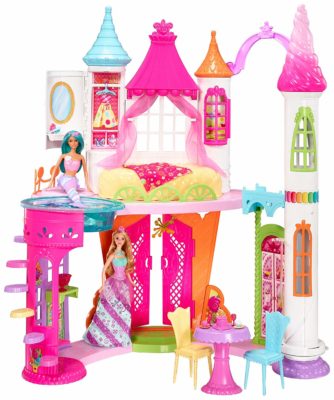 4. Three-Story Townhouse
This modern home has three fun levels to explore and includes four rooms, as well as a terrace on the roof. It has an elevator to reach the different levels, and the roof terrace pops open when the elevator approaches. On the upper level of the house you will find a closet for Barbie to store her clothing, whilst downstairs there's a cool handing chair for Barbie and her friends to swing and relax on. The house is full furnished and even comes with accessories such as a tablet for Barbie to use in her leisure time!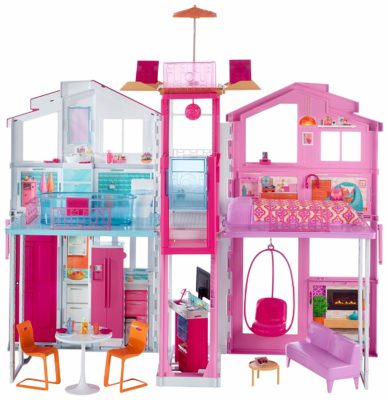 5. Hello Dream House
This high-tech house is perfect for modern Barbies, as well as kids who love technology. It uses speech recognition to respond to over 100 commands – just like a real smart home! There are six rooms within the home, and 13 switches to control the different interactive areas. The stairs can even become a slide – just ask! There is a Hello Dreamhouse app which can be used to make recordings to be played in different parts of the house. For example you could play your child's favorite song or record a greeting for Barbie when she enters the house. This is certainly the coolest Barbie house out there!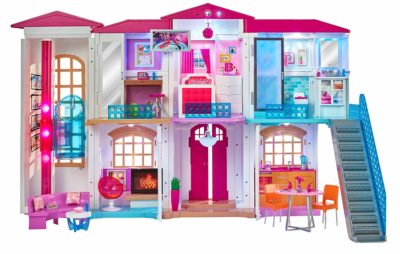 6.
2-Story House with Accessories
This cute house comes full furnished and has four different rooms for Barbie and her friends. Some of the furniture can transform to change the purpose of the room, for example the table becomes a TV to create either a dining room or a living room. You'll also find a kitchen with stove, and a bedroom which can transform into a spa! The house can be folded for easy storage or for keeping the kids entertained on the go – it's great for taking when visiting friends or family.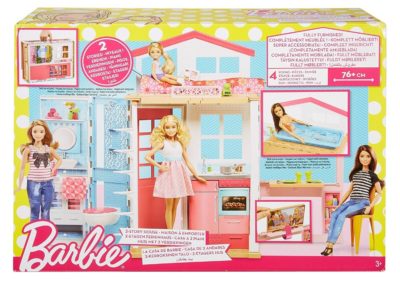 7. Dreamhouse Amazon Edition

Here we have another 3-story Dreamhouse, but this time it's Amazon's own exclusive version. You'll still find loads of fun features such as 7 rooms and more than 70 accessories to furnish the house with. Of course, the house has the classic elevator, and some of the pieces make sounds and lights such as the aquarium. The TV in the living room can be opened to place a real phone inside so kids can watch their favorite videos with Barbie! The garage can be used for Barbie's car, or can be used as an additional room instead – it's up to your child's imagination!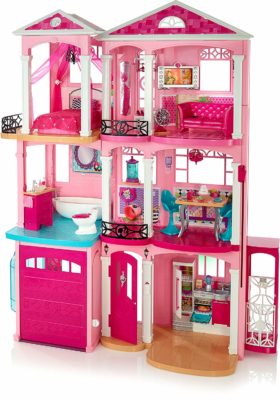 8. Malibu Mall
The Malibu Ave Mall comes with two dolls, making it the perfect starter piece for a kid who's new to Barbie. It also comes with over 50 accessories to ensure there is plenty to keep their imagination busy. There are two stories, with the upper being accessed by the escalator. You'll find everything needed for the mall, such as an ATM and spare clothes to sell in the stores. Barbie will love going shopping with her best friends! There's also a theater area where a smartphone can be inserted to watch movies. There's a spa with pieces to give Barbie a manicure, as well as a food court with a smoothie blender. The set also comes with a shopping bag so Barbie can stock up on new clothes and accessories!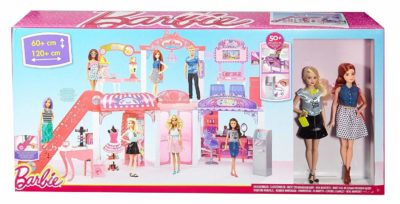 9. Starlight Adventure Castle
This fun playset comes with all the accessories pictures, except the dolls which must be bought separately. It folds up nicely for storage when not in use, and has places for all the accessories to be stored too. Girls will love using this set to give their dolls a whole new look, and it even comes with a pet for them to look after. The set also comes with two hoverboards as well as boots to allow the Barbies to fit onto the hoverboards. It's so much fun to have Barbie ride around on a hoverboard!

10. Vacation House
If Barbie needs a new home to spend her vacations, this one is perfect! It has six different areas to play in, over two stories. Inside the house, you'll find a breakfast bar as well as rooms such as a bedroom, kitchen, patio and living room. There are pieces to decorate and furnish the house such as a chandelier and other cool lighting. There's even a blender for Barbie to make smoothies! There's a staircase to the upper level, which can be detached, and the house can be folded up for fun on the move.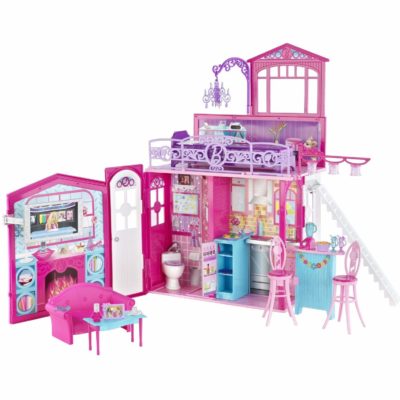 11. Barbie Dollhouse
This compact and portable Barbie doll house with furniture has indoor and outdoor play spaces, including a pool which can really be filled with water. Barbie can also dine outside on the patio by placing the chairs outside. Although this house appears smaller, it opens out to over 2′ wide, and there are loads of accessories to ensure kids will have hours of fun playing with this set. When it's time for bed, the bed can be unfolded from the wall, so there is more space to play during the day.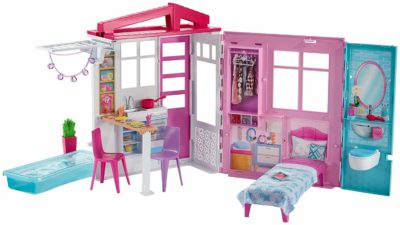 12. 3 Story Dream Townhouse
This townhouse offers Barbie the ultimate luxury place to live, and it even has a hot tub on the balcony! There are fun light and sound effects, such as the doorbell, roaring fire and running shower. The house is much like the classic Dreamhouse, although it has been renovated to give a more modern feel. For example, the stylish new wallpaper design is sure to bring a smile to your kid's face. The classic elevator is included, and there's a string to move it up and down. There's a pop-up TV and an extra-luxurious bathroom. The master bedroom features a bed with sheer curtains – every Barbie would love to live here!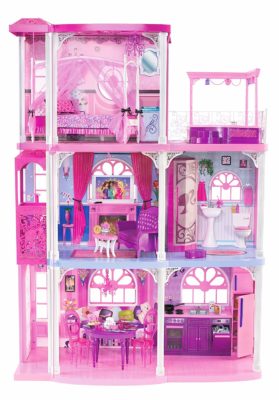 13. Dream Camper
If you'd prefer a portable home for Barbie, how about this Dream campervan?! The top of the camper pops up and the back can extend to make the play space larger. There's a pool attached to the camper which also has a slide, and it can be filled with water for even more fun. Inside the van, there's space to eat and sleep, or you can set up hammocks for the dolls to sleep in the open air. There's a bathroom inside the van, as well as a closet and a kitchen, complete with refrigerator and sink. There are over 30 accessories with this set, so it is sure to bring hours of fun to any kid lucky enough to receive it.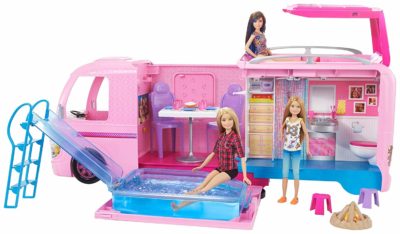 14. Chelsea Treehouse
This treehouse playset comes with a Chelsea doll and her puppy, and has five different play areas so kids can play on all sides and angles. The ladder can be re-positioned from the front door to the inside of the house, and there's even a kennel for the puppy underneath. There's a swing for Chelsea to ride on, and there's a clip to hold her in so she won't fall off. The treehouse has a telescope to look at the stars, and a slide for fun. There are masks for the puppy to dress up, or the two best friends can enjoy a cupcake together.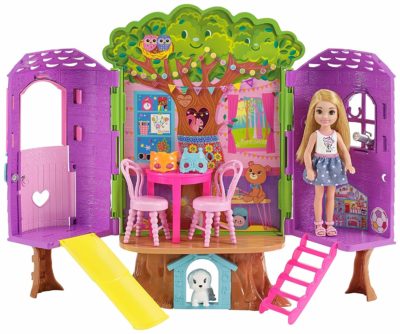 15. Mega Bloks Fairy Treehouse
If your kid loves to build, this Barbie playhouse from Mega Bloks is perfect. It's recommended for kids between the ages of 4 and 10 years old. The fairy Barbie has removable sparkly wings, sure to be loved by little girls. There playset has a spinning platform to help the fairy Barbie fly. The treehouse has to be built from the 239 included pieces, so it's sure to keep kids busy for a while. There are other sets in the range which can be combined with this one to make a bigger and better treehouse.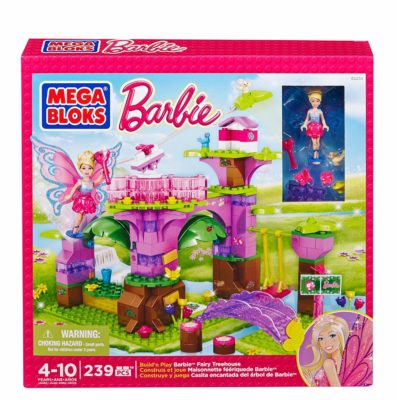 16. Dreamtopia Castle
This castle playhouse offers something a little different from the other Barbie houses. There are four different play areas inside, as well as accessories to furnish them. The castle has interactive pieces such as the chest of drawers which can be lifted to reveal a secret vanity. Similarly, the throne can transform into a bed, complete with a blanket for bedtime. Girls will love the princess-themed accessories which come with this set, including a tiara, perfume and teacups for a tea party!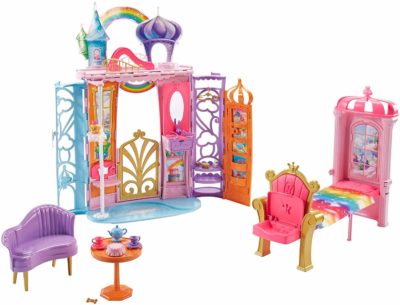 17. Mega Bloks Beach House
Here we have another cool Mega Bloks house, and this time it comes with almost 130 pieces. The beach house is suitable for kids over the age of 4. The mini Barbie dolls will have loads of fun at this beach house, whether they are dressing up in different outfits, dancing on the dance floor or relaxing by the pool! The house is fully furnished with items such as lawn chairs, a hot tub, a disco ball, and everything else Barbie needs for a fun beach vacation!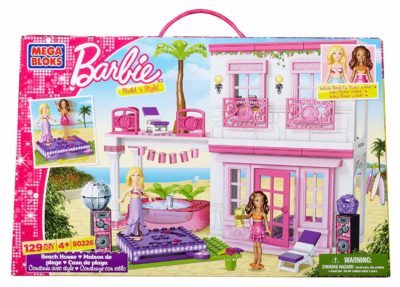 18. 2 Story Malibu Playhouse
The Malibu house is perfect for slumber parties with Barbie and her friends as it has beds for up to four dolls. It's also perfect for hosting movie nights, as the lounge transforms into a theater. The house comes with over 25 accessory pieces for decorating the house and allowing for imaginative playtime. All the accessories fit inside the house, which can be folded up when not in use. It's great for getting kids to tidy up after themselves!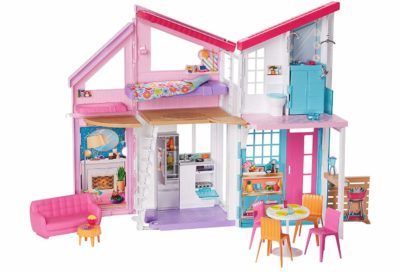 19. Glam Vacation House and Doll Set
This fun playset comes with a doll, and has clip n' flip pieces which can be set up anywhere to allow the house to be customized. This also means the pieces stay in place, so it doesn't matter if the house gets knocked. The house can be opened up on one level, or the pieces can be stacked to create a two-story space. The set is a great starter for kids who are new to Barbie, as it comes with a doll for getting started with. The house stands at more than 2′ tall, so it's a great size for kids to play.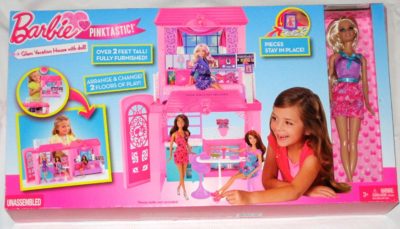 20. Chelsea Doll and Clubhouse
This Chelsea doll set has everything she needs to have fun with friends! It also comes with her pet bunny Skipper. There's a working elevator which leads to the upper level on the rooftop – perfect for sunbathing or stargazing. There are accessories for Chelsea to have a tea party with her bunny, including cupcakes and dishes. Whether your girl prefers Barbie or her little sister Chelsea, this set is sure to give hours of fun.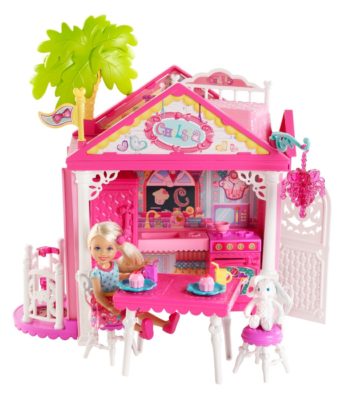 Best Overall Buy
The classic Dreamhouse takes the number one spot as our best overall of the Barbie house toys. It has so much space for Barbie and her friends, and is excellent for kids to use their imagination. There's a great range of accessories and furniture included, so the house offers plenty of different places to play. The real pool and slide are an added fun touch!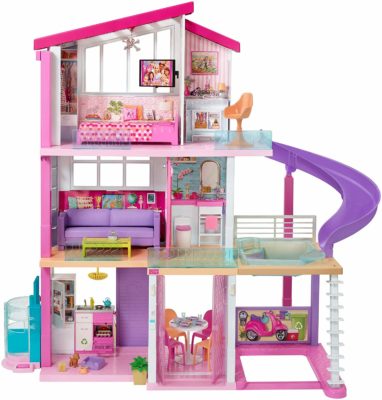 Best Budget Pick
If you're looking for a cheaper pick, the folding house at #11 on our list is an excellent choice. Despite the lower price tag, the house is still packed full of fun features and accessories and is sure to keep kids entertained for hours. We love the folding design, so the house is ideal for taking on the go.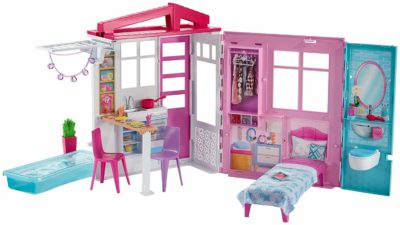 How Much is a Barbie Toy House?
The original Dreamhouse generally retails for around $200, but keep an eye out for any sales which might reduce this. There are other smaller houses available for around $50 or less.
How to Make a Barbie House?
If you can't decide which house to choose, or want to give your kid something to play with before surprising them with a real Barbie mansion, you might consider making one at home. There are a few different ways to do this. If you're crafty, you can use plywood to build a house, with some wallpaper and paint to decorate it. Or for something a little easier, you can't go wrong with and old cardboard box! This is great for encouraging your child to use their imagination when playing, and you can get them involved in the process too.
Where to Buy Barbie Dreamhouse?
You can find the Barbie dream house at all good toy retailers – Barbie is hugely popular and so is not too difficult to come across. Each Barbie house reviewed above can be bought online at Amazon for your convenience.