Are you looking for kids learning DVDs and wondering what is available? We all know the importance of educating children and sometimes that includes letting them watch educational videos. Programs that introduce them to new concepts and ideas. Learning can be fun and we have picked our favorite shows for the kids to enjoy.
In this best educational DVDs for kids article, we are going to be letting you know the best childrens DVDs are, turning TV time into a learning practice that is also entertaining.
Considerations choosing Kids Educational DVDs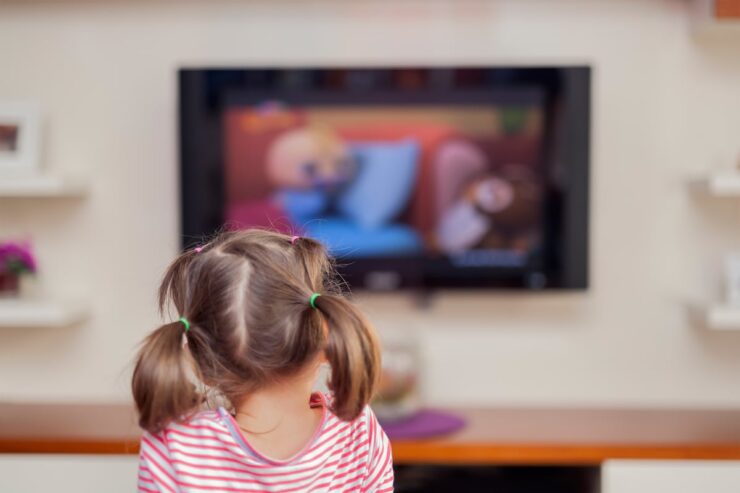 Age Range – The age specification of a DVD is a big thing to consider when choosing learning DVDs for kids. Because an education dvd for a 2 year old will be very different from a 5 year olds. With different development stages coming at different times, you don't want to have your child watch something that is too advanced for their age or they could become lost and confused, and also the opposite of a video being for a younger age range, making it boring and not captivating for your child.
Length – The length of the DVD could be a big thing to take into consideration. Children have different attention spans so if there aren't entertaining aspects, or if an hour-long DVD is split into 5 episodes this will help your child from losing focus.
Subject – Different children are into different things, and this is also the case in educational topics. Some kids are future scientists while some are future football stars, so choosing a niche regarding learning DVDs is a great way to keep your kids interested. We also have educational toys on starwalkkids, which are worth checking out!
You can also enroll your child in online courses. For example, a group will soon start at Monster Education and you can sign up a child to study a subject that he likes in a few weeks in a small group.
Top Children's Educational DVDs
1. VeggieTales Volume One
This 10 show collector's series set is an amazing way to introduce your kids to VeggieTales! They will be able to enjoy all the adventures that the VeggieTales crew has gotten into over the years. With an array of memorable characters, this will be a favorite for your kids for years to come.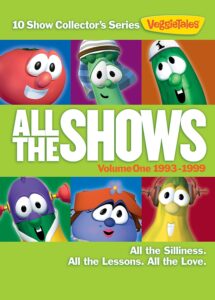 2. Blippi Volume 4
Children's educational DVD's have an array of different characters, and Blippi is a family favorite. A loveable, energetic character that has a friendly personality, jumping on and off the screen with his goofy, expressive mannerisms. With his charismatic personality, your child will take a quick liking to this educational kid's character. Targeted to children between the ages of 2 to 7 all over the world.
With five 12 minute episodes your child will have up to an hour's worth of educational fun, but not losing focus and attention because of the variety of different episodes.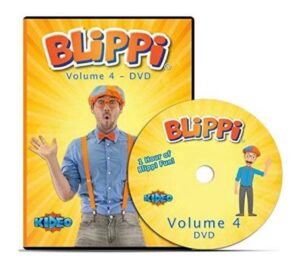 3. Sight Words Rock 'N Learn
The reason for these DVDs is to help children read sight words automatically as sight words are the most commonly used words in children's literature. Main character Brad and his friends investigate thrilling adventures to practice word recognition. The use of read-along stories and catchy songs will really help your child to pick up and memories these words with ease.
Bonus Chapters are added showing different sight words in isolation to focus on the shapes and spelling of words. This is one of the great educational DVDs for infants covering all Dolch words for pre-K, kindergarten, and 1st Grade.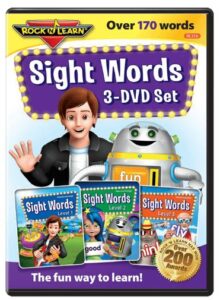 4. LeapFrog 3 DVD Learning Collection
Baby DVDs in the very early years are great, and the learning collections come with all the tools in order to learn the alphabet, basic reading, and how to count in this amazing 3 disk collection, which also includes a book to work with the DVDs. The first disk is all about the alphabet where your child will help 3 of the characters find letters to start the amusement park.
Children will have to learn all of the 26 letters of the alphabet big and small in order to save the day and save their friend from the top of the alphabet Ferris wheel. In all an exciting episode and a great way to keep our kids engaged. On the second disk of this set of educational DVDs for preschoolers, basic reading is the challenge as your kids will set out on a magical adventure inside a storybook factory where words, pictures, and imagination bring stories to life.
To help your young ones learn, special features like sing-along songs are there to help remember phrases with read-along words that go across the screen. In the third and final disc, a pirate-themed adventure will start your child using numbers learning to count. In order to save one of the on-screen characters, the use of counting, numbers, and estimation is needed in order to defeat a number of different sea-based enemies, such as a shark, a crab, and Pirate Pythagoras himself. Getting your little ones to begin to see numbers in a totally different way.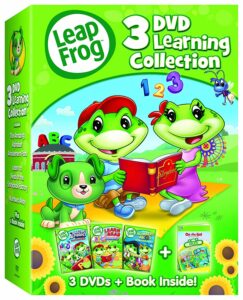 5. Preschool Prep Company
Educational DVDs for elementary students are a great way to give your child that headstart just before they begin going to school properly. This 4 disc preparation pack will give your child all the need to know about letters, numbers, shapes, and colors giving them great insight into the fundamentals of English and maths. Creative sides of your children can also flourish learning different shapes and colors being a great all-round tool in your child's developmental years.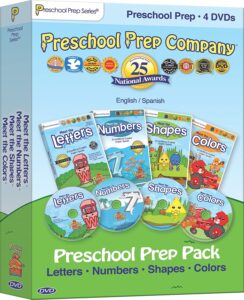 6. Counting With Elmo
Preschool Is Cool! ABCs with Elmo. Learning DVDs for toddlers like this one do a great job of showing the basics such as counting and learning the alphabet. This program shows professor Grover as the teacher and Elmo as his helper. Alphabet related songs and stories will help your children find it easy to learn their ABC's and have lots of fun with their favorite furry friends, Grover and Elmo.
The second installment of  Preschool Is Cool! features Grover as the teacher and Elmo as his helper once again. In this episode, Grover forgets the numbers, and Elmo and your child will help him remember them 1 by 1. The number and counting themed songs and stories will make learning easier than ever keeping your little ones fully engaged with these to loveable characters.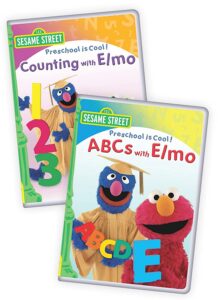 7. Animal Friends
Older children who will have more ability to concentrate for longer will love this selection of 8 different full-length movies, and for the super low price, you will enjoy them too. All these movies have an educational message in them from overcoming your fears, showing love and compassion, and never giving up.
Having loads of different genres of films gives your child lots of choices keeping them entertained on more than one occasion. This style of learning is also a great technique as it isn't as obvious as some of the others making these learning DVDs for elementary students a must-have.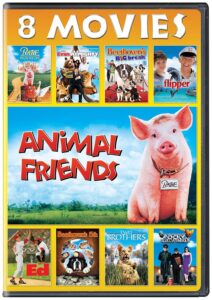 8. LeapFrog Gift Of Learning
This animated educational DVD from LEAPFROG is designed to teach your child the basics of reading and maths and is aimed for kids ages 4-7. Counting lemonade is the name of the first DVD where your child will help complete different activities whilst learning to count, while the second video is all about letters, making the alphabet easy.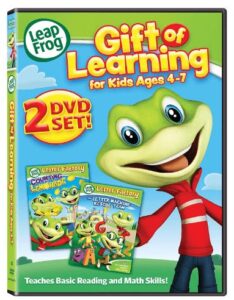 9. Sesame Street 40 Years Of Sunny Days
In this amazing one of a kind collection, you can relive some of your favorite Sesame Street moments and share these moments with your kids and grandkids making them a treat for the whole family. Nostalgia will come flooding in as you hear those familiar words from the Sesame Street theme song and the even more familiar tune.
This amazing educational programs will help teach your children the basics of English and maths and also learn social skills when they come to starting school. This special anniversary DVD for kids includes all 40 seasons, keeping your child development continually growing as they watch more and more episodes.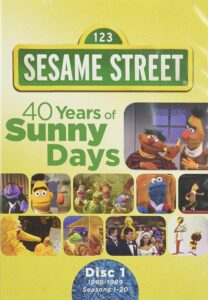 10. A Dinosaurs True Story
For every kid meeting, a real dinosaur has always been a big fantasy. This film by Steven Spielberg is the animated tale of a group of four prehistoric friends who travel in time to New York to meet their biggest fans, modern-day kids.
A magical film that is for the whole family. The story-line is amazing and provides a positive message for all younger children, with memorable characters that will be popular for both boys and girls, another reason that this is a family favorite. This is a timeless wonder that will be popular in generations to come.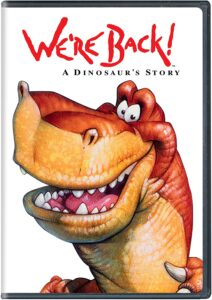 11. Letter Sounds Rock N' Learn
Baby learning DVDs like Letter Sounds by Rock N' Learn, use engaging characters and fun music to help develop early reading levels. After quickly reviewing upper and lowercase letters, your kids will learn the most well-used sounds each letter makes. Direction on how to form the sounds is shown by an onscreen mouth and building excitement as children play 'Name That Letter' a game played by quickly saying the letter that is heard the most indifferent silly sentences.
After this, young learners blend letters to sound out simple words only containing two and three letters. Various activities strengthen letter and sound relations, including consonant blends. By the end of this DVD, your child will have all the knowledge to read short stories with simple sentences filling them with all sorts of pride.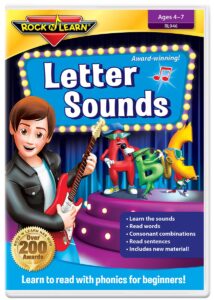 12. Rock N' Learn DVD Set
The Best DVDs for kids' learning can help with a multitude of different topics. The Rock N' Learn DVD sets provide engaging characters so learning ABCs, shapes, colors, and counting is more fun than ever. In the first video, catchy sing-along tunes are learned for each letter making remembering easy, and with musical games played letter recognition skills are reinforced, as your child learns letter-sound relationships, and improves gaining a better vocabulary.
In a bonus feature, kids can learn to write down each capital and lowercase letter, as well as numbers 0 to 9. The Second disc in this DVD bundle for kids provides the best way for your child to become fully prepared for starting school. Preschool learners will relish completing different readiness exercises that cover learning to count objects by color, shape, or a combination of the two.
Even the more gifted children will be challenged in this series with advanced colors such as maroon and turquoise used and shapes such as polygons and ellipses.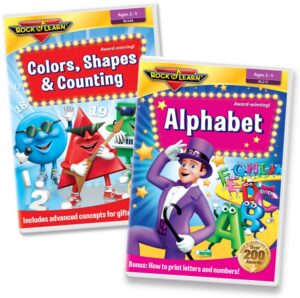 13. VeggieTales Bible Heroes
The VeggieTales Bible heroes provide four different educational lessons for your children. The first 'Moe and the Big Exit' teaches a  lesson in following directions. The main character Moe is a kind cowboy who lives in a place called Dodgeball City. The people of the city are working for the heartless mayor by digging the grand canyon.
When Moe asks to let his people go, the mayor refuses and that is where the trouble begins. The second story of this set is named 'The Ballad of Little Joe' which is a lesson in facing hardship. Your child will join Little Joe and his French Pea brothers on an adventure away from the abandoned Dodgeball city. Little Joe's faith is tested at every possible moment but this is a lesson in keeping faith when facing hardship. The third installment is a story about Esther the Girl Who Became Queen a lesson in being courageous.
Esther has been chosen to become the king's wife but discovers that being queen is going to take more strength than she ever believed. The final episode to this DVD set is a story about having self-Esteem named Dave and the Giant Pickle: This is a re-telling of a biblical classic, David and Goliath, showing kids that they are never too small to do any task if they have Gods help. All these stories are aimed at a more religious standpoint, teaching lessons that relate to the lessons of the teachings of God, a great gift for more religious households.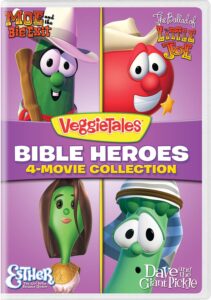 14. Barney Learning Movie Pack
The Barney preschool DVD educational learning pack has 6 movies that celebrate the gift of learning for your children. This movie compilation contains barney episodes that provide educational tools focusing on counting, learning the alphabet, and singing nursery rhymes. A great gift set for preschoolers to learn the most important educational starting lessons.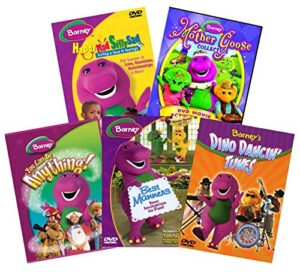 Final thoughts on Picking a DVD for your Kids
In the modern age of technology, screens and displays are a big part of any work or home lifestyle, with devices like tablets, phones, laptops, and televisions, screens are everywhere. Spending so much time behind screens can be damaging to adults, and more importantly children.
Having your child sit in front of a screen all day can be very bad for them and is advised for kids to spend no more than an hour a day in front of any kind of display screen, but in this hour you should try to get your child to learn as well as be entertained. Young kids shouldn't have the TV as their main source of entertainment, although learning DVDs could be a useful tool in any household providing stimulation and learning together.
Here are some other great choices: