Learning through play is essential for all young kids, so when choosing suitable toys for your 4 year old girls to play with you should look at the fantastic range of educational toys that are on offer. Toys that have an educational theme will encourage kids to develop and learn at a speed that is suitable for their age, while also providing entertainment. Often toys that encourage educational learning are labelled as STEM toys to reassure parents that when kids play with these toys they will develop a wide range of skills. Many of these great learning toys are also screen free so encourage much needed play time away from any screens. Parents will also love playing with these toys along with their kids, providing essential quality family time together.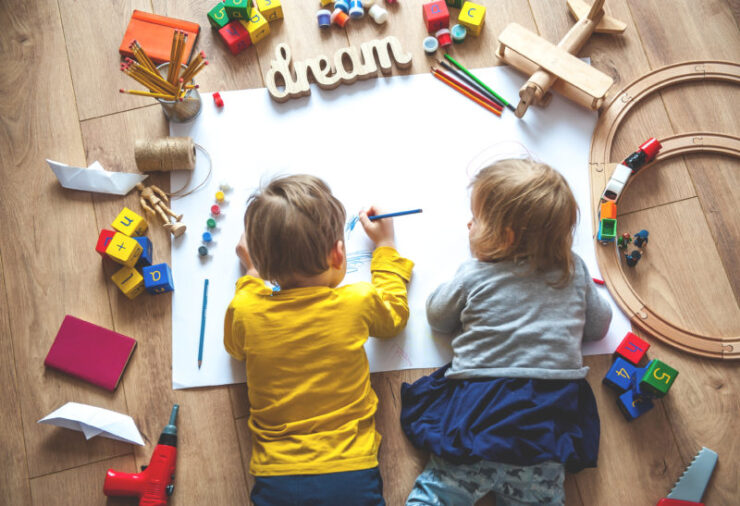 Parents may worry that toys that encourage learning will not be appealing to young kids but this is certainly not the case. For young girls there is a lovely range of girly educational toys that will be attractive to them and follow their interests. In addition there is also a great range of exciting toys for all adventurous boys that they will enjoy playing with. When choosing the ideal toy parents should pick one that enhances their kids interests while also encouraging the development of chosen skills. Many learning toys will also grow with your kids so they will provide long lasting use making them great value for money. Activities that engage kids aged 4, like Board games are great for kids to enjoy!
Often parents will ask what are the best educational toys and gifts for 4 year olds as there are a huge range of toys on offer for young kids. This article will take you through the best toys with an educational theme so you can make the perfect choice.
Best Educational Toys for 4 year olds
1. Brain Flakes Set
Fun educational toys for 4 year olds that are guaranteed to entertain kids can be difficult to find. However, a great choice that fits this criteria is this fantastic VIAHART Brain Flakes Interlocking Plastic Disc Set. This toy encourages kids to build different shapes and objects and allows them to use their imagination to create new and exciting builds. The plastic discs are easy to use as they slide and interlock together so young kids can have a go themselves. There are full instructions on how to build a ball included in the set so kids have a great starting point to get them building before they progress onto different exciting builds. Once the discs are finished with there is a handy container provided to store the toy in. This Brain Flakes toy is the perfect toy for every 4 year old girl or boy.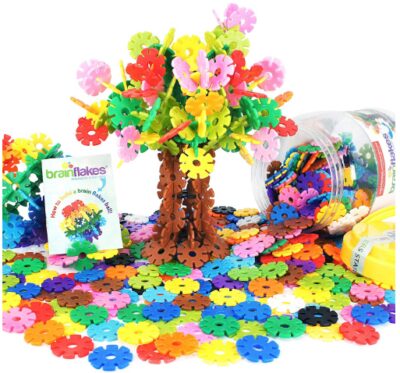 2. Design & Drill Activity Center
If you are looking for the perfect 4 year old boy educational toys then you should look no further than this Educational Insights Design and Drill Activity Center, as it will keep all young kids occupied for hours. The set includes 120 plastic bolts, a reversible power drill, screwdriver, wrench, 2 drill bits and 10 activity cards so is perfect for allowing kids to be creative, while developing their motor skills. The chunky bolts are ideal for little hands to hold and the bright colors allow kids to design exciting works of art. This is a fantastic toy that has endless benefits.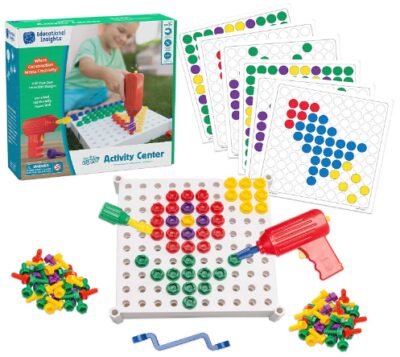 3. LeapFrog Tablet
This LeapFrog Scribble and Write Tablet is the best of the electronic educational toys for 4 year olds as it encourages kids to learn how to write correctly. With 2 different learning levels this great toy will allow kids to progress from scribbling to correctly forming all letters and numbers from 1 to 10. The stylus is easy to hold and can be used by either right or left handed kids, so this toy really is perfect for everyone. As this toy is electronic it will give great verbal encouragement to kids as they complete each letter so is great for motivating kids. This is the perfect toy for teaching kids how to write.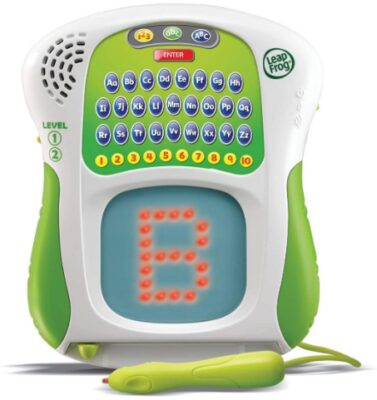 4. Melissa & Doug See and Spell Learning Toy
For a reliable spelling toy that really works you should consider this Melissa and Doug See and Spell Learning Toy. This lovely wooden puzzle toy encourages kids to read and spell different 3 and 4 letter words, using the colorful letters provided. As one of the top 4 year old educational toys this will allow kids to develop their literacy skills while they have fun. once finished with the letters and words can be stored in the lovely wooden box provided. This is the perfect spelling toy that can be shared with friends.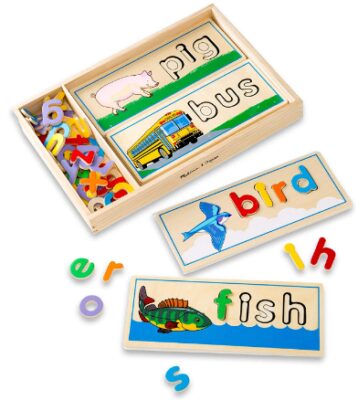 5. Puzzle Globe
Encourage your kids interest in geography and learning with this amazing Learning Resources Puzzle Globe. Kids will love this colorful 3D globe and they will enjoy matching the 6 different continent pieces to the correct part of the globe and labeling each continent with the 6 continent labels. The pieces of this globe puzzle are perfect for little hands to hold, so young kids will love completing this puzzle over and over again. This is one of the top educational toys for 4 year olds that will allow the development of fine motor skills while allowing kids to learn in a fun environment.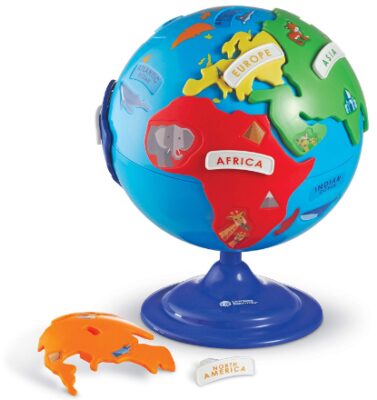 6. Educational Insights Board game
There is a great range of amazon educational toys for parents to choose from when trying to find the ideal toy for their kids but the best of this range is the Educational Insights The Sneaky Snacky Squirrel Game. Kids will love sharing this fun and exciting game with friends while each player learns about colors. The game has a friendly appeal with a cute squirrel character that kids will adore as they try to be the first player to collect all 5 acorns of the correct color in their log. This is an easy to play game that all kids will love playing.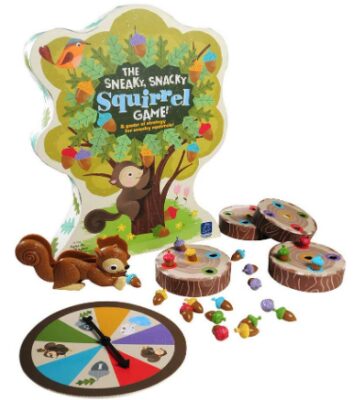 7.  Mini Muffin Match Up Counting Toy
When searching for small educational toys that are perfect for taking out and about you should take a look at this exciting Learning Resources Toy. Kids will love practicing and improving their math skills and color recognition using this great muffin tray set with dice and color and number cards. There are 60 mini muffin counters of various colors included in the set, which are perfect for helping kids learn to count. This is a great toy to encourage learning through play that every young kid will enjoy playing.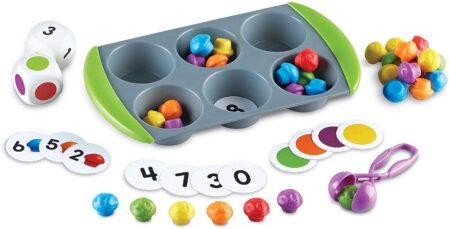 8. TEMI Dinosaur Toy
All kids enjoy playing with dinosaurs so there is no better toy to choose for them than this great toy figure with Activity Play Mat Set. The large realistic model dinosaurs make this one of the best educational toys for 4 year old boy and girls that will occupy them for hours while they enjoy role playing. There are 9 dinosaur models included in the set, which have been hand painted so show incredible detail. The dinosaur activity mat is high quality so will be durable through all young kids play. Parents will love that this set comes with a handy storage box for when the set is not in use. This is the perfect toy for every young dinosaur fan.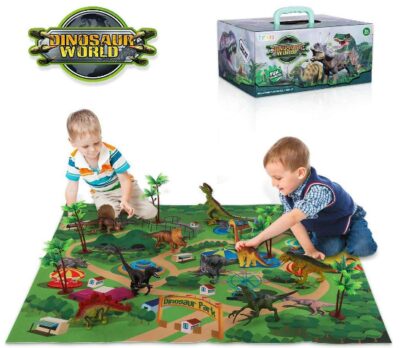 9. Microscope
For all science loving kids this Educational Insights GeoSafari My First Microscope is the ideal educational toy for preschoolers. This microscope is easy for young kids to use with the extra large eye pieces and large focusing knob so is great for enabling kids who love investigating objects and exploring their environment. Kids can use this great microscope to magnify objects 8x showing them objects in detail up close. There is even a LED light to provide more detailed viewing. This is the perfect toy for introducing kids to science through play that you can be sure all kids will enjoy.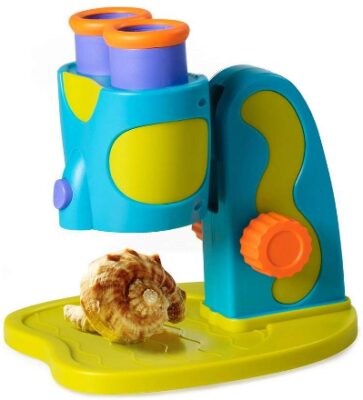 10. Coogam Tetris Puzzle
If you are looking for a fantastic puzzle toy that will keep young kids occupied for hours then this Coogam Wooden Tetris Puzzle is the ideal toy. This version of the popular game is better than the screen version and also provides kids with time away from the screen. The brightly colored geometric shapes can be made into exciting pictures such as; robots, fish and pyramids or they can be fitted together to form the ultimate shape puzzle. This toy is great for teaching kids about colors and shapes and they will enjoy completing this exciting puzzle over and over again.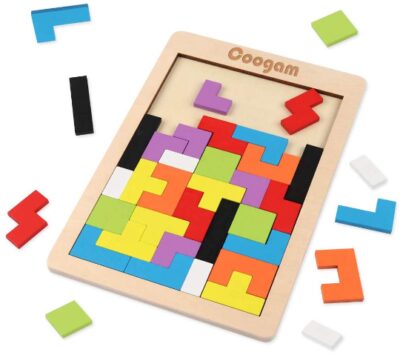 11. VTech Write & Learn Toy
There is a great range of VTech educational toys to choose from and this VTech Write and Learn Creative Center will not disappoint. This is the ideal toy for helping to teach kids to write and form their letters correctly by using the magnetic drawing board and stylus provided. With this great toy kids can also learn to draw 26 different objects by beginning with simple lines and progressing through to more difficult shapes. For added excitement there are 2 magnetic stamps and 8 stencils included to encourage doodling and this fantastic machine will play music while kids are drawing for creative inspiration.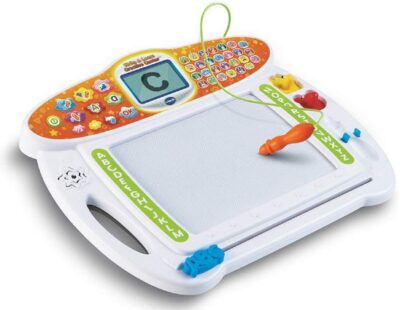 12. ETI Toys: Building Blocks Set
Kids love toys that allow them to build and be creative so they will definitely enjoy this ETI Toys Construction Engineering Building Blocks set. This great STEM toy allows kids to build 12 different but exciting toy designs using the ebook included in each set, or alternatively they can use their imagination to create new designs. From playing with this toy kids will develop their motor skills and hand eye coordination making this the perfect development toy. Kids will enjoy sharing their building blocks with friends and learning how to work as a team to create bigger and better designs. A great toy that parents will also love as the blocks can be quickly washed clean and tidied away in their great storage box.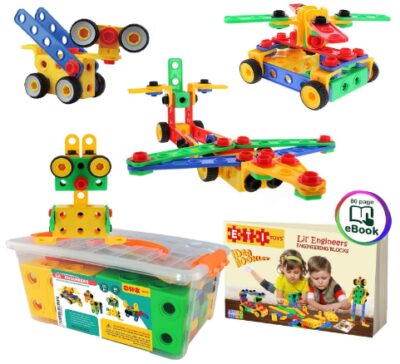 13. Monkey Math Game
If you are looking for a toy to help kids learn to count then this CoolToys Monkey Balance Cool Math Game is the perfect choice. It is quick and simple to set up and can be played with straight from the box for convenience. The 65 piece set includes a monkey scale with 2 balance pans 19 monkeys, the numbers 1 to 10 and 30 double sided cards. Kids will love the appealing monkey character and will enjoy learning math using this fantastic toy. This Monkey Balance Toy is the ideal counting toy for all young kids that will encourage a love of numbers.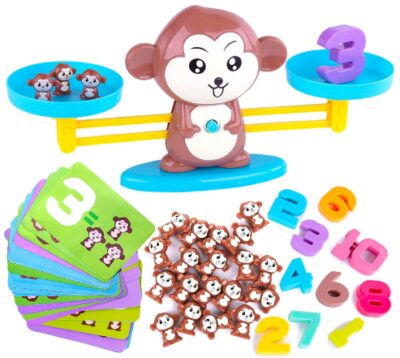 14. Wooden Animal Jigsaw Puzzle
When looking for an exciting educational puzzle toy that will encourage play time away from any screens then this LiKee Wooden Pattern Blocks Animal Jigsaw Puzzle is a great choice. There are many different kids toys educational related that will encourage creativity and fine motor skills but this one also offers color and shape recognition making it suitable for younger kids. There are 36 brightly colored wooden shapes included in the set that can be used to create different drawing models of the 60 pattern cards. Kids will enjoy playing with this puzzle alone but it is also perfect for spending quality family time together.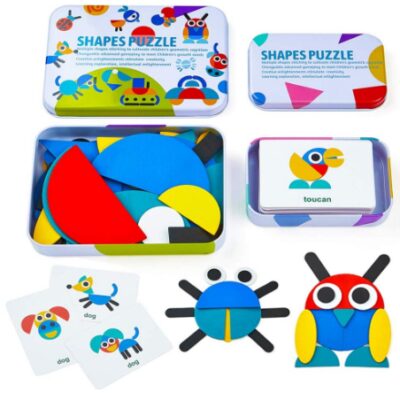 15. VTech Activity Desk
This is another great educational toy by VTech that all kids will love playing with. This VTech Touch and Learn Activity Desk Deluxe is one of the best educational toys for 4 year old girls and boys that will grow with them as they develop. There are 5 exciting activity cards included in the set for kids to explore and there is the option of purchasing addition educational activities that all follow the curriculum. With this great toy there are endless learning opportunities to be had when playing with this toy. For additional excitement the desk also turns into a chalk board and easel for more play options. Kids will get so much enjoyment from this fantastic VTech Activity Desk.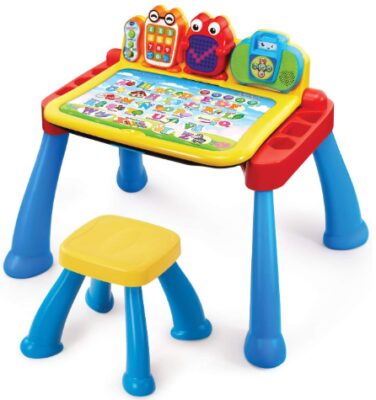 16. Alphabet Wall Chart
If you are looking for a great education toy that does not take up much space then this Just Smarty Electronic Interactive Alphabet Wall Chart is the perfect toy. Kids will love that they can play with this toy as and when they want to and that there is not tiding away afterwards. Parents will also love that this toy is mess free and that it automatically turns off when not in use. Using this great activity chart kids can learn the alphabet and numbers in a fun and exciting way that will help develop their counting and literacy skills. For additional fun the chart also plays popular kids for kids to sing along to. A lovely toy that both parents and kids will enjoy.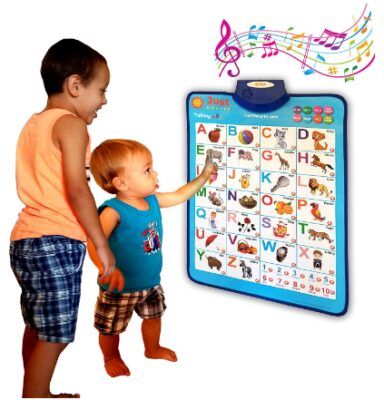 17. BettRoom Geometric Sorte
This BettRoom Wooden Toddler Geometric Stack Toy is the ideal activity for teaching young kids shapes and colors and it is also the perfect toy for taking travelling. The set include 20 wooden shapes, each one brightly colored and able to be stacked on the wooden stand included. For safety the blocks are non-toxic and have been smoothed so are suitable for small hands to play with. This is the perfect toy for developing motor skills and hand eye coordination, while also providing an entertaining toy that preschool kids will enjoy. Kids will love playing with this simple but great toy.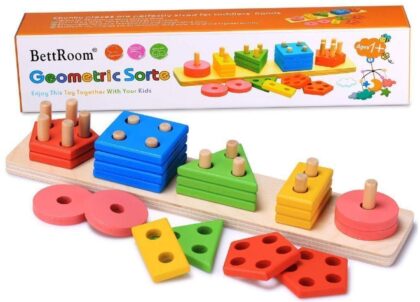 18. Aqua Drawing Mat
If you are looking for a great drawing toy that can be shared with friends then this Free To Fly Large Aqua Drawing Mat is the perfect choice. The set comes with everything needed for hours of drawing fun as it includes a large dinosaur drawing mat that is water resistant and high quality, along with 4 magic water pens and drawing templates and molds. Once finished with the mat will dry and the drawing will disappear, allowing the mat to be re-used over and over again. In ideal temperatures the mat with dry in a little as 3 minutes so there is endless fun for kids to have. Parents will love that this mat uses no inks or dyes so there are no unsafe materials for kids to come into contact with. This is perfect mat for indoor and outside use that can be easily taken out and about travelling.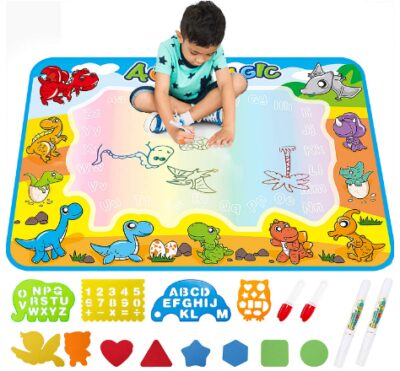 19. Head and Tails Educational Toy Puzzle
The perfect toy to introduce kids to the world of jigsaw puzzles is this great The Learning Journey My First Match It Puzzles. This exciting animal game is ideal for young kids as it involves matching the head of each animal to the correct tail piece for each puzzle. There are 15 puzzles included in the set for kids to work through. The puzzles are self-correcting as only the correct head piece will fit with the appropriate tail piece to encourage kids learning. This is a lovely puzzle game that will introduce kids to different animals and the brightly colored pictures will be appealing to kids. This is a great toy for improving kids focus and increasing their confidence.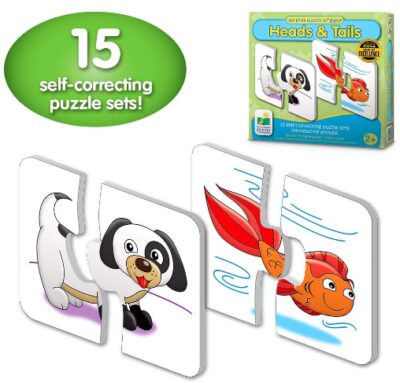 20. LINCOLN LOG Set
Kids who love to build will enjoy this Lincoln Logs Construction Education Toy that provides everything needed to create a wonderful log cabin. The maple wood pieces have been produced to a high quality and each one has a lovely colored finish. The set includes 111 wooden pieces and a great instruction manual with exciting building ideas to provide hours of building fun. Once finished with the pieces can be stored in the great tin provided to stop the wooden pieces going missing. This is the perfect toy to play with kids that will provide quality family time together.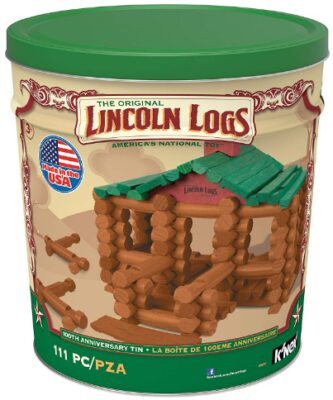 21.  Marble Run Set
Resolve kids boredom with this amazing TEMI Marble Run Super Set that will provide hours of entertainment for kids. This 176 piece set enable kids to build a variety of fantastic marble mazes and models that they will enjoy playing with. There are endless creations for kids to design using all the different pieces in this great set. The toy is easy to set up so is ideal for young kids to play with. Parents will love getting involved with their kids building providing the perfect opportunity to spend quality family time together without the interruption of screens. This is the perfect toy for all kids that will encourage imaginative play and develop their design skills.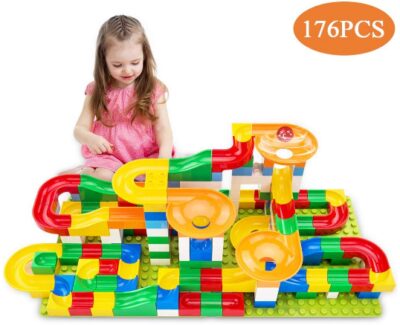 22. PJ Masks Electronic Reader Toy
This is an essential reading toy for all PJ Masks fans as this PJ Mask Electronic Reader comes with 8 exciting stories based on this popular kids television series. The electronic reader will read each book aloud with exciting sound effects added to capture the attention of young kids. This is the perfect educational toy for encouraging independent reading as kids will love to hear these adventure stories repeatedly. This is the ideal toy for increasing the confidence of all kids reading skills that all boys and girls will love using.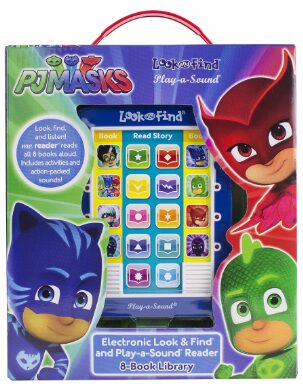 Best Overall Pick
Our best overall pick is this Educational Insights Design and Drill Activity Center as it encourages young boys and girls to create exciting picture models while also developing their fine motor skills and hand eye coordination. The set includes 120 colorful bolts that are perfect for small hands to hold, along with a reversible power drill, 2 drill bits, screwdriver and wrench that allows kids to create pictures on each of the 10 activity cards provided. Kids will love using these exciting tools to create new picture designs.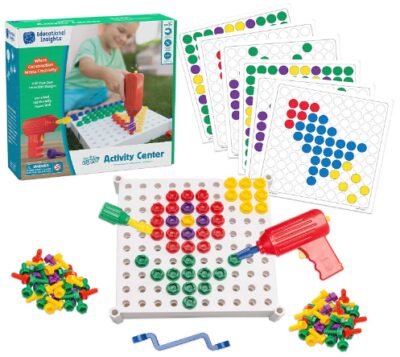 Best Budget Buy
The Free To Fly Large Aqua Drawing Mat is our best budget buy as it is a great set that comes complete with everything kids need for hours of fun. This set is reusable so kids can draw and doodle over and over again and they will love sharing their dinosaur drawing mat with their friends. There are 4 magic water pens included along with various stencils and molds for the ultimate drawing fun. Parents will love that this set is non-toxic and only uses water for all drawings making it a safe and mess free toy for kids to play with.