Are you looking for a new outdoor playhouse for your children to enjoy? Here, you will find our reviews of some of the best playhouses for kids of all ages to play in outdoors. There's a range of different styles and each comes with its own unique features. Kids of all ages love playing in these playhouses and they can be used for a variety of purposes. Whether they are role playing at having their own restaurant or store, or simply want a den to relax and play in, a playhouse is ideal for all occasions!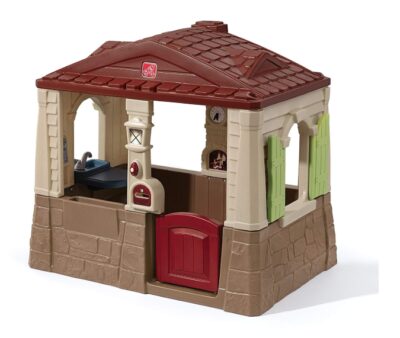 Considerations When Buying a Playhouse for Kids
There are a few things to consider when choosing between the different models available. Here are some of the main things to keep in mind:
Material – Playhouses can be made from different types of material. Some are wooden, others are plastic and some take the form of pop-up tents. Each has it's own price point, and each offers different advantages and drawbacks compared to the others. Plastic playhouses are the most common, so that's mainly what we have focused on here. Perhaps also think about the colors – some parents prefer neutral colored toys to blend in with the landscape rather than something which stands out.
Size – Depending on the age and size of your child and the space available in the yard, this will influence which playhouse to go for. Make sure they have enough space to play comfortably inside, perhaps choosing a larger model if they will often be playing with friends or siblings.
Features – You might want a playhouse with shutters on the windows, a real opening door, or fun extras such as a mailbox or a built-in kitchen. Think about what is important to your child and check your chosen playhouse has all the features they need.
There are more outdoor toy options and outdoor play equipment to see at StarWalkKids too.
Best Outdoor Playhouse for Kids
Now we know what to look for in a great playhouse, it's time to review some of the different options available. With almost 15 to choose from, you'll be spoiled for choice!
1. Neat and Tidy Cottage Playhouse
Step2 offer some great kids outdoor playhouse and this cottage one is simply adorable! It comes with functioning shutters on one of the windows as well as a swinging door. There are other windows on each side of the playhouse to ensure kids are always within view when they're playing. The house also comes with its own mailbox and even a flower box which can be filled with real or fake flowers.
Inside the playhouse, you can find a fireplace, a pretend phone, clock and a kitchen window, with a table and chair on the inside, a grill on the outside, and a sink in the middle. The maximum weight on the seat is 35 pounds, so the playhouse can be used for many years. The house also has a functioning doorbell, which requires batteries. So, this is a great toy for role playing and is suitable for toddlers around 18 months and up.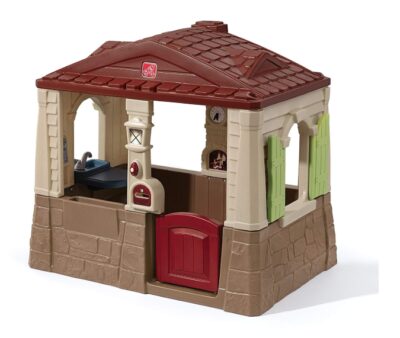 2. Giant Tent Playhouse
Are you looking for a toddler playhouse which can be used indoors or outdoors? The pop up tent is surprisingly tough, with a waterproof floor and strong poles. The tent is a great size, perfect for a couple of young kids to play together. It's 55 inches tall and the surface is around 47 inches squared. The playhouse is easy to set up and pack away, so it doesn't have to be left up permanently if space is limited. It also comes with a storage bag with zipper and handles to make transporting and storing the tent easier. The play tent is great for filling with ball pit balls to make a ball pit in your own home!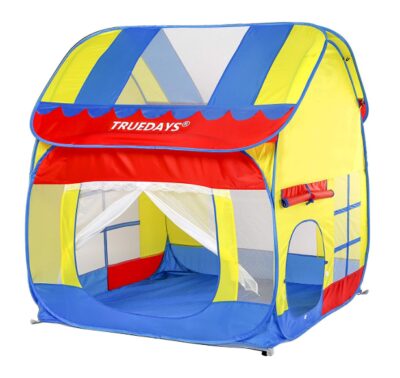 3. Kitchen and Grill Playset
This toddlers play house takes the shape of a kitchen, and comes with over 100 accessory pieces included. Kids will have hours and hours of fun role playing as a chef, and will love to make delicious dishes for their friends and family! The kitchen has everything kids need to make a feast – a stove top, grill, microwave, refrigerator, storage space and a dining area. It even comes with a checked floor. There's also a sink for kids to clean off their dishes when they're done. The stove plays realistic sounds and lights up when pots are placed on it, which really adds to the fun. Some of the fun accessories included are condiment bottles, pepper grinder, colander, coffee pot, oven mitt and full sets of place settings.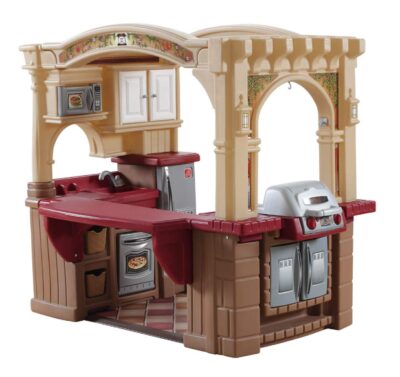 4. Step2 All Around Playhouse with Canopy

This outside playhouse is ideal for use in the summer, as it comes with a canopy to keep kids protected from the sun. It has wide open sides to ensure supervising kids is easier than ever. It also has swing doors for easy access. No matter what your kid wants to do, it's possible with this set! It has a sand and water table as well as a grill and a service area. The kitchen area is complete with a sink for cleaning up the used dishes! There are many accessories included such as a water tower and a shovel for the sand. Play food accessories are also included, such as food pieces and cups. This is an excellent playhouse for 4 year old girls and boys, and they will have hours of fun with it.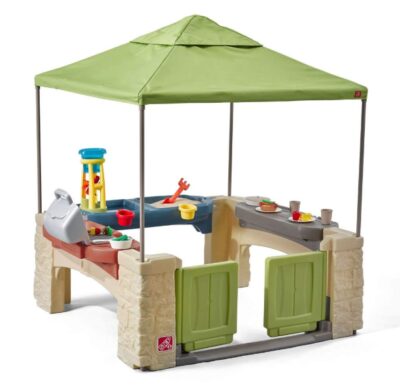 5.

Timberlake Kid's Playhouse
If you're looking for a children wooden playhouse, this one from Backyard Discovery is a great pick. It looks stunning, and won't look out of place in your yard. It's made from cedar wood, and has large windows, the front ones also feature a white frame. The half front door allows easy access, and there are also flower pots on the front of the house. Inside the playhouse you'll find a cordless toy phone as well as a play stove and sink for kids to open their own restaurant! Parents will love how easy this is to build – it can be assembled in less than an hour!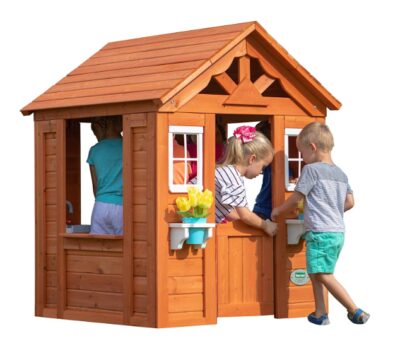 6. Contemporary Tan Playhouse by Little Tikes
Little Tikes make some great outdoor playhouses, such as this classic cottage. It comes in a choice of two colors – either tan or red. The playhouse is equipped with two functioning doors as well as 2 windows with shutters, mail slots, flag holders and there's even a sign with the house number. The playhouse is lightweight meaning it can easily be moved around if necessary. There is nothing inside this house so it is easy to use for whatever your child wishes. Assembly is easy, taking less than 30 minutes.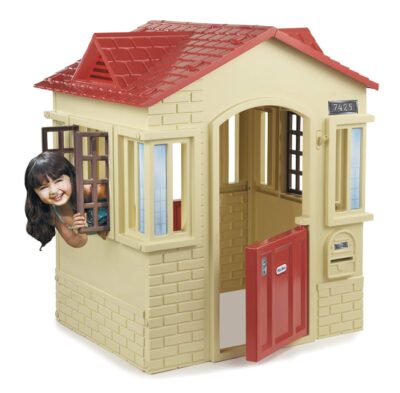 7. Pirate Boat Playhouse
Many kids love pirate themes, which is why this outdoor playhouse for kids is so much fun! It is weather and fade-resistant for outdoor use in all seasons, yet also small enough to be used in a playroom if preferred. Kids will love the pirate details such as the skull and crossbones flag, anchor, parrot and of course the moving steering wheel on the upper deck. Kids will love to observe their surroundings from the upper deck, or hide out in the cabin below. The ship is sized just right for kids up to the age of 6 years old. It's ideal for up to 2 kids to play together, making it perfect for playdates or for siblings to share.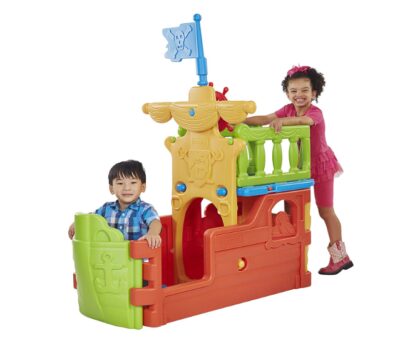 8. Little Tikes Build a House
Little Tikes offer some great plastic playhouses. This unique one allows kids to build and customize their house as they wish! Parents build the frame of the house and put the roof on it, whilst kids can use the included toy tools to assemble the 25 colorful panels wherever they want to place them. They will have so much fun using the drill and screwdriver to make the house their own! It pieces can be changed around whenever your child fancies something new. Of course, they can also have loads of fun playing inside the house once it has been built. It's empty inside so you can add a kitchen, a sand table or anything else your child wishes to have inside their house. As well as being loads of fun, this house is also ideal for improving motor skills. This is a good playhouse for 5 year old and over – younger toddlers might struggle with the tools.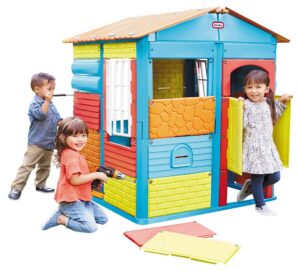 9. Climb and Slide Clubhouse
We've already looked at some fun toddler outdoor playhouses from Step2, but this one is excellent because it also comes with a slide! Little kids will love to crawl in the spaces below the house, or climb up to look out from the elevated playhouse area. The steps to reach the top are very easy to climb, and there are handrails to help at the top. There's a steering wheel inside the clubhouse and windows to look out. The slide is small enough to be safe for toddlers, and the end is raised off the ground for easier landing. Several youngsters can play together at a time here, making it ideal for large families, birthday parties or simply a playdate with some best friends!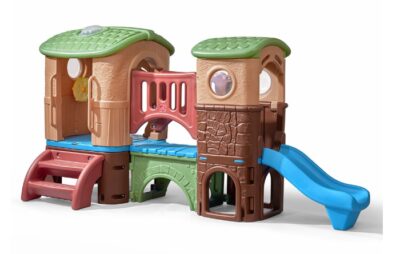 10. Pink Princess Cottage
Are you looking for a girl outdoor playhouse? This pink and purple cottage is simply perfect! Made by top manufacturer Little Tikes, parents can rest assured this playhouse is top quality. Girls will adore playing in it, and the inside is unfurnished for kids to use it as they please. There are windows with functional shutters, two doors, a mail slot and even a flag holder. Two kids can play together in this house, and it is suitable for those up to 8 years old.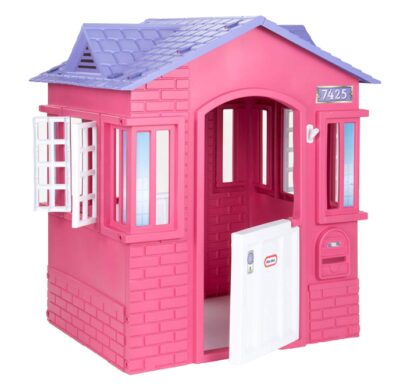 11. Wonderball Fun House by Step2
This kids outdoor plastic playhouse comes with 20 play balls as well as fun ways to play with them! By throwing the balls onto the roof, kids can watch as they tumble down the tubes on the sides and into the tray below. Inside the house, kids will find mazes to push the balls through to further entertain themselves. The playhouse has nice details to make it more realistic for kids, including a Dutch door, mailbox, house number and molded fence around the house. You can choose between a green roof and a red one.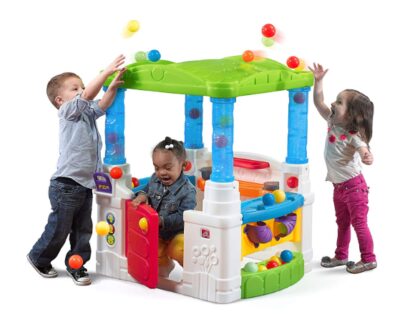 12. Cottage and Grill Playhouse
This outdoor kids playhouse is sure to be loved by little girls everywhere. It has a Dutch door and wide open windows, to ensure mom and dad can always see what their little one is up to. There's a pass-through mail slot to ensure kids always receive their important documents on time. Unlike some others, this playhouse has a floor, and there are also draining holes to help keep it clean and dry. Inside the house, you'll find all sorts of fun features such as a kitchen area, fire, phone and a clock. Kids will love the detailed finishes on the house, such as the stone detailing on the outside or the 'wooden' interior.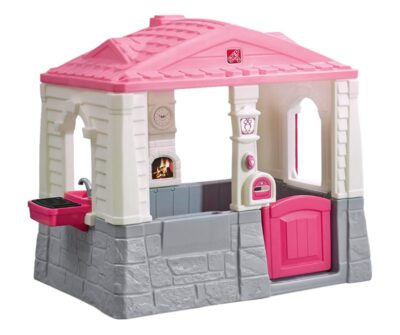 13. Seaside Playhouse by Step2
This childrens outdoor playhouse looks simply adorable and is sure to delight both parents and children alike. The Dutch door allows easy access into the playhouse and the wide open sides allow parents and kids to easily see each other during playtime. There's a small bench on the outside of the house for kiddies to sit and relax on. Inside the house there's a small kitchen area with sink and faucet, and you can also find a push through mailbox. Kids will love the sweet lamps on the front of the house, as well as the crawl-through tunnel space on the side. This playhouse is spacious and large inside, allowing kids plenty of space to play as they wish.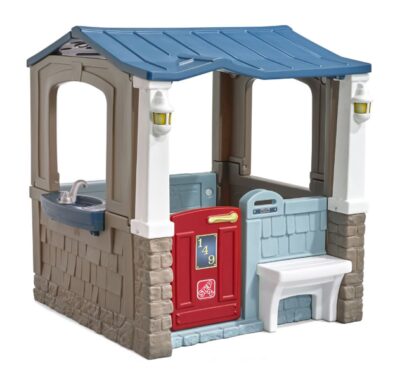 14. Home and Garden Deluxe Playhouse
This outdoor plastic playhouse has loads of fun activities for kids to role play at having their very own home! There's a white picket fence complete with a mailbox, a kitchen area with stove and sink as well as a sand and water table outside the house. The house also features a workbench for kids to do their important DIY jobs around the house! This playhouse is a good size for a few young children to play together at the same time, particularly as some can play outside of the house. If buying for young toddlers, this is the ideal playhouse for 1 year old and over.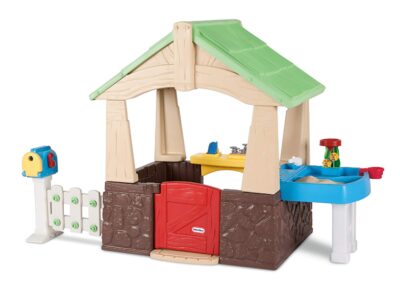 Best Overall Pick
Now we have looked at loads of different options, it's time to choose which is the best playhouse. We love the Kitchen and Grill playset, found at #3 on our list. It is excellent for role playing and allows kids to really use their imagination. The range of accessories included means kids can have hours of fun playing with this great toy.


Best Budget Buy
If you are looking for cheaper childs play houses, this large tent is the ideal choice. It's easy to set up and take down and the size means you can still set up a toy kitchen or put a small table and chair inside. It's perfect for parents on a budget and will still offer your child years of fun!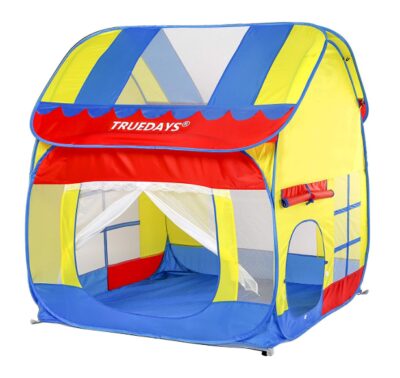 What to Use for Outdoor Playhouse Floor?
Some playhouses come with flooring, for example the Step2 Cottage and Grill Playhouse above. For a wooden playhouse, consider using old pallets to make a floor. You can also cover the surface with a large rug or cheap carpet, although these can quickly get dirty with muddy footprints. Vinyl flooring is also a good idea, it's cheap and easy to clean. Sometimes leaving the floor uncovered is ideal as it is much easier to maintain, especially if you choose a playhouse with a built-in sand tray.
How to Provide Electric Lights for a Playhouse?
The easiest way to add lighting to a playhouse is by using battery operated push lamps, or string lighting. This is a great way to add a personal touch to the playhouse without breaking the bank. It's also possible to hard-wire in some lights but this takes more skill and effort, and will also cost more to do.
How to Repair Cracked Outdoor Plastic Roof in Childrens Playhouse?
There are a few ways to repair damage to your child's playhouse, and the method to choose can depend on how extensive the damage is. It's possible to melt it using a soldering iron and attach it back together. Scraps of plastic can also be used for patching up using a soldering iron. You can also use a special, strong plastic glue, which is ideal if a piece has snapped off and needs reattached. Finally, acetone can be used, although this requires a little more effort. Covering the area with strong, waterproof tape can be a quick fix until something more permanent can be achieved.