Are you looking for the latest kids rocking horses? You have come to the right place because we have compiled this bumper guide to the most interesting and fun horse rockers available on the market in 2022. These types of rocking horses toys can make a fun and playful addition to any toy collection and there are now so many on the market that you are sure to find the perfect one to suit your child. Perhaps you are looking for a gift for the special kid in your life, whether this is your own child or a niece, nephew, or friend's little one.
In this article, you will find considerations to think about before making your purchase, a roundup of some of the best horse toys for kids available in 2022, our overall pick for best buy, and our choice for the best budget buy. As parents, we know how difficult it can be to make the right choice for a large item like a rocking horse, so let us take some of the stress out of your shopping with our helpful guide. Read on for all the information and tips you need!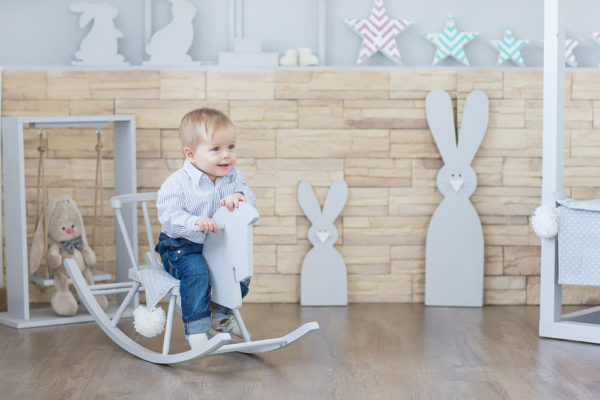 Considerations Choosing Rocking Horses for Kids
We know that buying any large toy or accessory for your child can be a stressful experience. With so much choice available, it can be hard to know where to start! We always recommend taking a bit of time to think about some key factors that can narrow down the selection. By doing this, you are sure to make the right choice for your family and home.
Age: most of the horses in our guide have recommended age ranges. These can vary along with the upper and lower weight limit recommendations, so it is a good idea to check out the age and weight limit suggestions for each of the products on your shortlist. You may also want to think about the height of the child to ensure they can easily get on and off the toy.
Indoors/outdoors: most children's rocking horses are designed for indoor use and can add fun to any play room, nursery, or kids' bedroom. However, if you are looking for a toy that can be used both indoors and outdoors, you can find that in this guide as well.
Safety: of course the number one concern for any parent is that a toy or children's accessory will be safe. Take a look at the safety testing information on the product listing, but also make sure to check for things like detachable parts that could pose a choking risk to young children. With toddler rocking horses, you will want to look for a sturdy base to keep little ones safe while they play.
Budget: a beautiful horse rocker does not have to break the bank! In our guide, you will find options to suit all budgets. Deciding on your preferred top budget before you shop is a good way to keep costs down as well as refining the selection available to you. We will also select our best budget buy at the end of our guide to make your shopping experience even easier.
Now that we have looked at some of the key considerations before you buy, we will present our top ten choices for best rocking horses toys for kids.
10 Best Kids Rocking Horses
1. Legacy Grow With Me Pony
The Rockin' Rider Legacy Grow-with-Me Pony has an innovative design that grows with your little one. This is a toy that is sure to last! The sweet pony starts as a bouncer toy, grows to a rocker, and progresses to a spring horse. Suitable for babies from nine months to preschool age, this would be a wonderful investment for your playroom or nursery. Not only is this soft plush pony absolutely adorable, it is an incredibly engaging toy horse thanks to the included sound feature. When your little one presses the ears, the horse will 'speak' six talking phrases, 'sing' an exclusive 'I'm a Little Pony' song, and make fun sound effects. The horse has a synchronized mouth that moves as it sings and is sure to delight babies and toddlers.
The Rockin' Rider features a detailed colourful saddle and removable safety seat for added security and a safe ride for your little one. Parents can easily convert the toy from bouncer to rocker without needing tools. The sturdy plastic base adds extra security when the rocker is in use. Kids will adore the soft and huggable plush pony, and it is sure to remain a treasured friend as they grow! This would be a great choice if you are shopping for babies or toddlers.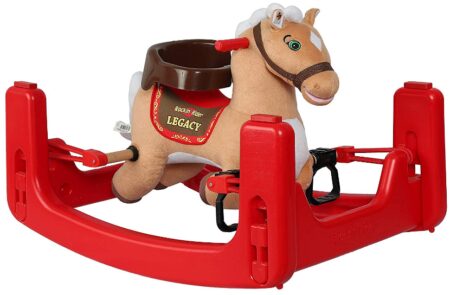 2. Charger Ride On 2 in 1
This 2 in 1 pony will offer hours of fun to any little kid! Easily converting from a rocking horse toy to a roller with no need for tools, it gives parents a break as children explore its fun combined rolling and rocking base. Simply push the button to release the rocker base and start wheeling around the home! When your child is done, it is easy to snap the base back on to convert the pony back into a rocker.
The pony is made from beautifully soft plush fabric that your child will love stroking and cuddling. Parents can relax knowing their toddler is enjoying a safe and comfortable ride. They will love discovering the sound effects, words, and song that Charger voices when they squeeze his ear! The exclusive 'I'm a Little Pony' song and six fun talking phrases are sure to delight. Charger features easy grip handles and non slip foot rests for added safety and comfort. Kids are sure to love its realistic mane and tail and sweet embroidered features. And parents will love the volume control and easy conversion from rocker to roller! This toy is recommended for children aged 12 months to three years.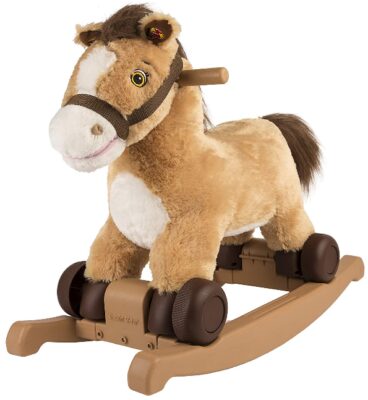 3. Lacey Talking Spring Plush Horse
This adorable pink and purple pony is a little girl's dream come true! The pony can speak six different phrases and its mouth even moves as it does so. The stirrups can be adjusted to three different positions, so this pony will grow with your child as they get taller. The frame is made from very durable steel so you can be sure it will last for many years of play. Kids will have hours of fun, and a great workout, as they put this pony through its paces!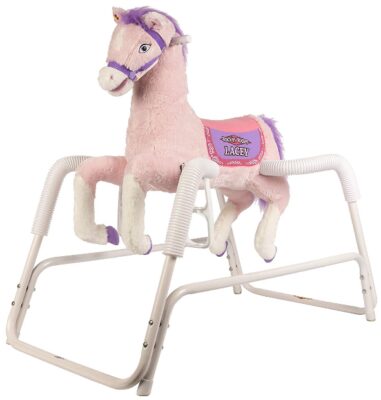 4. Haley Happy Trails Horse 
If it is a wooden rocking horse for toddlers you are looking for, then you must check out this gorgeous Rocking Haley Horse Ride On from Happy Trails. This beautiful and traditional style horse toy is mounted on sturdy wooden rockers and is designed for toddlers and preschoolers aged approximately 2-3 years old. Rocking Haley has been hand crafted and features a soft plush outer with a wooden core. Little kids will be delighted with its friendly, embroidered details and realistic mane and tail. Perfect for encouraging imaginative play, this adorable horse will entertain your young cowgirl or cowboy for hours of play.
A wooden horse can make a stunning addition to any play room or nursery and this Happy Trails horse is no exception. Simple in design yet with beautiful attention to detail, it is sure to become a treasured toy for any toddler or preschooler. The realistic saddle and reins add a touch of elegance and the soft plush makes the horse particularly huggable! It is a compact choice at 28.5 inches long and 26.5 inches high, the perfect size for toddlers from around two years of age.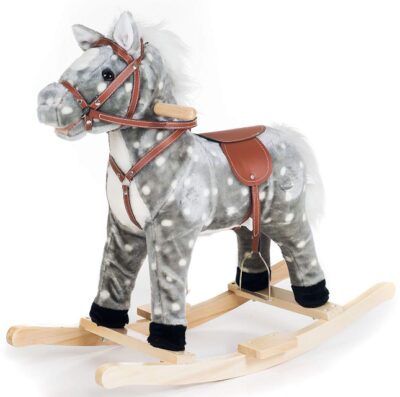 5. Realistic Plush Rocker Horse
A toddler horse makes a great gift, whether it is for a birthday or holiday occasion. Opening up this Plush Horse from Qaba will put a smile on any little one's face! This super toy combines the traditional aesthetic of a wooden rocking kids horse with modern features such as realistic neighing and galloping sounds. The horse is designed for small children aged two years and up and has been designed with optimum safety in mind. The stable and solid metal frame is durable and built to offer sturdiness for even the roughest rides! Weighing only five pounds, its construction can support riders of up to 80 lbs.
The wooden runners are designed to offer a smooth ride even at a galloping speed. Your child is sure to adore the feel of a thrilling horseback adventure, complemented with realistic touches such as a leather look saddle and reins. Kids will love enhancing the experience by pressing the pony's ear and listening to neighing and galloping sounds as they ride! Comfort is a top priority with this rocker – the plush, polyester stuffed body is soft and your little one will not get saddle sore no matter how long they play.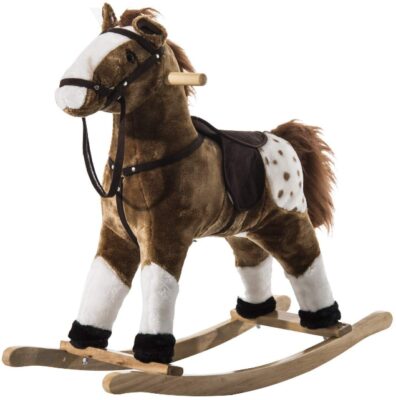 6. Duke Interactive Horse Rocker
Duke from Radio Flyer is a modern rocking play horse packed full of amazing features. With a beautiful and realistic design, this is a rocker that is sure to amaze any young rider. The Duke Interactive Riding Horse is a spring rocker that is designed to be incredibly responsive to your child's motion, whether walking, trotting, or galloping. Your child can have all the fun of a real horse without the responsibility or mess! The three levels of riding – walk, trot, and gallop – will trigger different realistic sounds that enhance the rider's experience. Safety is a top priority and Duke comes with built in safety straps as well as an X frame base to ensure stability. The EZ climb step makes mounting and dismounting a breeze for little kids.
Encouraging imaginative and interactive play, Duke comes with a carrot accessory that children can 'feed' to the horse, triggering realistic eating sounds. Kids are sure to love caring for their very own horse! The mane is made from soft yarn and can be brushed with the included comb accessory. This friendly rocker toy would make a fun and engaging addition to any home and will delight children of any age.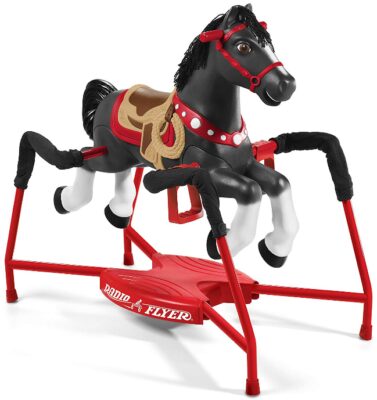 7. Carrot Plush
With this adorable baby rocking horse from Rockin' Rider, even the youngest equestrians can join in the fun! Carrot is a sweet plush friend designed for babies from 12 months to preschoolers up to three years. He is sure to become a firm favorite in the play room with his friendly face and realistic details. The perfect size for little riders, Carrot features a realistic mane and tail, embroidered eyes, easy grip handles, and non slip steps for easy mount and dismount. Carrot can be converted from a rocking fluffy horse to a rolling toy without the need for tools, meaning your child can have double the fun!
This engaging pony toy is sure to amaze your baby or toddler. When Carrot's ear is pressed, he will 'say' six talking phrases and 'sing' an exclusive song to your child. The riding sound effects are sure to add fun to play time as your little one heads out on a horse back adventure! Made from soft, huggable plush, Carrot is a fun and practical cuddly friend that will delight any baby or toddler.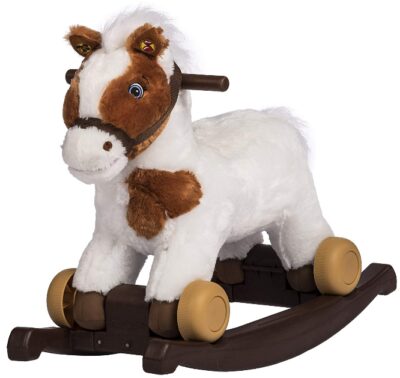 8. White and Grey Toddler Rocker
If it is a childs wooden choice you are looking for, check out this beautiful model from labebe. In a stunning minimalist design, this will make a gorgeous addition to any nursery or play room. This toddler rocking wooden horse has a traditional wooden construction that is built for strength and durability, yet lightweight enough to be easy for young children to push and rock. It is designed to be easy for toddlers to control, using the hand grips to push forwards and backwards. With safety in mind, the lower back rack mounted at the horse's tail keeps little kids in position while they ride.
The beautiful grey and white design is modern and minimalist yet sure to appeal to children. Designed to encourage active, screen free play time, the labebe wooden rocking horse would make a fabulous gift. It can be used by children aged two years up to five years and features an extra large seat to accommodate older kids. On warmer days, your child will adore playing on this rocker outside for an authentic cowgirl or cowboy adventure!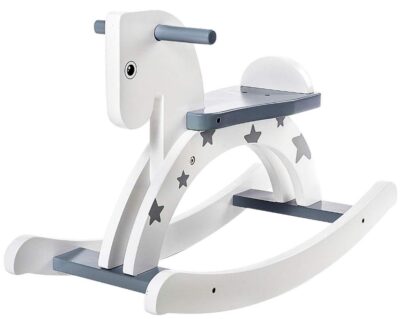 9. Pink Wooden Outdoor Rocker
Looking for horse toys for girls or boys who love pink? You need look no further than this gorgous wooden rocker toy from labebe. Designed for optimum child safety, the horse features a removable wooden guard that surrounds your child as they sit on the toy. With 360 degree protection, the guard keeps little one from falling but will not affect their enjoyment of the rocker. When your child grows, you can simply and easily remove the guard by unscrewing it. In a delightful pink design with painted flower details, this toy is guaranteed to brighten up any play space.
Made from cottonwood and density board, this is a durable toy that is built to last. It is sturdy yet lightweight and easy for little ones to independently rock, helping to build strength and confidence while playing. Hand rails and foot pedals assist children to move the horse back and forth on its sturdy wooden rockers. This rocker toy can be used indoors or outdoors for double the fun. It is sure to become a favorite toy for your little kid!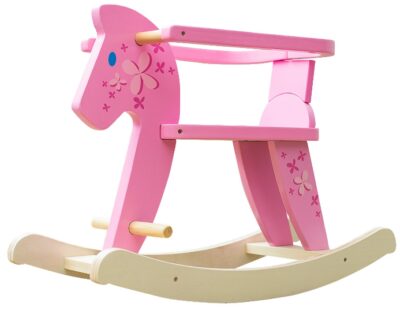 10. Smart Gear Pony Cycle

The final toy in our top ten roundup is the stunning interactive Pony Cycle from Smart Gear. This is a deluxe toy that would make an incredible and truly special gift for any child. A riding toy that moves forward in a galloping motion, it provides an experience that is so close to being on a real pony. Suitable for both indoor and outdoor play, the Pony Cycle does not require batteries as it is kid-powered. This toy allows kids to ride wherever they want and even features left and right steering. It is a twist on the classic rocking horse toy, with wheels that roll as the child propels forwards.
The Pony Cycle comes in two sizes: small, which is suitable for kids aged three to five years, and medium, which is for children from five to nine years. The fun is endless on this innovatively designed toy. Your child will love its soft plush outer and friendly face. When the rider gently bounces in the comfortable saddle, the horse's head and legs move, propelling the toy forwards. A fun and exciting toy that encourages healthy active play!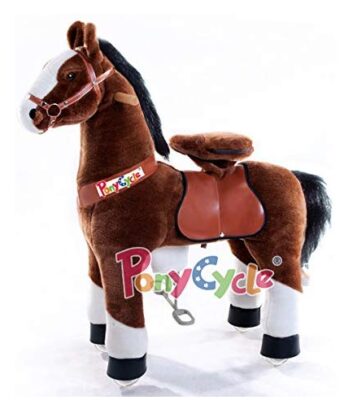 Best budget Horse
If you are on a budget, you do not have to miss out on the shopping experience. Let us present our best budget buy for a rocking horse for toddler. We have selected the white and grey toddler rocker from labebe. This toy features a modern and minimalist design that is child friendly. Its beautiful white and grey painted wood with star details mean it would look at home in any modern nursery or play room. With a traditional wooden rocker construction, it is safe and sturdy so parents can relax and be confident that their child is safe while riding. The lightweight materials mean it is easy for little ones to push back and forwards independently, making for a fun and engaging toy!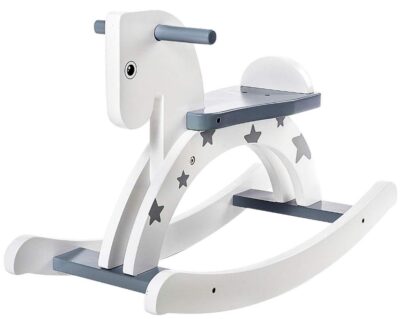 Best overall Horse
Having presented our top ten rockers for kids, we will now select our overall best buy. We have chosen the Pony Cycle from Smart Gear, which is an innovative and engaging toy. This is a truly memorable horse rocker toy that will offer hours of fun play time. Its kid powered design means it does not need any batteries or electricity to operate. It can be used indoors or outdoors and is a gentle and engaging way to encourage healthy and active play with your child. It is suitable for younger kids and older ones alike. Children are sure to adore the pony's soft friendly plush face and realistic features such as the leather look reins and saddle. It is designed to be comfortable to ride as well as safe: for example, the wheels do not roll backwards, so your child can stay in control of the toy at all times while riding. This would be a fantastic investment that is sure to delight any young horse enthusiast!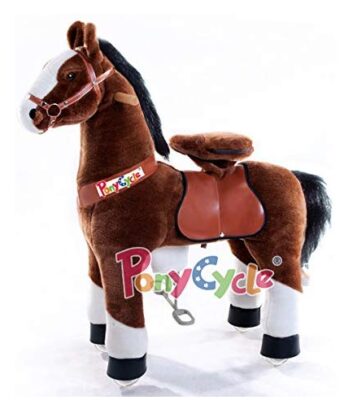 Other Horse Related Article Reviews: