It's summertime again and its time to consider swimming aids for babies! Summer times are great fun family swim party with your kids at the pool or on the beach. However, it is highly essential to ensure the float you purchase for your kids is safe, comfortable and secure while still providing him with the much-needed fun.
If your baby likes it out there in the water, a baby float comes handy to give him early start in the waters while ensuring that you also have fun in the waters with your baby by your side. The floating device lets your child enjoy the pool or the water while minimizing the risk of danger or water hazard.
The market is filled with numerous brands of but the features and safety of these different types and brands vary greatly. This is why you need to make a careful selection to get a product that would provide the needed fun and kids' entertainment while giving you peace of mind that he is safe.
Things to Consider when Choosing a Baby Floating Device
It must come with adequate pool sun protection. Summer pool session makes a great fun time for you and your kids but you must ensure that your child is well protected from the harsh and damaging effects of the sun. A device with sun protection features like roof or canopy ensures your baby skin is adequately protected.
Another factor that makes a great device is the size and space it occupies. Also, a great baby float needs to come in a noninflatable state, could you image the parcel arriving if it wasn't, so detachable and compact shelf design for portability and convenient storage is essential.
The float must also come with safety features. In the end, you want your baby to remain safe while allowing him some fun out there in the waters.
A good float also needs to be cost-effective. The cost varies b depending on the brand and features but it would commonly not be above 30 dollars. Getting a float under this price range saves you some cost knowing that your baby would soon outgrow it and won't probably use it for a long time.
Another very important feature is the material with which it is made. The design material not only needs to be sturdy, it also needs to be lightweight and made with breathable mesh to offer maximum comfort to your baby while afloat without any form of irritation.
We have carefully researched and selected these products based on their wonderful float and safety features, so you can find the best baby pool toys and floating gear for your infant.
11 Floating Devices For Babies
 1. SwimWays Baby Float Sun Canopy
This SwimWays baby spring float sun canopy is structured in a way that makes easy to fold for compact storage, convenience, and easy portability. It features a very comfortable seat made of a soft mesh that remains convenient even when your kid wants to use it for a long period of time.
It comes with safety features like child safety valves, dual air chambers, low center of gravity that ensure your kid remains safe while afloat in the pool. Also, the patented inner spring offers your child the best amount of stability while in the water. The leg holes that come with the soft mesh seat help your child to move the leg freely while floating on top of the water.
The soft mesh of this baby spring float with the detachable sun canopy makes it very suitable for beach summer adventure with your kid. The toys on the float keep your child entertained and make the escapade a bit more fun. The removable sunshade and a play area for keeping the toys keep the child protected and entertained. The price is a little high but the safety features of this float make it worth it.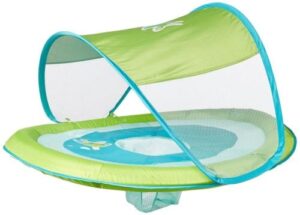 2. Codream Mommy and Kiddie Floats with Removable Sun Canopy
Have fun swimming with your kid with this amazing Codream Mommy and Kiddie Floats Inflatable Fat Baby Pool Floatation Toys with Removable Sun Canopy. The baby float is suitable for kids aged 8 months and above. This float comes with double float ring to hold mommy and kid upright and stable on top of the water.
This dual float gives you the opportunity to focus on your Kiddie instead of striding through water or swimming. The half-tube opening ring is designed to fit majorities of lean moms. It also comes with an inflatable large sized canopy to give your child added sun protection.
The detachable and deflating capacity makes it compact for convenience and easy storage. The float is suitable for both indoor and outdoor usage. The sun canopy can be adjusted front or back while afloat on the waters to give your child maximum sun protection.
It features properly secured drop underpants and two large leg holes that provide the much-needed comfort and stability for your kid. The large leg hole is made to suit fat baby while the comfy airbag feature gives lean kids proper security. Above all, the baby and mum dual float is produced with eco-friendly and non-toxic durable material.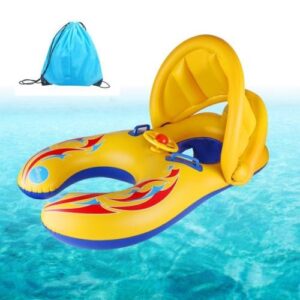 3. Intex My Baby Float Ring
This Intex My float comes in double-ring design which provides optimal safety to your child. If for any reason one of the rigs fails, the alternate ring will still continue to provide your child with the safety required.
This baby swim seat is also very stable when compared to related brands and truly helps to keep your child upright and give him a bit of independence while playing on top of the water. That said, you must never keep an eye away from your child while in the pool or at the beach.
The stability and safety feature makes the float suitable for use on both calm and rough water bodies. The strength of the durable 10-gauge vinyl fabric, used in the production of this less likely to rip under pressure while using the float.
It also comes in a smooth surface that keeps your child comfortable and doesn't cause any form of irritation. The support it offers is al well awesome, thanks to the deep saddle seat style with leg holes that keep your baby secure.
This Float is easy to prepare compared to similar ones. You don't need a pump to inflate it; the mouth is enough to give it sufficient push. Also, deflating it is as cool as a breeze. It comes in a colorfast design that makes cleaning and management easy. This Intex-My Float gives your baby cool-touch making it very suitable and convenient for your summer escapade in the beach or pool. The cost is great too!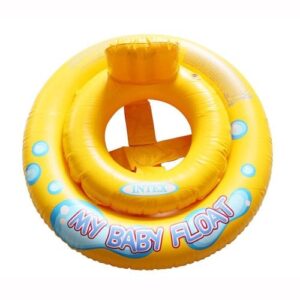 4. Intex Stingray Ride On Infant pool float
Give your baby a nice and fun water introduction with this Stingray float. It makes a great float both for floating in pools and on beaches. It comes with a Canopy sun protection feature for your kids' comfort.
The inflatable handlebar and two air chambers give your child extra safety. It is suitable for kids from 1 to 2 years of age and is capable of accommodating a maximum weight of roughly 25 lbs. Although it says children from 1 to 2 years, parents of kids less than a year and around 7 to 10 months that used them also testify how lovely, cute and supportive this awesome baby floating device is.
The included repair patch comes as a handy help. The little jingle-y toy balls attached to the handlebar make it also nice a bit more entertaining. Your kids will absolutely fall in love with them. The float is also cute and gorgeous looking.
Blowing up is one of the easiest and quickest you'd ever come across. You can easily do this you're your mouth and so no meddling with pumping machine. It is also great to have repair patch included in the pack to offer help in case of any rip emergencies. This is a great baby float and a good value for the price!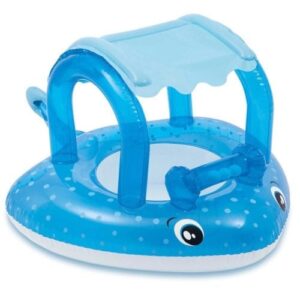 5. Intex Kiddie Float
This Intex Kiddie Float is a highly cost-effective way to offer your baby a lot of fun and entertainment while on vacation. It also makes a great toy float for those summer beach escapade. This fun float is very easy to inflate with the moth but you need a little bit of lung power to get there. The "roof part" of the product comes with two velcro attachments in front to give you chance to manipulate the roof to easily get your baby into and out of the float.
However, your child may learn how to take off the Velcro but that doesn't make it unsafe in any way. It is just a little addition that is meant to increase your baby's entertainment and fun-play while still remaining safe while floating on the water.
The two leg holes at the base of the float offer the baby leg a bit more comfort. The cool float keeps your baby partially shaded from sunlight as it won't completely protect your baby's arms and face but that is dependent on the direction of the sun and your baby's size.
The float lets your baby's buttocks sit very deep into it and this eliminates the possibility of your child crawling out of the float. It is a great value for the price.  It would be much more suitable for babies that are medium sized and may not be as suitable for larger babies or thinner babies.  It may probably fit kids from 6 months to 2 years of age.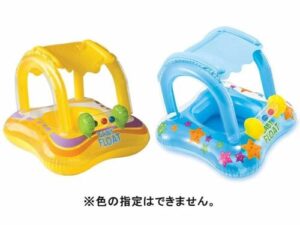 6. My Pool Pal Baby Girls Floating Bathing Suit
This My Pool Pal floating suit is a swimsuit structured to promote buoyancy and stability in water and offer your first-time swimmer the chance of being able to move forward, backward and sideways in the water without restrictions. It offers your child the required balance and support with the help of the tactically placed non-detachable foam inserts.
It is a great learning tool for non-swimmers and meant to help them learn how to swim and be more prepared for organized swim lessons. It helps n your baby's muscle development, helps her coordination while at the same time boosting her confidence and giving her ability to endure.
You should never let your child use this My Pool Pal Flotation Swimsuits without adult supervision. Children who are not yet skilled at balancing in water need hands-on assistance while using this swimsuit.
It is not very suitable for kids who can't yet keep their head up and out of the water while floating on top of the water. Also, it is better suited for a toddler of roughly 4 years who have a basic understanding of swimming skills but who can't keep afloat independently.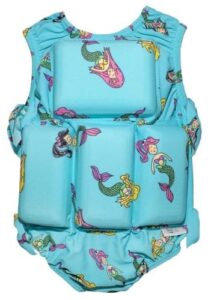 7. Kemuse Inflatable Baby Float Swimming Ring with Sun Canopy
This Kemuse Inflatable float is made in eco-friendly material and durable leak-proof PVC material and Non-toxic printing material to keep your child safe. The large outer flotation ring and two handles structures provide your kid with additional stability.
It is as well buttressed with a safety seat for added support and safety. It is not difficult to inflate and deflate. It is shipped with a storage bag, with easy folds for convenience and compact storage. This makes it a great awesome float to take for swim adventures when you are on vacations.
The detachable structure makes it both suitable for both indoor and outdoor use. This nifty float gives you a safe and fun way to keep your baby entertained while afloat.
The detachable and adjustable canopy gives your child sun protection and offers you the chance to be able to adjust the canopy or take off the canopy as required to keep an eye on your child while floating on top of the waters.
It also features a comfy seat structured with a low center of gravity to boost your child's safety. The two-sided safety holder also adds to the safety of this floating device.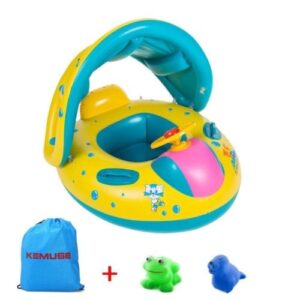 8. ED-Lumos White Plane Inflatable Baby Float
This swim ring for kids is an awesome inflatable baby float and is produced with an eco-friendly, tasteless, non-poisonous material to enhance the safety of your child and environmental safety. It is also highly durable and made with wear/tear-resisting PVC. It comes in a cute and stylish design and contains plane shaped swim ring to provide more fun for your baby.
It is easy to inflate and deflate and comes in a compact design that folds up to the size of a book when not in easy. This excellent feature for a transportation convenience and thus makes a great choice for your vacation swimming escapade with your daughter.
It also makes it great for a pool party or for swimming at the beach during summer months.
This will give you and your child a fin time and entertainment wherever you go. The compact design makes it handy to be taken anywhere you go so that you don't lose out on any of those wonderful swim moment adventures.
It is not meant to be used in the deep sea, rapidly moving waters and sea places. It is a PVC plastic. So, try to avoid contact with the fire, sharp and hard objects. Ensure that your child uses this always with your close supervision and monitoring to remain safe in the waters.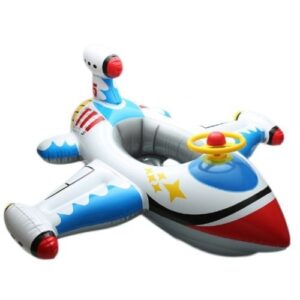 9. Jasonwell Giant Inflatable Flamingo Pool Float
This Jasonwell Giant Inflatable Flamingo offers your child a stylish and fun way to f keep afloat in water during those family pools or beach swim adventures. It is structured to accommodate pressure from adult kids and can hold adults of up to 400 pounds weight.
It is designed with long-lasting, sturdy, thick and soft first-class raft-grade non-phthalates material. It comes in an innovative and original matt finish that gives it a gorgeous and striking look.
It is supper breeze to inflate and deflate with its five times faster inflation and deflation ability. You can inflate it with either hairdryer, aim pump for toys or compressor.
Buying this giant float together with the Jasonwell car powered electric air pump saves you the hassle of having to inflate and tie the float to the roof of your car for those outdoor swim adventure and summer e beach escapades.
You'll absolutely fall in love with this giant flamingo float. The quality is great and the price a fantastic option compared to similar varieties out there.
If is fancifully and beautifully made and if you want a super large inflatable float to fit you and your child for a fun party, you'll find this fanciful flamingo irresistible. It makes a great float for a summer pool party and would be a plus for your summer outdoor swim fun. It comes in beautiful color and design.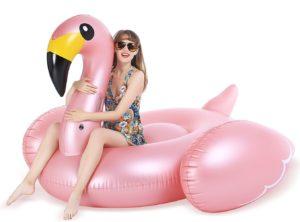 10. Idealplast New Inflatable Baby Swimming Ring
This Idealplast New Inflatable Baby Swimming Ring Safety baby floating device is produced with environmentally friendly PVC material to ensure environmental safety and give you peace of mind. It comes with a broad wing on either side for added fun-play for your kid's optimal water floating entertainment.
The heightening on the front part offer your kid a bit more support and balance to prevent him from trying to get out of it and into the water. It is thus designed with beauty and safety in mind while still ensuring that you and your child have fun moments out there in the waters.
The vest armpit design also boosts support and serve as an added protection for your child's optimal safety to be ensured while out for those fun early swimming days.
This great floating device offers your child the early swim experience he needs. The inflatable ring is easy to inflate and deflate. However, you must follow instructions and ensure that you inflate the rig properly as recommended.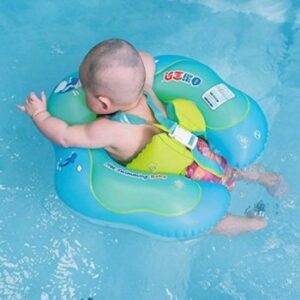 11. O-Toys Pool Floats for Baby Toddlers Inflatable Float
This raft water swimming ring is a set of floating device for children made in different designs including crab and watermelon designs. This O-Toys Pool Floats for Baby Toddlers Inflatable Float makes a great summer holiday fun pool floating device for your kids.  The watermelon design is suitable for infants, babies, and toddlers. It a fantastic option for first-time swimmers and for babies learning to swim.
It educates them on the basic swimming skills while at the sometimes allowing them a fun playtime with their parents while floating on the waters.  It boosts your baby's ability to swim and play in the water while improving your baby's capacity to organize the legs and hands while afloat.
It is a great summer beach holiday bath toy for your little boys and girls. The adorable animal pool float boat is great for kids between 3 to 13 years of age while the cute crab and watermelon ring are meant for children that are aged between 6 months and 3 years.
Give your family a fun summer swim party with these sets of swimming and floating devices stylishly made to captivate your kids' fascination with the fun animal designs while they have fun.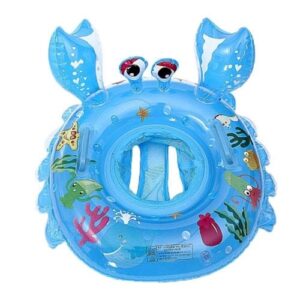 Best Budget Pick
All the baby floating devices we have listed here falls within an acceptable price range for the best device. However, we have chosen the Intex My Baby Floats as the best budget product because of its, unique features, fantastic quality, and amazing price tag. This baby device is designed with optimal kids' safety in mind. It is highly stable and helps your child to remain upright while in the waters.
The stable build makes it suitable for both calm and rough water body. It is made of durable and comfortable material to ensure your kids are safe. Overall, this device makes a good buy and is sure to provide you with more than sufficient value for the price.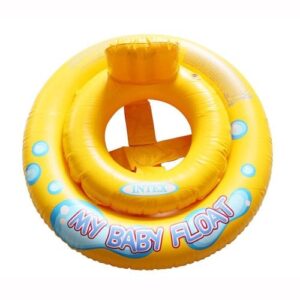 Best Overall Choice
I guess you already know why we have chosen this Jasonwell Giant Inflatable Flamingo Pool Float with Rapid Valves Summer Beach Swimming Pool Party adult and kids floating device as our best choice overall. First of all, it makes an amazing and stylish design allowing you and your child stylish water cruise while having a fun summer party. It is very strong and sturdy enough to accommodate up to 400 pounds of weight. Irrespective of its huge size, it is easy to inflate and deflate which make compact storage possible. Also, the pricing is tolerable compared to similar brands in the market. It is, in fact, an absolutely irresistible fun way to party with your child out in the waters.