Buying good shoes, such as a pair of cool loafers, for a baby boy is not as simple as it seems.  OF course, we want to get them something cute and stylish, but most importantly, we want to get something that is comfortable, practical and good for their growing bodies.  Did you know that a bad pair of shoes can seriously impact the growth of your babies foot for the worse?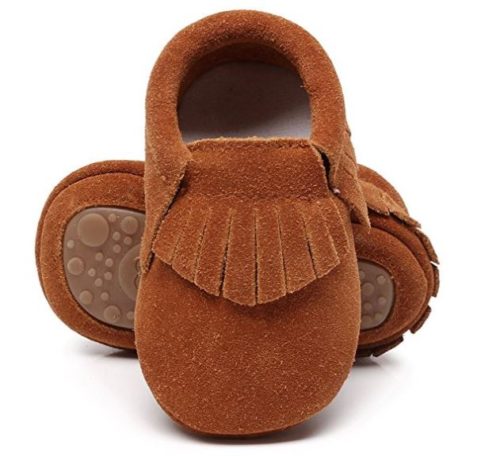 We know that parents are always super busy with their young ones, and your kid probably already has some cool baby sneakers,  so we've put together this handy guide to help you find a pair of great baby loafers for your little boy.
The Review: Stylish Boy Baby Loafers 2023
Baby Boy Brown Loafers
Your little lad will be stylish and safe in these cool baby loafers.  These infant shoes have synthetic leather, which is breathable, and flexible rubber soles for added comfort and protection when they start walking.
Best of all, these cool loafers squeak a little with each step, so the parents will always know where they are, and the nice sound will encourage baby to keep trying to walk when the time comes.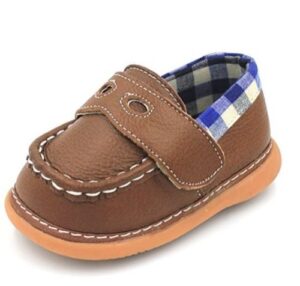 Toms Classic Crib Shoes
These stylish bay loafers will not only look adorable on your little man, they will also be very comfortable for him.  The shoes themselves are 100% canvas, so they will be durable and breathable, and his little feet won't get too hot and sweaty inside.  They also have rubber soles and out soles, for increased traction, giving him a boost when he starts walking, and an antimicrobial sock liner for extra hygiene.
These also come in a range of different colors, so if you're really keen on getting your baby matching outfits and baby shoes, this might be a good option to consider.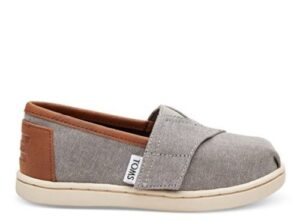 Sabe Newborn Moccasin for Boys
Moccasins never go out of style, and this great pair will be excellent newborn shoes for your baby boy.  Made of leather, these will be comfortable and breathable for those precious little feet, and they are soft, lightweight and very easy to slip on and off.
These also come in a range of different colors, with traditional browns and blacks to crazy greens, blues and pinks!  perfect for an infant who already has their own sense of style or parents who like to coordinate their kids outfits.  This comes in S, M and L, for new born babes up till 18 months old.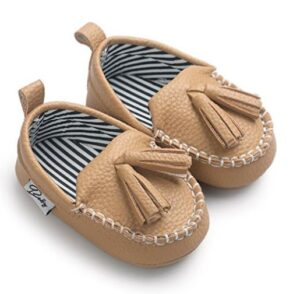 British Style Baby Loafers
Your baby boy will look like a London super model in these slick crib shoes.  Made in a classic British Style with a buckle, these infant loafers are made of leather and have soft felt insoles for maximum comfort. This will also keep those little feet warm and cozy, so these will be great for colder areas or the winter.
Although the buckle might take a bit of extra work to do up, you can be confident that your little rascal won't kick his shoes of at an inopportune time, such as when you are in the park or in the supermarket!
Available in sizes for kids from newborns to 18 months and also in black, brown and white.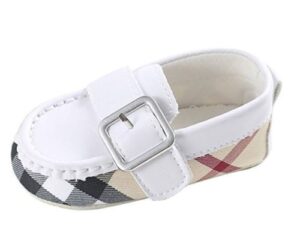 Barehugs Baby Boys Soft Infant Boat Shoe
Sometimes its best to get a pair of baby crib shoes with velcro straps, as they make sure that the babies shoes will stay on, but they are so easy to fasten and unfasten.  These infant shoes from barehugs are some of the coolest baby boat shoes we've found, and we know moms and dads will appreciate the extra security of the straps.
Whether its dressing them up for a day out, or just having a good pair of shoes for all occasions, they will feel like their feet are being hugged when they wear a pair of barehugs.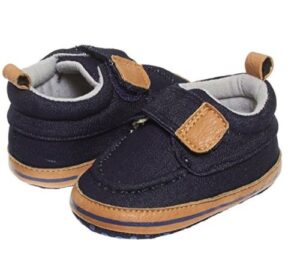 Baby Slip On Loafers
Every handsome little man needs a set of great shoes that can fit every occasion, and these infant loafers will do just that.  They are made of leather, so they are durable but also breathable for the little feet, and they have a flexible rubber sole that won't restrict your baby as they explore the world around them.  They also have a cosy lining and a cushioned footbed of soft leather for maximum comfort when the little guy starts to take his first steps.
These also have the best of both worlds, with an easy slip on design, but also a buckle for added security.  These shoes find a great sweet spot between being practical, durable and stylish.  Available in different colors.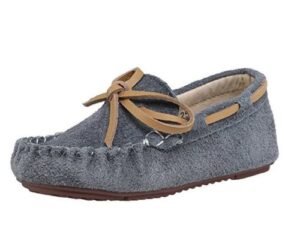 Unisex Baby Moccasins
Its important to get a good set of first walkers for when your little one starts taking their first steps, as you need something soft and comfortable for those delicate feet, and these infant moccasins are just that, as well as being super cute. These suede baby shoes are soft, lightweight, and very cozy for your little one's feet.  They also have elastic band supports to make sure the shoes stay on firmly, but not too tightly.
They also come in a wide range of colors from traditional grey and browns to crazy pinks and yellows.
Available in S, M and L sizes.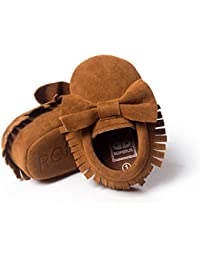 Ralph Lauren Infant Loafers
Ralph Lauren brings that classic American style of slip on boat shoes for our baby boy.  These loafers really are just adorable, and being made of textile and fabrics, they wil be durable and breathable.
Its not all just about looking fashionable, though, the classic slip on off design makes these really easy to get on your childs feet, yet they won't fall off when you are not expecting it.
We also really like that these come in a wide range of styles and colors, even camouflage!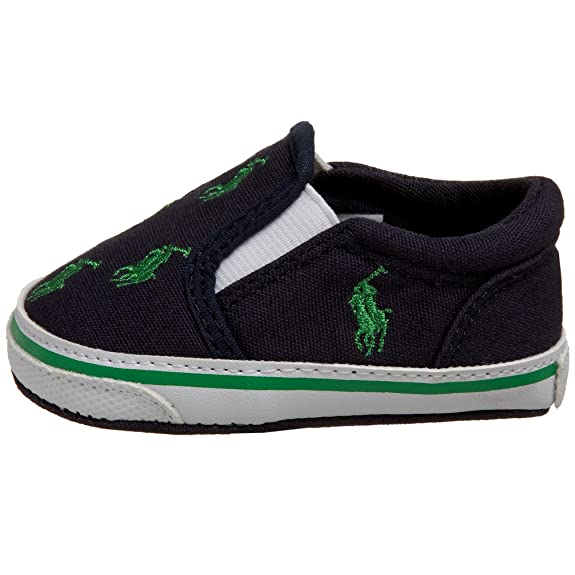 Traditional Leather Loafer for Baby Boys
Made right here in the USA, these leather infant shoes with suede soles are brilliant for babies and toddlers as they are stylish, breathable and sturdy enough for the kids of adventures this age group gets up to.
These crib shoes are ideal for active babies and first walkers, as they have non-slip soils for extra grip, elasticated ankles to keep the shoes on, and flexible soles to make walking feel effortless.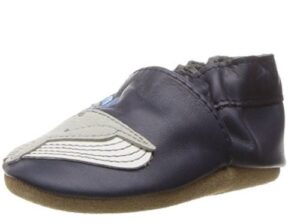 Classic Style Infant Moccasins
These great baby shoes tick all the boxes we have when it comes to finding a pair of great loafers for your little man. Made of leather and with suede soles, you can be confident that little feet will be warm and comfortable inside and won't overheat.  There is also stitch and turn full suede out soles for extra flexibility where the shoe really needs it most.
These are also very practical as well as gorgeous.  They have elastic ankle bands to help keep the shoes on, and the leather has been treated for maximum flexibility so it won't restrict your baby's movement.  These shoes are also approved by the American Podiatric Medical Association.
Available in brown, blue, black, pink and green and in sizes for kids from newborn to 24 months old.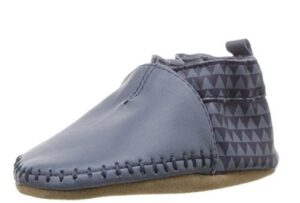 Crib Boat Shoes with Laces
While most of the shoes on our list are slip on, velcro or buckle jobs, we had to include some with laces for parents who are looking for that.  These stylish boat shoes are well made and very sturdy, and while the laces do take a little more time to do up, they give you added satisfaction of knowing that they are not likely to come off any time soon.
A combination of soft leather and fabric make these very breathable, and the rubber sole is brilliant has a lot of traction to help with beginner walkers.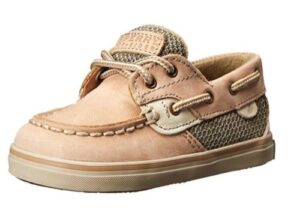 Baby Boys Red Loafers
If you are looking for something with a striking sense of style for your little one, these awesome red boat shoes will be just perfect.  With canvas shoes and rubber soles, these are flexible, breathable and comfortable, and they will have good grips for those beginning to walk.
These infant shoes have super wear-resisting, prevent slippery wear-resisting soles, so they will last a long time.  They also have lots of features designed to protect your babies feet, such as Anti-collision toe design and a stable heel.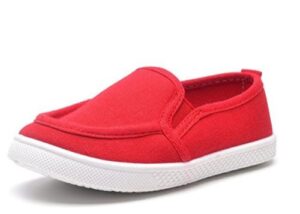 Leather Baby Moccasins
Help your baby boy stay stylish and comfortable with these cool 100% genuine leather rubber durable sole baby moccasins.  With soft breathable leather and a durable rubber sole, these will stand the test of time and not be easily worn out by babies. They also look really cute, and you will love dressing your boy up in these cool crib shoes.
This company is so confident in their shoes that they come with a lifetime guarantee!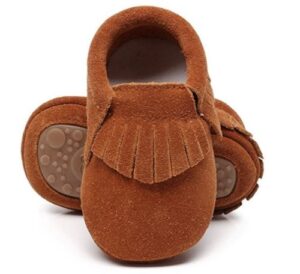 Fuzzy Bear Baby Loafers
Now aren't these just the cutest infant shoes you have ever seen?  These plush and fabric shoes will make great house slippers for your little one, and the non-slip sole insures that they will be great for babies who are just beginning to start walking upright.
These plush shoes might not be the greatest for walking outside in, but as a pair of house shoes your child will love them.  They are also so nice, soft and fuzzy, so they will be great for in the winter time.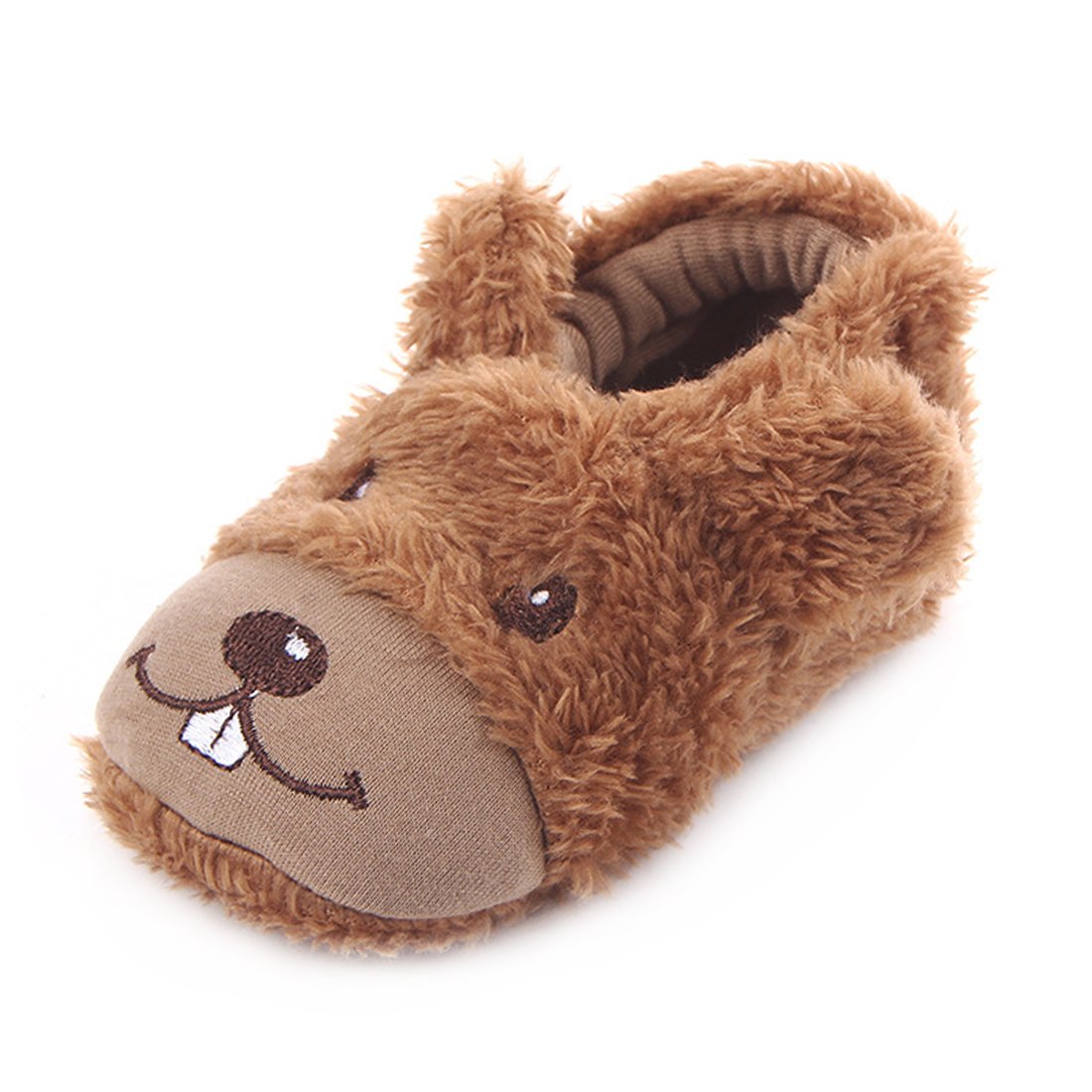 Disney Slip on Baby Loafers
The perfect shoes for little Disney fans!  These microfiber slip on loafers are very well made, and will be comfortable and cozy for those lovely little feet.  They have synthetic soles, which are nice, flexible and protective of the babies delicate feet.
These come in a cool Mickey Mouse style, and are available in sizes for children ranging from 3 to 12 months old.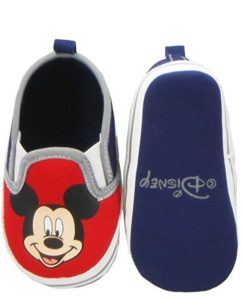 Our Top Pick – Best Baby Boy Loafers 2023
Sometimes, you just have to go with a classic style, and for us, it was the Ralph Lauren Infant Loafers.  Sometimes it is just better to go with a well-know brand name, as you can be sure that you are getting a good quality product.
These textile and fabric infant shoes really have it all, soft and breathable, easy to slip on and off, and good strong soles.  These also come in wonderful colorful and stylish designs that kids will love.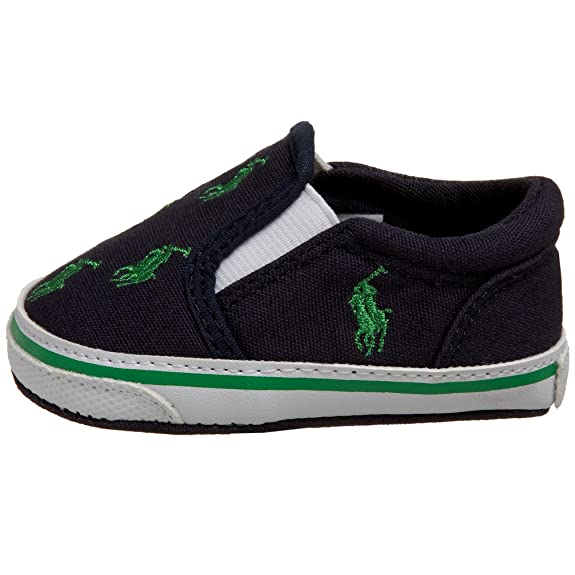 Our Budget Pick
Perhaps it is a little silly o fork out for a brand name pair of baby loafers, especially given how fast kids outgrow clothes and shoes.  Those looking for something a little more sensible in terms of budget can check out the Barehugs Boat Shoes.
We recommend them because they are both affordable but were practical too, and they have great velcro straps to ensure that the shoes don't fall off. They also look super stylish, and will make a great addition to a handsome little boys outfit.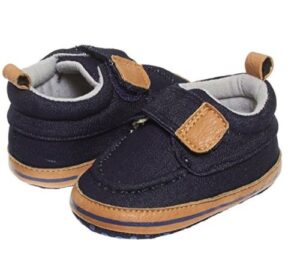 Considerations for buying loafers for baby boys
As with any kind of baby shoe, there are certain factors that we need to take into account before we hit that buy button on baby shoes. We really need to make sure that our kids are getting the best infant boys shoes out there, and they should have the following qualities.
Flexible As all young parents know, once babies are up and moving, they need the freedom to explore the world around them.  As such, good baby loafers should be very soft and flexible, and should be able to be twisted every which way so they won't restrict your baby.  They should be made of a nice, lightweight material.  Stiff shoes are really bad for growing babies, as they can hinder growth and be very uncomfortable
Soles are also very important. Baby's first shoes should have a good set of soles, usually rubber, that can bend easily but also protect the feet, and something with grips or ridges on the bottom of the sole will be good as these will give traction and support when the child is learning to walk.
Breathable Your babies shoes need to breathe in order to be comfortable and healthy. Older kids shoes can get stuffy which make our feet sweat, and your baby is no different.  Leather, suede, or canvas probably have the most breathability for baby loafers and are usually our go to material.
Cotton is also a popular option for shoes, and makes the very breathable, but is typically less durable than most other fabrics. However, cotton does also tend to be very flexible and comfortable, and provide support for the baby's feet.
We recommend that you avoid plastic shoes, as these can make your babies feet too hot, and they can develop a rash very easily.  Plastic shoes also can be very uncomfortable and make their feet sweat.
Roomy Do you remember when you were a kid growing up, and how weird and uncomfortable it was when your feet started getting a little too big for your shoes?  Well, babies feel that too, and as they grow so fast, you really want to get them a pair of loafers that feels roomy and comfortable for them.  Shoes that are too small can be painful for them and hinder their growth.
Most parents try to find a sweet spot in buying baby shoes that are a little roomy and can be slipped on and off without a problem, but also not some shoes that are so big that they fall off when you don't want them too.  The shoes should stay on, just not be too tight.
How to Buy Baby Boy Loafers – Size Guide
As you know, it is of the utmost importance that you find the right size shoes for your baby boy's feet.  This guide should help you know which size you need.  Don't hesitate to send back a pair of baby shoes that do not fit well!